30 Unique Wedding Party Gift Ideas for Every Attendant
Find presents for all of your VIPs, from the kids to the grown-ups.
We have included third party products to help you navigate and enjoy life's biggest moments. Purchases made through links on this page may earn us a commission.
Your crew has put in some seriously hard work preparing for your nuptials, so why not show them some love with thoughtful wedding party gifts? From hosting the shower to guarding the rings, they've all helped you have the day of your dreams and shown you how much you mean to them. Now, it's time to return the favor with a carefully chosen present. Here, we've rounded up gift ideas for everyone in your wedding party, from the family and friends serving as your bridesmaids or groomsmen to the kids walking down the aisle as your flower girl and ring bearer. Start your research here to see our favorite gifts, then check out our breakout gift guides that are even more specific to every wedding VIP—we've linked to them all throughout our list.
In this article:
For the Friends in Your Wedding Party
Whether you've known each other for over a decade, five years or just a year, thank your besties for standing by your side on the wedding day—and every day—with one of these bridesmaids and groomsmen gift ideas.
Mimosa Sugar Cubes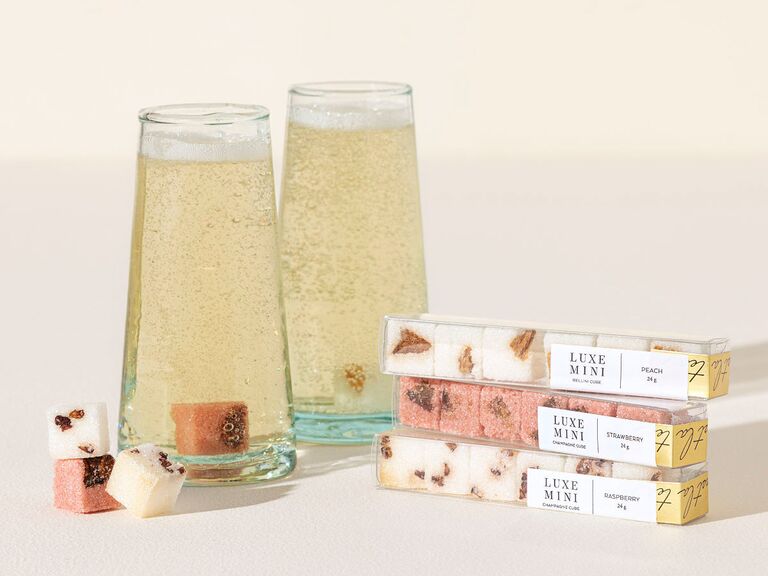 Some of the most popular wedding party gifts are alcohol-related, so we had to start with this unique idea. Give each 21+ attendant a bottle of bubbly paired with a box of sugar cubes. They won't just sweeten their drink, though. They'll infuse the Champagne with flavor for instant mimosas or bellinis. Choose a trio of orange, grapefruit and lemon; or strawberry, raspberry and peach cubes depending on each wedding party member's taste.
Custom Engraved Hip Flask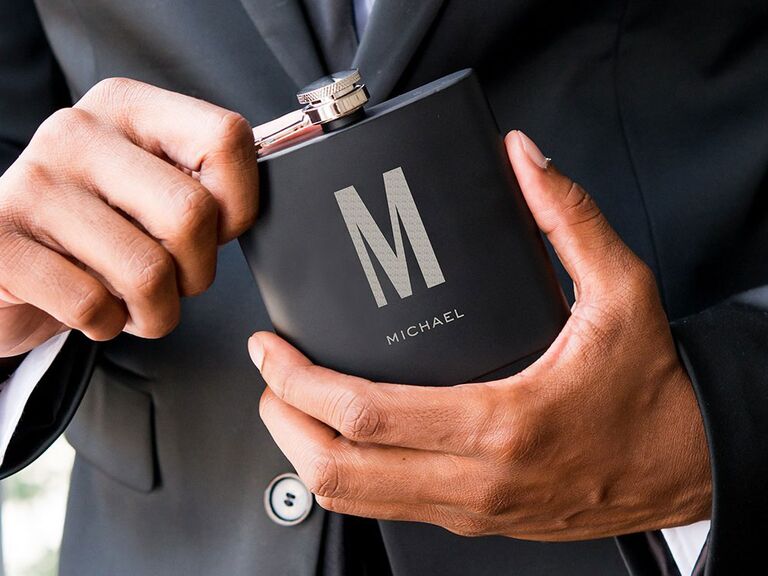 If you're looking for gifts for bridesmaids or groomsmen that like their spirits neat, shop this sleek hip flask. It can be custom engraved with their monogram, name, wedding title or a funny phrase like "great minds drink alike." You can even pair it with stainless steel shot glasses and a funnel for easy pouring and sipping. Just make sure to fill the flask with their drink of choice beforehand, so they can have a celebratory sip before the day begins.
Getting-Ready Robe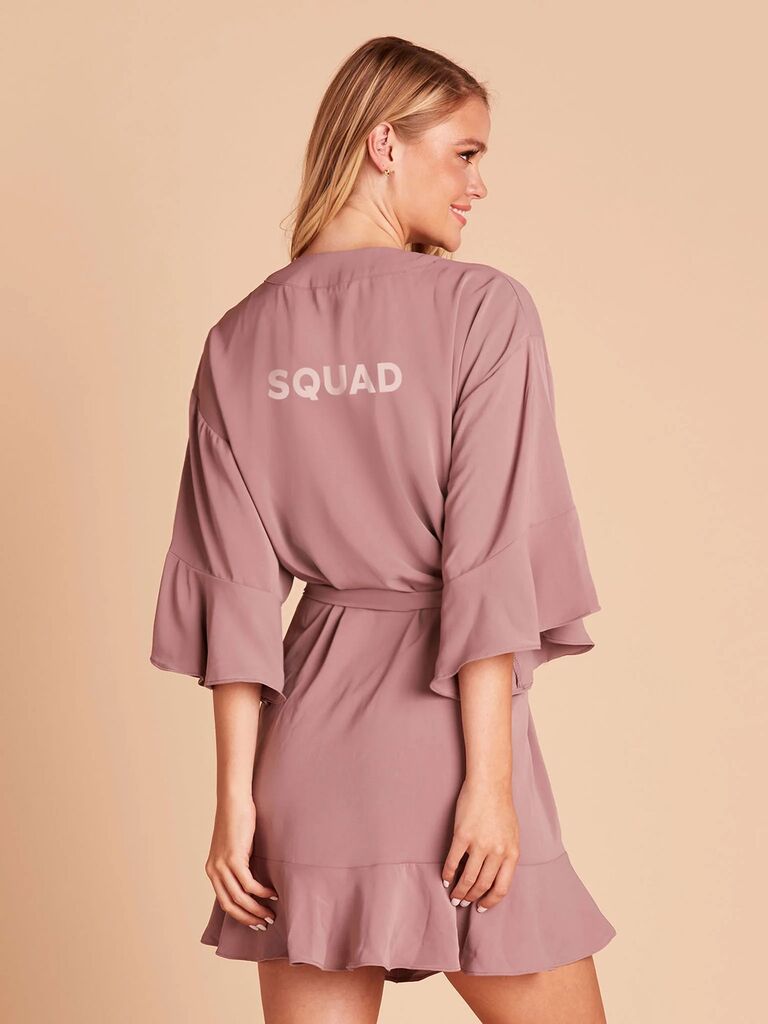 If any of your attendants are getting ready in the bridal suite with you, they're going to want a cozy fit to wear. A bridesmaid robe, especially one with romantic ruffles, will be a welcome wedding party gift. They'll feel super luxe slipping into the soft cover-up and won't have to worry about messing up their hair or makeup. Best of all, it can be embroidered with their name or wedding role on the back.
Tie and Pocket Square Gift Set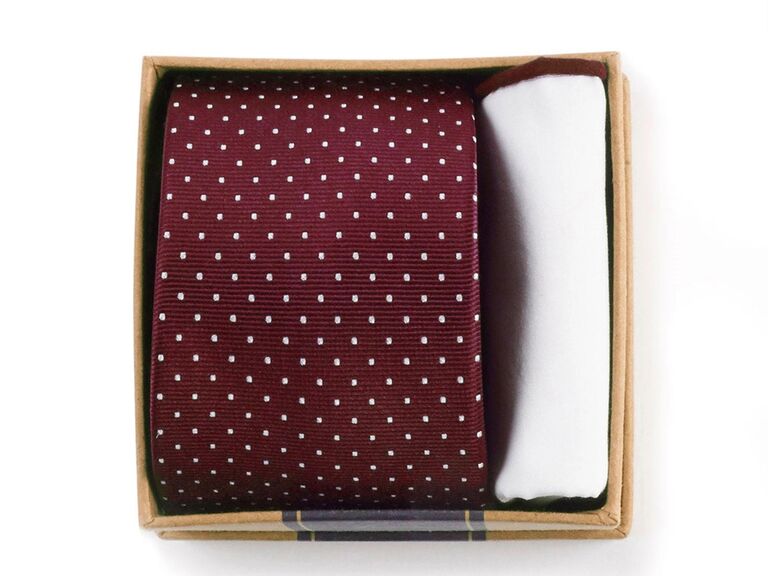 Anything your wedding party can wear on the big day makes a great gift. If your attendants are expected to dress up with a neck tie and coordinating pocket square, give them just that. Plus, they'll definitely have an opportunity to wear it again. This burgundy polka dot tie would be fitting for fall or winter nuptials, but there are lots of other colors to choose from in these sets from the Tie Bar, like pink, blue or sage green.
Monogrammed Cuff Links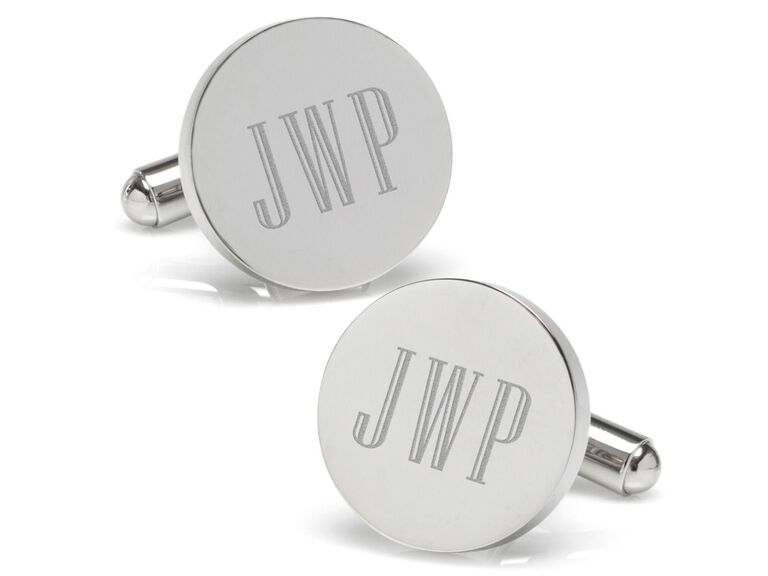 It's all in the details! If your wedding party is already outfitted with their tie, gift them suit accessories like cuff links, tie bars or lapel pins instead. Cufflinks.com has hundreds of sets to choose from, so each attendant can have a gift specifically picked for them. We like the idea of playing to each's interests, like their favorite sports team, movie or hobby. You can also snag custom cuff links with their monogram on them.
Interlocking Charm Bracelet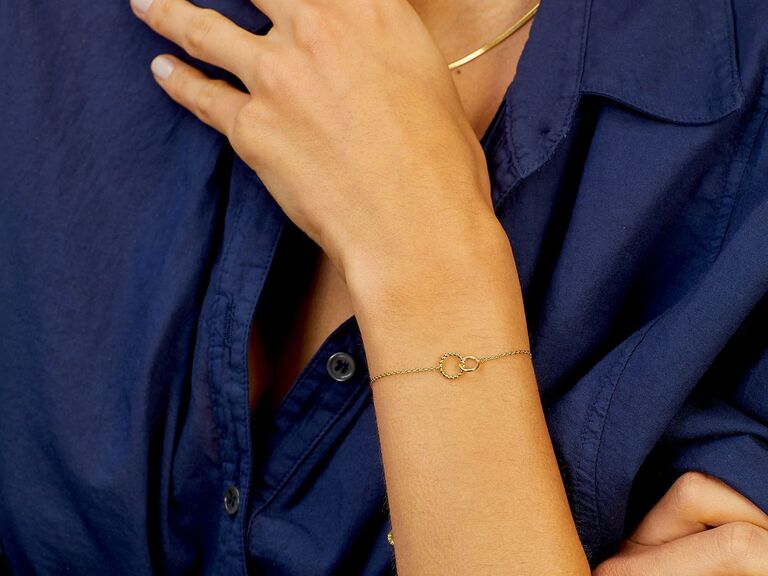 Upgrade their friendship bracelet with this dainty accessory. It features two interlocking loops to represent your unbreakable love for and commitment to your bestie. It's an elegant piece they can wear on the wedding day, while being still simple enough for everyday use. They'll think of you every time they slip it on their wrist.
Jewel-Tone Birth Month Dish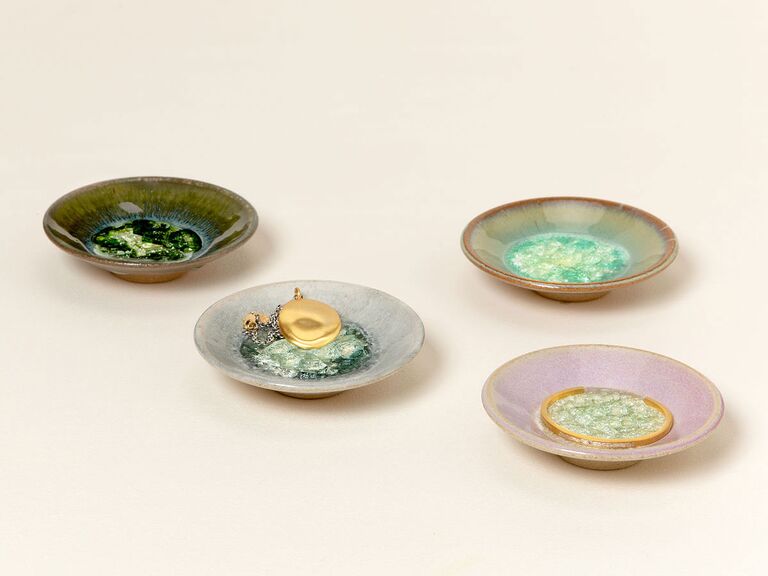 How about a gift unique to each wedding party member? Give each attendant a gorgeous ring dish decorated with their birth month's jewel tone. We're obsessed with the cool geode-style finishes and we think your wedding party will be too.
Personalized Travel Pouch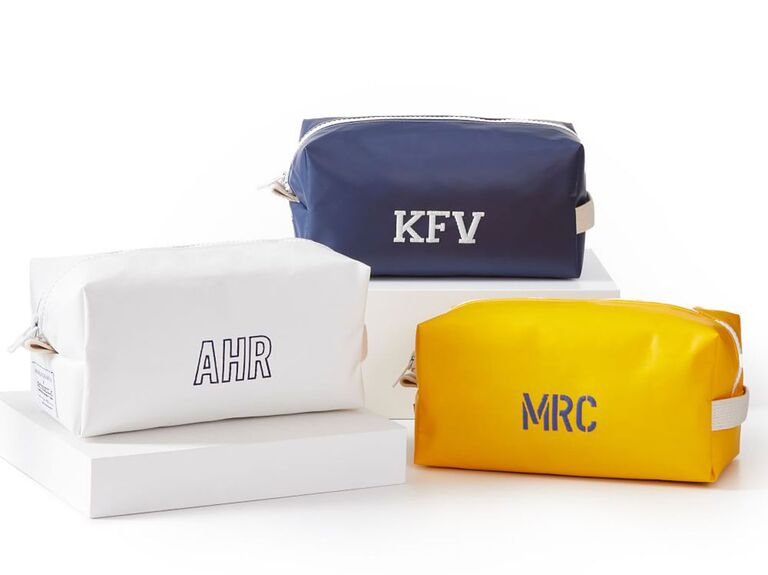 Travel cases are clever unisex wedding party gifts because whether you're shopping for bridesmaids, groomsmen, officiants or ushers, everyone could use a vessel to carry their toiletries or cosmetics. These durable, zippered pouches are made from water-resistant and tear-resistant vinyl, so they clean up easily if makeup breaks or shampoo explodes. They come in three colors (white, blue and yellow) and can be embroidered with each attendant's initials.
Gourmet Candy Bento Box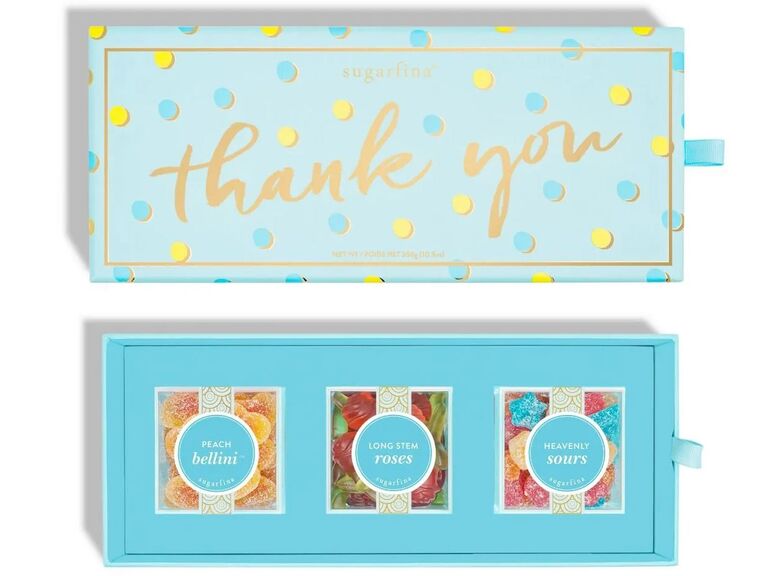 Confections are a great gift for wedding party members regardless of who you're shopping for. Select Sugarfina's three-piece bento box that specifically says "thank you," then mix and match gourmet candy based on each of your friend's tastes. They have dozens to choose from, like Champagne Bears and Pink Diamonds that are perfectly fit for a wedding, or delicious Dark Chocolate Sea Salt Caramels if your attendants like a richer flavor.
Spa Gift Set For Friends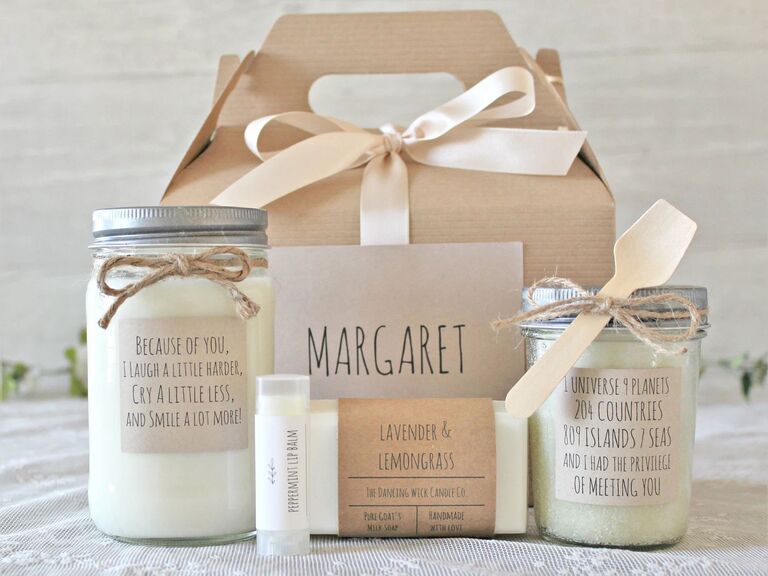 Give your attendants the R&R they deserve after helping you plan and execute the wedding of your dreams. This spa gift set can come with a scented candle, sugar scrub, body soap and lip balm. Each product is labeled with a quote about friendship to make your besties feel extra special. Trust us, this is a super useful wedding party gift.
For the Family in Your Wedding Party
Looking for an extra thoughtful way to thank your family on your wedding day? From sisters and brothers serving as your maid of honor or best man (or man of honor or best woman) to parent or guardian officiants, here are gift ideas for the relatives in your wedding party.
Sterling Silver Wrap Ring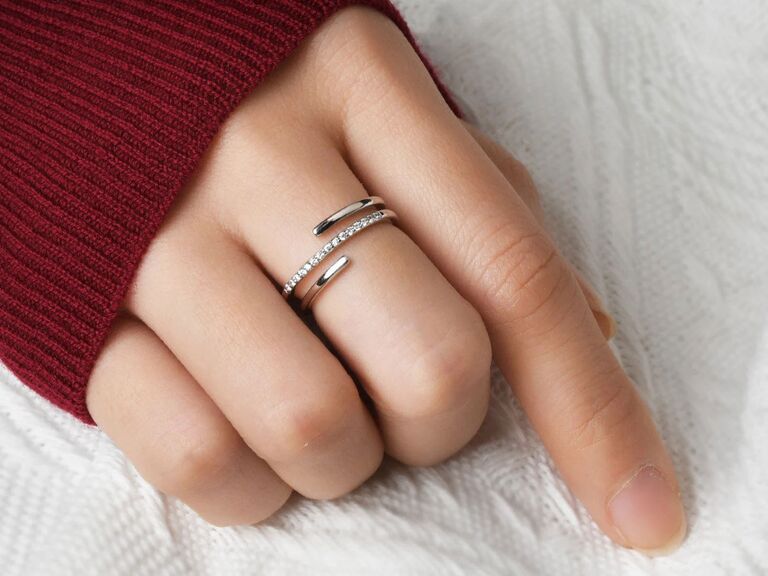 Just like you and your spouse will exchange rings of commitment, give a band to the one who was there for you first. This sterling silver or rose gold-plated ring with pavé cubic zirconia gemstones has a symbolic wrapped design. The card explains, "When you wrap this ring around your finger, consider it a hug from me to you with love and kisses."
Custom Illustration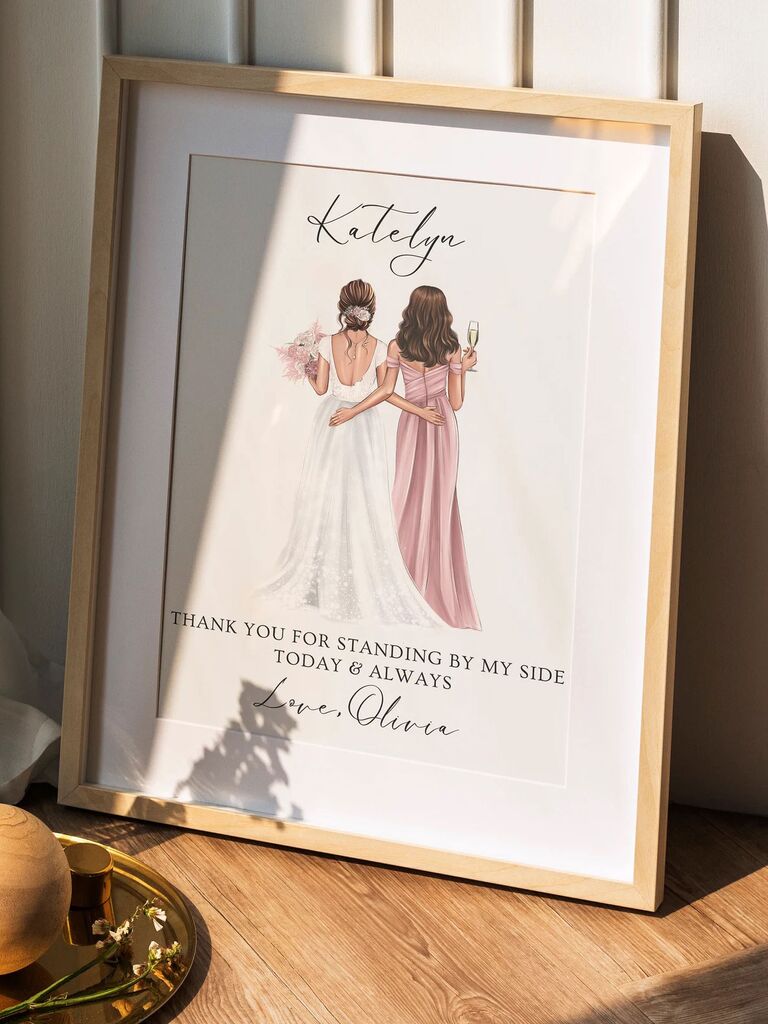 One of the best wedding party gifts (in our opinion) is a custom illustration from the big day. This print shows the bride with her maid of honor and can be further personalized with a heartfelt note like, "Thank you for standing by my side today and always." You can choose the hairstyle, skin tone and dress color.
Personalized Whiskey Decanter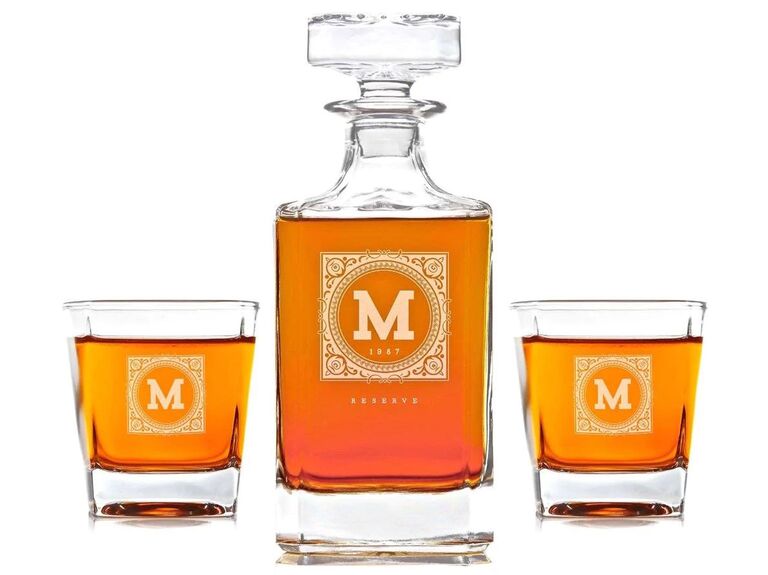 If you want to spend a little more on your brother, sister, dad or mom that is serving in your wedding party, luxe barware is a great idea. This personalized glass whiskey decanter with optional tumblers is etched with their first initial or your family name's monogram. It'll become an instant heirloom.
Sister Gold Disc Necklaces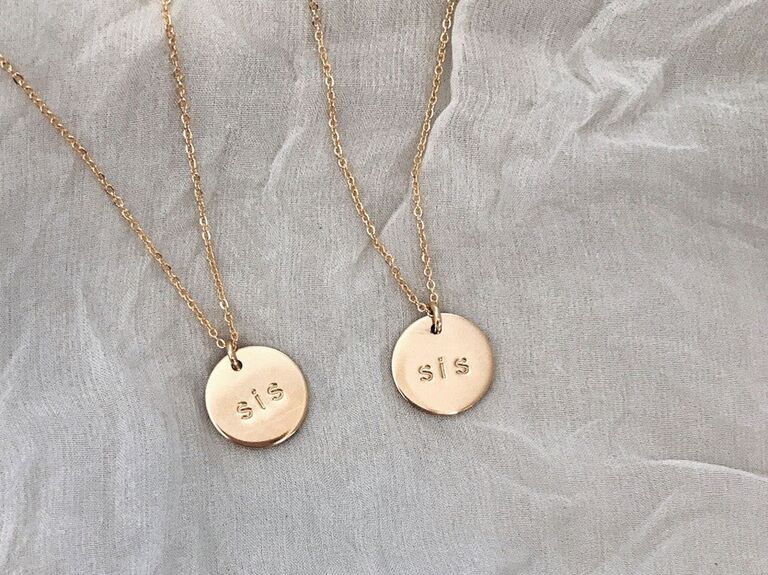 Bridesmaid or maid of honor wasn't her first title, it was "sister." This sweet necklace has a gold disc stamped with "sis" that she can wear proudly on the wedding day and every day. Too wholesome! (Psst, there are also discs that read "mama" and "grandma" available.)
Wedding Relationship Cuff Links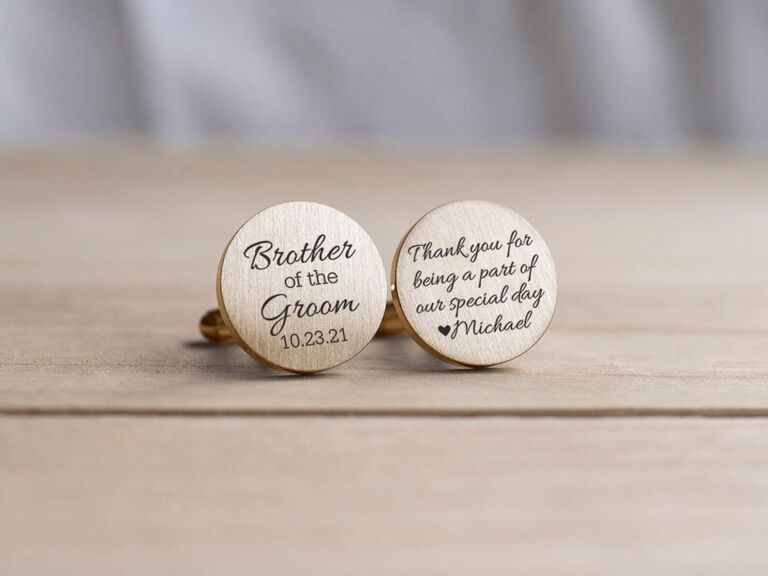 Baubles for your family member's suits is another great wedding party gift idea. These stainless steel cuff links can be plated with rose gold, yellow gold or carbon black and are customized for your brother, dad, step-dad or grandpa. One cuff link is engraved with their relationship to the couple and the other with their initials or the phrases "forever your best friend" or "thank you for being part of my special day." This wedding party gift for your family will be cherished for years to come.
Embroidered Handkerchief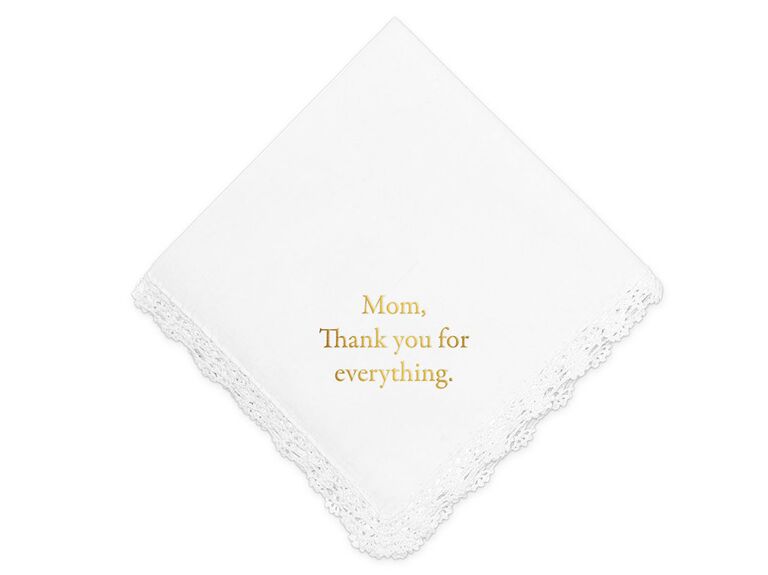 Stay close to your family's heart throughout the wedding day by gifting them a custom embroidered handkerchief. Your sister or mom can use it to dry their happy tears, while your brother or dad can slide it into their suit as a pocket square. Simply choose your thread color, then write up to four lines of text special to your relationship with each.
Hardcover Photo Album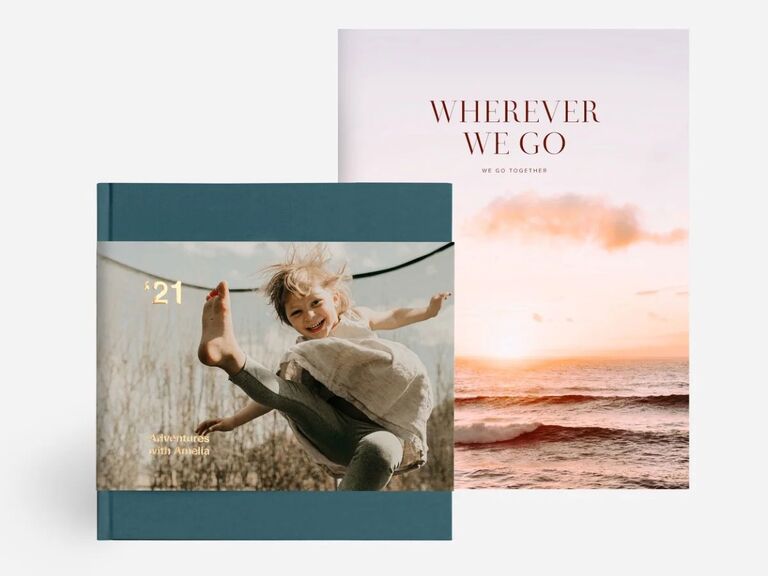 A wedding is a wonderful time to reminisce on past memories, especially when the family is all together. So, if you're looking for a really unique wedding party gift for your sister, brother, mom, dad or grandparents, a photo album is at the top of our list. Spend time selecting nostalgic pictures sure to make them smile. We also suggest handwriting a note in the cover for an extra-sweet sentiment.
Engraved Watch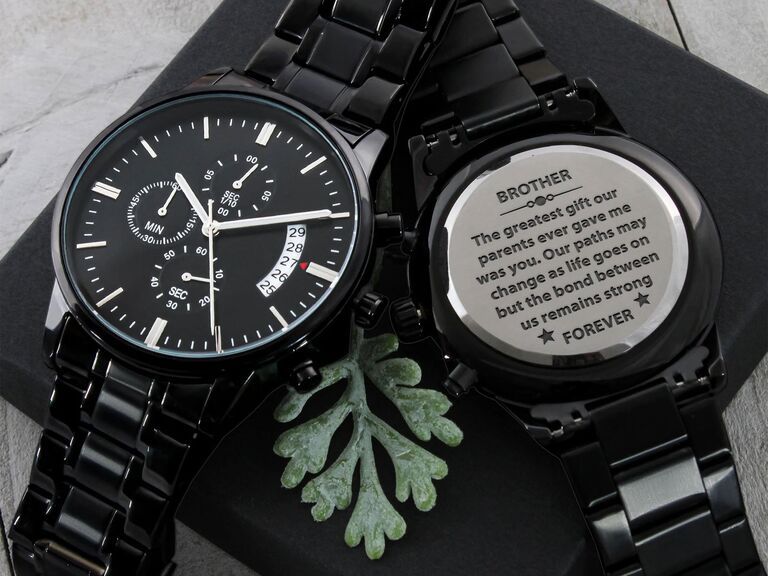 Give the members of your wedding party who have been with you the very longest a symbol of all the time you've spent together: a watch. This minimalist analog watch in black stainless steel can be engraved with a custom message for the recipient. It even comes gift-wrapped with an option for a luxe wooden box.
Ceramic Ring Dish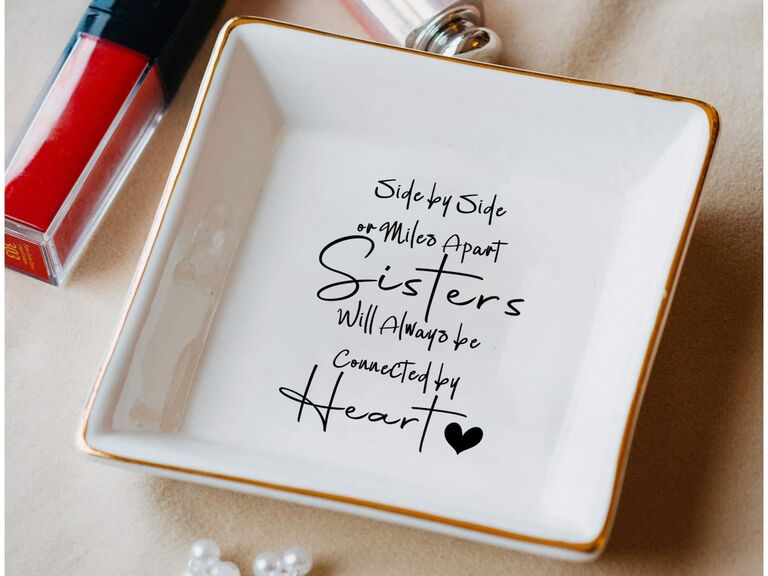 Ring dishes are classic wedding party gifts because they fit into the spirit of nuptials so well. If you want to get your sister who is serving as a bridesmaid or your maid of honor something a little different from the rest of the crew, check out this ceramic dish. It's painted with the sweet poem, "Side by side or miles apart, sisters will always be connected by heart."
At-Home Wine Tasting
Pencil in some family time with this unique experience gift for the family members in your wedding party. After the honeymoon, invite your sibling(s), parents or grandparents over for an at-home wine tasting. In Good Taste ships sets of six to 12 small bottles of wine for you and your fam to sample. Choose from options like Winter Reds, A Dozen Rosés or California Wine Mixer. Once they have a favorite, they can buy the full bottle online. We suggest gifting it with some personalized wine glasses and a gift card so they can pick what to sample.
For the Kids in Your Wedding Party
Treat your littlest attendants to one of these sweet thank-you gifts. From fun toys to meaningful keepsakes that'll make them feel grown up, your flower girl or ring bearer will feel excited by one of these presents.
Flower Girl and Ring Bearer Shirts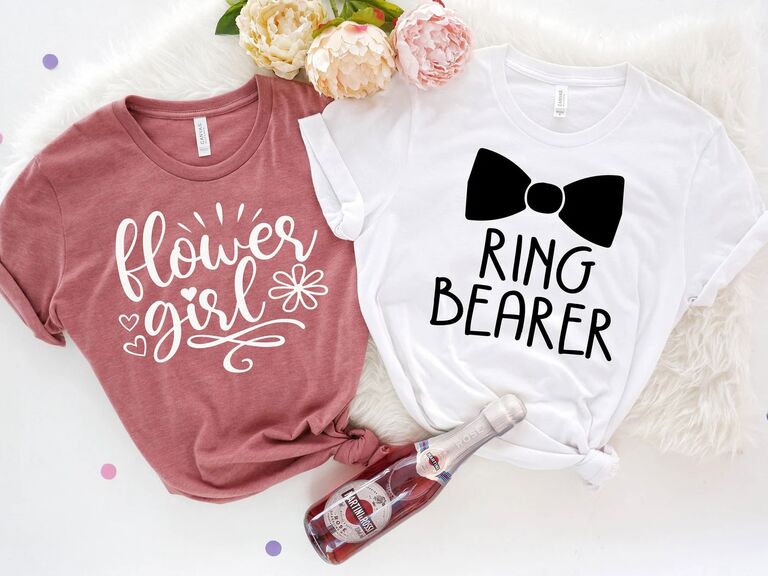 The kids in your wedding party will wear these shirts proudly, so everyone can know their VIP status. They come in adult unisex, youth, toddler and baby sizes, so no matter how old your flower girl and ring bearer are, they can have their own swag. There's also alternative designs like "petal patrol" and "ring security." Imagine how cute the pictures will be!
Fuzzy Bunny Stuffed Animal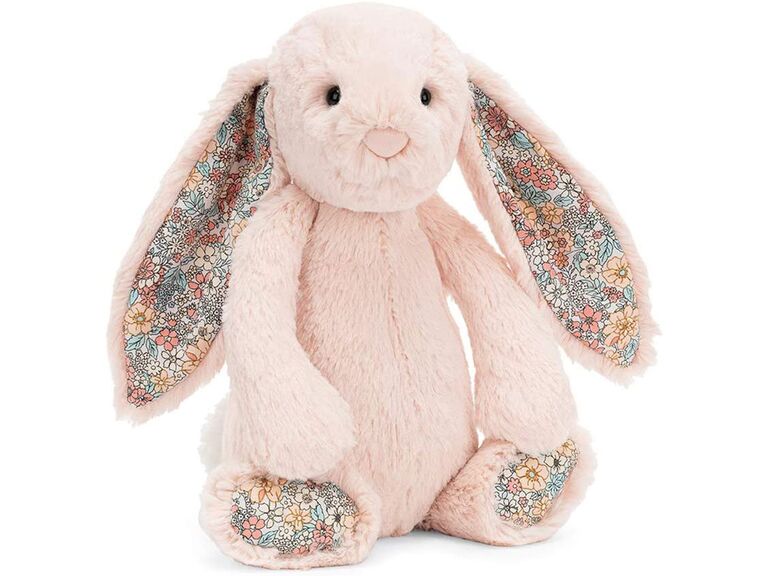 Plush toys are foolproof gifts for kids no matter the occasion. This fuzzy bunny has floral ears and paws as a nod to your flower girl's role. For the ring bearer, shop teddy bears!
Custom Night Light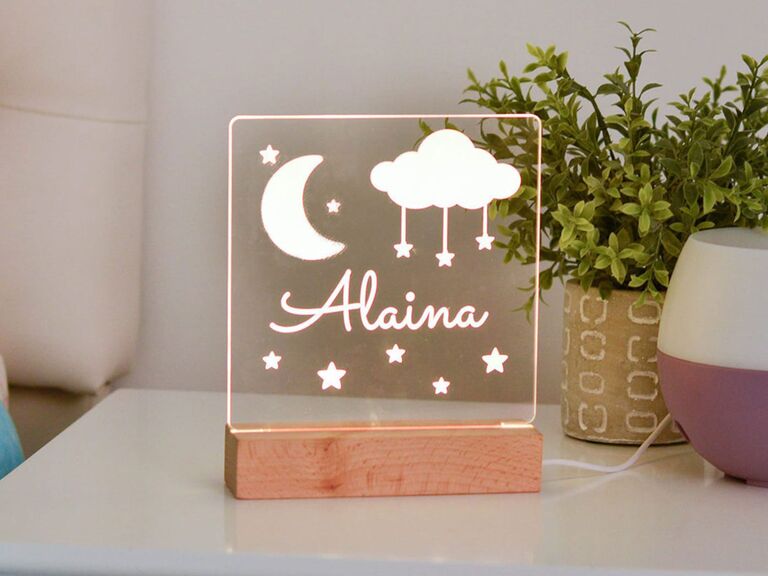 This night light is as useful as it is adorable. It'll look so sweet in your flower girl or ring bearer's bedroom and help them sleep if they're scared of the dark. This one is decorated with a moon and stars around their name, but the seller has dozens of other designs, too, depending on the recipient's interests and hobbies.
Personalized Wooden Clothes Hanger
A personalized clothes hanger is a classic surprise for a member of your wedding party on the big day and kids can get in on the fun, too! These white wooden hangers feature your little helper's names and role. They can hang up their formalwear in the getting-ready suites, then take them home to use with whatever garments they deem worthy.
Wedding Coloring and Activity Book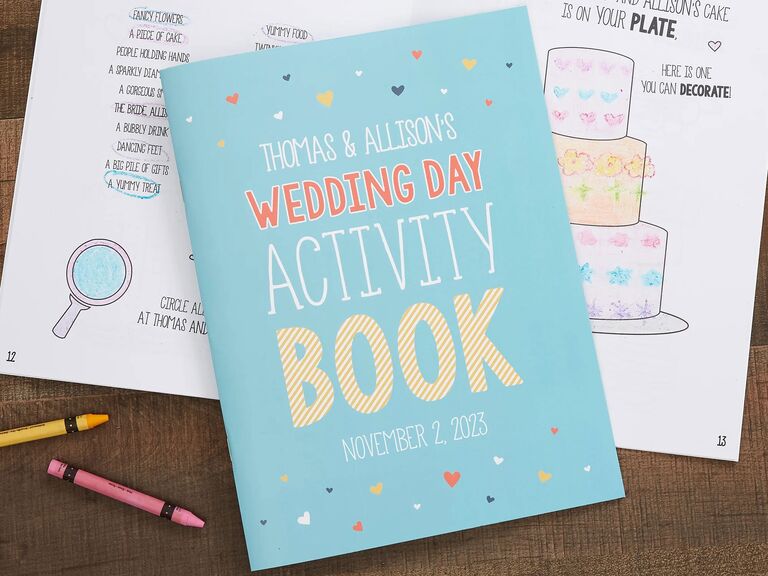 Keep the kiddos entertained with this wedding-themed activity book. There are games and coloring pages (like design your own wedding cake) for them to comb through, and it comes with a 24-count box of crayons. Best of all, the cover is personalized with your and your to-be spouse's names and nuptial date.
Kids' Custom YETI Rambler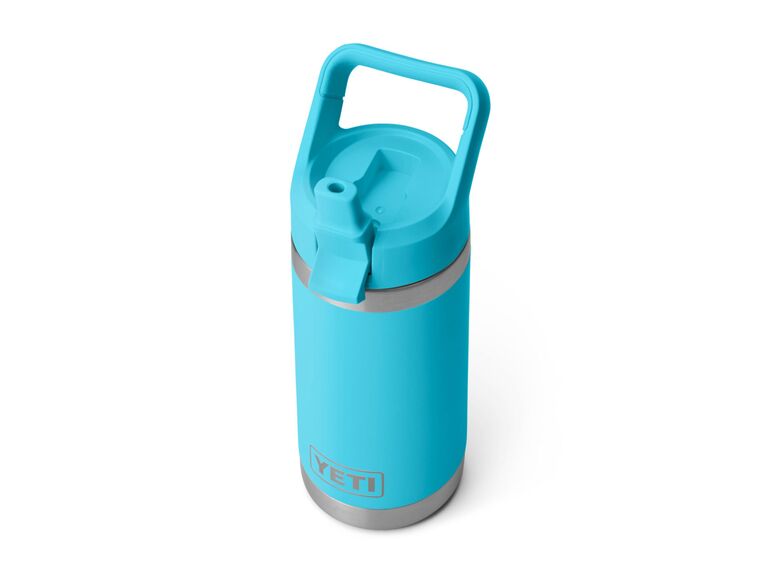 Custom YETIs are a great wedding party gift idea for any age. These 12-ounce Ramblers come in seven vibrant colors and can be customized with every recipient's name, wedding role or a logo. And thanks to YETI's ultra-durable, stainless steel construction, they're totally kid-proof.
Illuminated Doodle Pillowcase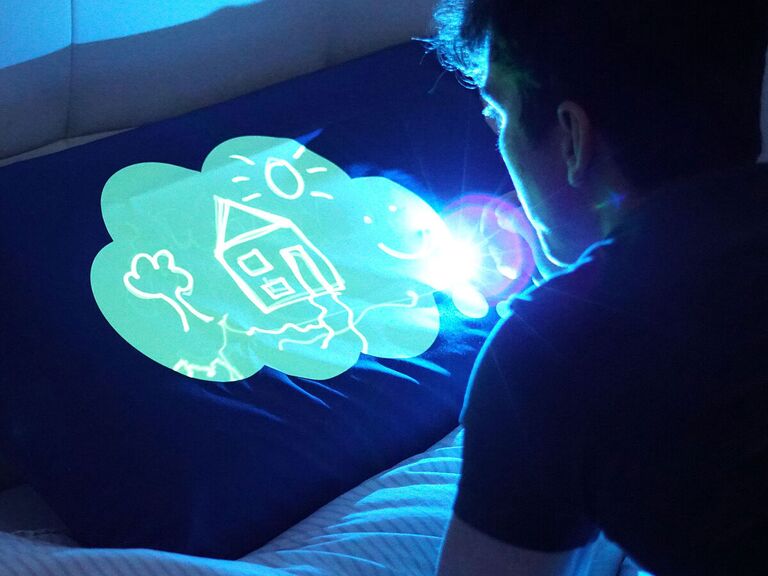 Encourage your young attendants' artistic skills with a pillowcase they can draw on! This one is activated by light for an awesome bedtime activity when they can't sleep, but have to stay in the bedroom. Each doodle lasts for about five minutes before fading.
Ring Bearer and Flower Girl Super Capes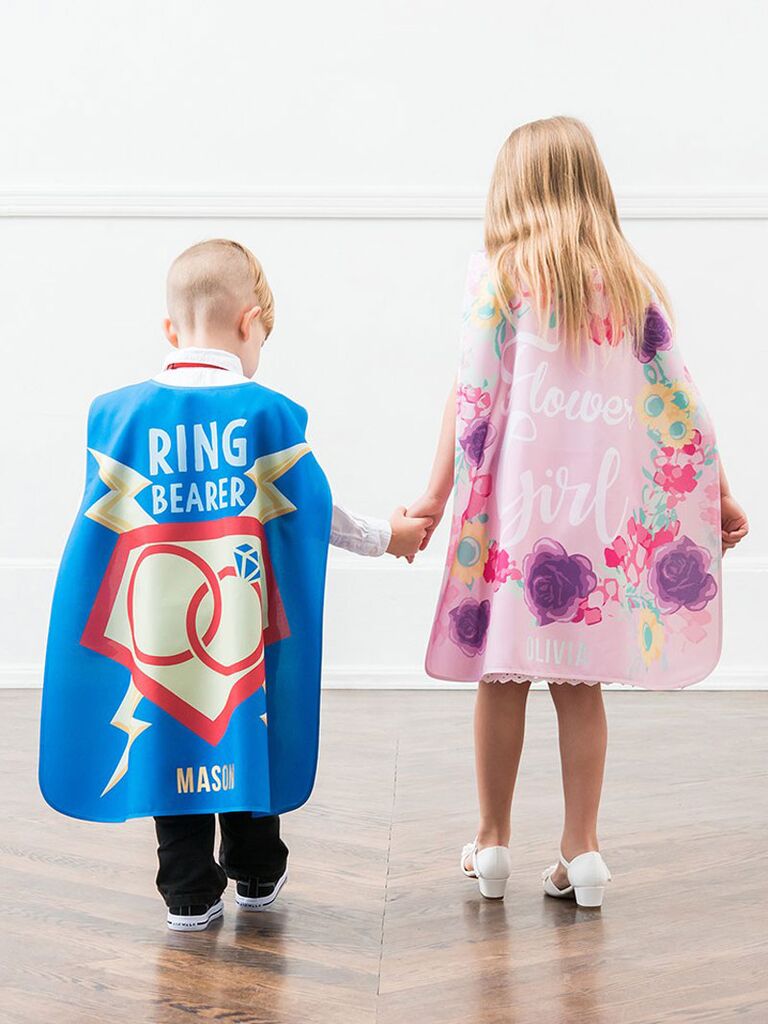 Treat your ring bearer and flower girl like the superheroes they are! These adorable capes personalized with their names will give them the power they need to march down the aisle—especially if they're feeling a little nervous. Plus, they can use them after the wedding to play dress up!
Daisy Jewelry Set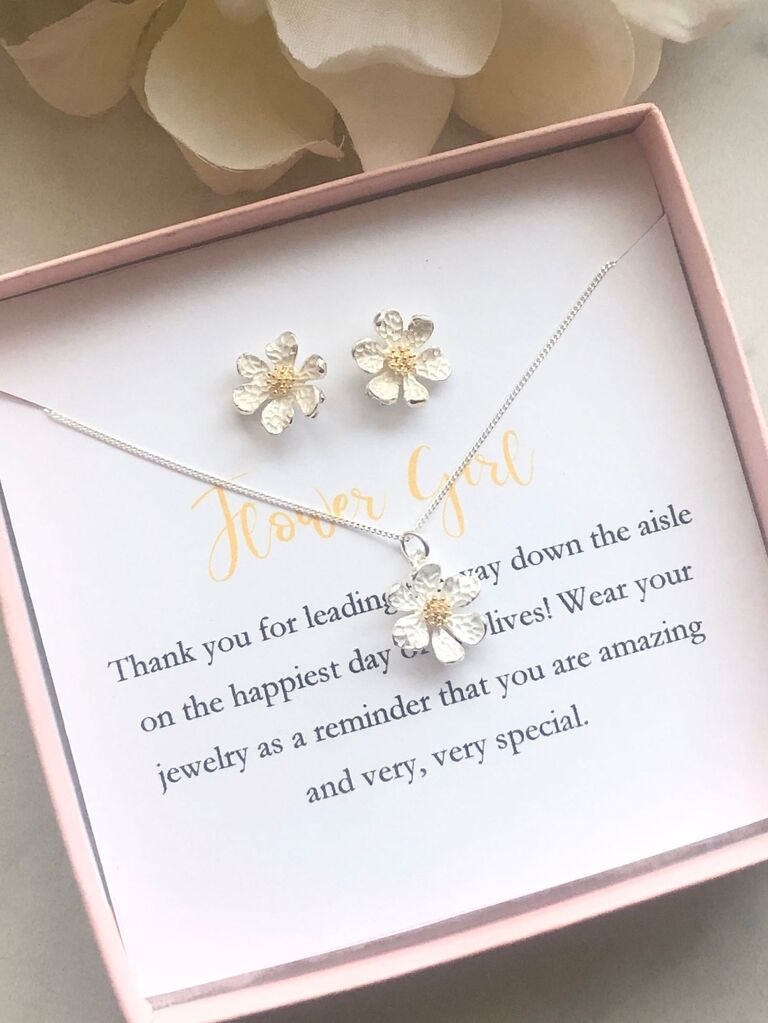 Here's a symbolic gift idea for your flower girl: Pick her up a cute piece (or two) of daisy jewelry. You can mix and match earrings, a necklace and a bracelet to make a set, then have them gift wrapped with a sweet card that says: "Thank you for leading the way down the aisle on the happiest day of our lives!" She can wear them at the wedding and every day after as a sweet memento. It comes in sizes two to 10.
Monogrammed Metal Cufflinks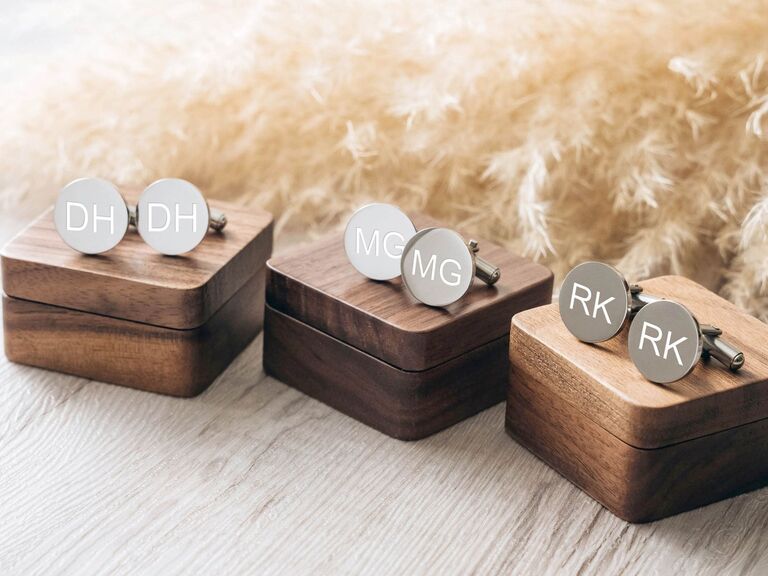 Give your ring bearer his (likely) first pair of cuff links to complete his formal attire. These stainless steel cufflinks with silver, gold or gunmetal plating can be engraved with his name, initials or even a small logo. For an additional cost, add a wooden case (which can also be customized) so he has a special place to safely store them.