30 Unique Wedding Party Gifts for Everyone in Your Squad
Say thank you to your whole crew with these awesome gift ideas.
We have included third party products to help you navigate and enjoy life's biggest moments. Purchases made through links on this page may earn us a commission.
Your wedding party has put in some seriously hard work, so why not show the crew some love with thoughtful wedding party gifts? From hosting the bridal shower to guarding the rings, they've all helped you have the day of your dreams and shown you how much you mean to them. Now, it's time to return the favor with a carefully chosen present. Here, we've rounded up gift ideas for each member of the wedding party, but it goes without saying that you can mix it up however you want. Want more inspiration? Check out our breakout gift guides for every wedding VIP—we've handily linked to them all.
In this article:
Make sure your squad knows how much you appreciate them with the perfect bridal party gifts.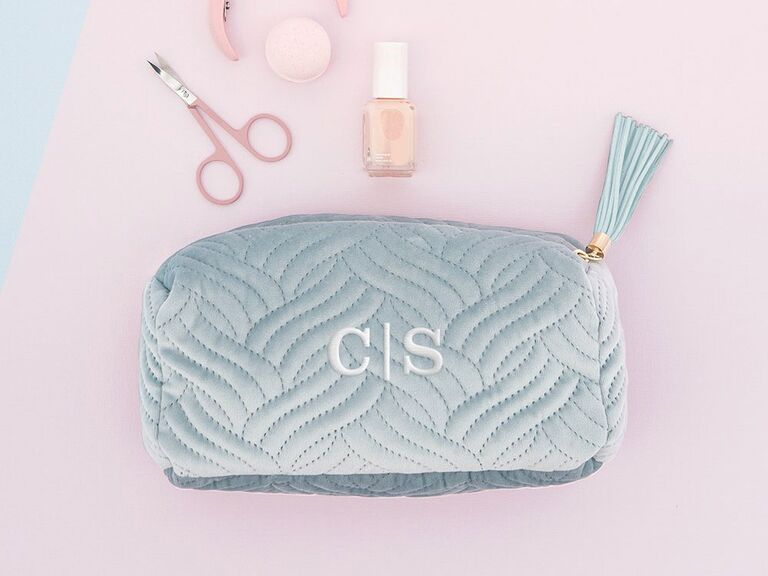 Convenient makeup bags will help your bridesmaids keep all of their cosmetics neatly organized. Plus, this bag is pretty enough for them to show off on their dressing tables!
The Knot Shop small personalized velvet quilted makeup bag, $11, TheKnotShop.com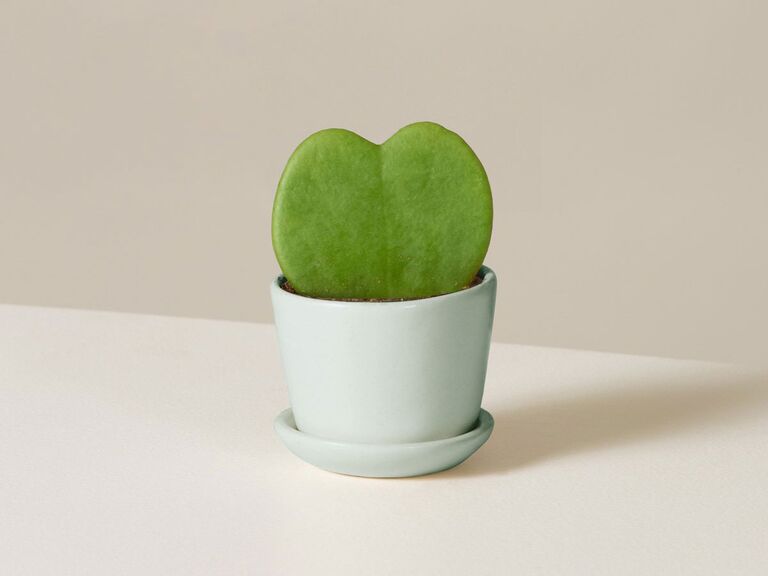 Whether your bridesmaid's a fully fledged plant parent or lacking a green thumb, an easy-to-maintain Hoya plant is sure to be a success. Plus, the heart shape? So cute.
The Sill Hoya heart plant, $28, TheSill.com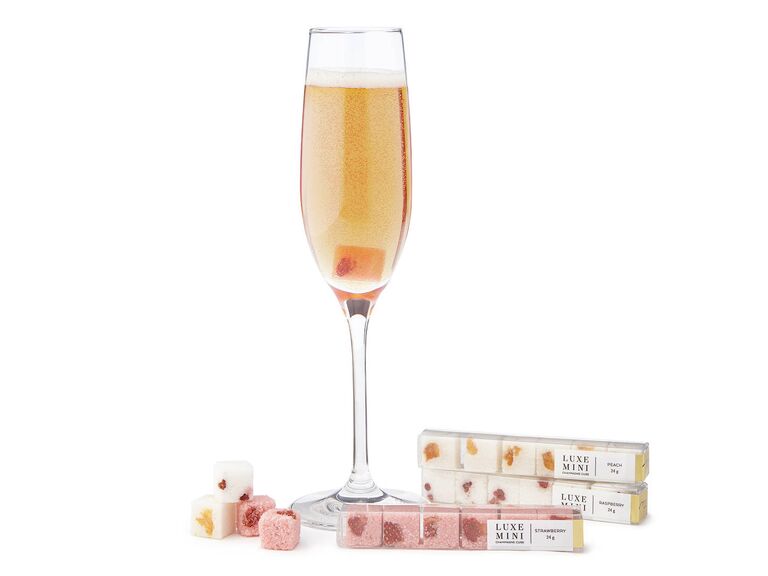 Give each 'maid a relaxing glass of bubbly—that is, with a twist. All they have to do is drop one of these fruity sugar cubes into a flute of bubbles and voilà, a delicious mimosa.
Allison DeVane Minute Mimosa sugar cube trio, $30, UncommonGoods.com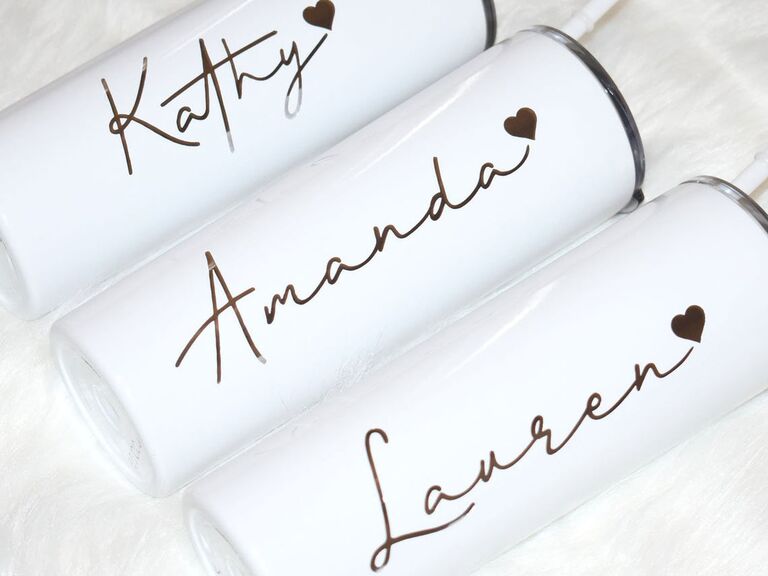 Are they always on the go? Then snag your bridesmaids some custom tumblers. With this personalized wedding party gift, they'll have a stylish drink on hand no matter where they are.
Seven Dae Weekend personalized tumbler, $15, Etsy.com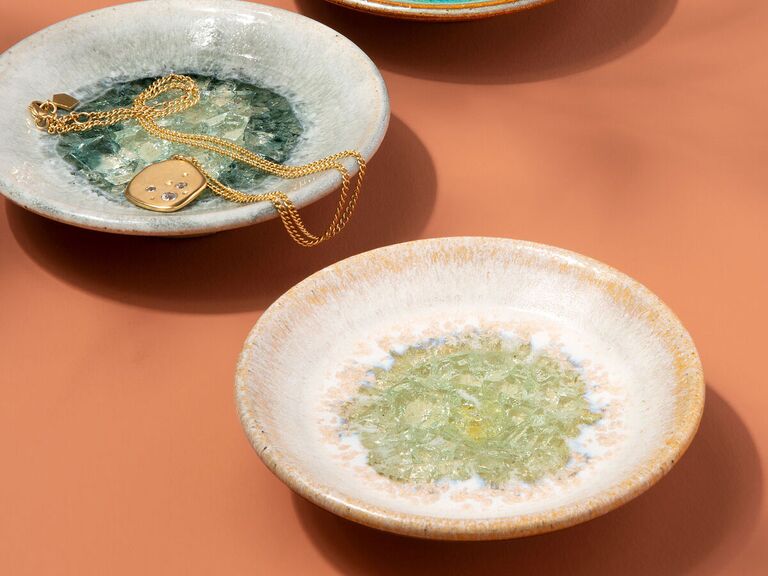 Your bridesmaids will love these thoughtful ring dishes in their birth months' colors. We're obsessed with the cool geode-style finishes.
Kerry Brooks jewel-tone birth month dish, $24, UncommonGoods.com
Your MOH has been by your side since day one. Show her how happy you are to have her with a personal gift.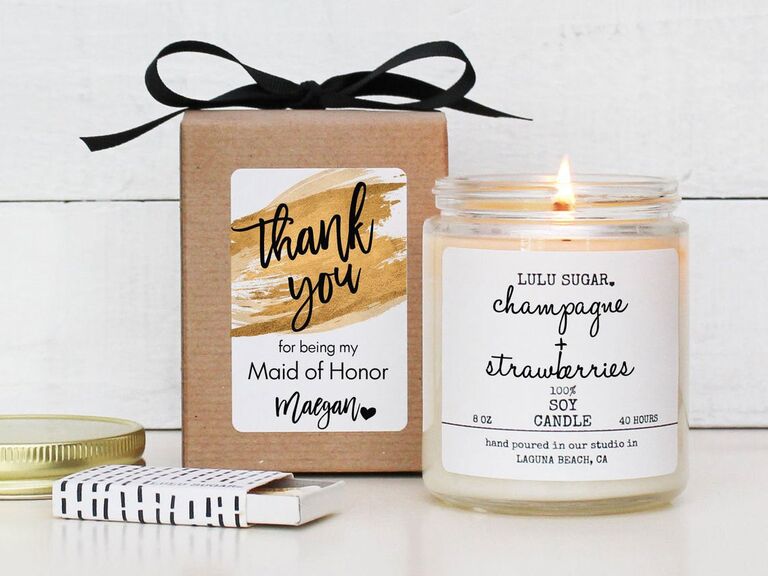 This thoughtful candle will help your maid of honor unwind after your wedding. You can choose from so many scents on the seller's storefront, but our favorite is the celebratory champagne and strawberry option.
Lulu Sugar maid of honor thank you candle, $24, Etsy.com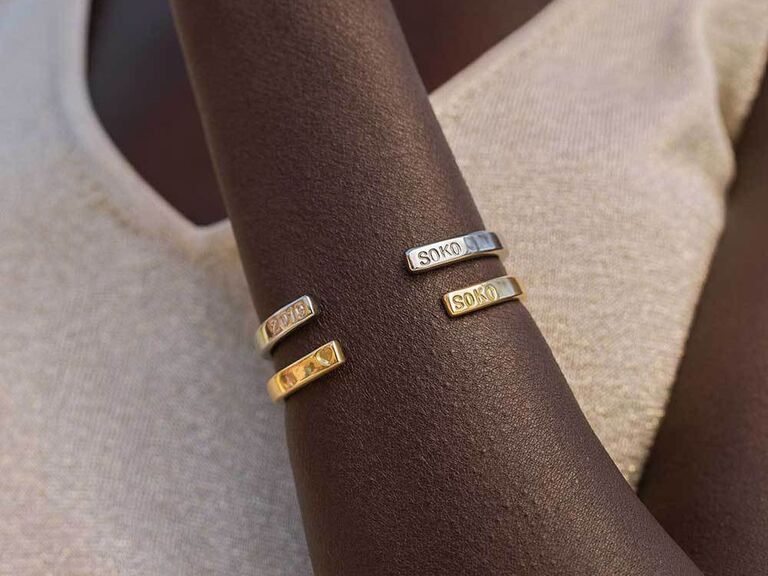 This customizable cuff (with a subtle heart accent) is something she'll wear every day, so she'll always remember the times you spent together. Add her initials for an extra-special touch.
SOKO Iga personalized heart cuff bracelet, from $58, ShopSOKO.com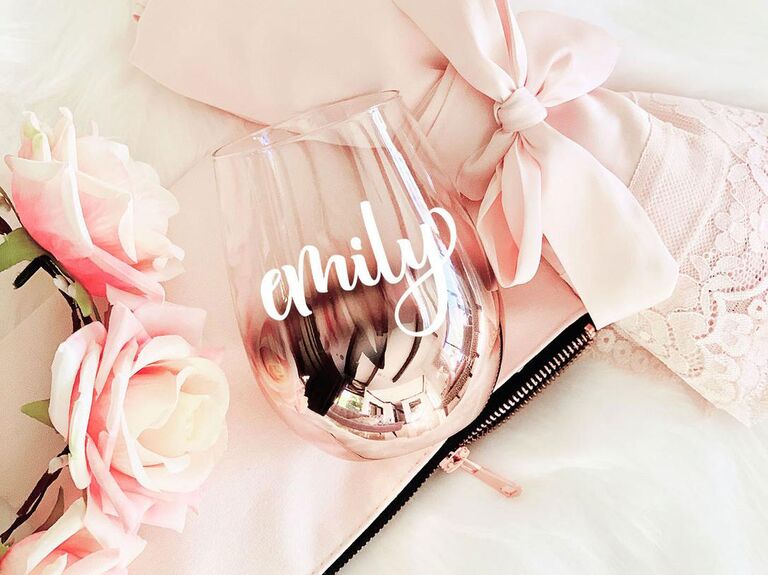 Rose gold is always a good choice, especially on a thoughtful personalized gift like this stemless glass. If you want to go the extra mile, add a bottle of her favorite vino, or a wine subscription!
Mod Party personalized rose gold stemless wine glass, $15, Etsy.com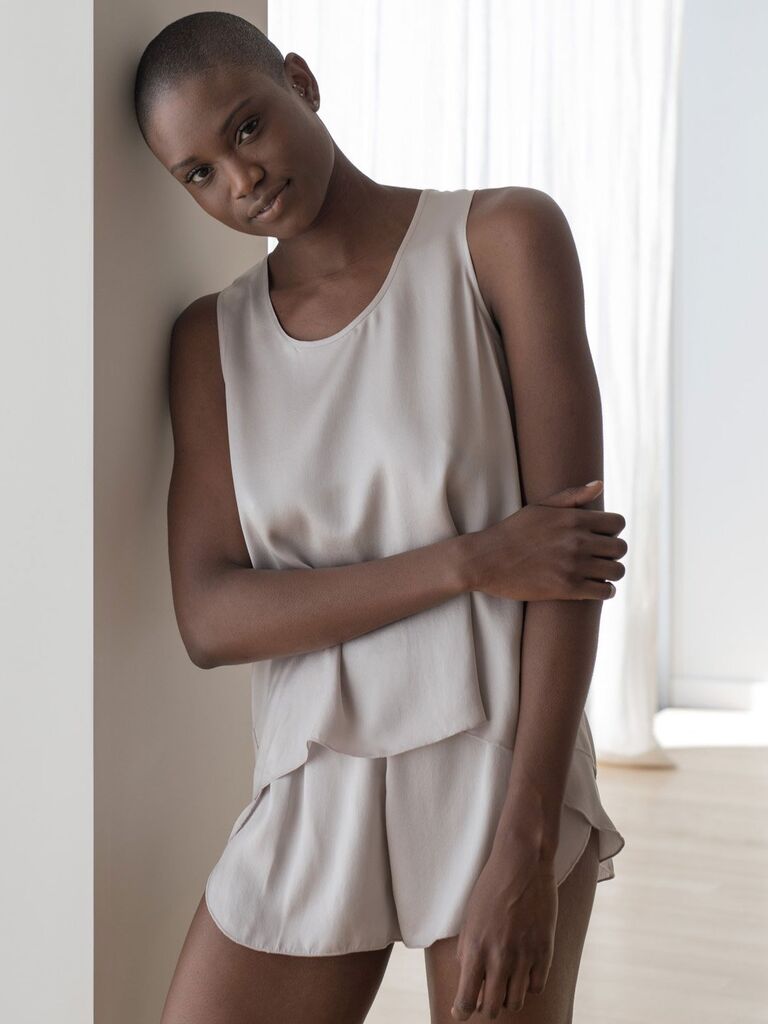 What about something seriously luxe for the MOH who never treats herself? These silky soft pajamas will help your maid of honor have an amazing sleep. (They're a best seller for a reason!)
Lunya washable silk pajama set, $178, Lunya.co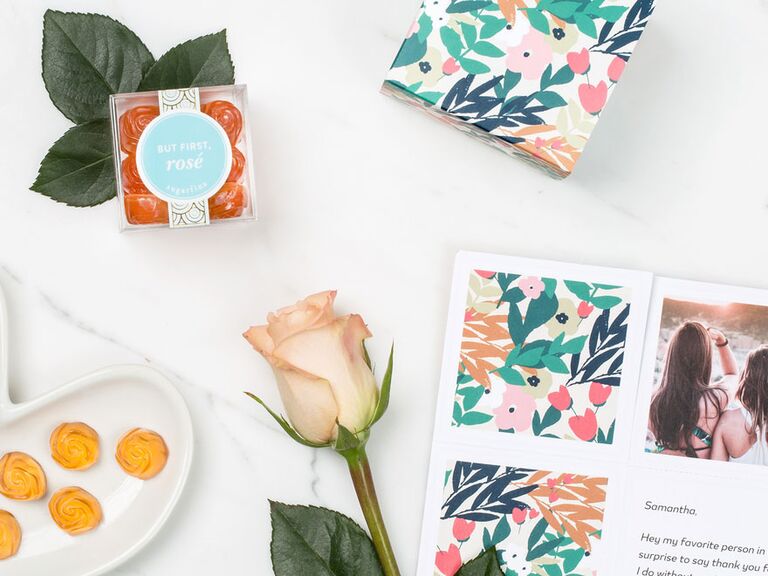 From gummies that taste like her favorite tipple to a chic gold necklace, Greetabl has so many great options for a one-of-a-kind, deliverable gift. Not only can you choose from loads of designs for the gift box, you can even customize it with a sweet message and photos. What more could you need from a wedding party gift idea?
Greetabl gift with customized gift box, from $13, Greetabl.com
Round out your bridesmaid and groomsmen gifts with these cool picks. We've found presents that they can use on the big day, or every day afterward.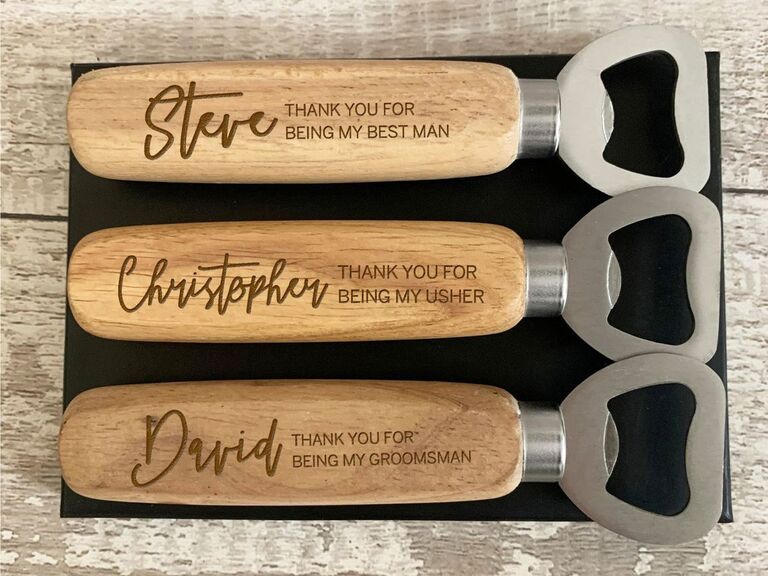 These customized wooden bottle openers feature sincere notes to your groomsmen. They even come in boxes for easy gifting!
Tami Trading personalized wooden bottle opener, from $8, Etsy.com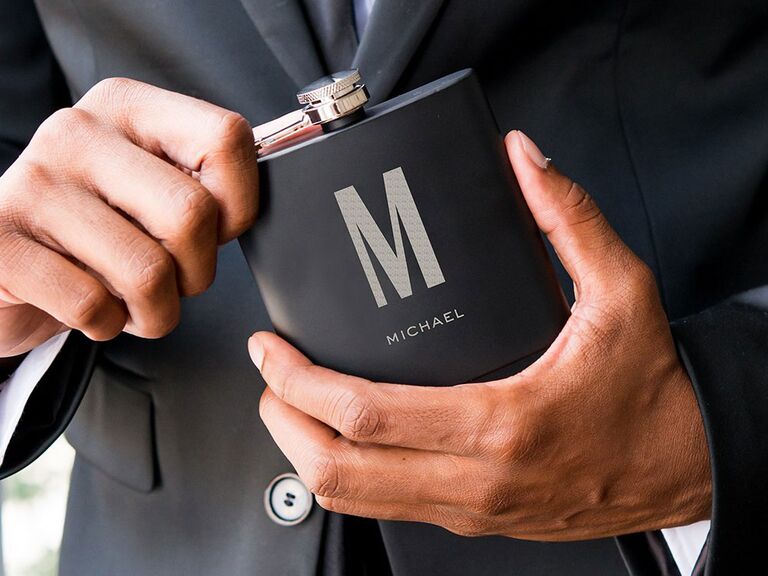 If you're planning on giving your wedding party their gifts before the ceremony, these hip flasks are ideal. Fill them and share a celebratory sip before the day begins.
The Knot Shop personalized engraved black hip flask, $16, TheKnotShop.com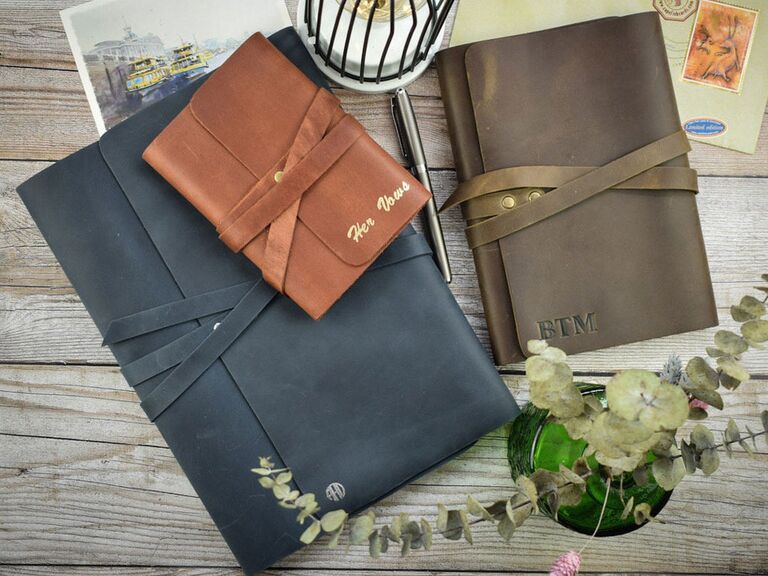 A personalized leather-bound journal is a useful wedding attendant gift each groomsman will reach for on the regular.
Feeling Gifts personalized leather journal, from $38, Etsy.com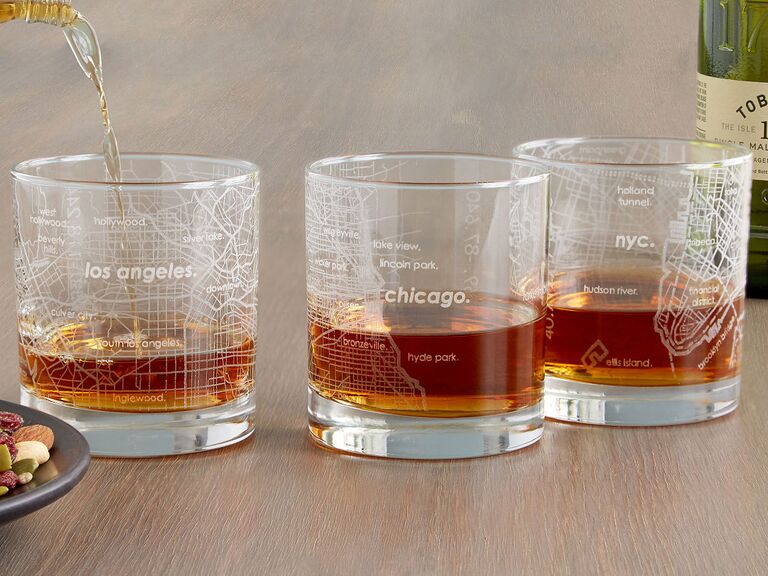 A tumbler etched with a map of their city is a unique way to give them something personalized. Bonus points if it's your shared hometown!
Brian, Dave, Neil and Colin urban map glass, $16, UncommonGoods.com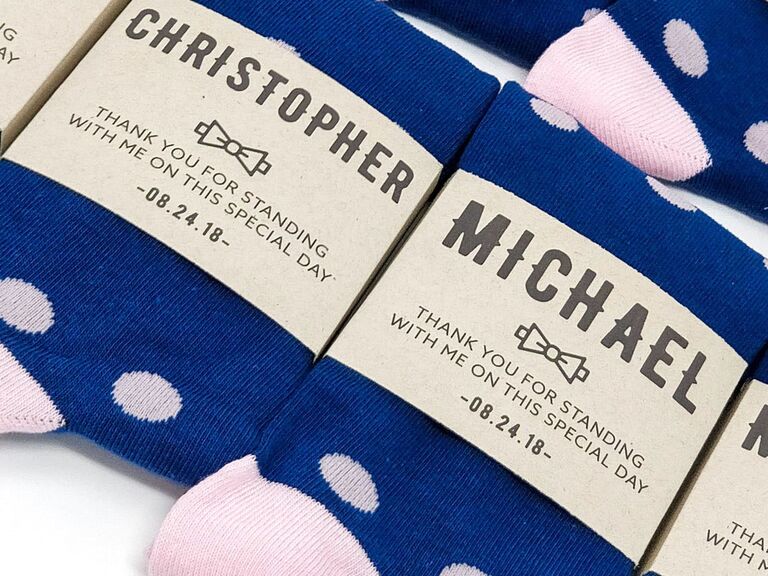 There won't be any cold feet here with these affordable wedding party gifts. Choose a pattern that matches your wedding's color scheme for a coordinated look. (Psst: Find more of our favorite groomsmen socks right here.)
No Cold Feet Co personalized groomsmen socks and label, from $12, Etsy.com
He's been your right-hand man throughout the whole wedding planning process. Gift him something he'll really appreciate and treasure for years to come.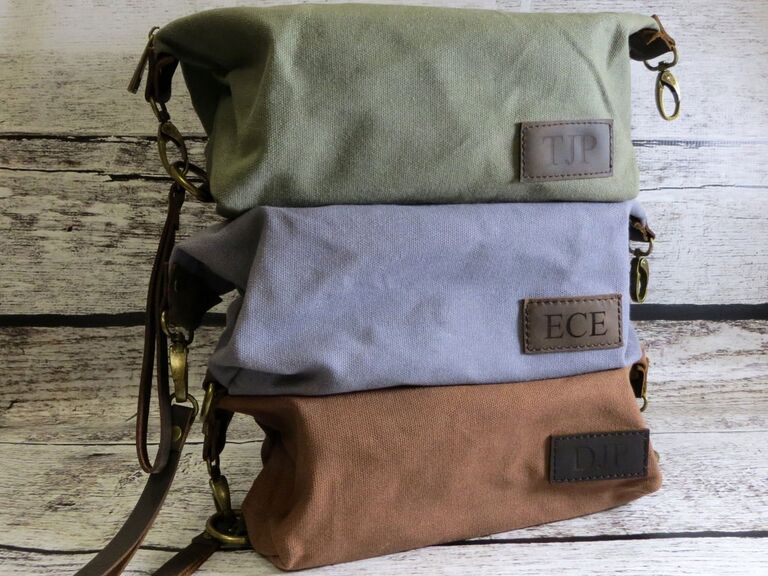 A personalized toiletry bag is a great gift for the best man who adores traveling (or just needs a way to clean up his bathroom cabinet).
Done Better monogrammed Dopp kit, from $18, Etsy.com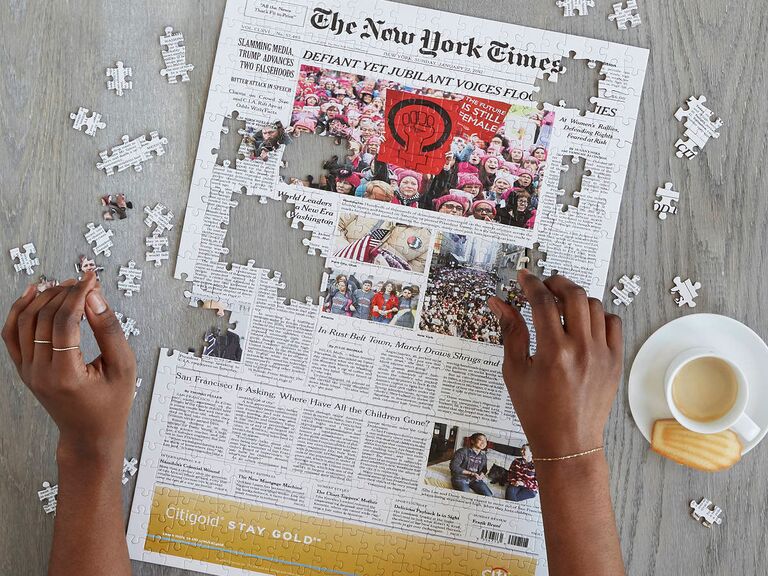 Extra, extra: We've got the best gift for your puzzle-master best man. This personalized 500-piece puzzle will show the front page of the New York Times on the day your friend was born.
Uncommon Goods New York Times custom front page puzzle, $50, UncommonGoods.com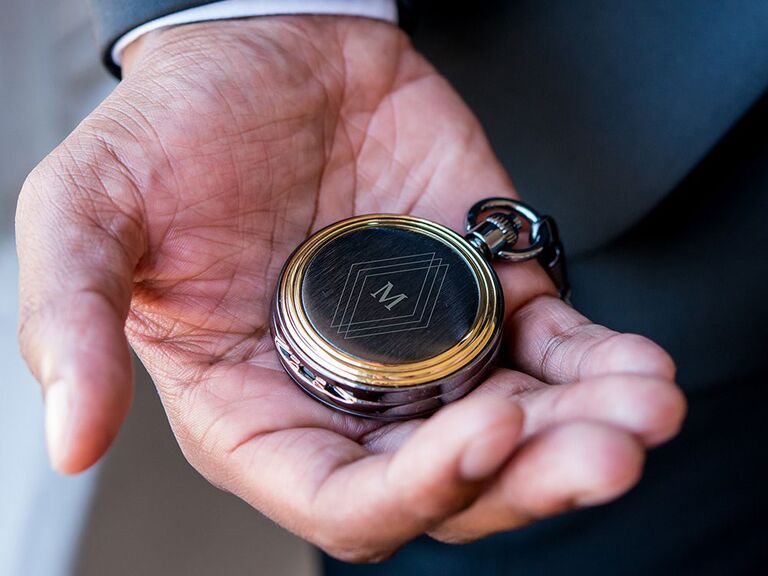 This monogram pocket watch could be a stylish finishing touch to your best man's wedding finery.
The Knot Shop personalized gold frame gunmetal pocket watch, $30, TheKnotShop.com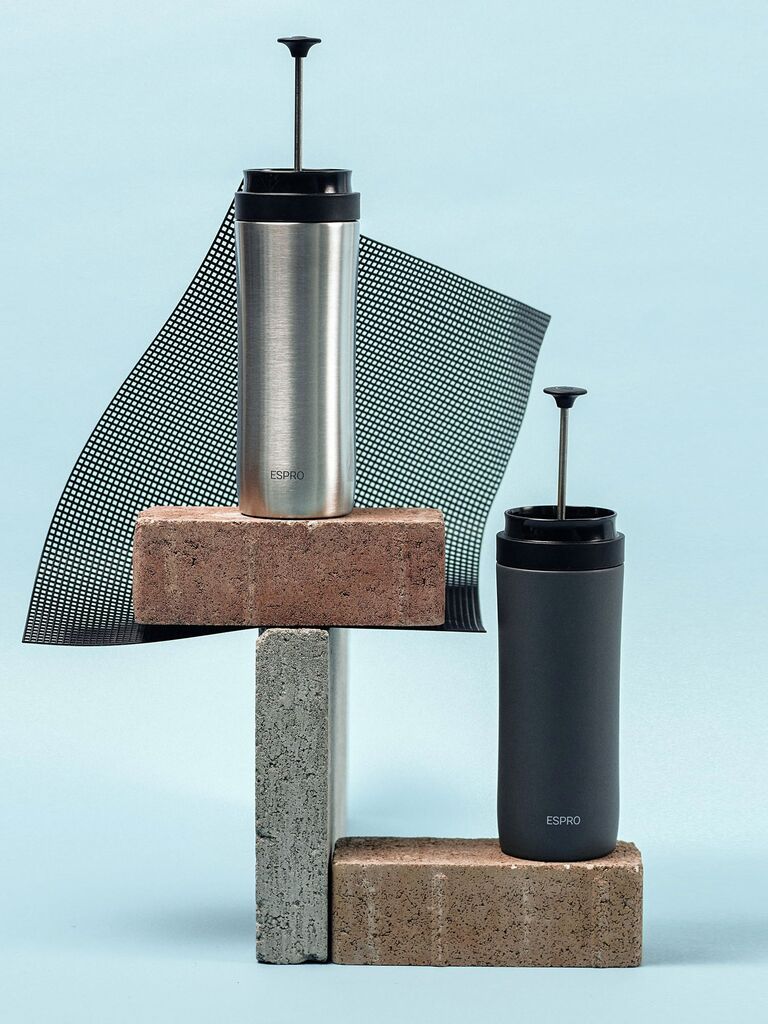 Update his trusty travel mug by giving him this innovative gift. It features a press and double-layered filter for fresh coffee on the go. The insulated walls keep liquids hot (or cold) for up to eight hours!
Espro P1 travel coffee press, $40, Nordstrom.com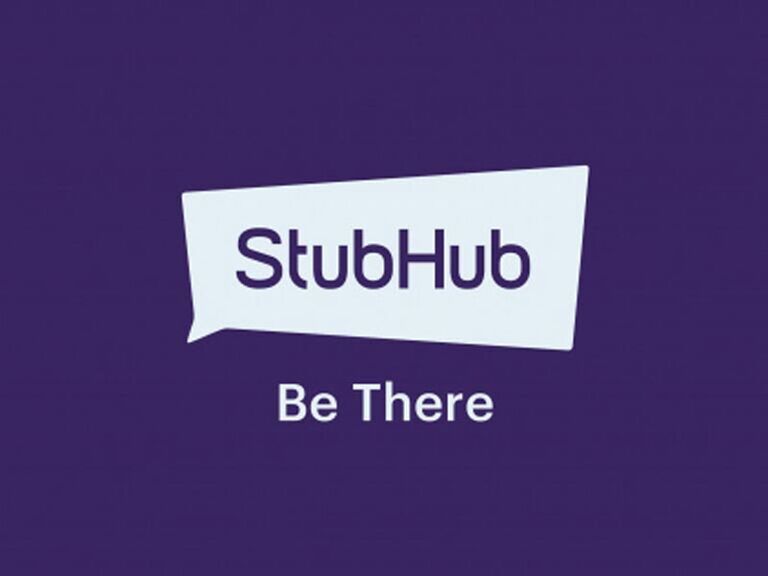 If he's on the trail of the next hit band or is a sports fanatic, a gift card for tickets from StubHub will go over well.
StubHub gift card, price varies, StubHub.com
Get inspired by your flower girl's interests when you're searching for the perfect gift to say "thanks."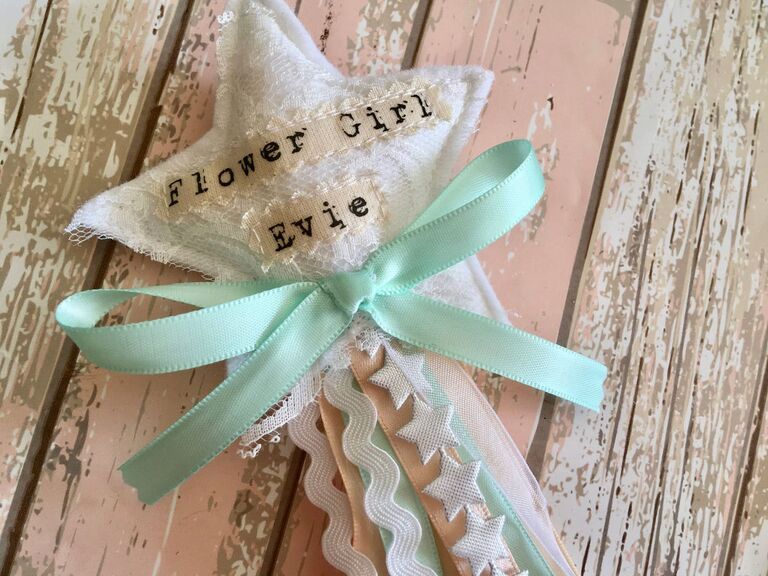 A cute custom wand will make dress-up time so much more fun. Plus, it can be made in any shade to match your wedding's colors!
Little Pixie Makes handmade flower girl wand, $10, Etsy.com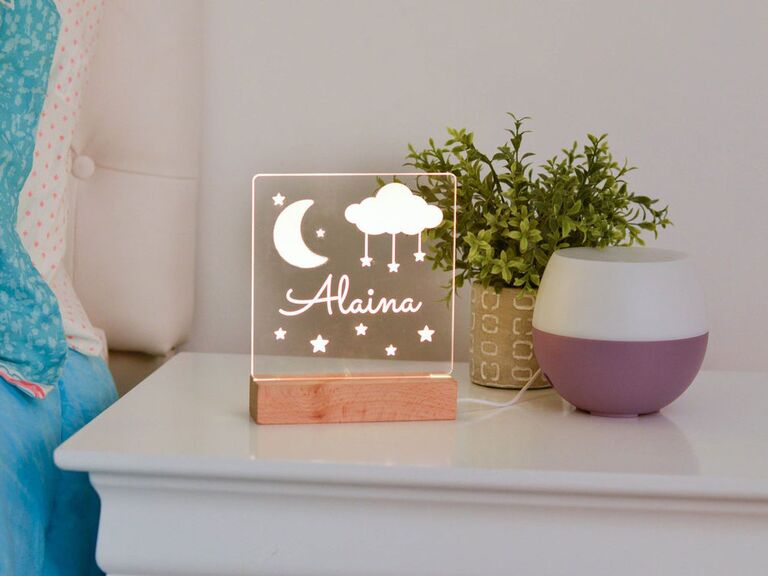 This night light is as useful as it is adorable, and will look so sweet in your flower girl's bedroom.
Stamp Nouveau moon and stars night light, $29, Etsy.com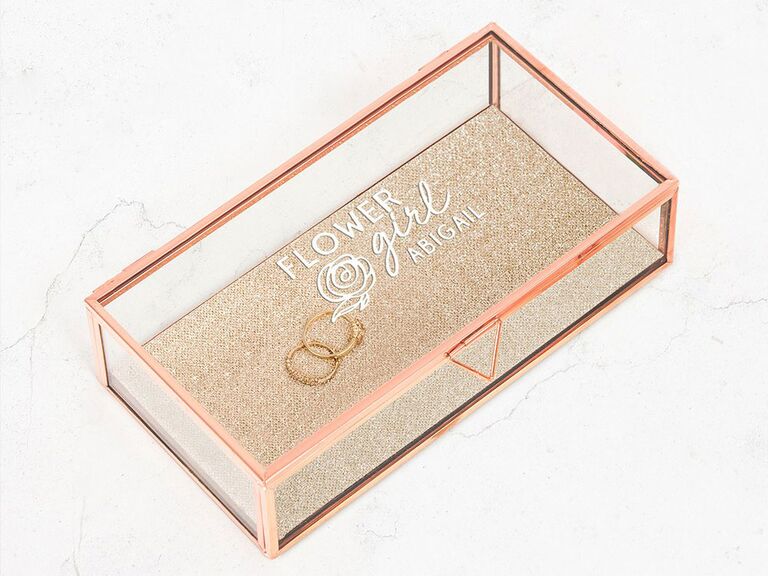 Make sure your flower girl has somewhere to keep her trinkets by gifting a personalized jewelry box. The stylish rose gold finish is something she'll want to show off to all her friends!
The Knot Shop personalized glass rectangle flower girl jewelry box, $26, TheKnotShop.com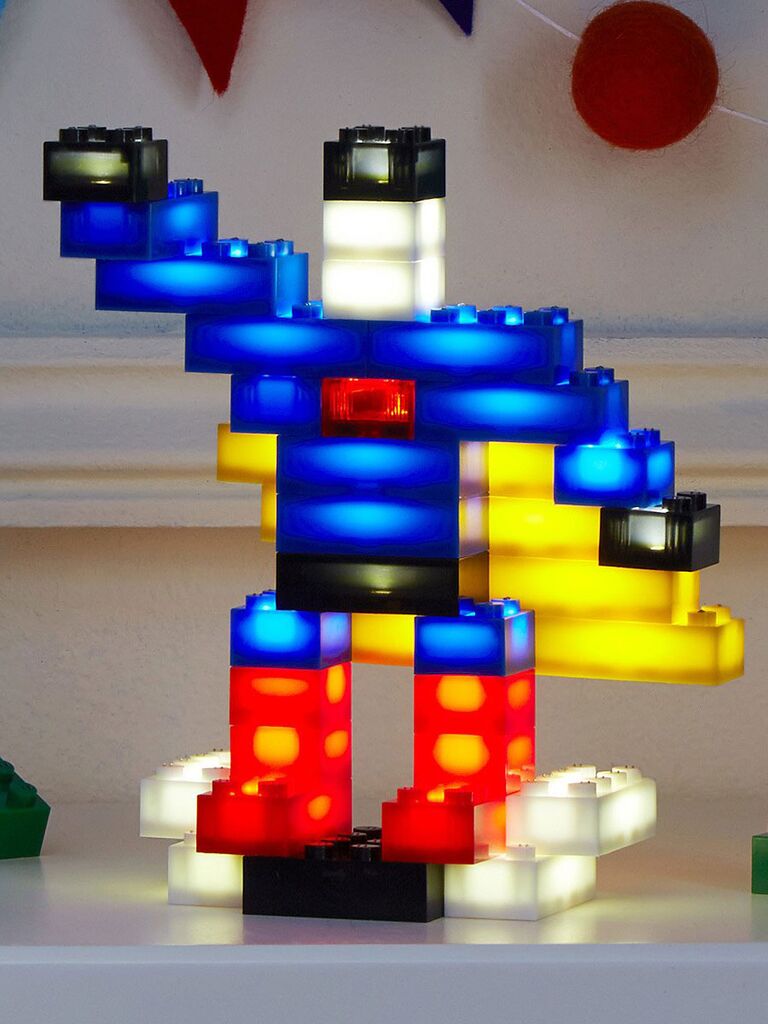 Give her toy box an upgrade with these super-cool light-up building blocks. There are a few different lighting presets, including one that's activated by sound. How's that for a unique gift?
Uncommon Goods sound-activated light blocks, from $30, UncommonGoods.com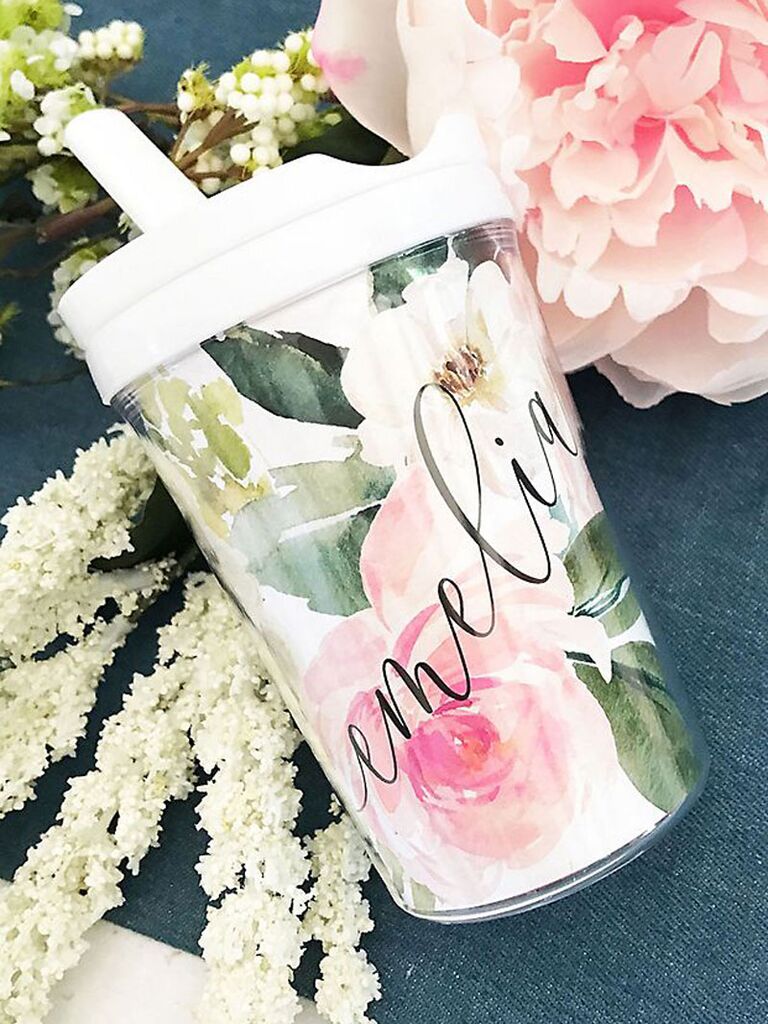 A younger flower girl will look so chic sipping from this pretty sippy cup.
David's Bridal personalized floral sippy cup, $23, DavidsBridal.com
After doing such an important job, your ring bearer deserves something special. Shop our super-fun picks.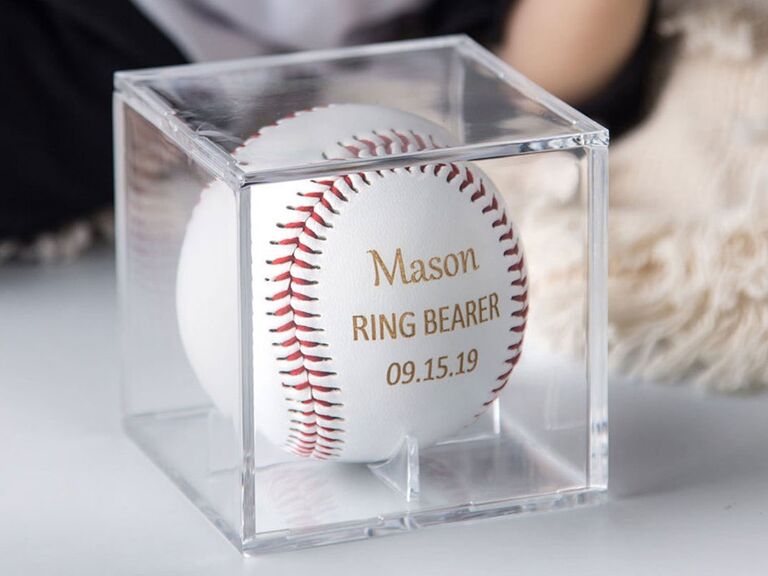 A sporty ring bearer will be thrilled to receive a custom-printed keepsake baseball.
Wesley Wise Goods laser engraved baseball, from $13, Etsy.com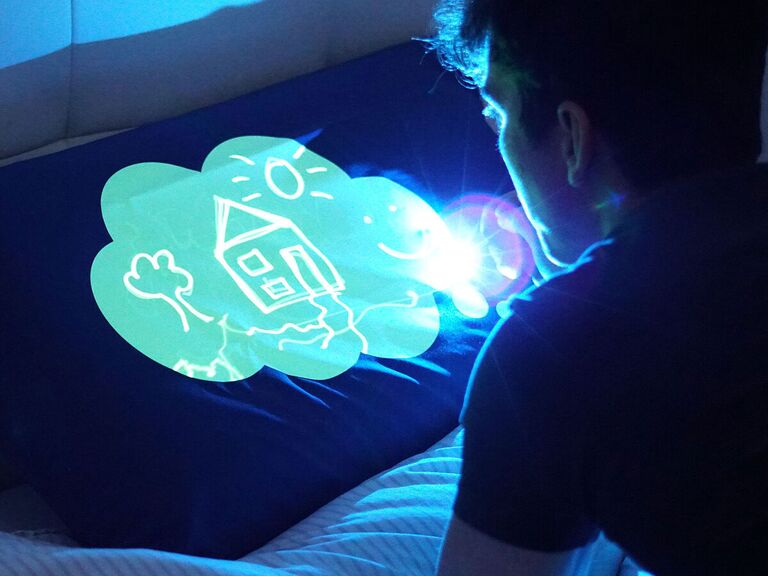 Encourage their artistic skills with a pillowcase they can draw on! This one is activated by light for an awesome bedtime activity. Each doodle lasts for about five minutes before fading.
Uncommon Goods illuminated doodle pillowcase, $22, UncommonGoods.com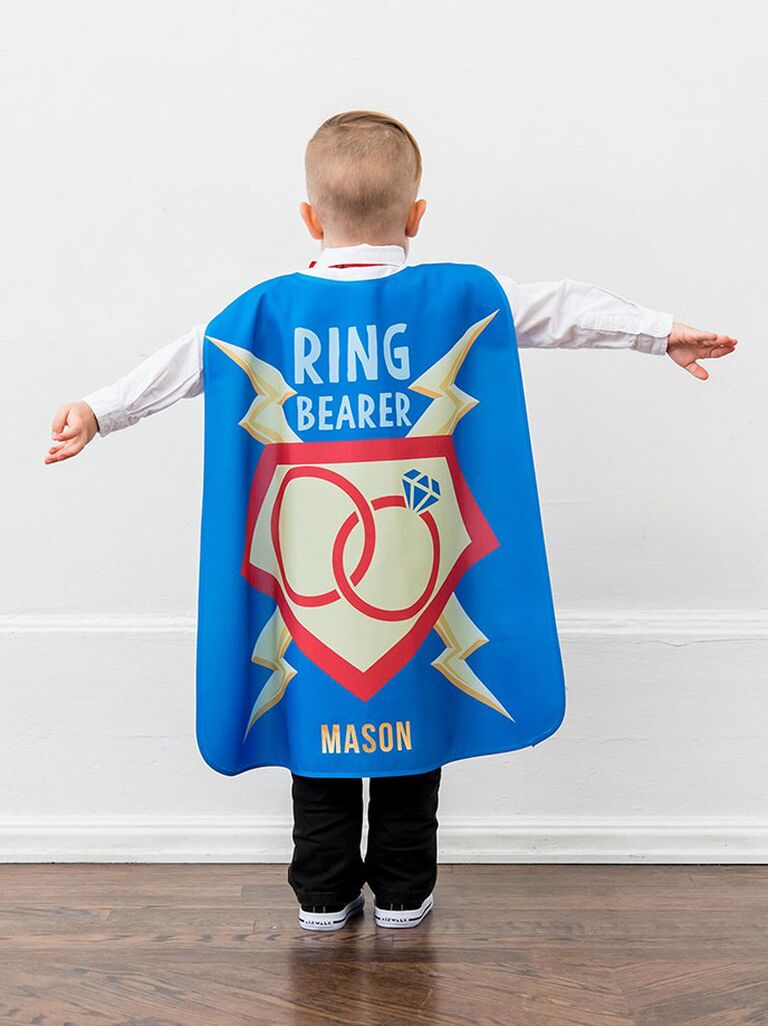 Your ring bearer will be so excited to dress up as the wedding's very own superhero.
The Knot Shop ring bearer super cape, $15, TheKnotShop.com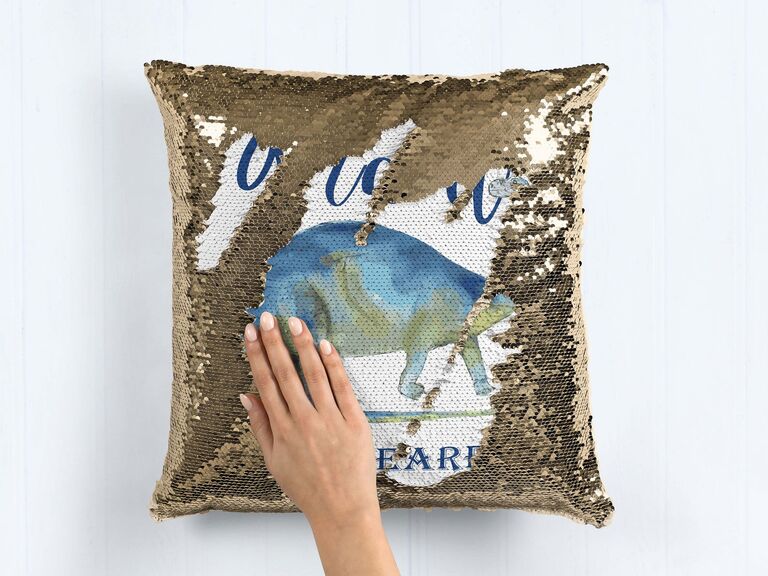 Your ring bearer will have so much fun hiding and rediscovering the dinosaur graphic on this personalized cushion.
Amy Lucy Designs personalized ring bearer cushion, from $16, Etsy.com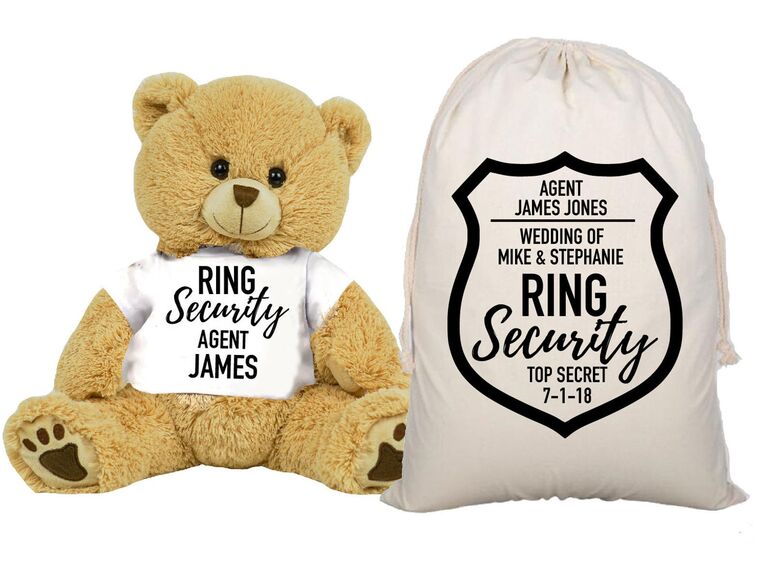 What about something cuddly? This ultra-plush teddy bear is a cute way to say thank you. It comes in its own bag that displays your ring bearer's name, plus your names and the wedding date.
Paper Gala ring security teddy bear, from $20, Etsy.com