These Are the 40 Best Wedding Favors of 2020
From personalized playing cards to s'mores kits—and more!
by Lindsay Tigar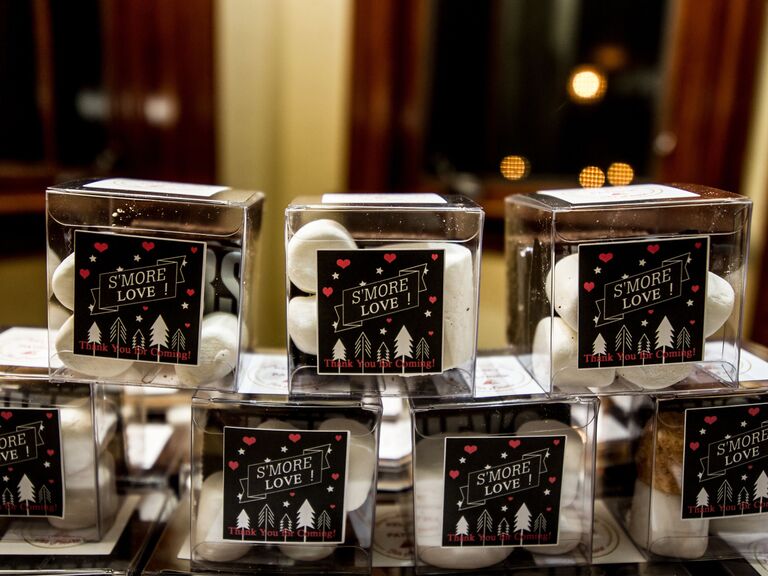 There are lots of reasons why couples give out wedding favors—they serve as a thank-you to your guests, and provide a tangible memory of your celebration. As you head into the final months before your wedding, you'll want to start browsing wedding favor ideas to pick the right party favors for your big day. From mini bottles of maple syrup to personalized playing cards, environmentally-friendly options and much, much more, there are lots of wedding favors to choose from, which can make selecting the right giveaways feel a bit overwhelming. 
The first step to choosing the perfect wedding favors is to figure out your budget, knowing that the average cost of favors is about $400, according to a survey of over 27,000 newlyweds who married in 2019. You'll then want to decide the type of party favors you'd like to give out, whether they be edible favors, keepsakes, or something else. Your favors should also correspond to your wedding's theme, whether it be rustic, glamorous, classic, or beachy. While you might be tempted to DIY your wedding favors, know that the process may be a bit time-consuming, so make sure you have the time and energy to assemble your giveaways. You can also order favors from a retailer, many of whom can easily personalize your favors to add an extra-special touch. 
If you're looking for unique wedding favor ideas, don't worry! We have you covered with everything you can dream up. Explore these 40 recommendations for your one-of-a-kind big day.
Food and Drink Inspired Wedding Favors