The 49 Best Wedding Favors for Couples Getting Married in 2021
From personalized playing cards to custom hand sanitizer.
We have included third party products to help you navigate and enjoy life's biggest moments. Purchases made through links on this page may earn us a commission.
There are lots of reasons why couples give out wedding favors—they serve as a thank-you to your guests, and provide a tangible memory of your celebration. As you head into the final months before your wedding, you'll want to start browsing wedding favor ideas to pick the right party gifts for your big day. From mini bottles of maple syrup to personalized playing cards, environmentally-friendly options and much, much more, there are lots of wedding favors to choose from, including hand sanitizer and masks if you're getting married in the time of COVID-19.
The first step to choosing the perfect wedding favor is to figure out your budget as the average cost of favors is about $400, according to a survey of over 27,000 newlyweds who married in 2019. Then, choose the type of party favors you'd like to give out, whether they're edible gifts, cute keepsakes or something else. Your favors should also correspond to your wedding's theme, whether it be rustic, glamorous, classic, or beachy. While you might be tempted to DIY your wedding favors, know that the process may be a bit time-consuming, so make sure you have the time and energy to assemble your giveaways. You can also order favors from a retailer, many of whom can easily personalize your favors to add an extra-special touch.
If you're looking for unique wedding favor ideas, don't worry! We have you covered with everything you can dream up. Explore these top recommendations for your one-of-a-kind big day.
In this article:
Food and Drink Inspired Wedding Favors
Calling all foodies: Your search for edible wedding favor ideas ends here. Giving guests a gift they can eat or drink is certainly a way to make them happy. From coffee beans to hot sauce, find our favorite food and drink wedding favor ideas.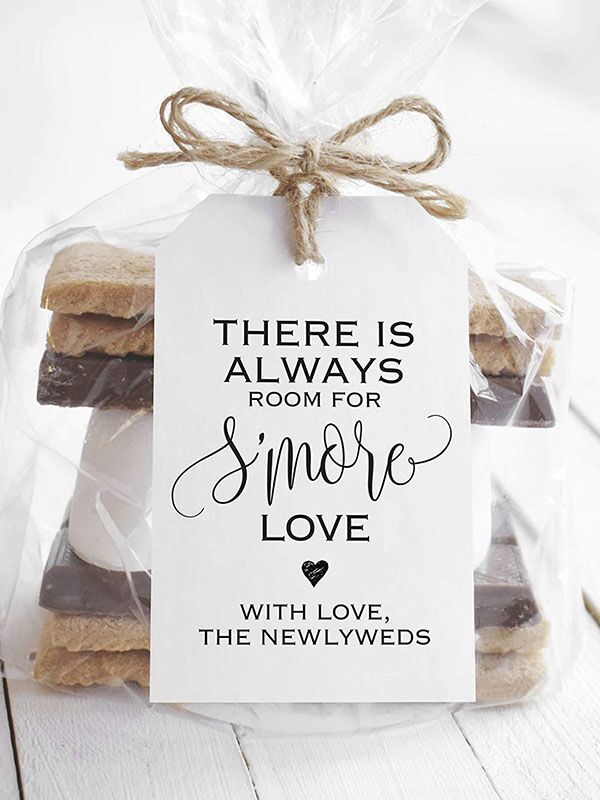 Though this wedding favor idea doesn't include the ingredients to make a mouthwatering s'more—graham cracker, chocolate and marshmallow—it's the right sticker to seal the deal. Plus, it's a steal in terms of personalized goods.

Bliss Collections S'more Love favor gift tag, $11 for 50, Amazon.com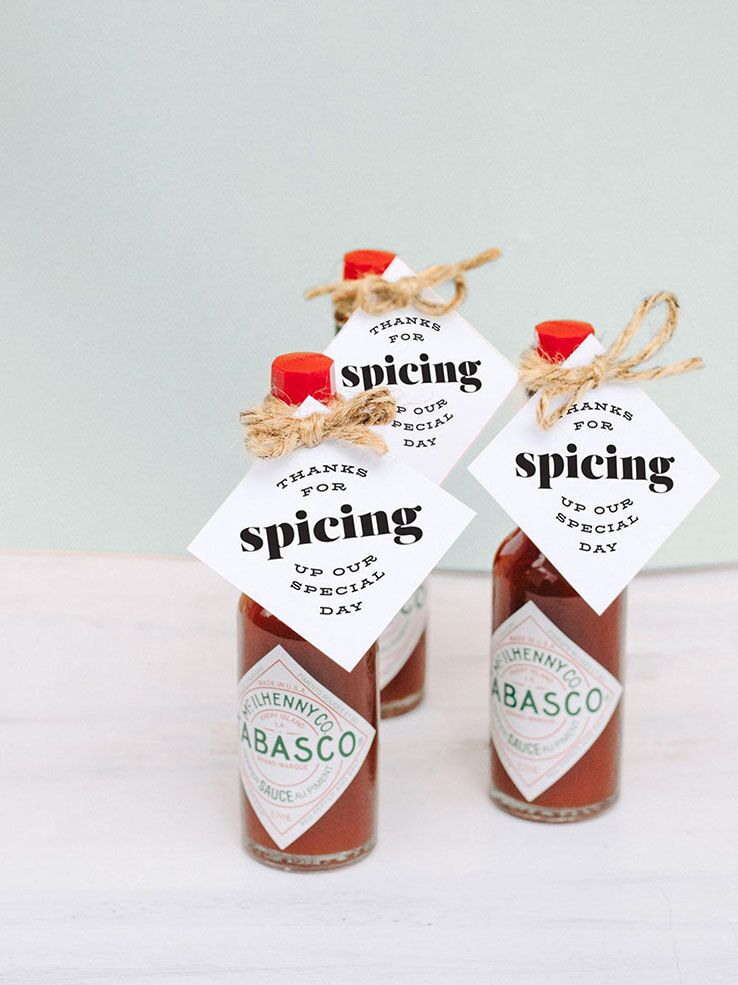 If you're never without hot sauce in your bag, these wedding favors are totally ideal. Just print out the tag and tie it to a bottle of your favorite hot sauce—you've got an unforgettable giveaway that your guests will be totally hot for!
Shop Folksee printable hot sauce label, $10, Etsy.com
If you're hopping on the doughnut wall wedding reception trend, consider buying these bags that tie together true love and everyone's sweet tooth.

Nottingham Paper Goods Donut Mind If I Do bags, $15 for 25, Amazon.com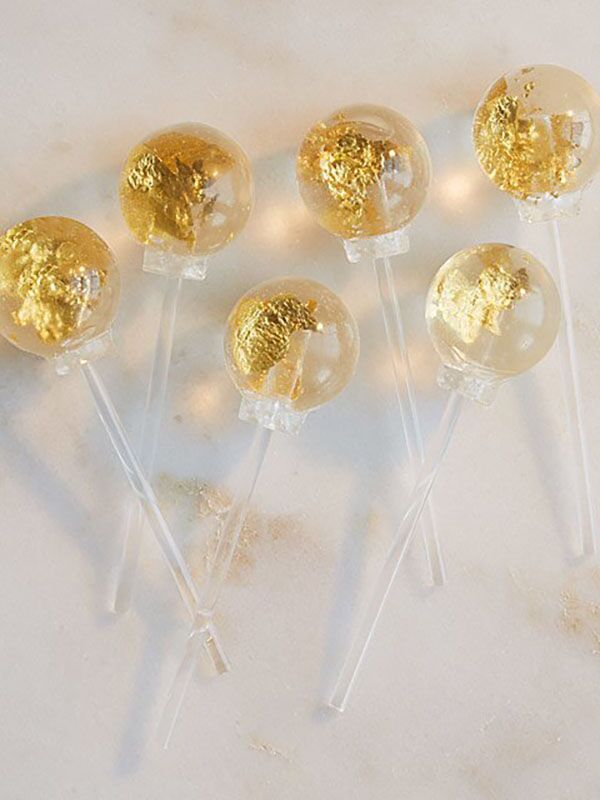 Who says lollipops are just for kids? These sweet treats are extra fun because they're made of edible gold. We love this simple-yet-classy take-home gift for your guests.
Uncommon Goods edible gold lollipops, $36 for 6, UncommonGoods.com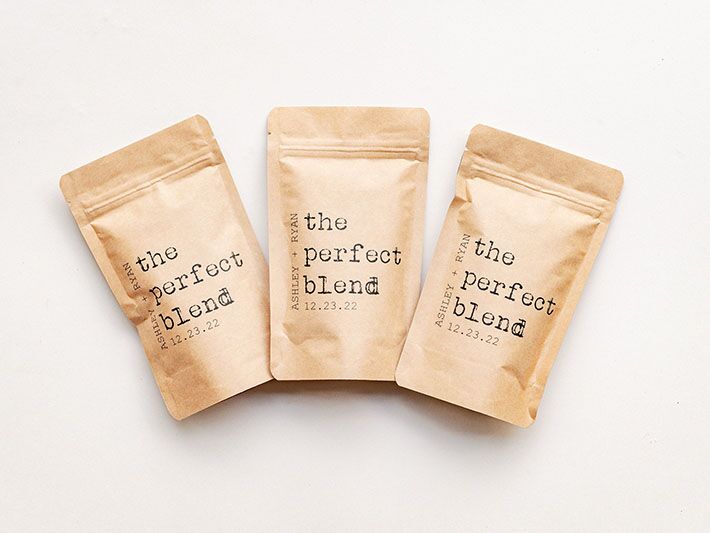 Coffee lovers will adore this useful gift. As one of our favorite wedding favor ideas, this coffee blend pack allows you to pick your perfect blend of beans.
Give It Pretty The Perfect Blend coffee wedding favor, $30 for 20, Etsy.com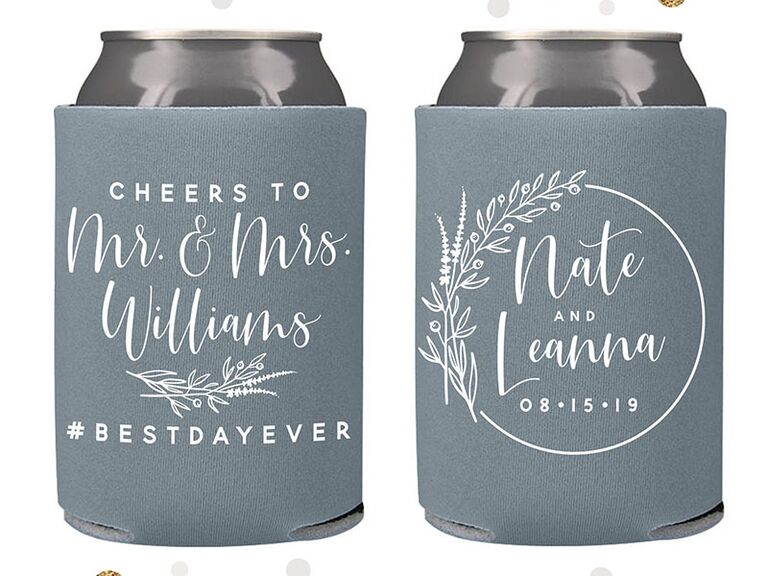 Tailgating during football season, lounging by the shore, enjoying a round at home—wherever your guests are, they'll appreciate having a koozie to keep their drinks cool. Buy this set of 12 can coolers in bulk as a nice way for loved ones to sip in style.

Sycamore Studios Co 'Cheers to Mr. and Mrs' can cooler, $59 for 12, Etsy.com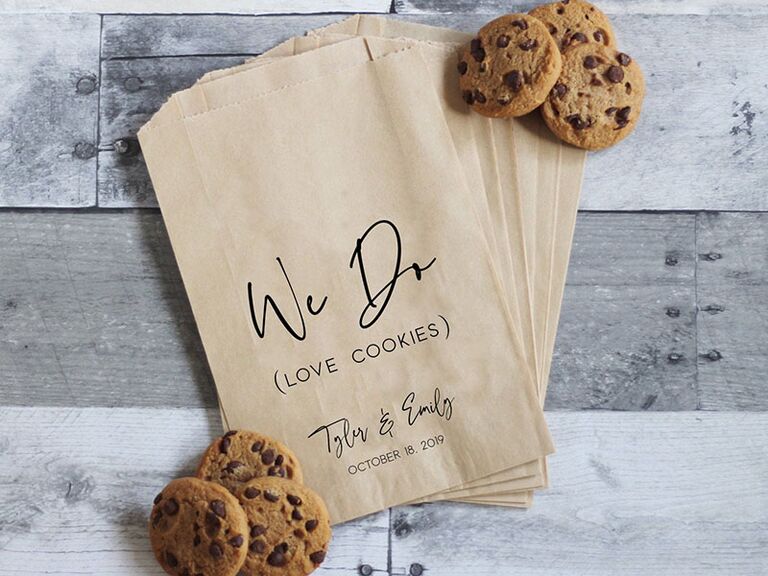 Let's be real—who doesn't love cookies? Give all of your guests permission to channel their inner cookie monster with this fun idea. Just add freshly baked goods and you're ready to go.
Pop and Erie We Do (Love Cookies) favor bag, $14 for 20, Etsy.com
Add your name or wedding hashtag to this cute favor, fill it with your potion of choice and have all wedding guests take a shot. Then, they can take it home to remind them of the fun evening they had with loved ones.

The Knot Shop personalized mini mason jar shot glass, $2 each, TheKnotShop.com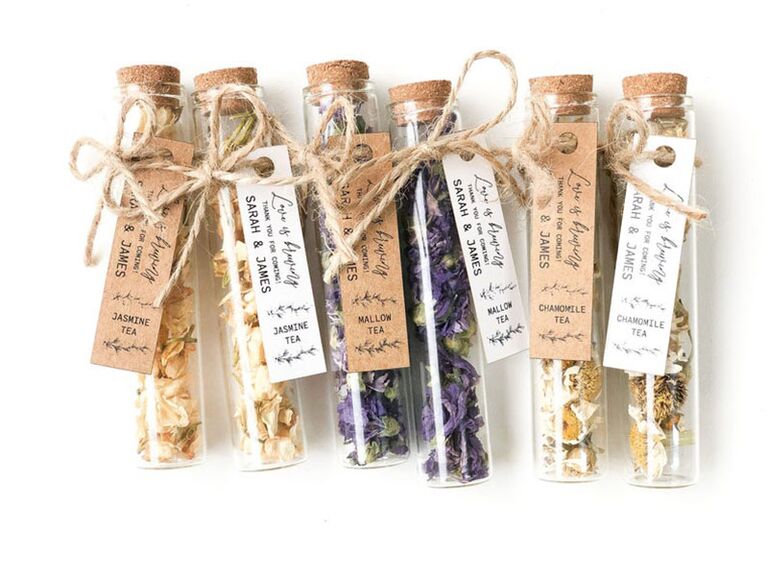 Regardless of where you fall on the rivalry between coffee- and tea-drinkers, this take-home tea vial is a creative gift that can also double as décor—just imagine how pretty it would look sitting on a guest's kitchen counter.

Mesnet wedding tea favors, $3 each, Etsy.com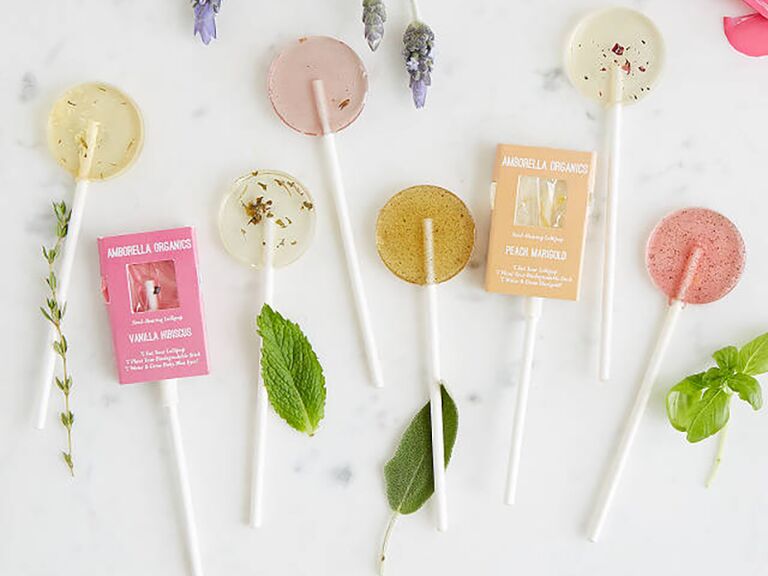 Pretty and classic, flowers are usually a mainstay of any big day. For wedding favor ideas that tie together your love of sweet treats and of the garden, these lollipops get it right.
Uncommon Goods blooming lollipops, $20 for 8, UncommonGoods.com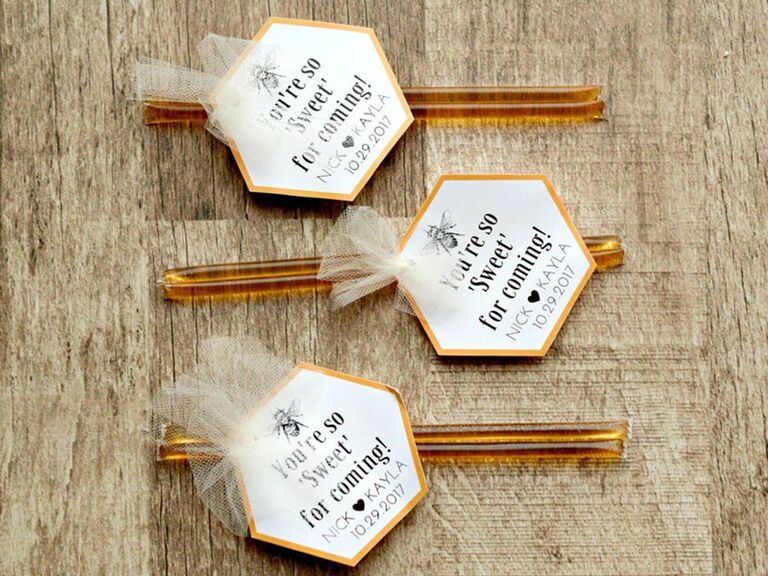 Whether they add it to their spot of tea or keep it for a dash of sweetness for a recipe, these cute honey-sticks are sweet and simple gifts for guests. Can you bee-lieve how cute they are?

Plain Jane 2424 personalized honey stick, $80 for 50, Etsy.com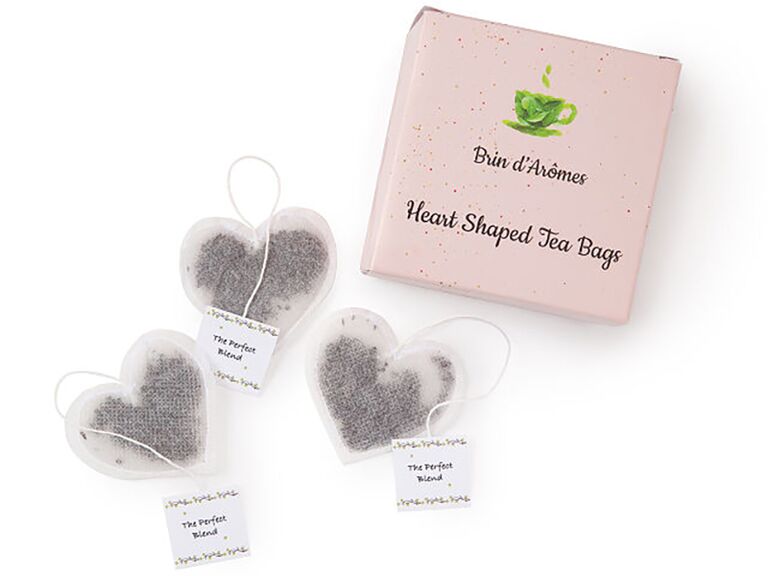 For smaller affairs—or perhaps even as a bridal shower favor—these heart-shaped tea bags are simply adorable. We appreciate the sentiment, and the attention to detail.
Uncommon Goods heart-shaped tea bags, $30 for 15, UncommonGoods.com
Décor and Home Keepsakes
Want to make sure your wedding favors get plenty of use? Consider offering home and décor knick knacks, like playing cards, coasters or bottle stoppers. Browse the best keepsake wedding favor ideas below.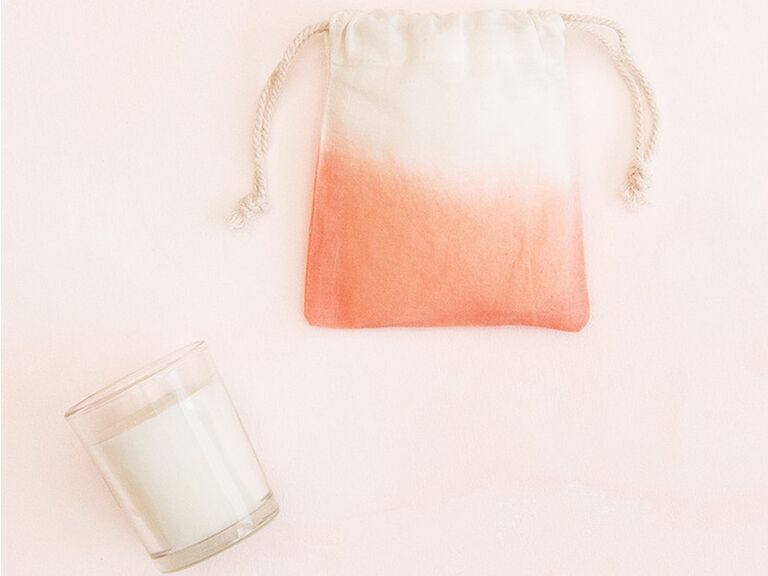 Romance is part of any wedding, but if you're made it your theme this wedding favor idea centers around the flickers of candles. It's a dreamy gift that includes a colorful dip-dyed pouch too.

Minted votive with dip-dyed pouch, $5 each, Minted.com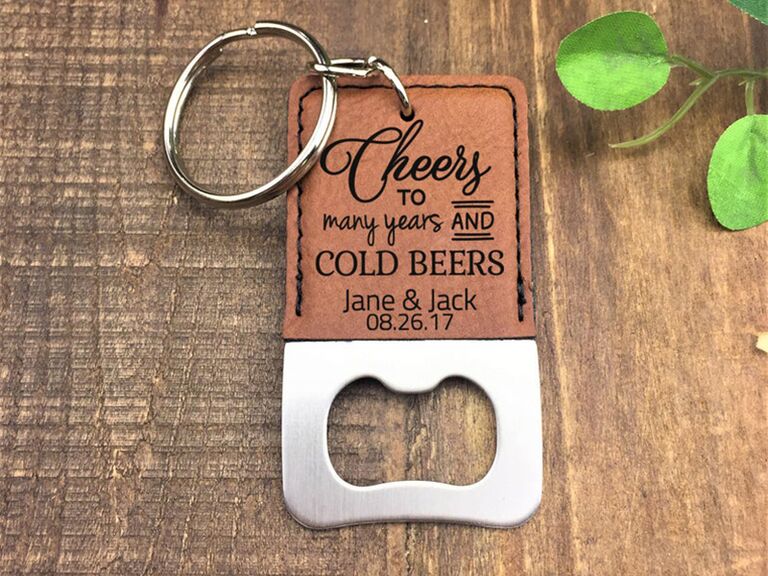 Want your guests to think of your wedding even after the day passes? Give them personalized keychain bottle openers. It's a handy tool most people don't even realize they need until they have it on hand.
Engel Custom Decor personalized bottle opener keychain, $55 for 10, Etsy.com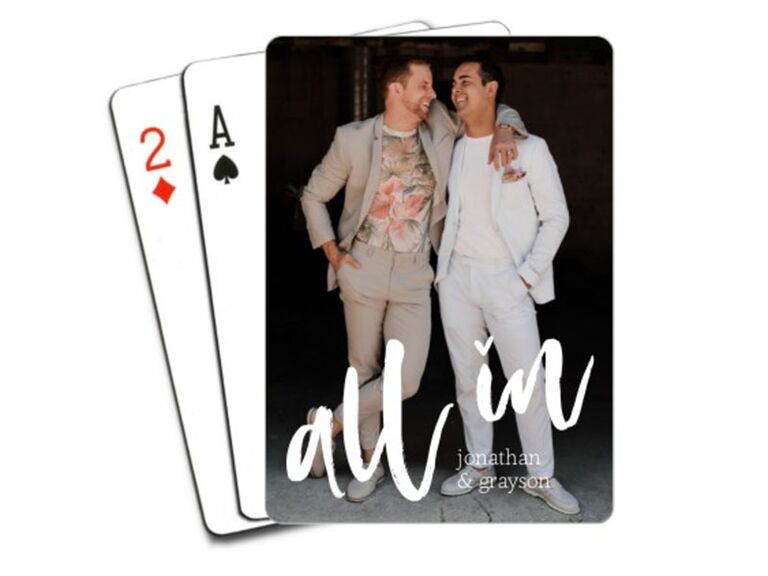 After playing games with far too many singles, you finally drew a solid hand with your one-and-only. These playful cards will lead to plenty of games for your guests in the future.

Shutterfly All Love playing cards, $20 each, Shutterfly.com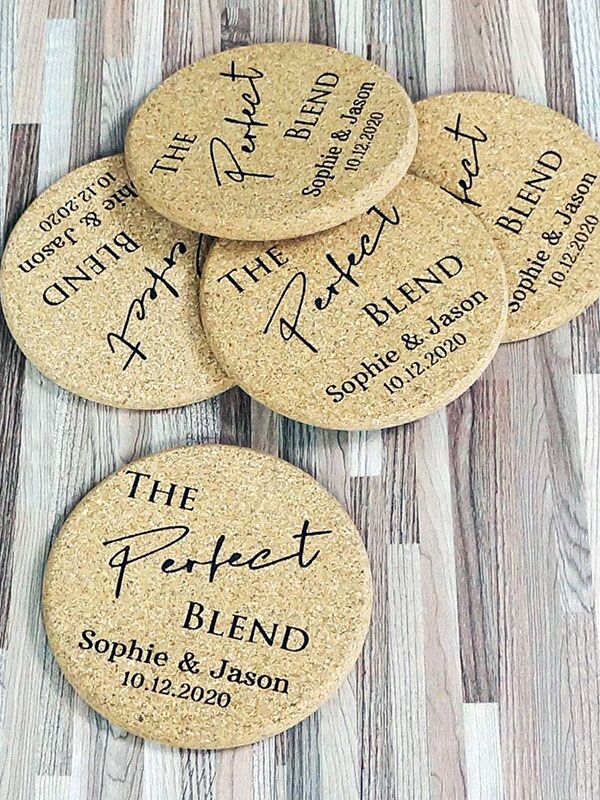 If you're hosting a rustic wedding, these cork coasters are an ideal end-of-night surprise. With your names and date, guests can take these home to protect their furniture all while remembering your beautiful day.

Awersie personalized cork coasters, $2 each, Amazon.com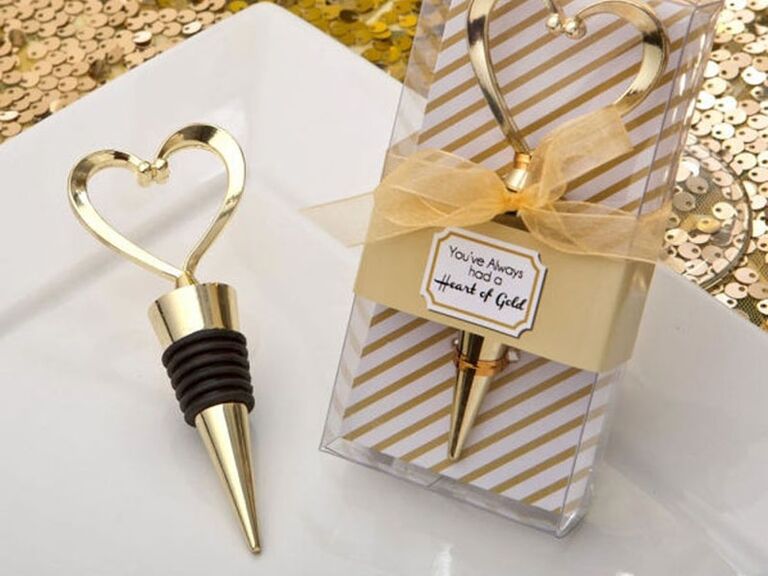 The next time your guests open a bottle of wine but don't polish it off by the end of the night, they'll think of this wedding favor.

All Things Angelas heart-shaped bottle stopper, $75 for 25, Etsy.com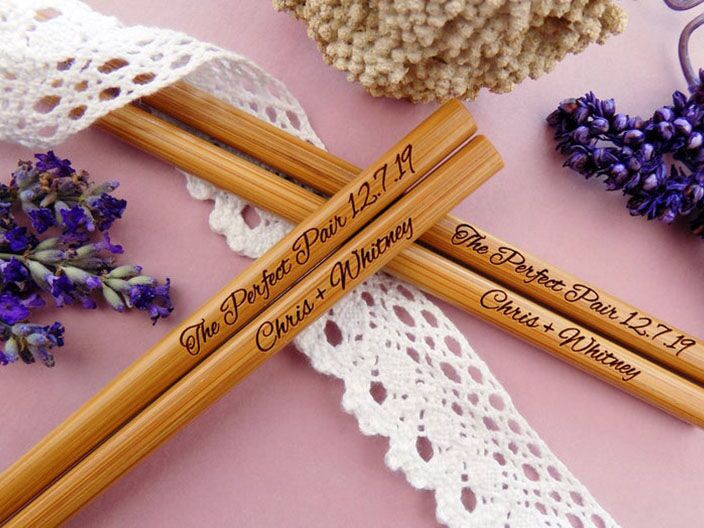 For a Mother Nature-friendly wedding favor idea, we love these personalized bamboo chopsticks. Every time your loved ones enjoy sushi, they'll pull these out and reminisce back to your nuptials

Your Happy Day 2016 personalized chopsticks, from $15 for 30, Etsy.com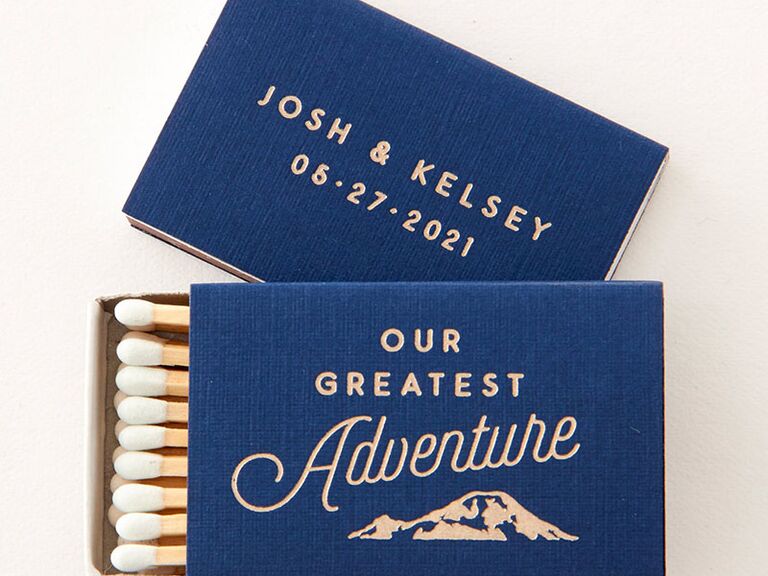 For wedding favor ideas that really strike a chord in cuteness and practically, try this 25-count personalized matchbox set. Not only is it a cute design but your guests will get plenty of us out of it too.
PicturePerfectPapier personalized matchbox, $50 for 25, Etsy.com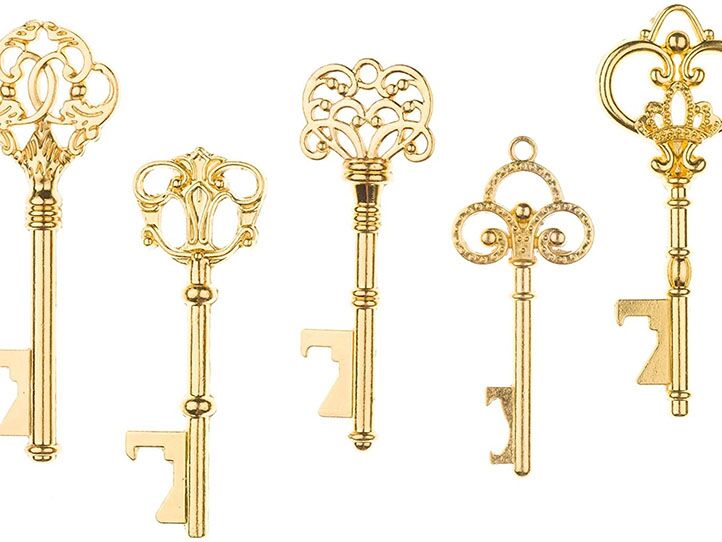 Some wedding favor ideas may be cute in theory but can potentially be forgotten after the wedding. That's not the case with these affordable key-shaped bottle openers. This unique gift is sure to stand out in any kitchen and get plenty of use.

Ella Celebration key bottle openers, $30 for 50, Amazon.com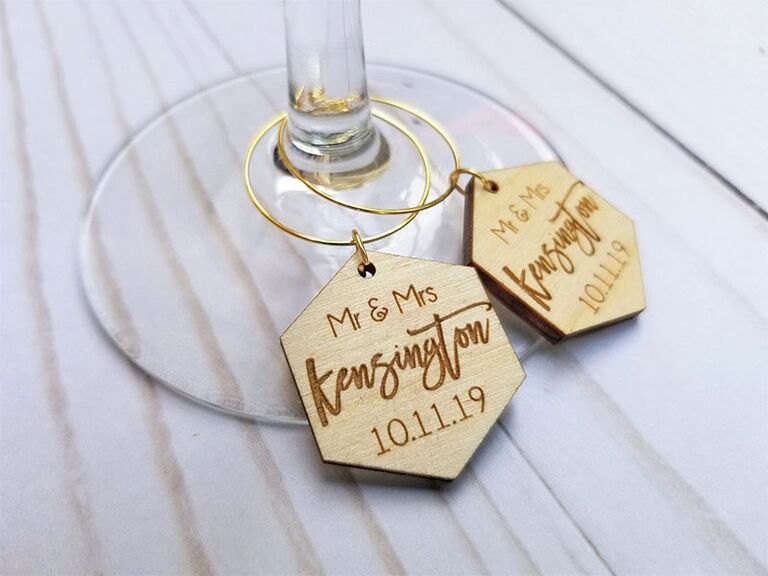 Champagne should never be wasted. That's why these charms are a useful idea for when your guests have house parties in the future

LasercustomsWA custom wood champagne charms, $2 each, Etsy.com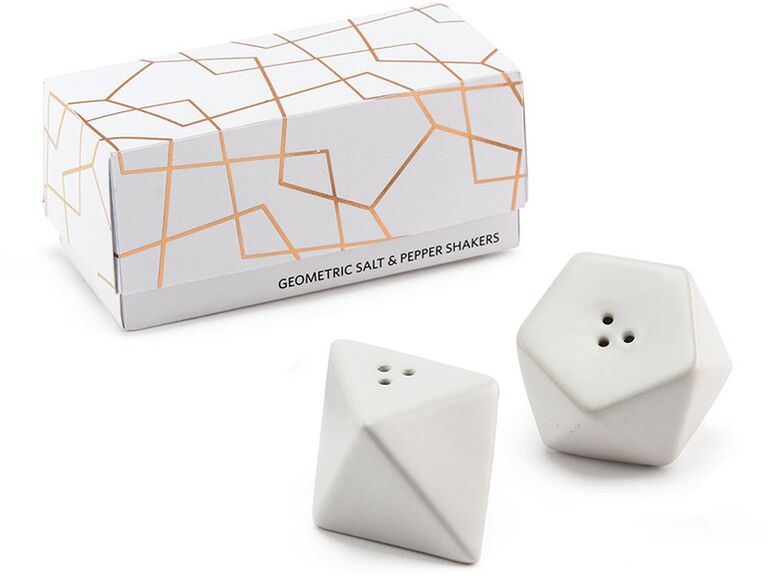 Salt and pepper shakers are not only useful, but they also make a fun addition to any home. We love how these shakers are fashioned in trendy geometric shapes.
The Knot Shop geometric salt and pepper shakers, $4 each, TheKnotShop.com
Rustic Wedding Favors
You don't need a fall wedding to hand out rustic wedding favors. These clever gifts will wow guests—after all, who wouldn't love taking home a baby succulent or local honey jar? These creative favor ideas will stand out in any season.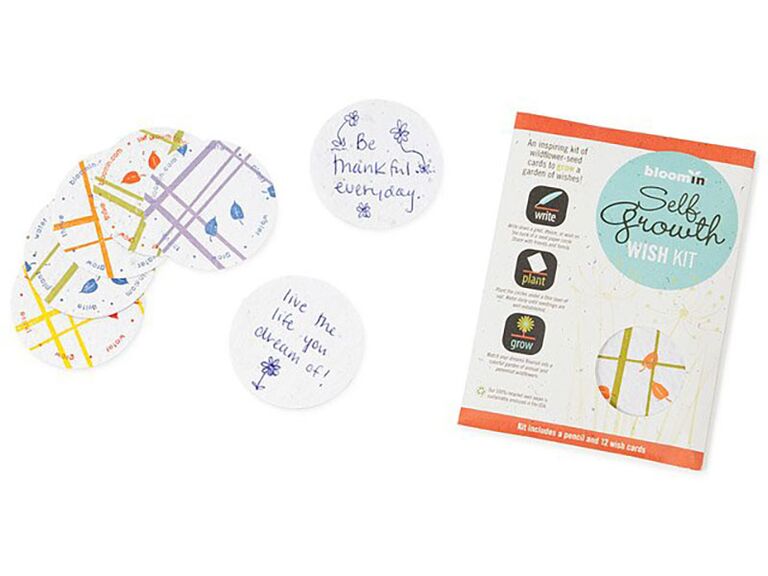 Your soon-to-be-spouse is your dream come true. Help others make their own wishes that will bloom into gardens with this sweet wedding favor idea. Each pack includes 12 plantable cards that you can write on.

Uncommon Goods plantable wish cards, $10 for 12, UncommonGoods.com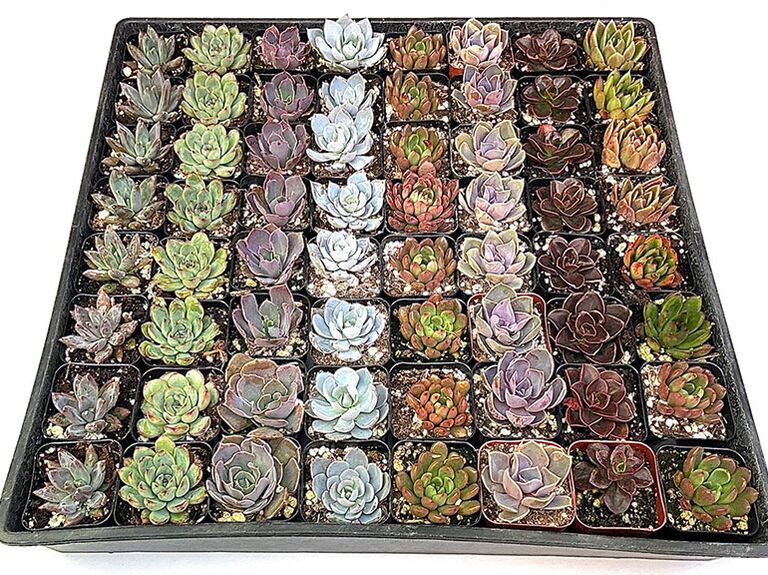 Succulents make a stellar addition to any at-home garden. For those duos looking for wedding favor ideas their guests will actually enjoy, this one is definitely a sweet way to surprise all.

The Artesian Alley rosette succulents, $36 for 12, Etsy.com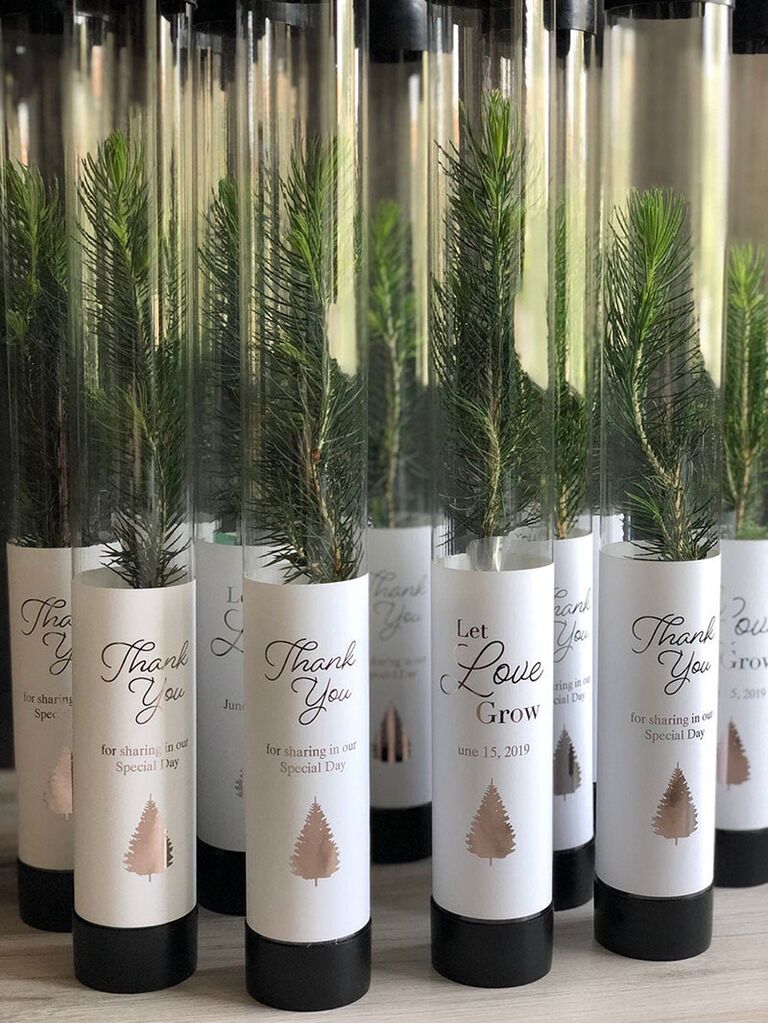 For those hosting a winter wedding, this spruce seedling is a fragrant and seasonally-appropriate wedding favor idea. Even if they don't grow a tree from it, they'll enjoy the gift from nature.
Dearly Beeloved LLC Let Love Grow sapling wedding favor, from $7 each, Etsy.com
If you're planning an autumnal wedding, you can't go wrong with these mini bottles of maple syrup. Straight from the farm into your guest's homes, you'll make their Saturday morning pancake tradition that much tastier.

OUU Shop maple syrup bottles, $6 each, Etsy.com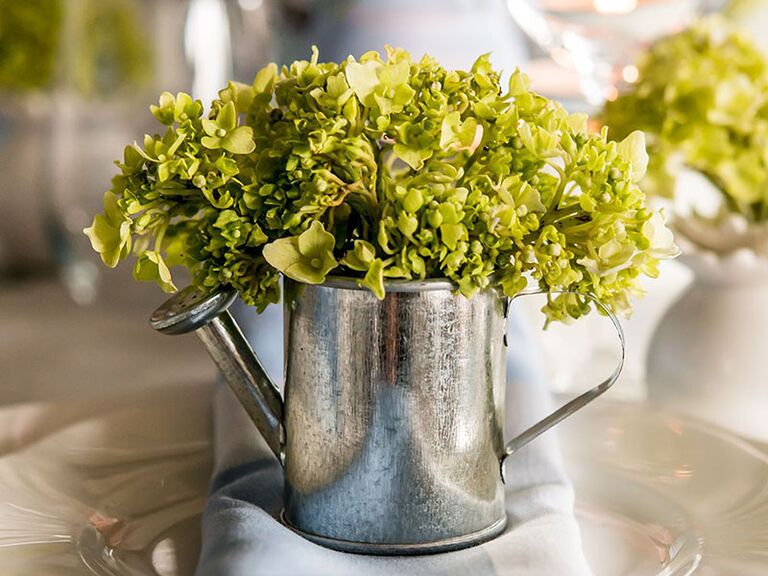 For the perfect wedding favor that's as practical as it is memorable, consider these tiny watering cans. You'll be responsible for plenty of blooming gardens thanks to this unique present.

The Knot Shop miniature metal watering cans, $24 for 12, TheKnotShop.com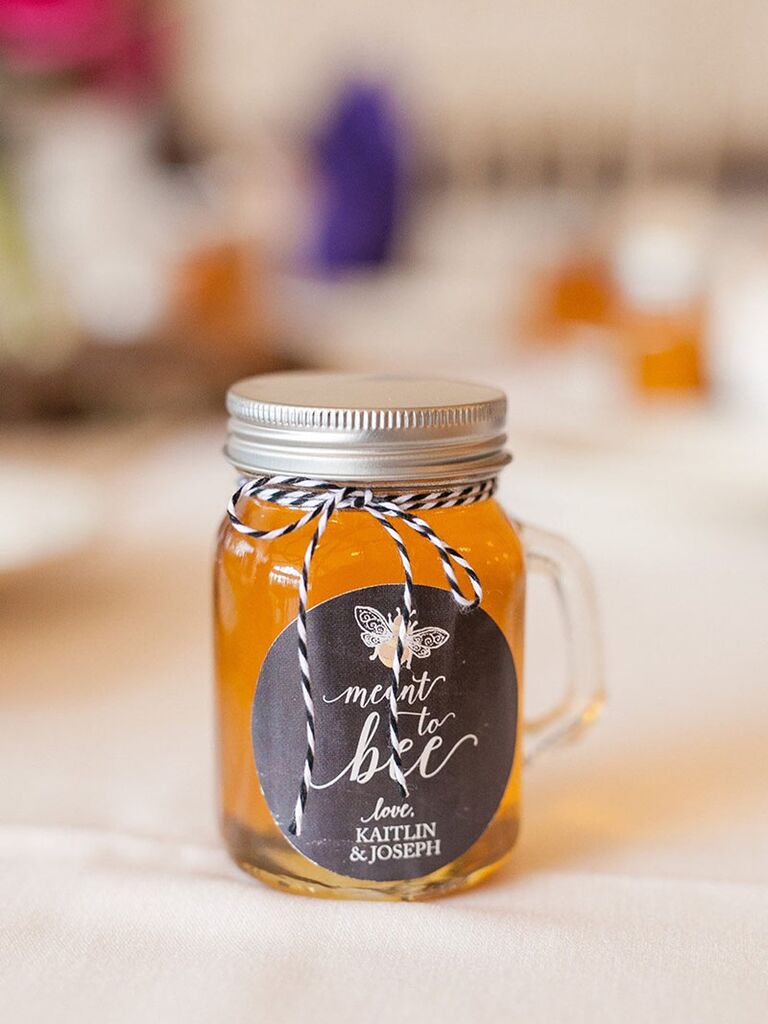 How sweet it is to be surrounded by love on your big day. These personalized honey jars are fun items to take home for your guests, and are ideal for a summer and spring-time wedding celebration in the great outdoors.
Crickets Are Chirpin personalized honey jar, $43 for 12, Etsy.com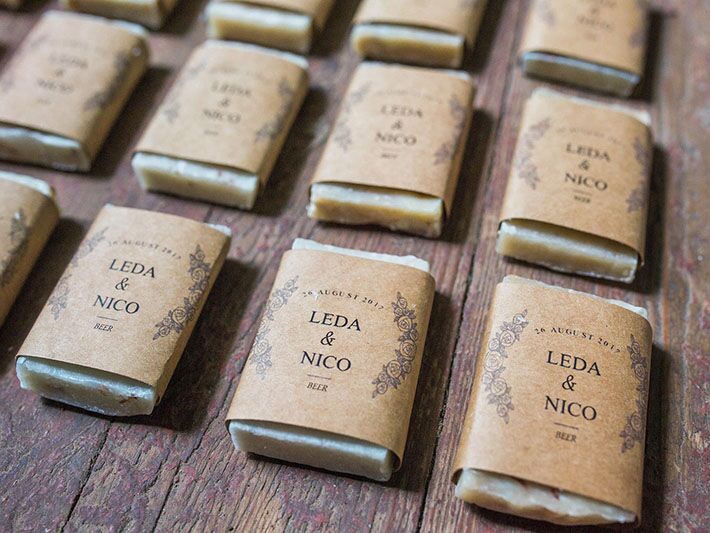 Your guests will appreciate the subtle scents of these personalized soaps. Choose your favorite, customize the label and your favors are complete.

Lebox Boutique mini wedding soaps, $25 for 10, Etsy.com
Fun DIY Wedding Favors
Let your creativity shine with these DIY wedding favor ideas. If you're up for the challenge, handmade gifts will stand out to your guests, and they'll add a unique personal touch to your big day.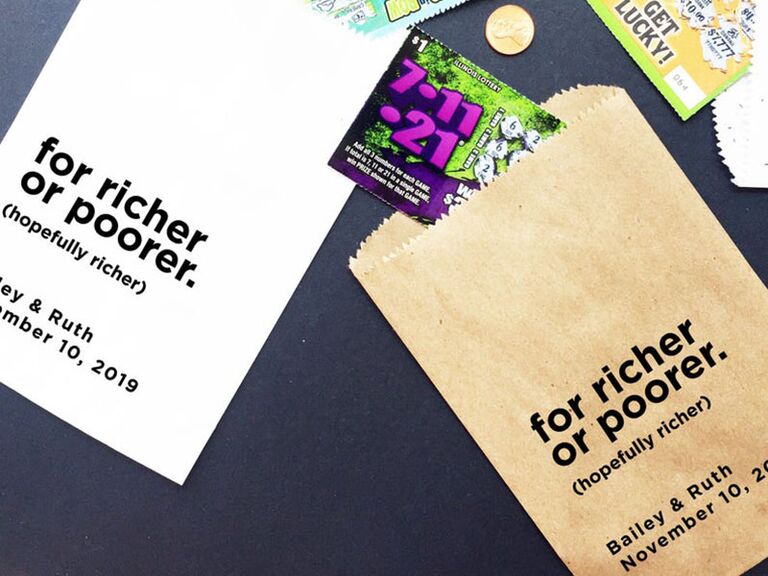 Marrying your partner is just like winning the lottery. Pay the gesture back to your loved one with this personalized scratch-card bag—just add the lottery tickets yourself.
Ivory and Sage Co scratch card favor bags, $15 for 20, Etsy.com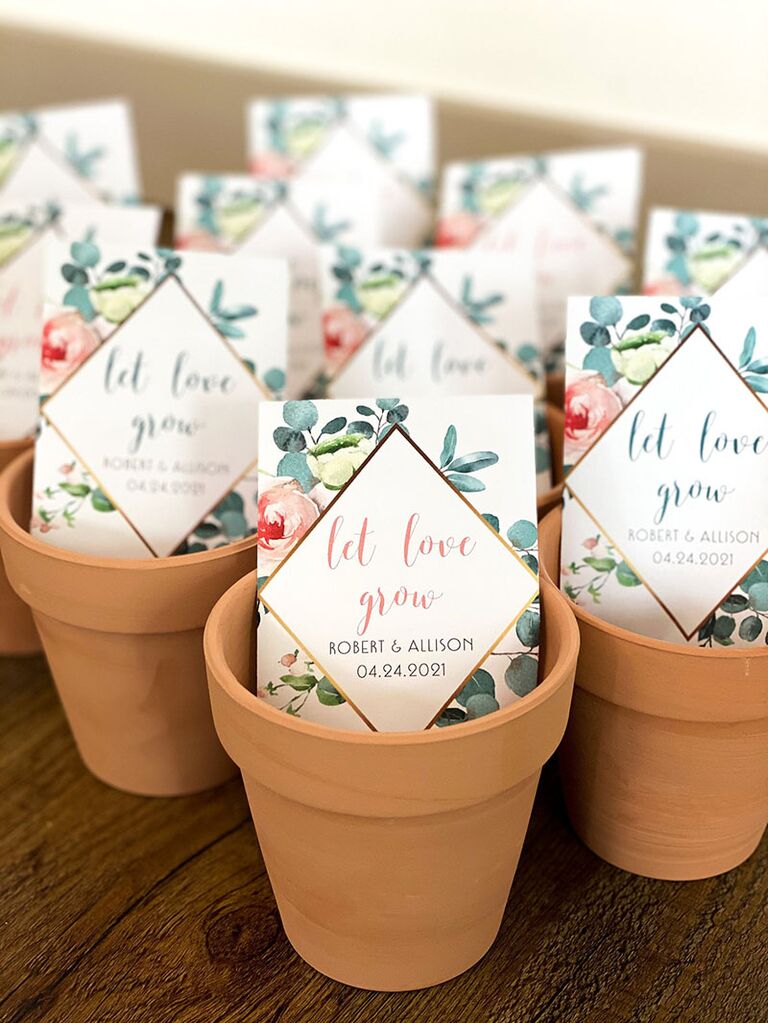 For couples with a green thumb, this pack of wildflower is a fragrant and elegant wedding favor idea. You can customize the font and colors for a truly personal wedding gift.

Plain Jane 2424 Let Love Grow custom seed packets, $15 for 15 packets, Etsy.com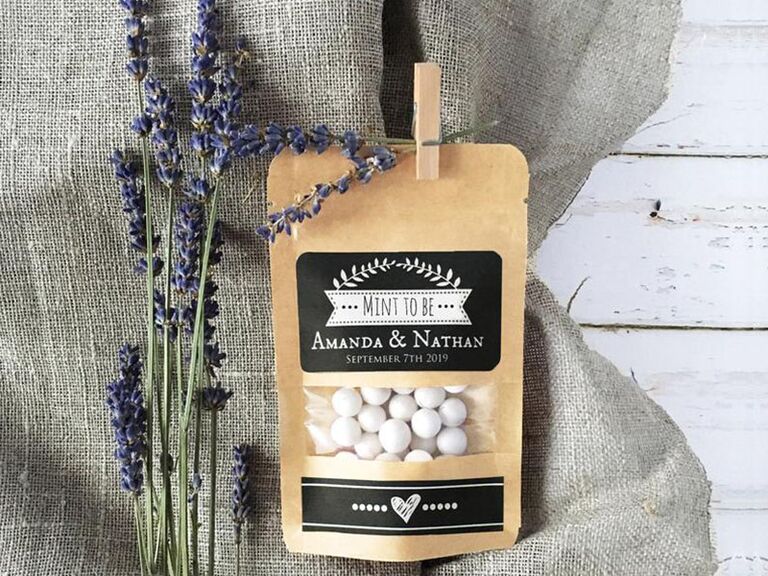 You'll need to add your own candy to these creative bags, but it's a budget-mindful way to give a favor. Plus, we love the cheeky play on words.

The Kraft Moon Mint to Be favor bags, $41 for 40, Etsy.com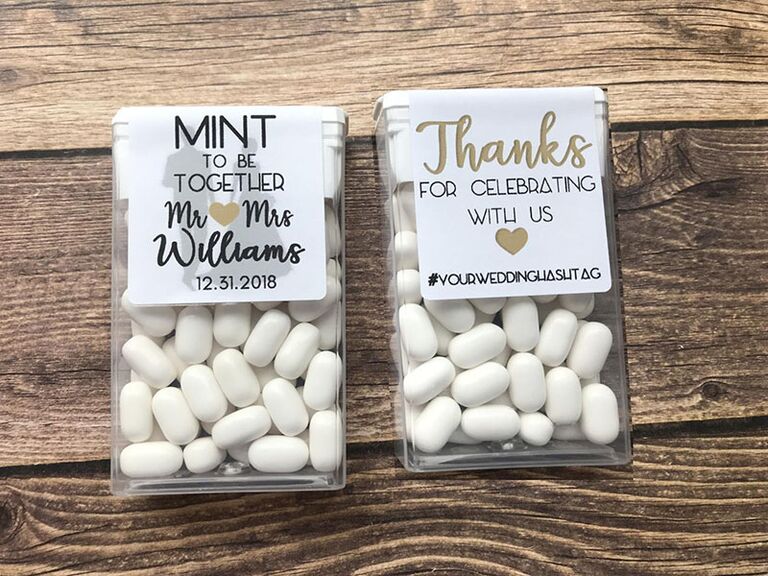 Addicting and adorable, just about everyone will say "yes" to a Tic-Tac. You can personalize these stickers however you'd like, and then add to Tic-Tacs to pass out on your wedding day.

More Than Words ABCs personalized Tic-Tac labels, $27 for 48, Etsy.com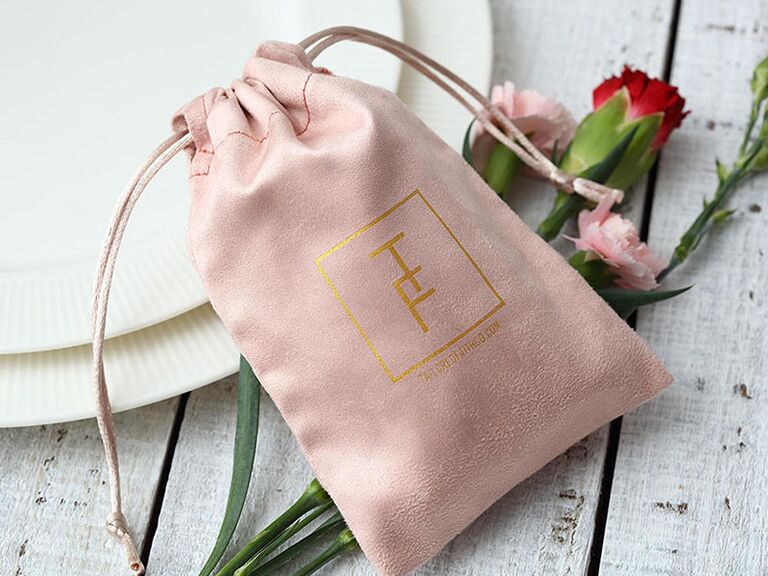 Anything goes with these custom pouches. Fill them with homemade treats for your wedding favors, or gift them to your bridesmaids to transport jewelry and other essentials on your big day. Regardless of their purpose, these chic bags are sure to make the receiver happy.

PureCottonPacking drawstring bags, from $50 for 50, Etsy.com
Destination Wedding Favors
Yes, you can (and should) give guests wedding favors if you're hosting a destination wedding. These inventive ideas are great for travelling—from luggage tags to sunscreen, loved ones will appreciate having these keepsakes on hand.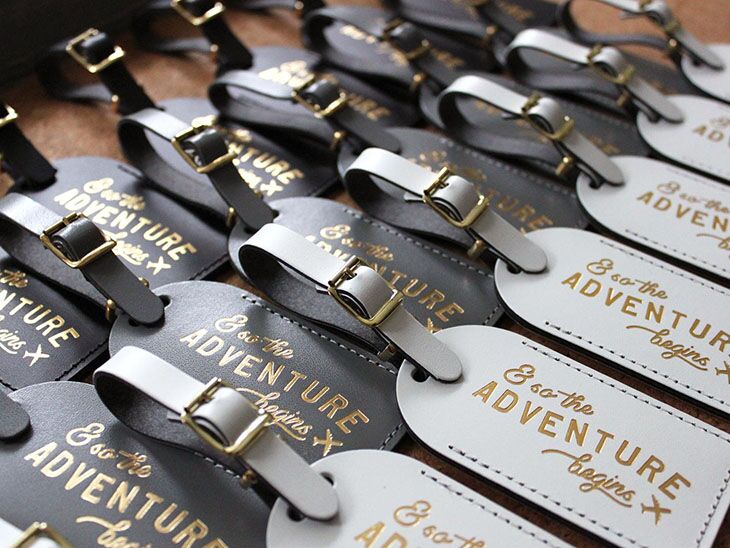 Though these are on the pricier side, custom luggage tags are a generous offering for couples hosting a destination wedding with only a handful of select guests. Since they aren't personalized, guests can use these tags for their own travels, near and far.

Letter and Leather '& So the Adventure Begins' luggage tags, $72 for 15, Etsy.com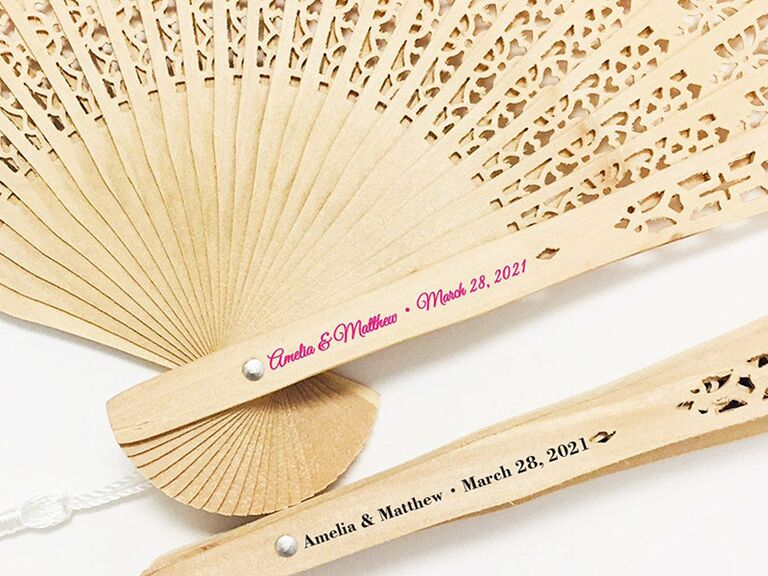 Perhaps you picked a beautiful, tropical oasis as the backdrop for your big day. Help your loved ones stay cool with these personalized fans.

WeddingFavorDiscount personalized sandalwood fan, $48 for 24, Etsy.com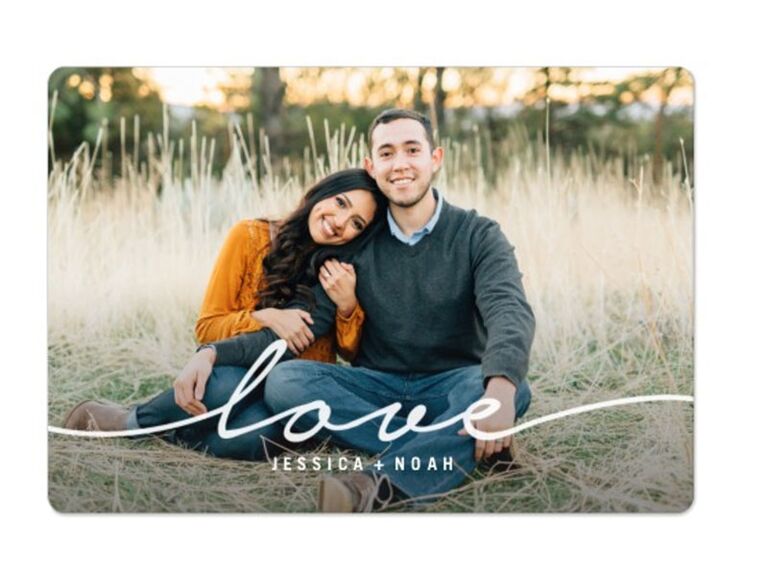 When choosing the location for your big day, the scenery may have played a role in your selection. Whether you'll say "I do" atop a snowy mountain or along the shore of a tropical paradise, select your favorite image and print it on these personalized magnets so your guests can re-visit visually anytime they'd like.

Shutterfly Modern Scripted love magnet, $10 each, Shutterfly.com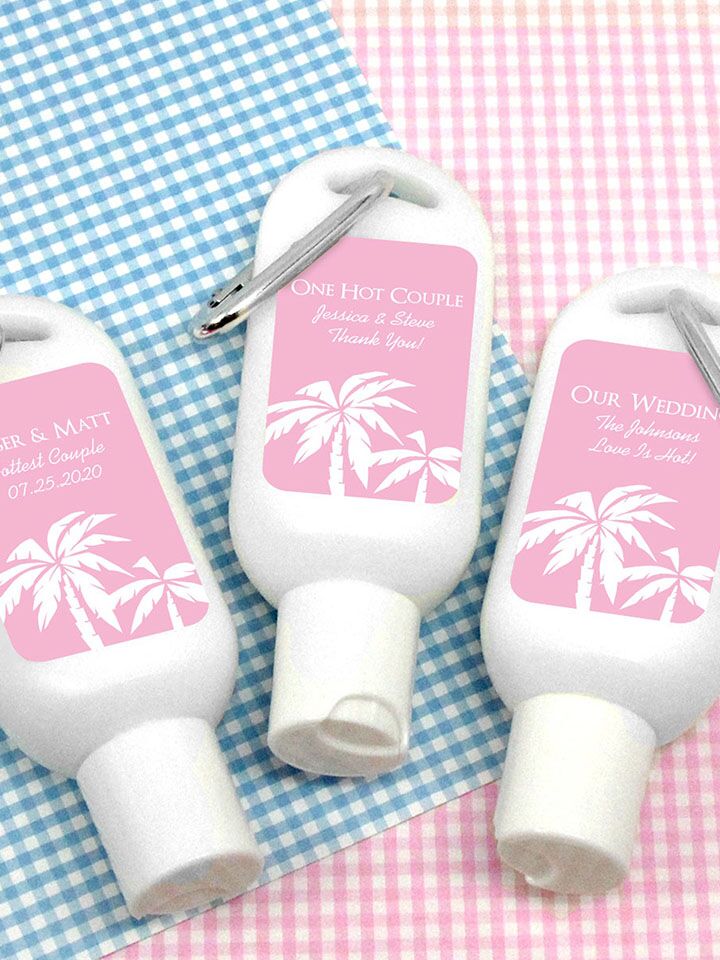 Who doesn't appreciate a little extra SPF? This thoughtful gift is as cute as it is useful when hosting a beachy wedding weekend.
IslandLifeGifts personalized sunscreen, $96 for 20, Etsy.com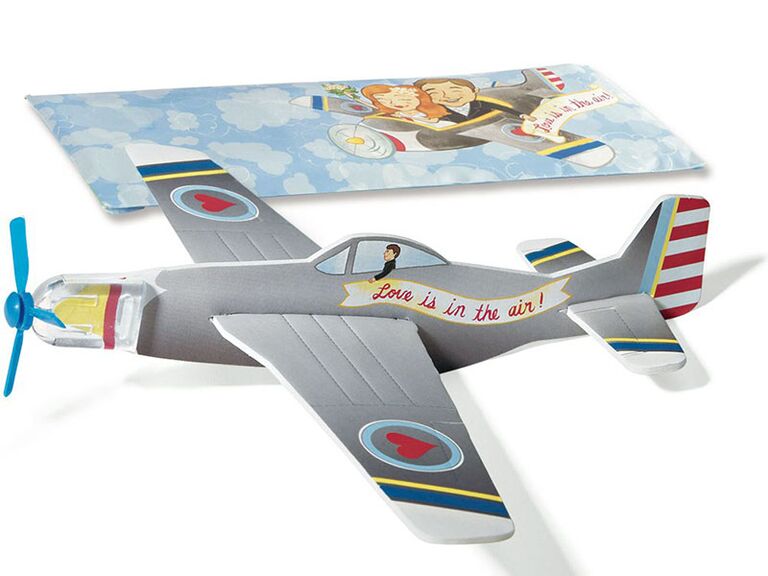 Up, up and away you go into a happy marriage. We love these sweet personalized gliders to hand out at your destination wedding that took romance to new heights. This is a particularly great gift if you're hosting lots of little ones at your event.
The Knot Shop 'Love is in the Air' gliders, $18 for 12, TheKnotShop.com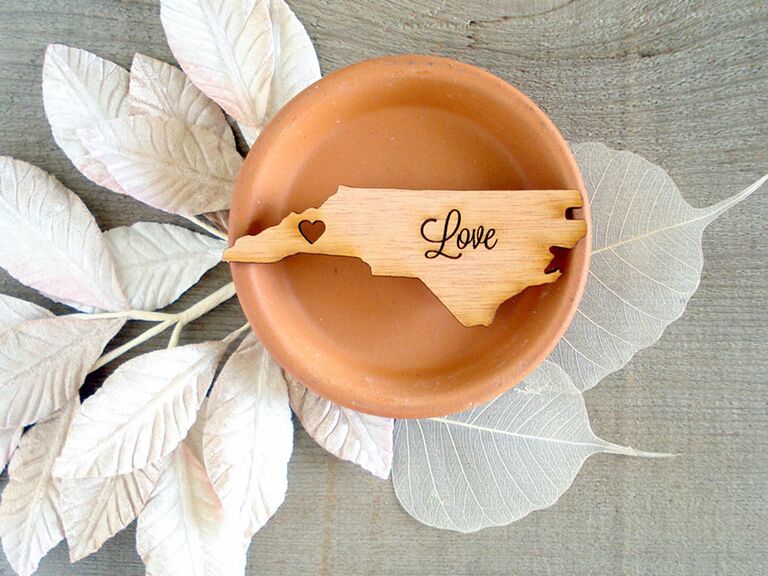 Visiting a new place calls for a keepsake to remember the journey. We love these wood ornaments shaped like various states and countries. While North Carolina is pictured here, you can find every state in this Etsy shop.
Etched in TimeLLC personalized state ornament, $85 for 100, Etsy.com
COVID-19 Wedding Favors
Wedding favors are still a tradition to uphold if you're hosting a minimony or elopement during the coronavirus pandemic. In fact, we highly encourage the use of face masks, hand sanitizer and other PPE measures if you're saying "I do" in the midst of the pandemic. Taking the initiative to keep guests (and you, the couple) safe is vital—and there are plenty of cute ways to do it. Here, find our favorite COVID-safe wedding favors.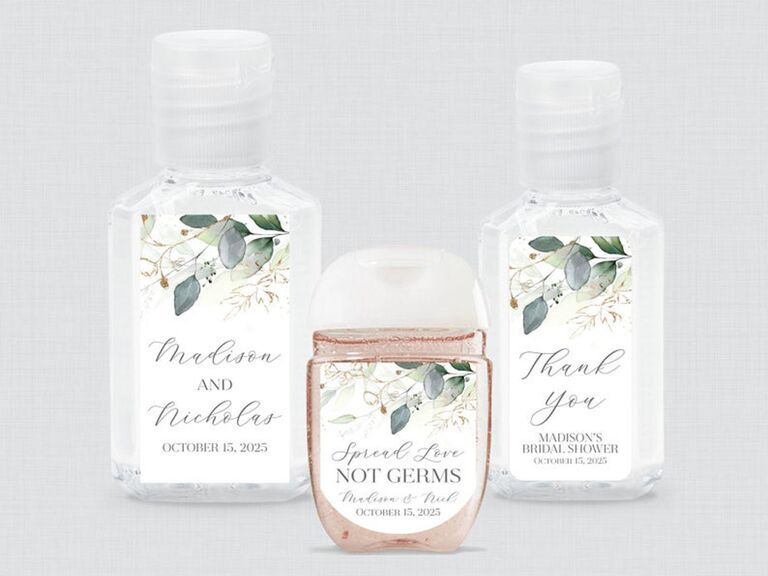 Giving hand sanitizer as a wedding favor is one of the most practical gifts amid COVID. These custom labels can be personalized with your names, wedding date and preferred floral pattern. The stickers also come in three different sizes for Purell and Bath and Body Works sanitizer bottles, allowing you to pick the best option for your needs. While personal hand sanitizer wedding favors are a cute way to keep guests safe, cleanliness is also a gift that'll keep giving.
The Papered Wedding wedding hand sanitizer favor stickers, $22 for 24 1 oz. Purell-size sheets, Etsy.com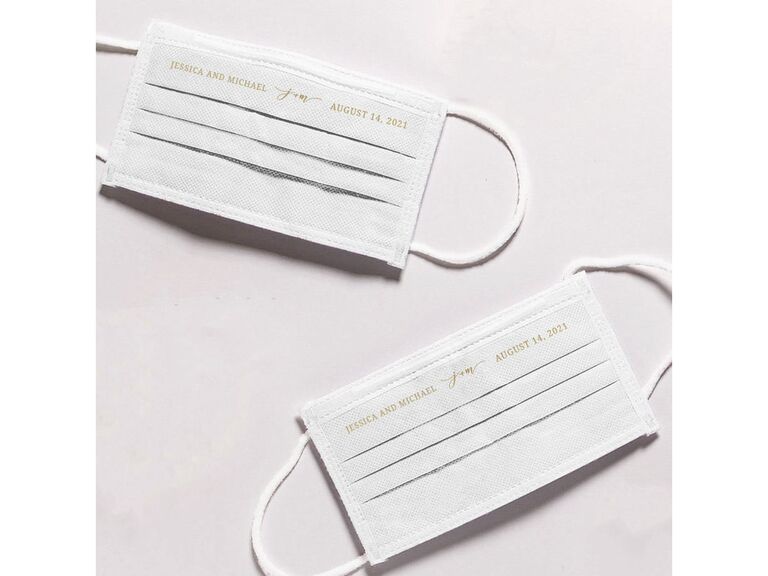 Since face coverings will likely be a norm at weddings and gatherings for the foreseeable future, protect guests by distributing custom wedding masks. With your names and wedding date inscribed in gold foil on the front, a custom mask is a cute (and useful) wedding favor that won't go untouched. Plus, you can design this mask and font color to match your wedding theme.
Picture Perfect Papier personalized face masks, $69 for 25, Etsy.com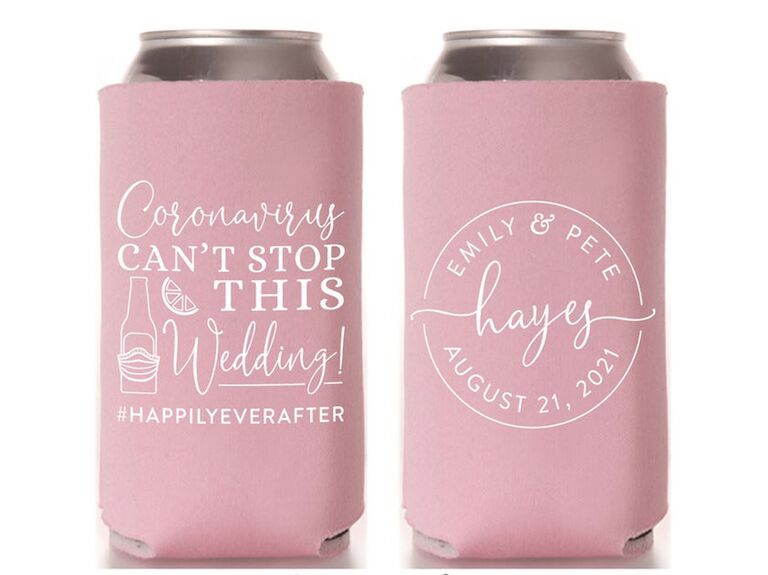 A personalized can cooler is a great wedding favor idea for any size celebration. Since you'll be toasting to love all night long, koozies will ensure drinks stay chilled for hours. Bonus points if you give guests bottles of Corona to put in their custom favors.
Sycamore Studios Co. 'Coronavirus Can't Stop This Wedding' can cooler, $62 for 12, Etsy.com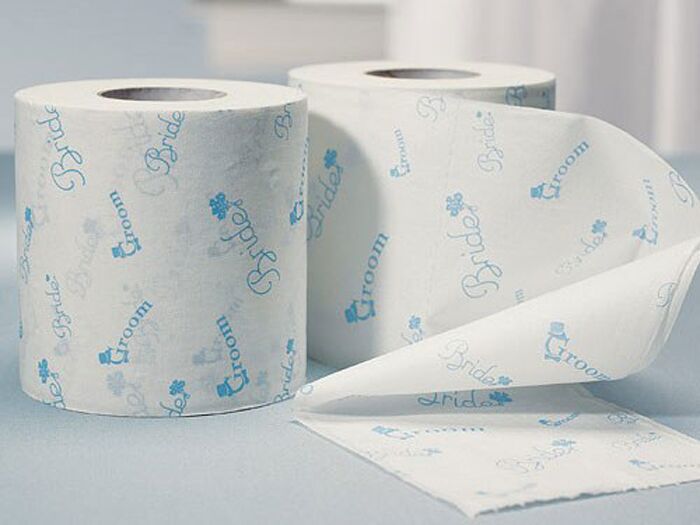 If you have a cheeky sense of humor, give your guests a roll of wedding toilet paper as a nod to the times. We recommend pairing this with another wedding favor idea on the list, but there's no denying that this funny gift will give guests a laugh.
The Knot Shop Bride and Groom wedding toilet paper, $4 for two rolls, TheKnotShop.com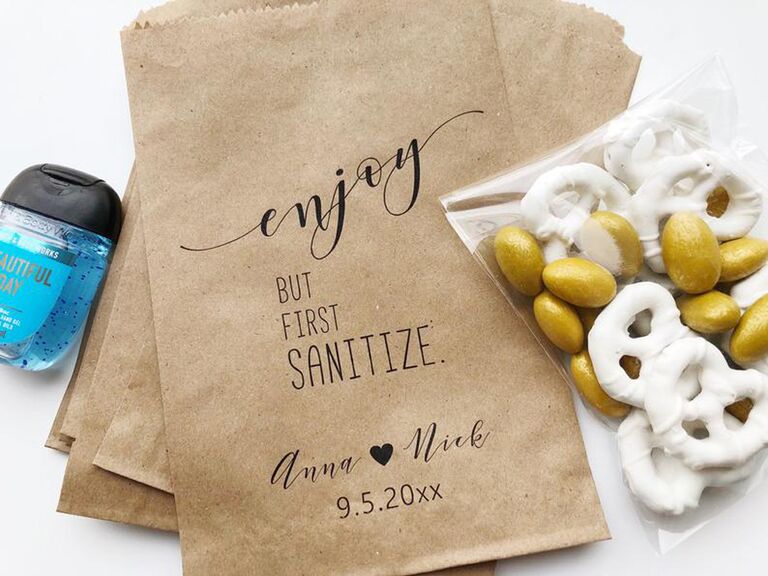 For those supplying wedding face masks, distribute them in these custom treat bags to limit direct contact. Or, fill them with pre-packaged treats or snacks for guests to enjoy at the end of the night.
Details on Demand custom wedding favors bag, $23 for 25 brown bags, Etsy.com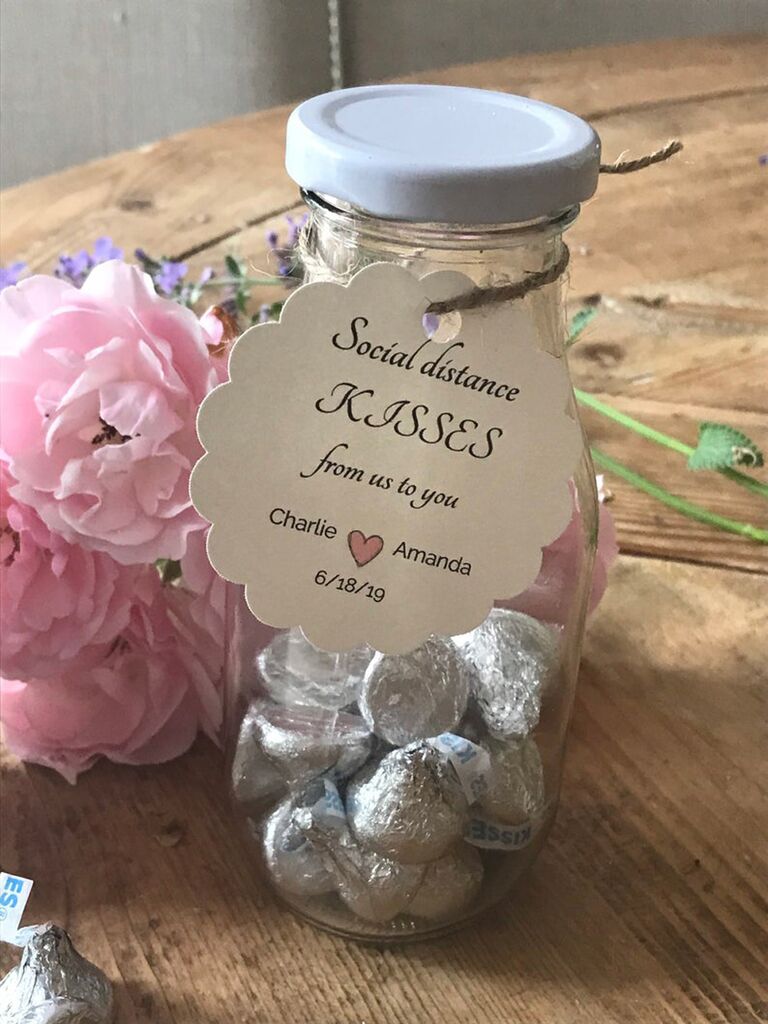 Give your loved ones kisses from afar with this thoughtful wedding favor. Guests will appreciate the sentimental gesture, and they'll be thrilled to take home a jar of chocolates.
MILK and BUTTER Lotions Hershey kisses wedding favor, $5 each, Etsy.com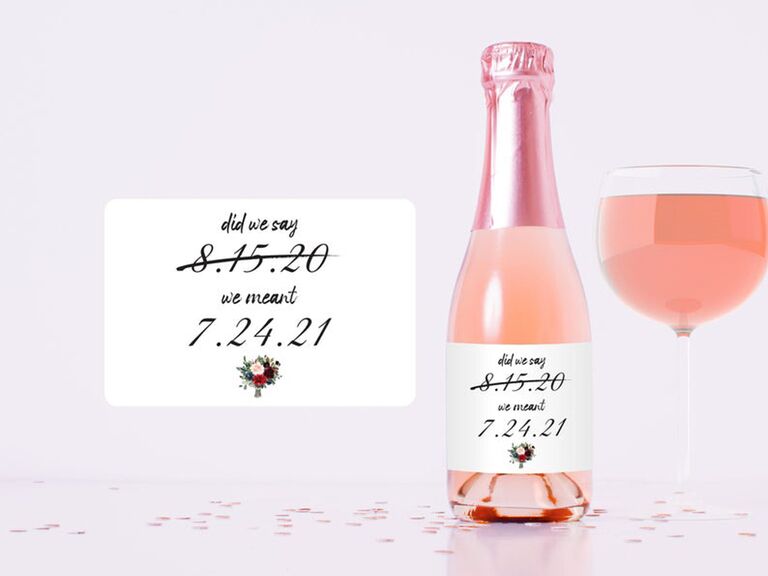 If you had to change the date, embrace the swap with these mini wine bottle labels. Not only will it show off your light-hearted sense of humor, custom wine is a wedding gift that won't go unused.
Glam Co. Designs change-the-date mini wine label, $3 each, Etsy.com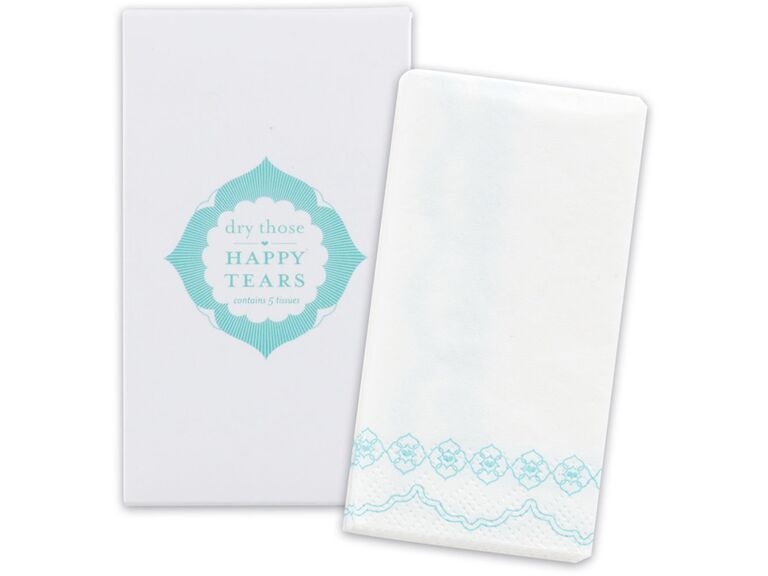 Perhaps you're putting together PPE sets for your wedding guests. If so, include a pack of tissues for happy tears and sentimental sniffles.
The Knot Shop wedding favor tissues in Sea Blue Print, $21 for a pack of 12, TheKnotShop.com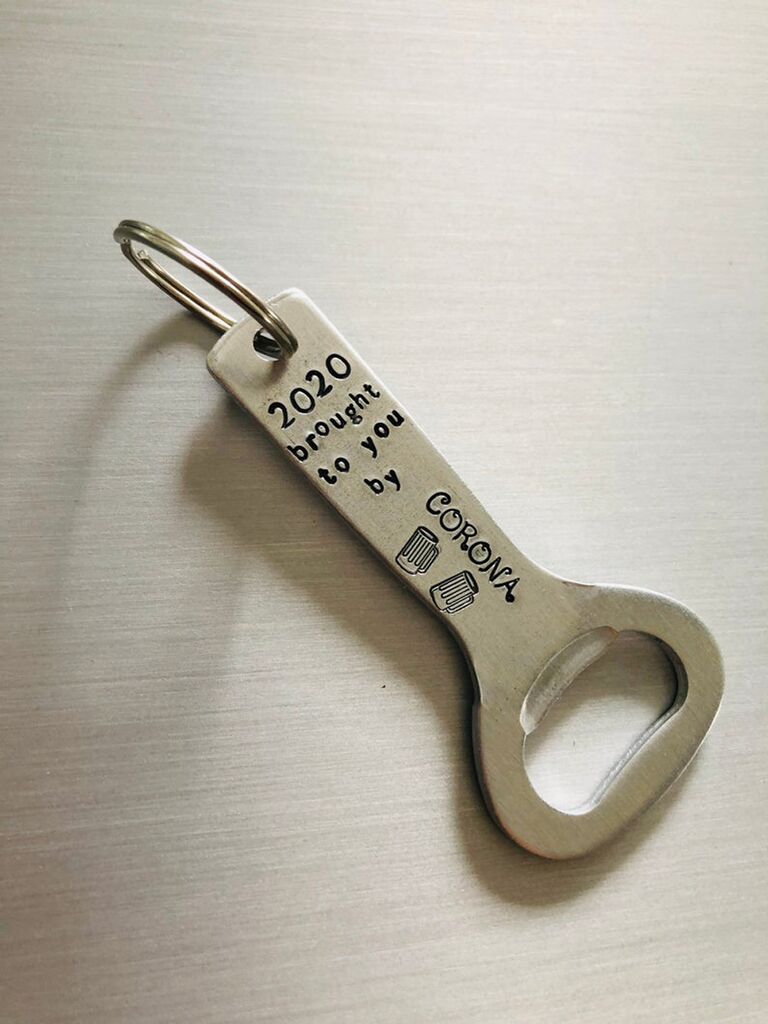 If you're willing to splurge on wedding favors for an intimate wedding, consider a commemorative 2020 bottle opener. Since you can purchase up to three per order, this favor is ideal for couples that are marrying in front of a small group of guests.
Bella Beads Studio 2020 commemorative bottle opener, $20 each, Etsy.com