50 Bachelorette Hashtags to Cap off Your Party-Filled Weekend
Here for a good time, not a long time.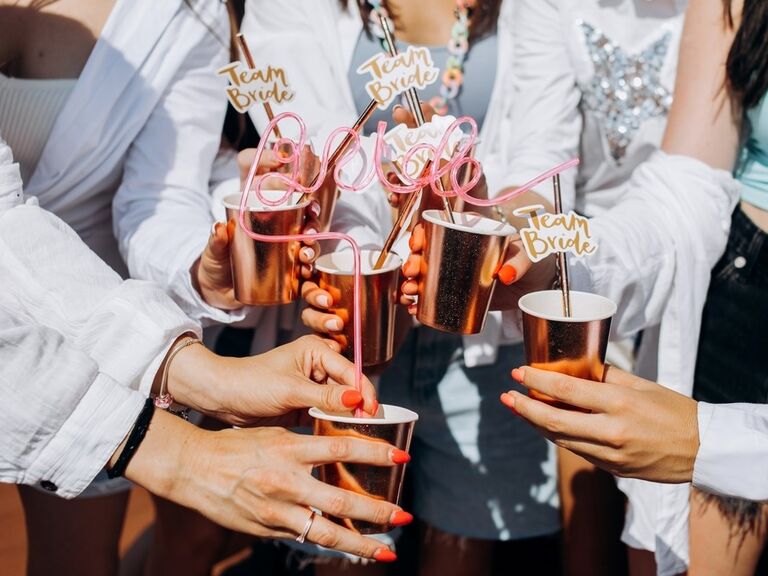 Photo: Leojuli / Shutterstock
We have included third party products to help you navigate and enjoy life's biggest moments. Purchases made through links on this page may earn us a commission.
You don't need us to tell you about all the different ways that hashtags can be useful (wedding-related or not). But we will point out that bachelorette hashtags are a fun trend to get on board with, especially if you can think of a clever bachelorette party hashtag that's customized for your crew. According to a recent study by The Knot, 14% of bach parties feature a specific hashtag, and we're seeing more groups include them in their festivities every day. Other than adding the hashtag to your Instagram captions, it's an easy way to personalize decor details, like signage, banners or backdrops and party swag—plus, it makes your bash feel like an exclusive, VIP-only event once all the photos are tagged. We've listed 50 hashtags for your bachelorette party so you can spend less time brainstorming and more time focusing on the next order of business: coordinating your cute bachelorette outfits.
In this article:
Bachelorette Hashtag Generator
Creating bachelorette hashtags is a fun opportunity to think creatively and brainstorm punny ideas, but with other tasks on your bachelorette planning checklist, we know that finding a good hashtag can be easier said than done. That's when we recommend turning to the pros—in other words, a bachelorette hashtag generator (yep, it's a thing!).
We like the bachelorette party hashtag generator tool from Wedding Hashers, where you can input your name(s), nicknames and your future last name, if you're planning to change it. After that, a team of creative writers—real people—will get to work on creating your custom bachelorette hashtag. "We simplify the process by providing a questionnaire where brides can share their preferences and details about the party," says Rafaella Aguiar, a wedding hashtag expert and marketing manager at Wedding Hashers. "The information they provide helps us create personalized hashtags that perfectly align with their vision and style. By entrusting us with this task, they can enjoy a seamless and convenient experience, resulting in a custom hashtag that truly represents their bachelorette party."
To make your bachelorette party hashtag memorable, Aguiar recommends including personal touches, like the bride's name or initials, the party theme or location, and clever wordplay. "A great bachelorette hashtag is all about capturing the essence of the celebration and creating a buzz on social media. Let your creativity shine and create a hashtag that will make your bach party truly unforgettable," says Aguiar.
Best Bachelorette Hashtags
There's nothing wrong with sticking to the classics. If you're looking for simple and straightforward ideas, here are some of the best bachelorette party hashtags for any theme or location that you can easily customize by swapping in the bride's name.
#NoellesIDoCrew
#FutureMrsMonroe
#CountdownToCollins
#EmilysEngagedAF
#JessicasBacheloretteTour
#ChristinesFlingBeforeTheRing
#HappilyEverEvans
Fun Bachelorette Hashtags By Theme
Use the bachelorette party theme to inspire the mood for your hashtag. Check out our ideas for a Taylor Swift bachelorette party, Mamma Mia bachelorette theme, disco bachelorette hashtags and more.
#MichellesLastRodeo
#DiscoDownTheAisle
#GameSetBach
#HotelBellaSarah
#TaylorsEngagedEra
#LindseysFinalFlamingle
#LastToastOnTheCoast
#CmonKelseyLetsGoParty
#GroovyAndBoozy
#LoveStoryChelseasVersion
#WineDownBeforeTheWedding
#SarahFoundHerKeeper
#CourtneysMousketeers
Creative Bachelorette Hashtags by Location
If you're jetsetting to a fun location, create a bachelorette hashtag inspired by the city where you'll be partying all weekend long. To get you started, we've got ideas for some of the top bachelorette party destinations, including Palm Springs, Miami and Nashville.
#LastFlingInPalmSprings
#MexicoToMrs
#RealBachelorettesOfBeverlyHills
#ItsNapaTime
#GettingTipsyInTexas
#CharlestonChampagneCrew
#MiamiBeforeMarriage
#CrazyInLoveInCancun
#BeckysNashvilleBash
#HollysScottsdaleHotties
#BourbonStreetBabes
Clever Bachelorette Hashtags with Names
Another way to personalize your bachelorette hashtag is by adding the bride's name, initials or her partner's name. Another plus: Bachelorette hashtags with names are more likely to be unique and not previously used by other groups.
#AlliesAlmostABride
#HayleysCupOfJoe
#ElizabethStruckGould
#BritsBoozyBach
#WifeyToWillis
#GoingGoingGaston
#BrentsBrideToBe
#TimeToChrisAndTell
#CaitlinsChampagneCrew
#DanielleKnowlesBest
#GabrielasGoneWild
#CrushingOnChuck
Funny Bachelorette Hashtags
Stir up a few laughs with these fun bachelorette hashtags inspired by shenanigans and good times. Depending on who's in your group, you can take even more liberty with a tongue-in-cheek bachelorette hashtag—just be sure that it's all in good fun and okay with the bride first.
#MargsToMatrimony
#NoLongerASingleLady
#DanasOnTheMatt
#MischiefNotManaged
#OliviasGettingMeowied
#BlindDateToSoulmate
#MakingPourDecisions