Bali Honeymoon: Weather and Travel Guide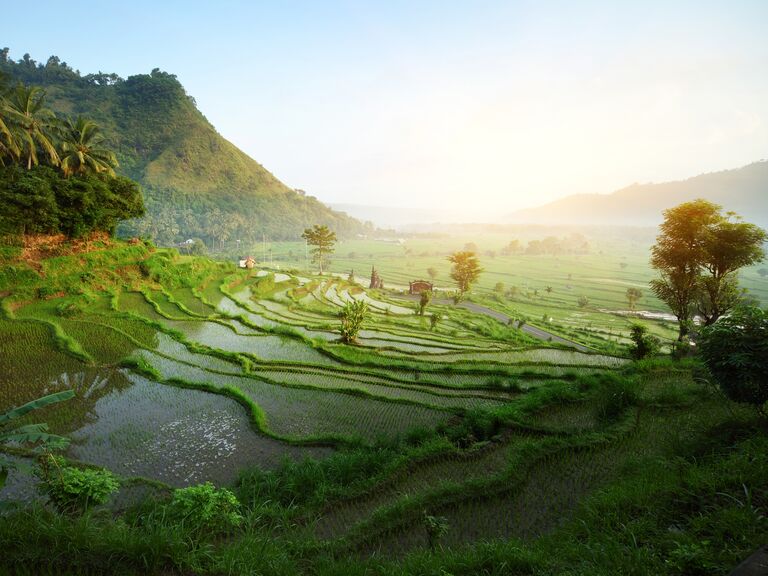 Shutterstock
Lolling between the Java Sea and the Indian Ocean, Bali is a fish-shaped isle along the equator, one of more than 17,000 Indonesian islands that stretch between Australia and Asia. You'll arrive jetlagged, and depart transformed. Be warned, though: Bali can tempt even the most levelheaded travelers to start calculating the cost of permanent relocation.

Before You Go: Need-to-know info
Entry requirements: Passport with more than six months validity and at least two blank pages, return ticket and tourist visa (can be granted upon arrival)
Languages: Bahasa Bali, Bahasa Indonesian, English, Dutch (more than 700 languages are spoken in Indonesia)
Currency: Indonesian Rupiah (IDR)
Flight time: More than 24 hours from most US cities
Getting around: Taxi, bemo (minibus), rental car (keep left!), motorcycle and bikes

When to Go: Bali at its best
Best weather: April and May, and September and October.
Best prices: Rates are fairly consistent year-round.
Festival highlights: The Balinese follow two local calendars: the Hindu saka and wuku. The 10-day Galungan Festival, during which barong (mythical lion-dog creatures) scamper from temple to temple, is the highlight of the wuku year, so it occurs every six months. Nyepi, a day of silence when the island closes down in fear of evil spirits flying in from the sea, is the saka calendar's New Year and falls on the vernal equinox. Independence Day is celebrated on August 17, with sports events and cultural performances.

What to Do
Tour the temples: Bali is known as "the land of 10,000 temples." Put Pura Luhur Uluwatu on the list for a sunset excursion. Ensconced atop 250-foot-high cliffs at the southern tip of the Bukit Badung peninsula, its dramatic setting is otherworldly. And don't miss Pura Besakih, one of Bali's most sacred sites and one of nine major temples located on the slopes of Gunung Agung, a volcanic peak that the Balinese believe is the "navel of the world." Pura Besakih is called the "Mother Temple" and encompasses dozens of thatch-roofed spires and terraced courtyards scented with incense and bedecked with flowers.
Get cultured: The town of Ubud is a good place to check out art galleries and craft villages (woodcarving, jewelry, painting), the tranquil Puri Lukisan Museum, restaurants, dancing and music. Ubud is also a good base camp for active adventures such as white-water rafting and trekking.
Go to festivals: In this "Land of the Gods," festivals are practically an everyday event. Attending one is an incredible way to experience wayang kulit (shadow puppet shows) and hear gamelan orchestras tease melodies from flutes, cymbals, gongs, drums and bamboo xylophones. Ask your hotel concierge about nearby festivities or consult The Bali Times, which carries a schedule of upcoming events.
Dance all night: While you might not want to stay in the Kuta/Legian beach area (too touristy), do plan to visit and sprawl out on the beautiful beach. This is also Bali's nightlife center, with lots of bars, shops and all around merriment.