Your Guide to an Unforgettable Bali Honeymoon
A villa with ocean views has your name on it.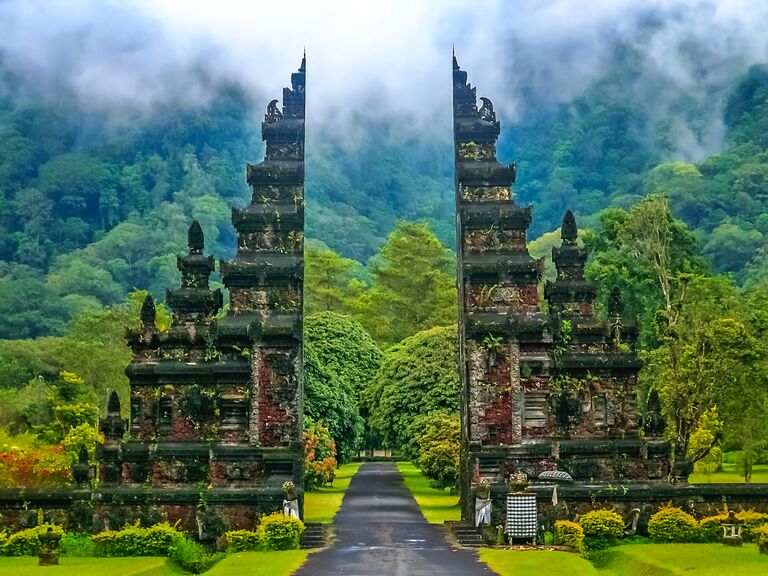 Pav-Pro Photography Ltd/Shutterstock
We have included third party products to help you navigate and enjoy life's biggest moments. Purchases made through links on this page may earn us a commission.
Getting after the wedding might involve an idyllic, all-inclusive resort set on the beach without too many logistics in between. Some couples, however, are naturally adventurous and gravitate more towards honeymoon destinations that double as bucket list-worthy vacations. A Bali honeymoon offers the best of both worlds.
With its beautiful beaches, luxury resorts and immersive experiences, Bali offers a bit of everything for well-traveled couples. "Bali effectively has everything you could want to make a perfect honeymoon," says Justin Smith, the president of sustainable travel company The Evolved Traveler. "It has an exotic feel that I think a lot of honeymooners like as they begin their marriage. It gives you the sense that you're really going somewhere. It also has the relaxation aspect and great activities."
The only drawback is the flight. It'll take more than one day to get settled in Indonesia. But the white sand beaches, sunset dinners and honeymoon resorts with private pool villas make a Balinese-style romantic getaway worth your while. Read through our guide to start your Bali honeymoon itinerary for the trip of a lifetime.
Is Bali Good for a Honeymoon?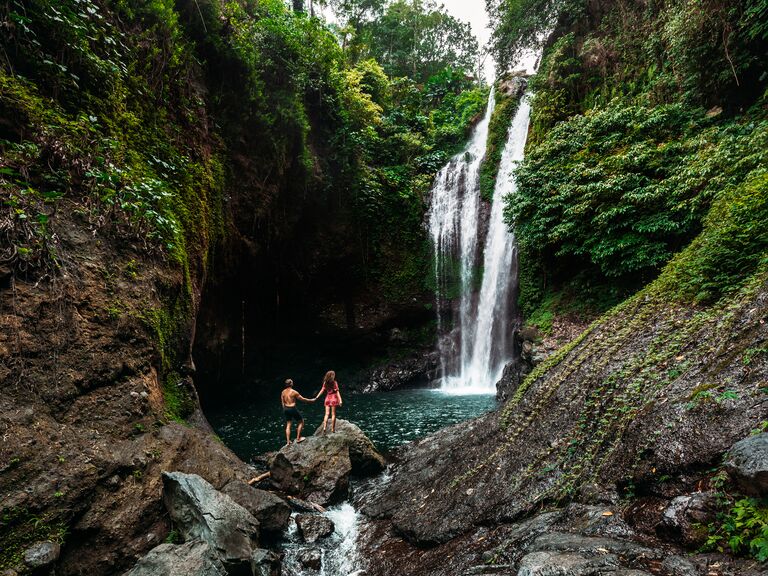 Pros of a Bali Honeymoon
Simply put, Bali is a paradise-perfect location. The beaches are beautiful and also considered a paradise for surfers and other water sport enthusiasts. Even for novice swimmers, snorkeling or scuba diving classes are offered throughout Bali.
If you're planning a trip through Indonesia, the southwest features stunning Indian Ocean views, while the diverse terrain includes rice paddies, pristine waterfalls and lush monkey forests. Most beach resorts offer spa treatments and private swimming pools (you've seen them on Instagram). There's a bustling nightlife scene too, as Bali is known for its beach clubs and fun oceanfront parties.
Bali is also one of the best honeymoon destinations for budget-conscious travelers. Smith says he puts together Bali honeymoon packages for about $500 to $600 per person, about half of what he typically sees couples pay for other popular locations.
Cons of a Bali Honeymoon
Travel time is extensive to get to Bali, which is a dealbreaker for some. "It is roughly 36 hours from the U.S.," Smith says. "You can't get there with one flight. You're looking at a minimum of two and in most cases two to three flights."
It's also a very ocean-centric honeymoon since water sports and beachfront activities are a common theme. Couples who prefer to be near mountains, open meadows, vineyards or lakes may want to consider going elsewhere. Also, many hotspots are temporarily closed because of the pandemic, so this may be a trip you want to plan for the far-off future.
The Best Times of Year to Go on a Bali Honeymoon for Good Weather
The optimal time to visit Bali is mid-September through May. "After this period, you're dealing with very humid conditions," Smith says. "Like much of Asia in late summer and early fall, you have monsoon conditions."
The mid-September through May period is typically dry, and the temperatures are mild. Think the 80s to the low-90s.
Things to Do During a Bali Honeymoon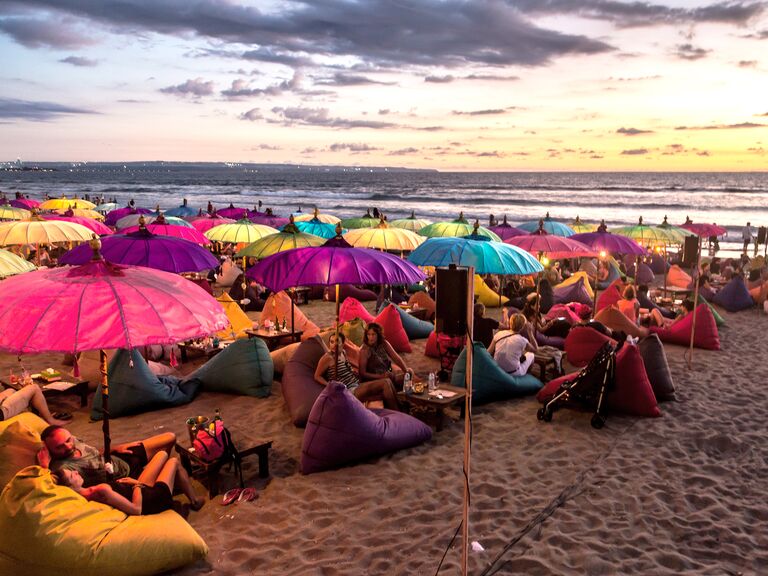 Get Acquainted With Balinese Culture in Ubud
Ubud is a laidback, culture-oriented town. You won't find a hopping nightlife scene here, but you will find plenty to do. There are several Hindu temples to check out, including Gunung Kawi, an 11th-century structure only reachable by descending down 300 steps. Pura Penataran Sasih (Penataran Sasih Temple, also known as Moon Temple) is home to the largest bronze kettle in Southeast Asia, known as the Moon of Pejeng.
About 700 long-tailed macaques call the Ubud Monkey Forest home, and visitors can feed these critters peanuts while discovering the community-managed sanctuary. The Tegallang Rice Terrace and the Ayung River are additional destinations for honeymooners. The latter is a great spot for a cooking class with a local chef. "I like to make [the booking experience] as authentic as possible," Smith says.
Discover Uluwatu
Uluwatu is popular with tourists for its white-sand beaches, but there's enough space to stretch out and relax. In the area, the Uluwatu Temple is a Hindu temple situated on cliffs overlooking the water. Just watch your back if visiting this spot—monkeys are known to swipe people's belongings. Go around sunset if you want to witness a Kecak fire dance, which takes place near the cliffs daily at 6 p.m. Favorite beaches for surfing and lounging include Padang Padang and Thomas Beach. And Jimbaran Bay, a paradise for surfers and seafood lovers, is less than 10 miles away.
Enjoy a Seminyak Getaway
More laidback than Kuta but more high-spirited than Ubud, Seminyak is a popular honeymoon destination and home to many high-end resorts. The west-facing beaches offer gorgeous glimpses of the Indian Ocean and couples can take surf lessons on Seminyak Beach. For a more relaxing experience, couples will head over to the infinity pool at Potato Head Beach Club. Seminyak's nightlife is more refined with jazz bars and R&B options. Ku De Ta, however, is a Seminyak institution.
A day trip to Nusa Lambongan for snorkeling and scuba diving is another popular activity. Nusa Penida Island is another nearby spot for a day trip. It's a picture-perfect island with pristine waters and limestone cliffs.
Party in Kuta
Kuta's vibrant nightlife scene is like a moth light for the party people of the world. "It's very easy to enjoy the nightlife, especially for young couples," Smith says.
Bounty Discotheque is famous for its packed decks and foam parties. Neighboring sister venue Paddy's Pub draws a smaller but still raucous crowd.
As fabulous as the nights are, there's plenty to do during the day as well, from relaxing on the beach to taking a trip to Tanah Lot, a sea temple.
Find the Finer Things at Nusa Dua
This upscale resort area is known for its luxury hotels and meticulously manicured lawns. Much of the fun takes place within the resorts, which boast all-inclusive packages and watersports. Bali Collection is a notable spot for retail therapy. The shopping center has nearly 40 fashion stores and more than a handful of art shops.
Ride the Waves and More in Canggu
Located 90 minutes from Ubud, Canggu was once a hidden gem but has become more mainstream, particularly among surfers. The resort area encompassed by rice paddies has a pair of beaches known for strong surf: Canggu and Echo. Amateurs can take lessons. It also boasts an array of cool cafes and upmarket restaurants, making it a popular location even for those who don't know the difference between a paddleboard and a surfboard.
Explore the Gili Islands
A trio of islands near the coast of northwest Lombok makes up the Gili Islands. It's a respite from civilization—vehicles are not allowed, so people get around by foot, bike or horse-drawn carriage. But the Gili Islands are truly stunning to explore by sea. The colorful coral reefs and abundance of turtles make them a perfect place for scuba diving. Those there at night will also witness a memorable sunset over Mount Agung.
Enjoy the Views in Kintamani
Kintamani boasts gorgeous views and not just of the beach. It's home to Mount Batur, an active volcano and favorite spot for sunrise hikes. You can also see it from above by taking a helicopter tour. Couples looking to wake up later and just relax will also meet their match here. A soak in the Toya Bungkah Hot Spring is said to be a healing experience.
Best Hotels and Resorts in Bali for a Honeymoon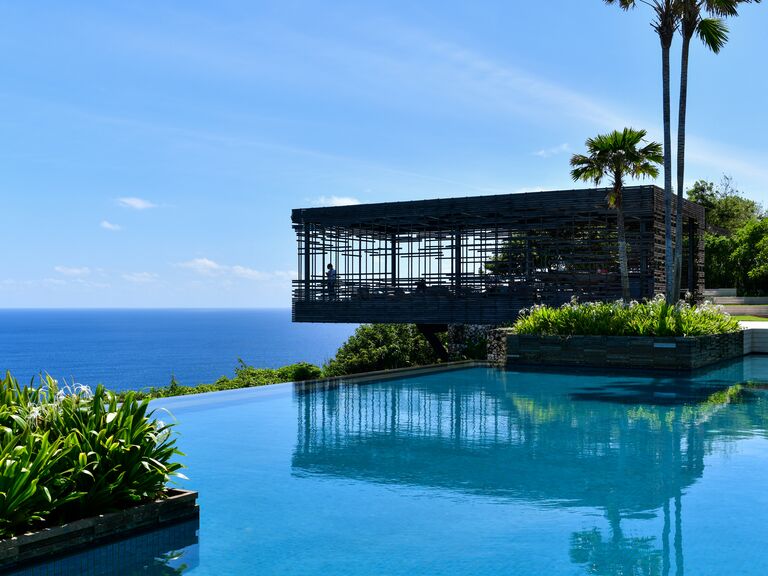 Viceroy Bali
Infinity pools overlook rice fields and a tropical forest at this luxury hotel on the Island of Bali, a favorite choice for Smith's honeymooners. Viceroy Bali also offers couples spa treatments, such as Balinese massages and facials in a tranquil setting. Situated in the heart of Ubud, it's near the monkey forest and Ubud Palace.
Four Seasons Resort: Bali at Jimbaran Bay
Stepping into Bali at Jimbaran Bay feels like setting foot inside a private Bali village. The luxury resort is a sweet retreat from the hustle and bustle of everyday life. The accommodations include indoor-outdoor villas with private pools and lounges. And the Sundara Beach Club boasts comfy day beds perfect for a siesta.
Alila Villas Uluwatu
Stunning architecture meets natural beauty at Alila Villas Uluwatu, a five-star luxury resort designed by award-winning Singapore architectural firm WOHA. Relax before dinner in the impressive Sunset Cabana overlooking the Indian Ocean. There's also afternoon tea, a spa and private pools.
The Seminyak Beach Resort & Spa
The Seminyak Beach Resort & Spa has some sweet perks for honeymooning couples, including a complimentary cake and a chance to have a sunset dinner right on the beach. The accommodations include king beds, walk-in closets and balconies with ocean views. The beach resort is a stone's throw from Seminyak and Jalan Legian, a street packed with shops and dining options.
The Legian Seminyak, Bali
If you're looking to escape the scene mentally, consider The Legian. The spacious rooms include living spaces and terraces, and they give way to otherworldly beachfront views. There are multiple dining options, including an ocean champagne bar which means exactly what you think it does—an opportunity to clink glasses with your loved one while gazing out at the Indian ocean. Caviar too.
Marriott's Bali Nusa Dua Gardens
Bask in contemporary comfort at Marriott Bali Nusa Dua, where resort apartments have living areas and smaller guest rooms still have enough space for kitchenettes. The lagoon pool invites relaxation and the bar has creative cocktails. It's close to the Padang Bai, home to beautiful beaches and reefs.
What to Pack for a Bali Honeymoon
Bali is a relaxing honeymoon destination, and leisurewear is the name of the game. "You will never be out of place in casual wear," he says.
Shorts, casual dresses and sandals all fit the bill. You'll also want a couple of bathing suits to mix things up throughout your trip and plenty of sunscreen (after all, sunburns don't go with anything).
Of course, you may want to dress up a touch, particularly for a romantic sunset dinner with your loved one. "If you want to have a nice romantic dinner, maybe pack a nice sundress," suggests Smith. "Or navy cotton pants, short-sleeve shirts and a polo. That's about as dressed up as you're going to get."