The Ultimate Guide to Planning a Destination Wedding in Barbados
See why discerning couples pick Barbados as their go-to wedding destination.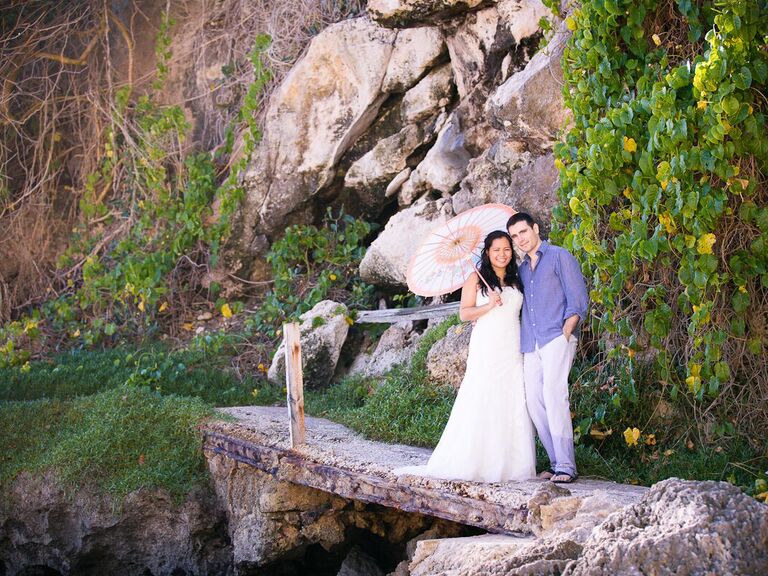 For couples seeking a destination wedding location that boasts gorgeous beaches, rich cultural details and luxury venues, turn your sights toward the easternmost Caribbean island that just happens to be situated in the Atlantic Ocean. A Barbados destination wedding delivers in every way, though any perfect wedding requires research and planning. Learn why a Barbados destination wedding might be ideal for you.
Why Couples and Guests Love Barbados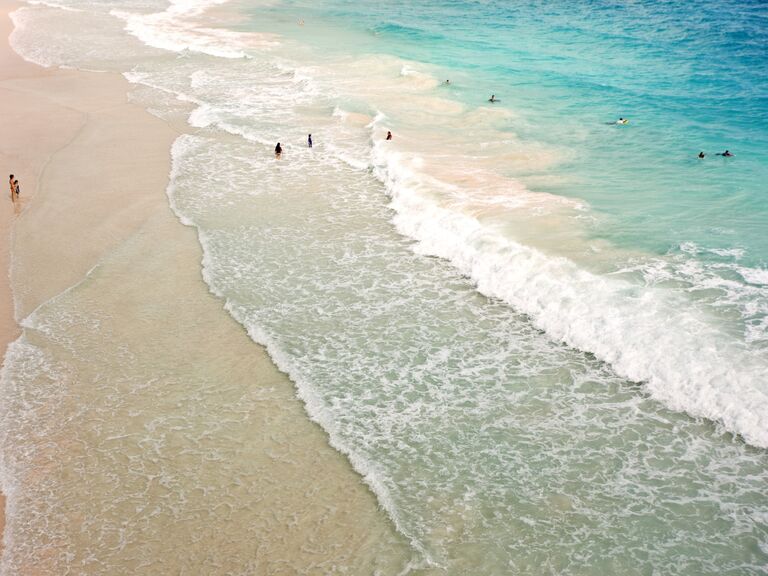 Barbados offers more than 70 miles of beautiful beachfront with most of the island facing the Atlantic, contrary to popular belief that it's split evenly between that and the Caribbean Sea. Visitors enjoy a range of beach-going experiences. Inland, delicious local cuisine (from rum punch to fried flying fish), a relaxed vibe and luxury hotels await. Barbados is also one of the safest islands in the region.
However, for all it offers, Tamara Lidbom at Anytime Travel Agency says the island isn't necessarily a top pick for every to-be-wed. "Couples who have wanted to have their wedding in Barbados tend to have their wishlists narrowed down. These wishlists have ranged from intimate to elaborate," she says. "Barbados also tends to be on the expensive side, so in my experience, it's attracted more couples wanting an adults-only guest list." Still, she notes, there are some great, family-friendly resorts on the island, for those who deviate away from this trend.
So, does that sound like you? Know what you want from your destination wedding and ready to potentially pay for it? Then keep reading for more tips on how to plan your Barbados destination wedding.
The Best Places to Get Married in Barbados
"There are some amazing venues all over the island of Barbados—white sandy beaches, tropical gardens, historical sites, rugged sea cliffs and even caves with underground waterfalls," says Lidbom. "The sky's the limit." So, where should you look first?
Saint Philip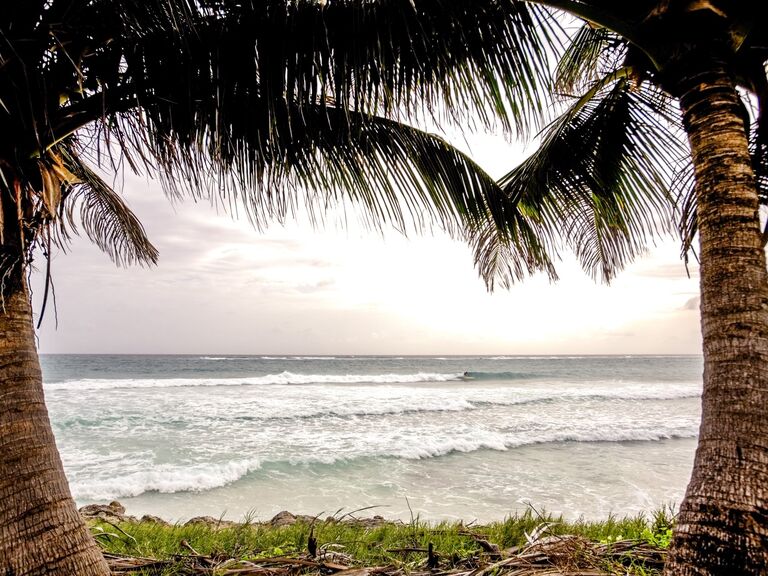 Barbados is separated into 11 parishes, and Saint Philip is the largest of the bunch. The south coast locale is home to some lovely beaches, jagged shorelines and historic spots. Additionally, you'll find a handful of luxury resorts here, giving you and your wedding party an easy spot to stay, no matter where in the parish you hold your special day. Popular wedding celebration venues include Foursquare Rum Distillery & Heritage Park, the historic Sunbury Plantation House and The Crane, if you're looking for a resort-set big day with ocean views.
Saint James
Saint James Parish is known as the "Platinum Coast," as it attracts a large number of celebrity visitors. You'll be in good company here, as you take to the elegant hotels and high-end restaurants. Popular wedding venues include the luxurious Sandy Lane resort (keep your eyes peeled for celebs) and St. James Parish Church, founded in 1628.
Bridgetown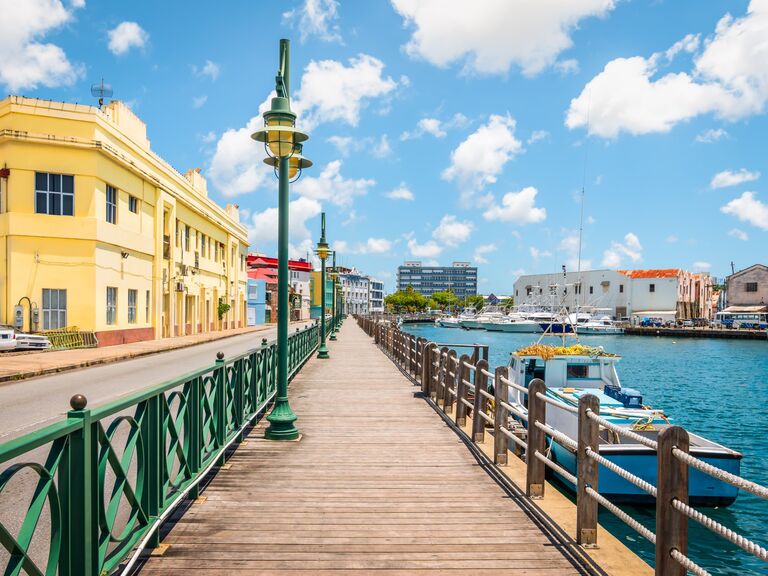 The island-nation's capital and largest city of Bridgetown is a bustling hub of activity. If you're looking for a destination with lots of shopping, dining, museums and other cultural attractions, all in one compact space, you might want to set your destination wedding basecamp in Bridgetown.
Barbados Wedding Legal Requirements
But before you can even pick a wedding venue, you'll want to be aware of the Barbados wedding legal requirements. Luckily, Lidbom reports Barbados "is an exceptionally easy island destination to get married in."
Legal Weddings vs. Symbolic Weddings
You can choose to either hold a legal wedding or a symbolic wedding in Barbados. A symbolic wedding day includes simply a ceremony in recognition of your married status, following a legal, civil service that you would attend before your destination wedding, in your home state, likely at your local courthouse, after obtaining your local marriage license. A symbolic wedding is your simplest, most stress-free option.
However, if you don't want to go through the trouble of planning a separate ceremony in your home state ahead of travel, you can hold a legally-binding wedding in Barbados, with the right documents and protocols.
Required Legal Documents
According to the Barbados Ministry of Home Affairs, couples who wish to be legally married in Barbados must file an application for a marriage license in person at the office of the Ministry, Monday through Friday, 8:30 a.m.–3:30 p.m. local time. At the time of application, you must provide:
Valid passports and birth certificates
Return airfare tickets
An original Decree Absolute or certified copy of a Final Judgement for any divorced parties
A certified copy of a Marriage Certificate and Death Certificate if either party was previously married and widowed
Before you file for the application, you must also make arrangements for a local magistrate or marriage officer to perform your wedding ceremony, and then you must provide a letter from that individual verifying the arrangement at the time of application.
Additionally, if you're planning on holding a Roman Catholic ceremony, you'll need to arrange for your home bishop to send all relevant documentation to the Bridgetown bishop.
Legal Marriage Timeline
There is no required waiting period or minimum length of stay in Barbados, in order to hold a legal ceremony. However, do account for the time needed to schedule your wedding ceremony with the local magistrate or marriage officer, as well as the time required to go to the Ministry of Home Affairs office for your marriage license. If you're planning to arrive in Barbados a few days ahead of your wedding, you can take care of all of this once there.
Legal Marriage Cost
The Barbados Ministry of Home Affairs charges $113 for your marriage license, plus $50 for the solemnization of civil marriage, and $10 for your resulting marriage certificate. There is a $125 fee for legal ceremonies held in court, as well as a $175 fee for legal ceremonies held outside of court. In total, you should expect to pay at least $300 in fees for a legal marriage ceremony in Barbados.
Barbados Wedding Planning Tips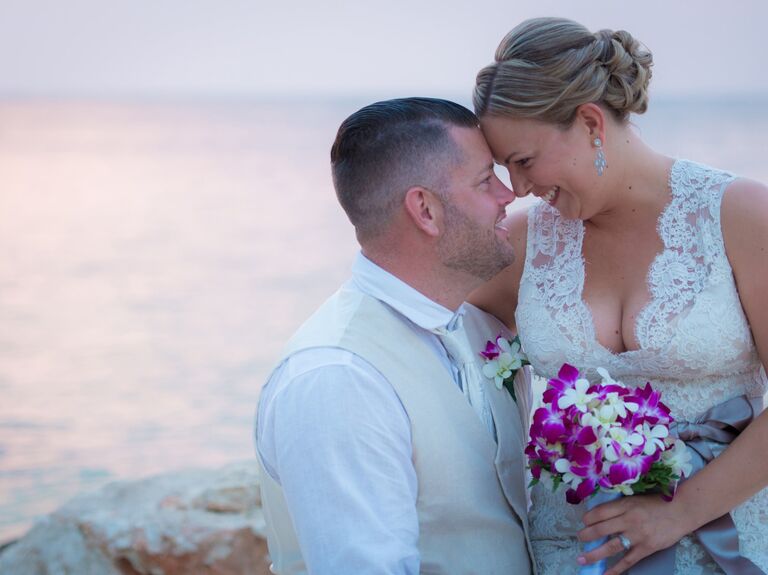 Ready to start planning your Barbados wedding (and maybe even a Barbados honeymoon to follow)? Here are additional tips to get you started.
How to Get There
Barbados is one of the southernmost Caribbean islands, so it does take most travelers coming from the United States a little bit longer to get to than, for example, Jamaica or the Bahamas. You won't find as many flights to Barbados from the US as opposed to other nearby popular destinations. However, for those who make the trip, the extra layover or air time is well worth it.
Once you're in Barbados, you'll find the taxi service to be more than adequate to get around the island.
Barbados Weather
The weather in Barbados is agreeable all year long, with temperatures hovering around the mid-70s to mid-80s. Hurricanes are rarely an issue in Barbados (though if you do find a hurricane is interrupting your destination wedding, we have a few tips). You'll also find that planning a wedding between July and November will result in lower travel costs, especially since December to April is the island's peak tourist season.
Choosing Your Venue and Vendors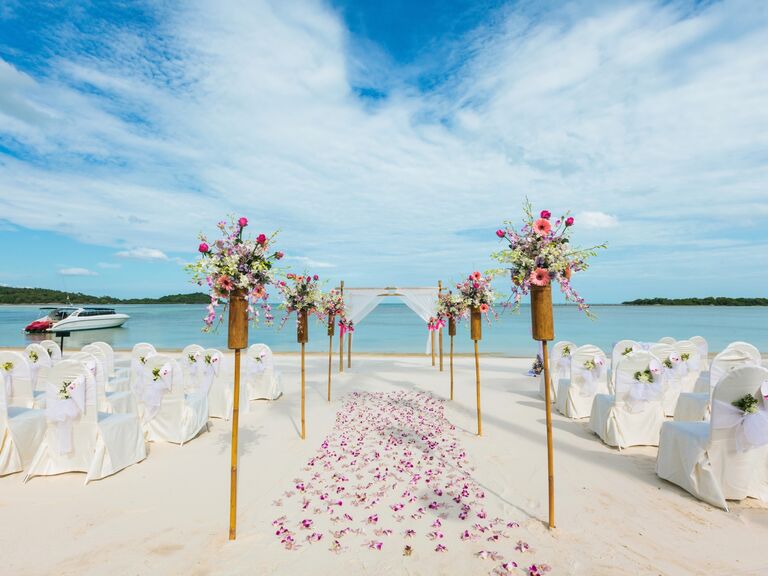 When it comes to looking for a venue and vendors, Lidbom says a travel agent can be one of your best resources. She notes, "Working with a travel agent is a huge benefit to anyone looking to plan a destination wedding. A travel agent will help you find that perfect location, help you secure the wedding date, and connect you with the resort wedding coordinator. They assist with room blocks and group contracts. They'll also keep you up to date on COVID rules. They are your support."
To explore your options before connecting with a travel agent, check out The Knot Marketplace to find pros who specialize in Barbados weddings.
Budgeting Tips
As Lidbom mentions above, Barbados is on the pricier side as far as Caribbean destination wedding locations go. You can save some money on your Barbados destination wedding by traveling during the off-season (July through November) and by considering swapping luxury hotel accommodations for you and your guests with a private villa rental.