Here's Why You Should Include a House Fund on Your Wedding Registry
From down payments to room renos, The Knot makes it easy to register for the cash you need.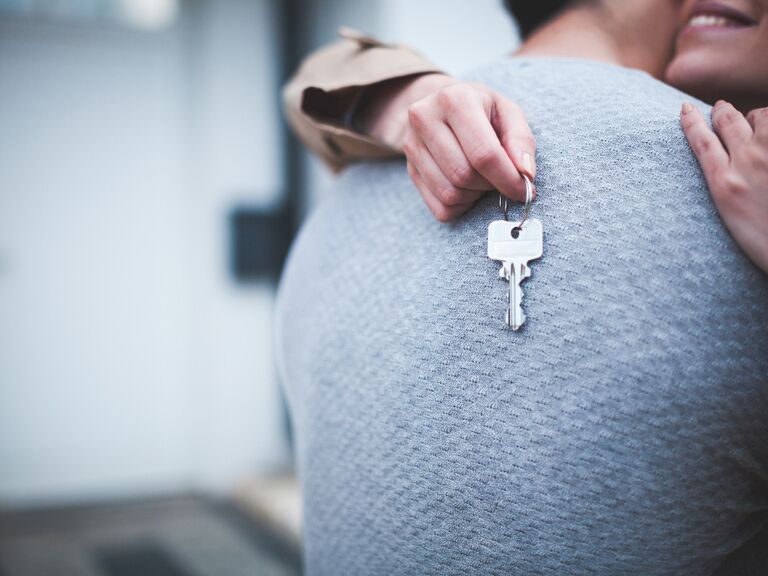 Leszek Glasner/Shutterstock
Marriage is often accompanied by many exciting—albeit expensive—life milestones. In addition to paying for a wedding, you and your S.O. might dream of planning a fun honeymoon, setting aside savings for future investments (like a pet, a baby or student loan payments), or buying and renovating a home. Making a budget for all of your postwedding financial aspirations may seem daunting at first, especially if buying a house is at the top of your list. Here's the good news: You can make a house fund wedding registry to raise cash for your newlywed nest.
Registry gifts have evolved to be more personalized and creative than ever before. In the past, wedding gifts were often associated with traditional homeware items, like kitchen appliances, linens, china and decor. While you can still register for these gifts, they're not a necessity for every couple—especially if you've already accrued the essentials or you value shared experiences over physical objects. So, what's the deal with a house fund registry? Here, we break down what you need to know about using your gift wish list for a future home.
Can You Make a House Fund Wedding Registry?
You might wonder if it's even acceptable to make a house fund wedding registry. Outdated wedding etiquette once indicated that asking for cash of any kind was inappropriate—but that's far from the truth today. It's perfectly acceptable to register for cash funds to support your financial goals. In fact, experts encourage it. "Instead of registering for lavish items, a smart move for some may be to register for cash and use the funds to make a down payment on a house, to buy a car, or to save toward retirement and future financial security," explains Isabel Barrow, Director of Financial Planning at Edelman Financial Engines. "It's easy to get caught up with wedding planning, but I always recommend that couples take a step back and consider the long-term financial implications of marriage."
Barrow also notes that couples should consider seeing a financial planner before the wedding to help set realistic, achievable goals. Not only will this allow you to align your goals, doing so will help you prioritize your financial wellness even as you pay for a wedding. "A wedding can make a large dent in a bank account, and it's important to start to build it back up," she explains. "By seeing a financial advisor, couples can explain their needs and wants, and begin to create a tangible plan for how to get there."
Here's the silver lining for those that want to buy a house and pay for their wedding at same time: You can do both! With the help of The Knot Registry, we make it easy to ask for monetary gifts that'll help fund your dream home.
How to Add a House Fund to Your Registry on The Knot
Creating a house fund registry is as easy as can be with The Knot. We've simplified the process to make registering for cash just like registering for a traditional gift, like a robot vacuum or a fancy espresso machine. Start by making your registry on The Knot. Once your account is ready, you'll be able to register for gifts from The Knot Registry Store and any other online retailers as well.
You'll find that The Knot Registry Store offers a variety of gift options, from home products to gift cards and even experiences. We also give you the option to add as many cash funds as you'd like. Start by browsing our pre-curated list of ideas—we offer cash funds to pay for a new home, home appliances and even interior design consultations. But if you have something a little more specific in mind, you can also create your own custom cash fund.
Once your registry is saved, guests will be able to contribute any amount to your wish list. A week after their contribution is made, the funds will be automatically transferred to your bank account to be used as you please. Simple, right?
The Best House Fund Registry Wording
It's no secret that guests like to know how their monetary contributions will be used, which is why we made it easy for you to add a brief description to your house fund wedding registry. Before the cash fund is applied to your wish list, you'll be prompted to name it and choose how much guests can contribute. In this pop up box, you'll also have the option to add a note if you'd like.
Finding the right thing to say doesn't always come easily. To help you craft a message that's short, sweet and authentic, we've compiled a few house fund registry wording examples below. Copy your favorite to add to your registry so that guests know exactly how their gift will be used.
"As we embark on married life, we are so touched by the generosity shown by our loved ones. In lieu of traditional gifts, we've opted for a house fund registry to help us pay for a future home. If you're able, we are so grateful for your contribution to this dream of ours."
"Celebrating our big day with you is the only gift we require. However, for those who are interested, we've set up a cash fund to help pay for a down payment on a home after the wedding."
"As much as we'd love linens and china, buying a home is at the top of our wish list. We've dedicated our registry to collecting funds to help us buy the home of our dreams."
"We are so lucky that we already have everything we need to begin our life together! However, for those who have inquired, we've also set up a cash fund to help pay for a new home. We can't wait to settle into this next chapter with you by our sides."
"We've been living in the same apartment for years, so it's time to upgrade! We greatly appreciate your generosity in helping fund a down payment on our dream home."
"As most are aware, we've been slowly fixing up our dream home since we purchased it. In lieu of traditional gifts, we've registered for cash funds to help pay for renovations and design upgrades to truly make this house our home. We are so grateful for your contribution to our newlywed nest."
"Your presence at our wedding is more than enough. However, for the friends and family who have asked, we've set up a registry to fund a down payment on a home after the wedding day."
"We are grateful enough to have everything necessary to embark on married life together. However, for our friends and family who have inquired, we've created a cash fund dedicated to helping us pay for the forever home we've always dreamed of owning."