16 Creative Cash Fund Ideas for Your Wedding Registry
From activity funds to puppy funds, the sky's the limit.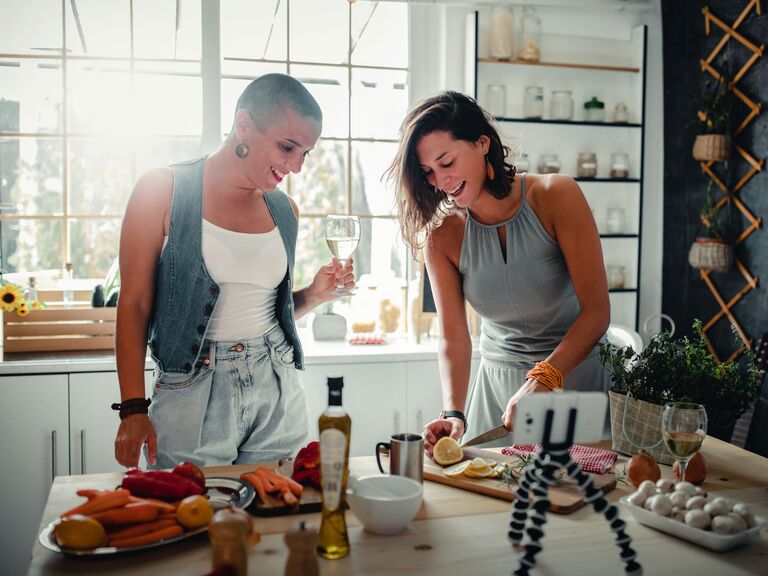 Zeljkosantrac / Getty Images
Physical wedding gifts are great, but for many couples, money sits at the top of the wish list. Weddings tend to be expensive investments—our data finds that the average cost of a wedding today is $28,000. Adding a few thoughtful wedding cash fund ideas to your registry will help make sure that you're not just planning your nuptials—you're also planning for a secure financial future. While a new standing mixer or a robot vacuum will certainly upgrade your newlywed nest, money may be a more impactful gift. And if you're looking for fresh wedding registry ideas for cash gifts, you're in the right place.
Today, more couples are asking for monetary wedding gifts than ever before. In fact, according to The Knot 2021 Registry Study, nearly 6 in 10 couples ask for money on their registry. Since registering for cash gifts is no longer taboo, couples are able to dedicate their wish list to important life milestones, like putting a down payment on a house, prepping for a future child or investing in a new car. It makes even more sense if you and your spouse live together before the wedding. There's less of a need to stock cabinets, drawers and bedrooms since you've probably accrued the essentials over time.
So, what do you register for when you already have everything or don't want traditional gifts? The answer is simple: money. And, if you're not sure what exactly cash funds can be used for, we've rounded up 16 unique ideas right here. From charity donations to tech subscriptions or season ticket passes to your favorite sporting events, there are so many creative cash fund ideas for your wedding registry. Browse our list below to narrow down a few that fit your lifestyle needs, and then create your registry on The Knot to start requesting cash funds.
How Does The Knot Cash Funds Work?
Asking for money might sound like the dream, but how does it actually work? We're here to help. As experts in the wedding registry space, we've created an all-in-one tool that allows you to compile all of your gift requests in one, shoppable place. (That means it's easy for you to keep track of your registry selections, and it's even easier for guests to shop for the perfect present.)
New to The Knot Registry? After you create your registry with us, you have the option to add physical items from The Knot Registry Store to your wish list. That's right: In addition to offering wedding planning tools and inspiration, we're also a retailer—we've partnered with hundreds of brands to provide you with the best wedding gift picks on the market. Plus, guests can purchase them directly from our site like they would from any other online store. And if there's something from another site that's not included in our store, you can easily add it to your registry too using our handy browser button.
But the gift ideas don't stop there! You can also add an unlimited amount of cash funds to your gift list. Cash funds are most often associated with honeymoon funds, but that's just the beginning of what you can request. Add any of the suggested cash funds on your registry dashboard by selecting "Add To Registry" or click on "Cash Funds" on the toolbar at the top of the page for even more inspiration. You'll see that we offer a number of pre-curated cash fund options, from a "cooking class for two" to "round-trip airfare." But really, your options are unlimited—just select "Add a Custom Fund" if you have something a little more specific in mind.
Piqued your interest? Below, find 16 unique wedding registry ideas for cash that'll help you make the most out of your wedding gifts, including winners of The Knot 2022 Registry Awards that our couples and editors love.
1. Honeymoon Fund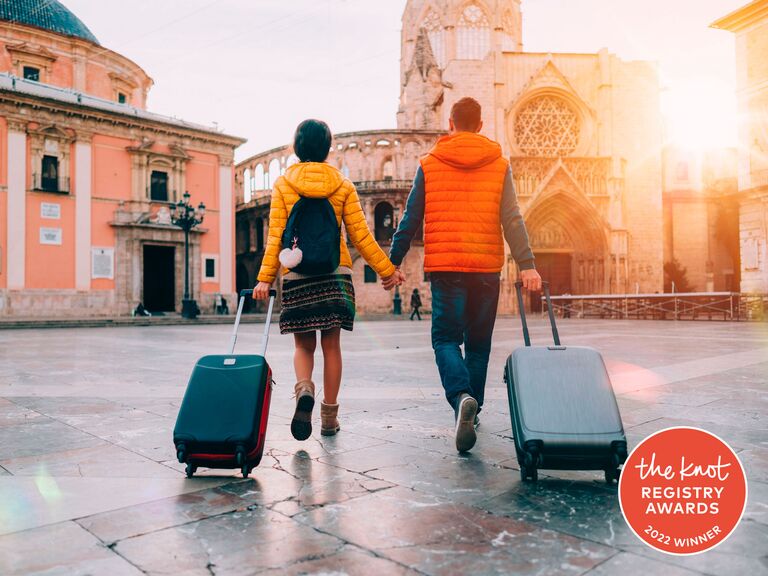 Of all the wedding registry ideas for cash, this is perhaps the most popular. You deserve to enjoy some well-earned R&R after your wedding day, so pay for the honeymoon of your dreams by setting up a designated honeymoon fund on your registry. With The Knot Registry, you can easily add pre-selected cash funds for your honeymoon, from a couple's massage to a romantic honeymoon dinner (another one of our most requested cash funds according to The Knot Registry Awards). But if you want something else that isn't on our list, create your own cash fund to help pay for your newlywed vacation.
2. Date Night Fund
One of the best pieces of advice you may hear from other married couples is to keep dating your spouse. Once the wedding day is over, continue to foster your relationship by planning regular date nights. (Read: no phones, no work talk and no distractions.) It'll be handy to have cash on hand to fund unique and exciting dates. Instead of falling on the couch after a long day to mindlessly watch your favorite Netflix show, try spicing it up with something different. Check out a new restaurant in town, plan a staycation or a cross-country getaway, cook a new meal from scratch, plan a wine tasting or brewery hopping tour, or indulge your inner child with ice cream for dinner—the sky's the limit when it comes to finding new date ideas to keep your relationship in the honeymoon stage. And you'll be extra grateful to have cash gifts on hand to pay for your creative excursions. (Psst, here are 105 fun date night ideas to get you started.)
3. Down Payment Fund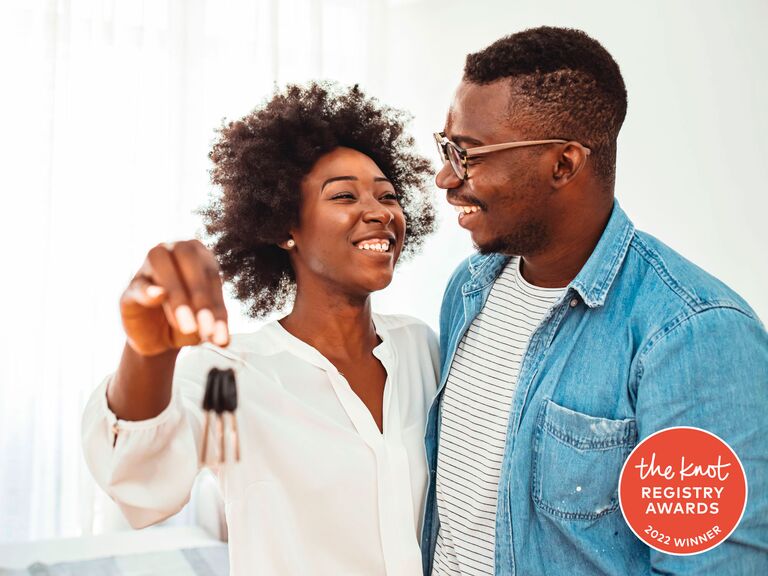 Buying a home doesn't come cheap, and it's often the first big financial investment two people make together as a married couple. While it may feel a little intimidating, you really don't have to choose between throwing your dream wedding or putting a down payment on a house—you can do both. When you make your registry, designate a cash fund specifically for your first home. Doing so will alleviate some of the financial burden from you and your other half, and guests will be over the moon knowing that they're contributing to such an important milestone in your newlywed life.
4. Charity Donation Fund
There are so many ways your wedding can support a good cause—one of the easiest is to ask for charity donations. If there's an organization that's close to your heart, you can set up a designated charity fund through our registry partners, GoFundMe. You can also link your registry to a charity through The Knot Gifts Back. With over 100 participating organizations, you can choose the charity closest to your hearts and we'll donate up to 3% of all eligible gifts purchased from your registry at no cost to you or your guests. Giving back has never been so easy.
5. Cooking Class Fund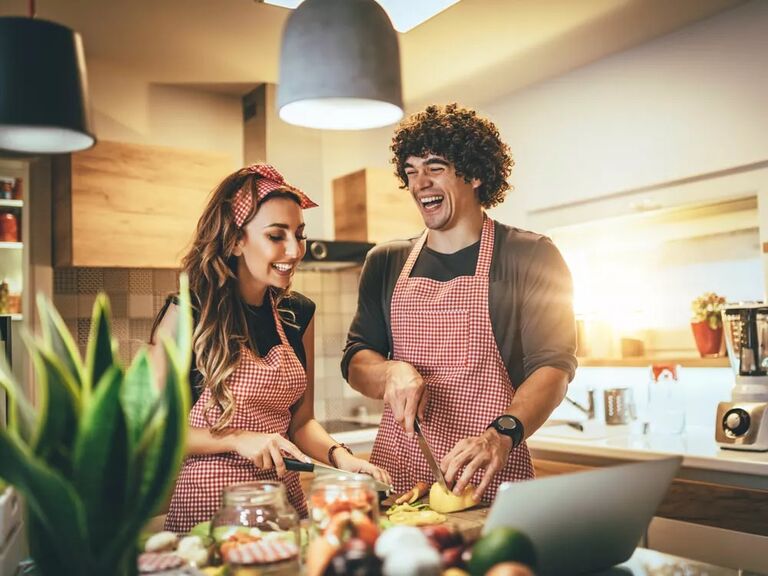 With a kitchen full of new appliances, make the most of your wedding gifts by registering for cash to pay for cooking classes. Whether you're a self-proclaimed Michelin star chef-in-training or you're a newbie in the kitchen, a few lessons will take your expertise to new heights. Register for online classes or head to a local restaurant to learn directly from the pros. You and your spouse will have so much fun experimenting with new recipes and refining your skills. Bon appétit!
6. Concert Ticket Fund
By creating a concert ticket fund on your registry, you never have to miss out on seeing your favorite performer. Attending frequent live shows can become a costly expense, but guests will be thrilled to fund your musical endeavors. Whether you and your S.O. are die-hard Taylor Swift stans or you've got a soft spot for rock tribute bands, this cash registry idea is a must for music connoisseurs.
7. Pet Adoption Fund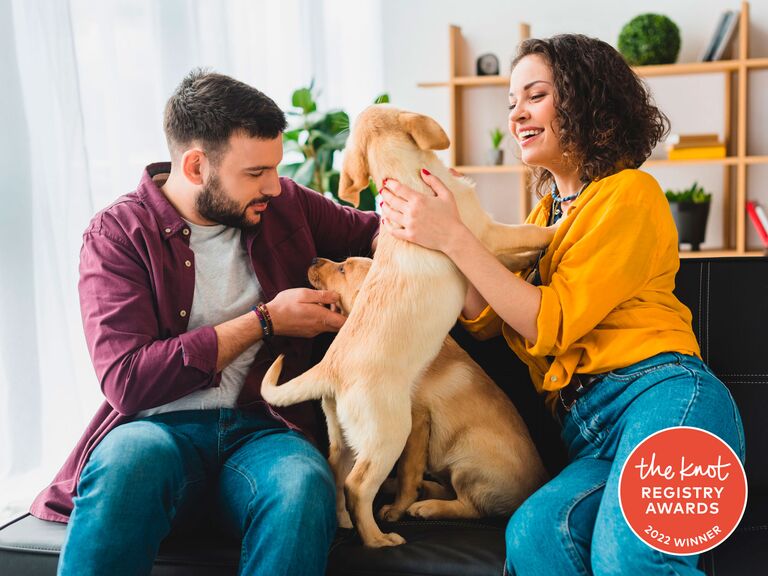 Dreaming of adding a furry friend to your family? Pet adoption fees can add up over time, but you can cover the costs by creating a designated cash fund. Plus, since pretty much everyone loves animals, guests will be highly likely to donate some money to pay for leashes, crates, vet fees, toys and treats for your future fur baby. We love this wedding cash fund idea so much that our experts crowned puppy funds a winner at The Knot's 2022 Registry Awards.
8. Big-Ticket Appliance Fund
There are a couple of ways you can score more expensive appliances as wedding gifts (without costing loved ones an arm and a leg). Many registries allow group gifting on items that exceed a certain value, encouraging guests to band together and split the cost evenly. Another great way to make sure you get the appliances you need? You guessed it: cash funds. Always dreamed of swapping your old coffee maker for a barista-grade espresso machine? Or maybe you've got on your eye on a stunning Smeg refrigerator? Whatever the object of your desires, an appliance cash fund will help you get it.
9. Vacation Rental Fund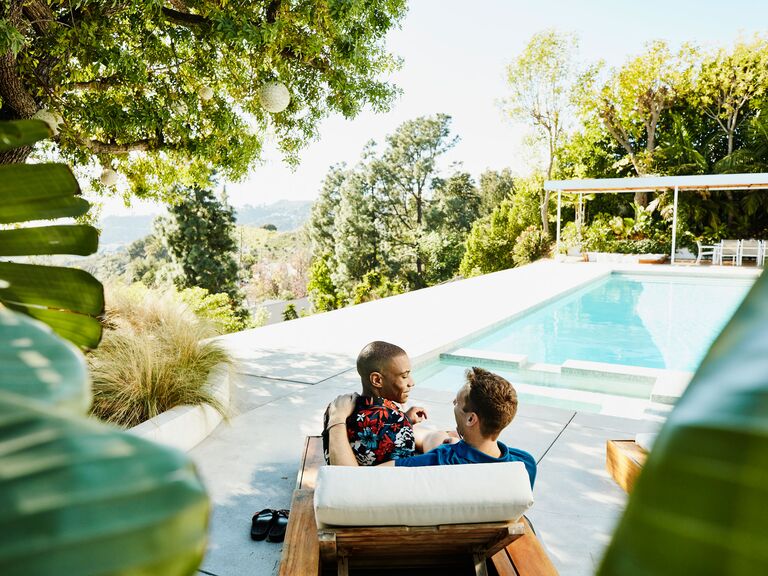 Your travels don't have to end once you return home from your honeymoon. Fuel your wanderlust with a designated cash fund for vacation rentals from sites like Airbnb or Vrbo. If you and your partner value experiences over things, a cash fund for vacation rentals will help you make a serious dent on your travel bucket list.
10. Home Renovation Fund
Redesigning your home comes with a lot of unexpected costs, and you might be more likely to put off necessary retouches without a cash fund. If you're itching to refresh the guest bathroom or give your kitchen a massive overhaul, this is a practical cash fund idea for your wedding registry. Use the donations to pay for interior design consultations, paint, brand new furniture, decor or even structural updates for any room in your home.
11. Sports Tickets Fund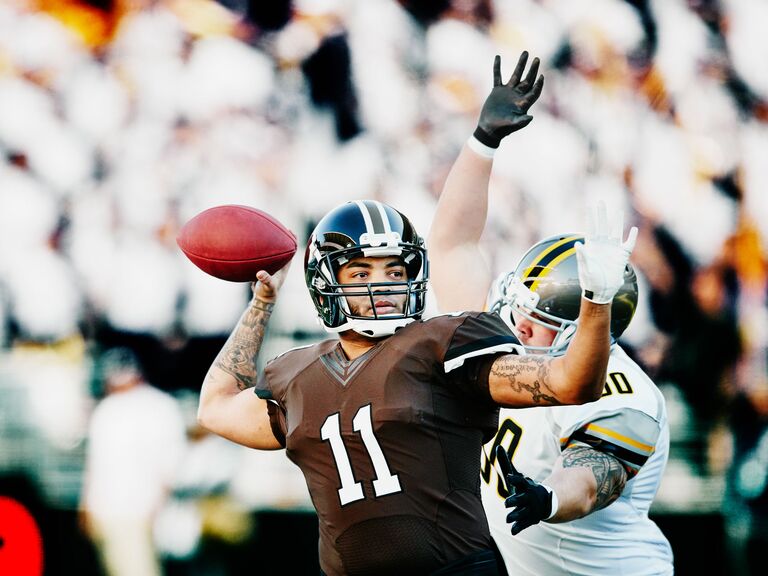 Let your guests take you out to the ball game—or any game, for that matter. Sports fanatics, this wedding registry cash fund idea is for you. Instead of dipping into your savings for season passes or playoff tickets, create a cash fund for them instead. If guests know you and your partner are passionate about sports, they'll be more than happy to donate some money to your ticket fund. How's that for a registry home run? (Psst, you can also register for game tickets and sporting events exclusively through The Knot Registry Store.)
12. Backyard Fund
Love spending time outdoors? Your wedding registry isn't just for stocking the inside of your home. There are lots of great outdoor wedding registry ideas that'll help you turn your backyard into a relaxing oasis or beautiful entertaining space. Thinking up your very own grand alfresco design? Register for a cash fund you can spend on your backyard as you see fit, whether it's a pool fund, a landscaping fund or a fund for luxury outdoor furniture.
13. Lifestyle Fund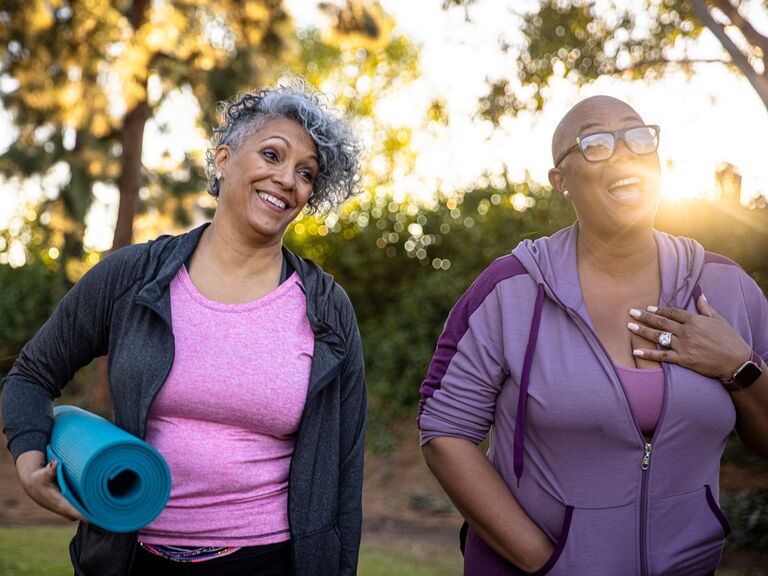 Take a moment to think about the special things you and your S.O. love to do together in your free time. Do you go to the movies every weekend? Are you always on the lookout for new museums? Do you have Monday night yoga class carved into your weekly schedule? No matter what experiences you love to share, we recommend setting up a cash fund on your registry to pay for them.
14. Subscription Services Fund
There are plenty of great subscription services for couples: Blue Apron, Winc, The Sill and Bean Box all come to mind. Give yourself the gift of a monthly mailbox surprise by registering for cash to pay for a subscription box that satisfies your shared niche interests. After all, monthly boxes are the gifts that keep on giving, so they'll extend the gift-opening fun long after your wedding day. That said, not all great subscriptions are physical deliveries. Feel free to use your registry to fund virtual subscription services like Hulu, HBO Max and Spotify. No more FOMO listening to your friends talk about the latest season of Netflix's Bridgerton or the Harry Potter reunion documentary on HBO.
15. New Car Fund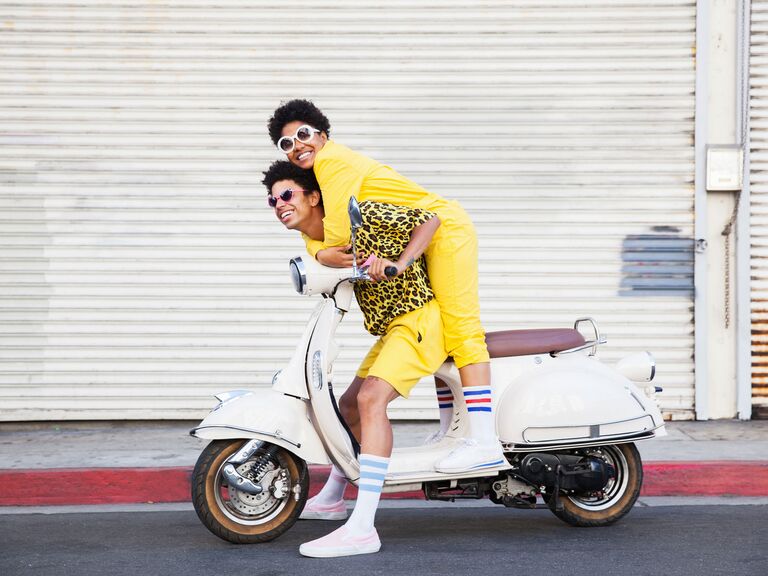 While you can't exactly put a new set of wheels on your wedding registry, you can create a cash fund for one. Upgrade your ride by requesting monetary donations to be used for this important purchase—you'll be glad you did once you're behind the wheel. And it doesn't have to be a car either. If you've both always dreamed of owning a classic Harley-Davidson motorcycle or retro Vespa scooter, now's your chance.
16. Investment Fund
The best part about cash funds is that you can use them for literally anything. If the wedding registry fund ideas above don't strike a chord, perhaps you'd rather use cash gifts for practical financial movements, like refinancing your student loans, investing in your first joint bank account or putting away money for your children. Whatever the case, you can use your cash funds as you please—just be sure to explain exactly how you'll use the money so guests know what they're contributing to.