The 15 Best Places to Propose in Boston
We found the best proposal spots in Beantown.
If you're looking for the best places to propose in Boston, you've come to the right place. Whether you're looking to pop the question at the rooftop where you met or want to present the ring at one of the city's scenic historic landmarks, there are many romantic places to propose in Boston (both private and public) that your partner will remember forever.
We spoke with Boston-based wedding and proposal photographer Nicole Chan of Nicole Chan Photography as well as AJ Williams, Founder of Boston-based AJW Events (both of whom have more than two decades of experience each) to learn more about the best places to propose in Boston and tips for planning a Boston proposal.
In addition to the 15 best places to propose in Boston we listed below, The Knot Vendor Marketplace is a great resource for finding additional venues, proposal photographers and proposal planners to help you check all the boxes on your wedding proposal checklist.
In this story:
How to Decide Where to Propose in Boston
As you start to consider where to propose in Boston, it is important to keep in mind that Boston is a tourist-heavy city. "Consider how much foot traffic your location will have and how private the space is," suggests Chan.
If you want your proposal to be extra sentimental, you can pick from "locations based on romantic moments–think first date locations, first kiss locations or a surprise location they've always wanted to visit," says Williams. Additionally, Williams recommends scheduling your proposal to be during a time when friends and family are in town. Whether you opt to pop the question at a restaurant where you'll be sharing a meal together or at another nearby place close to where they'll be staying is up to you. If you want them to be involved in the special moment or be closeby to congratulate you and your partner shortly after, this is a solid idea.
Whether or not you want to hire a Boston engagement photographer for your proposal may also influence the engagement location you select. If you choose to have a photographer (which we and our experts recommend), make sure your venue doesn't have any photography rules. "Many locations require photographers to have liability insurance, so be sure to communicate with the venues to make sure that your photographer's legal ducks are in a row," explains Chan.
The Best Time of the Year to Propose in Boston
There is no one season that takes precedence over another when it comes to proposing in Boston. However, it is important to keep in mind that each season in the city does have a different feel depending on the time of year. With that being said, the best time of year for your specific proposal should be chosen based on what you want or what you think would make your partner the happiest. "Every season in Boston has its charm and amazing potential for a beautiful proposal," says Chan. "My favorite time in Boston is in the autumn when all of the leaves change colors. There are some stunning locations in the Blue Hills where I love to capture the foliage. Another favorite season in Boston for proposals is in the winter. The snow and all of the twinkling lights are so romantic!" Chan adds that dressing in layers is especially important if you plan on proposing in those snow and rain-heavy months.
Romantic Places to Propose in Boston
From arboretums to vintage Italian restaurants, there are many romantic places in Boston to propose. Keep reading to discover some of our favorites.
The Oceanaire Seafood Room - Boston
If you're proposing to a seafood lover, a proposal at The Oceanaire Seafood Room - Boston will be shrimply the best. Located in Boston's financial district, this sophisticated restaurant is known for its ultra-fresh seafood and will be sure to win over your partner.
Boston Public Garden
If you two are plant lovers, a Boston Public Garden proposal is sure to impress. "Pop the question at the Boston Public Garden during the blooming springtime, fall, or summer," says Williams. With more than 80 species of plants, it's unlikely that your partner's favorite flower won't be present. And, when you propose here you'll be doing so at America's first public botanic garden–we think that's pretty neat.
Mistral Bistro
Boston's South End is home to Mistral Bistro which is a great place to pop the question. In addition to this bistro's French Mediterranean cuisine (especially the Classic Escargots), its large paned windows and hanging chandeliers will be memorable when reminiscing about your magical moment.
Contessa Ristorante at The Newbury Boston
For a rooftop proposal in Boston, Williams recommends heading up to Contessa Ristorante located on the rooftop of The Newbury Boston. In addition to the restaurant's breathtaking views, you and your partner can celebrate by enjoying some elevated Italian cuisine with dishes including Spicy Lobster Capellini and Shrimp al Forno con Fagioli. Make sure to snag a reservation early as they tend to fill up quickly!
Arnold Arboretum
If you met in college, take your proposal to Harvard University's Arnold Arboretum. What makes this arboretum stand out is that it houses more than 15,000 plants including lilacs and magnolias. We recommend proposing in front of your partner's favorite plant or during one of the arboretum's guided tours–just make sure to plan your tour in advance and inform your tour guide of your romantic plans ahead of time.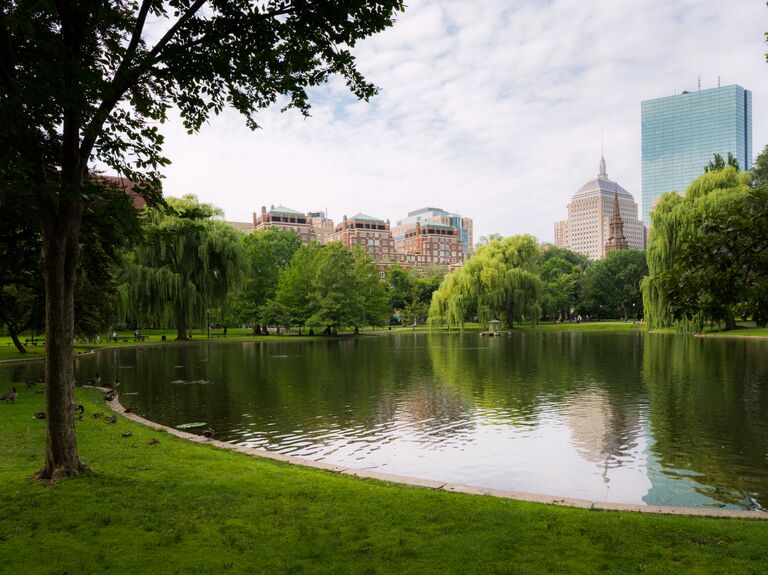 Beautiful Places to Propose in Boston
Continue to show your partner just how beautiful you think they are with a proposal at one of these beautiful Boston locations.
New England Aquarium
Get down on one knee among more than 10,000 marine animals at Boston's New England Aquarium. Whether you want to present the ring in front of a school of fish or some Southern Rockhopper Penguins, you can rest assured there will be no shortage of aquatic life present wherever you decide to do it.
The Boston Common
If you both grew up in Boston, it's hard to go wrong with a proposal in the heart of the city at The Boston Common. Although this location is far from private as it's usually filled with lots of locals and tourists, its foliage is beautiful and worth the extra couple of people who may be walking around you or appear in your proposal photos.
Mamma Maria
If you want to accompany your proposal with some northern Italian cuisine, Mamma Maria is a great spot. Although you can bring out the ring in this 19th-century row house restaurant's main dining room, the restaurant also has five private dining rooms which can be rented out if you'd rather your moment be private.
Isabella Stewart Gardner Museum
Art lovers will appreciate a proposal at the Isabella Stewart Gardner Museum. You can spend the day looking at the artwork around the museum before asking your partner the big question in the courtyard area of this Venetian-inspired palazzo.
Museum of Science
Take your chemistry to the next level with a proposal at the Museum of Science. Although a science museum may not be the first thing that comes to mind when thinking about where to propose in Boston, you shouldn't rule it out. Along with the exhibits you and your partner can experience together before asking for their hand, this museum offers breathtaking views of both the Charles River and the Boston Skyline.
Harborwalk Lookout Terrace at Seaport Fan Pier Park
Planning a romantic walk along the harborwalk lookout terrace at Seaport Fan Pier Park is arguably one of the best ways to propose in Boston. Offering stunning views of the harbor and city skyline, you won't need to worry about whether or not you'll have a stunning backdrop for your Boston proposal photographer to capture along with your proposal–because they will.
Private Places to Propose in Boston
If you and your partner are more private when it comes to your relationship, there's no need to fear. Although Boston tends to be filled with tourists, it is home to many wonderful spots that tend to be on the quieter side or can be rented out for a completely private engagement.
Boston Public Library
Begin your next chapter as a couple with a proposal at the Boston Public Library. "In my opinion, this is the absolute best indoor location in Boston because of its incredible architecture," says Chan. Its vaulted ceilings and oak-paneled bookcases will make for a beautiful background in your engagement photos. Chan also let us know that couples can rent out the library for an hour by paying a fee which can be great if you're looking for more exclusivity during your engagement.
Hotel Commonwealth Boston
Is your partner a big fan of the Boston Red Sox? If so, Hotel Commonwealth Boston is the perfect location for a Boston Red Sox proposal. Whether you choose to ask for their hand from the Fenway Park Suite overlooking the venue or inside your room, we don't doubt that your baseball-loving partner will consider their moment to be a home run.
City Cruises - Boston
Take your partner on a private cruise around the Boston Harbor via City Cruises. Whether you just want it to be you two or you want to invite your close friends and family on your love-filled adventure, City Cruises has options to personalize your proposal.
Boston Harbor Hotel
If you're looking for a luxurious spot to propose, a private patio proposal at the Boston Harbor Hotel is a solid option. With views overlooking the harbor, you can rest assured that your joyful faces will be complemented by a stunning backdrop in your proposal photos.