Consider This While Deciding When to Have a Bridal Shower
Where in the wedding planning timeline should the bridal shower fall? Let this be your guide.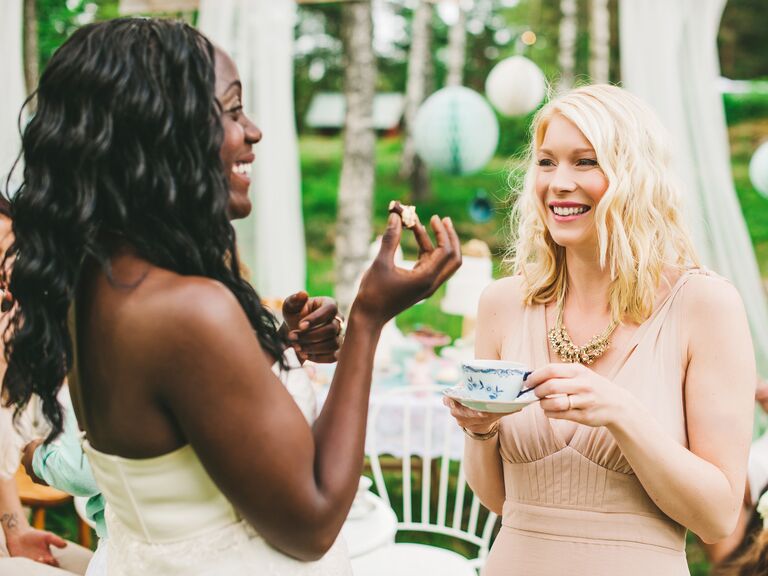 iStock
A bridal shower is a fun and often informal event where loved ones gather to honor the bride-to-be. The party involves bridal shower gifts, games and delicious food. It's also an opportunity for family and friends from both sides to meet and get to know one another before the big day. As the host, you may feel excited about planning an epic bridal shower but are stuck wondering, "How do you know when to have a bridal shower?"
Every couple's engagement length and wedding planning checklist is a little different. So the timing of the bridal shower will depend on the to-be-wed you're honoring. You'll have to plan the party around other prewedding events while also trying not to schedule the event too close to the wedding day. If you're planning this important event, here are some guidelines for how soon before the wedding to have a bridal shower.
How to Decide When to Have a Bridal Shower
Choose a location for the bridal shower.
Find a venue that has the appropriate atmosphere, is large enough for the number of guests attending and fits your budget. If you're choosing a venue like a restaurant or an event hall, there will be limited availability (especially for big groups), so try to reserve the space at least one month ahead of time. If you want to host the shower at someone's home, the bridal shower date can be more flexible, but you'll have to be mindful of the home owner's schedule.
Consider the timing of other prewedding events.
As you start looking at potential dates for the bridal shower, take account of the numerous prewedding events and last-minute wedding prep on the bride's calendar. The engagement party, wedding outfit fittings and bach party are just a few things you'll have to consider before finalizing a date for the shower. Using a 12-month wedding planning timeline for reference, anywhere from two months or three months before the wedding is perfect timing for a bridal shower. Planning two to three months ahead gives the to-be-weds enough time to set up their wedding registry after their engagement and provides bridal shower guests time to purchase gifts from the registry. Try to avoid having the bridal shower one month or less before the wedding so the bride isn't overwhelmed with other wedding duties.
We recommend you schedule the bridal shower at least two weeks before the bach party. This gives anyone invited to both events the opportunity to mingle and get to know one another, and it gives the bride (and yourself) time to relax between events. The last thing you want is you or the bride anxious at the bridal bash, so settle on a time when you'll be ready to shower the bride with love, best wishes and gifts with their closest friends and family.
Figure out the desired season for the bridal shower.
So you've looked at your calendar and still can't figure out when to have a bridal shower. Don't worry, there's another way to help you make a final decision. Just ask yourself, "What's the bride's favorite season?" Once you answer that, you can narrow down which dates to choose from.
The season can also affect the bridal shower theme. Would you like a garden-themed bridal shower with floral print decor, lush greenery and blush tones? Then a spring or summer shower is the perfect option for you. (You can take advantage of the warm weather by celebrating outdoors.) Or would you prefer a fall bridal shower with an apple cider bar, mini pumpkin centerpieces and a rust color palette? No matter which vibe you want for the bridal shower, we suggest you think about how the theme and season can work cohesively to ensure a gorgeous celebration.
Keep the guests in mind.
Of course, the final date for a bridal shower should be based on the bride's schedule and preferences, but the guests' availability should be taken into consideration too. If you want all of the bride's loved ones to be present in celebrating her almost-married status, your guest list is an important component of how early you can have a bridal shower. Our tip: Contact the bride's VIPs first (their mom, grandmother, bridesmaids or mother-in-law) and ask what dates work best for them. From there, you can present the bride with a few options for party dates and ask her to let you know which one she prefers.
Inform your guests of the bridal shower date as early as possible. Ideally, the bridal shower invitations should be mailed between four and six weeks ahead of the party. This way, anyone who lives far away from the bridal shower venue has time to make travel arrangements (like requesting days off, booking flights and securing accommodations). Providing ample notice also gives guests time to purchase their bridal shower gifts from the couple's registry. If the location is an issue for many guests (for example, the couple has relatives on opposite sides of the country), consider having two bridal showers. One shower can be a destination shower, while the other is local to where the bride lives. Our tip: Livestream your bridal shower festivities for guests who can't attend—so they don't feel left out and so you can relive your memories later.