Shower a Pittsburgh To-Be-Wed at One of These Popular Steel City Wedding Shower Venues
These spots are sure to make a Pittsburgh shower one for the books.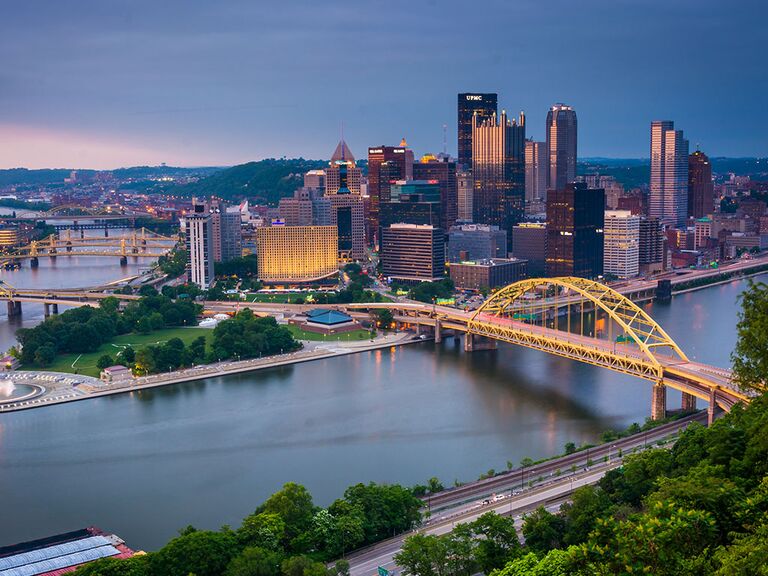 Shutterstock

Every to-be-wed deserves to be celebrated before their wedding day, though planning a wedding shower is no easy feat. If you know anything about current bridal shower trends, you know these prewedding events have become bigger and better than ever. While there are many decisions to make while planning this special event, selecting an event space for the shower should be one of the first steps in the planning process.
If you're planning a shower for a Pennsylvania to-be-wed, you're in luck. The historical city of Pittsburgh is home to many beautiful bridal shower venues and we've gathered some of our favorite Pittsburgh bridal shower venues to inspire you. Whether you're in search of a dining hall or brewery, winery or museum, you'll find an event space in this Pennsylvania city suitable for any wedding style. Read on for our 15 favorite bridal shower venues in the beautiful city of Pittsburgh, Pennsylvania. And if you want even more ideas for a Pittsburgh wedding shower, or even spots that can double as rehearsal dinner venues and wedding venues, head to The Knot Marketplace for additional inspiration.
1. Johnston House in Mars, Pennsylvania
Located north of the Pittsburgh area, the Johnston House opened in 1987 as a luxury furniture and home antique store. Transformed into a romantic tea room, the Johnston House offers a bright and airy dining room, with a guest list capacity of 100 invitees. Enjoy a sit-down meal at this charming bridal shower venue, with their house-made seasonal tarts and savory treats.
2. Bella Sera in Canonsburg, Pennsylvania
Bring a slice of Italy to your Pittsburgh bridal shower. Inspired by a Tuscan villa and located south of the city, it's clear why Bella Sera is an award-winning venue for wedding receptions, baby showers and, of course, bridal showers. Guests can shower the to-be-wed while enjoying a savory Italian meal in Bella Sera's indoor Greco Room or under the outdoor tent overlooking The Gardens. Plus, if you have guests traveling from afar for your bridal shower, Bella Sera is conveniently located just 20 minutes south of the Pittsburgh airport.
3. Wyndham Grand Pittsburgh Downtown in Pittsburgh, Pennsylvania
Planning a bridal shower for a stylish-and-modern bride? Look no further than the extravagant Wyndham Grand Pittsburgh Downtown. Shower the bride-to-be in one of the hotel's three full-service event spaces and marvel at the breathtaking views of the city, Mount Washington and Point State Park. Your bridal shower will be the talk of the town.
4. The Church Brew Works in Pittsburgh, Pennsylvania
This cathedral-turned-brewery will wow your bridal shower guests with its history, cuisine and unique architecture. Invite your wedding shower guests to enjoy a sit-down brunch or dinner in this historic Pittsburgh village. The Church Brew Works can accommodate up to 100 guests, has reasonable rental fees and is the perfect setting for your next event.
5. Olive or Twist in Pittsburgh, Pennsylvania
This martini bar, which makes a great wedding shower venue, is located in Pittsburgh's Cultural District, just blocks away from the infamous strip district. Olive or Twist can host up to 175 guests and offers your bridal shower a snug atmosphere with exposed brick, pendant lighting and delicious dining. Hosting a fall or winter bridal shower? Look to Olive or Twist for all-things cozy.
6. The University Club at the University of Pittsburgh in Pittsburgh, Pennsylvania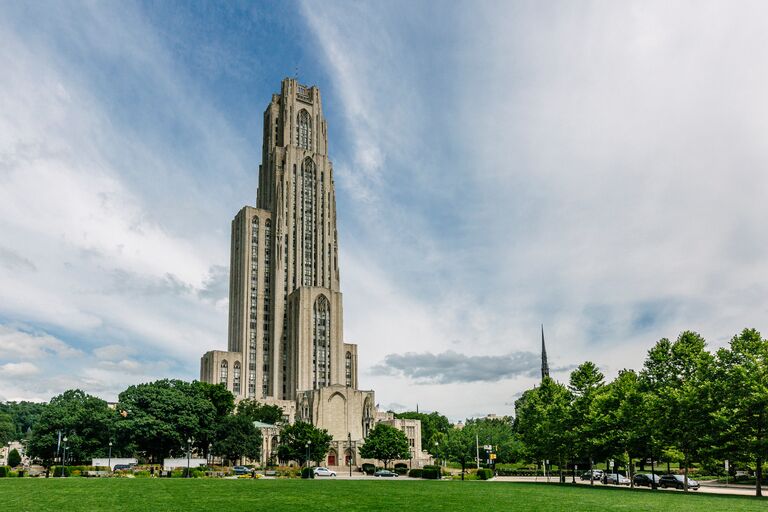 Often referred to as the "quintessential Pittsburgh wedding venue," The University Club is located in the heart of the University of Pittsburgh's campus. This beautifully renovated 1923 event space combines historic elegance with touches of modern style, making it a dreamy venue for all of your wedding festivities.
7. Southern Tier Brewing Company in Pittsburgh, Pennsylvania
A dream bridal shower is brewing! Invite your guests to enjoy over 30 beers on draft and delicious cuisine in the modern taproom at Southern Tier Brewing Company. Designed with industrial decor and exposed ceiling beams, the dining area will make for picture-perfect Instagram photo shoots.
8. Vallozzi's Pittsburgh in Pittsburgh, Pennsylvania
Carbs, carbs and more carbs. What else could you ask for? Invite your Pittsburgh wedding shower guests to celebrate the to-be-wed at Vallozzi's Pittsburgh with an extensive selection of wines, cheeses and meats flown directly from Italy, and visually appealing Italian architecture.
9. PNC Park in Pittsburgh, Pennsylvania
We'll bet you didn't know the self-proclaimed "Best Ballpark in America" could double as a bridal shower venue, did you? PNC Park is located in the heart of Pittsburgh, features endless event spaces, and makes for a sporty location to celebrate your favorite adventurous bride-to-be. Guests are sure to be impressed by your creativity if you host a preceding event at this sporty spot.
10. Hofbrauhaus Pittsburgh in Pittsburgh, Pennsylvania
Want to travel to Germany without leaving Pittsburgh? Modeled after the 400+-year-old original location in Munich, Germany, invite your guests to explore the magic of Hofbrauhaus Pittsburgh. While enjoying authentic German and American dining, your wedding shower guests will be thrilled to explore the indoor and outdoor spaces this venue boasts.
11. Buca di Beppo Station Square Pittsburgh, Pennsylvania
Introduce your wedding shower guests to the city of Pittsburgh by hosting your shower at this festively decorated, family-owned restaurant. Featuring a variety of semi-private dining areas and family-style Italian dishes, Buca di Beppo Station Square makes for an exciting atmosphere for all of your bridal shower plans.
12. Slate Studio Pittsburgh Pittsburgh, Pennsylvania
For a true one-of-a-kind wedding shower, the Slate Studio in Pittsburgh offers a flexible venue space with an open floor plan. This flexibility allows the to-be-wed to be immersed in the event planning process by helping to design the layout and decorations—with this fresh slate, the bridal shower opportunities are endless. The rental fee for this space ranges from $250/hour–$400/hour and includes cleaning, staffing, use of an in-house A/V system and wireless mic, a mix of tables and chairs, and the flexibility to choose your own caterer and vendors.
13. National Aviary in Pittsburgh, Pennsylvania
The National Aviary is a non-profit zoo home to 150 species of birds, many of them threatened or endangered in the wild. Host your bridal shower in The Garden Room, a dazzling and cozy space featuring views of Lake Elizabeth, two stone fireplaces and a grand lobby area. The event space has glass windows for open air or can be kept closed, depending on the season of your Pittsburgh wedding shower. Your guests will marvel at this unique, one-of-a-kind, sustainable event center.
14. PointBreezeway in Pittsburgh, Pennsylvania
This childhood home is owned by high-school sweethearts (you know we love a love story.) who transformed the house into an event venue. Dedicated to creating a home-like space for your celebratory moments, you can find PointBreezeway in Pittsburgh's East End, not far from the south side. It is an intimate bridal shower venue that beams with natural light. The rental fee includes complimentary fresh flowers, plates, cups, and silverware, and a fully decorated bridal shower venue with floor-to-ceiling French doors and a brick fireplace.
15. Pittsburgh Botanic Garden in Pittsburgh, Pennsylvania
Known to host some of the most beautiful weddings and events, the Pittsburgh Botanic Garden makes for a dreamy bridal shower venue. Whether you're hoping to host your bridal shower indoors or outdoors, the event space offers a whimsically romantic set-up for both.