The 5 Best Budgeting Apps for Couples to Track Their Finances
Manage your money as a team with these handy tools.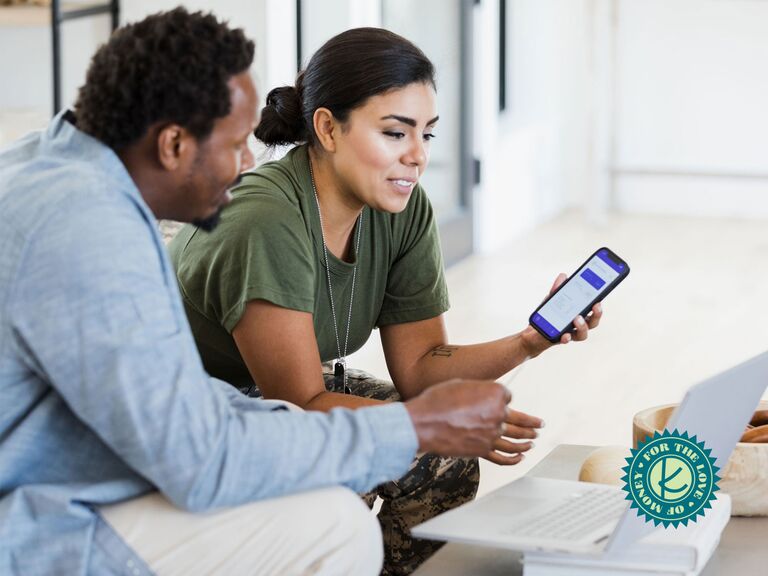 Photo: SDI Productions | Getty Images
We have included third party products to help you navigate and enjoy life's biggest moments. Purchases made through links on this page may earn us a commission.
Managing your money as a couple doesn't always go smoothly, no matter the stage of your relationship. If you're not sure how to get started or want to improve your finances together, technology can be a big help. With that in mind, we've listed the best budgeting apps for couples below to help you find the right fit. According to The Knot Financial Survey 2022, finance apps are the most popular way to stay informed about day-to-day financial planning and investing, used by around 40% of couples. If you're yet to take advantage of technology to help you stick to a budget or power up your investments, now's the time to test the waters.
But before you dive headfirst into the world of budget-tracking apps, read our top tips on how to actually start budgeting as a couple and the benefits of doing it with an app. We've also tapped finance coach and founder of City Girl Savings, Raya Reaves, for her budgeting expertise.

In this article:
How to Start Budgeting as a Couple
If you want to start budgeting together, taking time to discuss finances with your partner is an excellent (if not essential) starting point. Reaves recommends creating a safe space where you can have these conversations openly and honestly. "No one should be made to feel like they're wrong for their financial actions or less than," she says. Remember that you're both on the same side working toward a shared goal.
Once you've set the stage for a productive and non-judgmental conversation, Reaves suggests identifying exactly what's important to you both as a couple. "Some high priority talking points should include building credit, paying down debt, financial goals as a couple and financial goals as individuals," she says. There may be something specific you need to work on to achieve a big future goal. "For example, if a joint goal would be to own a home someday, credit could play a major role," says the finance coach.
Once you have a clear view of your financial goals—both as couples and individuals—you can start to think about budgeting. There are some excellent apps that'll let you collaborate on creating and managing your budget together (and we've listed our favorites below). Certain money management apps even allow you to switch between tracking your joint and individual accounts. Ultimately, technology can help to forge a more clear-cut path to your financial goals.
There are just a couple of things to keep in mind before you officially start. "Before creating the budget, get clear on how things will be split," says Reaves. Will you both pay an equal share of household bills and everyday expenses? Or will one of you cover rent while the other manages utility costs? "Make sure both parties are on the same page about goals, responsibilities and expectations, then move to create the budget around those things," she advises.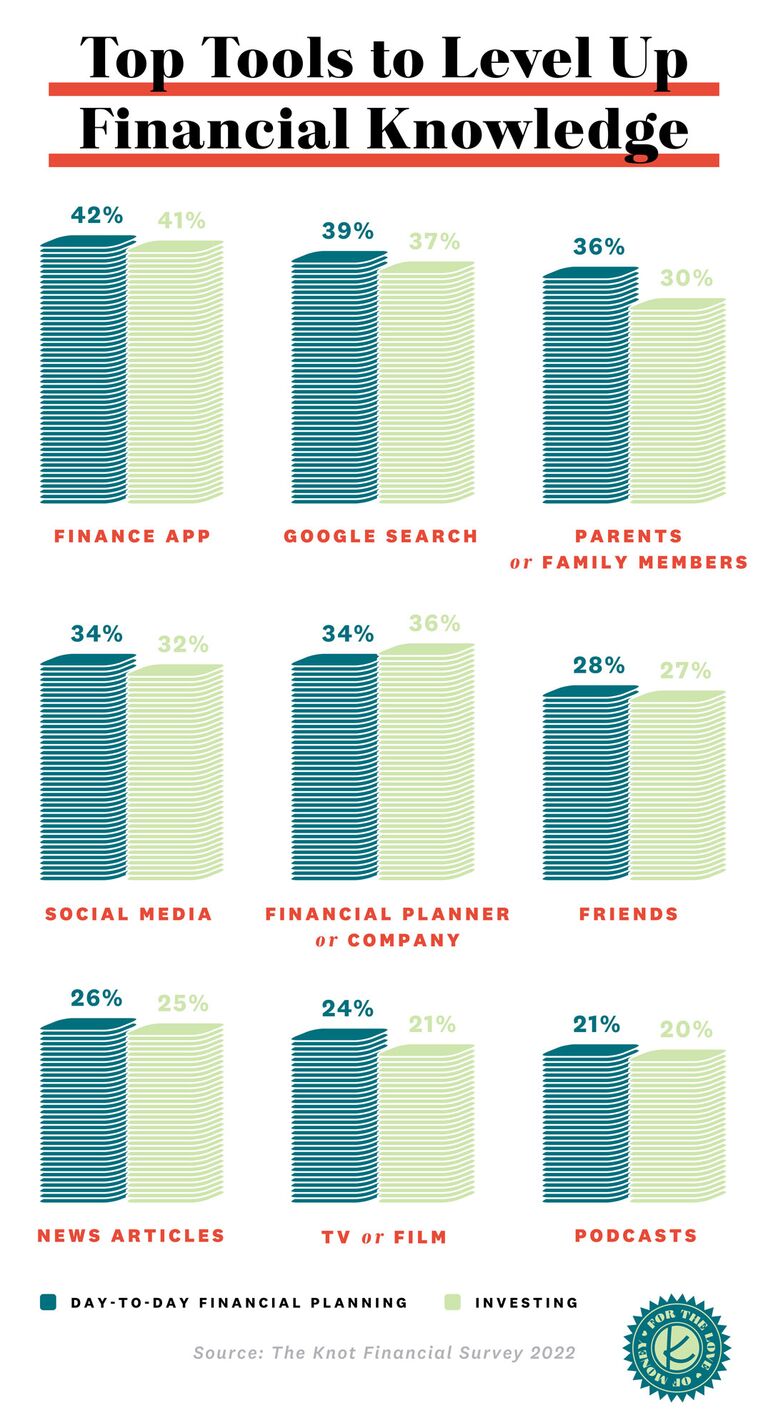 The Benefits of Using a Finance-Tracking App
Once you've started managing your day-to-day finances, you might be wondering how to actually stick to a budget as a couple. Luckily, technology can make it easier. "Apps can take your spending activity and categorize it for you, so you don't have to manually track each expense," says Reaves. It makes the process more efficient so budgeting is easier to fit into your routine. But there is one thing you shouldn't skip doing yourself. "To make the most of budgeting apps, be prepared to double-check the app's accuracy," says Reaves. Sometimes spending is categorized incorrectly or expenses are counted twice, the finance coach explains.
Making your budgeting process more efficient isn't the only benefit of using an app. You can also increase your financial knowledge, improve your financial well-being and—if you're using the app as a couple—promote greater financial equality in your relationship. "Budgeting apps can definitely help couples feel like they have equal control of their money," says Reaves. Better yet, they can help make conversations about finances more constructive. "Because the budgeting app does a lot of the tracking, couples can feel like the information is unbiased and not one-sided," she says.
Our finance survey shows that most couples decide who should be responsible for managing day-to-day finances based on who is more knowledgeable (43%) followed by the couple having a conversation about it (39%). In non-heterosexual relationships, the responsibilities are shared more evenly between both parties. LGBTQ+ individuals, for example, replied they're less inclined to have one person completely manage their daily expenses (18% vs. 28% non-LGBTQ+).
But just because both partners are involved in managing expenses doesn't automatically mean they have equal control. Only 38% of LGBTQ+ couples strongly agree that both partners have an equal say in overall financial decision-making (versus 54% of non-LGBTQ+ couples). By using a shared budgeting tool, you can work toward a more equal control of finances in your relationship.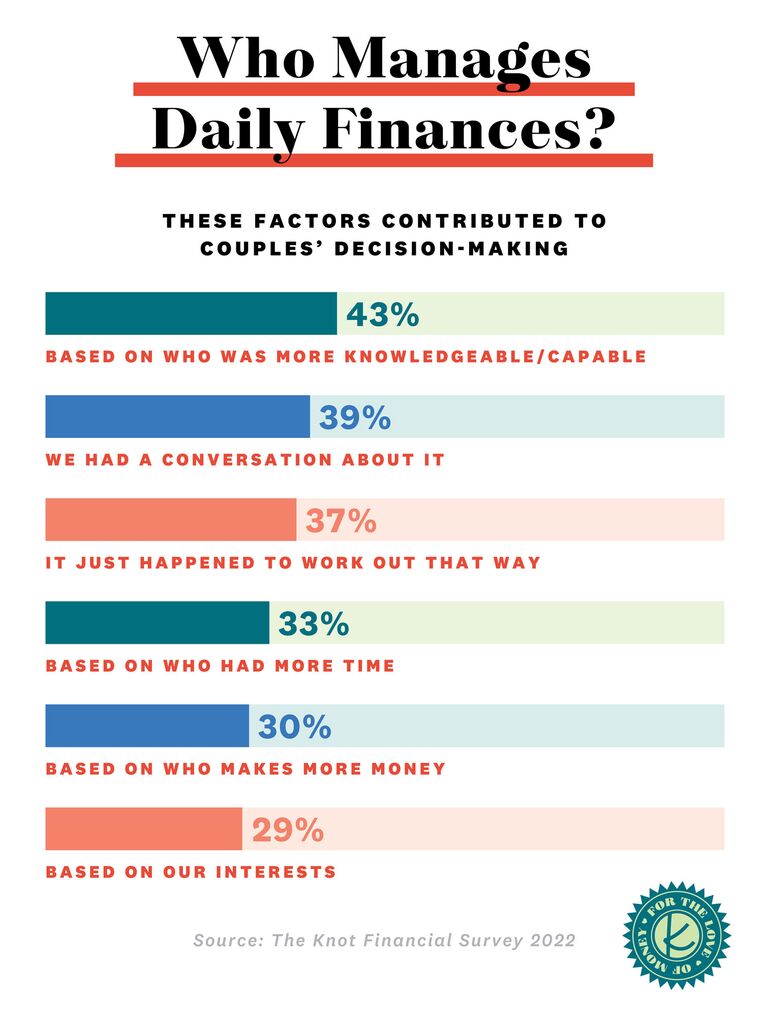 The Best Budgeting Apps for Couples
When it comes to financial planning apps, you're pretty much spoiled for choice. But not all budgeting apps are created equal, especially if you're managing your finances as a couple. To help find the right finance-tracking tools for you, we're sharing the top apps for couples that'll make budgeting together a breeze.
In this section:
The Best Overall Budget App for Couples: Monarch Money
The Monarch Money app has plenty of excellent budgeting tools for couples. It's ideal for tracking everyday finances (thanks to bank-account syncing), as well as larger savings goals. Take advantage of easy-to-use controls, valuable insights and a clutter-free dashboard to keep on top of your money.
Top features: Monarch makes teaming up to track finances super convenient. Both you and your partner can access the same account, but you'll each have your own unique login details. Once you're in, the app offers a streamlined experience. All of your finances are clearly laid out on a sophisticated dashboard, including bank accounts, loans, credit cards and more. Plus, thanks to Monarch's secure connection with over 11,000 financial institutions, the app can sync with your accounts for an up-to-date overview of your spending and saving. With Monarch, creating a solid financial plan is a hassle-free experience with easy-to-use tools, helpful data insights (like a review of the previous month's expenditure) and encouraging goal timelines.

Potential drawbacks: To make the most of this couple-friendly finance app, the premium subscription is the best option. However, it'll set you back $10 a month (or $90 for the year if you pay annually). The good news is that you can sign up for a seven-day trial before you commit. Alternatively, you and your S.O. can still collaborate with a free account, but there's a limit of two bank connections and some missing features like crypto and investment tracking.

Price: Free or from $100 a year for premium
The Best Free Budget App for Couples: Honeydue
Honeydue is another highly rated money-tracking app for couples. The app can be a helpful tool at any stage of your relationship. Maybe you just moved in together and started sharing expenses for the first time, maybe you've been together for years and want to build a brighter financial future, or maybe you're somewhere in between. Whatever the case, you can benefit from this (totally free!) app.
Top features: Honeydue is designed specifically for couples, so features have been carefully thought out to support partners in managing their money together. You and your other half can each add the bank accounts, credit cards, investments and loans that you want to share with the other. The app supports over 20,000 financial institutions across five different countries, so chances are you'll be able to add and track all of your accounts. When you've done that, they'll all appear in one convenient place, giving you a snapshot of your joint finances. Have separate accounts you want to manage on your own? You can easily toggle between an overview of your individual finances or joint finances, making the shared budget app an all-in-one finance tracker for separate and shared accounts. Bonus: Honeydue doesn't just help you keep track of your finances; it also helps you to coordinate them. Set reminders to pay bills so you can keep your credit in check and avoid late-payment penalties.
Potential drawbacks: Because Honeydue is completely free to use, there are ads on the app, which can take away from having a totally streamlined budget-tracking system.

Price: Free
The Best Budget App for Couples Tracking Daily Expenses: YNAB
You Need a Budget (or YNAB) is also a good budget app for couples. In fact, it's one of the finance tools recommended by budgeting expert Reaves. The app is particularly effective for tracking everyday expenses. "It takes the manual work out of tracking your spending and tells you how much you spend in each budget category throughout the month," she says.
Top features: So, what exactly makes YNAB the best finance app for couples who want to better manage their day-to-day expenses? First of all, it's easy to access anytime, anywhere on your iOS or Android device, including Apple Watches and iPads. You can even integrate your YNAB account with Amazon Alexa devices, so checking up on your daily expenses is a breeze. You Need a Budget lets couples budget with shared accounts, separate accounts or a combination of both. Whatever you choose, the goal is to help you and your partner manage your money together while maintaining financial independence. Your linked accounts will automatically sync for real-time updates (another feature that's super-helpful for daily tracking) and secure data encryption keeps your sensitive information safe. Finally, graphs and charts paint a clear picture of your progress so you can make adjustments as necessary.

Potential drawbacks: YNAB is a little pricier than other budgeting apps, though you can sign up for a free 34-day trial to get a feel for the platform before making any commitments. After that, it's $15 a month or $99 for the year if you pay in one sum. The app's primary focus is budgeting, so it's more suitable for tracking your everyday spending and saving as opposed to general wealth- or credit-building.

Price: From $99 a year
The Best Budget App for Couples Saving for a Big Goal: Simplifi
Another one of the best financial planning apps for couples? Simplifi. This budgeting app says it all in the name: It's a simple way to save money, keep track of expenses and plan for the future. While the Simplifi app can be used to manage day-to-day expenses, we particularly love how this app supports long-term financial goals.
Top features: As one of the best personal finance apps for couples, Simplifi makes saving for big purchases a whole lot easier. Start by entering your goal and the app will guide you through the process from there. It calculates exactly how much you need to save each month (which you can adjust at any time and the app will update your timeline accordingly). You have the option to include bigger goals in your monthly budget too, so consistently building your savings pot is effortless. Finally, engaging visuals make progress easy to measure. Setting up your financial plan on Simplifi is similar to other budgeting apps. Add your bank accounts, loans, credit cards and investments for seamless integration of all your finances. The app is connected to over 14,000 financial institutions.
Potential drawbacks: Simplifi has great tools for tracking your finances, but it isn't the most user-friendly budget-tracking app for couples because you have to share a login. If you usually sit down and run through your budget together, this shouldn't be a problem. It could get tricky if you want to manage your finances on the go or if you each have individual accounts you want to manage separately.

Price: From $48 a year
The Best Budget App for Wedding Planning Couples: The Knot
The Knot's all-in-one wedding planning app includes a helpful budgeter tool that makes tracking wedding expenses quick and easy. There's space to budget for and track pretty much every aspect of your special day.
Top features: Our budget planner app for couples includes an estimate column followed by a column to track how much you actually paid. As a result, you can plan ahead and keep on top of your actual expenses. We've thought of pretty much everything, including your wedding vendors, honeymoon, stationery, rings, gifts, tip money and beyond. You can set your maximum wedding cost before you start to help you stay within your budget, and you'll also get a handy snapshot of your overall budget vs. how much you've spent so far.
Potential drawbacks: The Knot's wedding planning app is the best money management tool for couples setting a budget for their big day. With that in mind, it's designed to track wedding expenses exclusively and won't work for your everyday budgeting needs. You can use The Knot to come up with an initial wedding budget and keep wedding-related expenses in one dedicated spot.

Price: Free
Please note: The Knot and the materials and information it contains are not intended to, and do not constitute, financial or tax advice and should not be used as such. You should always consult with your financial and tax advisors about your specific circumstances.