Intentional Dating: The Healthy Mindset You Need For First Dates
Dating, on purpose.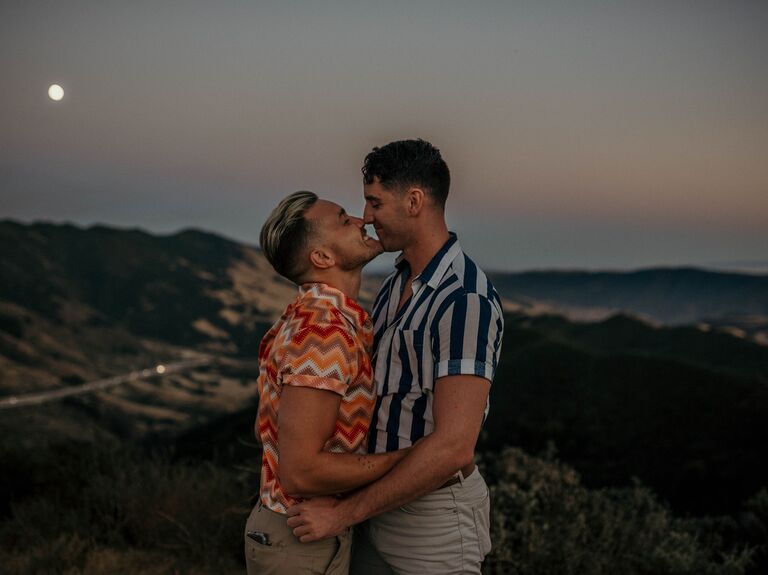 Photo: Kyle Kuhlman 500px / Getty Images
Intentional this. Intentional that. With a buzzword like that being thrown around constantly, 'intentional' can often feel like a catch-all phrase with a muddy meaning. But in reality, it's an important component of our lives—like being intentional with family time, savoring self-care and intentional dating.
Dating with intention isn't just a trend: it's a way of living and navigating the dating scene to find the best of the best partner for you. To give you the low-down, we spoke to Kalley Hartman, a licensed marriage and family therapist, on how to get the most out of dating intentionally.
In this article:
What Exactly Is Intentional Dating?
What is intentional dating? If you're going to practice it, it would first be helpful to understand what it actually is. According to Hartman, intentional dating is a way to approach potential relationships with a purpose and goal in mind.
"It's about being proactive in your search for a romantic partner and taking the necessary steps to ensure that you meet someone who is compatible with you, shares your values and has the same long-term goals as you do," Hartman explains.
For example, dating intentionally can look like finding someone who also wants to get married or have kids if that's something you desire. It can also veer outside tradition, like looking for a partner who also shares a desire to be in an ethically non-monogamous (ENM) relationship, too. It can even mean dating someone who prefers living by the ocean veruses the mountains, or traveling to different cities instead of settling down in one place.
The TLDR; of it all? Intentional dating simply means taking your time and care to find someone that matches you and your needs.
"It's consciously making choices about who you date, and understanding your underlying motivations for wanting to be in a relationship," Hartman says. "It's about investing time and energy into actively seeking out an appropriate partner you can envision building a future with."
Okay, Now What's Hardballing?
While some might say that dating intentionally is a millennial term, there is another (related!) popular term thrown around by the Gen-Z crowd: hardballing. The dating trend of hardballing is when someone expresses their expectations before even going on a first date with someone.
For example, hardballing might include revealing how much time you're willing to dedicate to dating, what you're looking for long-term and other requirements (like if someone is or isn't religious). But some might wonder: Is that doing too much? Would it be a turn-off to a potential partner to lay everything out on the table before you ever meet them for coffee?
For some, maybe. But for others, it strikes just the right balance. "This type of communication helps avoid any potential misunderstandings between two people," Hartman says. "It ensures that you're on the same page and have similar expectations for the relationship."
This could be considered dating intentionally, too.
Why Dating With Intention Will Make Dating Even Better
Dating with intention isn't always easy, as it can take dedication and time. Rather than settling for any partner that checks one or two of your boxes, it allows you to take your time, enjoy the dating process and, eventually, find the partnership you've always dreamed of—without sacrificing things you care about.
"Intentional dating can not only help you find a partner who is compatible with you and has similar long-term goals," Hartman says. "It also allows you to take the time to get to know someone before committing to them."
Rather than feeling rushed to find someone and settling in the process, you can truly be picky. And being picky doesn't have to be viewed as a bad thing, either. This style of dating also encourages strong communication about boundaries and expectations (a big bonus for folks who may have not had great communication in past relationships) and reveals intentions, too.
You'll know sooner, rather than later, if you're truly compatible or not. And according to Hartman, dating intentionally can leave us guessing less, making room for finding a long-lasting partnership.
6 Tips For Dating With Intention
Okay, okay: You're convinced that intentional dating is the way to go. But where do you start? Hartman shares her best advice, below.
1. Set your goals
First up? Setting goals. It's great to want to date intentionally, but if you don't know what your goals are then you can't get very far. According to Hartman, you should start by establishing what you are looking for in a partner, so you can thoughtfully communicate what you want in a relationship.
2. Be open-minded
Next, be open-minded. "Don't be afraid to meet new people and explore different scenarios that may not have been your initial plan or idea of the perfect relationship," Hartman says. After all, some of the best relationships are found in unexpected places.
3. Take your time
The right relationship will be worth the wait. With that said, it's important to take your time. Resist the urge to rush into a relationship. Instead, get to know the person and take things slow.
4. Prioritize communication
As they say, communication is key. "Make sure that you communicate openly, honestly and frequently with all potential partners about what you want out of the relationship, plus any boundaries or expectations that you have," Hartman shares.
5. Focus on quality over quantity
This one is big. Just because you're in the dating scene, it doesn't mean you have to go on a date with everyone who asks you. This is part of dating with intention.
"Intentional dating does not mean going out on a lot of dates," Hartman says. "Instead, focus on finding a few people or even just one who meets your needs and you can develop a meaningful relationship with."
6. Be gentle with yourself
Lastly, remember to be gentle with yourself. Dating is hard enough as it is, without putting extra pressure on yourself or a timeline. The right person will come—and with intentional dating as your aide, you'll likely find the person or people meant for you.