Your Guide to Buying a House for the First Time as a Couple
It's more than just texting listings and picking paint colors.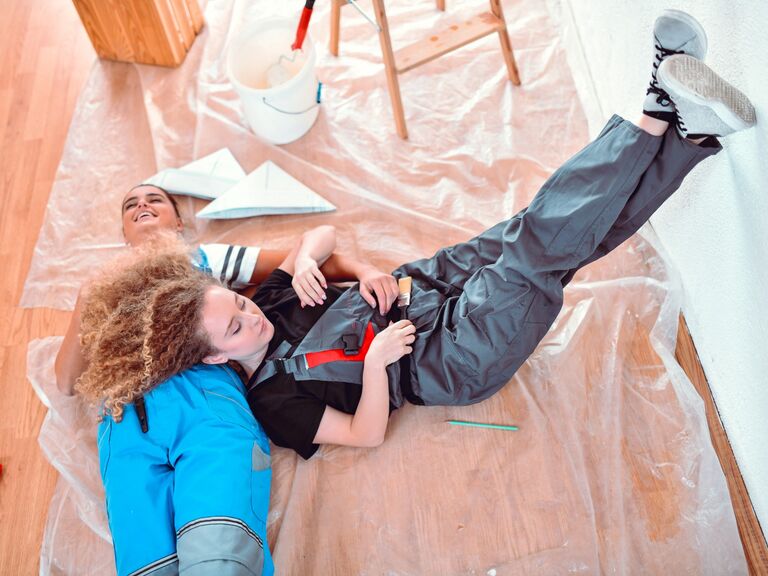 Photo: AleksandarGeorgiev / Getty Images
Who doesn't dream of the day they can officially stop splitting (most likely inflated) rent and fighting over closet space? But going from renting an apartment together to buying a house for the first time can be just as intimidating as it is exciting.
If you're eager to take this big step with your partner, we're here to help. Since there is so much to consider (and you thought moving in together was a big deal!), we recruited three experts to walk us through the process: Brett N. Fry, CFA, CFP is a Certified Financial Planner and Managing Director at Forteris Wealth Management; Jim Shagawat, CFP, ChFC, MBA is a Partner Advisor at Advice Period; and Kevin Shuller, CFA, CFP is Founder/Chief Investment Officer at Cedar Peak Wealth Advisors.
Below, see everything you need to know about buying a house for the first time with your partner—including how it can impact your relationship.
In this article:
10 Steps To Buying A House For The First Time
We get it: Scrolling through Zillow while cuddling up in bed together is fun. But before you start looking at properties and scheduling open houses, you should work through these to-dos.
1: Set a budget
First, assess your and your partner's income, expenses, debts and credit score, Shagawat advises. "Understanding your financial health will help you determine how much you can afford."
As a guideline, spend no more than 25% of your monthly gross income on housing payments (including all insurance, property taxes, principal and interest payments), counsels Fry. "If you can stick to 20% of your monthly gross income, you'll be in better shape." (Remember, you'll still need money to cover other expenses and save for the future.)
2: Save for a down payment
Figure out how much of a down payment you can afford, guides Fry. While most people assume that the average down payment on a house for a first-time buyer is at least 20% of the home's purchase price, that's not always the case. "You can get in a home for as little as five percent down and you may also qualify for down payment assistance," Fry explains.
Check your state and local programs for first-time homebuyer assistance. As Shuller explains, "Many areas, particularly high cost-of-living areas, have programs to make it easier for first time buyers. It could be down payment grants, below-market interest rates or something else."
That said, generally, the less you put down, the more your monthly mortgage payments will be. Plus, if put down less than 20%, you'll have to pay PMI (private mortgage insurance), which will add to your monthly bill.
3: Get preapproved for a mortgage
This step lets you know how much you can borrow and demonstrates to sellers that you're a serious buyer. To get started, gather your most recent paystubs, tax return and any statements from the bank or investment accounts you'll be using for the down payment, advises Fry. Banks will need these documents to verify information on your application. Then, you (or an independent mortgage broker) should reach out to a few different lenders to compare rates, he suggests.
4: Determine your priorities
During this time, decide which home features are most important to you and your partner. Whether it's location, square footage or the number of bedrooms, picking these factors will help you narrow down your options before you engage a real estate agent. When making your list, include all the characteristics you'll need to stay put for at least five years, recommends Shuller. (For instance, consider the amount of space you'll require if you plan to have kids.)
5: Hire a real estate agent and search for a home
Engage a qualified real estate agent who will guide you and your partner through the process, help you find suitable properties and negotiate on your behalf. They'll likely want to see your mortgage preapproval, as it's often required when making a formal offer, adds Fry.
6: Make an offer, negotiate and sign the contract
When you find the home you want, make an offer based on market conditions and the property's value. Negotiate with the seller to reach a mutually acceptable price and terms. Once they accept your offer, sign the contract and put down "earnest money" (essentially, a deposit to let the buyer know you're committed to purchasing), Fry instructs.
7: Have the home inspected
Arrange for a professional home inspection to identify any potential issues or repairs needed, suggests Shagawat. This step is crucial to avoid buying a property with significant problems, he explains. Ask your real estate agent which inspector they'd hire if they wanted to kill a deal, urges Shuller, then work with them.
8: Buy homeowner's insurance
Ring insurance, honeymoon insurance, wedding insurance—oh my! Among all the various types of financial and property insurance, homeowner's insurance is a must for house-buyers, according to Shagawat. Take this step to protect your investment and comply with lender requirements.
9: Finalize the mortgage
Work with your lender to submit any final required documents and fulfill any conditions for loan approval, Shagawat instructs.
10: Close on the property
Sign the necessary paperwork, pay closing costs and fees and officially take ownership of the property. Congratulations!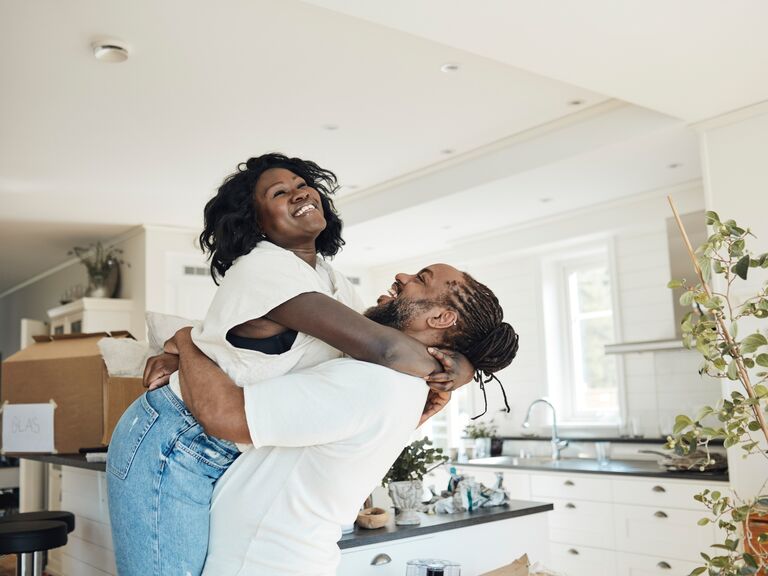 How Will Buying A House Together Impact Your Relationship?
Buying a house for the first time with a partner is huge step! And on the positive side, it can strengthen your commitment and create a sense of shared responsibility and accomplishment, as well as provide stability and the opportunity to build equity together, says Shagawat.
However, since homeownership is a significant responsibility, buying a house as a couple can lead to disagreements over finances, property maintenance and future plans. To address concerns and make joint decisions, communicate openly and honestly with each other, Shagawat urges. If you recongize you have communication issues, consider speaking with a couples therapist to better your relationship overall.
Is Buying A House Together Before Marriage A Good Idea?
Each couple is different, so the answer depends on the dynamics of your relationship, says Fry. Before jumping into the home-buying journey, consider how close you are to getting married, whether you plan to marry at all and whether you currently live together.
In case your relationship doesn't work out, think about creating a legally binding cohabitation or property agreement, suggests Shagawat. "It's essential to have a clear understanding of each person's rights and responsibilities," he says.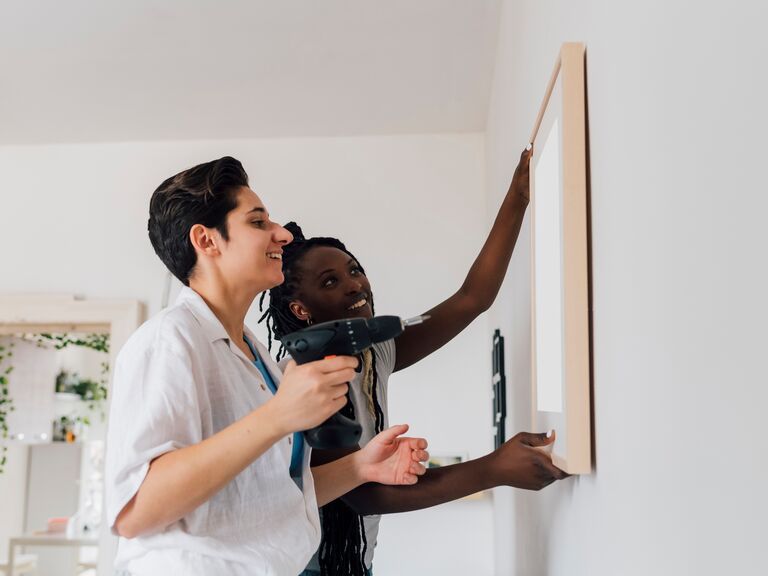 How Much Money Will You Need To Save Up?
The specific amount depends on many factors, including the home price and the size of the down payment. Also consider closing costs, which typically range from two to five percent of the home's price, adds Shagawat. Since many lenders have "post loan liquidity requirements" (which require you to have a certain amount of money in reserves post-closing), include that amount too.
Regardless of their requirements, aim for the equivalent of at least three months of mortgage payments, Fry advises. Ideally, you'll also save some money for decorating, points out Shuller, who suggests at least $1,000 to $2,000 per room.
What Are The First Things You Should Do When You Buy A House?
Cheers to your new home! Shagawat recommends couples take the following steps once they get those keys.
Inspect the property to verify its condition.
Plan and organize your move.
Change the locks on all exterior doors.
Set up service with all relevant utilities.
Update your address. Include the post office, banks, credit card and insurance companies and other important accounts (like clients who send you tax forms).
Handle repairs and create and begin executing a home maintenance plan.
Get to know your neighborhood and neighbors.
Update your homeowner's insurance and evaluate all your insurance policies.
Create a budget that accounts for mortgage payments, utilities and ongoing homeownership expenses.
Investigate whether your state offers tax benefits to homeowners.