30 Celebrities Who Officiated Weddings
Find out which big names performed wedding services.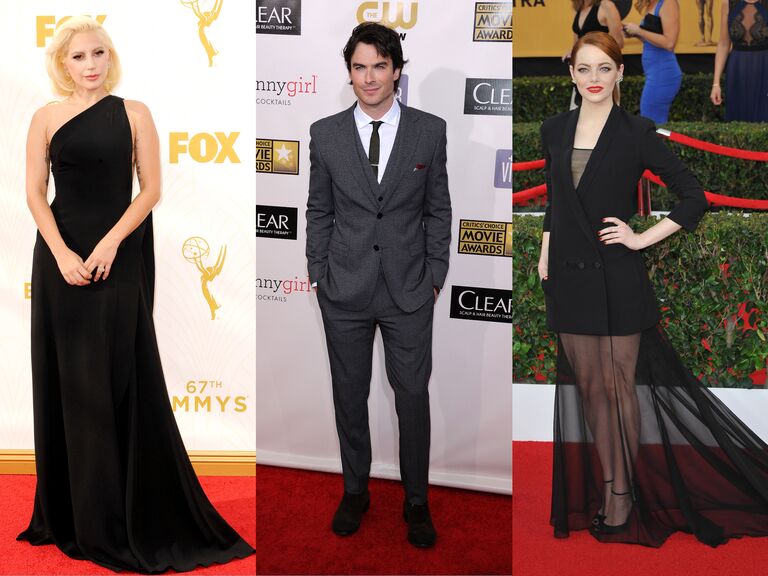 From left: Tinseltown/Shutterstock.com; DFree/Shutterstock.com; Jaguar PS/Shutterstock.com
Want to wow at your wedding? Have a star officiate it! At least that's what these celeb and non-celeb couples did when they looked to big names to play the most important role in their wedding. From Emma Stone, who guaranteed herself a spot in the wedding when she introduced her publicist to her film director, to Jimmy Kimmel, who performed the most anticipated wedding of 2015, read on for a list of celebrities who officiated weddings.
1. Benedict Cumberbatch
Ordained just for the occasion, Sherlock star Benedict Cumberbatch officiated the wedding of friends Rob Rinder and Seth Cummings in Ibiza, Spain, in 2013.
2. Blake Shelton
Singer and The Voice coach performed the wedding of Ashley Monroe, fellow country singer and member of the band Pistol Annies (which also includes Blake Shelton's ex Miranda Lambert, who served as the maid of honor), to White Sox pitcher John Danks in 2013.
3. Chris Harrison
After the beloved host of The Bachelor and The Bachelorette franchises officiated the wedding of show producers Peter Scalettar and Cassie Lambert in California in 2012, Chris Harrison continued to help other show alums make it official when he married former Bachelor in Paradise contestants Lacy Faddoul and Marcus Grodd at their 2015 wedding in Mexico that was broadcast on the show's season two premiere.
4. Conan O'Brien
Not only did Conan O'Brien marry his show's costume designer Scott Cronick to David Gorshein in 2011, it was also broadcast live on-air.
5. Dwayne "The Rock" Johnson
Actor and former wrestler Dwayne "The Rock" Johnson surprised the unsuspecting comedian and fan Nick Mundy at his nuptials, and then proceeded to perform the ceremony.
6. Emma Stone
Emma Stone introduced her publicist, Holly Shakoor, to director Ruben Fleischer, so when it came time for their 2012 wedding in Ojai, California, it only seemed fitting that the actress officiate.
7. Fran Drescher
Actress and activist Fran Drescher officiated a same-sex wedding in 2012 after the couple won her services through a "Love Is Love" contest on Facebook.
8. Ian McKellen
Ian McKellen officiated the wedding of his pal and X-Men costar Patrick Stewart to singer Sunny Ozell in 2013. The English actor publicly announced his role in the wedding after sharing a photo of himself holding a "Doctor of Divinity" certificate and a "Minister" T-shirt after the news first broke of the couple's engagegement.
9. Ian Somerhalder
Newlywed actor Ian Somerhalder first got a taste of the married life when he performed the wedding of his assistant in 2012.
10. Jamie-Lynn Sigler and JoAnna Garcia Swisher
Actresses Jamie-Lynn Sigler and JoAnna Garcia Swisher joined forces to officiate the wedding of N*SYNC boy band member Lance Bass and artist Michael Turchin at The Legendary Park Plaza Hotel in Los Angeles in 2014.
11. Jason Segel
When fans of the How I Met Your Mother star Abbe Thorner and Jason Wood asked Jason Segel to officiate their wedding, he didn't hesitate to agree and married the couple on The Tonight Show With Jay Leno.
12. Jeff Probst
Back in 2010, Survivor host Jeff Probst officiated the wedding of his longtime friend and The Office star Jenna Fischer and her fiancé, Lee Kirk.
13. Jimmy Kimmel
Late-night host and all-around funny guy Jimmy Kimmel had the honor of tying the knot between Jennifer Aniston and Justin Theroux in their secret, star-studded wedding in Bel Air, California. But this wasn't his first time. Two years prior in 2013, he officiated during the renewal of vows for Matt Damon and wife Luciana Barroso.
14. Joan Rivers
Never the one to shy away from untraditional, the late comedian, author and host was challenged to marry a same-sex couple on the spot at a book signing held at Barnes & Noble in 2014. She did so, only to later find out that the couple didn't have a marriage license at the impromptu ceremony and therefore were not considered legally hitched. A few months later, a second ceremony was set up at the Hotel Plaza Athénée where she served again as the officiant and made it truly official for the two.
15. Jonah Hill
Little known celebrity fact: Jonah Hill and Adam Levine have been friends since childhood. Therefore it served as no surprise when Hill officiated the wedding of the Maroon 5 singer and model Behati Prinsloo in 2014.
16. Judith Light
It was an Ugly Betty reunion at the wedding of America Ferrera and Ryan Piers Williams in 2011 when Judith Light officiated the ceremony, and Vanessa Williams hosted the celebration that followed at her estate in Chappaqua, New York.
17. Kathy Griffin
Ask and you shall receive. Comedian Kathy Griffin did the honors for a fans Brian Anstey and Elka Shapiro after they approached her with a request to officiate their wedding. Griffin obliged, and we can only imagine how many laughs were shared at this ceremony.
18. Kesha
The pop star Kesha officiated not one but two weddings in the span of three years. The singer was first ordained in 2012 for a wedding for her two friends and she most recently officiated the wedding of her hairstylist and friend Vittorio Masecchia and his partner, Felipe Noqueira.
19. Kevin Smith
Actor Kevin Smith is making a career as an officiant for the masses. After officiating a gay couple's hockey-inspired wedding in 2011, the Clerks actor has been known to offer to marry couples for a fee of $5,000.
20. Kris Jenner
Reality television's most popular mom Kris Jenner has also officiated multiple weddings! More recently, the reality star officiated her longtime friend Faye Resnick's wedding, which was hosted at Jenner's own home.
21. Lady Gaga
Mother Monster Lady Gaga got ordained, following the legalization of gay marriage in New York, to perform the wedding of her friend and yoga teacher Tricia Donegan and her partner.
22. Mark Consuelos
Mark Consuelos, husband of Kelly Ripa, officiated Howard Stern and Beth Ostrosky's wedding when they got married in a ceremony at New York's Le Cirque in 2008. Fellow officiants taking a break that day and attending as guests? Jimmy Kimmel and Joan Rivers.
23. Nicole "Snooki" Polizzi
After recently tying the knot herself, the star of Jersey Shore and Snooki & Jwoww went on to become an ordained minister to marry her two hairstylists Bradley Moreland and Luis Miller.
24. Queen Latifah
Deputized for one day, Queen Latifah officiated the weddings of 33 couples at the 2014 Grammy Awards during the performance of "Same Love" by Macklemore & Ryan Lewis and Mary Lambert in support of same-sex marriage and equality.
25. Rev. Run
Nicole Richie and Joel Madden have Rev. Run to thank for making their union official at their wedding in 2010.
26. Russell Brand
Comedian, actor and Katy Perry's ex-husband, Russell Brand, joined the ranks of celebrities who officiated weddings on the spot when he performed the wedding of a couple during his stand-up routine in Santa Barbara, California, in 2011.
27. Stevie Nicks
Music legend Stevie Nicks officiated the wedding of fellow musicians Vanessa Carlton and Deer Tick's John McCauley in 2013. That's one big musical act to follow.
28. Tom Hanks
Oscar winner Tom Hanks become ordained to officiate the wedding of Allison Williams to Ricky Van Veen last September. It was a sweet touch given that Hanks's wife, Rita Wilson, plays Williams's character's mom on the HBO show Girls.
29. Tori Spelling
When a couple decided to have their 2007 wedding at Chateau La Rue, a bed-and-breakfast then owned by Tori Spelling and Dean McDermott, they asked if Spelling would also officiate the ceremony. The actress promptly got ordained and hosted the ceremony on the steps of the property.
30.Victor Garber
Jennifer Garner's TV dad in Alias and now godfather to her daughter Violet, Victor Garber, officiated her and Ben Affleck's 2015 wedding in Turks and Caicos.