32 Times Celebrities Served as Bridesmaids
Taylor Swift, you have an open invitation to my bridal party.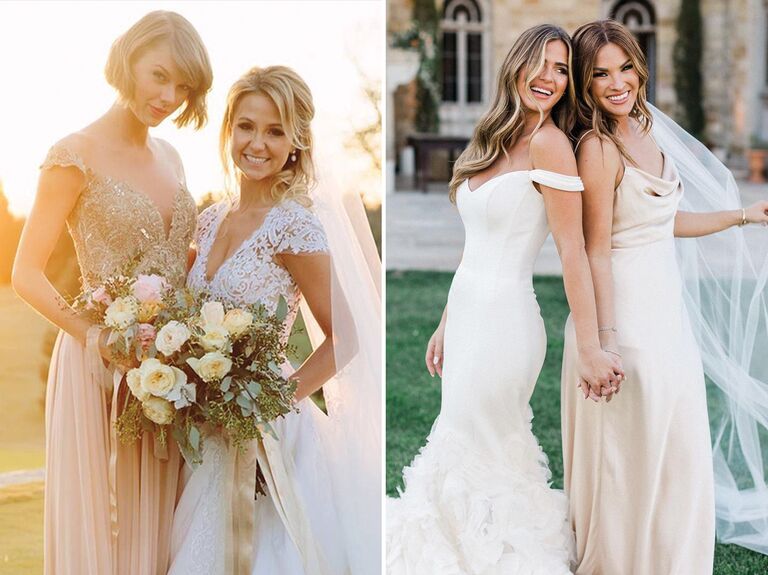 @BritMaack / Instagram,@Joelle_Fletcher / Instagram
We have included third party products to help you navigate and enjoy life's biggest moments. Purchases made through links on this page may earn us a commission.
Celebrities—they're just like us, especially when it comes to being a bridesmaid! Getting the proposal to join a loved one's wedding party is always an honor, and A-list stars certainly aren't excluded from this special role. We've seen plenty of memorable celebrity bridesmaid moments over the years, from Taylor Swift to Paris Hilton and Serena Williams and Vanessa Hudgens. While we have a soft spot for following celebrity weddings, there's something equally as special about knowing Hollywood's elite also have the privilege of attending bach parties, wearing matching merch, and standing alongside their besties as they say "I do." Here, we look back on all the times celebrities were bridesmaids, including what they wore and who they celebrated.
Taylor Swift as Abigail Anderson's Bridesmaid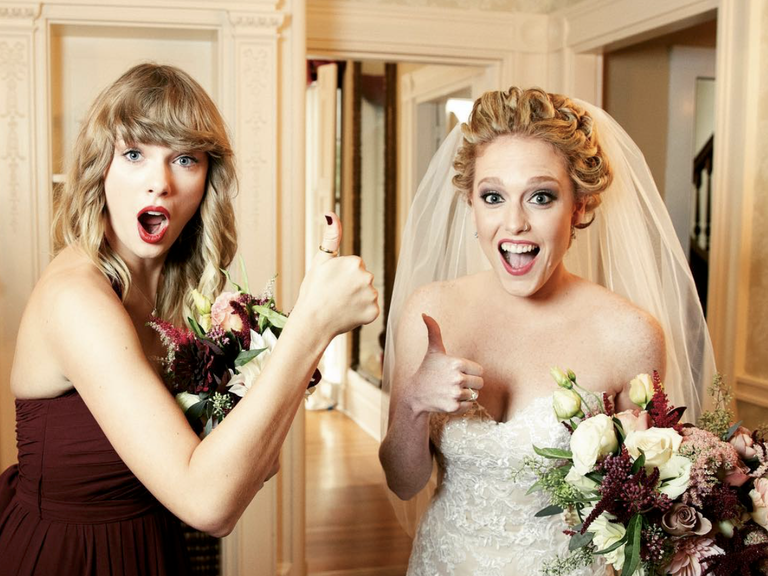 If you've been listening to Taylor Swift since the early days, you're quite familiar with Abigail Anderson—her red-headed high school bestie who's appeared in several songs and music videos. The two have remained close friends over the years, and Taylor served as Abigail's bridesmaid at her 2017 wedding in Massachusetts. The Grammy-award-winning singer wore a burgundy dress for the early-fall soirée, which she accented with a matching bold lip. And, unsurprisingly, her speechwriting is just as compelling as her songwriting. In a clip that was leaked on Twitter, she recounted a rather awkward run-in she once had with the newlyweds following a spicy moment in her reception roast speech. (That's what bridesmaids are for, right?) "She's running after him," she can be heard saying in the clip as the crowd laughs. "There's falling. There's stumbling…They make it to the bathroom, and I hear sounds that I can never un-hear. And then there's silence."
Vanessa Hudgens as Sarah Hyland's Bridesmaid
Given their decade-long friendship, it was no surprise that Vanessa Hudgens supported her close pal Sarah Hyland at the actress's wedding to Wells Adams in August 2022. Prior to the couple's California winery nuptials, Vanessa joined the bride-to-be at a "healing" bachelorette party in Mexico. "My contribution was bathing suits and sound bath meditation," Hudgens told People. A few weeks later, the former Disney star donned a rosy mauve slip dress as she stood by the bride and groom on their big day. "You goddess, my sister witch, the ultimate bride," Vanessa later wrote on Instagram. "Words can't express how happy I am for you. I am so proud to be your friend and bridesmaid. I'll love you forever. Congratulations to sealing the deal with the love of your life @wellsadams ♥️ what a man. What a wedding. What a life."
Pippa Middleton as Kate Middleton's Bridesmaid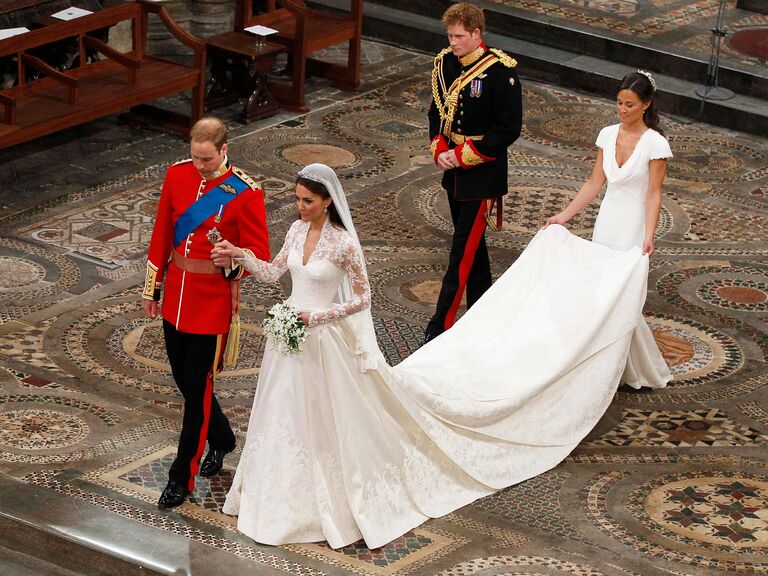 Even the royals have bridesmaids! If you were enthralled by the pomp and circumstance of Kate Middleton's 2011 wedding to Prince William, you definitely remember the moment she stepped out of the vintage car in her long sleeve Alexander McQueen wedding gown—which means you also remember her sister, Pippa Middleton, following close behind on train duty. Pippa's elegant cowl-neck satin crepe bridesmaid dress sparked almost just as much spirited discussion as the bride's dress herself, notably because of its ultra form-fitting silhouette. Also of note? She opted for a white gown which some say may have been a catalyst for the rise of the white bridesmaid dress trend in both the US and the UK.
Rihanna as Jennifer Rosales' Bridesmaid
Posing for a photo reminiscent of the Bridesmaids movie poster, Rihanna stood by her personal assistant Jennifer Rosales' side for her April 2015 wedding. Each member of the bridal party wore a shade of purple, though we have a soft spot for RiRi's low-cut lilac gown, which featured a plunging neckline and glittery embroidery details.
Sydney Sweeney as Jayde Hafner's Bridesmaid
Europhia actress Sydney Sweeney donned an of-the-moment taupe bridesmaid dress with airy flutter sleeves for her bestie Jayde Hafner's November 2022 wedding in southern California. And if you've ever wondered where celebrity bridesmaids get their attire, we have the answer—and it's not as unattainable as you might think! Sydney's gown came from Birdy Grey, one of our favorite places to buy bridesmaid dresses online. The brand is known for offering tons of designs in every colorway you can imagine at just $99. Sydney wore the brand's Hannah dress, while it appears the rest of the bridal party sported the Ash gown.
Serena Williams as Hayley Ohanian's Bridesmaid
Just like Sydney Sweeney, Serena Williams also wore an ultra-affordable bridesmaid dress, though hers was from online retailer Azazie. The tennis star was a member of her sister-in-law Halyey Ohanian's bridal party for her October 2019 wedding. For the occasion, Serena wore the brand's Kaleigh dress, a halter-neck maxi, in Candy Pink—though it comes in 60+ additional colors. Serena's daughter Olympia also had a special role in the wedding day: she served as the flower girl, which her mom said she took "very seriously" in a photo dump on Instagram.
Princess Charlotte as Meghan Markle's Bridesmaid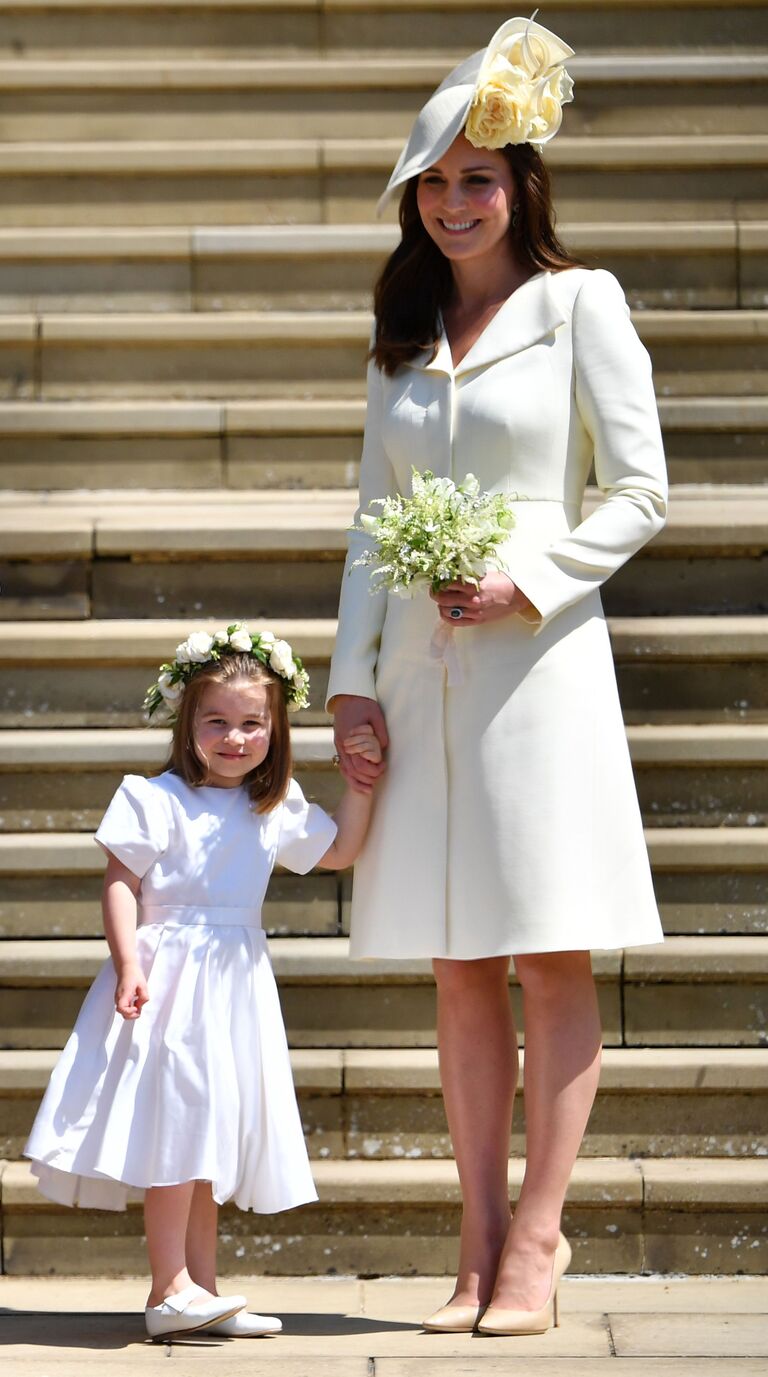 At the young age of just three years old, Princess Charlotte served as a bridesmaid for Meghan Markle at her 2018 wedding to Prince Harry. While having youngsters in any role other than the flower girl or ring bearer might seem like an odd choice, it's actually quite common for royal family members. In fact, this has been a longstanding tradition since Queen Elizabeth's wedding. In addition to Princess Charlotte, the Duchess of Sussex's bridal party also included Ivy Mulroney (the daughter of her close pal Jessica Mulroney), Remi and Rylan Litt, Zalie Warren, and Florence van Custem. Ahead of the bride's entrance, the little ones were accompanied by their moms up the steps of St. George's Chapel at Windsor Castle (which made for plenty of meme-worthy moments).
Selena Gomez as Priscilla DeLeon's Bridesmaid
We can't get enough of Selena Gomez's bridesmaid dress, which was equal parts timeless and sultry. The singer and beauty entrepreneur supported her cousin Priscilla DeLeon as the maid of honor for her big day, which took place near Dallas, Texas in July 2019. She donned a black off-the-shoulder evening gown with a sky-high slit for the elegant party. According to clips shared on Twitter and Instagram, Selena gave a heartfelt MOH speech during the reception, telling the couple, "You taught me to be strong. I pray for you guys all the time." A few weeks before the wedding date, Selena also threw the bride a tropical bachelorette party in Punta Mita, Mexico.
Taylor Swift as Britany Maack's Bridesmaid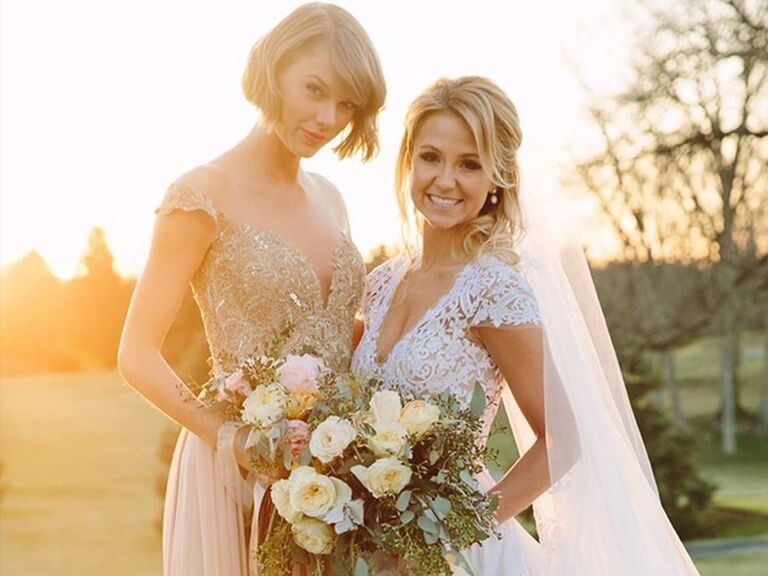 Considering Taylor Swift knows a thing or two about love stories, it's no surprise she's been a bridesmaid a few times in her life. Back in 2016, she traveled to her hometown in Reading, Pennsylvania to support her childhood bestie Brittany Maack as her maid of honor. (Believe it or not, Taylor was one of 13 bridesmaids!) The romantic nuptials took place in February, and ahead of the big day, Taylor opened up to People about preparing for the esteemed role. "I've never been a maid of honor before. This is my first time, and it's really, really important to me because this is my best friend, who I've known since I was born. And she's marrying someone I've known since I was four," she told the publication. When the day arrived, she wore a light pink cap-sleeve dress with an embroidered bodice by Reem Acra, who also designed the bride's lace gown. The rest of the bridal party wore cohesive mismatched dusty pink gowns from Anthorpologie's wedding label BHLDN.
Vanessa Hudgens as Ashley Tisdale's Bridesmaid
How's this for a healthy dose of nostalgia? High School Musical alums Vanessa Hudgens and Ashley Tisdale have remained close friends long after the Disney films wrapped. So, when Ashley married Christopher French in 2014, it was only fitting for Vanessa to have a role in the wedding party. While the bride wore a dreamy Monique Lhuillier gown with a baby's breath flower crown, the bridesmaids were decked out in various neutral shades of blush, slate and taupe. Vanessa opted for an airy light pink gown, and all of the bridesmaids wore their hair in bohemian braid crowns.
Naomi Biden
We still think about Naomi Biden's elegant Ralph Lauren wedding dress from her November 2022 nuptials at the White House, but her bridesmaid style is just as stunning. She had a role in a friend's wedding party in May 2022, wearing a metallic off-the-shoulder Amsale dress. But, as it turns out, celebs aren't immune to wedding day outfit mishaps. In an Instagram post from the event, Naomi revealed that her outfit suffered an unfortunate fate before the night was over. "Taken ten minutes before peter spilled an entire glass of red wine on my dress," she wrote.
Hailey Bieber as Alaia Baldwin's Bridesmaid
Back in 2017, Hailey Bieber supported her sister Alaia Baldwin as a bridesmaid at her September wedding to Andrew Aronow. The bridesmaids opted for moody looks, wearing black designs of various silhouettes and styles. Hailey accented her sleek satin gown with a black lace choker for dramatic flair.
Becca Tilley as JoJo Fletcher's Bridesmaid
Not only did JoJo Fletcher leave The Bachelor franchise with a fiancé, she also left with lifelong friends. At her May 2022 wedding to Jordan Rodgers, the reality star was surrounded by loved ones, including Becca Tilley—a fellow contestant she met on Ben Higgins' season of The Bachelor. "The most enchanting weekend of all time!" Becca wrote of the California winery soirée. "It could not have been more perfect! So excited for you @jrodgers11 @joelle_fletcher and so honored to be a part of such a special weekend celebrating y'all!"
Paris Hilton as Nicky Hilton's Bridesmaid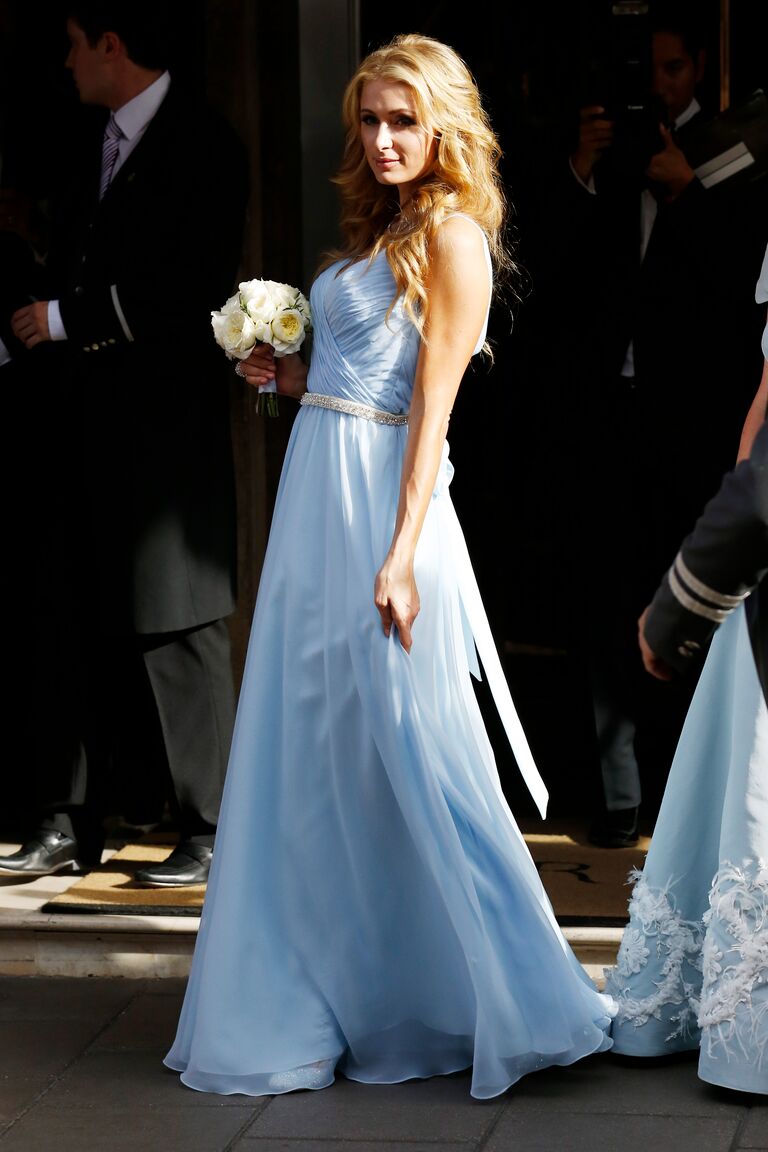 Being your sister's bridesmaid? That's hot. Hating the dress? Not hot. Paris Hilton sported a light blue bridesmaid ensemble to celebrate her sister Nicky Hilton's marriage to James Rothschild in 2015. Looking back, though, she doesn't have the fondest memories of the gown. "We hated Nicky's bridesmaid dresses!" she revealed on an episode of her Peacock show Paris in Love. "They were just itchy, uncomfortable. I liked the color, they were baby blue, but other than that—brutal."
Anya Taylor-Joy as Ivy Getty's Bridesmaid
Artist and model Ivy Getty tapped John Galliano to design the wedding dress she'd wear to her November 2021 wedding to Tobias Alexander Engel in San Francisco. She also requested that he design some of the wedding party outfits too—to which he surprisingly agreed. "Normally, I don't do bridesmaids dresses because bridal gowns alone take up so much of my time," the designer told Vogue. "But as I was so bewitched by Ivy and her stories of these women she had grown up with—her bridesmaids—made an exception. Before I knew it, the bridesmaids numbers reached fourteen! And these girls are the Gen Z babies. I dressed their mothers and their aunties!" Included in the wedding party was the bride's longtime friend, actress Anya Taylor-Joy, who looked elegant in a silvery metallic cowl-neck gown.
Beyoncé as Kelly Rowland's Bridesmaid
Although we never got official confirmation that Beyoncé was one of Kelly Rowland's bridesmaids, this Instagram photo makes a pretty good case. Exactly one day after the bride's wedding day on May 9, 2014, Queen B posted a selfie showing off with glamorous cascading curls, sparkly earrings and a dress with straps that give off major bridesmaid energy.
Nicole "Snooki" Polizzi and Deena Cortese as Jenni "JWOWW" Farley's Bridesmaids
From the beaches of Seaside Heights to wedding chapels, the cast of Jersey Shore has been through it all together. Even with their wild nights at Karma behind them, the reality stars continue to remain friends to this day, and they're often spotted celebrating major life milestones together. That was certainly the case for Jenni "JWOWW" Farley, who pulled out all the stops for her 2015 wedding to Roger Matthews. Notably, her wedding party was made up of twenty bridesmaids (yes, twenty!), including castmates Nicole "Snooki" Polizzi and Deena Cortese. All of the bridesmaids wore matching purple lace gowns by Watters for the lavish occasion.
Lauren Conrad and Lo Bosworth as Maura McManus' Bridesmaids
Lauren Conrad served as a bridesmaid for her friend and business partner Maura McManus in August 2014. The wedding doubled as a reunion for The Hills, as LC's high school BFF and fellow costar Lo Bosworth was also a member of the bridal party. A snap from the wedding shows the bridesmaids in coordinating mismatched gowns, which were designed by Lauren and Maura's fashion brand Paper Crown.
Jessica Simpson as Ashlee Simpson's Bridesmaid
Jessica Simpson and her daughter Birdie shared wedding duties when Ashley Simpson married Evan Ross in 2014. The sister of the bride wore a boho white lace gown and carried a full bouquet of white flowers on the special day, while the flower girl wore a corresponding white dress with a tiered tulle skirt. Jessica shared a photo of the two walking down the aisle together on Instagram, writing, "I am madly in love with this moment!"
Nina Dobrev as Julianne Hough's Bridesmaid
Actress Nina Dobrev was a bridesmaid for the very first time at Julianne Hough's wedding to Brooks Laisch in 2017. The couple swapped vows at a lake in Idado, which Dobrev told People would be hard to top. She stunned in a strapless pink gown with floral appliques by Marchesa, who also designed the bride's strapless wedding dress too. Reflecting on the experience, Nina had high praise for the nuptials on Instagram: "Oh and did I mention that this was the most fun wedding I've ever been to? I assumed the dance floor would be 🔥🔥🔥 and I was NOT disappointed. In fact it exceeded all expectations."
Jasmine Tookes as Lais Ribeiro's Bridesmaid
Victoria's Secret Angels Jasmine Tookes and Lais Ribeiro have been close friends for years. While Lais was a bridesmaid at Jasmine's 2021 destination wedding in Ecuador, Jasmine returned the favor for Lais in August 2022. The seaside wedding in Miami, Florida was a tropical dream, complete with lush flower arrangements and oceanside views. The bridesmaids looked effortlessly trendy in metallic one-shoulder midi gowns in an earthy gold hue. Following the party, the bride shared an ode to her loved ones on Instagram, writing, "To our friends, who literally brought the purest and loving vibe I ever experienced in my life, when I looked around all I saw was LOVE and TOGETHERNESS."
Olivia Culpo as Daria Mancini's Bridesmaid
In an adorable TikTok video, Olivia Culpo nailed her bridesmaid status at her close friend Daria Mancini's Rhode Island wedding. The former Miss Universe stunned in a shimmery champagne-hued scoop-neck gown, while the bride opted for a sultry lace gown with a bustier-style bodice from Australian bridal label Pallas Couture.
Miranda Cosgrove as Nina Lara's Bridesmaid
Miranda Cosgrove served as MOH for her lifelong bestie Nina Lara in May 2022, wearing a pretty light pink bridesmaid gown. The actress opened up about their years-long friendship on social media after the big day, noting how special the occasion was. "@ninamunden moved in next door to me when I was seven and she got married to her high school sweetheart yesterday! I got to be her maid of honor and I've never been more nervous or emotional giving a speech in my entire life. I couldn't be happier for her 🤍🤍🤍"
Zoey Deutch as Hadley Walsh's Bridesmaid
We're obsessed with Zoey Deutch's bright green bridesmaid dress look, which she donned in April 2022 at her friend Hadley's wedding. According to her photo dump, it appears that the actress did double duty, acting as a bridesmaid and a ceremony reader during the outdoor affair. "The most magical weekend celebrating the most magical people 🤍" she reflected on Instagram. "I'll never be over it and I'll never stop crying. love you so much a+h🤍"
Drew Barrymore as Ross Mathews' Bridesmaid
While Drew Barrymore wasn't technically a bridesmaid at Ross Mathews' wedding, she had an equally fun role: the flower girl! The actress and host of The Drew Barrymore Show covered the ceremony aisle in petals for Ross (who graced the cover of The Knot Summer 2022 Magazine) and his longtime partner Dr. Wellinthon García-Mathews. Ahead of their tropical destination wedding, Ross opened up to The Knot about the obvious choice for Drew to have a role in the wedding. "Drew has been instrumental in our love story," he told us. "I came to New York to visit Wellinthon, and she asked me to come on her show for a day." The production team requested he return a week later, then again to stay for the remainder of the season. "We were like, 'I guess this means I'm supposed to be here.' So we got an apartment. I don't know that we would have been on such a fast trajectory if Drew hadn't given me work in New York." As for choosing to have her serve as the flower girl, he continued, "It just came up as we were talking about the wedding [on the show]. And she was like, 'Well, who's the flower girl?' I was like, 'You want to do it?' And she was like, 'Wait, are you being serious?' And I was like, 'Wait, are you being serious?'" She was, indeed, serious.
Anna Camp as Brittany Snow's Bridesmaid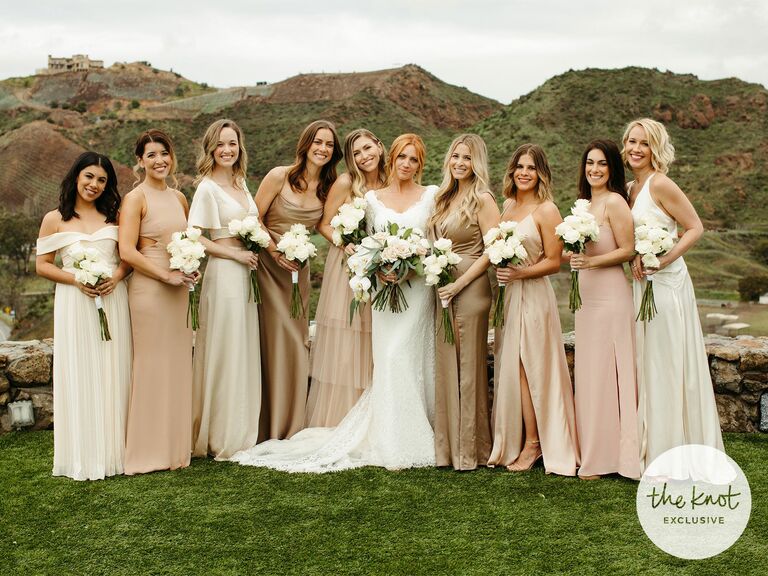 What could be more aca-awesome than this? Pitch Perfect alum Anna Camp supported her former costar Brittany Snow as a celebrity bridesmaid at her March 2020 wedding. The bride first wore a long sleeve Jonathan Simkhai gown, followed by a sheer floral off-the-shoulder number by Galia Lahav. Meanwhile, her crew looked ever-so-bridal in various shades of neutral cream and blush-toned mismatched dresses.
Lupita Nyong'o as Micaela Erlanger's Bridesmaid
There were plenty of incredible wedding looks throughout Micaela Erlanger's three-day wedding weekend in April 2022. (After all, what do you expect from a celebrity fashion stylist?) Some of our favorites, though, were the mismatched Markarian dresses in shades of light green worn by her bridesmaids—including her close friend and longtime client, Oscar-award-winning actress Lupita Nyong'o.
Emma Roberts as Kara Smith's Bridesmaid
Emma Roberts was yet another celebrity bridesmaid who wore white to a wedding. The actress stood alongside fashion designer Kara Smith for her California vineyard wedding in November 2015. Emma sported a brand new 'do for the big day, showing off her newly-short blonde locks on Instagram. She and her fellow bridesmaids donned mismatched ivory gowns, many of which had tiered and layered skirts. "What a heaven weekend celebrating my love @kakeykake 👰🏻 and @nickwalkerphoto 💍 " she wrote on Instagram. "Couldn't be happier for them."
Lindsay Arnold, Emma Slater, Jenna Johnson and Brittany Cherry as Witney Carson's Bridesmaids
These celebrity bridesmaid looks get a 10 from us. Lindsay Arnold, Emma Slater, Jenna Johnson and Brittany Cherry traded their ballroom costumes for bridesmaid dresses at Witney Carson's wedding in Salt Lake City, Utah on New Year's Day in 2016. The Dancing With the Stars pros looked as cozy as can be in neutral-colored Amsale gowns, which they accessorized with matching wraps given the snowy setting. The bride, for her part, wore a fitted Rivini dress by Rita Vinieris with long sleeves and intricate lace embroidery. "Surprisingly, I didn't know how much work goes into a wedding!" the bride exclusively told The Knot. "Luckily, I had my wedding planner [Michael Russo], my mom and mother in law; otherwise I'd be in so much trouble! They were wedding planner geniuses."
Eva Longoria as Alina Peralta's Bridesmaid
Actress Eva Longoria looked like a vision in the strapless green bridesmaid dress she wore to the May 2015 wedding of her longtime friend Alina Peralta. In a photo posted to social media, Eva was surrounded by two other bridesmaids in the same gown holding bouquets of white flowers.
Rachel Bilson
Rachel Bilson looked like a vision in the pale pink off-the-shoulder bridesmaid dress she wore at the nuptials of a longtime friend in March 2017. The dress featured an ornate pattern on the bodice, and a simple fitted skirt with a long train. The O.C. star accessorized her ensemble with a thin glittery headband.
Sofia Vergara
Wearing a pastel yellow A-line dress, Sofia Vergara looked like a literal ray of sunshine at the wedding of two of her longtime friends. The Modern Family actress shared a snap of the happy couple posing with three bridesmaids, all in matching gowns.