Here's What You Need to Know About How to Officiate a Wedding
Wondering how to become a wedding officiant? We've got you covered.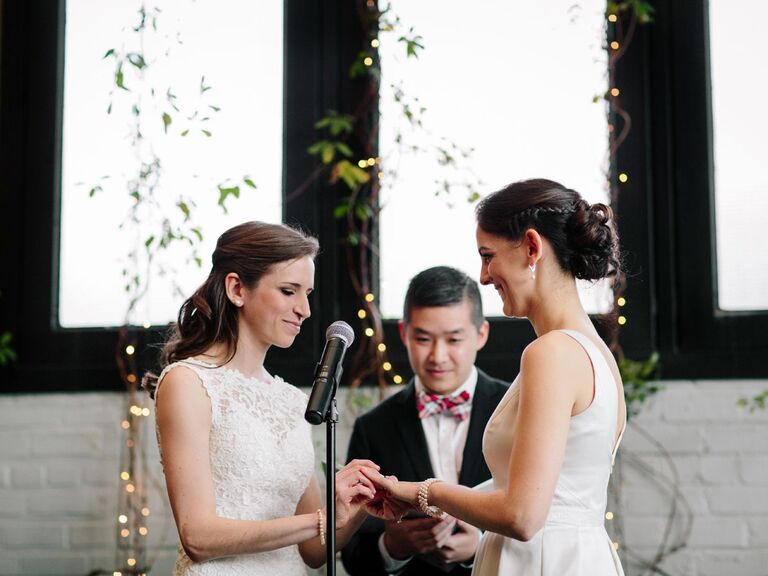 Justine Bursoni Photography
You want to ask your best friend or close family member to officiate your wedding. It is both a huge honor and a big responsibility. Before you make the ask, do a little research so that you can answer any questions your officiant-to-be might have. Chief among those is how to officiate a wedding? It might also be useful to know how to become a wedding officiant.
Don't worry, we've got all the info you need to help your relative or friend officiate your wedding.
Why Choose Your Own Officiant?
Lots of couples are warming to the idea of a family member or friend officiating their wedding. This is especially true for secular couples or those looking for a more casual wedding ceremony.
Asking a close friend to officiate your wedding does offer several important benefits. Not only does it add an even more personal spin to the ceremony, but it's also another way for couples to incorporate a loved one into your wedding who's not in the wedding party. Couples on a budget will also appreciate the cost savings of using a friend to officiate.
Who Should You Ask to Officiate?
Your officiant should be someone you care about (and who cares about you), and whom you trust to make your ceremony special. This person should be reliable and organized. They'll need to go through the ordination process and be prepared on your wedding day. You'll also want to ask someone who feels comfortable speaking in front of crowds, since, along with you and your future spouse, they will be the center of attention during your ceremony.
Can Your Friend or Family Member Officiate Your Wedding?
Ordination requirements differ from state to state and even from county to county and city to city. Step one is to do your research and make sure your friend or family member is legally able to officiate your wedding. In some states, for example, a couple doesn't even need an officiant, while in others, only pastors can perform a wedding.
You'll want to do your research first to make sure you're following local state or district rules. For example, in New York City, your officiant will have to register with the court at the city clerk's office.
How to Become a Wedding Officiant
Look to online ministries. Many are nondenominational or interfaith, while others are for certain religions. Just double-check the affiliation before you go through the process. Some ministries require applications to convey your intentions, while others ask for simple paperwork.
Can My Friend or Relative Get Ordained to Perform a Ceremony of Any Religion?
Though some online organizations are for specific religions, many are either nondenominational or interfaith. The American Fellowship Church, which has been ordaining people since 1975, ordains people of any religion, and those who go through the process are also able to perform nondenominational services.
How Do We Find a Credible Organization?
There are a few large organizations that will ordain online. Some of the most common online ministries are American Fellowship Church, Universal Life Church, Universal Ministries and Rose Ministries. Once you find one that suits you, check with your Secretary of State's office for legitimacy. The American Fellowship Church, for example, is legally registered with the California Secretary of State's office as a nonprofit religious organization in good standing.
How Long Does It Take to Get Ordained?
The process varies depending on what organization you go through. The American Fellowship Church ordains instantly online and sends an ID card and minister's license immediately afterward. Check with the organization to find out the specifics.
Does It Cost Money to Be Ordained?
Again, this depends on the organization you go through. Some, like the Universal Life Church, ordain for free but charge a small fee for certificates of credentials. Others, like the American Fellowship Church, do charge varying prices for the ordination, based on what type of package or certificate you'd like to have. A quick tip: Before getting ordained, find out whether the ordination will be for life or for a limited time. If it's for a limited time, find out if it costs anything to renew the ordination.
How To Officiate A Wedding
Now that your friend is actually ordained to officiate your wedding, what do they actually have to do? You'll want to take a look at your local laws again to brush up on the requirements. In most cases, your officiant simply needs to include the declaration of intent, or the "Do you take..." and "I do" vows portion of the ceremony.
How to Plan Your Ceremony
After you've clarified the legal requirements to make your marriage official, the rest of your ceremony is up to you. Sit down with your officiant and work with them to decide how you want your ceremony to go. This is where you might want to pick out a wedding reading, tell your officiant stories of your relationship and guide them on themes or styles. Heck, you can even write their part for them if you'd like. It's your wedding after all.
A typical ceremony order of events often includes a processional, welcome, declaration of intent, readings, vows, ring exchange, pronouncement and recessional.
What Should Your Officiant Wear?
It doesn't hurt to discuss what your officiant will wear to your ceremony. Remember, they will be front and center along with you and your spouse, which means they'll be in some of the most important pictures of your life. Make sure they don't overdress or underdress for the ceremony so that their outfit doesn't distract from the overall magic of your big moment.
What Does Our Officiant Need to Do After the Wedding?
Postceremony, your officiant must complete the marriage license (for which you usually need two witnesses to sign, along with the couple and the minister) and mail it to the state or county clerk's office. Each state has different laws for how soon after the ceremony the license must be mailed, so make sure you do your homework.
Not sure where to begin with your wedding planning?
Take our Style Quiz and we'll pull together a custom wedding vision and vendors to match, just for you. After that, create a free, personalized wedding website to keep your guests informed (and excited!) about your plans, and a time-saving Guest List Manager to organize your attendees. Even better? You can sync your Guest List Manager and wedding website to update everything at once.