The Knot Editors' Favorite Celebrity Wedding Venues of All Time
From exclusive Italian villas to their own penthouse apartments.
Italian villas. French resorts. Ocean-front beach clubs. We've seen so many jaw-dropping, enviable celebrity wedding venues over the years—but some, unsurprisingly, stand out from others. After all, who can forget when Joe Jonas and Sophie Turner took over the Vegas strip, or when Beyoncé transformed her literal apartment into a luxe microwedding destination?
As editors of The Knot, we have our fair share of wedding hot takes, especially when it comes to the nuptials of famous A-listers. Here, we share our all-time favorite celebrity wedding venues. Look back on the lavish settings of the most memorable marriages, and let them inspire the venue for your own big day. (Psst: Some of these hotspots are available to book on The Knot Marketplace. Yes, seriously.)
There's a good chance you found yourself Googling "Hotel du Cap-Eden-Roc" in early 2023, because it's the wedding venue that took the internet by storm. Sofia Richie's quiet luxury nuptials went insanely viral, and fans were captivated by her swanky South of France venue—that, we might add, she completely rented out for the weekend. Its sheer grandeur is staggering, to say the least, which is exactly why our Influencer Specialist Kimberly Brown considers it her favorite celebrity wedding venue. "I absolutely love a venue that has indoor and outdoor space to create a variety of locations for your big day," she explains. "Sofia Richie picked the perfect setting! The Hotel du Cap-Eden-Roc checks off everything I could ever want for a wedding venue: waterfront views, greenery and stunning architectural designs to really make your wedding photos feel elevated. Her outdoor ceremony was so dreamy—and can we talk about that long aisle?? Chef's kiss!"
We've seen quite a few A-list Vegas elopements over the years, but one, in particular, stands out to Cathryn Haight, The Knot's Commerce Editor. "One thing about me is I have no interest in going to Vegas otherwise, but would 1000/10 go there to get married in a perfectly cheesy little wedding chapel à la Sophie and Joe," she shares. "There's something so carefree, whimsical and Lana Del Rey-like about a Vegas wedding, and this cool couple had all the essentials: the fake flowers, the bad Italian restaurant-like mural, the circa-1980s crystal chandeliers, the little hidden heart details, and—of course—the Elvis impersonator officiating. It's all so good."
When your grandfather is the current president of the United States, there's really only one venue worth considering for your big day. Such was the case for Naomi Biden, who married Peter Neal on the White House lawn in 2022. "This wedding venue is two words: chef's kiss," says The Knot's Social Media Coordinator Kerre Jo Lattanzio. "The White House is fit for a bride (I mean, it's in the name, really). This venue is all about connections—and if you've got 'em, why not use 'em?"
It's true: getting married at the White House isn't as easy as pulling up The Knot Marketplace and requesting a quote. There have only been 19 weddings held at this political residence, and the most recent (before Naomi's) was for the official White House photographer Pete Souza in 2013. Aside from that, the grounds have most often been used for weddings of presidents' close family members. Although it's not exactly an attainable destination for the average couple, that doesn't mean we can't swoon over the thought. "The DC views are sophisticated, chic and clean and tie into the minimalist wedding trend perfectly," Lattanzio continues. "Politics aside, what's not to like?!"
This lush celebrity wedding venue is probably one you've seen on your Instagram feed before. "The 2022 union of Sarah Hyland and Wells Adams wasn't the first celebrity wedding to take place at Sunstone Winery in Santa Ynez, California," says Hannah Nowack, The Knot's Senior Editor, Weddings. "This timeless venue, constructed in 2004 from limestone salvaged from chateaus in France, overlooks 52 picturesque acres so beautiful that numerous big names have booked the space for their wedding."
So, besides Sarah and Wells, who else swapped vows at this gorgeous vineyard? "Notably, Saved by the Bell actor Mark-Paul Gosselaar tied the knot here in 2012 to Catriona McGinn. Just two years later, Lauren Conrad and William Tell also booked the space for their 2014 wedding. In 2016, Anna Camp and Skylar Astin also wed here, as did The Bachelor's JoJo Fletcher and Jordan Rodgers in 2022. So if one celeb couple wasn't enough to prove to you how amazing this space is, you've got five A-list celebrations from which to gather inspo."
"New Orleans is a cultural epicenter for music and history, making the city a stunning backdrop for a wedding," says The Knot's Fashion Content Strategist, Nic Taliaferro, adding, "I would know—I eloped there in 2019!"
Given their personal ties to the city, it'll come as no shock that one of their all-time favorite celebrity wedding venues is a music hall nestled in the French Quarter. "Alexandra Daddario and Andrew Form married at Preservation Hall, a '60s-era Jazz venue filled with old records and instruments," Nic explains. "The couple envisioned a 'laid-back' celebration focused on music and dancing, two things Preservation Hall absolutely delivered. I love a venue that offers more than a ceremony spot and you can see from every photo how this venue shaped and the day and showcased what was important to the couple."
If you love nature-centric weddings, you were probably captivated by Lily Collins and Charlie McDowell's nuptials at Dunton Hot Springs, a luxury log cabin resort tucked away in the Colorado Rockies. Such was the cause for The Knot's Editorial Designer, Tiana Crispino. "An outdoor venue deep in nature is a one-of-a-kind wedding experience," she tells us. "Not only is it always beautiful, but it can also be deeply personal to the couple. Whether it's one of their favorite places or where they popped the question, an outdoor wedding like Lily Collins' gives you a deeper look into who the couple is and what they hold dear to their hearts."
Actress Beanie Feldstein's 2022 wedding to Bonnie Chance in upstate New York had a nostalgic feel—and it certainly unlocked Kim Forrest's childhood memories. "I always loved summer camp as a kid, and Cedar Lakes Estates makes me nostalgic for campfires and Color War," says our Senior Editor. "With rolling hills, ample greenery and a serene lake, the casual setting lends itself to a feeling of community and togetherness. I love how Beanie and Bonnie leaned into the camp theme with friendship bracelets, pennants and s'mores, while keeping things current and stylish."
John F. Kennedy Jr. and Carolyn Bessette's Wedding Venue: Greyfield Inn, Georgia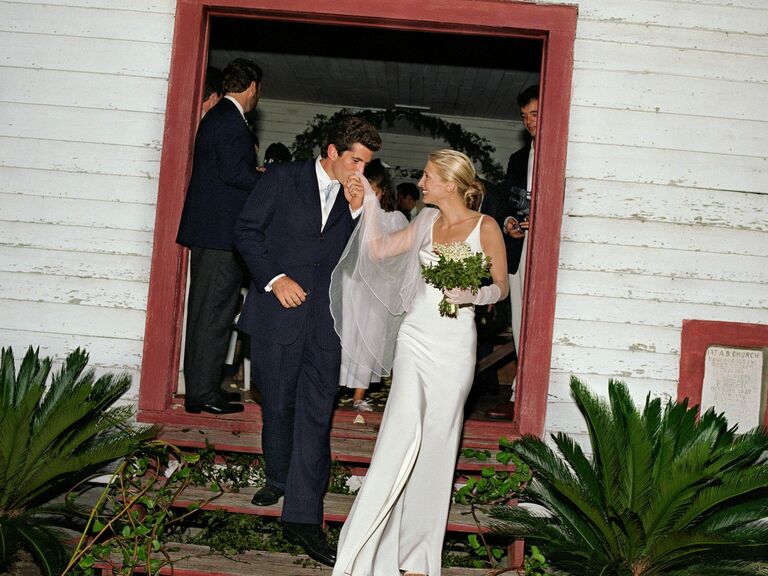 "As someone who values discretion, I appreciate how JFK Jr. and CBK landed on the secluded, hard-to-reach barrier island off the coast of Georgia to fully immerse themselves (and their loved ones) in their momentous destination wedding," says The Knot's Deputy Editor Esther Lee of this iconic celebrity wedding. "Perfectly rustic and intimate, the couple married by candlelight at the First African Baptist Church (with photographer Denis Reggie capturing this iconic shot). The vows were then followed by a larger-scale celebration at the Greyfield Inn (the sole hotel on the island) with their closest friends and family members. The unique destination choice of sleepy Cumberland Island is what makes their wedding venue one of my top celeb picks."
Cindy Crawford and Rande Gerber's Wedding Venue: Ocean Club, The Bahamas
"I'm throwing it back to 1998, when Cindy Crawford married Rande Gerber in the sand at Ocean Club in the Bahamas," says Emily Rumsey. Our Assistant Commerce Update Editor considers this swanky Four Seasons property to be the best celebrity wedding venue for a handful of reasons. "I love that the couple kept it private and minimalist using the location to influence their attire (a mini lace shift dress for her and no shoes for anyone), food (catered seafood, naturally) and decor (native bougainvillea, hibiscus—my personal fave—and monstera leaves)," she explains. "The day was casual, but it perfectly showed off the natural beauty of the Bahamas…and the supermodel. It was beach wedding goals and ended with a jump in the pool—too fun!"
Far away from bustling streets and big city lights, model Taylor Hill quietly wed Daniel Fryer at Devil's Thumb Ranch, a celeb wedding venue Taylor Whitten regards as the best of the best. "The gorgeous snow-capped Rocky Mountains set the stage for this bucolic, Western-themed wedding," raves The Knot's Planning and Style Content Strategist. "Devil's Thumb Ranch allows couples to embrace its natural scenery through rustic elements like stone buildings, large fireplaces and exposed wood beams. Its grounds are lush with wildflowers and wandering animals (like sweet horses), and it shows off amazing sunsets. Overall, the venue anchored the theme, allowing Taylor and Daniel to pull it off to a T."
John Legend and Chrissy Teigen's Wedding Venue: Villa Pizzo, Italy
A wedding at a historic villa overlooking one of the most high-profile bodies of water in the world? That's amore. "With stunning views of Lake Como, John Legend and Chrissy Teigen's venue is straight out of a fairytale," says our Senior Social Media Manager, Mina Garagozlo. "Villa Pizzo is rightfully one of the most exclusive venues in Italy because of its beautiful scenery. Between the lakeside terrace ceremony and the garden reception, the couple found a venue as magical as their love story."
Beyoncé's Wedding Venue: Tribeca Apartment, New York
In theory, you could visit just about any of these celebrity wedding venues. While they are on the exclusive side, getting to them isn't all that challenging. There is one iconic venue, though, that's completely inaccessible—and it belongs to none other than Queen B. "If anyone was going to turn a New York City penthouse into the perfect wedding space, it would be Beyoncé and Jay-Z," says The Knot's Photo Manager Jess Kane. "Keeping the focus on friends and family with only 40 guests, their Tribeca home was an ideal location for their intimate wedding. I absolutely loved that they transformed their space into a dream venue by flying in 70,000 orchids from Thailand."
Aidy Bryant and Conner O'Malley's Wedding Venue: Wythe Hotel, New York
Hannah Nowack couldn't pick just one favorite celebrity wedding venue—and we don't blame her! She also has a soft spot for this historic Brooklyn hotspot. "In May 2018, SNL cast member Aidy Bryant married her partner, comedy writer Conner O'Malley at the Wythe Hotel in Brooklyn's Williamsburg neighborhood," she shares. "The Wythe Hotel is one of my favorite NYC wedding venues and I love that Bryant and O'Malley picked this industrial hotel space to host their nuptials, which were planned by WeddingPro Educator Jove Meyer. A hotel wedding venue is a great idea if you have a lot of out-of-town guests to accommodate. Plus, the Wythe Hotel is also pet-friendly so it's a solid pick if Fido will be attending the big day. In short, it's not hard to see why these A-list comedians say 'I do' to this space."
Prince Harry and Meghan Markle's Wedding Venue: Windsor Castle, England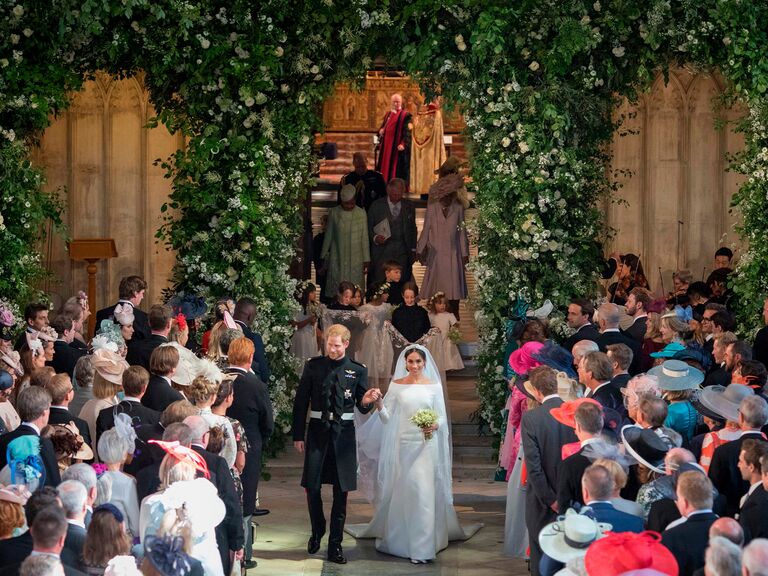 For Ash Tulett, The Knot's Associate Director of Editorial Video, picking a favorite celebrity wedding venue is quite simple. "Windsor Castle is an extremely special place in the UK and has served as the venue for multiple royal weddings, including Prince Harry's wedding to Meghan Markle," he explains. "Not only was it Queen Elizabeth II's most beloved space (she spent her spare time there more than anywhere else!), but its walls are soaked in history, myth and secrecy."
Up for a history lesson? "It's the spiritual home to the Order of the Garter, the oldest and most prestigious British order," Tulett explains. "Windsor Castle also houses the Royal Collection, one of the largest and most important art collections in the world including works from Leonardo da Vinci, Rembrandt and Michelangelo. But its ace up the sleeve is definitely the Windsor Great Park: 5,000 ACRES of parkland that's home to ancient forests, deer and lush gardens, providing a breathtakingly picturesque backdrop to the castle (perfect for wedding photos)."
"So, to recap," he concludes, "destination wedding, English castle, cool secrets, prestigious art, vast gardens and footsteps of some of the most important members of the British royal family. What's not to love?!"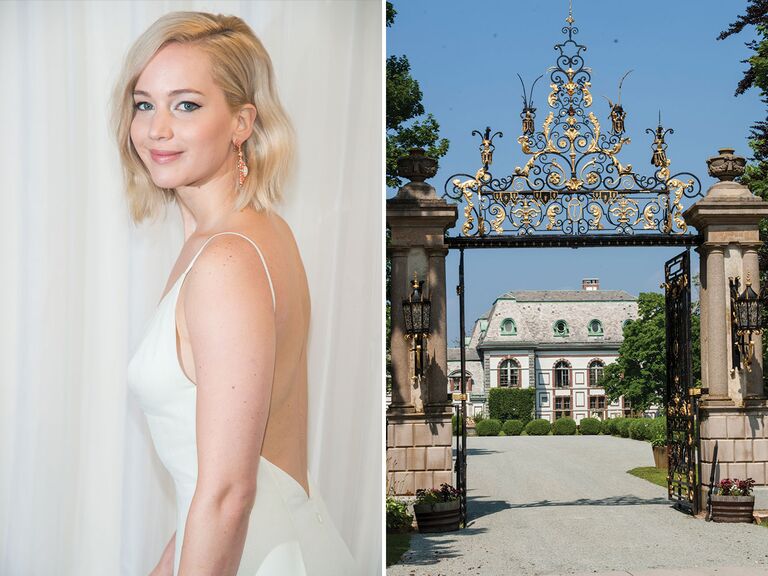 Newport, Rhode Island is one of my all-time favorite places to visit—so when I heard that Jennifer Lawrence was set to tie the knot at Belcourt of Newport in 2019, I couldn't be more excited. Unfortunately, we still have yet to see any official wedding photos from the big day. (And as The Knot's Entertainment and Celebrity Editor, the devastation keeps me up at night.) But, based on various reports from the weekend, it sounds every bit as incredible as you might imagine. Jennifer Lawrence and her husband Cookey Maroney opted to have an ultra-private celebration, inviting 150 of their closest friends, including Kris Jenner, Adele, Emma Stone and Amy Schumer, to the historic ocean-front estate.
The mansion was designed by architect Richard Morris Hunt in 1894, and it was inspired by Louis XIII's hunting lodge at Versailles. It was restored by its current owner in 2012 in an effort to bring back the villa's "original splendor," which includes "opulent rooms, intricate details, and timeless elegance." If you, too, are obsessed with this celebrity wedding venue, the mansion is open for tours, meaning you can walk the same sprawling estate that JLaw once did.