A Chicago Bachelorette Party City Guide to Plan Your Weekend
A weekend in the Windy City filled with mimosas, deep dish pizza and Instagrammable moments.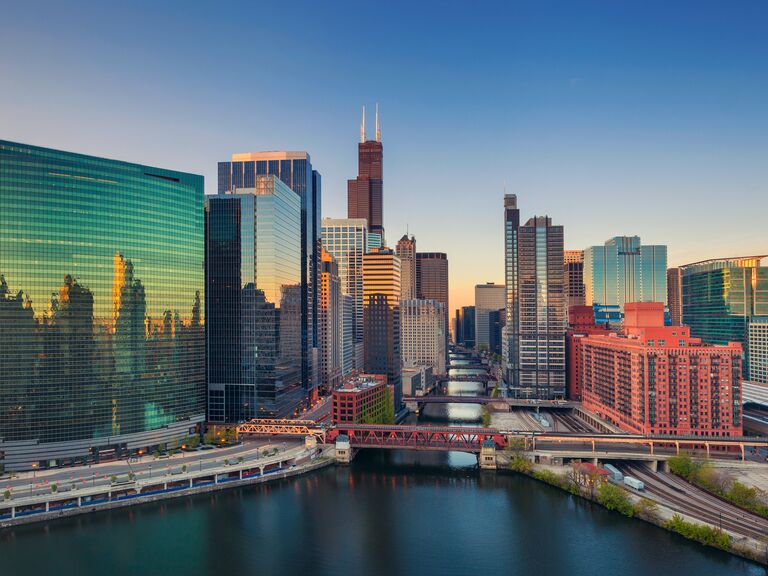 Rudy Balasko/Shutterstock.com
Also known as The Windy City, Chicago is a popular bachelorette party destination. It offers all the excitement of a big city with Midwestern charm, giving you plenty of activities to choose from for your Chicago bachelorette party. It's situated right on scenic Lake Michigan, which means you can even hit the beach (weather permitting, of course). Because of its wide variety of activities, you and your crew will have plenty to do (and plenty to Instagram too). Ready to get planning? We rounded up everything you need to know about planning a Chicago bachelorette party so you can organize the best bach bash ever.
What Are Some Chicago Bachelorette Party Ideas?
There are so many different things to do in Chicago, which means there's something that will make everyone happy. Check out the food scene, jump on a boat, bar hop around the city, take in the art scene or enjoy a sports competition. Whatever you choose will be a blast.
For the Water Lovers
Since Chicago is located on Lake Michigan, there are two different beaches your crew can enjoy: North Avenue Beach and Oak Street Beach. Both are filled with ample sandy space, volleyball courts and nearby snack shacks. If you're searching for a more private activity, take to the Chicago river. Book seats on the famous architecture tour or rent your own electric boat. Looking for a boating party scene? Drive your boat over to Playpen, a breakwall-protected area on Lake Michigan that boasts impressive views of the surrounding skyline.
For the Foodies
Deep dish pizza, hot dogs and Italian beef are just some of the foods Chicago is known for. Grab a slice, pick up some famous popcorn, buy a dozen old-fashioned doughnuts or try out some world-class barbecue. Plan a tour and check out all the amazing restaurants and food stands in the city with your crew for an unforgettable, food-filled weekend.
For the Bar Hoppers
Chicago is a major city, with a party scene that's equally as major. There are a variety of bars scattered throughout the city (all of which are easily accessible by the L, the above-ground train system). Choose from game-themed bars (think: darts, ping pong, arcade games and more), bars with live music (country, blues and alternative just to name a few), sports bars (grab a pitcher of margaritas or a beer tower) or rooftop bars. Looking for something more interactive? Consider a brewery tour, a trolley bar crawl or craft cocktail spots.
For the Art Enthusiasts
If your crew (or guest of honor) is on the artsy side, there's plenty to check out in the Windy City. Take a trip to the Art Institute of Chicago, one of the oldest and largest museums in the United States. There's also the Museum of Contemporary Art Chicago or the wndr museum if you're looking for a modern aesthetic. Beyond museums, Chicago offers a wealth of different arts. Enjoy the Joffrey Ballet, Chicago Symphony Orchestra, or The House of Blues. If you're looking for outdoor activities, consider taking a mural tour of Chicago. It's a fun way to see the city's art scene and score the perfect Insta.
For the Sports Fans
Whether your friend loves football, baseball, basketball, hockey or soccer, there's a sporting event in Chicago she'll absolutely love. Book tickets and rally your crew for a game. Don't forget to pick up matching apparel to commemorate the experience!
What Do You Do at a Bachelorette Party in Chicago?
With all of the activities available, how do you decide what to do for your Chicago bachelorette party? We've narrowed all the options into a fun-filled three-day itinerary for the ultimate Chicago bachelorette party.
Day 1
Morning: Check into your hotel or rental space and fuel up with breakfast at Batter and Berries. This Lincoln Park hotspot tends to be busy, so expect a wait. Pick up some beverages for your crew (the restaurant is BYOB) to pass the time and enjoy dishes like the French toast flight (complete with strawberry, blueberry, lemon and caramel french toast) or the cluck-n-gaufre, a sweet potato waffle stuffed and topped with fried chicken and hot sauce. From there, hop on the train up to Wrigleyville.
Afternoon: Spend the day enjoying Wrigleyville, aka the location of Wrigley Field (home to the famed Chicago Cubs). If it's baseball season, get your crew tickets to see the team play and enjoy an afternoon in the sun. If the team isn't playing, enjoy the local sporty scene by bar hopping (check out Old Crow Smokehouse, Big Star and Sluggers) and picking up a famous Chicago-style hot dog.
Evening: Have dinner at Au Cheval, a famous upscale burger joint (psst: expect a wait). Put your name in early and check out Punch Bowl Social (a bar full of games and shareable drinks) in the meantime. Finish off the meal with scoops from Jeni's Splendid Ice Creams. If you want to go out, consider getting craft cocktails at The Aviary (there's also a speakeasy bar down the stairs called The Office). Feel like clubbing? Check out DISCO or Tao (both located in River North) or PRYSM Nightclub (situated in Lincoln Park).
Day 2
Morning: Begin with brunch at Hampton Social in Streeterville. The lush greenery, string lights and neon "rosé all day" sign make for the perfect squad Insta. Don't miss their signature frosé or their hash browns (it's their own special recipe). Walk down Magnificent Mile for some sightseeing and shopping.
Afternoon: Spend the day soaking up the sun. Rent an electric boat (it's cheaper than it sounds, BYOB and just like driving a golf cart) and cruise around the Chicago river. Head over to the Playpen, an enclave off of Oak Street Beach for boaters, for the ultimate party scene and photo opp. Walk over to Navy Pier and ride the iconic ferris wheel.
Evening: Get ready for your second night out on the town. Have sunset cocktails on the rooftop at Cindy's and then head to Bar Siena for dinner (don't forget to take a picture in front of their twinkly lights). Afterwards, grab drinks at Three Dots and a Dash, a speakeasy Tiki bar in River North. Continue on to Joy District for late-night dancing.
Day 3
Morning: Sit down for brunch at the Restoration Hardware 3 Arts Cafe for your Chicago bachelorette party. There's always a wait, so grab a glass of bubbly from the back bar and browse their five floors of gorgeous interior design.
Afternoon: Take time to tour around the city. Head downtown towards the river and stroll along the riverwalk. Continue on to Millennium Park, where you'll find the iconic bean (perfect for a group selfie, FYI). Keep exploring the park or pop into the Art Institute of Chicago to see out the extensive collection of artwork. Check out the fun restaurants in the area, like the Nutella Cafe, Garrett Popcorn, Broken English Taco Pub or Velvet Taco.
Evening: Catch an improv show at The Second City, the company where comedians like Tina Fey, Steve Carell and Amy Poehler got their start. Don't arrive hungry—grab some pizza at Happy Camper in Old Town before the show. The string lights and swinging benches make for the perfect 'gram. If you still have energy and are looking for a more club-like vibe, make your way to The VIG.
Where Should I Stay in Chicago for a Bachelorette Party?
There are plenty of housing options for a Chicago bachelorette party, so check out TripAdvisor, Airbnb and Vrbo for top recommendations. We also rounded up some great places to stay while you party in the Windy City.
Best Chicago Bachelorette Party Hotels
LondonHouse Chicago: A posh 1920s building right on the river offering a spa, a bar, a rooftop (which is a popular nightspot) and a restaurant with amazing water views.
The Drake: One of Chicago's most historic hotels located in Gold Coast offering sweeping lake views, a gym and three restaurants. Check out the stunning Palm Court for high tea and delicious snacks.
Ritz Carlton Chicago: Looking for luxury? This hotel has lake views, a brasserie, a rooftop bar and a day spa.
Best Chicago Bachelorette Party Airbnbs
Small Groups: Stay in a lofted two-bedroom apartment downtown that sleeps up to eight people.
Medium Groups: Rally your crew and crash at this Aloha-themed, four-bedroom apartment located in Wicker Park. It's full of Instagram opportunities.
Large Groups: Consider a multi-level loft for your crew. This one is located in Old Town and sleeps more than 16 people, so you'll have plenty of room. Psst: it has a private balcony too.