This Couple Used Their Registry to Donate a College Scholarship and We're Crying
"We wanted our wedding to celebrate what we felt most grateful for: finding each other."
Taylor Square

What does the couple who seemingly has everything do with their wedding registry? For Washington, D.C.-based pair Megan Dorward and Richard Brahan, planning their 2019 wedding came with a few convictions: the first being that they didn't want a traditional registry filled with products; the second was they wanted to use theirs to give back. 
It was a natural pivot for the pair to see a scholarship registry opportunity, where their wedding guests could donate to a fund that would help supplement tuition needs for a student at their alma mater, William & Mary. "We wanted to use our wedding celebration as a chance to unite with our friends and family to do some good in the world, and we saw the wedding registry as a way to put our weddings gifts toward creating opportunity for someone who would not have it otherwise," Dorward tells The Knot. "While ability does not discriminate, opportunity does. And we wanted to incorporate philanthropy in our wedding because we felt grateful for the opportunities that had come our way in our lives and fortunate that we were able to take advantage of them. We viewed our wedding registry as a chance to create something bigger than ourselves that would live on after our wedding day."
Dorward, 35, is a Senior Client Partner at Twitter, who works with advocacy groups and political agencies and companies in D.C. Brahan, 38, is an attorney at Wilson Elser in McLean, Virginia. Dorward and Brahan first met at a friend's birthday party, and he popped the question with an heirloom ring. Their wedding (which included a clever hashtag, #ForRichardAndForDorward) was held in the groom's native Mississippi, at the home of his aunt, Chef Regina Charboneau. Lucky for the couple, the cookbook author and force behind King's Tavern and Twin Oaks also catered the 140-person wedding. 
"The ceremony was in the front yard, under the eponymous live oaks which were strung with candle-lit chandeliers, and a string quartet from the Mississippi Symphony Orchestra provided the music," Dorward recalls. "The reception was throughout the gracious rooms of the home and featured a North meets South menu and a raw bar inspired by Nantucket, a place we visit every summer. We danced the night away under string lights in the backyard, and we capped off the evening with late night food from the local burger joint, The Malt Shop, a sparkler exit, and a 1966 Lincoln Continental getaway car."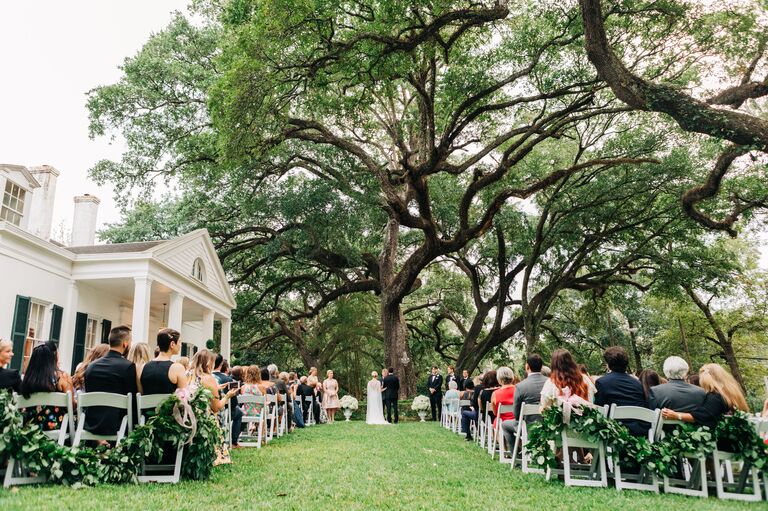 The one ask was no physical gifts—only donations to the fund. "When it came time to create a registry, we realized that we really had all that we needed. We started dating when we were both in our thirties, and when we got engaged, we had been living together for three years, so we had already acquired the traditional things that couples register for, like pots and pans, linens, and kitchen tools," she explains. "I had inherited my grandparents china and silver, which are very sentimental to me, and, living in a city, we just didn't have a lot of space for more things! We felt like life had blessed us with so much already, and we wanted our wedding to celebrate what we felt most grateful for: finding each other. So we were excited to put our wedding gifts toward something that would be life-changing for someone else."

The couple asked guests to make a financial contribution to their scholarship, which Dorward untangled logistically with her alma mater as a 2007 graduate of William & Mary. "If you're interested in establishing a scholarship to celebrate your wedding, I suggest working with a gift officer [at your school of choice] who can help you navigate setting it up," she says. "We added a link to the scholarship's donation page in the registry section of our wedding website, which made it really easy for our guests to donate. The gift officer would send us a bi-weekly list of donors so we could write thank you notes for the gifts."
With all donations combined, the couple's scholarship will cover a semester of tuition at William & Mary. The pair decided to reserve the scholarship distinctively for a first-generation college student with financial need. "That gift means more to us than any gift we could have personally received, and the student who receives it will be a legacy of the happy day that was our wedding," Dorward explains. "My husband and I will continue to fund the scholarship so that the joy of our wedding will continue and grow year after year."
Together, the spouses have a shared vision for education as a means to powerfully break poverty cycles. Their scholarship registry idea was an extension of the necessity that they so passionately advocate for on a daily basis. "We view education as the kind of opportunity that can change lives," Dorward explains. "Education breaks the cycle of poverty, and it can change the course of a person's life and their family's lives for generations. But it can also come with a tremendous expense, and for the students whose lives would be changed the most by a college education, the cost can often be too much to bear."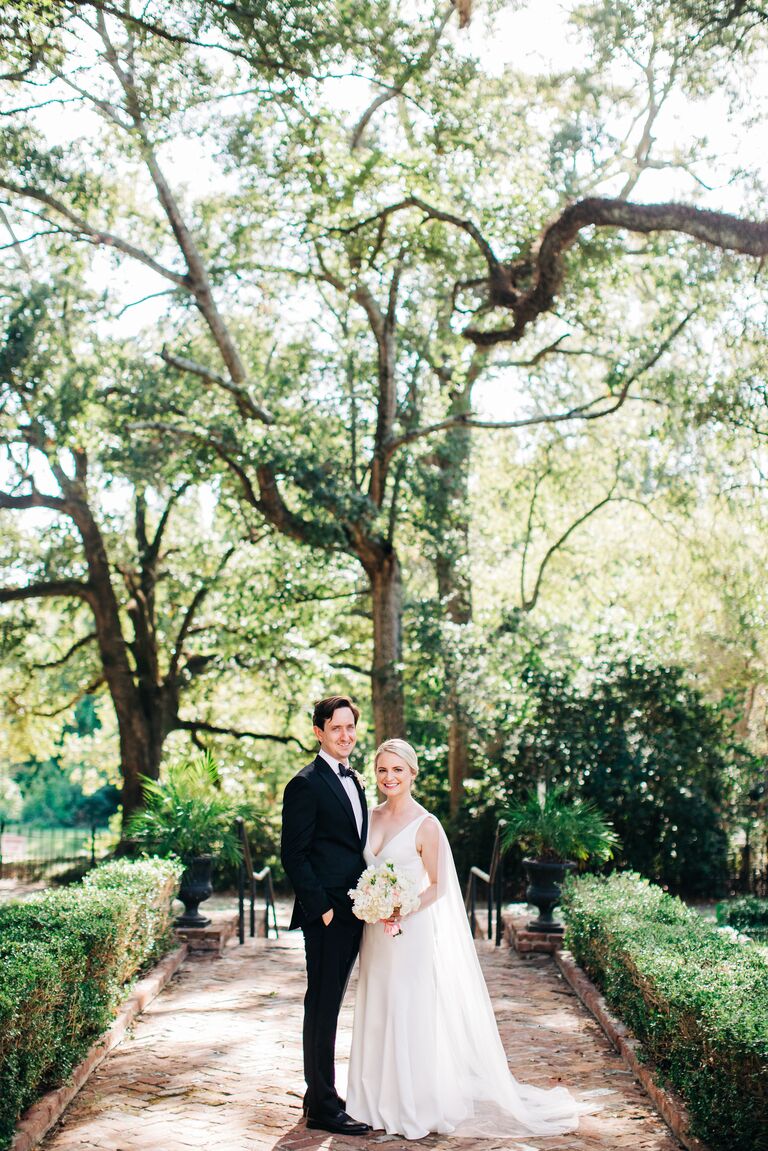 "We've been able to pursue our careers because of the education we've received," Dorward concludes. "And this scholarship will make it possible for a deserving student with every qualification but financial means to be the first in their family to attain higher education."
Inspired by their story? Start a wedding fundraiser on The Knot. If you'd like to specifically add a scholarship registry, follow these directions: Simply select Option Two with "Link an Existing Registry." Select "Another Store" under the "Select a Store" dropdown and share "college scholarship" under "Enter Store's Name." Finally, link to the donation under "Your Registry Link," which makes it easy for you to add something similar to your page on The Knot Registry.