How to Do Your Hair & Makeup for Your Virtual Wedding Events
Get yourself computer-camera ready.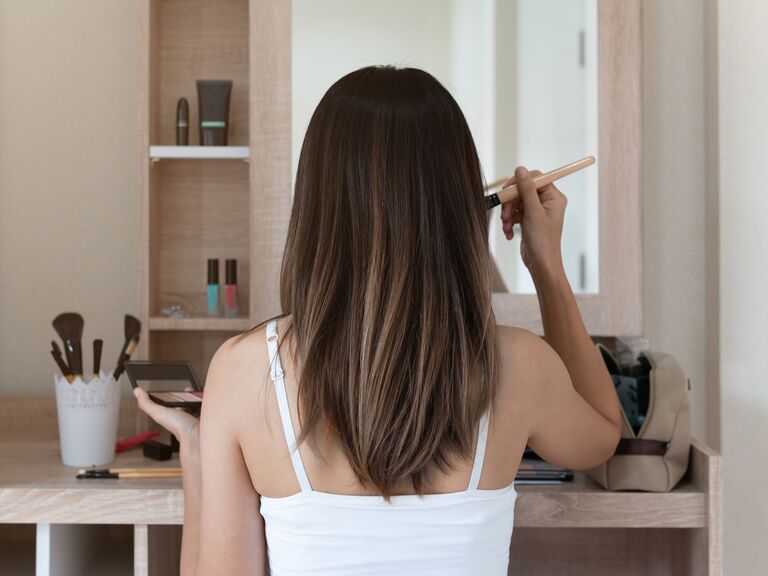 kitzcorner/Shutterstock.com
We have included third party products to help you navigate and enjoy life's biggest moments. Purchases made through links on this page may earn us a commission.
In light of the coronavirus pandemic, many couples have postponed their spring and summer nuptials. Given social distancing orders, however, to-be-weds are still celebrating their original wedding date by planning virtual bachelorette parties, online bridal showers and commitment ceremonies. If you want advice on DIY wedding hair and makeup for these online events, we've tapped experts to get answers. Even if you're prepping for a virtual wedding-related event, there are ways to make your hair and makeup look amazing.
From home, you can still support your beauty vendors at the same time. Many wedding hair and makeup artists are offering virtual consultations, shade-matching services and tutorials so that you can confidently do your own at-home wedding glam. Plus, spending extra time with them online can help build your relationship so that you'll be comfortable with them come your future celebration.
"When you go through this process, you're going to value having a professional makeup artist and hair stylist for when the later celebration comes," says Brittany Lo, founder and CEO of Beautini. In the meantime, we've rounded up all the best tips on DIY wedding hair and makeup so that you can feel your most beautiful during your virtual wedding-related events.
Schedule a Virtual Session
If the idea of DIY wedding hair and makeup sounds overwhelming to you, your vendors have you covered. Whether you need help mastering those perfect loose waves or a polished blowout, your hairstylist can give you tips for doing your wedding hair through the computer or phone. They'll walk you through what products to use, how to style your hair and what products to use afterwards. This is a particularly great choice for to-be-weds who aren't sure how to wear their hair, as stylists can give their expert opinion on which styles look best on you.
Similarly, your wedding makeup artist can help inform your at-home ceremony glam. Lo says a virtual session with your wedding beauty pro can cover everything from selecting products to use, shade matching, color selection and application tutorials. They can also suggest different looks that they think will look best on you—perfect for those feeling overwhelmed by doing DIY wedding makeup. Lo is hosting a free masterclass to help to-be-weds with their at-home wedding glam. Plus, she'll send you a free guide to help navigate wedding planning during this time too.
Experiment With Products, Styles and Colors
Leading up to your virtual celebration, Lo says to-be-weds should experiment with different products, colors and styles. "There is no normal on how a virtual wedding works at this point," Lo says. "The more you allow yourself to experiment and play with products at home, the better." So that electric blue eyeliner you've been too afraid to try out? Give it a go now. "Nobody's really seeing you, so you might as well take this time to find out what you like and what colors look good on you."
If you're unsure about what colors to pick, there are local small businesses that offer shade matching and other suggestions. NakedPoppy, a clean AI beauty company, has an algorithm developed by female cosmetic chemists, makeup artists, and computer scientists which will not only match your skin tone, but will also suggest colors and formulas that work best for you. Take their three-minute quiz and get access to your personalized boutique (complete with makeup and skincare recommendations). Added bonus: all of the products are extremely clean. Not only will your makeup feel great, you'll know it's good for you too.
You can also use this time to try airbrush makeup at home. TEMPTU offers pre-filled Airpods of airbrush makeup that eliminate the need to know how to mix and clean an airbrush. To apply airbrush makeup, Tanya Deemer, TEMPTU Global Artist and Educator, says to start slowly. Begin by lightly spraying breakouts or problem areas and concealing your undereyes. Then, spray the airbrush foundation in small, controlled circles. "It's important to note that the airbrush foundation should be applied in light, buildable layers," Deemer says. "If it looks wet on the skin at any point, please let it dry before you add another layer of coverage."
Use Your Normal Getting-Ready Routine As a Baseline
Think about how you get ready for a date with your partner or a night out with your friends or a BBQ with your family. You know how to do your own hair and makeup, and you know what looks best on you. "What we find in trials is that people want to feel like themselves," Lo says. "People do their makeup everyday or at some point, so they just need to trust themselves."
Remember that you'll look beautiful no matter what you do. "That's how your partner has seen you for all of this time, right?" Lo says. Use what you know as a baseline and then add onto it (maybe with a smokey eye or a bold lipstick or extra blush).
Prime Your Skin for the Wedding Day
A great face of makeup starts with a great base. Take this time to focus on your skincare routine. Now is not the time to try out new products or to see what works best for your ongoing routine. Less is more when it comes to skincare, so pare your collection down to the essentials. Need help? Schedule a virtual consultation with a board-certified dermatologist. They'll be able to help you streamline your routine.
You can also use this time to pamper your skin. Let the shower work as a steamer or give yourself a facial massage with your moisturizer. Take it one step further by getting professional guidance with scheduling a virtual session with your local aesthetician. Or, consider toning and tightening your muscles by scheduling an online FaceGym session. "Muscles in your face much like the muscles in your body need working," says says Inge Theron, founder of FaceGym, which provides a workout for the muscles in your face. "When you regularly go to the gym, your muscles are toned, strong and lean and your skin is also firm. Facial muscle stimulation works in the same way—it helps to keep the muscles firm and skin tight, but it also stimulates the most important protein for keeping the face looking young."
When it comes to actually doing your makeup for your virtual wedding events, celebrity makeup artist Robert Sesnek says focusing on the skin is key. For a natural, classic look, he suggests using foundation only where you need it. Place your preferred foundation (Sesnek recommends CATRICE HD Liquid Coverage Foundation) in the center of the face to even out redness or problem areas.
Next is concealer. "Concealer is a must for both the bride and the groom," Sesnek says. "I add concealer under the eyes, around the nose and anywhere else you need extra help. Blend it in with a sponge or your fingers (the warmth from your hands will help melt the product seamlessly into your skin).
Sesnek also suggests contouring to bring out your lovely bone structure on screen. "Start under the cheek bones and blend out with your favorite blush brush, as this will soften the look and you can build to your comfort level," he says. "Add softly down the sides of the nose and buff it out." For dimension and glow, add a highlighter into the mix. "I like to highlight the tear ducts and the high points of your face," he says. "As with contouring, start slowly—you can always add more."
For eyeshadow, Sesnek recommends a neutral of soft bronze color (he likes the CATRICE Basic Bae eyeshadow palette). Pro tip: add a soft blended shadow line under the lash line will add more intensity but will still keep everything soft." Top off your look with waterproof mascara (just in case). "Start at the roots of the lashes and build it up with several coats, playing attention to the outer lashes for a fluttery and false-lash effect," he says. "I also like to hit the roots of the lower lashes for additional definition." Enhance your gorgeous smile by adding lipstick. "I like a medium to deeper lip color for a wedding day, as I think it pairs beautifully with a softer eye and it won't wash you out in your dress."
Turn Up The Blush and Lipstick
Sesnek is right—you'll definitely want to put on lipstick for your virtual calls (and blush too). Lo says this is because the camera can wash you out, so adding extra color to your complexion is key. "When you don't wear enough color on your lips, cheeks and eyes, you can get washed out in photos," she says. "You want to make sure you have enough color to make your face pop." This means definitely wearing eyeshadow on your eyes, adding extra blush to the apples of your cheeks and rocking a darker lipstick. "If someone isn't used to wearing lipstick, I would recommend wearing a shade one to two shades darker than your natural lip color," Lo says.
Blending and Brushes Are Key
Pro tip: for DIY wedding makeup, blending is the key. Because blending is so important, Lo says having great brushes is essential. Lo says you'll want a fluffy eyeshadow brush so you can blend out the colors seamlessly. If you want your eyes to pop, Lo suggests applying a base shadow and then using a darker color on the outer corners of your eyes, blending it inwards through your crease. This technique will only look natural if you use a fluffy brush to smooth out the edges and blend the colors together. You'll also want a blush or bronzer brush so that the colors can be softly swept onto your skin and blended nicely.
Prep Your Hair Properly
"On your big day, one of the most important things to ensure is that you have the perfect canvas to build the foundation for your at-home masterpiece," say Ramon Garcia, stylist at Ramirez | Tran Salon and Authentic Beauty Concept Advocate. If you're looking for new shampoo and conditioner, Garcia recommends something moisturizing, like Authentic Beauty Concept Hydrate line. "You'd be hard pressed to find locks that couldn't use a little moisture."
Celebrity hair stylist Mara Roszak tells The Knot that it's best to wash your hair and blow dry your hair the night before the big day, so that you're not attempting to do it all the morning of. "Now isn't the time to try a brand new shampoo and conditioner—especially if you've been happy with the one you've been using," says. "If you don't feel your hair is in its greatest state, try a new product at least two weeks before to really get a feel for how it works on your hair."
Once you're out of the shower, it's all about the products. "In lieu of forcing hair into a shape that is unnatural, I like to focus on helping hair be the best it can be," Garcia says. If your hair is naturally wavy, consider a texture cream or wave spray. If your hair is pencil-straight, consider a smoothing cream to enhance shine. Roszak recommends Authentic Beauty Concept's Blow Dry Primer for everyone before they begin their at-home blow out. "It's a universal, lovely blow dry product that leaves hair with a perfect base hold for any style."
Keep Hair Styles Simple
If you're looking for style suggestions, Garcia recommends two fool-proof options. The first is a tousled, low bun. Use your natural hair texture or add waves with a curling wand. Then, gather hair into a messy low bun and secure with an elastic. "Once you've created the bun, gently pull out a few pieces around the temples for a more 'authentic' feel," Garcia says. "It's sexy, fun and easy while giving the perfect amount of elegance."
If you'd rather wear your hair down, Garcia says you can't go wrong with loose, soft waves. "It's a timeless style," he says. "You can dress it up or dress it down, making it perfect for any occasion." After you've prepped your hair out of the shower, give yourself a blowout. Garcia recommends using a medium round brush directed upwards to create texture and volume (this will set the stage for the perfect style). Use your curling iron and add waves to your hair (just be sure to brush them out once they've cooled to loosen them up).
Stay True to Yourself
The best wedding hair and makeup tip is to stay true to yourself. While it may be tempting to try something totally new for your virtual bach party or your Zoom wedding, the best approach is to stick with what you know makes you feel beautiful. "You know the hair that you do when you go out with your friends or when you're finally going out for that dinner date," says Emma Fitzgerald, owner of Salon Très. She says that often to-be-weds try to switch their parts, add curls to their hair when their hair never curls or they decide to wear their hair up when they always wear it down. "These are the times when the to-be-wed doesn't feel their best." When in doubt, stick to what makes you feel your best. "Don't hesitate to reach out to your stylist for extra guidance," Fitzgerald says. "We are here for you!"
While professional hair and makeup is an amazing perk of weddings (and one we totally recommend), Fitzgerald says your virtual wedding events will still be great without them. "Your partner loves you in the morning with no makeup and bed head," she says. "They will love you without professional hair and makeup application. You are beautiful just the way you are." Don't forget: you'll be able to tap a beauty pro for your future celebration.
Practice, Practice, Practice
Once you've decided on a hair and makeup look for your events, you need to practice. Use free time to master your looks so that you feel confident and beautiful when the events take place. Fitzgerald says if you really want to alleviate anxiety about doing your own glam, you've got to practice a lot. "In the hair industry, we live by a motto: practice until you can't get it wrong, not until you get it right." Use your practice time as self-care. Put on your favorite music, diffuse essential oils and break out your at-home beauty stash.
Remember: Your Postponed Wedding Will Still Happen
It's OK to be upset about having to postpone your wedding. This definitely isn't how you imagined your nuptials (or pre-wedding events, for that matter). But your vendors are here for you, so don't hesitate to reach out to them. You can still get your hair and makeup to look amazing at home with the help of virtual consultations and tutorials.
It's important to remember that, ultimately, your wedding day glam isn't the most important thing (though we know it's important). "I challenge couples to think about why they're having a wedding in the first place," Lo says. "If you're still able to marry your partner in a virtual ceremony, that's exciting!" Plus, you can spend the extra time to think of ways to make your future celebration better than what it was supposed to be (including your hair and makeup ideas)!