Engagement Wishes: Here's What to Write in an Engagement Congratulations Message
Trying to decide what to write in an engagement card? Say congrats to the happy couple with one of these suggestions.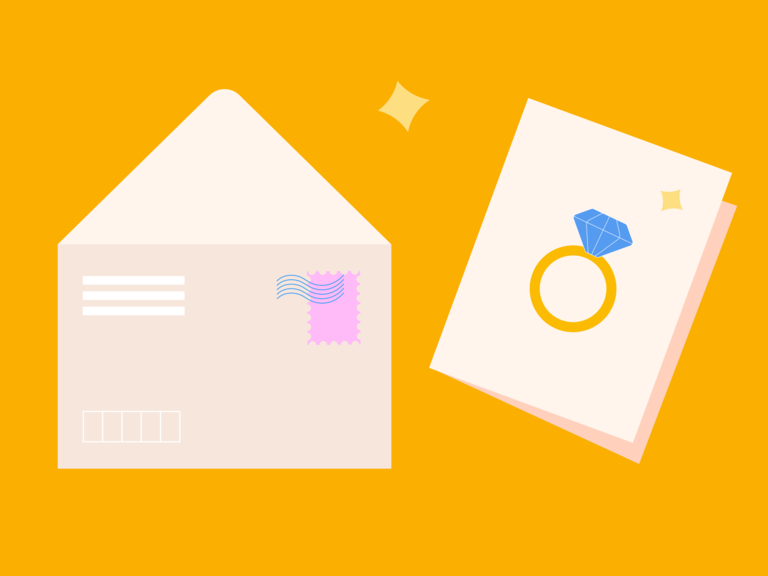 Illustration by Natalie Romine for The Knot
So, you're staring intently at a blank piece of paper wondering what to write on an engagement card besides "Congratulations!" Don't worry, we've all been there. And while "Congrats on your engagement" would increase your word count, there are dozens of other unique engagement wishes to give your loved ones. From heartfelt engagement blessings for a family member to happy engagement wishes for a friend, we've got you covered with writing tips and wording examples for offering your best to the to-be-weds. Now, you'll know just what celebratory engagement sentiments to pair with your engagement gift. Happy penning!
In this article:
How to Write an Engagement Card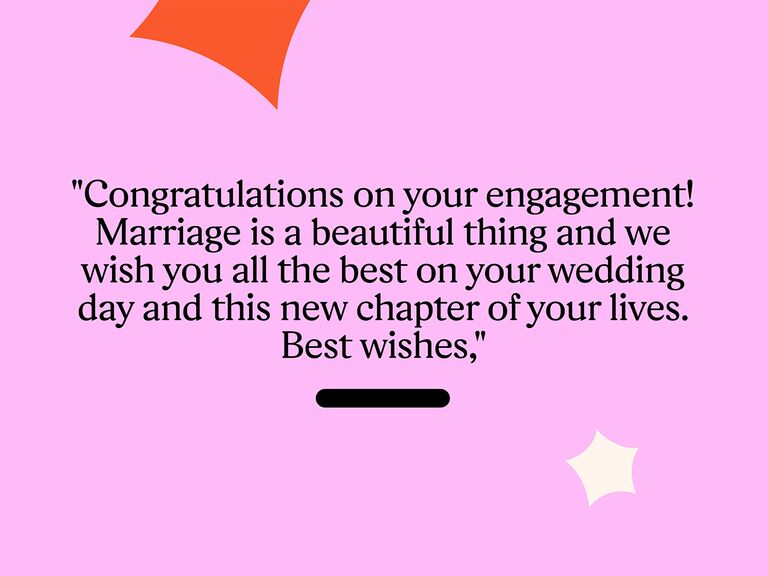 Writing an engagement card isn't as easy as just putting pen to paper. You'll want to plan out what you want to say in the engagement card first—which means thinking of (or finding online) a sentiment that fits your relationship with the couple and their personality. Is the card for a family member or a close friend? Opt for a meaningful engagement message that shares your excitement. If the couple is religious, consider including a Bible verse or a quote from the Torah. Prefer to keep your message lighthearted? Choose a funny engagement wish for a great couple that loves to laugh. We've got dozens of engagement card message ideas below to help. Then just pop the card in the mail—or in their inbox—and you're done!
What to Say
Engagement cards come in lots of different formats, including standard greeting cards from your local stationery shop, homemade cards, small tags attached to engagement gifts and even simple, digitally created engagement messages. There are many ways to personalize and send engagement wishes to a loved one, but if you need a little help to get started, here is how to structure your message:
Open your message with a greeting.

FEATURED VIDEO FROM THE KNOT

Follow that up with a statement of congratulations and a personalized happy engagement message geared towards your relationship with the couple.

Close it off with well wishes and your name(s).
Wording Example
Our advice doesn't stop there. Here's how to structure your engagement message and even exactly what to say in the engagement card to offer your congratulations on their proposal.
Dear [insert names],
Congratulations on your engagement! Marriage is a beautiful thing and we wish you all the best on your wedding day and this new chapter of your lives.
Best wishes,
[insert your name(s)]
Short Engagement Wishes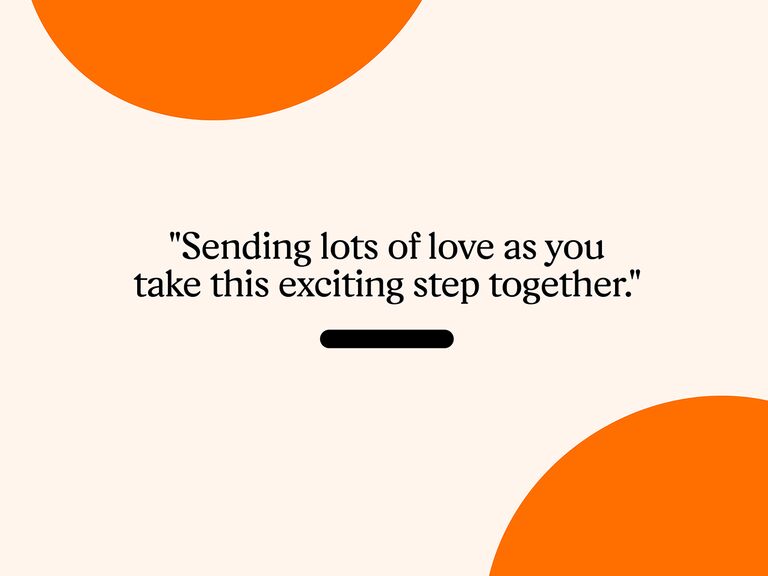 Our first suggestion for betrothal wishes that are short (and sweet)? "Congratulations!" When you only have a small amount of space to write an engagement note, here are some ideas on what to say.
Wishing you a very long and happy life together.
Engaged has a nice ring to it! All the best to you both.
Sending lots of love as you take this exciting step together.
I couldn't be more thrilled to hear your big news—congratulations!
Wishing you all the best with your wedding plans. Cheers to the future!
It's easy to see how much you love each other. Congrats!
I hope your engagement is only the first of many wonderful moments you share.
A huge congratulations to the beautiful couple.
Here's to the happy couple—I can't wait for the wedding!
Funny Engagement Wishes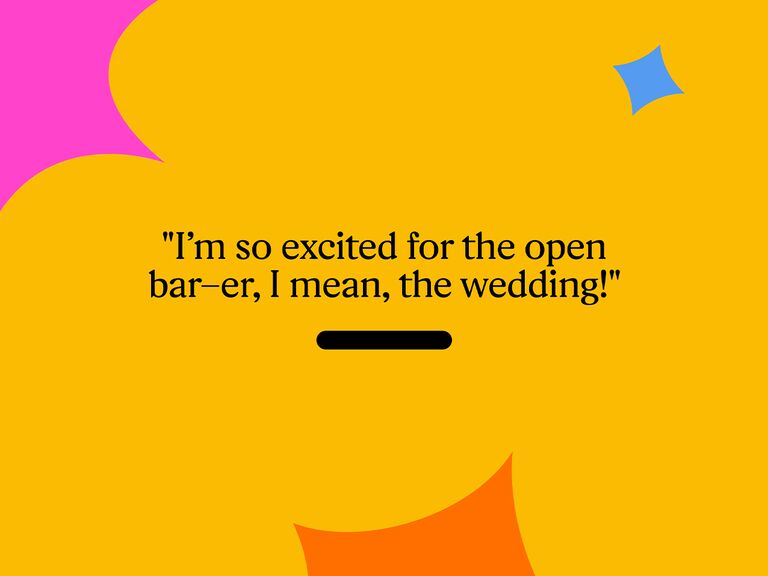 Funny engagement wishes for a friend or family member are totally acceptable, especially if the happy couple bonded over their sense of humor. That said, there are some subjects to avoid making a joke about. Take our advice and steer clear of anything that could be considered insulting, like implying that one of them is the "better half" or mentioning anything about how it has taken too long (or too little time) to make things official. And any jokes about divorce aren't jokes at all.
Congratulations! You found that one special person you want to annoy for the rest of your life.
Way to follow Beyoncé's advice: You liked it, so you put a ring on it.
Wishing you a lifetime of great sex...oh, and happiness and love—that stuff is important too.
I'm so excited for the open bar—er, I mean, the wedding!
I can't wait to celebrate the next chapter with you. Love, your official third wheel.
So I guess you two are pretty serious then…Congrats!
There's no way to guarantee a lifetime of happiness, but that gorgeous ring is a pretty good start.
Thank you both for removing yourselves from the dating pool. You were tilting the averages with your good looks and great personalities.
Let me pass on some of my wisdom: The most important four words for a successful marriage are "I'll do the dishes."
First, an engagement party, then a bach party, a wedding party and eventually anniversary parties … wow, your engagement sounds like the beginning of endless partying. I can't wait! Congratulations.
Engagement Wishes From Friends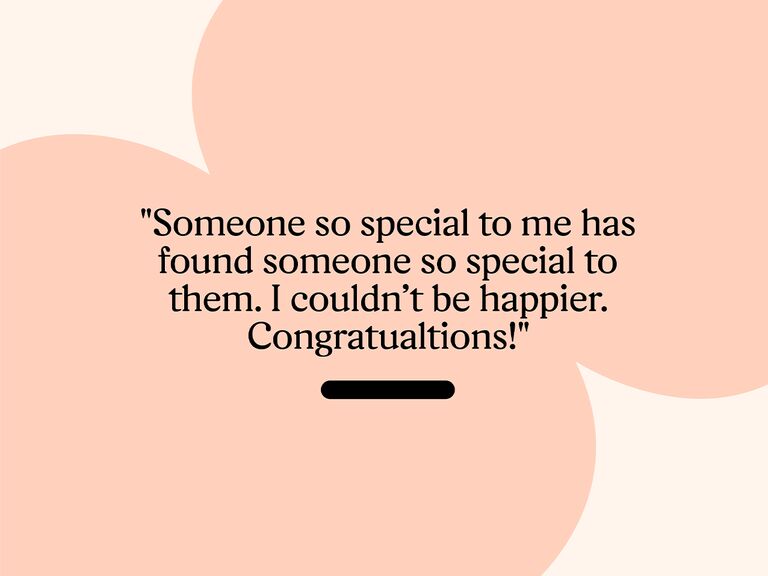 There are lots of options when it comes to what to put in an engagement card for a friend. You can go with a classic engagement congratulations message, say something personal in the card about your close relationship or comment something cheeky, like an inside joke you know will make them laugh. We've got some engagement card examples for a bestie below!
May you bring each other as much happiness as your friendship has brought to my life!
Of all the big life events we've celebrated together, this one tops the list. Congratulations!
I can't believe I have to share my best friend now. At least you're perfect for each other. Warmest wishes!
Here's to love, friendship and a big party to celebrate both!
Congratulations to a wonderful friend—I can't wait to stand by your side on your big day!
You make a wonderful couple. I know your marriage will be as strong and last as long as our friendship.
I feel so fortunate to have you as a friend so, I can't imagine how lucky your fiancé feels—Congratulations!
I can't believe two of my best friends are now fiancés! Heartiest wishes to my favorite couple.
Someone so special to me has found someone so special to them. I couldn't be happier. Congratulations!
I'm so happy for both of you and very excited I have a permanent and lovely couple with whom I can be a third wheel!
Engagement Wishes From Parents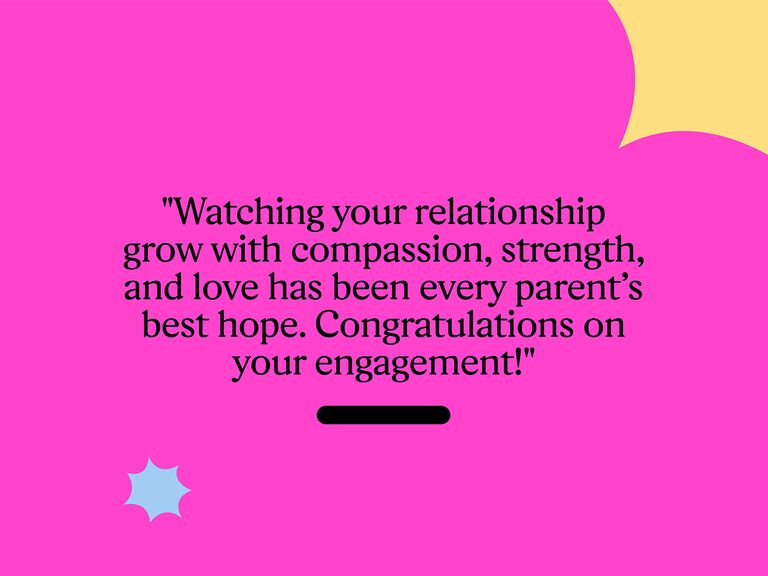 Your child is engaged, congratulations! There are probably many emotions running through your head and you have no idea how to put them down on paper. Well, you're in good hands. Here's how to congratulate the couple and convey joy in your engagement wishes. Tip: Add in personal touches to give the engagement card even more meaning. If you're happily married, you could even add some of your own marriage advice.
Your loving relationship has enriched our family, we/I couldn't be happier that you're engaged.
We/I always knew this one was meant to be family. Congratulations, we/I love you both so much!
Watching your relationship grow with compassion, strength and love has been every parent's biggest dream. Congratulations on your engagement!
All we/I have ever wanted is to see you happy. I love you so much and wish you all the very best in this new chapter.
Child, we/I feel many emotions on this occasion. Most of all, we're/I'm happy you've found someone wonderful to share a beautiful life with. Best wishes to you both.
Lots of love and happiness to you both on this exciting and joyful occasion for our family.
We/I knew one day you'd find your soul mate, and it's clear you have. Can't wait to help you plan a wedding and your future together.
You have grown up to be an amazing individual, and we/I can't wait to watch you grow even more with the love of your life by your side. Congratulations!
You two make a beautiful couple! We/I look forward to your wedding and being able to celebrate you tying the knot.
We're/I'm so happy for you and for our family! You've chosen a wonderful partner to spend your life with and we're so excited to welcome them into the family.
Engagement Card Quotes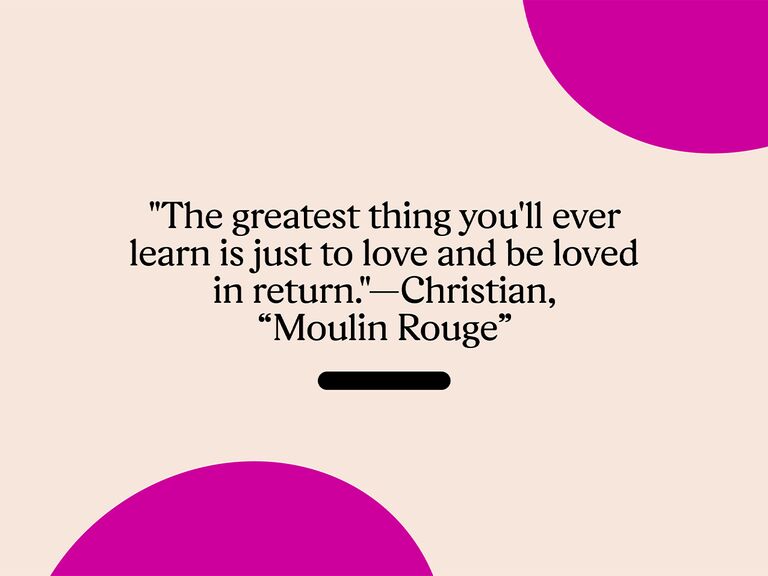 Sometimes the best engagement wishes come from your (or the happy couple's) favorite TV show, movie, book or musician. Below are some congratulatory pop culture quotes to write in an engagement card.
"It's a love story, baby, just say yes." —Taylor Swift,"Love Story," Fearless (Taylor's Version)
"When you realize you want to spend the rest of your life with somebody, you want the rest of your life to start as soon as possible." – Harry, "When Harry Met Sally"
"We're engaged!"—Monica, "Aww, this is the least jealous I've ever been."—Rachel, "Friends: The One with the Proposal"
"The greatest thing you'll ever learn is just to love and be loved in return."—Christian, "Moulin Rouge"
"It doesn't matter if the guy is perfect or the girl is perfect, as long as they are perfect for each other."—Sean Maquire, "Good Will Hunting"
"'Why do we have to listen to our hearts?' the boy asked. 'Because, wherever your heart is, that is where you will find your treasure.'"—Paulo Coelho, The Alchemist
"The best thing to hold onto in life is each other." —Audrey Hepburn
"You don't marry someone you can live with, you marry the person you cannot live without." - Cecelia Ahern, P.S. I Love You
"At last...my love has come along."—Etta James, "At Last"
"You are wise, or perhaps unusually lucky, to understand friendship to be the best possible foundation a marriage can have."—Queen Charlotte, "Bridgerton"
Diane Hall contributed to the reporting of this article.