20 Thoughtful Wedding Gifts for Established Couples Who Have Everything
Upgrade their classics or surprise them with something new.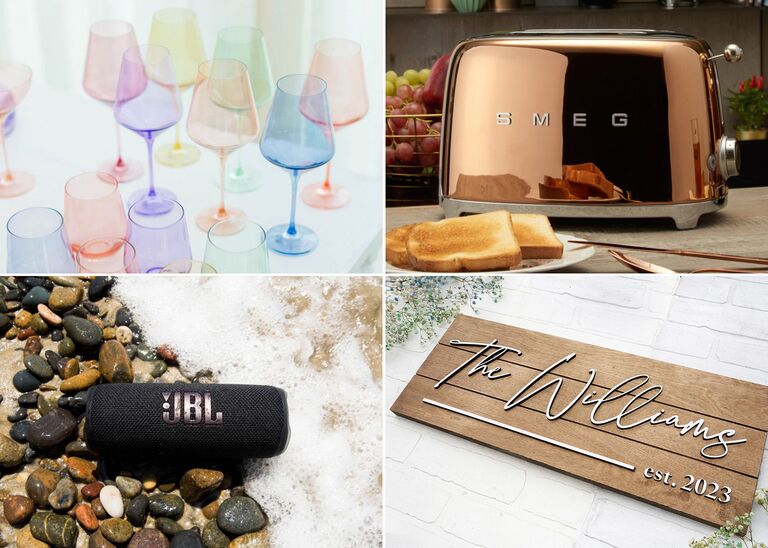 Photo clockwise: The Knot, The Knot, Etsy, The Knot
These days, many couples are delaying marriage for myriad reasons—to travel, to buy a home, to adopt, to get that job promotion. With marriage at all stages on the rise, the likelihood that you'll have to find some wedding gifts for couples who have everything they need already is pretty high.
In most instances, shopping for an established couple isn't really all that different, but it does necessitate being a bit more thoughtful with wedding gift ideas. While we always recommend shopping from a couple's registry first and foremost (it's a wedding guest gifting rule!), if there isn't one, you may be wondering how to spoil your friends or family while ensuring that what you buy them is actually useful (and, more importantly, not a duplicate of something they already have). Whether your loved ones are older or just have been living together for going on a decade, there's a good chance that they're already set up with all the basics we typically think of when shopping for wedding gifts. Complicated, right?
Here's the good news: Shopping for a wedding gift for a couple that has everything can actually be super fun and easy when you look at it through the lens of upgrading their basics or spoiling them with goodies that cater to their unique lifestyle. From a souped-up ice cream machine to a spa-worthy bathroom upgrade, our list below has a slew of thoughtful and unique wedding gifts for established couples. Shop our favorites and get ready to check your mailbox—you're going to be getting a very gushy thank you note.
1. Mini Massager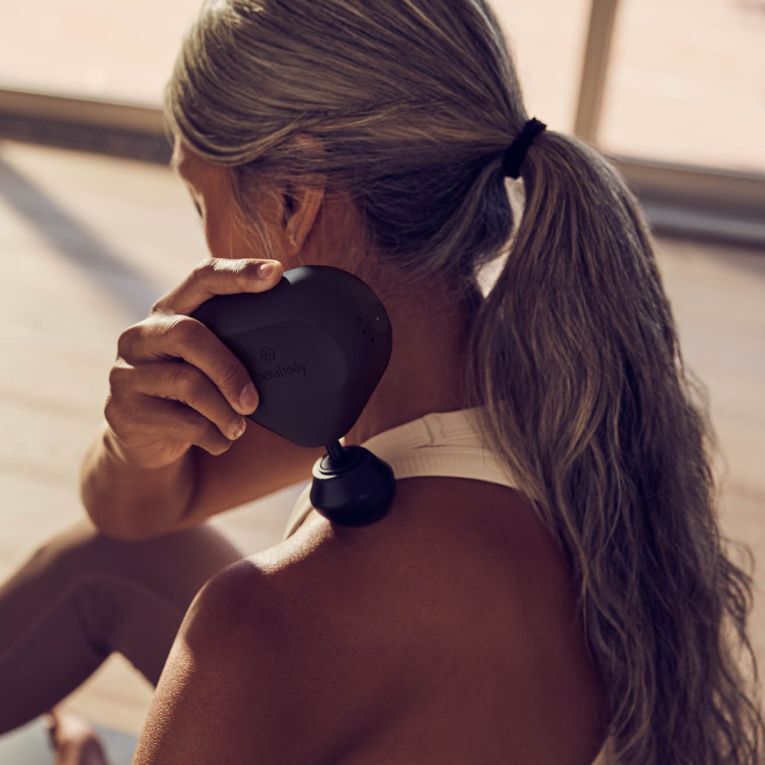 There's nothing better than a little at-home R&R, especially when it comes in the form of a deep tissue massage. This petite-but-powerful device is Bluetooth controlled, with three speed settings that will help them work out pains and aches, whether they're sore from marathon training or all knotted up from their daily commute. It's even small enough to pack in their gym bag or carry-on, so they can take it with them on the go. It'll definitely be appreciated as a wedding gift for an older couple, too.
2. Smart Doorbell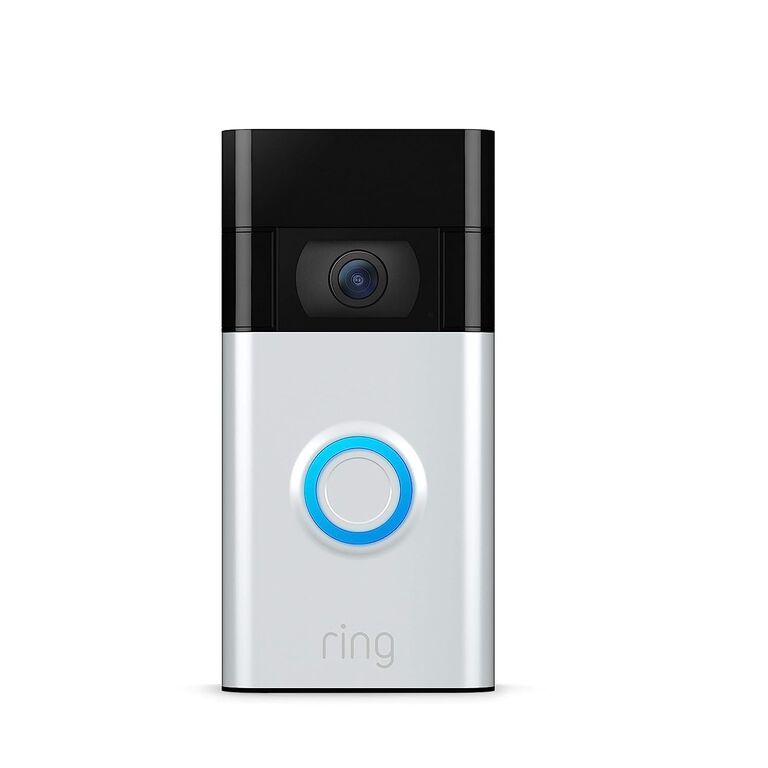 Your favorite established couple may have bought their first home together years ago, but, as any homeowner knows, work on their abode is probably never done. Give them a high-tech safety upgrade in the form of Ring's popular smart video doorbell as a unique wedding gift for the couple who has everything. It's Wi-Fi-enabled and connects instantly to their smartphone or Alexa with the push of a button, so they can seamlessly communicate with DoorDash, delivery people or unexpected guests.
3. Cute Toaster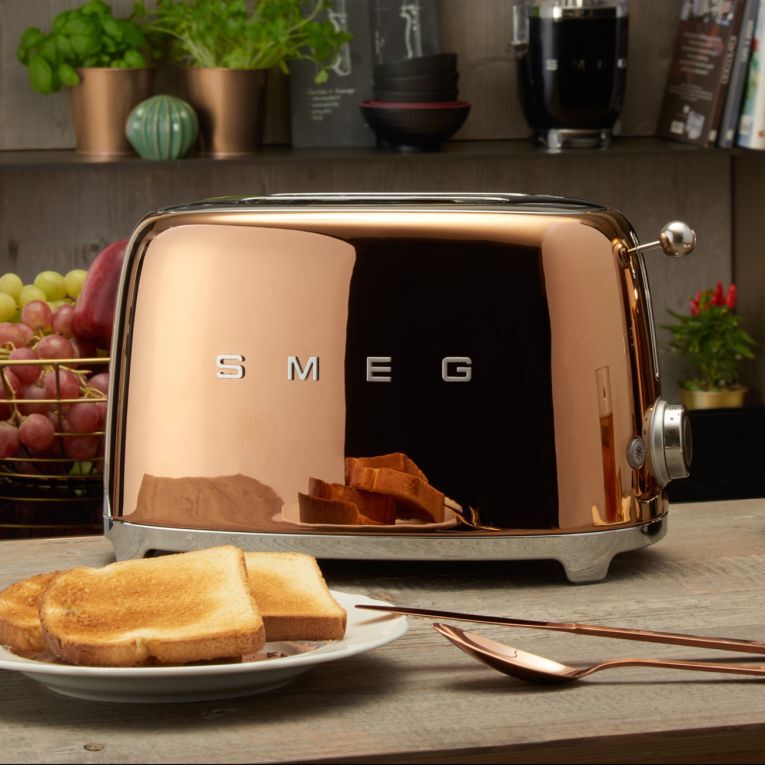 Part of the fun in hunting for wedding gift ideas for the couple who has everything is spoiling them silly with luxe upgrades to their everyday gadgets. Case in point: This sleek, retro-inspired toaster from SMEG. Available in a whopping 13 different finishes, it's part kitchen appliance, part showpiece and will look amazing on their countertop. Not only that, but it will toast up their bread and bagels to perfection, with six levels of browning for exactly the right crunch.
4. Pro Pizza Oven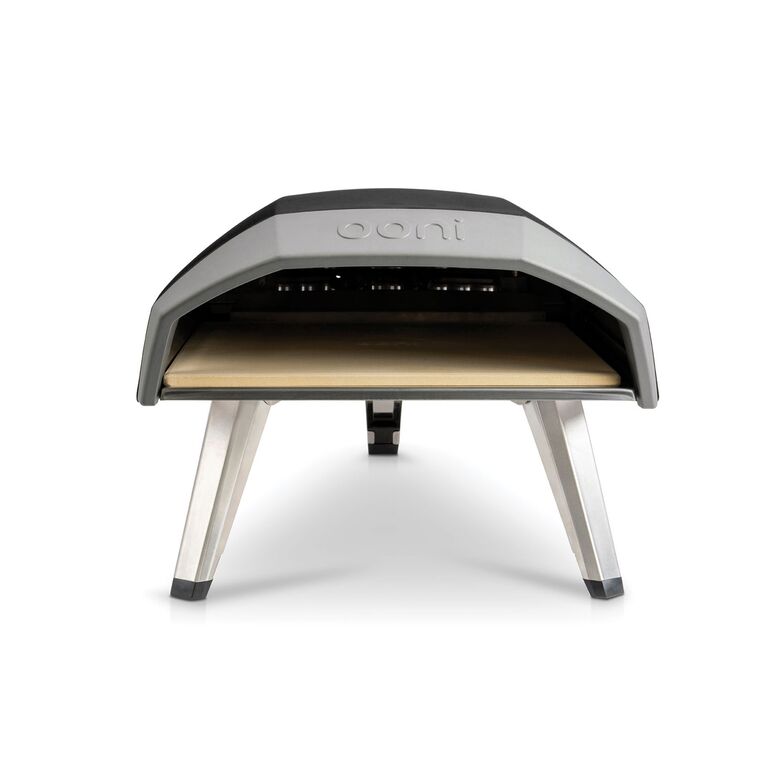 If you're shopping for a pair that won't stop raving about their recent trip to Italy, look no further than this at-home pizza oven to really blow them away. Designed to be as effective as the old-school ovens from Naples (AKA the homeland of pizza), this compact, gas-powered gadget can crank to 900 degrees to cook up bubbly, cheesy pizza in just 60 seconds. Who knows—you may score yourself an invite to pizza night with a gift this good.
5. Portable Carpet Cleaner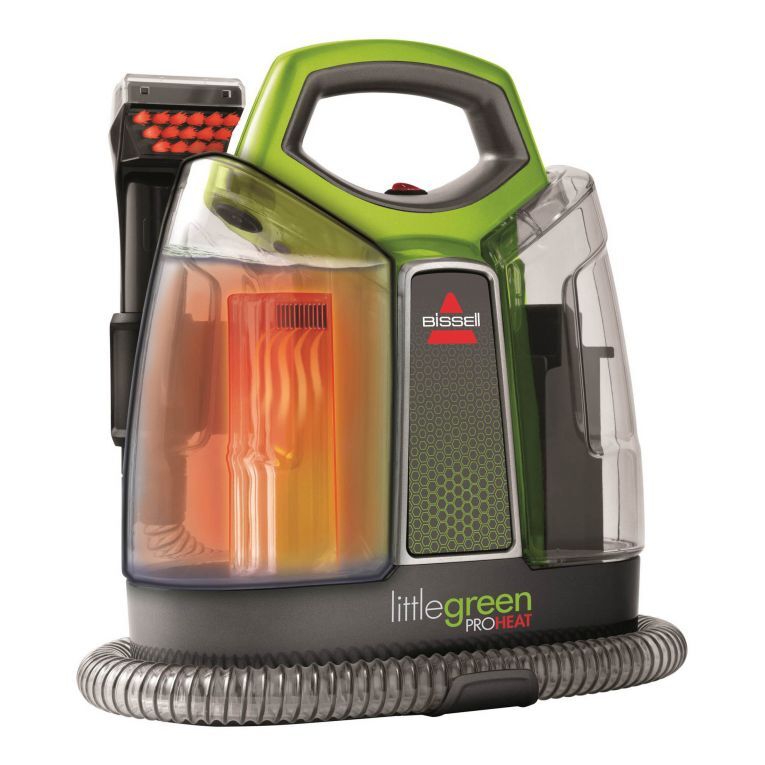 Pals who have been living together for a while probably already have their cleaning routine down—which most certainly means they have a trusty vacuum in their arsenal. But even the biggest cleaning fanatics haven't truly lived until they've tried Bissell's Little Green carpet cleaner. This fan-favorite device is key to tackling set-in stains on carpet and upholstery, which will come in handy if they have a pet—or one of them is just constantly spilling wine.
6. Stainless Steel Measuring Set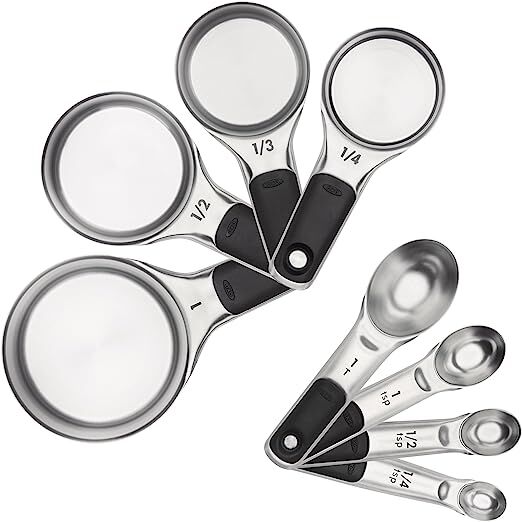 After many years together, your loved ones probably have a fairly stocked kitchen—but if they're anything like us, there are a few things that could use replacing. One such item: measuring cups and spoons. Just like wayward socks in the washing machine, these little babies tend to get misplaced, never to be seen again. Ensure they've got a world of measurements at their fingertips next time they want to bake up some sourdough with this soup-to-nuts set of stainless steel cups from OXO. The best part? Magnetized handles will keep all four cups and all four spoons together—for good this time.
7. Spa-Worthy Warmer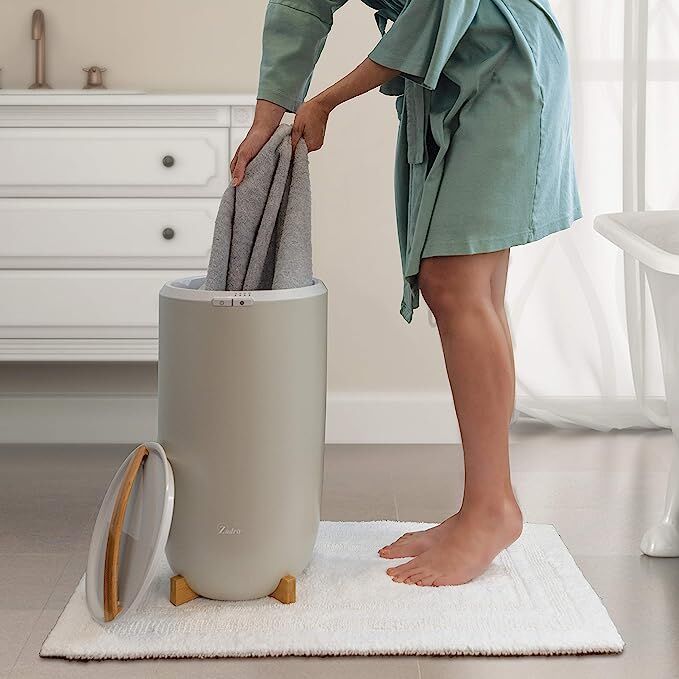 If there's one time in life when your loved ones could use a little extra pampering, it's after pulling off all the planning for their wedding. This genius towel warmer will bring the spa vibes to their nightly routine, making their linens feel as warm and cozy as a comforting hug. Because it has such a large capacity, they can even heat up things like a robe or socks—trust us, they'll never go back.
8. Bluetooth Speaker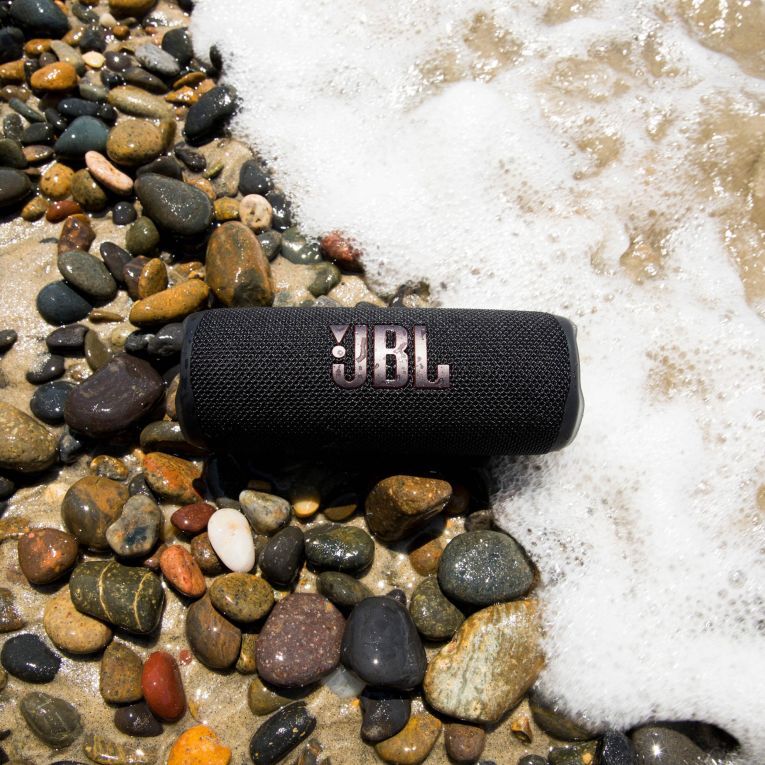 Portable and powerful, this lightweight Bluetooth speaker is a must for any pair that bonds over music. Whether they first met at a Springsteen cover band concert or are constantly curating playlists for your hangouts, we're positive your to-be-wed friends will love this JBL speaker. Bonus: It's waterproof and boasts an impressive 12-hour battery life, so it can stand up to any adventure they take it on.
9. Viral Ice Cream Machine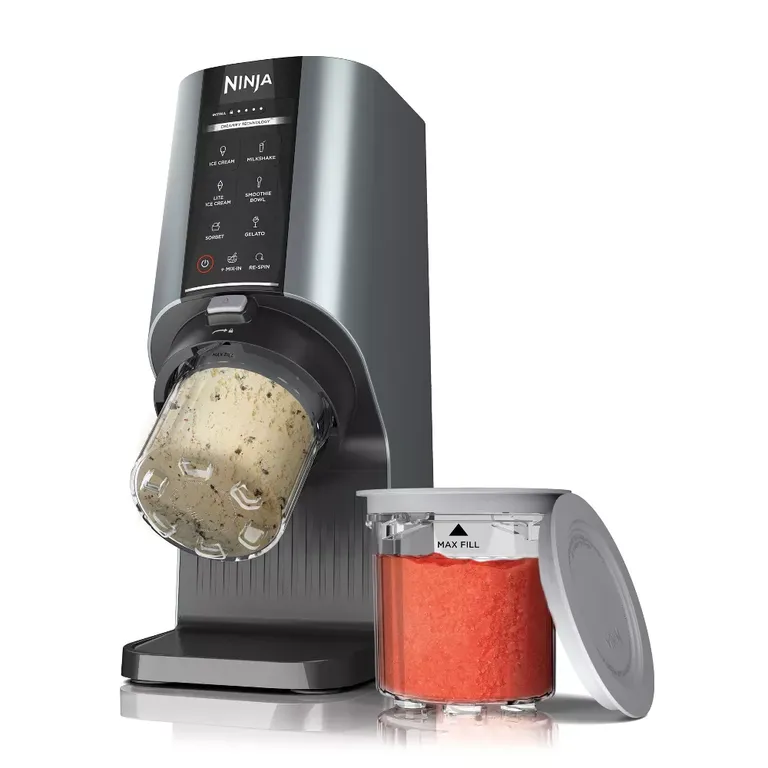 If you've spent any time on TikTok lately, you've probably already seen the at-home ice cream machine that's taking the world by storm. Ninja's Creami maker touts the ability to turn pretty much anything into a creamy, delicious treat—whether or not it actually includes real dairy. This easy-to-use machine could be the perfect gift for a pair of lovebirds that already have it all—except for unlimited frozen treats at their fingertips, of course. And that's why it's one of the best wedding gifts for established couples we can think of.
10. Automatic Pet Feeder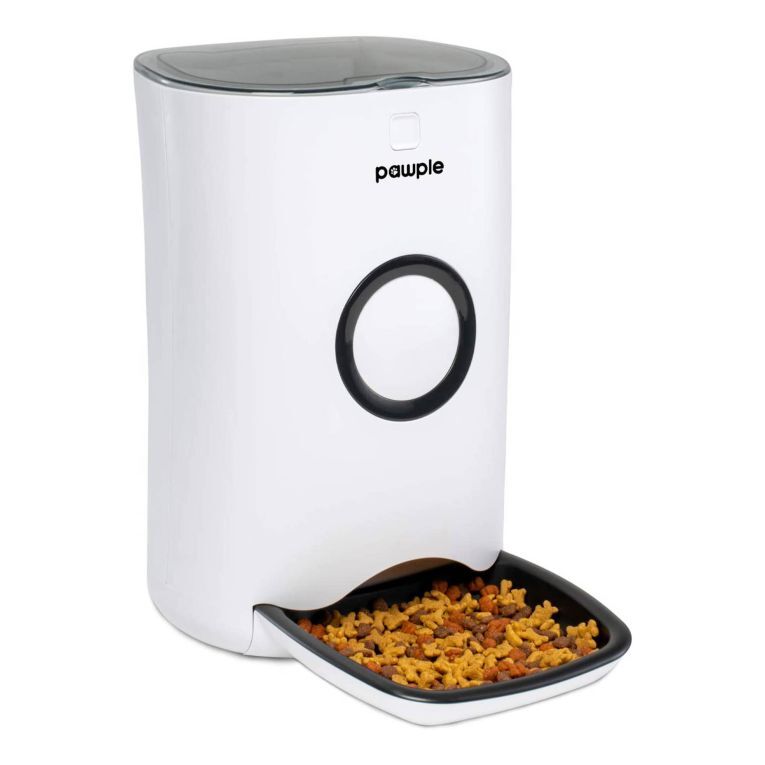 Don't forget Fido! Pet parents will love this automatic pet feeder—and it's totally something they may not splurge on for themselves. With set-it-and-forget-it technology, Pawple's device takes the guesswork out of feeding their fur baby, with up to four pre-programmed meal times and personalized portions. They'll love that you love their pet as much as they do—almost.
11. Stylish French Press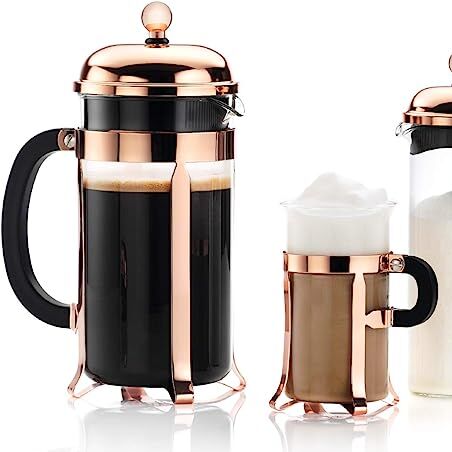 Sure, you could get them a bougie coffee maker—but what's better than a gift that brings about a bit of morning meditation and a caffeine fix? There's something special (and uber relaxing) about making coffee the slow-and-steady way in a French press and if your to-be-wed friends haven't experienced it yet, they're in for a treat. Not only does it act as a calming ritual to start their day, but many purists argue French press coffee is far superior to its auto-brewed counterparts. Really, you'd be doing them a favor.
12. Cozy Sheet Set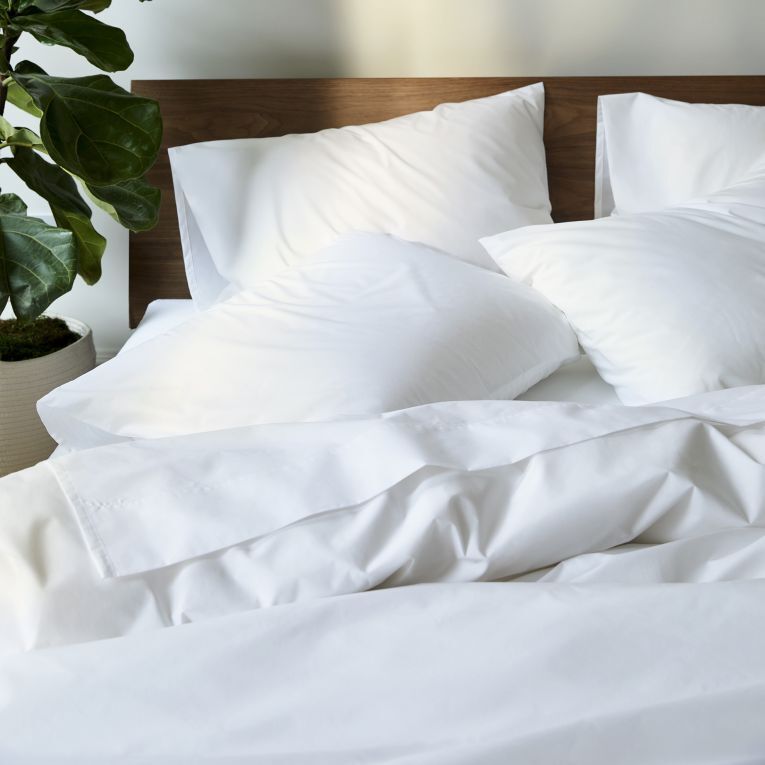 Nothing says "I really care about you" quite like a luxe sheet set when it comes to wedding gift ideas for older couples who already have everything. Consider snagging them some new linens from Brooklinen. Their classic percale collection is buttery soft and deliciously cool for a relaxing night's sleep that will leave them waking refreshed and ready to tackle the day. We can think of no better gift than that.
13. Pocket-Sized Video Camera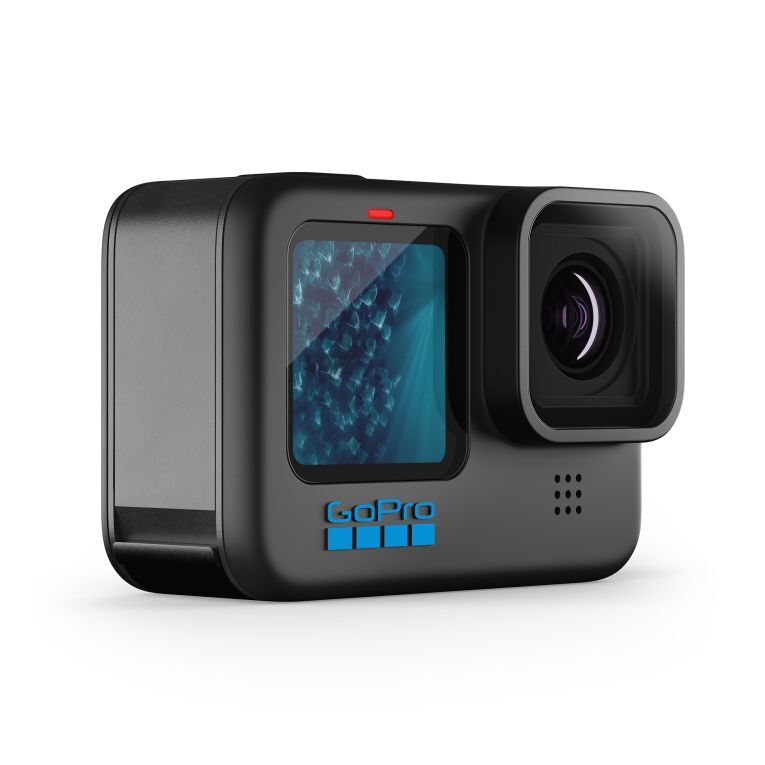 Thrill seekers are notoriously hard to surprise, but you may accomplish just that with this techie wedding gift. If you know a pair who's always planning their next heart-pumping getaway, spring for a GoPro to help them document their epic adventures. With it, they can film their white water rafting excursion in Vermont or get up close and personal with wildlife on safari. They—and their Instagram feed—will thank you.
14. Mixing Bowl Trio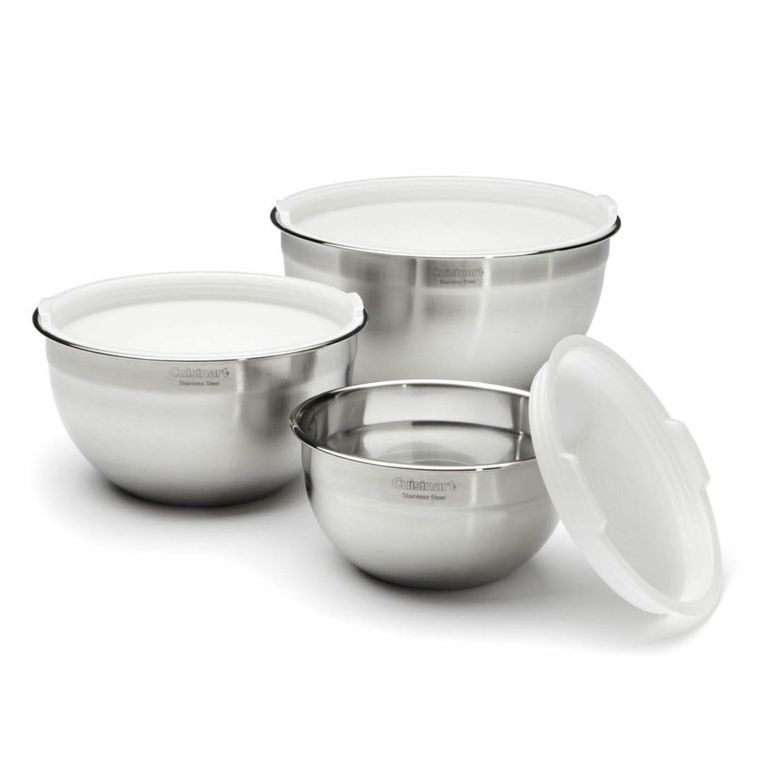 When it comes to shopping for unique wedding gifts for couples who have everything, don't underestimate the power of the forgotten practical present. Here's what we mean: Sometimes, couples focus so much on the bigger registry mainstays (think: stand mixers and cookware) that they forget about the smaller items that are just as impactful in their kitchen. This trio of mixing bowls from Cuisinart will be in constant rotation, whether they love to bake or are constantly mixing up their own marinades. The stainless steel design is freezer-, refrigerator- and dishwasher-safe and each bowl comes with its own lid to help minimize spills and preserve freshness when storing leftovers (yes, they do double duty).
15. Digital Picture Frame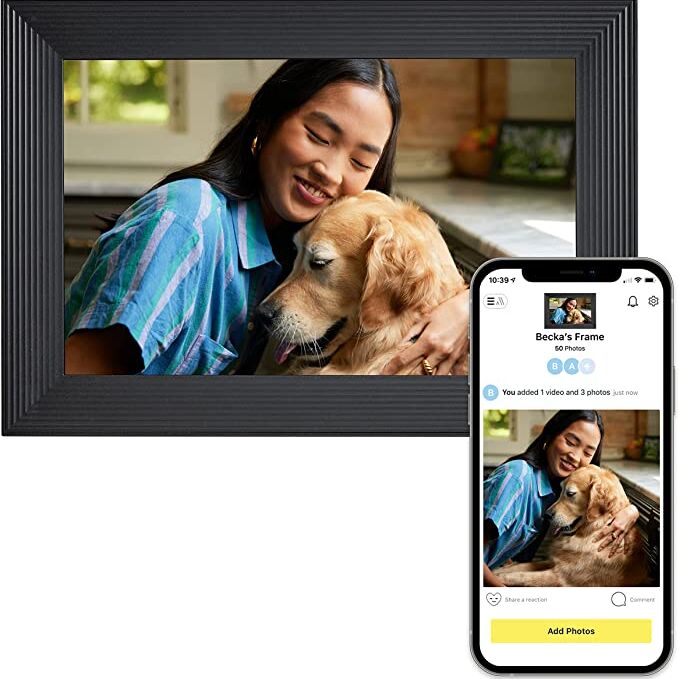 With more life lived comes more pictures taken, making this digital frame a good wedding gift for an older couple. The user-friendly interface allows even novice techies to upload pictures seamlessly via a free app, while the interactive touch bar allows them to cycle through high-res photos with just a tap. The best part? Friends and family members can be given permission to contribute pictures to the frame, so it can act as a simple way to keep in touch with loved ones—and stay up on pictures of the grandkids.
16. Candy-Colored Glassware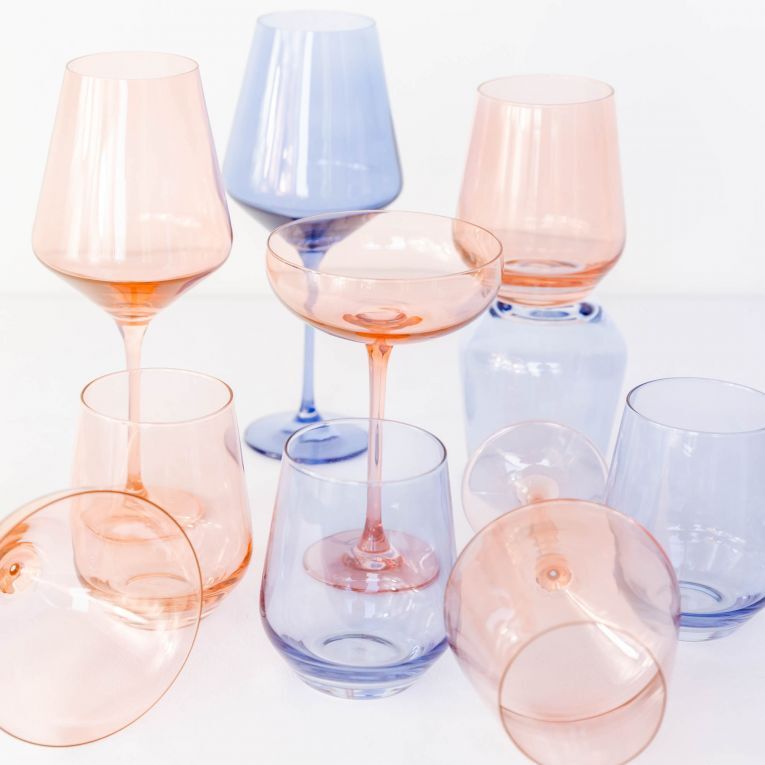 If your loved ones have lived together for any length of time, they're probably set when it comes to dishware and silverware. One area they could be lacking in? Party-ready glassware! These handblown wine glasses from Estelle Colored Glass—a female- and BIPOC-owned brand—come in 12 stunning shades for a colorful tablescape that embodies the phrase happy hour.
17. Sous Vide Machine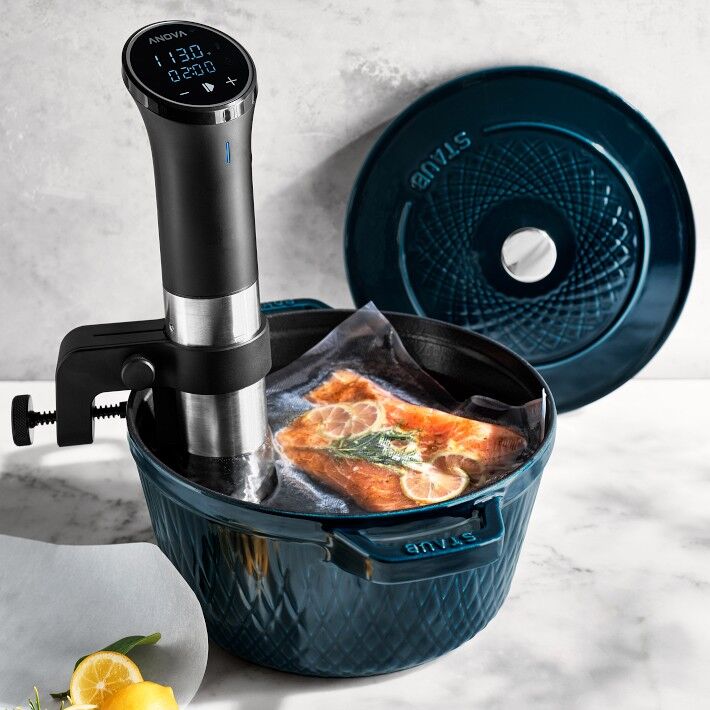 Finding unique wedding gifts for couples who have everything is all about getting a bit creative—and encouraging them to do the same. This sous vide machine from Anova will encourage foodies to try something new in the kitchen and introduce them to a unique water-based cooking method that pro chefs around the country rely on daily. Anova's device syncs up with their phone via Bluetooth, where they can set the cooking time and temperature to score perfectly moist fish or juicy medium-rare steak with very little effort.
18. Personalized Sign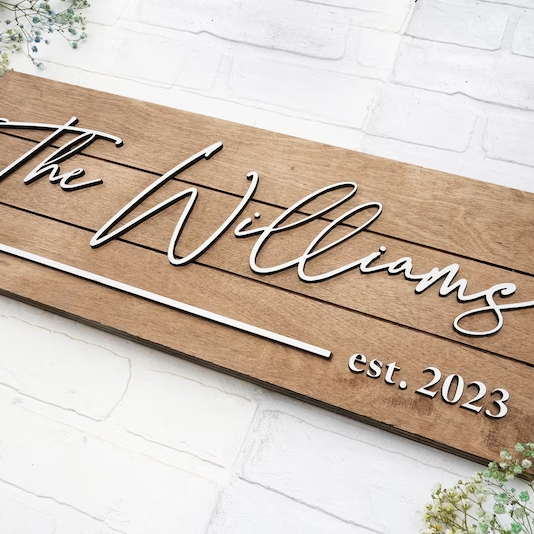 Sure, maybe they already live together and maybe they've even been together for a decade. Still, a wedding is the start of something big and new, regardless of how long a couple has cohabited or whether this would be a gift for a second marriage. Pay tribute to the next chapter in their love story with a thoughtful personalized wedding gift depicting their last name and the year of their wedding. Trust us: This will pull on the heartstrings of even the most established couple out there.
19. Durable Suitcases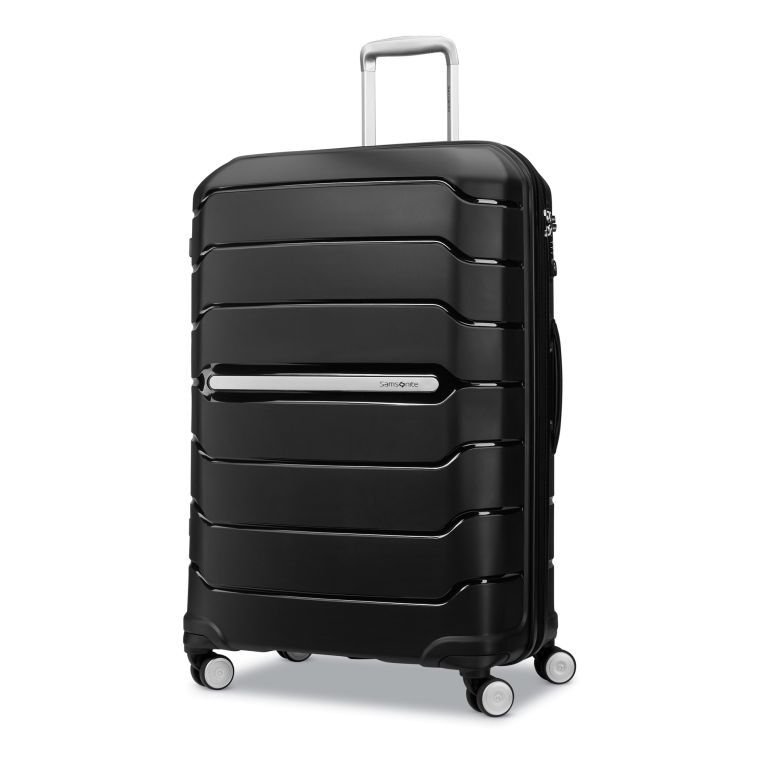 Luggage can take a beating over the years, so it's never a bad idea to upgrade your loved ones' gear—especially if they have an epic honeymoon on the horizon. This durable Samsonite design will see them through the next decade of travels, thanks to its tough polycarbonate shell, multi-directional wheels and compression interior, which makes packing souvenirs (or a few extra sets of shoes) a breeze.
20. Once-in-a-Lifetime Memories
For the couple truly has it all (as in, literally every single thing you can possibly think of), you'll need a wedding gift that's really outside the box. SPUR Experiences helps you achieve just that, with a slew of expertly curated, memory-making experiences that you can gift the to-be-wed duo in your life. Choose from thousands of ideas—which you can narrow down by city, price point or the couple's interests—including a personalized tour of volcanos in Greece, a sunset cruise for two in Aruba or even a swim with the sea turtles in Mexico. It's a gift they'll never see coming (and never forget).