Exactly How Much Money to Spend on a Wedding Gift
Is $100 enough? Use our expert-driven guide to find answers to *all* of your gifting FAQs.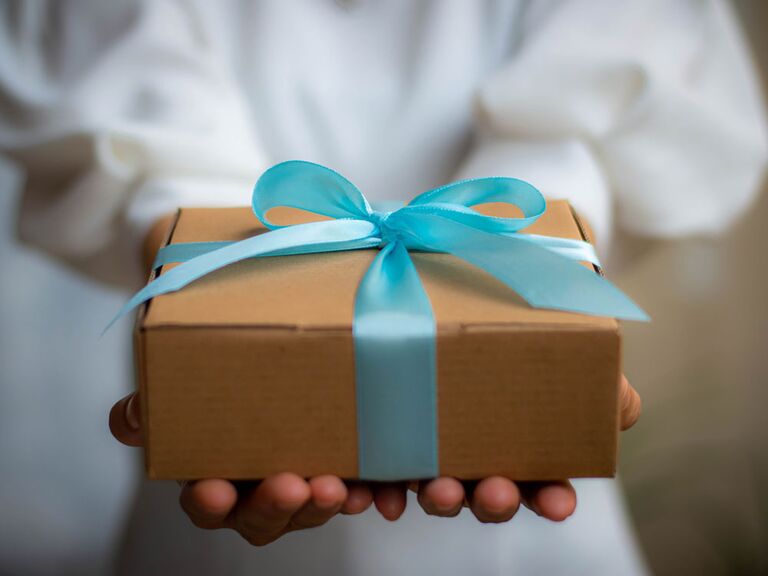 Petra Zacharias/Shutterstock.com
After you receive a wedding invitation in the mail, one of your first thoughts might be about the kind of gift you want to get the to-be-weds. While traditional wedding etiquette has evolved over the years, giving a gift is still a common practice among guests. Not only is a present a nice way to congratulate the couple, it also serves as a thank-you for being included on their special day. But as you start browsing the couple's wedding registry for a great present, you may wonder how much you should spend. We'll let you in on a secret: There's no rule that determines exactly how much you should spend on a wedding gift. And, while traditional etiquette indicates that giving a wedding gift isn't mandatory, it is highly encouraged—and you likely want to spend the right amount on the couple you're celebrating.
To help you figure out how much is appropriate to spend on a wedding gift nowadays, we've tapped etiquette experts and our own data from real wedding guests to help pick a number that's right for you. Below, we break down exactly how much you should spend on a wedding gift for a close friend, an acquaintance, a couple you don't know and even a co-worker. We also answer some of the most common wedding gift etiquette questions too. (Is $100 really enough for a wedding gift? We've got the scoop.) Brush up on our top gift-giving tips below to help you find the perfect present for any couple. Then, when you're ready to shop, check out our roundup of the best wedding gifts to give this year.
In this article:
How to Determine the Right Wedding Gift Amount to Spend
If you're not sure how much to give for a wedding, you're probably looking for one easy number, but we'll let you in on a secret: that "perfect" wedding gift amount depends on a variety of factors. And according to etiquette experts, the biggest determinant is your financial status. "The magic number for how much you should spend on a wedding gift depends on what fits your budget," says Lizzie Post, Co-President of The Emily Post Institute. "You should give a gift that's worth what you can afford to give comfortably."
The cost of being a wedding guest can be pricey, especially if you find yourself in a season of life where the majority of your friends and family members are tying the knot. Plus, during the recent wedding boom, couples are hosting microweddings, sequel ceremonies, vow renewals and more, all of which can add up for guests. Giving a great wedding present can feel daunting, which is why experts suggest setting a gift budget to prep for situations like this. "Setting aside a specific budget ahead of the wedding and determining your relationship with those getting married, especially in a year when you may be attending a few events, can help take the stress out of determining how much to spend on a gift," says Alissa Van Volkom, Head of Consumer Deposits, Products and Payments at TD Bank.
You might also find yourself wondering if old gift etiquette rules are still relevant. In the past, guests were sometimes encouraged to give a gift that would cover their plate at the reception, or to give a gift that matched what the to-be-weds gave them as a wedding gift. Here's the good news: Neither rule applies today. "The amount of your gift does not have to cover your 'head' or 'plate,' which is a common misconception," Post explains. "Guests shouldn't even know how much their seat costs at a wedding. Your gift amount also does not have to be influenced by what the couple may have given you as a wedding gift either."
The formality of the event may also make you feel inclined to spend more on a present for the happy couple. While you can spend more if you're attending a formal black-tie wedding if you want, it's not a requirement. "Just because you get invited to a formal event doesn't mean you can suddenly afford a gift at a higher price range," Post adds. "It always goes back to what you can comfortably afford."
Keep these wedding gift etiquette tips in mind as we share ideas of what to spend for various people in your life below. As a general rule of thumb, these numbers should be used as a guide to determine how much is appropriate to spend on a wedding gift given your budget and your relationship with the to-be-weds.
How Much to Spend on a Wedding Gift, Based on Your Relationship
When you aren't sure how much money to give at a wedding, one place to turn to for help is data. According to our insights, the average guest spend on a wedding gift is $160 (an increase from $120 in 2019). Now that the wedding industry is booming, our data indicates that guests are willing to increase their budgets—in 2021, roughly 7 in 10 spent more attending a wedding than they normally would.
While this data is a helpful starting point, it's also important to consider your relationship with the couple when deciding on an appropriate wedding gift amount. Below, we break down five scenarios to help you find a number that works for your budget.
How Much to Spend on a Wedding Gift for a Close Friend or Family Member
Perhaps your best friend or a close cousin is getting married—you likely want to spend a little more on the wedding gift amount. Wedding guests are typically open to splurging on a monetary or cash wedding gift for a loved one. Since $160 is the national average spend, you might consider spending anywhere between $100-$200+ on a gift for a close friend or family member.
If you're also in this person's wedding party, though, Volkom suggests evaluating the amount you've already spent on an engagement gift, a shower gift, the bachelorette party and any other wedding-related expenses. "With this in mind, it's perfectly acceptable to opt for a more sentimental gift rather than an extravagant gift," she says. You can always give something on the lower end of this spectrum considering the large role you've already contributed to their big day.
How Much to Spend on a Wedding Gift for an Acquaintance
The wedding day of an acquaintance or a distant relative is no less celebratory. While you might not have a close relationship, you can still get them a great gift to celebrate their love. We recommend browsing presents in the range of $75-$175+. Again, taking the level of your relationship into account—along with your budget—is the best way to choose a present that feels appropriate for you.
How Much to Spend on a Coworker's Wedding Gift
While inviting coworkers to your wedding isn't mandatory, it can be quite common, especially for those that have great friendships outside of the office. If you're unsure on how much to spend on a coworker's wedding gift, try looking for presents that fall anywhere between $50-$100+. If you've been working together for longer than a year, you might feel more inclined to spend on the higher end of this scale, budget allowing. (Psst: Check out this roundup for great gift ideas for your coworker or boss.)
And, if you're still unsure what to get your coworker, you can always give a cash gift or gift card, or donate to a honeymoon fund on their wedding registry. "Cash is a perfectly acceptable gift to give on its own," Post shares. "We just recommend that you give a monetary gift with a wedding card so the couple knows who it came from."
How Much to Spend on a Wedding Gift Per Couple
Let's say you're attending a wedding as a plus-one and you don't know the couple particularly well, or you're bringing a date to a wedding you were invited to. You might wonder if these rules change when you're thinking about how much to spend on a wedding gift as a couple, and they don't. In this scenario, again, you might consider spending between $100-$200+ on a wedding gift.
"If you're attending the wedding with a significant other, you can always give a gift together," Post explains. "The gift can be structured any way you want: One person can give the gift while the other just signs the card, or you can chip in to the gift together. Whether or not you contribute to the gift is between you and the person you're attending with—just make sure both names are on the card." Adds Volkom: "Not only does this option cut costs, it also allows you to put a larger budget towards the gift."
How Much to Spend on a Wedding Gift If You Aren't Attending
Here's a tricky one: How much should you spend on a wedding gift if you aren't attending the actual event? Even if you have to RSVP "no," it's still recommended to send the couple a gift as a token of your thanks for receiving the invite. You may decline a wedding invite for a variety of reasons—but if one major aspect of your decision is the cost, it's understandable if you aren't able to commit to a pricey gift. Regardless of your financial status, we recommend checking the couple's registry to find some ideas in your price range. Look for flexible options like gift cards, cash funds or affordable home items. You can even go in on a group gift with other guests to offset some of the costs.
The Knot Wedding Gift Cost Calculator
It can be tricky to figure out exactly how much to spend on a wedding gift. Fortunately, we're here to help. Answer a few simple questions below, and our gift calculator will tell you how much to shell out for the newlyweds.
Common Wedding Gift Etiquette Questions, Answered
By now, you know how much money to give as a wedding gift—but there's a chance you've got some additional wedding gift etiquette questions on your mind. Is $50 enough for a wedding gift? How long do you have to give a wedding gift? Do you even have to give a wedding gift at all? Read on to find the answers to the most common wedding gift etiquette questions.