The 65 Best Gifts for Your Husband, Hands Down
Struggling to find the perfect present? We've got you covered with unique gift ideas for every type of guy.
iStock
We have included third party products to help you navigate and enjoy life's biggest moments. Purchases made through links on this page may earn us a commission.
Even though you know him like the back of your hand, at some point, panic-Googling "gift for husband" is basically inevitable. If you're stuck in a creative rut, we've compiled the ultimate gift guide for any man in your life—boyfriend, fiancé or husband—to make shopping way easier. Whether it's Christmas or his birthday, Father's Day or your anniversary, we're here to help you spoil him with an amazing present.
When it comes to finding a great gift for your husband, think about how you want to make him feel. Loved and appreciated? Go the romantic route and shop for something sentimental. Understood and cared for? Buy him something useful that he needs, but that he wouldn't think to ask for. Surprised and delighted? Honor his hobby, choose something funny or opt for an experience gift. (Experiences make especially good gifts for the husband who seemingly has everything.)
Here, we've rounded up a whole bunch of presents that hit all of the right notes. From Bluetooth speakers to bourbon maple syrup (yes, really), you'll find all of this year's best gifts for husbands below. These gift ideas are sure to inspire, so have your credit card at the ready.
1. A Great Wallet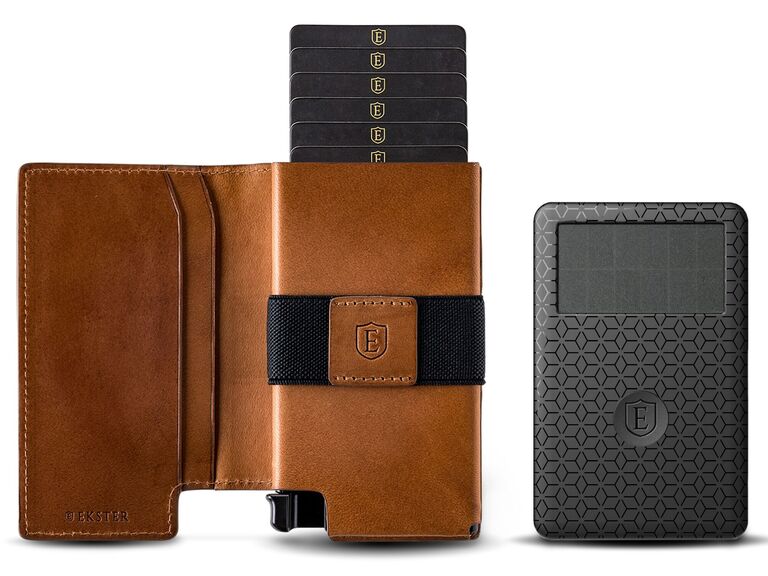 This wallet is seriously clever. With the press of a button, the card slots pop out for incredibly convenient access. Pair it with the add-on wallet tracker so he always knows where his moola is.

Ekster Parliament wallet with tracker card, $138, Ekster.com 
2. A Theragun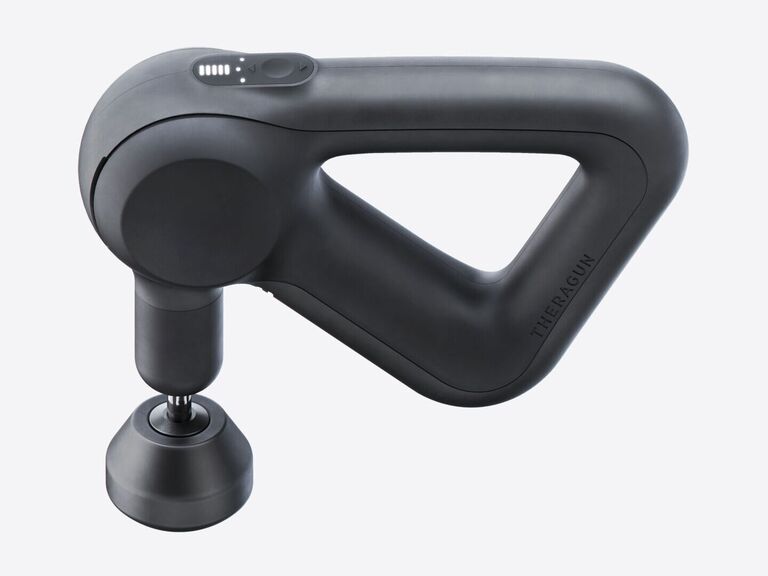 It's the gadget he won't know how he lived without. A Theragun provides what's called a "percussive massage" at home. What exactly does a percussive massage do? It relieves a whole bunch of pesky aches and pains. Whether he's sore from working out or sitting at his desk, this creative gift for husbands comes in clutch.

Therabody Theragun Prime, $299, Theragun.com
3. A Phone Sanitizer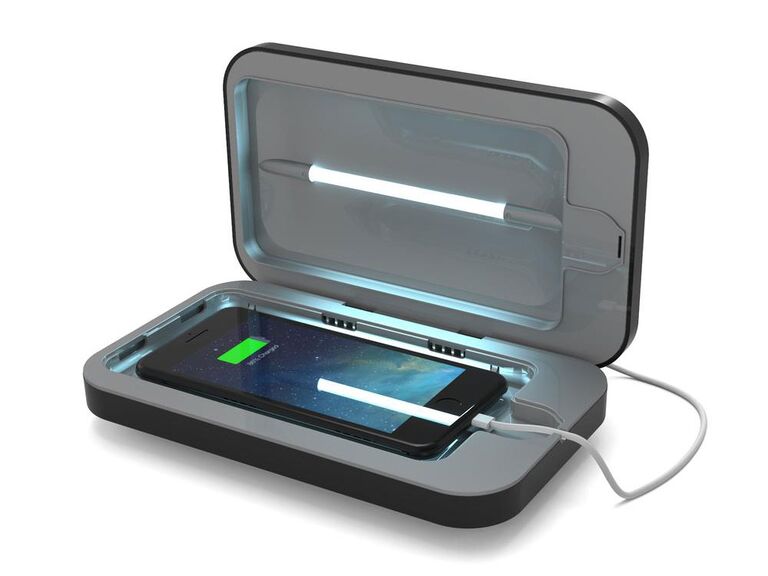 Get him a timely gift: this coveted phone sanitizer. The box doesn't just disinfect his tech—it also charges it. Talk about a good gift for the husband who (allegedly) has everything.

PhoneSoap 3 smartphone UV sanitizer, $80, PhoneSoap.com
4. A Stylish Jacket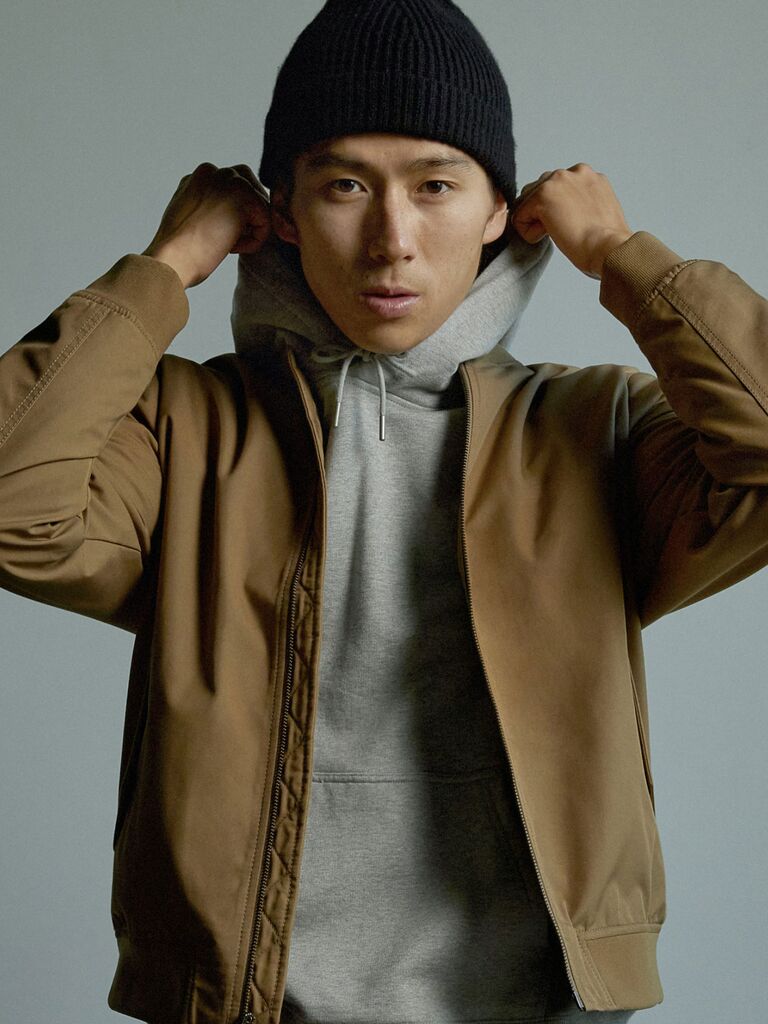 A warm-yet-fashionable jacket is one of the best gift ideas for your husband around the holidays. This smart bomber jacket goes with anything, plus it's made with eco-friendly materials.

Everlane Uniform The Bomber jacket, $88, Everlane.com
5. Bourbon Maple Syrup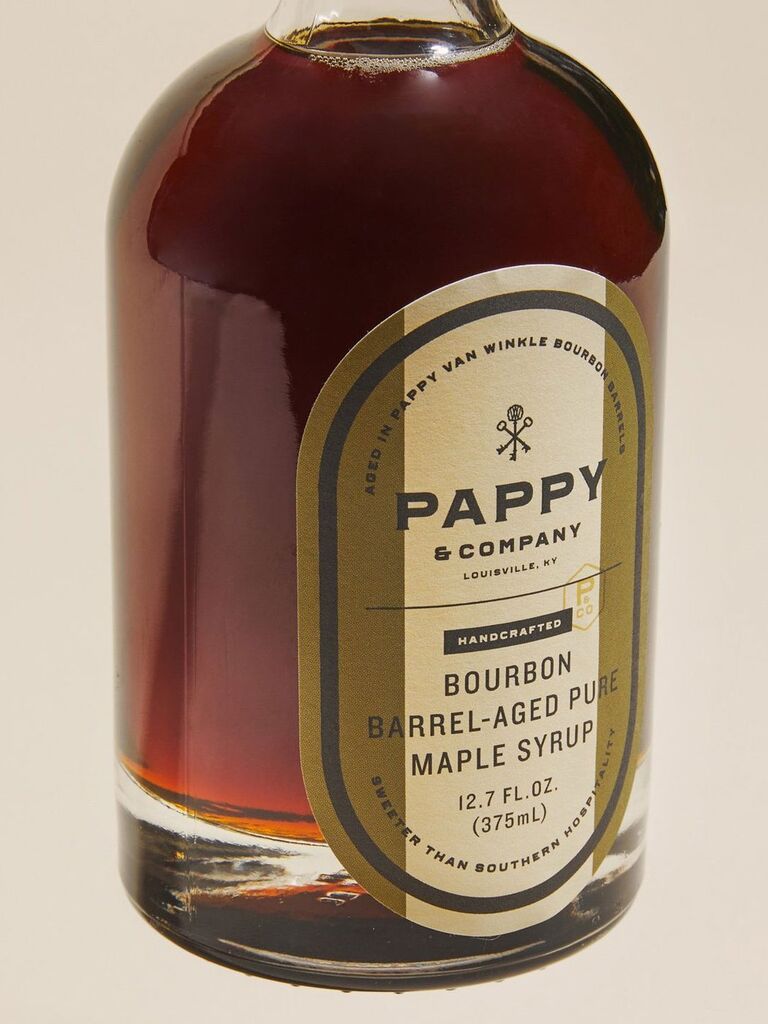 If you want to get him a boozy gift that's not a literal bottle of booze, this maple syrup is perfect. It's aged in Pappy Van Winkle barrels, which—in case you didn't know—is famously expensive and hard-to-get bourbon. You'll love it doused over your homemade flapjacks just as much as he does.

Pappy & Company bourbon barrel-aged pure maple syrup, $38, PappyCo.com 
6. Upgraded Sweatpants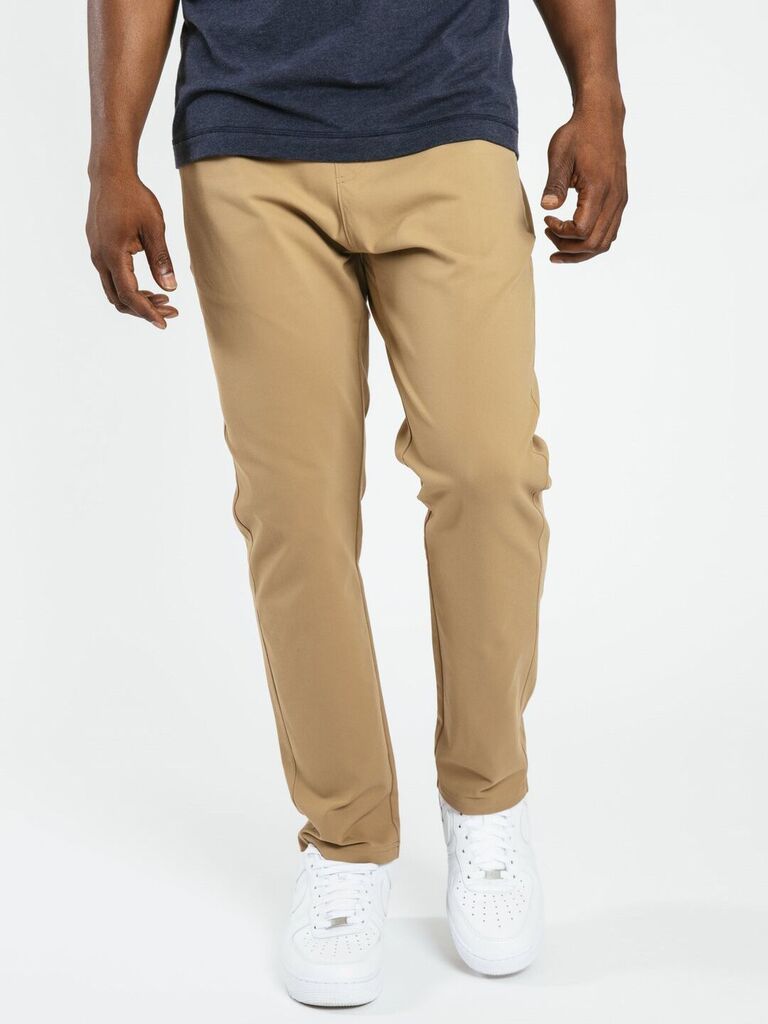 We don't want to sound dramatic, but these pants will change his life. They're basically sweatpants in disguise, and they're going to blow his mind. Don't believe us? Read the ecstatic reviews—they'll tell you exactly why this is one of the best gifts for husbands. 

Public Rec All Day Every Day pant, $98, PublicRec.com 
7. Blue Light Glasses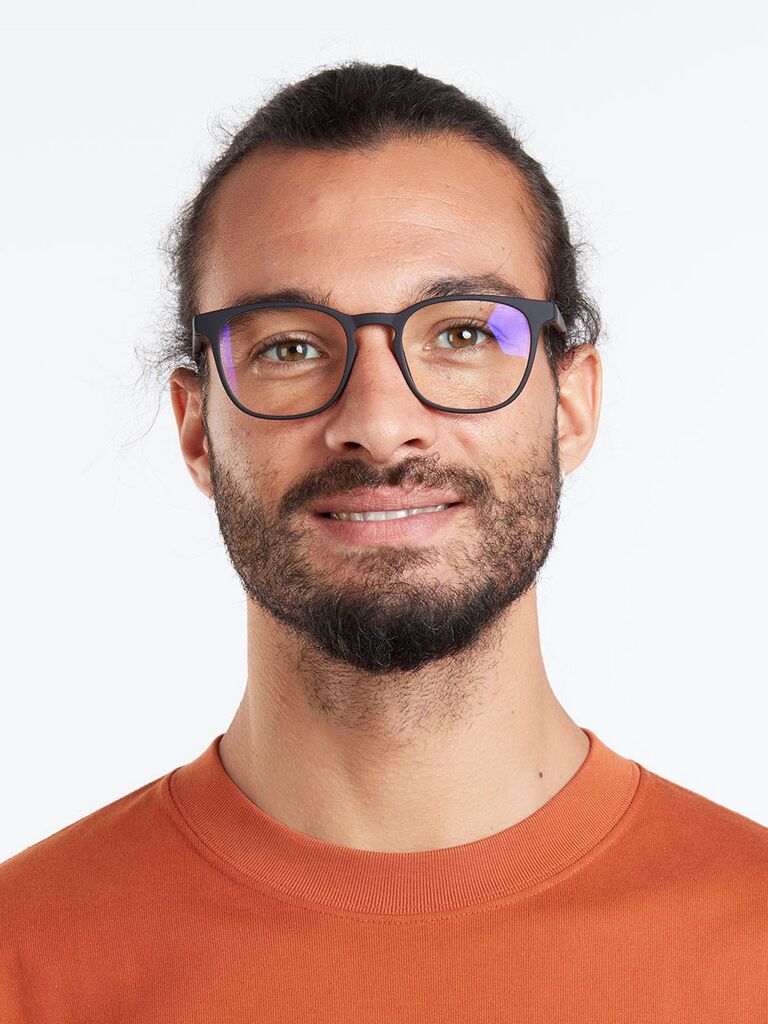 Another trendy gift idea? Glasses for the guy who's always staring at a screen. These stylish specs block blue light to protect his eyes while he's working (or Instagram scrolling). You can also add prescription lenses for a gift that does double duty. 

Barner Dalston man computer glasses, $73, BarnerBrand.com
8. A Genius Golf Game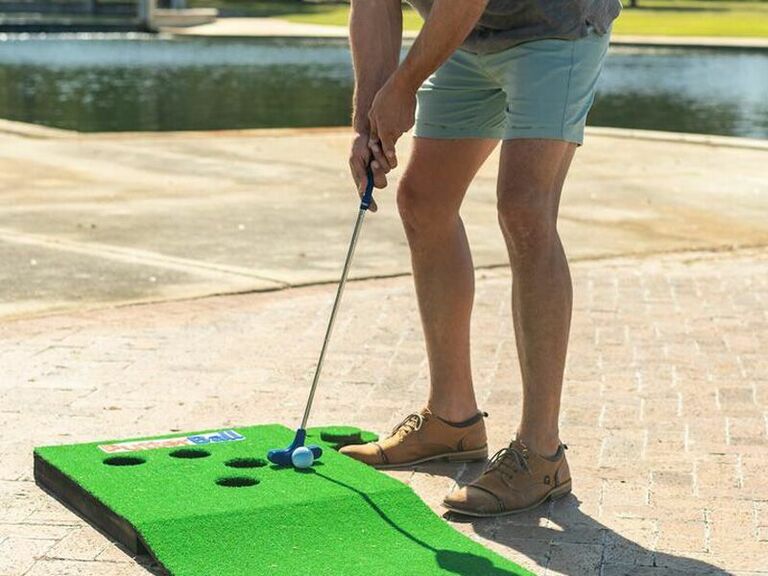 Let your husband practice his putt at home with this hybrid between golf and beer pong. What a clever holiday, Father's Day or birthday present idea! Warning: He may never want to stop playing.

PutterBall golf game, $190, PutterBallGame.com
9. An Indoor-Outdoor Speaker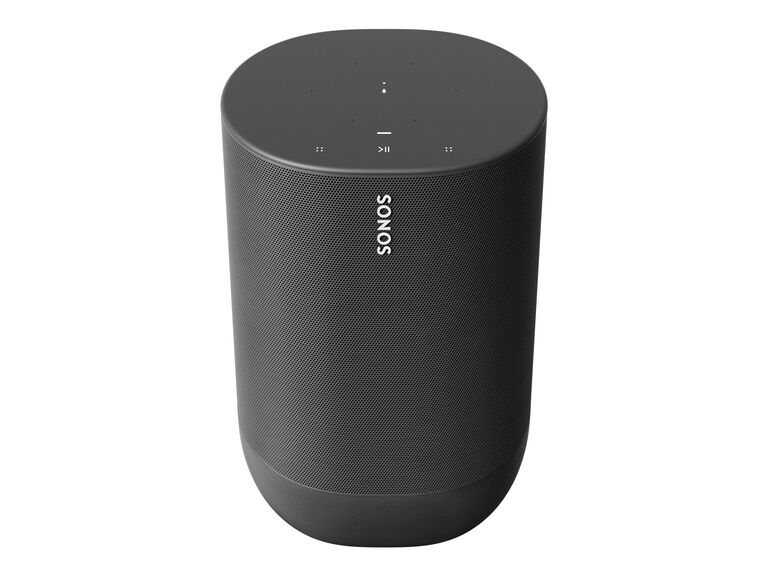 If you want to splurge on a big gift for your husband, this may just be the ultimate wireless speaker. It's weatherproof, drop-resistant and delivers exceptional sound. But most of all, it can help turn any part of his home—from the kitchen to the backyard—into a musical oasis. Sounds nice, doesn't it?

Sonos Move smart speaker, $399, Sonos.com 
10. New Workout Clothes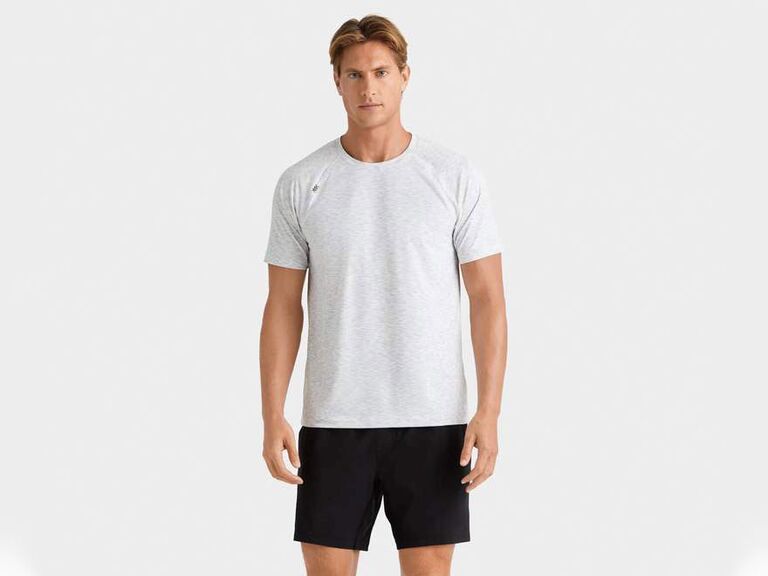 If Rhone apparel isn't already a staple in his closet, you're about to turn him on to his new favorite brand. Men everywhere rave about these well-made clothes that fit, feel and look great. Start him off with a basic bundle and wait for him to ask for more.

Rhone Reign and Mako short set, $136, Rhone.com
11. A Customized Puzzle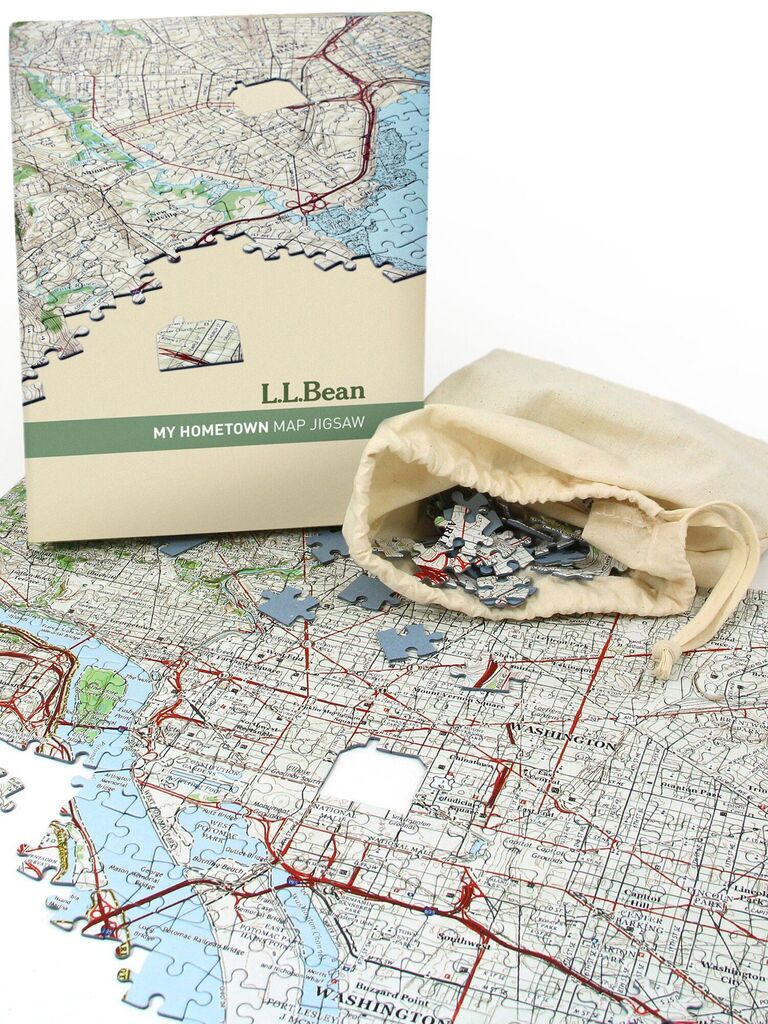 Does your guy get a kick out of puzzles in his spare time? Get him a game that's personalized for him—as in, the board comes printed with a map of his hometown. Now that's a cute and sentimental gift for your husband.

L.L.Bean My Hometown Map Puzzle II, $50, LLBean.com
12. A Sophisticated Decanter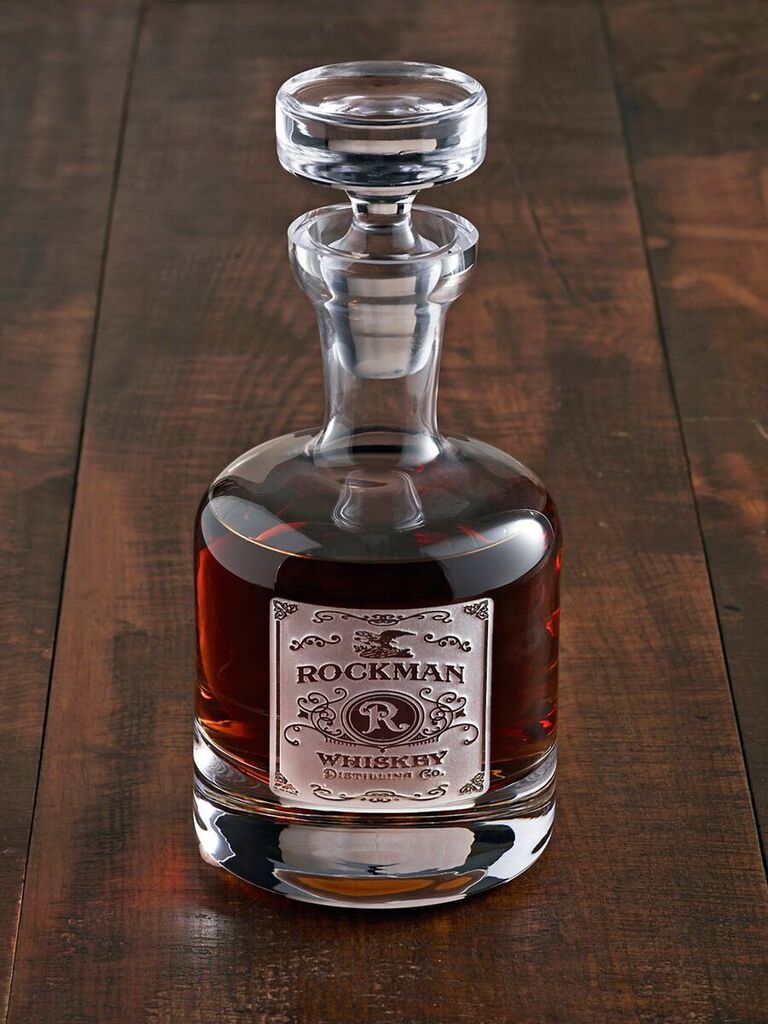 Maybe your husband already has a glass decanter that he loves. But does he have one stamped with his own custom whiskey label? This creative gift for him will take his bar to a whole new level.

Wine Enthusiast personalized etched whiskey label decanter, $110, WineEnthusiast.com
13. Practical Sports Memorabilia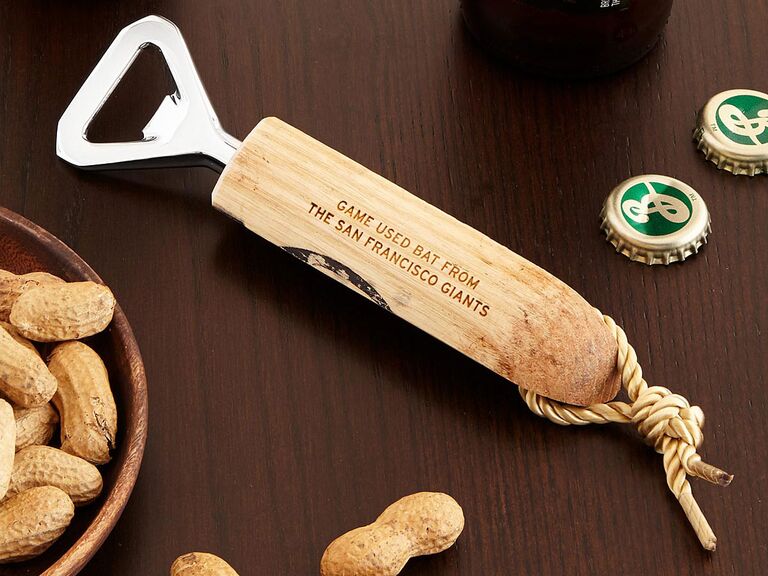 This isn't any old bottle opener. It's a bottle opener made from a game-used MLB baseball bat. Each keepsake comes with its own story card that sheds some light on its impressive history.  

Ward Wallau MLB game used baseball bat bottle opener, from $115, UncommonGoods.com
14. A Cool Pair of Sunglasses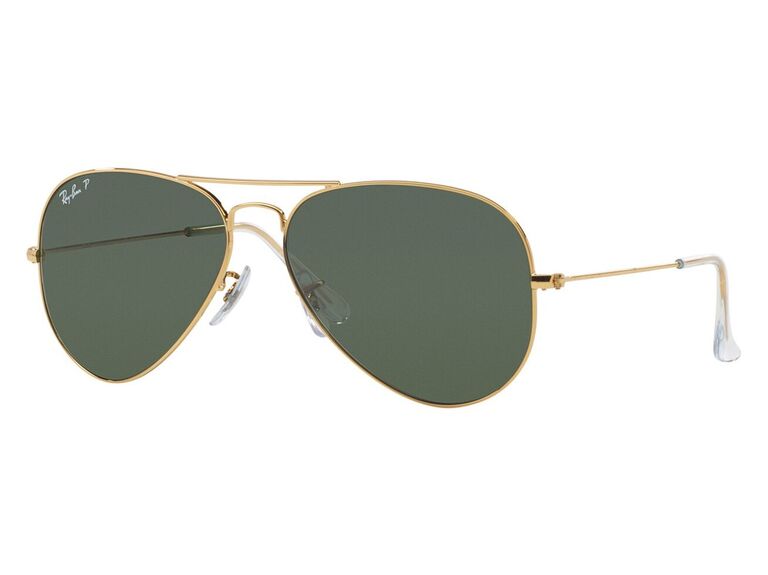 The perfect seasonless gift idea? A cool, iconic pair of aviators that he'll take everywhere. These tried-and-true shades come in multiple colors, so you can pick the style that suits him best. Cross "find birthday gift for husband" off of your to-do list.

Ray-Ban polarized Aviator sunglasses, $204, Macys.com
15. A Personalized Subscription Service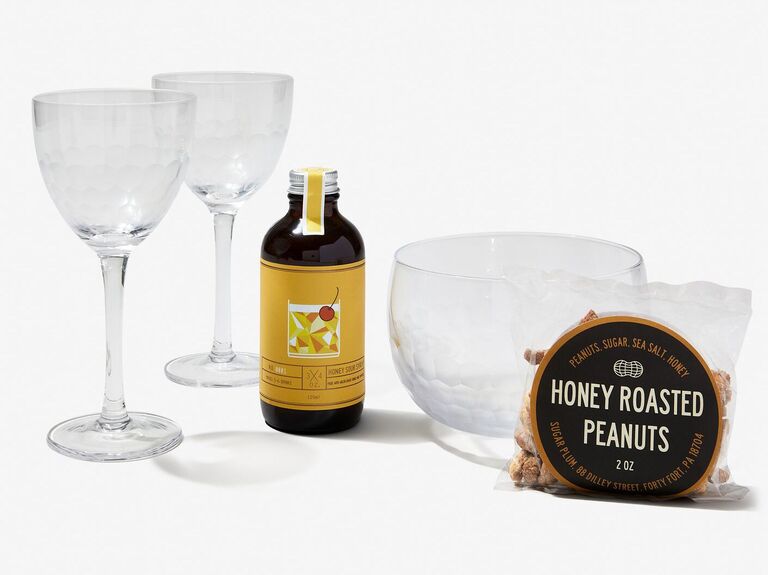 Sign him up for Bespoke Post and he'll receive a gift every month. He can cater his boxes to his interests, so the goodies he gets won't go to waste. Past boxes have included everything from cocktail ingredients to seriously handy multi-tools. 

Bespoke Post subscription, $45 per box, BespokePost.com
16. A Personal Fireplace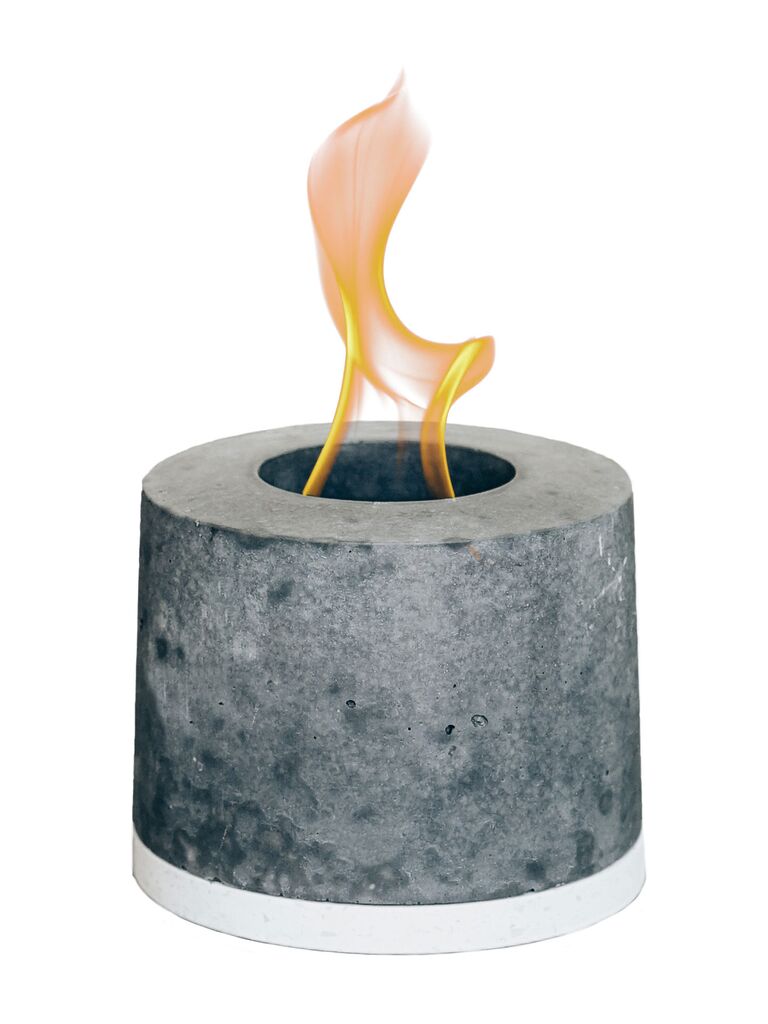 We can think of so many uses for this awesome mini fire pit. For starters? Marshmallow toasting. Add some cozy warmth to his man cave or brighten up your date nights with this cool, concrete present.
FLIKR Fire personal concrete fireplace, $95, Huckberry.com

17. A Quality Vest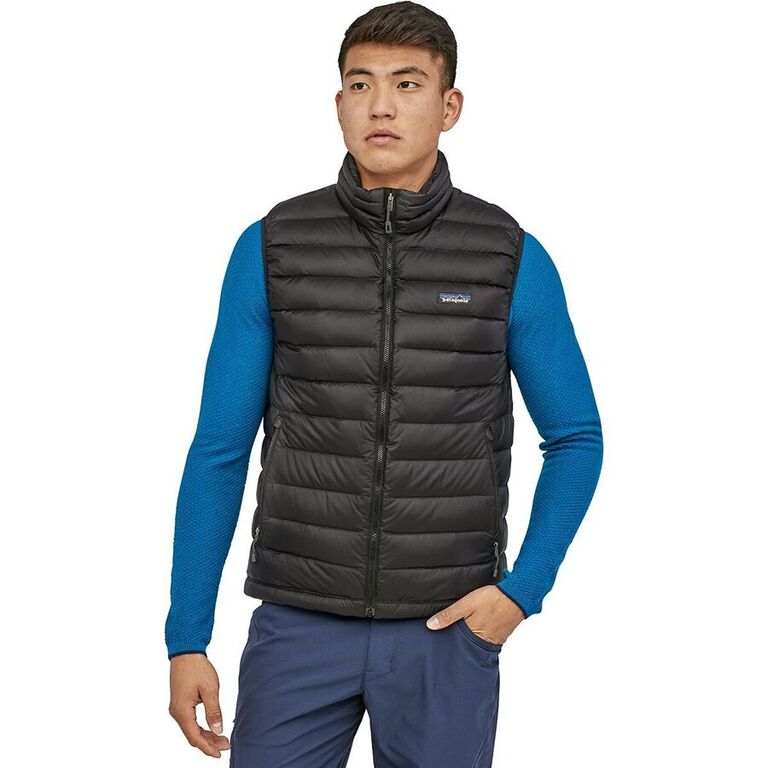 This highly rated Patagonia vest checks all of the boxes: It's durable, windproof, water-resistant and supremely packable. Say hello to the perfect holiday gift idea for your outdoorsy husband. 

Patagonia down men's sweater vest, $179, Backcountry.com
18. A Nostalgic Board Game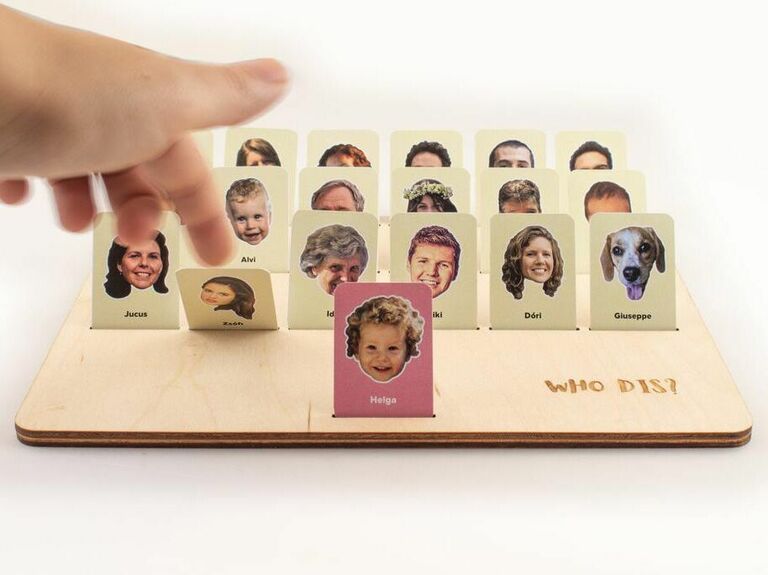 A board game is a great gift that you and your husband can enjoy together. A funny, Guess Who?-inspired board game personalized with people you know? Even better. 

WHO DIS? personalized guessing game, $99, Etsy.com
19. Specialty Hot Sauce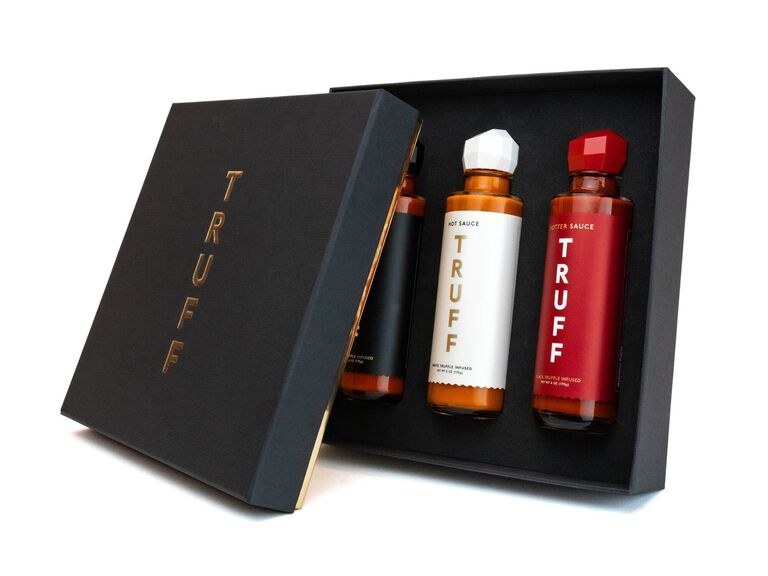 Spice things up with this gift that's sure to please. TRUFF makes decadent condiments out of chilis and truffle oil. Once your husband tastes his first drop, he'll be smitten. 

TRUFF truffle hot sauce variety pack, $70, TRUFF.com 
20. An Ice Cream Delivery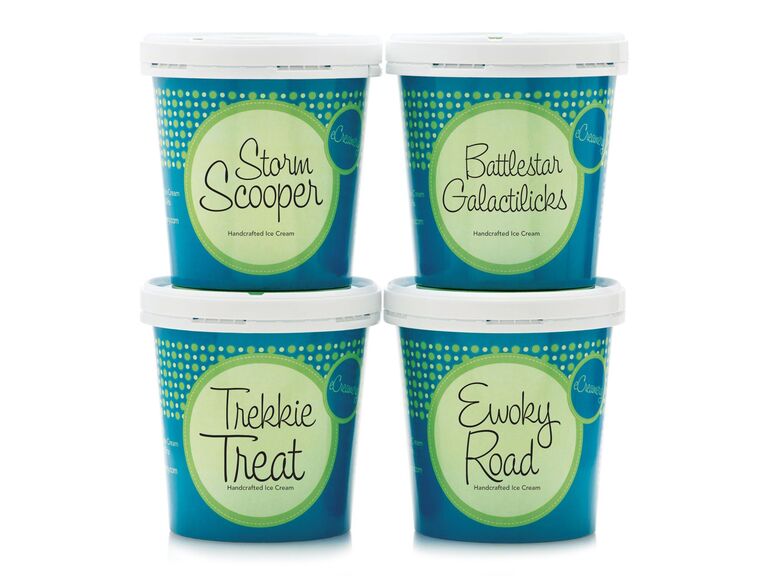 eCreamery lets you completely customize pints of ice cream, gelato or dairy-free sorbet. Choose the flavors, mix-ins and packaging for truly personalized gifts for your husband. Can't decide on a custom concoction? Don't worry. eCreamery sells its own delicious and fun flavors too.

eCreamery Sci-Fi premium collection, $70 for 4 on-theme pints, eCreamery.com
21. Comfy Pajamas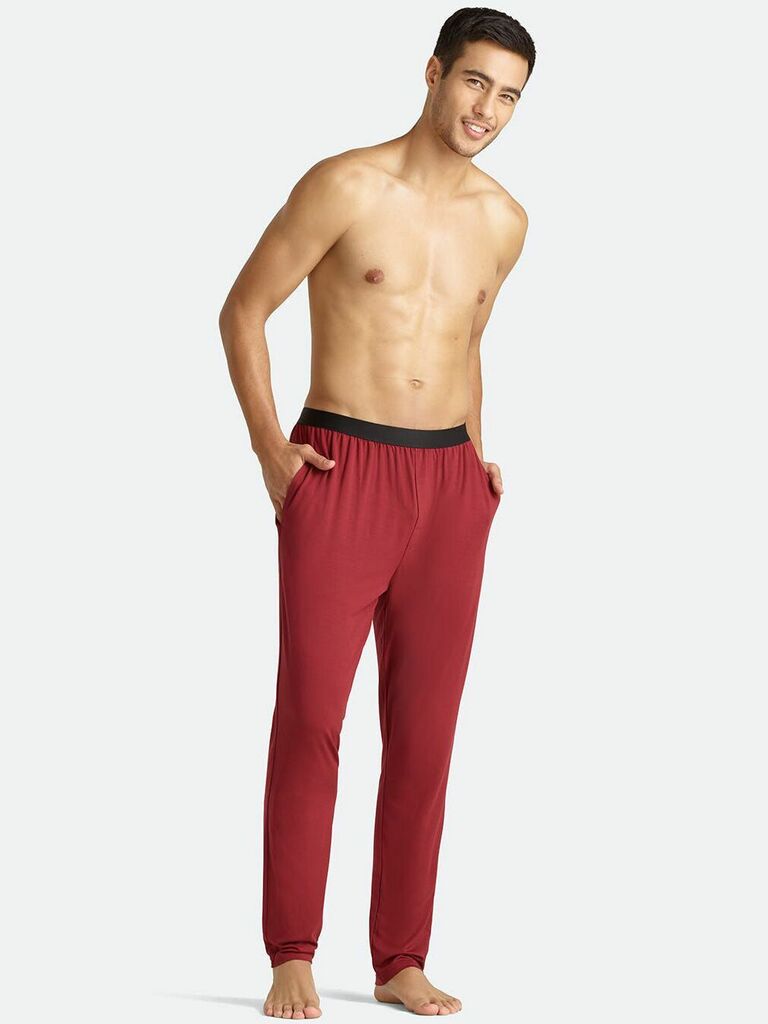 The best Christmas Eve gift for your husband? PJs he can wear to open his other presents. But honestly, he'll want to wear these cozy sleep joggers every night of the week. Looking for pajama pants with a little more personality? Check out the "adventurous" patterns. You can even get yourself matching loungewear.

MeUndies men's lounge pant in Cabernet, $68, MeUndies.com
22. A Beer Fridge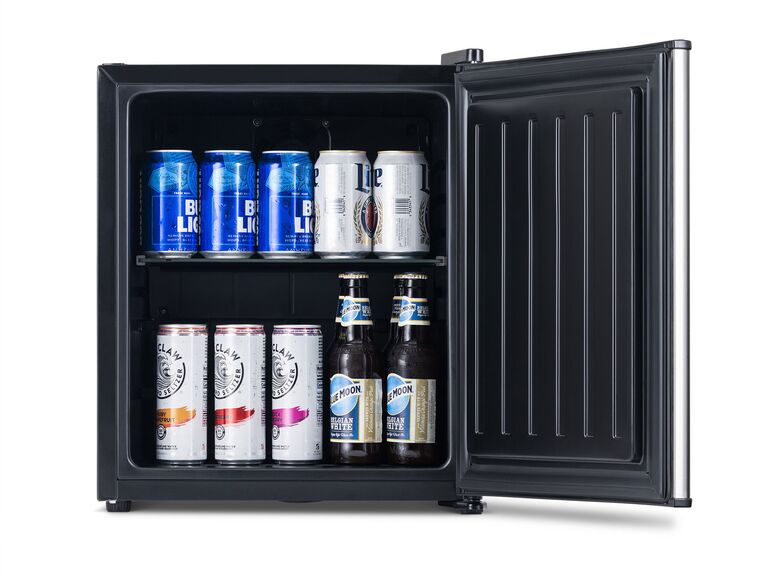 He may not realize it now, but storing beer at just the right temperature is a total game changer. And spoiler: The ideal frostiness varies from beer to beer. This mini fridge is made to chill a wide variety of beverages, but especially his favorite brews. It's a thoughtful gift for your husband that's cool and useful.

NewAir Froster 46 can freestanding mini beer fridge, $400, NewAir.com
23. A Cashmere Sweater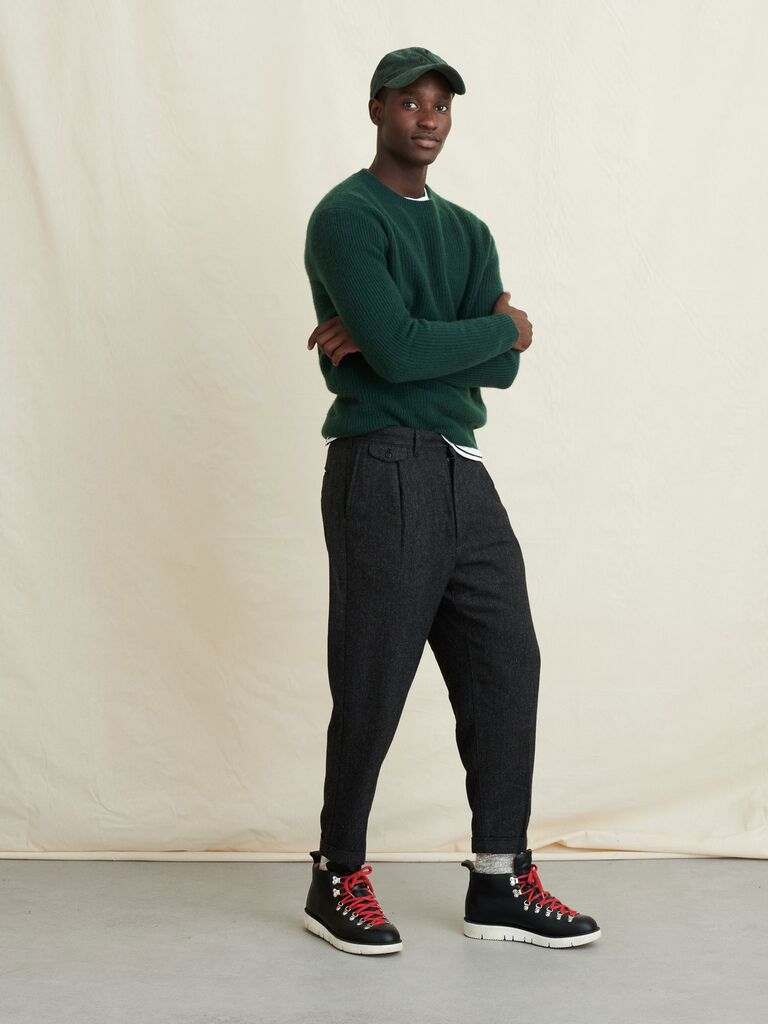 This classic holiday gift never goes out of style. And Alex Mill's version of the timeless cashmere crewneck is made to be extra soft and fuzzy.

Alex Mill Jordan sweater in Washed Cashmere, $255, AlexMill.com 
24. A Leather Weekender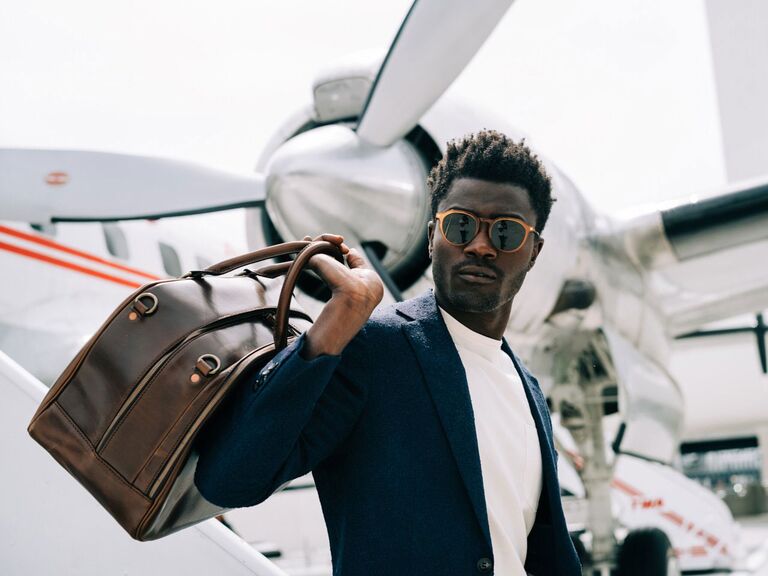 For a really special occasion, like a milestone wedding anniversary, pull out all of the stops. This luxury bag's smooth, supple leather is unlike anything that we've seen before. This present screams sophistication and will surely last a lifetime. 

Satchel & Page weekender, $595, Satchel-Page.com
25. An Out-of-the-Box Pizza Delivery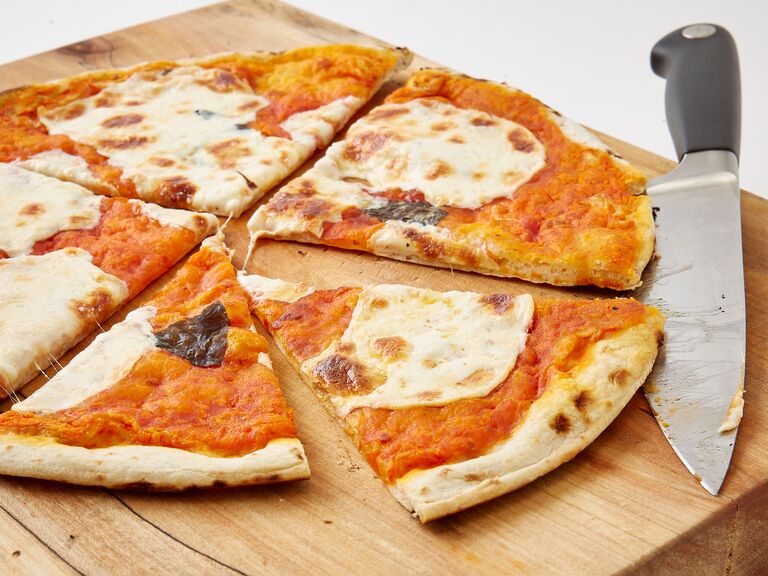 This creative gift is a great idea for the husband who's always craving a slice (or eight). Roberta's, the famous Brooklyn pizzeria, has started packaging its wood-fired pies for nationwide delivery—wahoo! Now he can cross them off his pizza-tasting bucket list even if he can't travel to New York. 

Roberta's Pizza wood fired margherita 10 pack, $149, Huckberry.com
26. A Unique Serving Board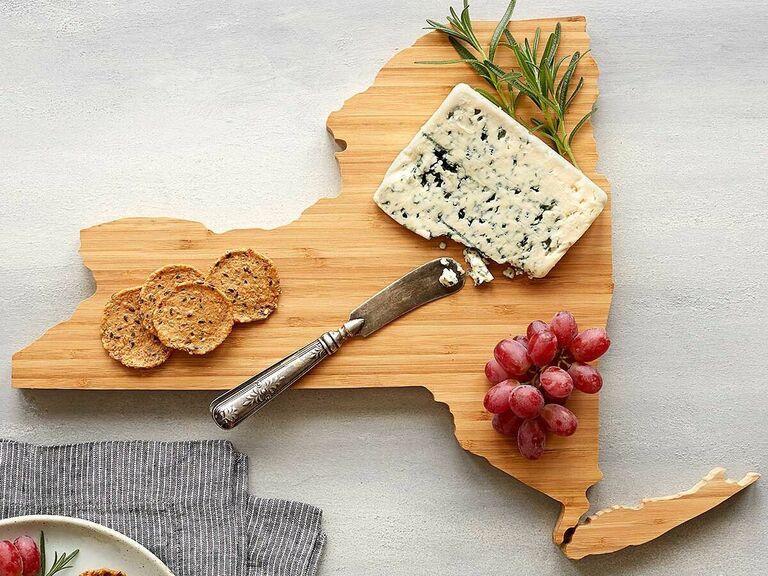 Whether he's a master chef or just loves to host (lucky you!), a unique serving board is a great gift for your husband. Pick one in the shape of his home state to make it more meaningful.

Amy Stringer-Mowat and Bill Mowat state cheese boards, $48 each, UncommonGoods.com
27. A Personalized Pen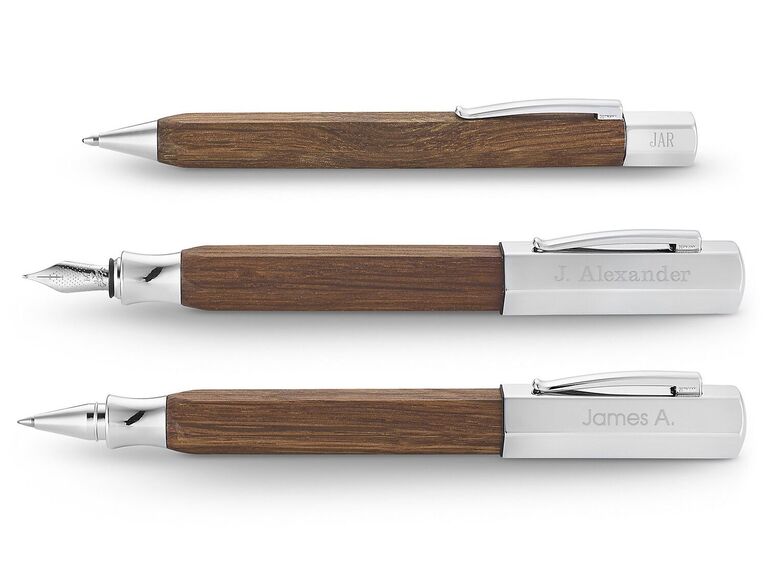 If your guy likes to doodle or jot down his thoughts, he'll love a fancy pen he can take on the go. This one's personalizable, so engrave it with his name for an extra-sweet holiday or birthday gift for your husband. 

Faber Castell Wood Ambition Ondoro pen, from $140, ThingsRemembered.com
28. A Retro Turntable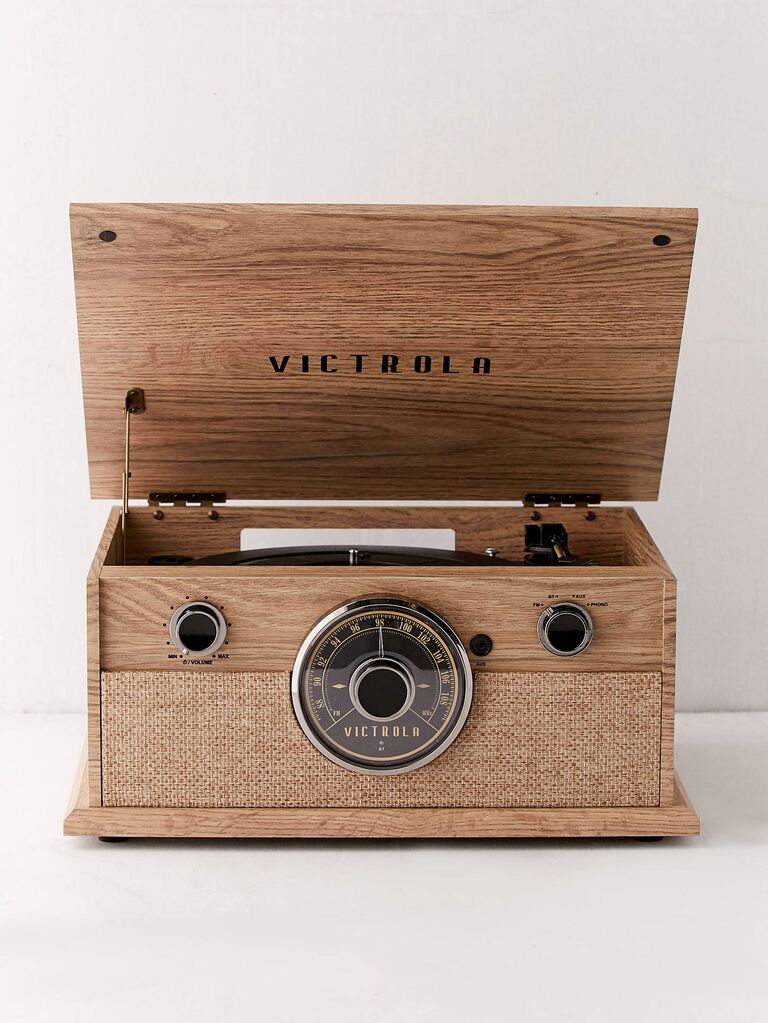 This cool-looking turntable is Bluetooth compatible, combining vintage vibes with modern technology. It's the birthday, holiday or anniversary gift that he'll want to brag about.
Victrola 4-in-1 Bluetooth record player, $100, UrbanOutfitters.com
29. A Nice Skincare Collection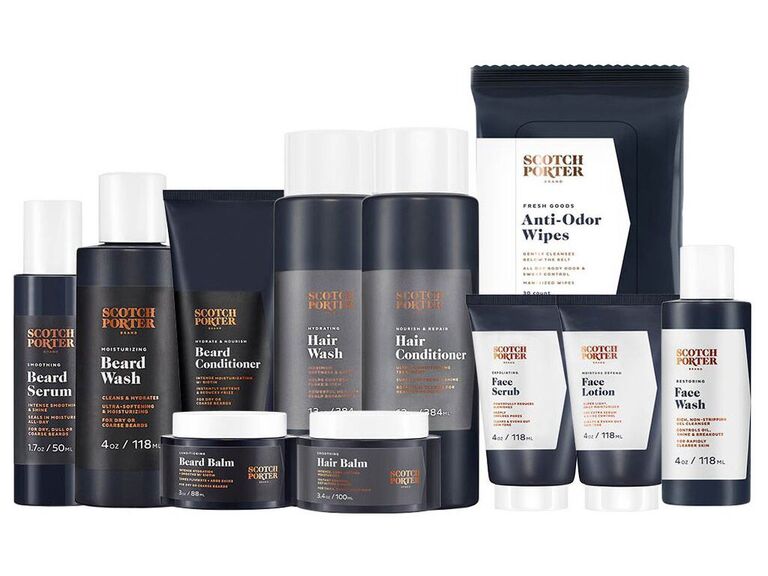 Self-care is for everybody, and Scotch Porter's luxe hair- and skincare products will make him feel like a million bucks. This set has everything that he needs to tend to his face, beard, locks and even more sensitive areas. Oh, and these gifts will leave him smelling scrumptious.

Scotch Porter Head to Toe collection, $124, ScotchPorter.com
30. A Hanging Toiletry Bag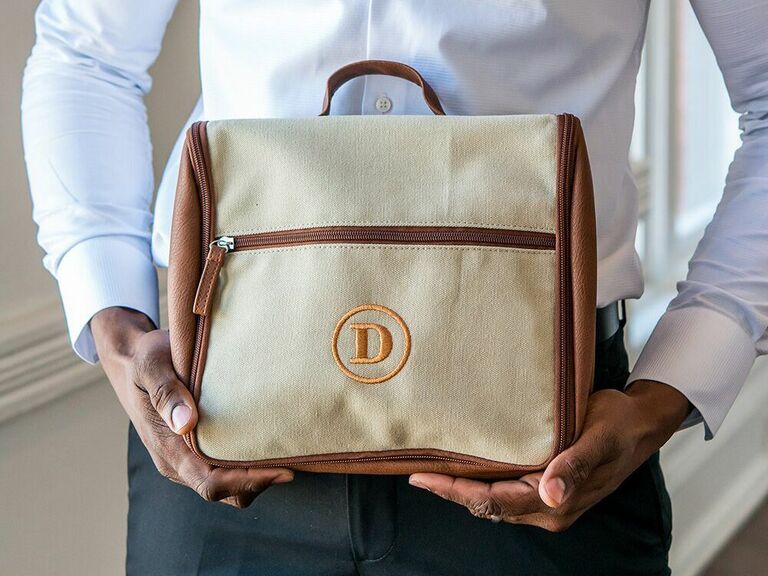 He needs a place to put his growing stash of toiletries. That's where this convenient canvas bag comes in. If you're shopping on a budget, this personalized gift for your husband looks way more expensive than it is.

The Knot Shop personalized men's hanging travel toiletry bag, $20, TheKnotShop.com
31. A High-Tech Valet Tray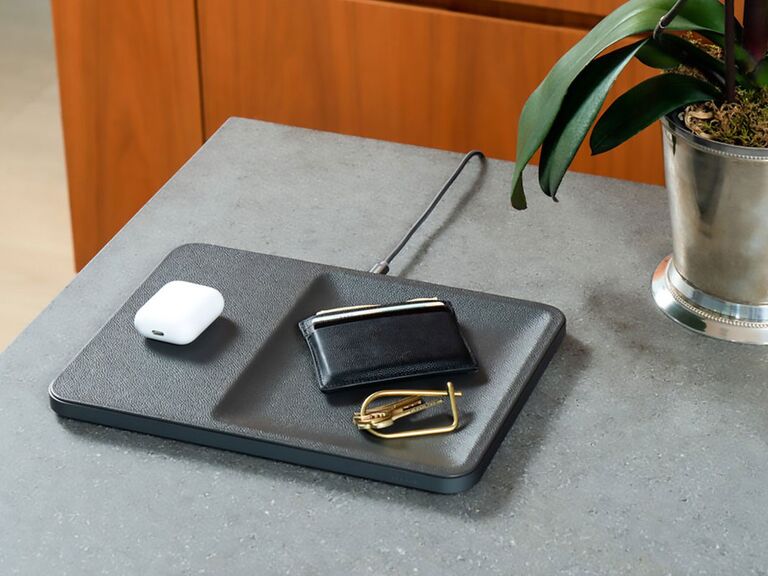 Give your husband a gift that'll help him stay organized: a sleek station where he can keep his watch, keys and other accessories. This valet tray can even charge his phone and AirPods. How's that for the husband who has everything?

Courant CATCH:3 wireless phone charger & accessory tray, $175, StayCourant.com
32. House Slippers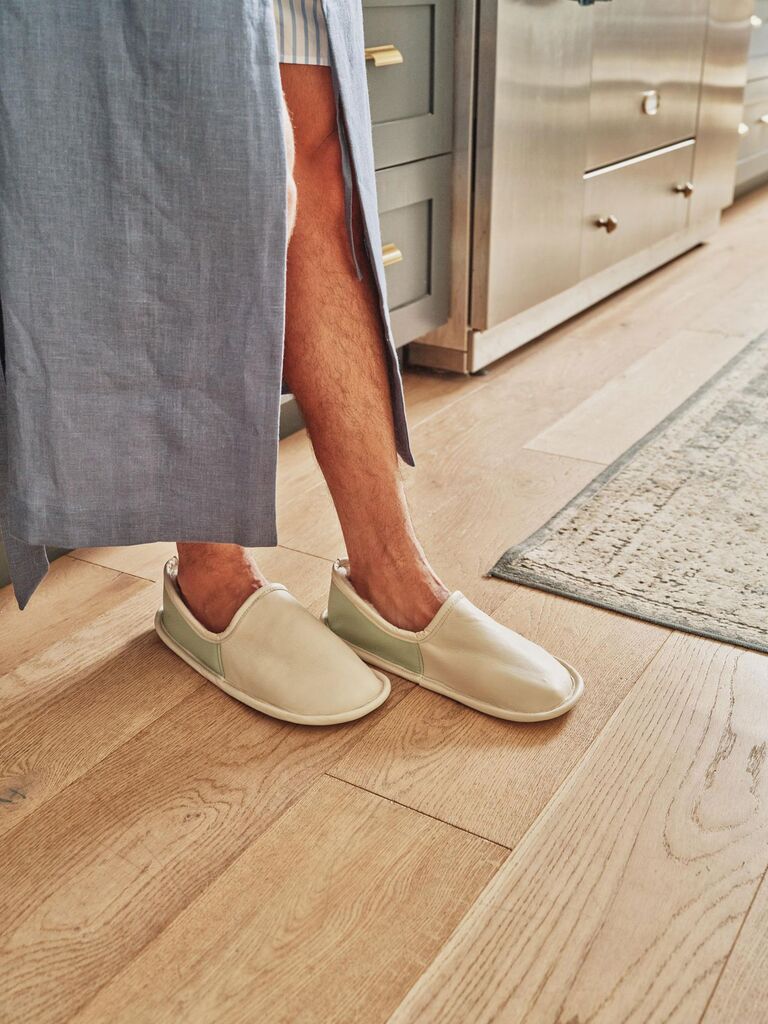 House slippers are the kind of little luxury that'll make him feel pampered. That's why they're a great gift for any holiday, whether it's Christmas or Father's Day. Leave it to Tan France to collab on a pair that's a step above the rest.

Woolfell Tan France x Etsy green and white leather men's slippers, $123, Etsy.com
33. Outdoor Slippers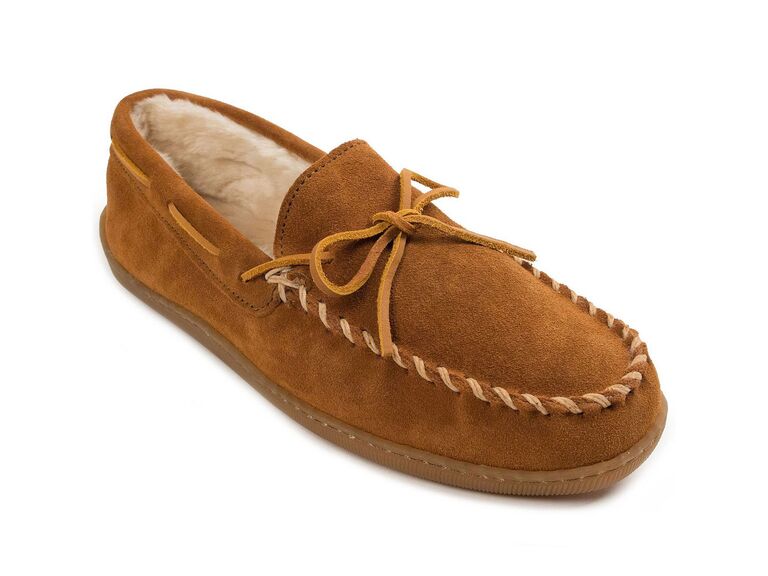 If he wears his slippers outside, it's probably time to replace them. These popular moccasins have hard soles that'll withstand wear and tear. 

Minnetonka pile lined hard sole slipper, $50, Macys.com
34. A Propagation Station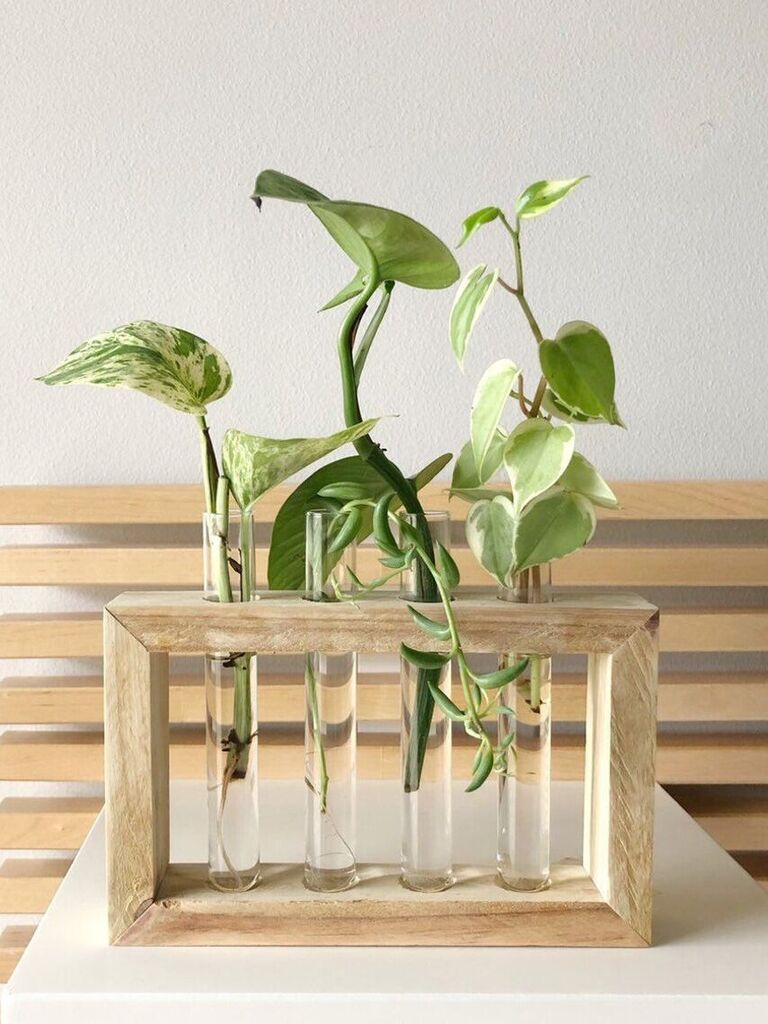 If you're searching for a statement gift for your husband who's also a plant dad, get him this cool propagation station. It even comes with a surprise cutting, so he can get started growing new plant babies stat.

Land of Alice Studio glass tube propagation station, from $25, Etsy.com
35. A Soft Scarf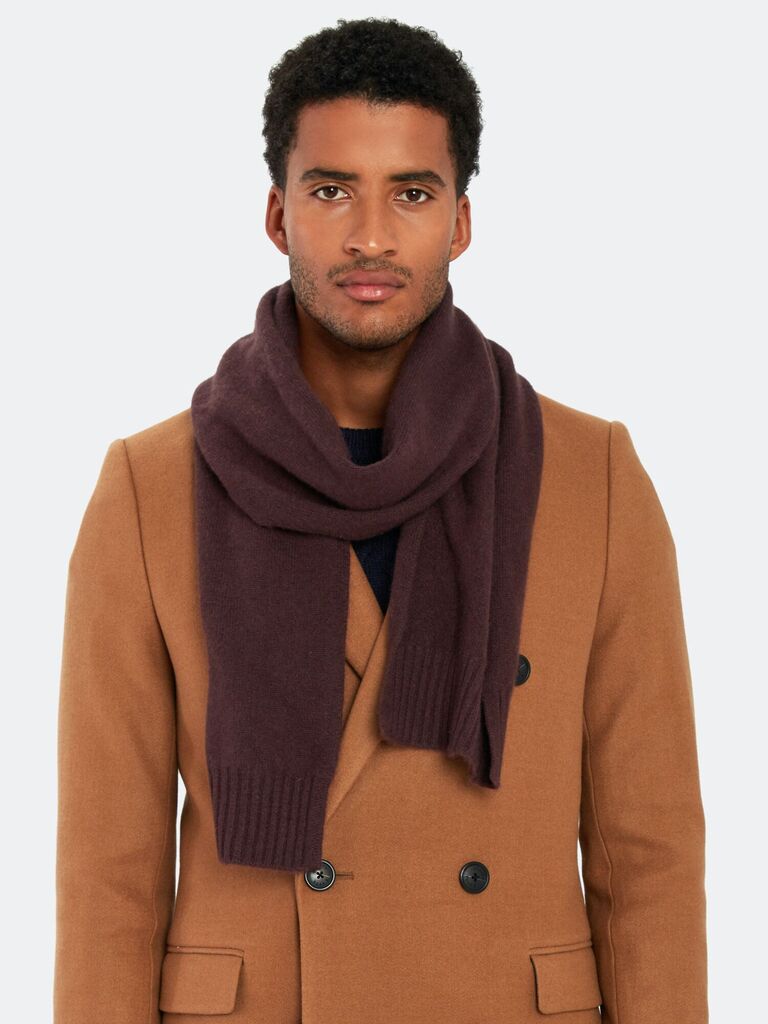 Your hubby will thank you for a soft, knitted scarf that'll keep him warm all winter long. Even better, this holiday gift for him goes with everything.

Vince boiled cashmere scarf, $295, Verishop.com
36. A Mini Air Hockey Table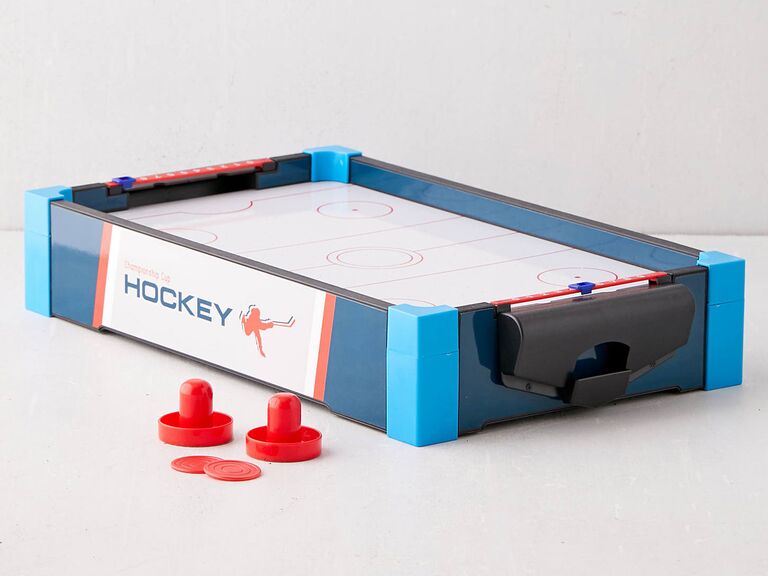 Have a little fun with this year's gift for your husband. Urban Outfitters sells a whole bunch of mini versions of his favorite games, from air hockey to ping pong. They make great, affordable Father's Day gifts that he can play with his kids. 

UO tabletop air hockey, $35, UrbanOutfitters.com
37. A Special Photo Display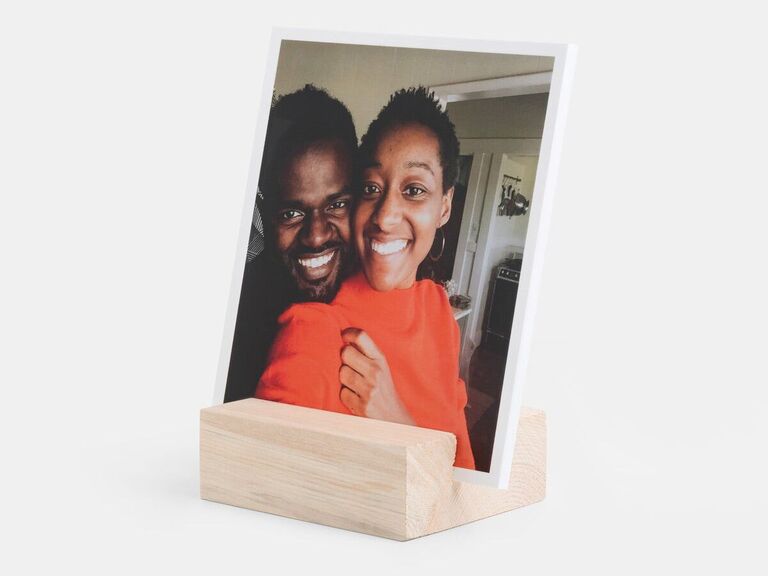 A photo gift is one of the top romantic gift ideas for your husband. Keep him company at his desk with this cute and meaningful photo display. Fill it with prints of special moments in your relationship.

Artifact Uprising wood block & prints, $20, ArtifactUprising.com
38. A Funny Mug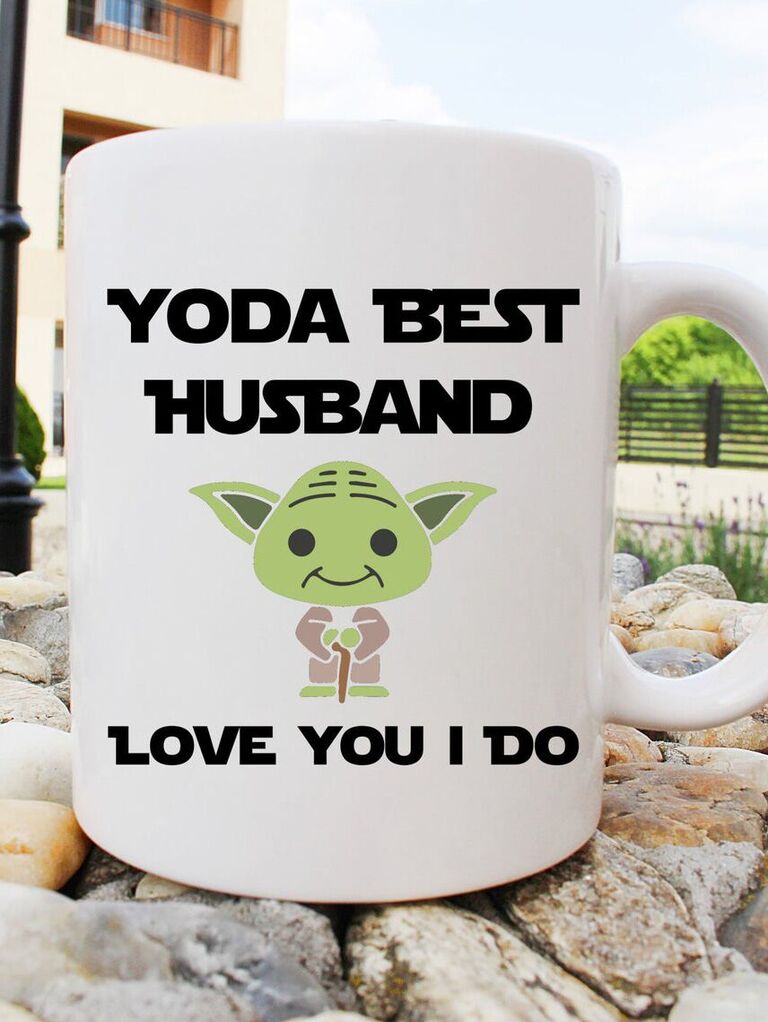 This romantic mug, with an adorable play on words, is the perfect pick for a Star Wars fan this Valentine's Day or Father's Day.

Suchmugs husband Valentine gift, from $24, Etsy.com
39. A Warm Robe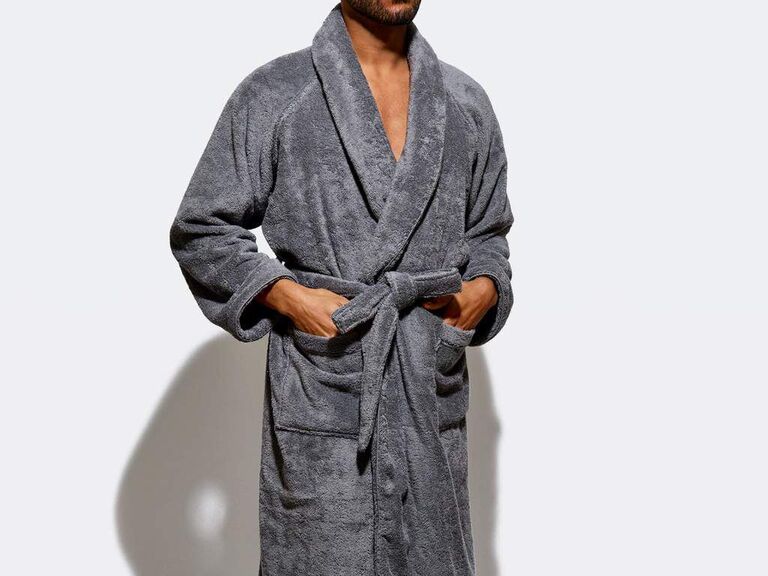 A cozy bathrobe isn't just a good gift for winter. Your husband will treasure having a warm robe to wrap himself in all year round. This one's a splurge, but it's fluffy, fast-drying and undeniably luxurious.

Snowe classic bathrobe, $100, SnoweHome.com
40. Custom Cuff Links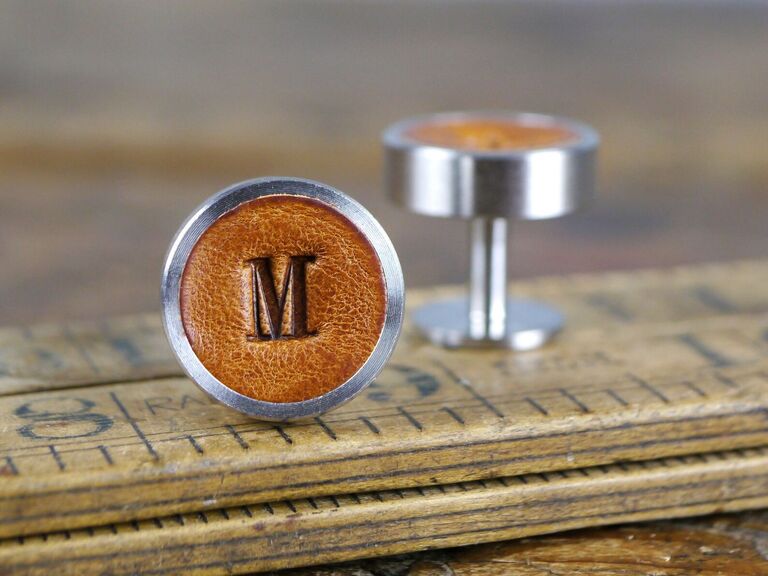 He may think he has everything, but does he have heirloom-quality cuff links? Buy him this personalized leather pair for a truly impressive gift. 

Kingsley Leather personalized leather cufflinks, $70, Etsy.com
41. A Monthly Date Night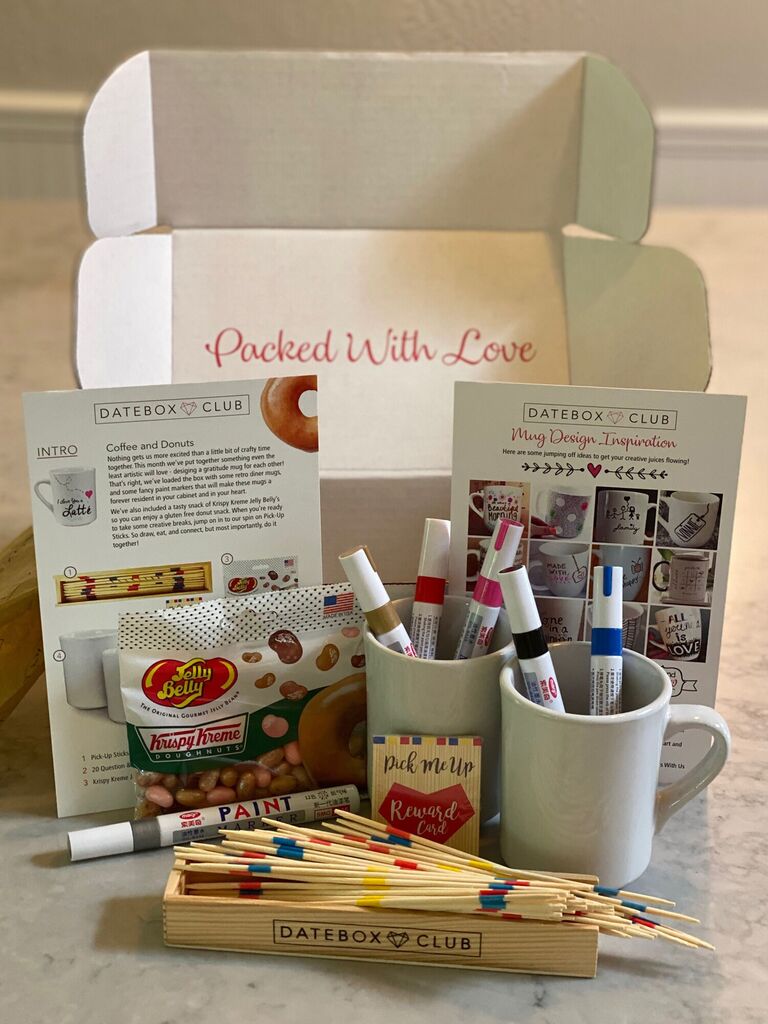 Want a gift for your husband that keeps on giving? Try a subscription service for couples. DateBox Club sends you everything you need for an at-home activity to enjoy together once a month. Kick things off this Father's Day, Valentine's Day, anniversary or holiday season. PS: There's also a digital subscription that's more affordable and DIY.

DateBox Club subscription box, from $33 a month, DateBoxClub.com
42. Golf Ball Whiskey Glasses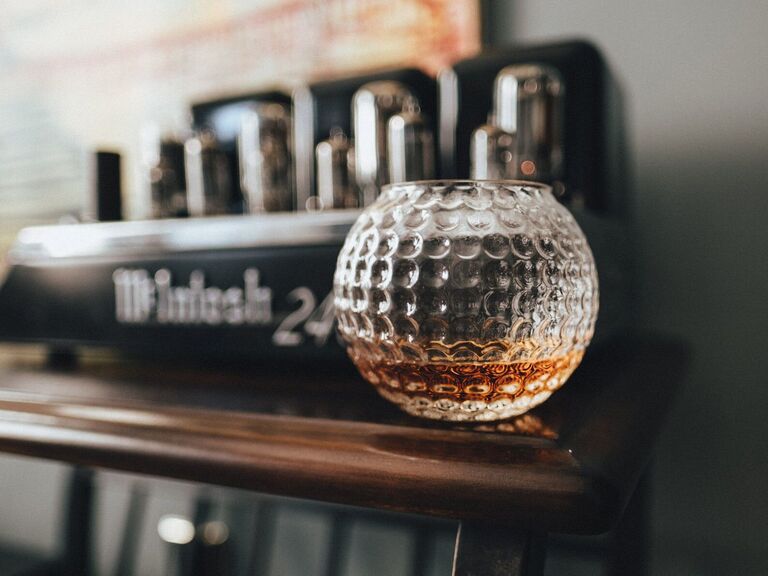 Searching for something small, unique and affordable? These golf ball-shaped whiskey glasses are such a fun surprise for Christmas, Hanukkah, his birthday—any occasion. Cool glassware makes every sip more satisfying.

Gemsho Glass golf ball bourbon glasses, $30 for a set of 2, Etsy.com 
43. A Better Mattress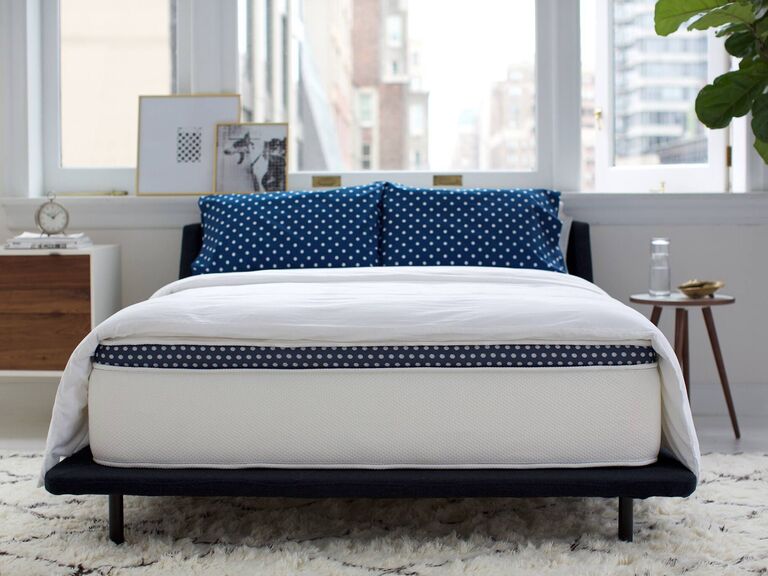 Has he been complaining about his bad back for as long as you can remember? A new mattress might just be the most thoughtful gift you can give him. This one is made specifically with back health in mind. It also eliminates motion transfer, so his late-night trips to the bathroom won't wake you up. No wonder it's one of the best mattresses for couples.

WinkBeds The WinkBed, from $1,599 for a queen, WinkBeds.com
44. A Luxe Comforter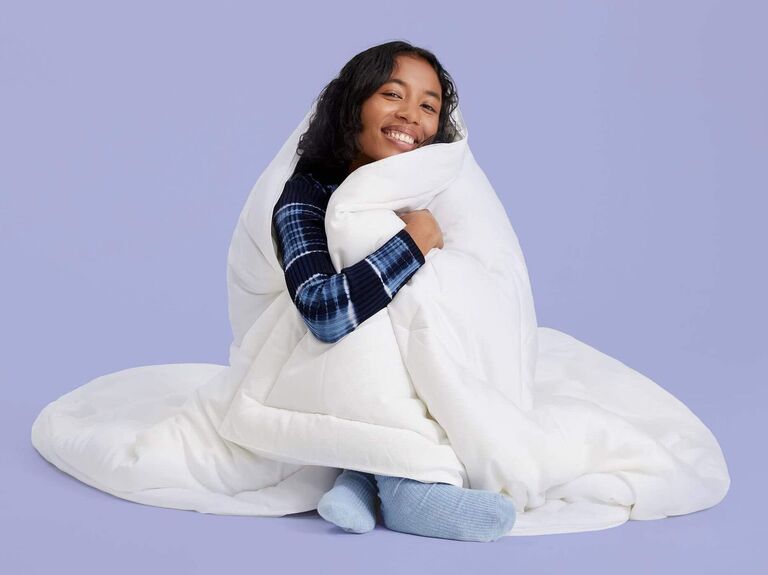 A well-rested husband is a happy husband, which is where this unique bedding comes in. Buffy's beloved comforters are made with soothing eucalyptus, so they're extra cozy to snuggle together under. And if he's a sweaty sleeper, try the cooling "The Breeze" instead. Yes, giving him a good night of sleep is definitely a romantic gesture.

Buffy The Cloud comforter, from $159 for a queen, Buffy.co
45. A Best-Selling Game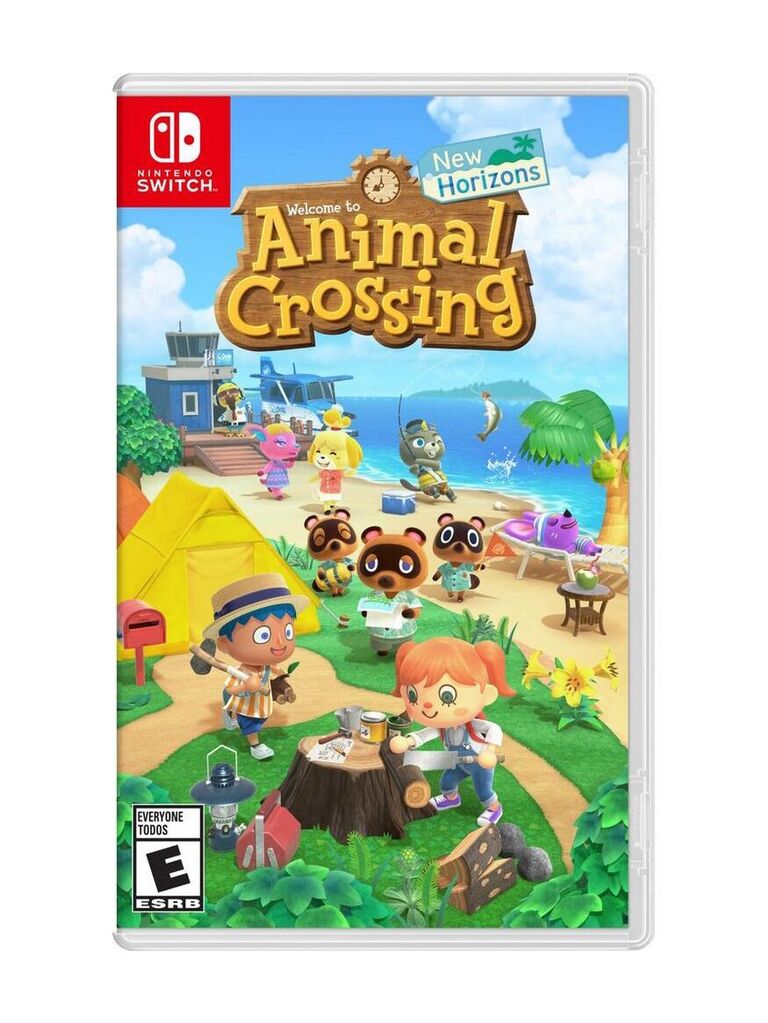 Shopping for a gamer husband? It's time to pick up Animal Crossing: New Horizons if you haven't already. He'll get hours of fun out of this sweet, hard-to-put-down game. Bonus: It's one of our favorite games for couples, so you should definitely play with him.

Nintendo Animal Crossing: New Horizons, $60, GameStop.com
46. Wireless Headphones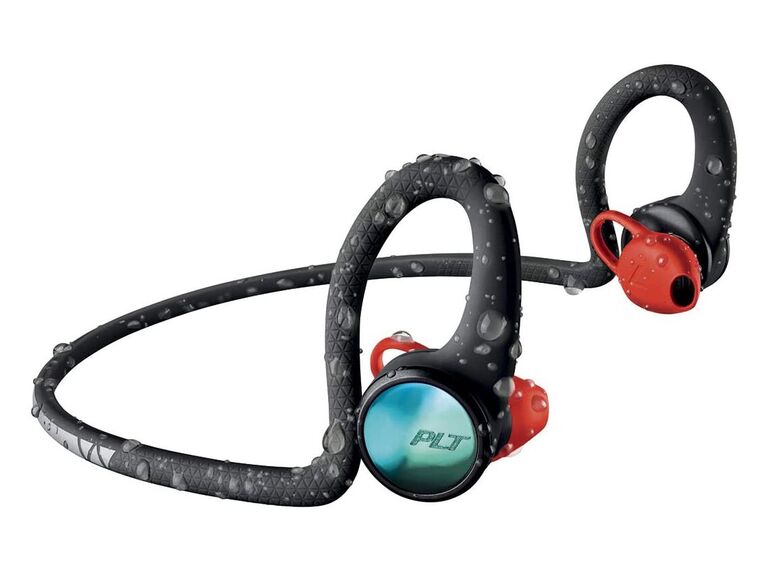 Any music-loving guy will love a good pair of wireless headphones. And these particular waterproof headphones are a lot harder to lose than AirPods. They also come with two thoughtful safety features: a reflective finish perfect for late-night runs, and Always Aware eartips so he can still hear his surroundings. They're a great last-minute gift for husbands if you have Amazon Prime.

Plantronics Backbeat FIT 2100 wireless headphones, $100, Amazon.com
47. A Pick-Your-Own Package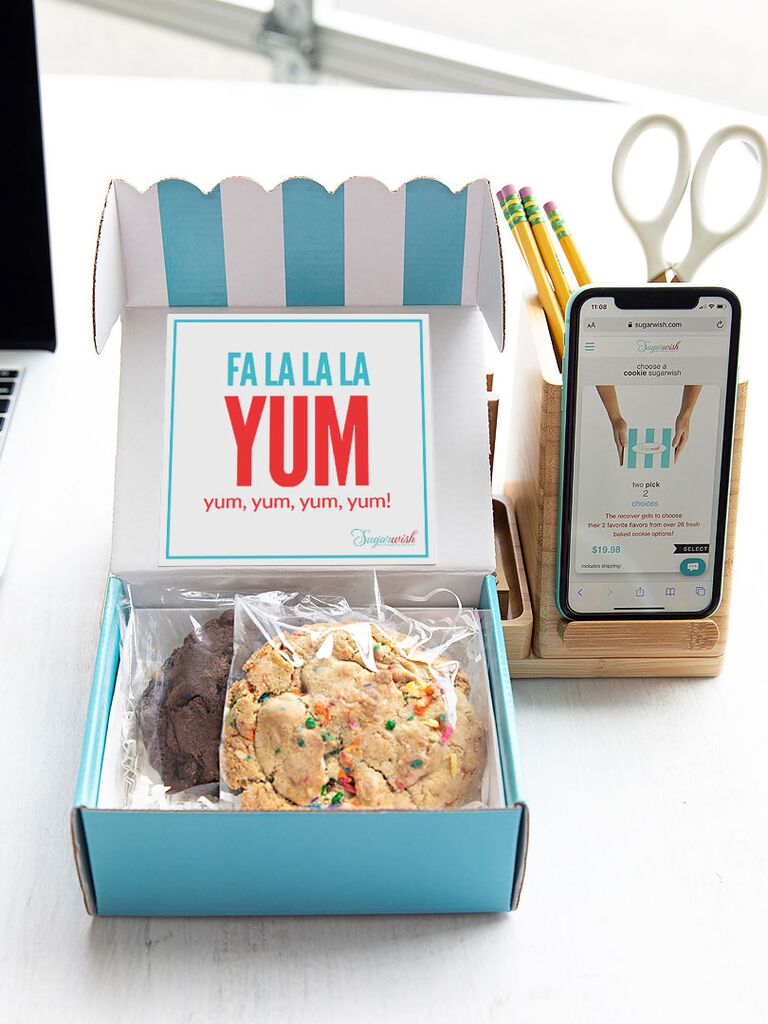 Satisfy his sweet tooth with this creative gift for your husband: a cookie (or candy or popcorn) delivery that he gets to customize. You surprise him with a Sugarwish, then he selects which treats to receive. Because we know you know what his favorite flavors are, but just in case...

Sugarwish cookie delivery, from $22, Sugarwish.com
48. An Outdoorsman's Gift Set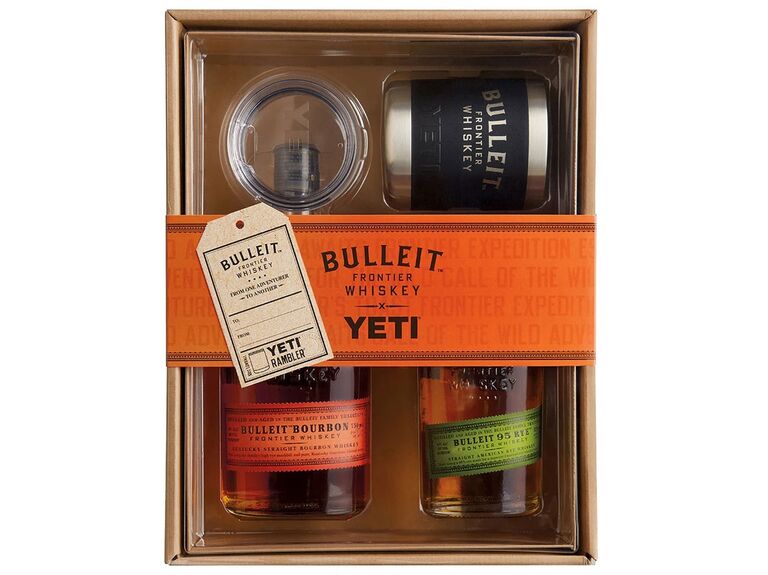 Combine your husband's passion for the outdoors with his favorite beverage. This sleek set includes not one but two bottles of Bulleit whiskey, which is known for its bold and flavorful character. And thanks to the top-of-the-range YETI travel tumbler, he can indulge wherever he likes, from the great outdoors to your backyard.

Bulleit x YETI outdoor pack, $79, ReserveBar.com  
49. An "Adventure" Blanket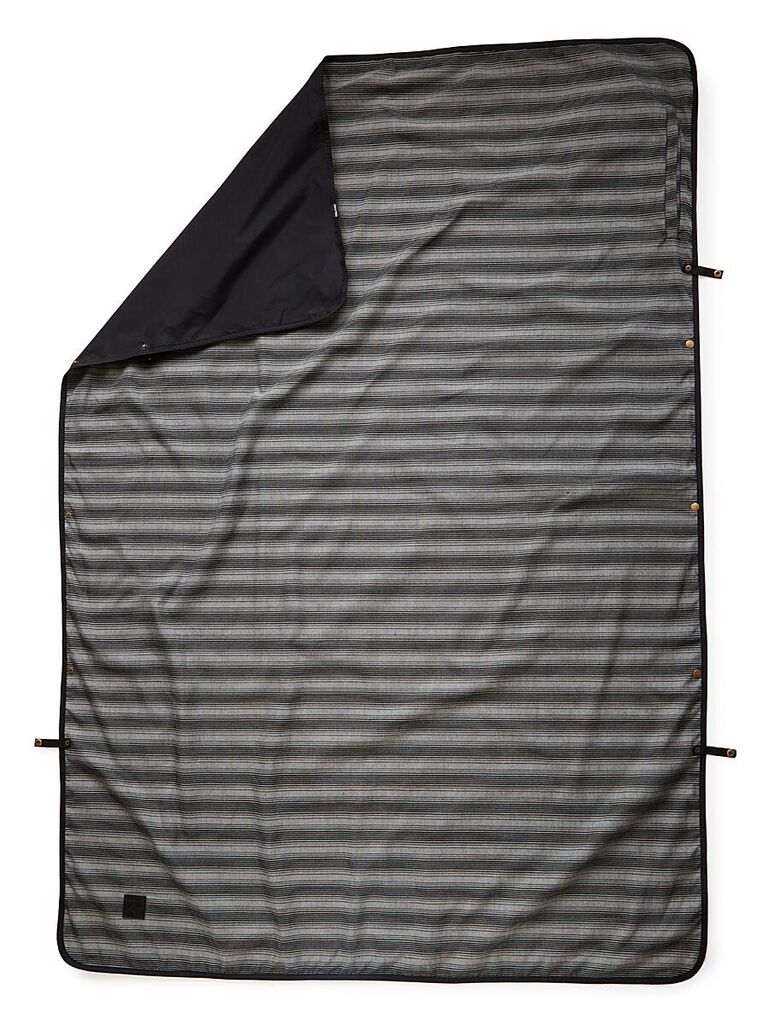 This is another one of the best gift ideas for outdoorsy husbands. He'll love having it in his trunk for spontaneous campouts.

Uncommon Goods Adventure blanket, $80, UncommonGoods.com
50. A Framed Photograph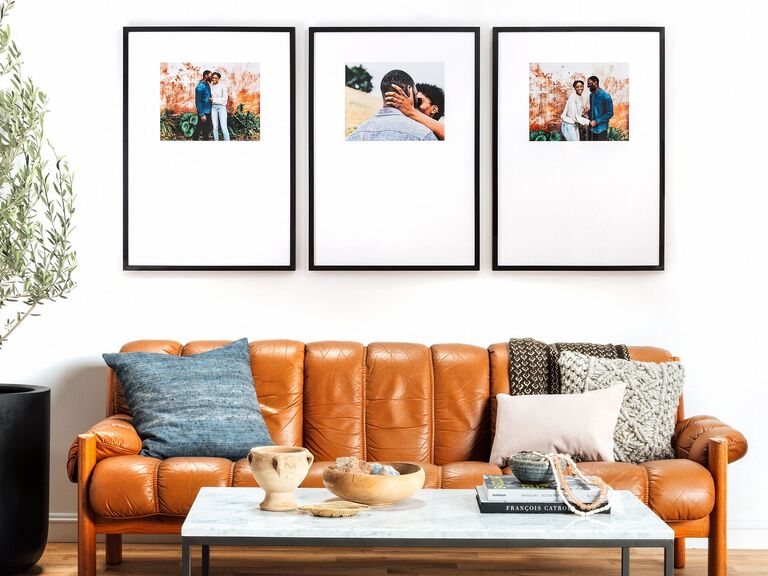 Wondering what to buy a new husband? If you still haven't had time to frame any wedding photos, Framebridge makes it easy. Upload your digital file to the site, choose a frame and a size, then your custom-framed image will arrive ready to hang. How simple is that? Shipping is always free too.

Framebridge framing service, from $39, Framebridge.com
51. Fresh Sneakers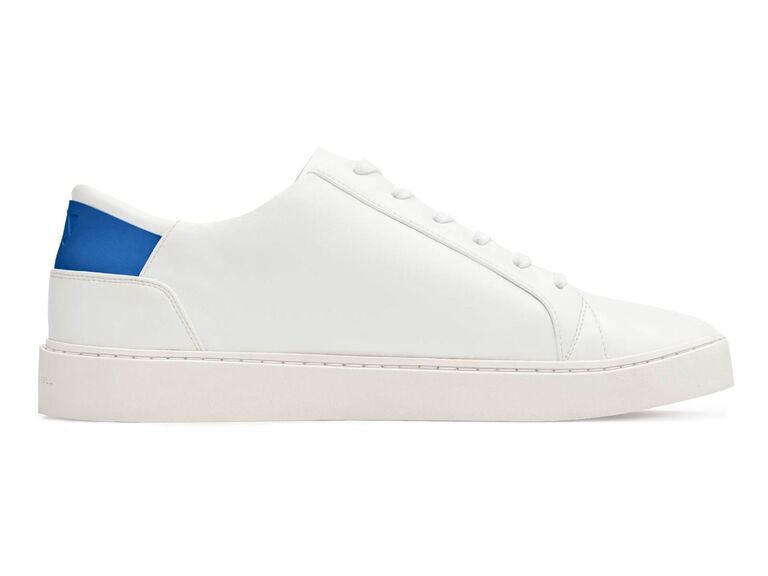 You'd never guess that these sneakers aren't made from real leather—but that's actually what makes them so awesome. The sturdy, stylish kicks are designed using a whole mix of eco-conscious materials. Did we mention that the brand also makes slip-ons?

Thousand Fell men's Lace Up, $120, ThousandFell.com
52. A Beer Caddy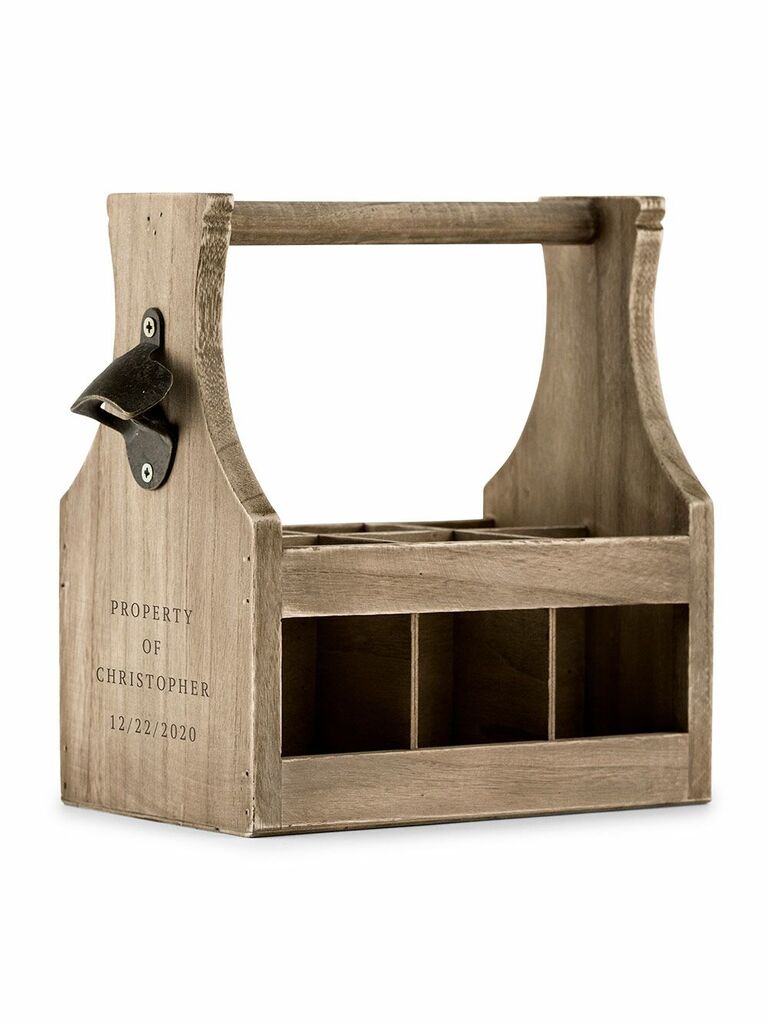 If he frequents the make-your-own-six-pack aisle, this personalized gift is perfect for your husband.

The Knot Shop personalized wooden beer bottle caddy with opener, $30, TheKnotShop.com
53. A Really Fun Bar Tool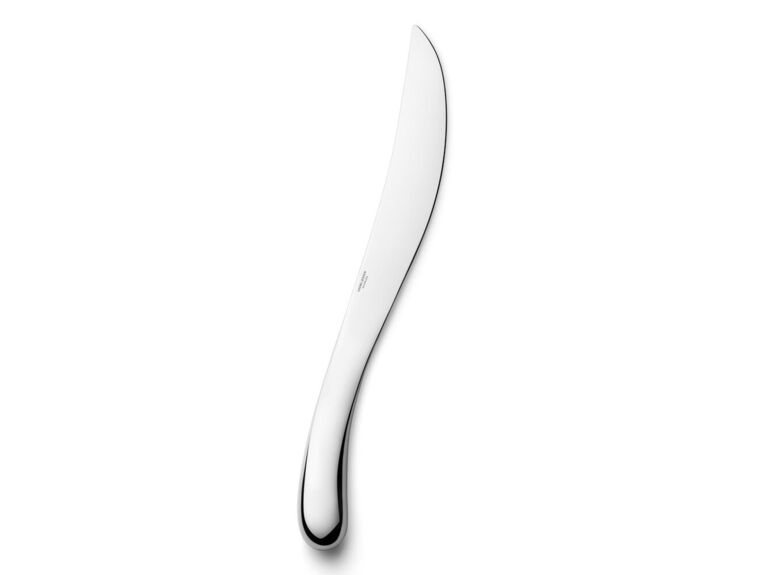 What's more fun than popping bottles? Sabering bottles. Let him wow your friends and family at every celebration by gifting him his very own champagne sword. (Just tell him to be careful, please.)

Georg Jensen Sandell champagne sabre, $149, RoyalDesign.com
54. A Shave Kit for Sensitive Skin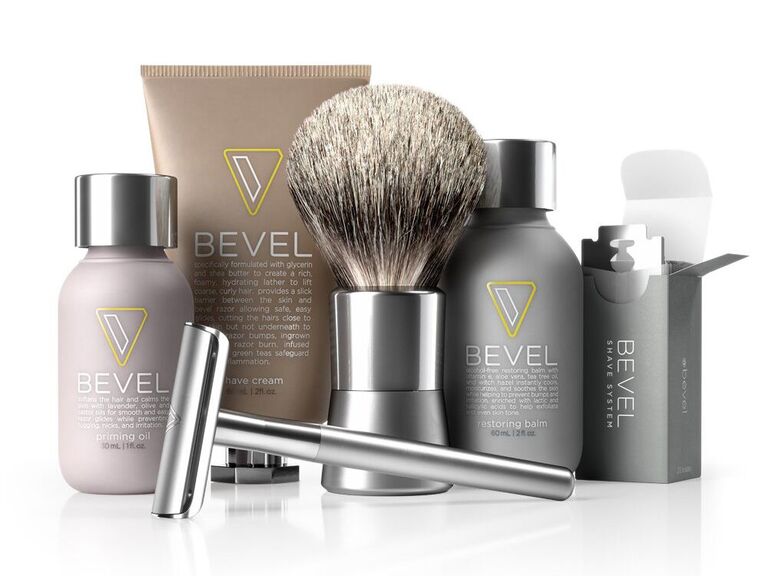 Guys swear that this premium shave kit is life-changing. That means it's time to swap out your husband's old, subpar set. The products were clinically tested to prevent the razor bumps that he's struggled with in the past. They'll leave his skin feeling nourished, smooth and clean—the complete opposite of irritated. To top it all off, this last-minute holiday gift is available through Amazon Prime.

Bevel shave kit, $90, Amazon.com
55. Fine Jewelry
Still in search of romantic gift ideas for your husband? Jewelry is a classic for a reason. If your man is serious about style, check out Auvere. Choose from a range of gold rings, earrings and chains. Whatever you pick, it'll be made to last.

Auvere long link chain, $6,000, Auvere.com
56. New Pots and Pans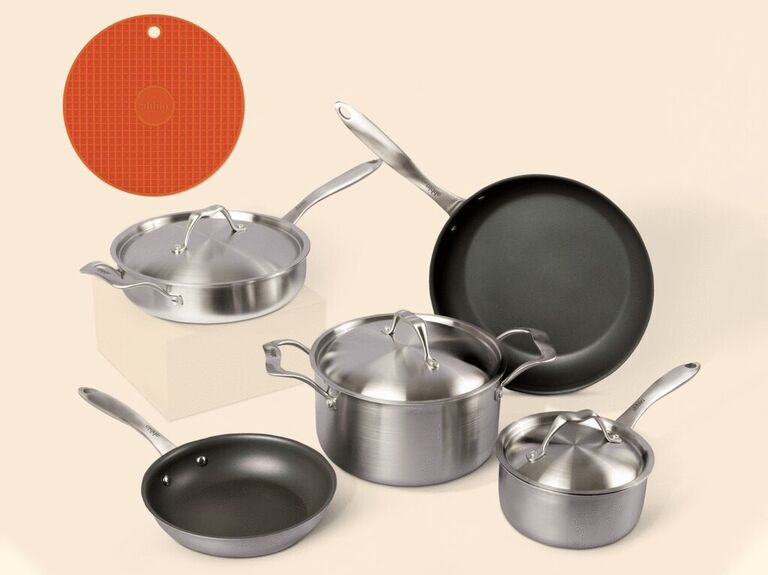 Who says that the best gift ideas for your husband can't be practical? Pots and pans may not sound romantic, but if he's desperate for better cookware, this gift will give him heart eyes. Abbio makes products that mean business—they're designed for daily cooking, simple cleanup and a wide range of uses. 

Abbio The Set, $287, AbbioKitchen.com
57. A Hilarious Card Game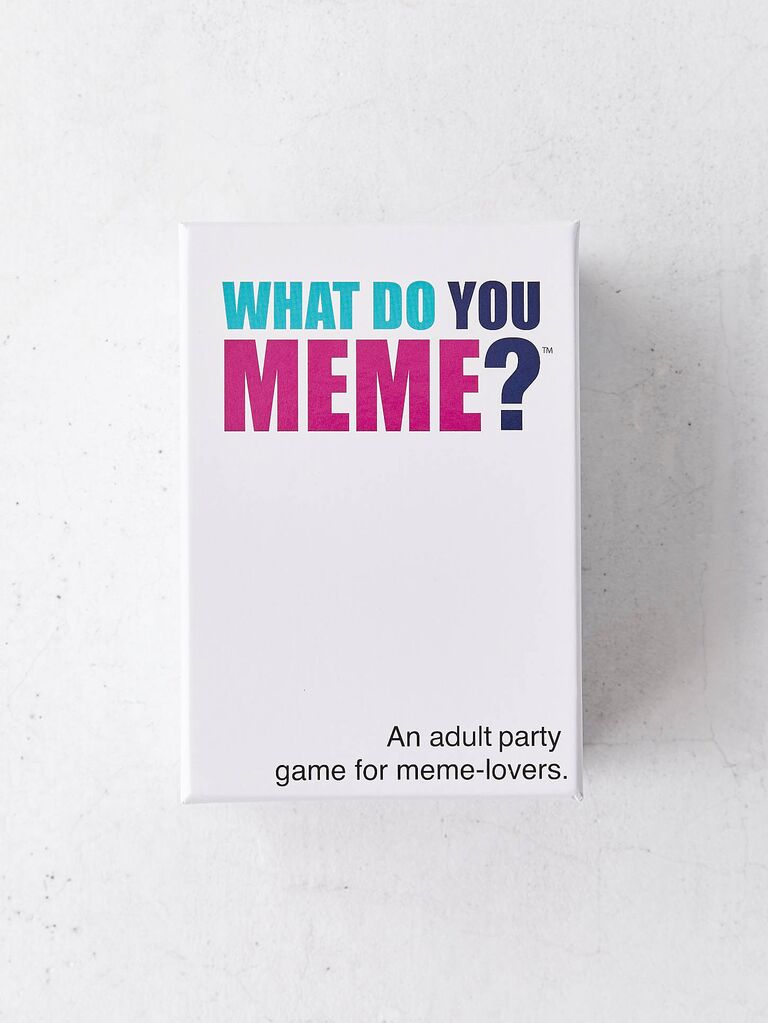 If he's a meme king, get your hubby this hilarious card game. It's a small, funny gift idea that'll entertain him for hours.

What Do You Meme? game, $30, UrbanOutfitters.com
58. A Nifty Coffee Machine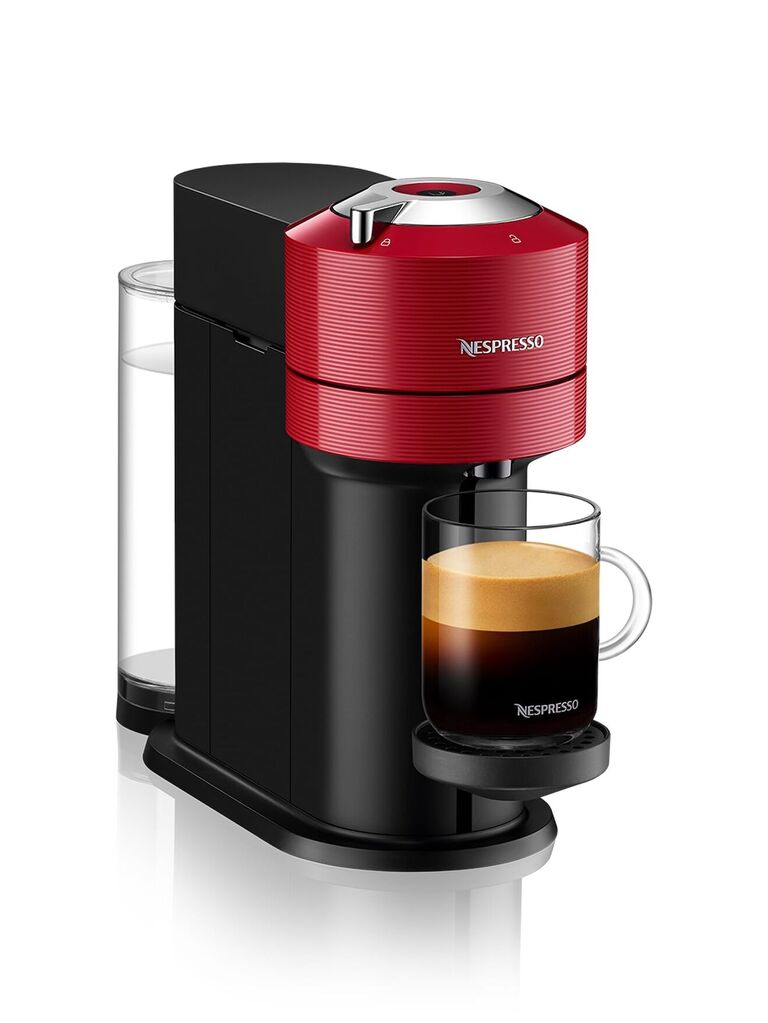 Upgrade your husband's mornings with his own personal espresso machine. The newest Nespresso makes the same delicious coffee that fans have always raved about, but this time, the machine is more compact than ever. It's also made from recycled materials, so it's a gift that you can feel good about giving. 

Nespresso Vertuo Next, from $159, Nespresso.com
59. Wool Gloves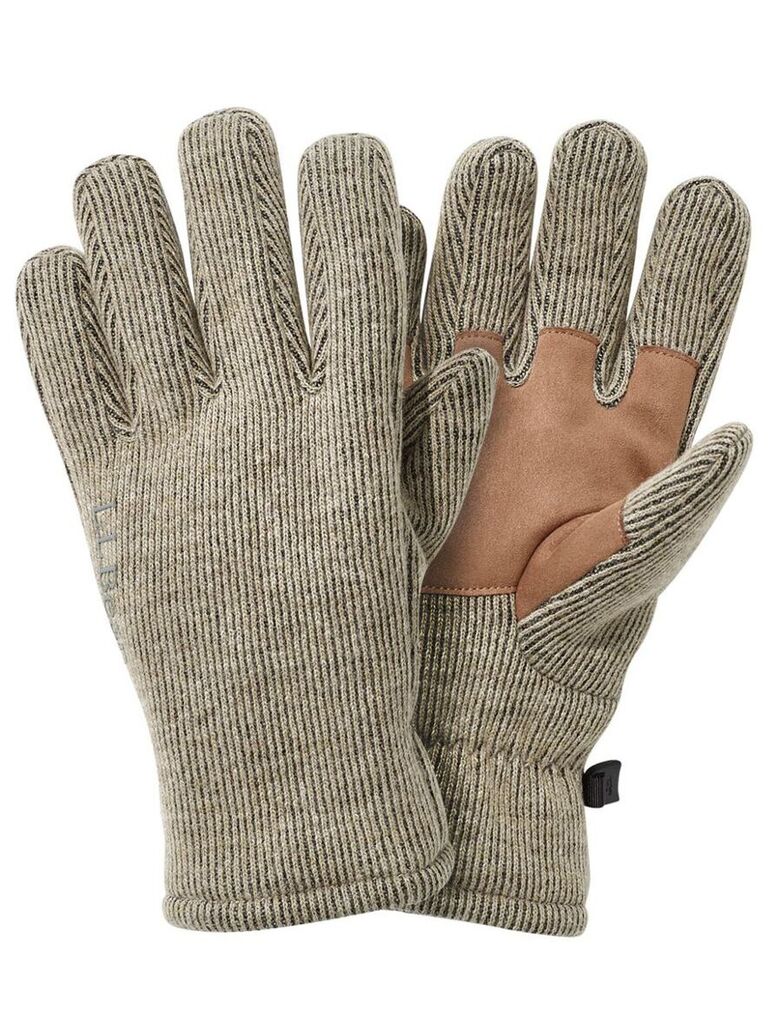 This is one of those things that he may not have thought of on his own. But once you hand him a brand-new pair of warm wool gloves, he'll really appreciate having them. Useful gifts truly are some of the best gifts.

L.L.Bean men's windproof wool gloves, $45, LLBean.com 
60. A Mug That Tracks His Travels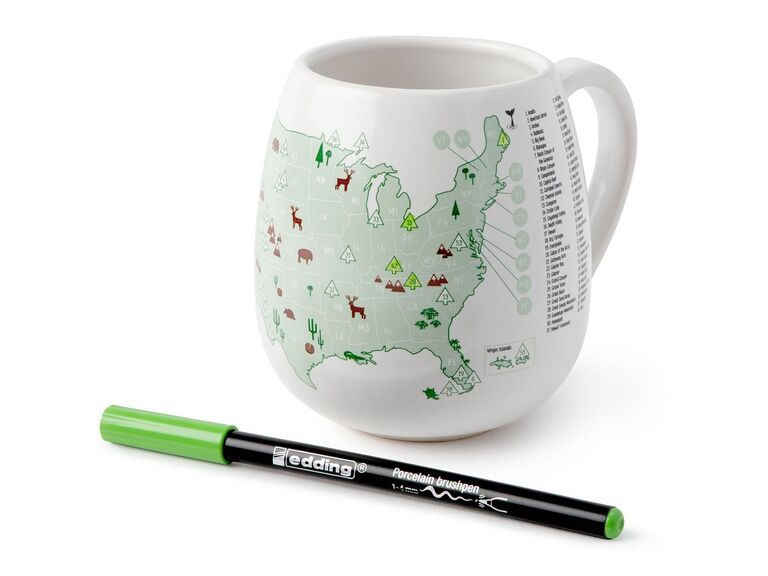 If visiting every national park is on his bucket list, encourage him to make his dreams a reality. This creative color-in mug lets him chart his adventures. It's got to be one of the most affordable and unique gifts for husbands out there.

Candelaria Reymundo and Greg Waloszczyk national parks color map mug, $24, UncommonGoods.com 
61. Flavorful Cocktail Bitters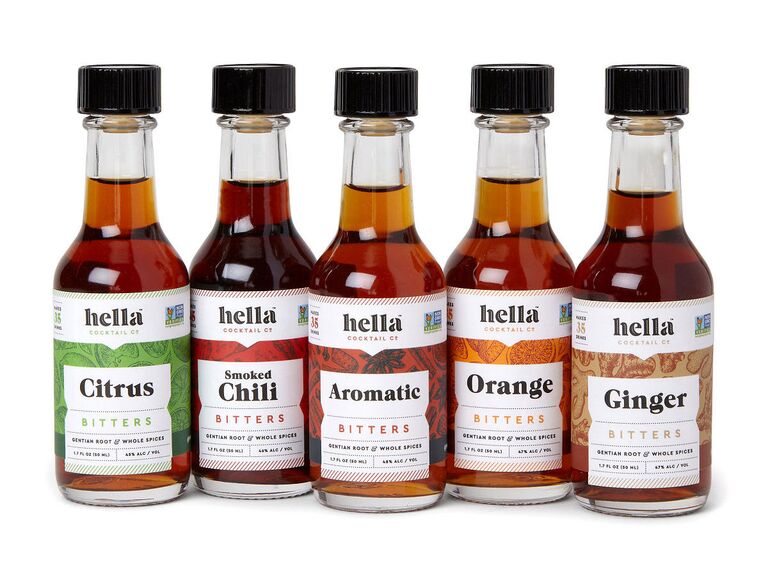 Shopping for the guy who knows how to shake it? Get the cocktail connoisseur in your life a set of unique-flavored bitters that he can use to make classic or signature drinks.

Hella Cocktail Co. cocktail bitters set, $35, UncommonGoods.com
62. A Novelty Lighter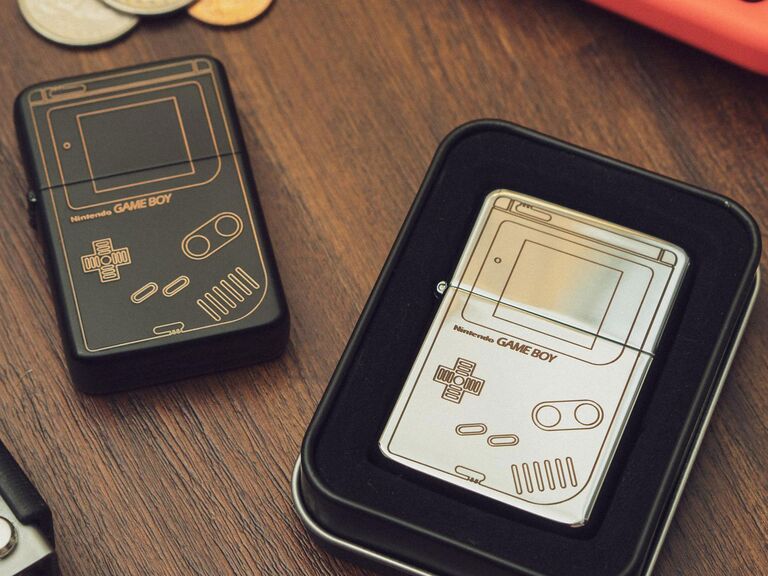 Searching for a small gift for the gamer husband? We never thought we'd call a lighter cute, but this best-selling Game Boy-inspired lighter is exactly that. Buy it as a Christmas stocking stuffer or a fun just-because gift.

Red Dot Laser Engraving Nintendo Game Boy inspired flip lighter, $30, Etsy.com
63. An Eco-Friendly Phone Case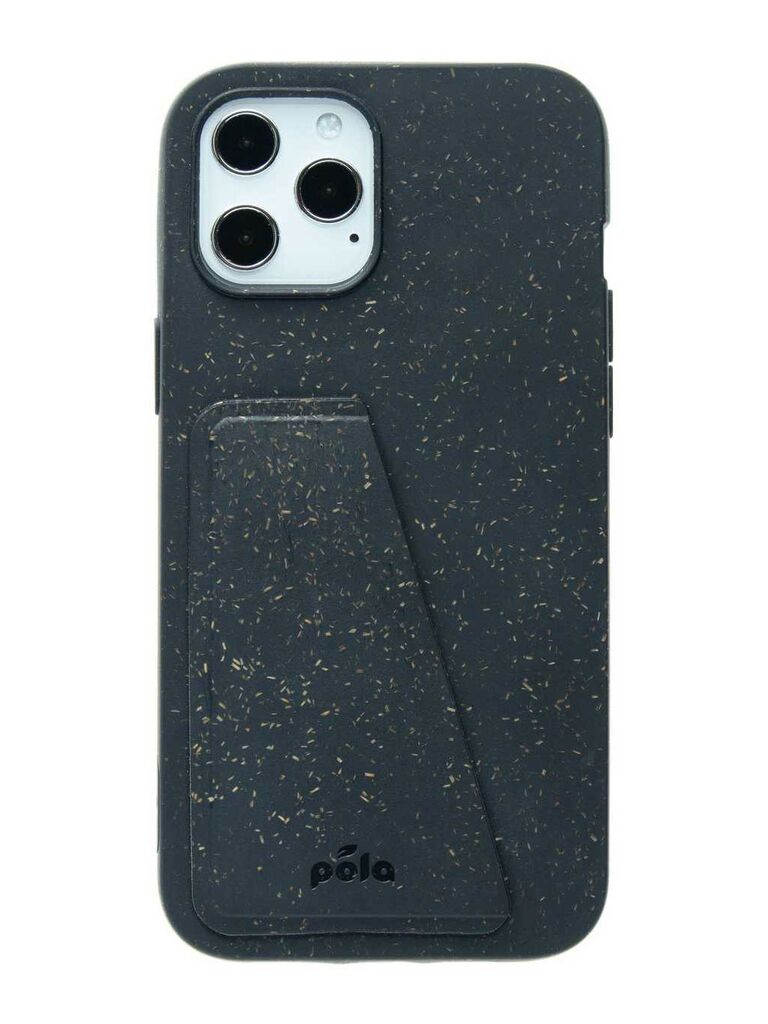 Cut down on plastic waste by getting your husband a Pela phone case. They're completely compostable, which is a feat in and of itself, but they're also attractive. Bonus: This one comes with handy card pockets.

Pela Case eco-friendly iPhone wallet case, $50, PelaCase.com
64. A Cooler Chair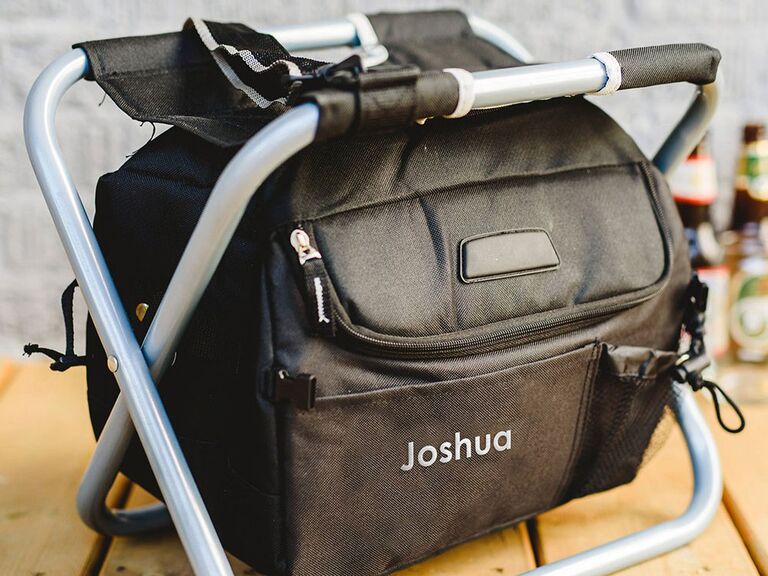 This customized gift is a practical present for the camping or fishing husband. The monogrammed cooler doubles as a seat to help him pack light.

The Knot Shop personalized black folding cooler chair in Monogram Embroidered, $30, TheKnotShop.com
65. Convenient Luggage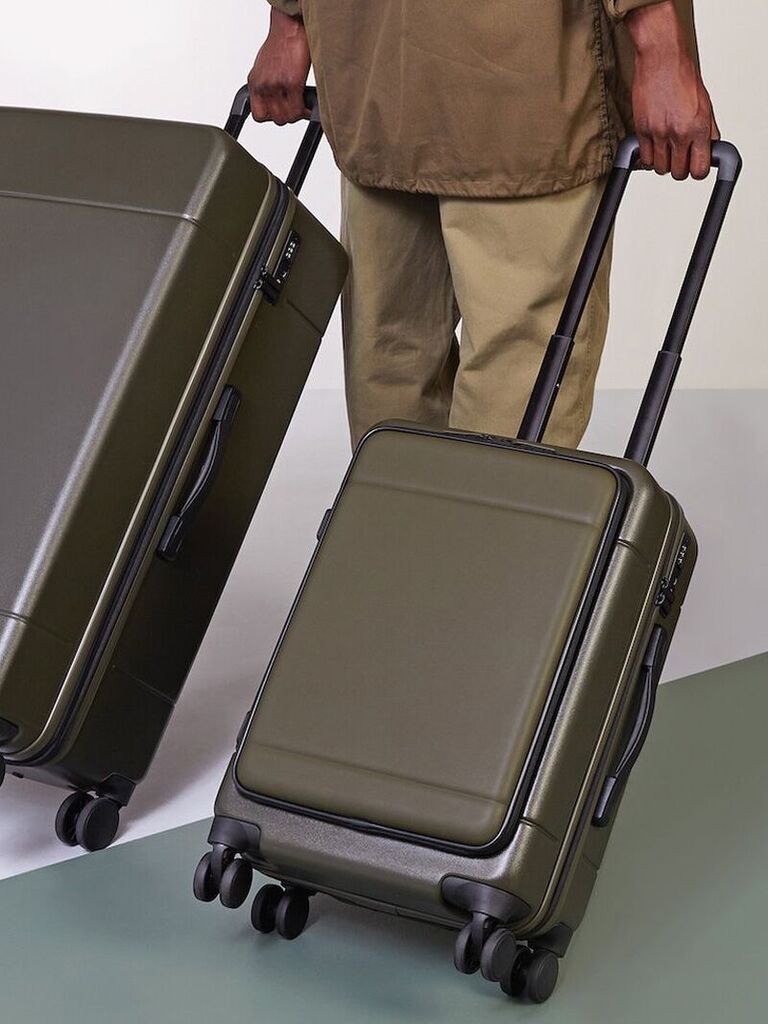 This sleek carry-on has something that most others don't: a front compartment with a laptop sleeve. It'll make pulling out his tech way simpler, which is convenient in the security line and while he's waiting to board. Now you just need to get one for yourself. 

Calpak Hue carry-on luggage with pocket, $195, CalpakTravel.com