The Complete Guide to Planning a Destination Wedding in the Dominican Republic
With these tips, your dream Caribbean wedding is in the bag.
Endless sandy beaches, crystal clear water and delicious tropical food are all perks of a Dominican Republic destination wedding. In the Antilles, couples can expect both relaxation and beauty with their wedding day.
Home to both Caribbean and Atlantic-facing beaches, the Dominican Republic includes gorgeous scenery, lively culture and fun aquatic activities. Anyone who marries in this tropical getaway may want to extend their wedding weekend into a full vacation.
Although there's nothing quite like a beach wedding at a tropical retreat, it may be a bit difficult to plan a wedding from the US if you're not used to the Dominican Republic. When it comes to the legal requirements, logistics, venue searches and transportation, you may feel lost. Claire Durán, the owner and creative director of Claire Durán Weddings & Events, shares the best wedding day tips for planning the perfect Dominican Republic ceremony and celebration.
Why Couples and Guests Love the Dominican Republic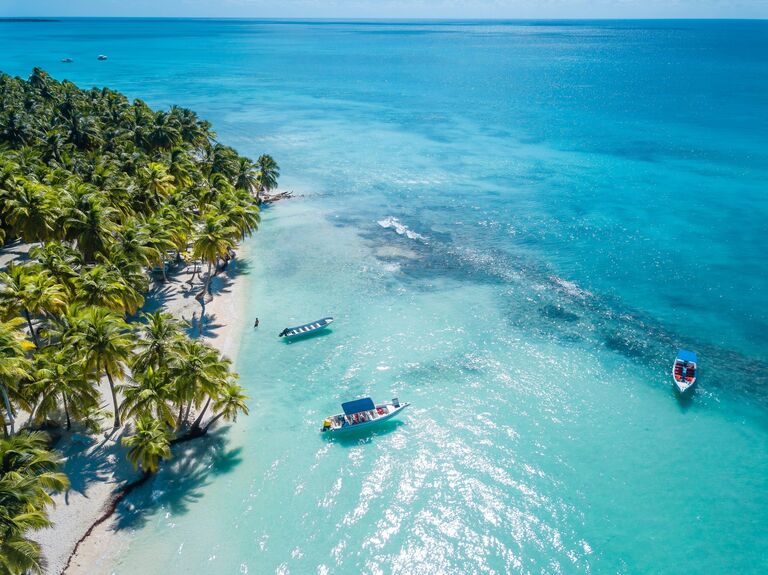 There's nothing quite like the Dominican Republic. From snorkeling to golfing, this Caribbean destination is a popular getaway spot for those who want to escape the cold and have a classic vacation. Wedding guests will particularly enjoy the historic architecture and local culture. Foodies will benefit too: the DR is known for its savory fare and fresh fruit.
Couples especially love the all-inclusive resorts, which take the stress out of planning. Many are luxury caliber and offer endless relaxation options. From Cap Cana to Punta Cana, it won't be difficult to find an area of the Dominican Republic to host your vows. "[The Dominican Republic] houses resorts for all tastes, so there's an opportunity for everyone to find one that is a right fit," Durán says. If you choose to move away from oceanfront resorts, you'll be able to see more of the island's beauty.
The Best Places to Get Married in the Dominican Republic
There's no shortage of gorgeous backdrops for a Dominican Republic destination wedding. Whether you're looking for an all-inclusive wedding ceremony on the beach or envision a glamorous reception in a splendid resort, couples can work closely with planners to find the ideal option.

Punta Cana:
"The most accessible part of the island is the east. A tremendous amount of flights are available from the international airport in Punta Cana," Durán explains. The area is dotted with white-sand beaches, sultry weather, delicious creole food, all-inclusive wedding resorts across Bávaro Beach and an exciting nightlife. Tourists from around the world flock to Punta Cana resorts.
Samaná: If you're looking for a quieter, more personal location for your big day, Samaná is for you. The region offers adventure and outdoor activities. Couples and guests can spend their free time visiting El Limón waterfall, ziplining, and relaxing in the tropical haven. But there's one downside. "While gorgeous, Samana is tougher to get to," Durán says.
Santo Domingo: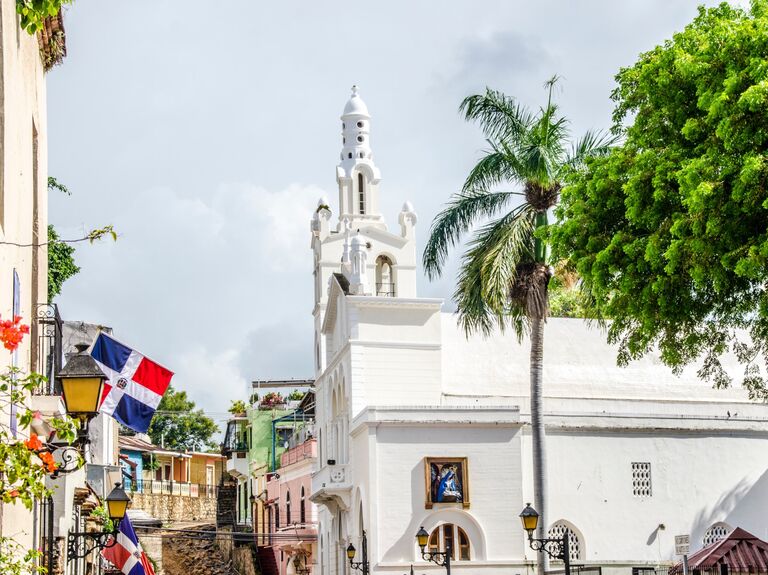 If a ceremony by the Caribbean Sea isn't the most important factor, consider throwing a dream wedding in the center of Santo Domingo. Because of its distinct lack of sand and sea, Durán says this spot "tends to be more favored by locals than by tourists." The region is also marked by colonial architecture, perfect for wedding photography.
Cap Cana: If you're looking for something that screams "luxury," you'll want to throw their wedding in Cap Cana. Known for its high-end, glamorous resorts and golf courses, a wedding in Cap Cana is a five-star, ultra-luxurious experience that guests will rave about for years on end. With all-inclusive resorts, this spot is a popular haven for tourists.
Dominican Republic Wedding Legal Requirements
Legal Weddings vs. Symbolic Weddings
Couples can decide between legally marrying in the Dominican Republic or making things official at home and holding a symbolic destination wedding.
The benefit of opting into a symbolic wedding, rather than a legally-focused real wedding, is that you'll spare yourselves from additional legal paperwork, fees and additional research. Durán says most international couples choose to celebrate their special day with a symbolic destination wedding rather than a legal wedding.
Required Legal Documents
According to the US Embassy, you'll need to bring quite a few documents to make everything official in the Dominican Republic. First, the couple will need their original passports and copies of their bio-pages, among other prerequisite documents.
Couples should also be prepared to pay an additional fee since they're not residents of the country. In addition, to-be-weds should prepare a notarized declaration of each individual's single status. This needs to be notarized in the Dominican Republic at the Offices of the Procuraduría General de La República. This means, couples should prepare to enter the country with some time to spare before the wedding date, especially pending any issues. Couples will also need legal copies of both of their birth certificates that have been translated. Finally, if previously divorced, you'll need legal copies of your divorce papers. Keep in mind: everything needs to be translated into Spanish.
Legal Marriage Timeline
Before you even think about walking down the aisle, couples legally marrying in the Dominican Republic need to publish a notice of intended marriage. Then, they'll need to organize all of the proper paperwork, which includes a trip to the Offices of the Procuraduría General de La República, as mentioned above. For that reason alone: couples should arrive in the DR at least three days before their wedding date to organize and complete all paperwork. Once you've tied the knot, you'll need to translate your wedding certificate to English in order for it to be recognized back home.
Legal Marriage Cost
If both you and your partner are non-resident foreigners of the Dominican Republic, you'll pay about $350 USD in fees to tie the knot officially. There may be additional fees for translating documents or receiving extra copies of items. A good thing to keep in mind is that all official wedding ceremonies and documents in the Dominican Republic will be held in Spanish. If you don't understand Spanish, the ceremony may feel less personal.
Dominican Republic Wedding Planning Tips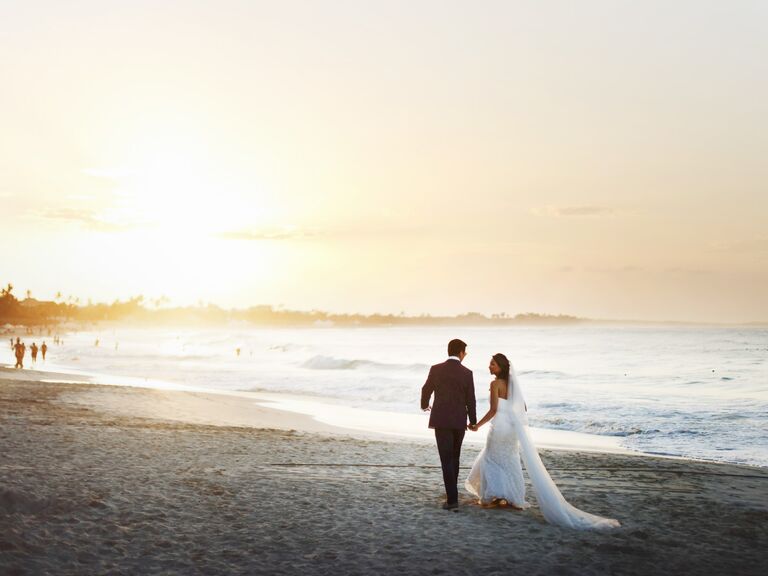 If you're hosting your first destination wedding, you may be surprised about a lot of things, including the cost, guest count limits and activity packages. It's best to thoroughly research what you want before planning. Wherever you are in the world: working with a wedding planner or wedding coordinator is always a good idea, especially if you want to have someone local advocating for you and helping you with that checklist.
How to Get There
The Dominican Republic has seven international airports across Punta Cana, Santo Domingo, Santiago de los Caballeros, Puerto Plata, La Romana and Samaná. Non-stop flights cost a few hundred dollars depending on the season and will take up only about four hours on average from major cities. Upon arrival, the easiest modes of transportation include planes, buses and cabs. Tourists are also able to rent cars, but there's no need for additional transportation if you're staying at an all-inclusive resort.
Dominican Republic Weather
The Dominican Republic is a tropical island country that has gorgeous beaches, warm weather and beautiful views. But, it's still on an island, which means the weather can surprise you. "Hurricane season can be risky," Durán says about weddings held between the months of June through November. "You'll find the cheapest prices during that time, but it can be quite risky to the wedding investment as a whole."
Aside from possible hurricanes, couples need to be prepared for general island weather. "No matter the time of year, choosing to get married in the Dominican Republic means being open to the notion that the weather behaves as tropical weather does: it's hot, humid and there's frequent rain. All weddings should have a solid plan B, or better yet, be designed as a plan B."
Choosing your Venue and Vendors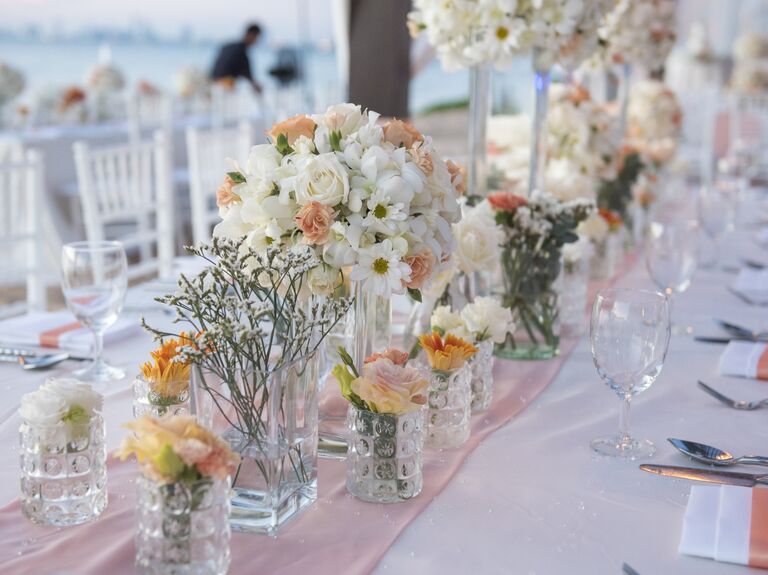 "Not all countries have the same vendors and supplies available to them, especially in comparison to the states," Durán says. "When choosing a location for your destination wedding, it's prudent to embrace what is available locally, or recognize that you may need to set aside an additional budget to fly in the vendors you truly want." She encourages couples to be open to hiring the talented local vendors and venues available within the Dominican Republic market.
Budgeting Tips
People tend to expect that all destination weddings are far cheaper than US-based events. It's a misconception that may leave you alarmed. If you're looking to host the perfect destination getaway, don't expect to get everything you want without the price tag.
With that being said, you can easily plan a gorgeous event that's budget-friendly. "The price depends on the chosen venue and what the client is looking for," Durán explains. "Just as in all locations, you can have an affordable wedding or one where your budget is enormous." The key to staying on a tight budget is exploring wedding package opportunities and rethinking your extensive guest lists. Whether your wedding is held at Casa de Campo or the Hard Rock Hotel, there's a range of options available to every type of vision.