The Ultimate Guide to Men's Dress Shirt Collar Types, Cuffs, And More
Not sure what to wear under your suit? Our Menswear Editor is breaking down the anatomy of men's dress shirt styles, including dress shirt collar types, shirt cuffs, fabric and more.
We have included third party products to help you navigate and enjoy life's biggest moments. Purchases made through links on this page may earn us a commission.
When it comes to discussing wedding-centric menswear, it seems like dress shirts get the short end of the stick. We often get so wrapped up in suit cuts, ties, shoes, and accessories that it can be difficult to remember that from dress shirt collar types to dress shirt cuff types, the details of what you're wearing under your suit can be what take it from good to great. The world of mens dress shirts is a big one, with numerous variations of collar, cuff, pleat, and fabric. Consider this your entryway into a better understanding of how a dress shirt is put together and what the right one for you might be.
Men's Dress Shirt Styles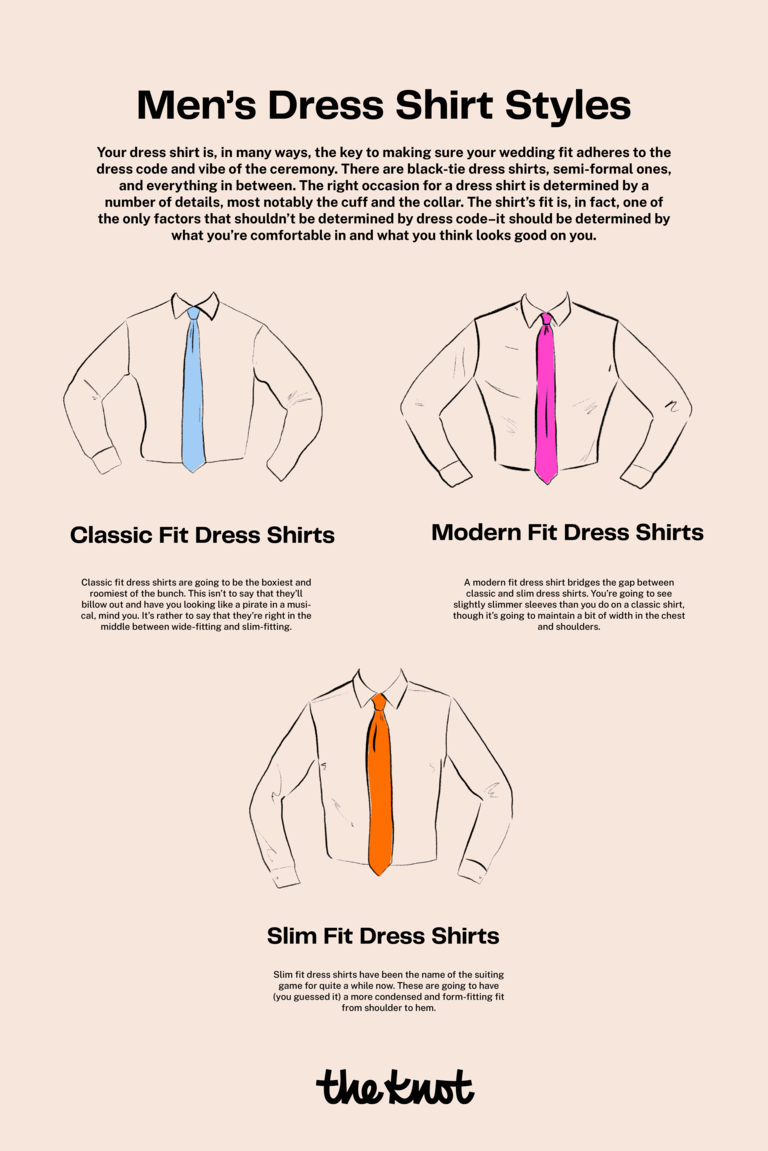 Your dress shirt is, in many ways, the key to making sure your wedding fit adheres to the dress code and vibe of the ceremony. There are black-tie dress shirts, semi-formal ones, and everything in between. The right occasion for a dress shirt is determined by a number of details, most notably the cuff and the collar. The shirt's fit is, in fact, one of the only factors that shouldn't be determined by dress code–it should be determined by what you're comfortable in and what you think looks good on you.
Classic Fit Dress Shirts
Classic fit dress shirts are going to be the boxiest and roomiest of the bunch. This isn't to say that they'll billow out and have you looking like a pirate in a musical, mind you. It's rather to say that they're right in the middle between wide-fitting and slim-fitting. A dress shirt with a classic fit is going to have a bit more room in the arms. Its torso is also going to be slightly roomier, with a fair amount of breathing room around the chest and midsection as well. It's a shirt that earns the name of its fit–classic-fit dress shirts are fairly timeless and never really go out of style.That said, given the extra room, if your frame is on the skinnier or more angular side this may not be the dress shirt for you. A modern or slim-fit dress shirt is going to play to your shape a bit better.
Modern Fit Dress Shirts
A modern fit dress shirt bridges the gap between classic and slim dress shirts. You're going to see slightly slimmer sleeves than you do on a classic shirt, though it's going to maintain a bit of width in the chest and shoulders. The armholes are going to break slightly lower as well. It slims up a bit around the midsection and stomach, giving the shirt a slight inverted triangle shape. Modern fit dress shirts are great for anyone who may need a bit more room around their chest or have broader shoulders but don't want to go with the boxier fit of a classic dress shirt.
Slim Fit Dress Shirts
Slim fit dress shirts have been the name of the suiting game for quite a while now. These are going to have (you guessed it) a more condensed and form-fitting fit from shoulder to hem. The sleeves are going to be on the slightly tighter side and the torso as a whole will be more narrow. The arm holes will also be slightly higher. It's a very modern look and one that can fit skinner and more angular body types perfectly, with there being minimal extra fabric to alter the drape.
Dress Shirt Collar Types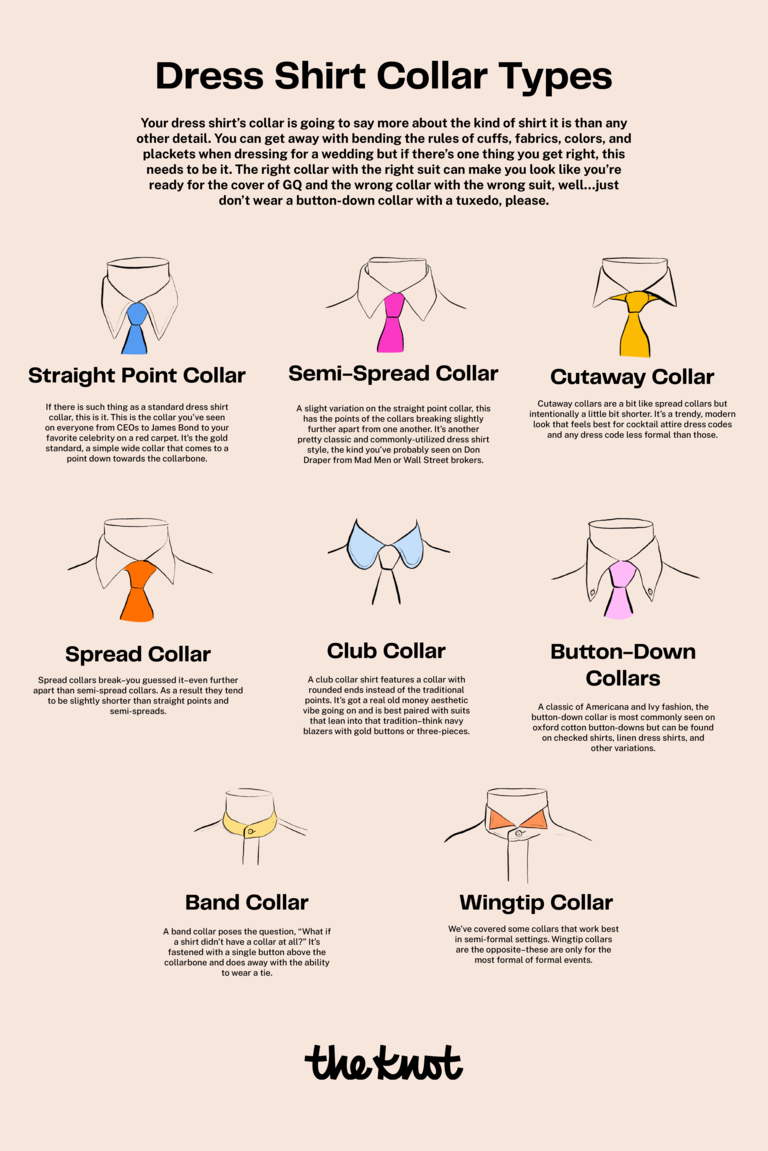 Your dress shirt's collar is going to say more about the kind of shirt it is than any other detail. You can get away with bending the rules of cuffs, fabrics, colors, and plackets when dressing for a wedding but if there's one thing you get right, this needs to be it. The right collar with the right suit can make you look like you're ready for the cover of GQ and the wrong collar with the wrong suit, well…just don't wear a button-down collar with a tuxedo, please.
Straight Point Collar
If there is such a thing as a standard dress shirt collar, this is it. This is the collar you've seen on everyone from CEOs to James Bond to your favorite celebrity on a red carpet. It's the gold standard, a simple wide collar that comes to a point down towards the collarbone. You're almost always going to wear this with a tie, though you can get away with wearing it with the first two buttons undone in the right circumstances (or at least at the reception when you're dancing the night away).
Semi-Spread Collar
A slight variation on the straight point collar, this has the points of the collars breaking slightly further apart from one another. It's another pretty classic and commonly-utilized dress shirt style, the kind you've probably seen on Don Draper from Mad Men or Wall Street brokers. The wider spread of the collar tends to allow for thicker ties with larger knots, making this the dress shirt of choice for the power suit.
Spread Collar
Spread collars break–you guessed it–even further apart than semi-spread collars. As a result they tend to be slightly shorter than straight points and semi-spreads. It makes for a fairly modern look and one that you'll need to pair the right kind of suit lapels with in order to match up your fit's proportions (wider spreads tend to dictate wider lapels).
Cutaway Collar
Cutaway collars are a bit like spread collars but intentionally a little bit shorter. It's a trendy, modern look that feels best for cocktail attire dress codes and any dress code less formal than those. The proportions of it don't make it the best option for a tie but this is a good one to wear unbuttoned at a semi-formal wedding.
Button-Down Collars
A classic of Americana and Ivy fashion, the button-down collar is most commonly seen on oxford cotton button-downs but can be found on checked shirts, linen dress shirts, and other variations. A button-down collar is inherently less formal than any spread variation, meaning this isn't a shirt you should pair with a tuxedo or a particularly formal suit. It's best for semi-formal weddings and especially goes great with suit separates.
Club Collar
A club collar shirt features a collar with rounded ends instead of the traditional points. It's got a real old money aesthetic vibe going on and is best paired with suits that lean into that tradition–think navy blazers with gold buttons or three-pieces.
Wingtip Collar
We've covered some collars that work best in semi-formal settings. Wingtip collars are the opposite–these are only for the most formal of formal events. Wingtip collars are for white-tie and black-tie affairs, to be work with a tuxedo and a tuxedo only. More often than not this is also going to be a collar that you pair with a bow tie, not a traditional tie.
Band Collar
A band collar poses the question, "What if a shirt didn't have a collar at all?" It's fastened with a single button above the collarbone and does away with the ability to wear a tie. Save these for dressy-casual and semi-formal weddings–they look great with suit separates.
Types of Shirt Cuffs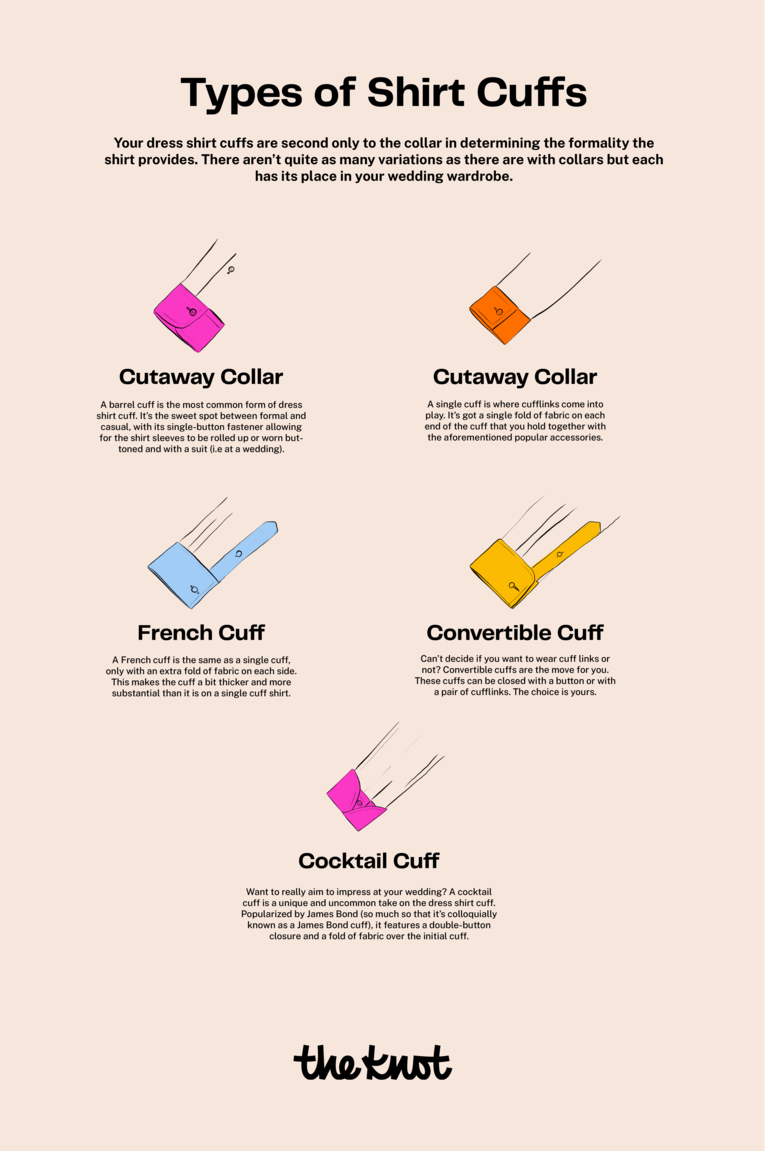 Your dress shirt cuffs are second only to the collar in determining the formality the shirt provides. There aren't quite as many variations as there are with collars but each has its place in your wedding wardrobe.
Barrel Cuff
A barrel cuff is the most common form of dress shirt cuff. It's the sweet spot between formal and casual, with its single-button fastener allowing for the shirt sleeves to be rolled up or worn buttoned and with a suit (i.e at a wedding). Unless you're getting up into the realm of black and white-tie weddings, a dress shirt with a barrel cuff is good for pretty much any occasion thanks to its versatility.
Single Cuff
A single cuff is where cufflinks come into play. It's got a single fold of fabric on each end of the cuff that you hold together with the aforementioned popular accessories. Single cuff dress shirts tend to be worn with tuxedos or particularly formal suits. Wear these to white-tie, black-tie, and formal weddings.
French Cuff
A French cuff is the same as a single cuff, only with an extra fold of fabric on each side. This makes the cuff a bit thicker and more substantial than it is on a single cuff shirt. As with its counterpart, this is a formal cuff meant for white and black-tie affairs.
Convertible Cuff
Can't decide if you want to wear cuff links or not? Convertible cuffs are the move for you. These cuffs can be closed with a button or with a pair of cufflinks. The choice is yours.
Cocktail Cuff
Want to really aim to impress at your wedding? A cocktail cuff is a unique and uncommon take on the dress shirt cuff. Popularized by James Bond (so much so that it's colloquially known as a James Bond cuff), it features a double-button closure and a fold of fabric over the initial cuff. It's great for cocktail attire and anything more formal than that, though you should keep in mind that these are hard to come by in made-to-wear dress shirts. You'll either have to get them custom made or purchase a shirt from a high-end shirting supply like Turnbull & Asser.
Types of Pleated Shirts
If you haven't ever put much thought into whether or not your dress shirt has pleats, don't worry–it's a pretty subtle detail, albeit one that goes a long way in determining how your shirt fits. None of these pleat variations have much effect on a shirt's formality. It has everything to do with fit and comfort. In short, a pleat is going to add extra fabric or breathing room in certain parts of the shirt, which can give it a different fit when worn tucked or untucked.
No Pleat
This one is self explanatory–a shirt with no pleats will have a clean finish to its back. This is a good call for a shirt that's particularly fitted or one you plan on getting tailored to fit you and you specifically.
Rear Side Pleats
Rear side pleats add extra fabric to your shirt's shoulders. It effectively allows for an increased range of motion, or for some flexibility for broader-shouldered folks.
Center Box Pleats
A center box pleat features two pleats that run down the middle of your dress shirt. These are going to be great for folks who want slightly more range of motion in a slimmer-fitting dress shirt. It's also a great way to add some flow and drape to an already-boxy classic fit dress shirt.
Dart Pleats
Most pleats add extra fabric and range of motion. Dart pleats do the opposite. They're placed towards the bottom of the back of the shirt and eliminate fabric, trimming a look down in the midsection and accentuating an inverted triangle silhouette. It's the move for anyone looking to make a boxier shirt a bit more fitted, or a fitted shirt even more fitted.
Rounded Hem vs. Straight Hem
Your shirt hem is something of an invisible detail–after all, there's a pretty good chance it's going to be tucked in and out of sight. Still, the style of your hem can affect the fit and feel of your dress shirt and should be taken into consideration when getting dressed. In short, a rounded hem is a more formal option. This is something you want on proper dress shirts that you won't be wearing untucked. The rounded hem allows for less fabric to billow out on the shirt's sides when you tuck it in. Straight hems are better for shirts that you may wear tucked or untucked, like a classic Oxford shirt.