Engagement Moons Are Trending—Here's Why You Should Take One
A post-proposal trip just hits different.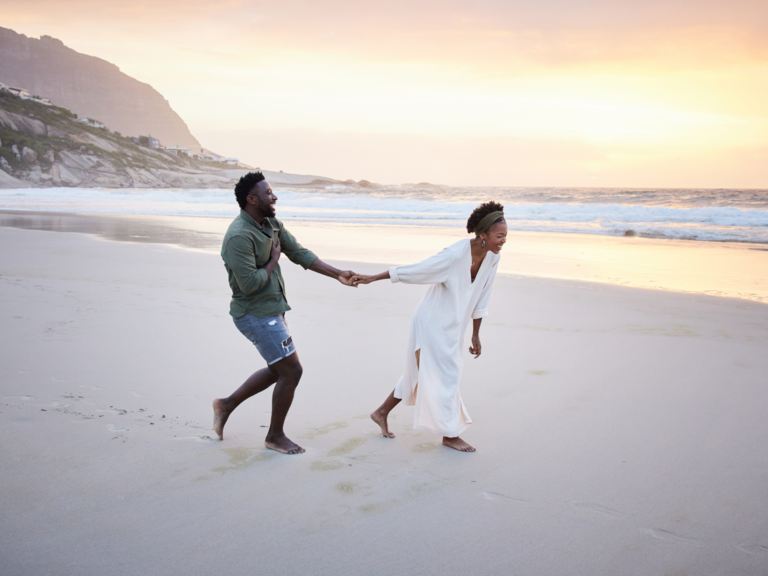 Goodboy Picture Company / Getty Images
While many dream about the moment their partner will drop to one knee and propose—few think about what comes after. Of course, wedding planning—but before you dig into the details, many modern duos are opting for an engagement moon (also known as an engagement honeymoon) to savor this sweet slice of private celebration before the real work begins. Here, we explore the engagement moon trend, along with tips for making it a special and fun destination to consider.
In this article:
What Is an Engagement Moon?
You're likely familiar with a honeymoon—and have the vision board to prove it—and an engagement moon is not all that different. They just happen to come before you've officially tied the knot.
An engagement moon is an opportunity for newly engaged couples to travel together and celebrate their love in a relaxed setting as they embark on a new chapter of their lives, explains Adam Morvitz, a travel expert and the CEO and founder of point.me. "Engagement moons are meant to be a peaceful time to enjoy each other's company and/or a respite from the stressful wedding planning process," he shares.
Why Should You and Your Partner Take an Engagement Moon?
After the question has been answered, you're left feeling like you're floating on cloud nine. And then the next day, you're right back into the reality of everyday life with routines, responsibilities and deadlines. Rather than diving back into 'real life', an engagement moon provides a much-needed (and savored) pause to soak it all up. Here, why you should consider booking an engagement moon:
It gives you time to bask in the glow.
The number one reason to take an engagement moon is that the second you get engaged, no one will even let you take a breath before they ask you lots of details about where and when the wedding will be, according to wedding planner Juls Sharpley. Rather than posting your new status and bling on Instagram, having an engagement moon allows you to share a little secret together.
"You're still trying to bask in the glow of just having said yes—or popped the question—and enjoy this moment of being engaged, and everyone around you just wants to know the nitty-gritty details that you haven't had time to even look into yet, much less decide on," Sharpley says. An engagement moon lets you disconnect with your partner before dialing into your friends and family.
It solidifies your new beginning.
An engagement flips a page on the next chapter—but you and your partner must be on the same one. Travel can encompass all life's challenges in one small trip. If you haven't traveled together yet, it's essential to see how you work as a team when unexpected hiccups arise, according to Samantha Brown, a travel expert and two-time Emmy-award-winning host. "There are wonderful moments for certain, but also challenges: think airport chaos, delayed or canceled flights, the reality not looking like the brochure, and so on," she says. "Travel is one of the few things we have in our lives that mark a fresh start, a new beginning. It's a powerful way to mark the start of your journey together."
It gives you an opportunity to dream.
Though your wedding is an exciting moment to share with you and your friends, ultimately, it's just a day (or a weekend). After the vows have been exchanged, you have the privilege of sharing your life, and an engagement moon can be a time where you dream big about your plans together, Brown says. You can use the time—whether you're on a beach or in a city—to talk about future children, homebuying aspirations, career goals and all of the little pieces that go into sharing your forever with another person.
How to Plan a Romantic Engagement Moon
If you want your partner to take the lead on planning an engagement moon, communicate with them about your expectations when discussing marriage. Or, if you're more into planning this trip as a couple, take the lead and set aside time to make sure it's uber-romantic. Here's how:
Consider a mid-wedding planning engagement trip.
While the vast majority of engagement moons happen right after the proposal (or within a few days), some couples decide to take a mid-wedding planning engagement trip. Morvitz and his partner decided to have a small getaway after they confirmed the venue and the band, sort of like a reset on the stress of putting together their big day.
"Taking an engagement moon also allowed us to be proactive about staying connected throughout the chaos of planning a wedding," he shared. "I wouldn't have thought it would be so impactful—we travel together all the time—but being able just to celebrate each other and actually have space to be excited about everything going on while having some distance from everyone and the planning lens was everything I didn't know we'd need."
Consult a travel expert.
Though some couples thrive planning all of the details of their engagement moon, others want a hands-off experience that allows them to sit back and enjoy the glow. Consider consulting a travel expert and planner who can iron out all of the important details, make recommendations and bookings for you and soon to be spouse. Check out The Knot Marketplace to find a highly-rated travel pro to get started.
Have a team-building excursion.
Since you'll be on each other's team for a lifetime, the engagement moon can be an opportunity to share your delights. Brown recommends each partner pick an activity, from hiking to a cooking class, dance lesson or snorkeling excursion. This allows you to see your partner in their element and then share your passion with them. "I always tell people to choose activities that require no mental energy from you other than to have a great time," she adds.
Then, after these experiences, you can share a cocktail or two and talk about what you learned about one another.
If you're considering a destination wedding, go there.
Sharpley says it's not a bad idea to pick a location you may be considering for the wedding if you are looking for a destination wedding. Spending a long weekend where you might say 'I do' allows you to explore the area. Just make sure it doesn't become a 'wedding planning' task and truly feels like a vacation. If you plan to get married in your current zip code or your hometown, go where your heart takes you, stress-free.
"Choose a place that lets the two of you truly relax into being able to celebrate your new commitment to each other and just really enjoy each other's company," Sharpley says.
Best Places For An Engagement Moon
Truth be told, an engagement moon can be anywhere! Since the hope it so celebrate your love and bask in your engagement bubble for a little while, even a short road trip to a nearby town will feel like a getaway. Here, our experts recommend top-rated destinations to consider for your engagement moon.
Blowing Rock, North Carolina: Brown says This is a romantic town with many great restaurants and shopping. You are in the Blue Ridge Mountains, so there are phenomenal hikes from easy one-mile loops to difficult 11-mile full-day journeys.

St. Augustine, Florida: Brown says our country's oldest city happens to be one of its most romantic. The town is a wanderer's paradise with so many shops, art galleries and restaurants to enjoy, not to mention a pristine beach and coastline.

Ireland Road Trip: For a longer engagement moon, Brown says to consider The Wild Atlantic Way, which stretches 1,500 miles down Ireland's west coast. You'll drive through The Northern Headlands, County Donegal, Slieve League and more scenic celtic sights.

Montréal, Canada: Consider this destination if you want an European experience but closer to home. There are plenty of restaurants, nearby hikes, coffee shops, hidden alleyways and even a port worth exploring in Montréal.

Aspen, Colorado: Sharpley recommends this small CO gem for the perfect mix of relaxation, culture, romance, unparalleled views and mountain adventure.

Copenhagen, Denmark: Newly engaged foodies will love the capital of Denmark for its modern, hip European flair with exquisite cuisine, Sharpley says. Bonus: You can ride your bikes everywhere—even after a few Danish pints.

Central and South America: Sharpley says South America is for the truly adventurous. There are so many wonderful and amazing adventurous trips throughout Central and South America. Costa Rica, Roatan, Argentina, Chile — dive, surf, rainforest trips, amazonian jungle tours, hike to Machu Picchu, rappelling, kayaking, etc.