Wedding Guide to Fall Suits: Colors, Fabrics and More
Fall fits are the best fits! From stunning colors to fun fabrics, here's everything you need to put together the perfect fall suit.
We have included third party products to help you navigate and enjoy life's biggest moments. Purchases made through links on this page may earn us a commission.
The days are getting shorter, the nights are getting longer, and you may notice a slight chill in the air.. It can only mean one thing,fall is here. And as much as you may not want to say goodbye to summer, there's a definite upside: it's time for fall suits. Now, don't get me wrong. I love a linen number and summer wedding fashion is a great excuse to cosplay The Talented Mr. Ripley at a friend's beachfront affair. However, fall is–in my humble opinion–the best season for suiting. Temperatures dropping make for perfect suiting weather and give you all the room in the world to experiment with fabrics and layering. Many of the hottest trends in 2023 suiting are at their prime during this time of year (it's time for earthy neutrals). Fall colors are tough to beat and the season also lends itself well to a variety of patterns that aren't quite summer-appropriate. And while wedding suits are always a great excuse to look your best, fall weddings really set you up for success given their timing. Speaking of looking your best, let's get to it–here's everything you need to know about getting dressed for a fall wedding this year.
In this article:
What Makes Fall Suiting Great?
As cooler days and nights make their way into the calendar, the time for summer colors and fabrics draws to a close. The downside to this is it means linen suit season may be on its last legs (though it doesn't necessarily mean it's time to put your favorite in storage until spring). The upside is it means it's time for a wealth of exciting new fabrics and patterns to make their way into your wardrobe.
We'll address the obvious first: colder weather means warmer suiting. Fall is a great time to add tweed, corduroy, thicker wool, and flannel into your suiting lineup. These fabrics tend to skew a little stuffy for spring and summer weddings, but they're exactly what you need come September. It makes for a great opportunity to mix patterns and textures, with each fabric having a unique feel to it that contrasts well against dress shirts, ties, and other accessories. Corduroy suits with flannel pocket squares? Tweed blazers with wool or knit ties? The options are endless and exciting.
Fall also opens your wardrobe up to a new lineup of suit colors. Whereas spring and summer are all about bright solids and pastels, you're going deeper and darker with fall suiting. This is the time for navy instead of blue, for burnt orange and burgundy, and for cooler colors like green in their deepest, richest tones. From blending patterns to the killer colors you'll rock, fall suits let you put your best foot forward (and hopefully with a killer dress shoe or boot to match).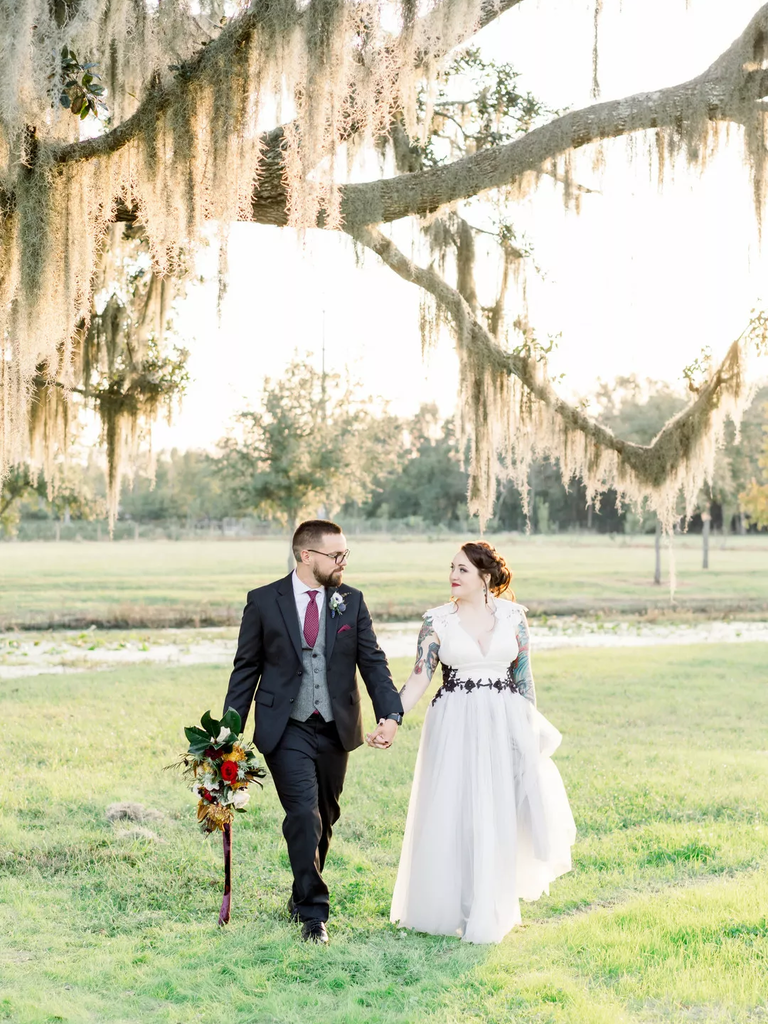 Fall Suit Colors
During the season you're going to pare down some of the brighter, more vibrant colors in your wardrobe. Opt for more seasonal appropriate hues, which tend to skew a bit darker and richer. Your standard blacks, browns, and grays are always going to be appropriate regardless of season (though aiming for darker shades of brown and gray is the right move for fall).
Brown
Brown is the quintessential suiting color, matching the vibe of the season perfectly. While the full spectrum of brown is generally a safe bet, it's definitely the right time to skew a bit darker. Deep, chocolatey browns or ones with a burnt orange hue are elite fall suiting colors.
Burgundy
If you're aiming to break free from neutrals this fall, burgundy is a great place to start. The deep shade of brownish-red evokes falling leaves and early sunsets. It's also got an elegant air to it, bringing a formality to your suit that brighter reds might not deliver.
Green
Another neutral adjacent hue is green. Here again, go deep. More natural greens are the perfect choice, like an earthy olive. You also can't go wrong with a saturated green like emerald, especially for a more formal affair.
Fall Suit Fabrics
Fabrics play a huge part in fall suiting with the temps dropping and seasonal vibes shifting. Whether your aim is functional—you're just trying to stay warm— or you're looking to experiment with texture and pattern, these are the best options for fall suiting.
Flannel
Flannel blend suits are among the thickest options for a fall suit, providing a unique texture and an elegant flair. The feel of the fabric also allows for unique options when paired with other textures.
Wool
Wool on its own is something of an evergreen fabric, with some thinner wools designed to be more breathable and fit for summer wear. Fall is the time to bring out thicker blends and lean into the season.
Corduroy
For a unique look that provides texture and pattern alike, go with corduroy. It channels old-school Ivy flair and layers great with thick cotton dress shirts and clever ties.
Top 10 Fall Suits for Weddings
J. Crew Kenmare Moleskin Suit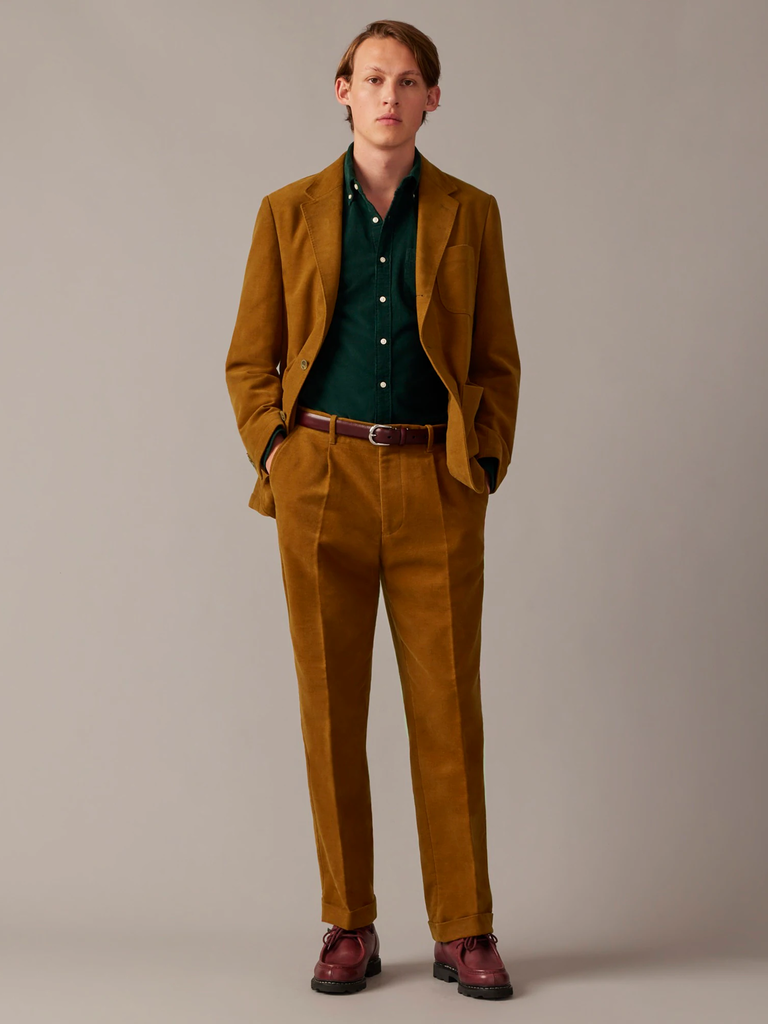 J. Crew's fall suiting line is predictably exceptional, with no piece standing out more than their Kenmare suit in moleskine. The unstructured jacket comes in a unique thick fabric and a killer fall color. This is one of those suits you'll want to wear again and again— even after the wedding
Size Range: 34S-46L
CARB Studios Sunset Suit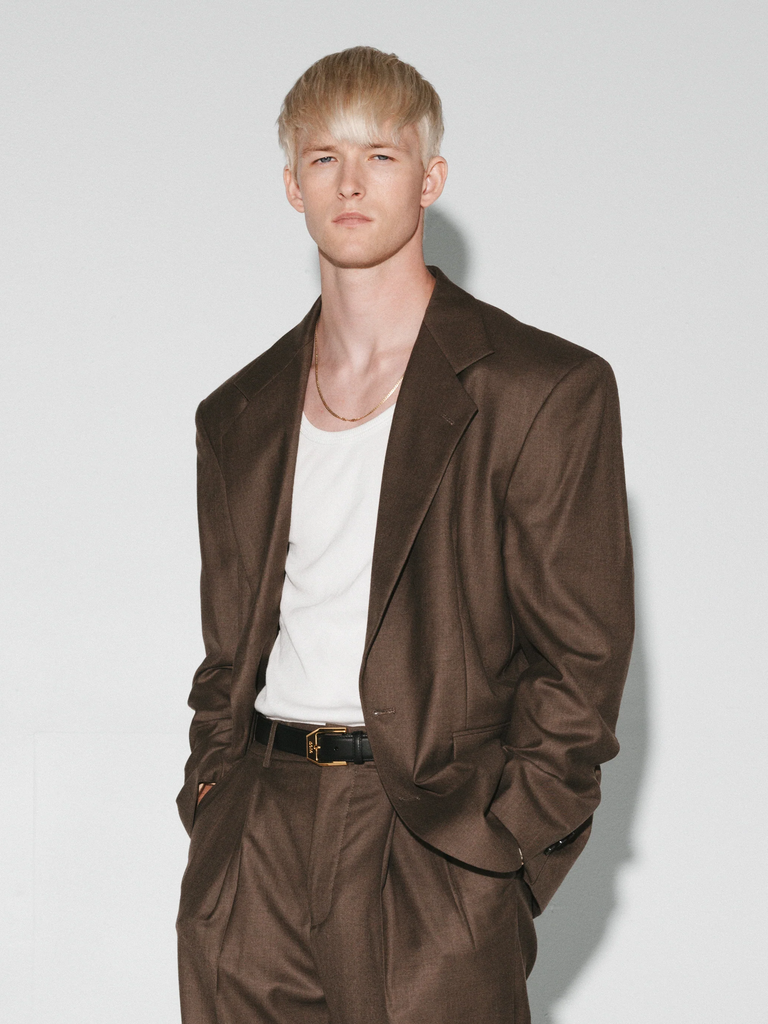 CARB Studios aims to channel old-school California cool in everything they do. When it comes to their Sunset Suit, mission accomplished. This version, which is available in a rich shade of fall-ready brown, has a slouchy cut and oversized shoulders, the sort of suit that calls to mind Richard Gere and Robert Redford in the 1980s–you know, two well-dressed dudes worth channeling the next time you suit up.
Size Range: XS-XL
Proper Cloth Corduroy Stretch Waverly Suit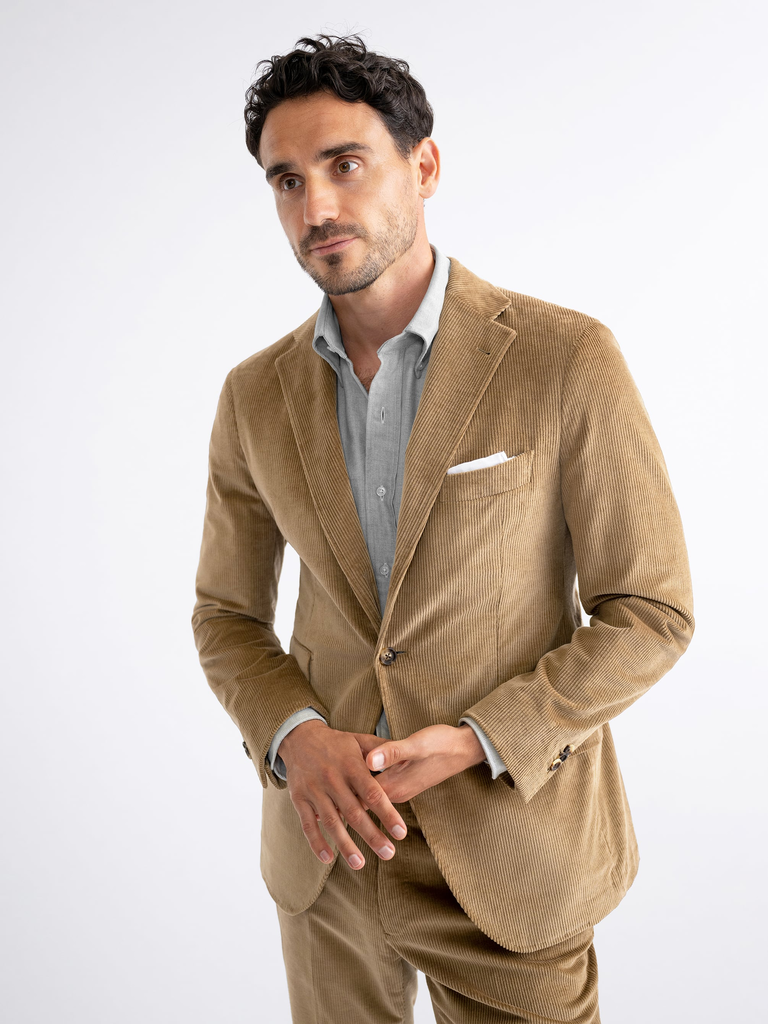 Corduroy is the perfect fall fabric and most every suit Proper Cloth makes is a perfect rendition of the style and fabric it's working with. Their Waverly suit in brown corduroy is no exception. Pair this one with a blue oxford for a semi-formal wedding and you're sure to have a guest or two ask where you got your look.
Size Range: 28-64
Spier & MacKay Brown Flannel Prince of Wales Check Suit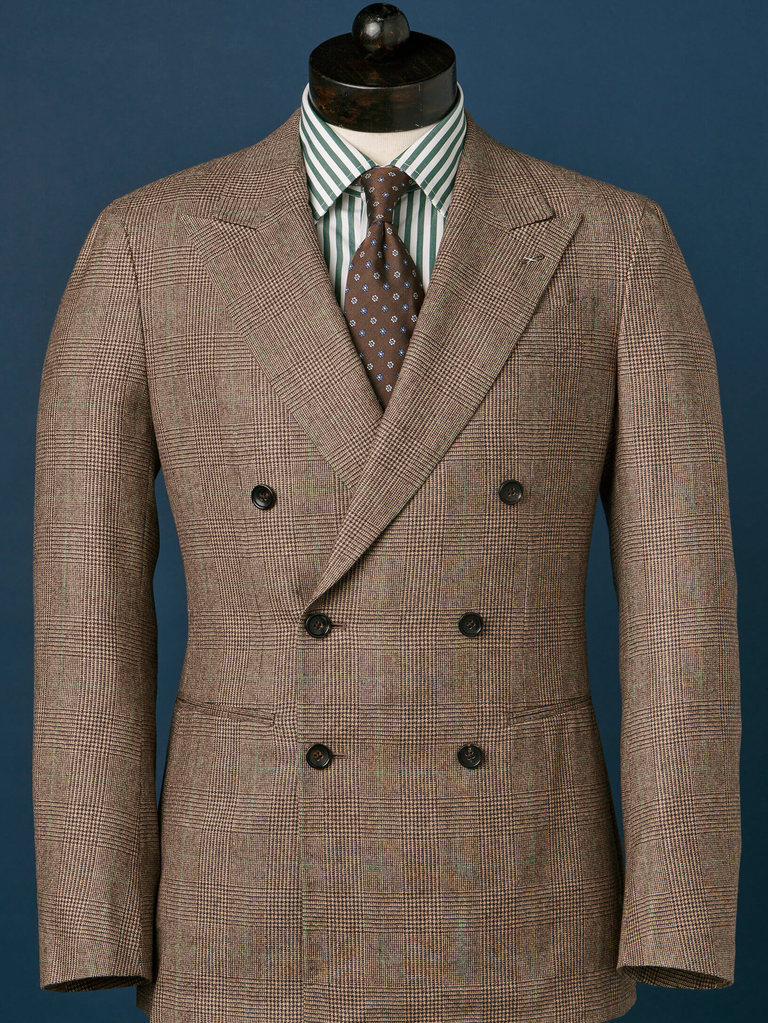 Brown flannel? A dapper check pattern? A touch of throwback British tailoring flair? Yeah, this suit checks all the boxes for a formal fall wedding.
Size Range: 34-44L
Polo Ralph Lauren RL67 Glen Plaid Silk Jacket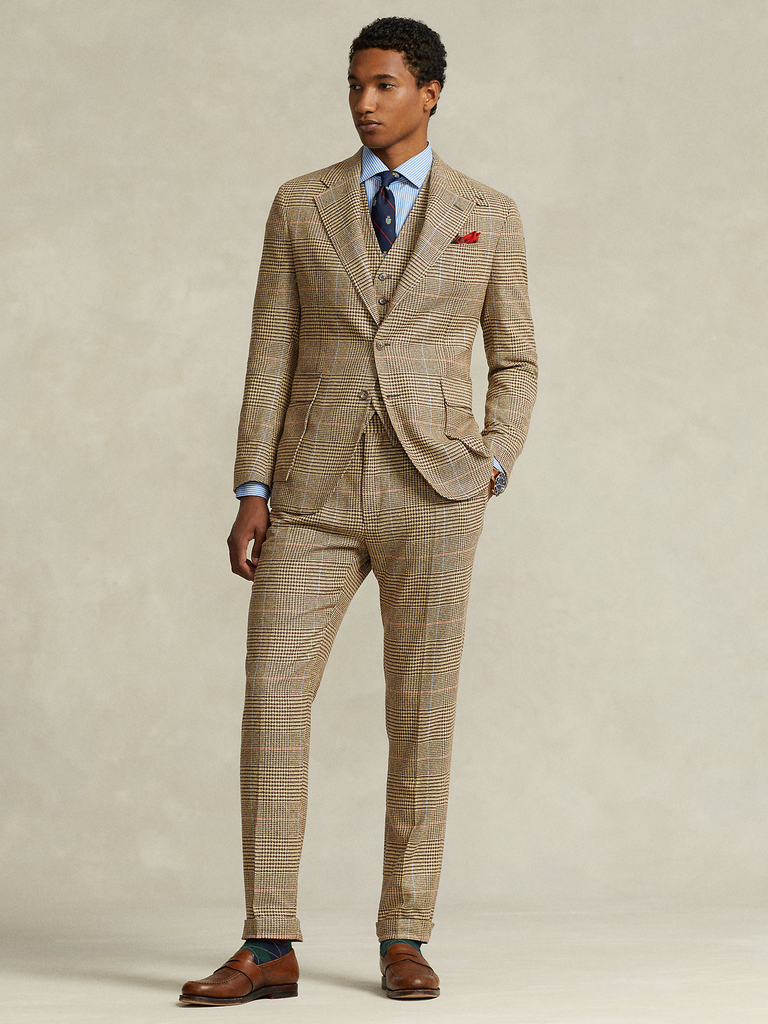 Suit separates are still in the mix in the fall and Polo Ralph Lauren's glen plaid silk jacket is a piece very much worth mixing and matching. You can throw this on over a polo with nice denim for a dressy casual wedding or dress it up with nice trousers and a slick dress shirt for a more formal dress code.
Size Range: 34-48
Suitsupply Houndstooth Three-Piece Havana Suit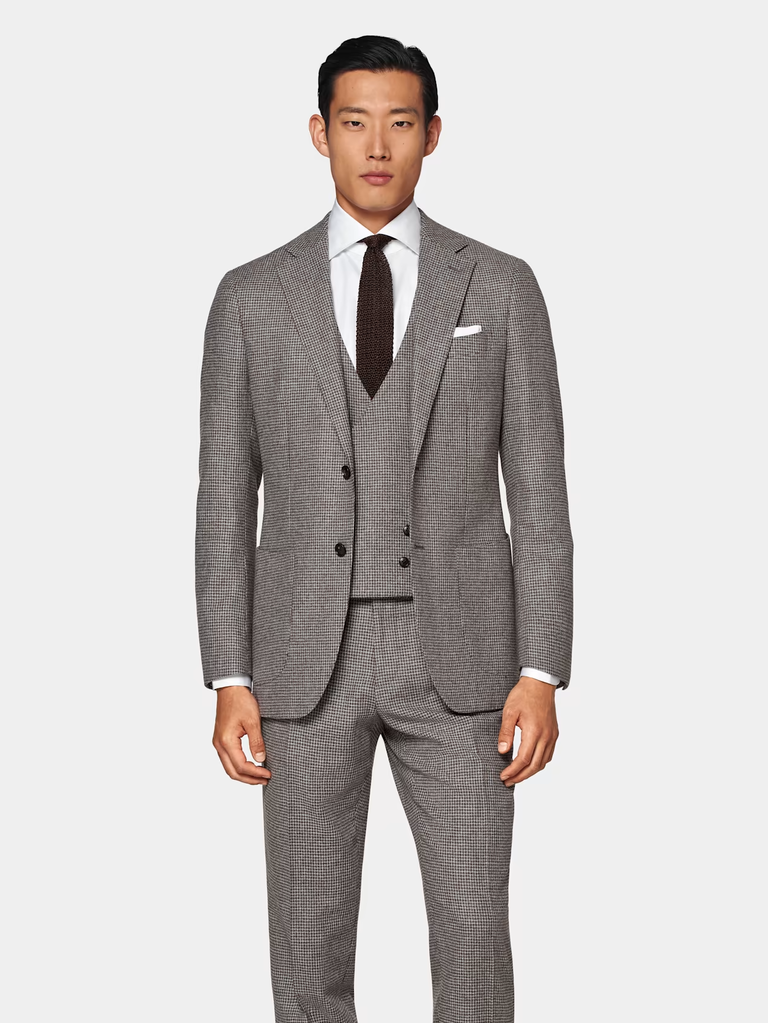 Three-piece suits are perfect for fall–after all, with the weather getting cooler, an extra layer of fabric underneath your suit goes a long way. It also adds an elegant touch to a suit, perfect for formal occasions. Suitsupply's take on it comes in a houndstooth that's very much the sort of pattern perfect for fall suiting.
Size Range: Made to Measure
Paul Smith Kensington Dark Green Mohair Suit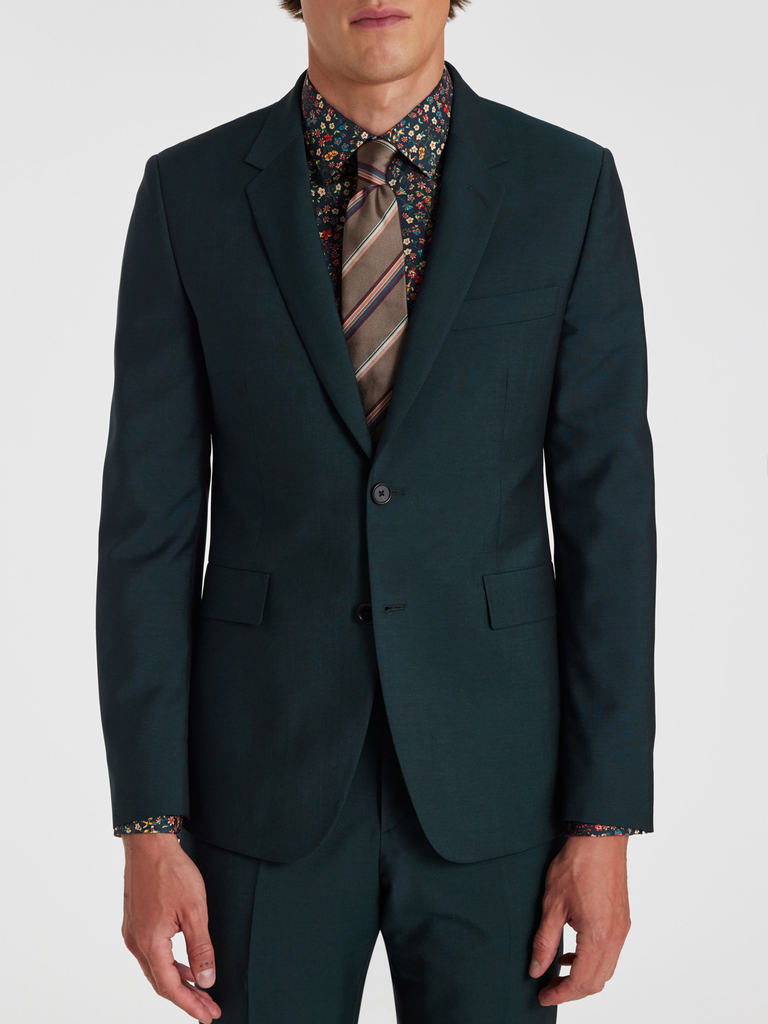 Throwing some dark green on during fall is always a good call, and Paul Smith's take on the autumn suiting staple doesn't miss. It also comes in a suave mohair, a deeply underrated fabric with a cool sheen that channels swaggy sixties chic.
Size Range: 36-46
Anthony Sinclair Two-Piece Dark Grey Chalk Stripe Flannel Suit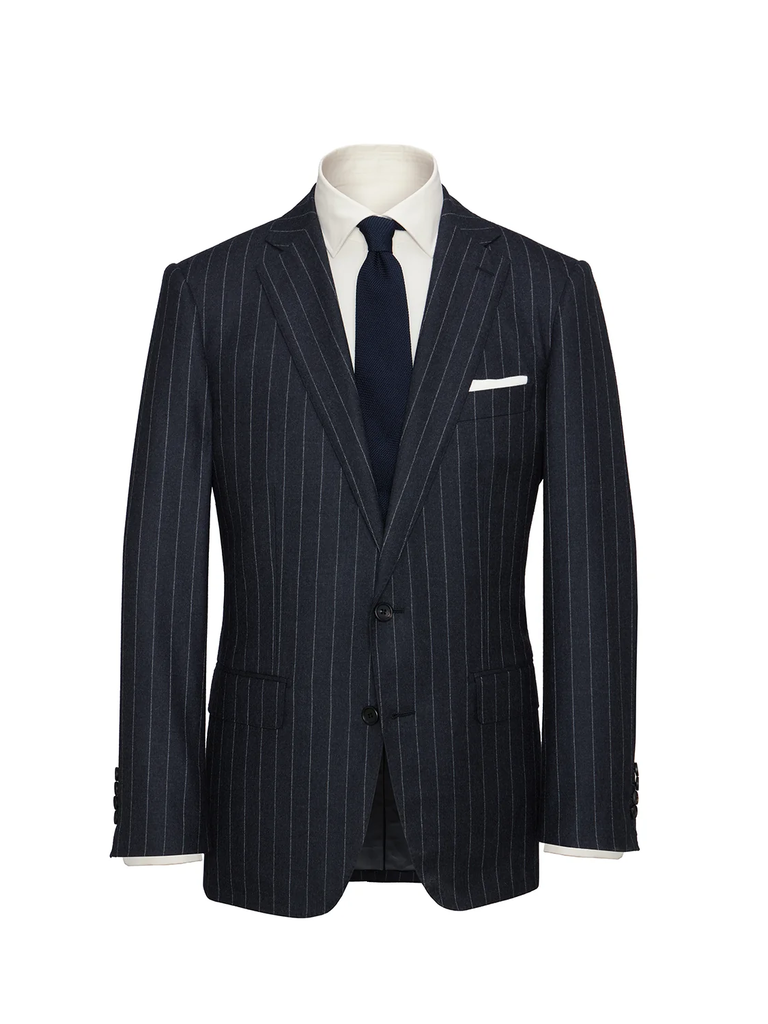 Anthony Sinclair's stunner of a Pinstripe two-piece is a power pattern worth sporting this fall. With a thick flannel blend it's got British tailoring bonafides that will have you looking your best on the day of the wedding. Do keep in mind that all of the brand's suiting is made to order, so factor in enough time between your purchase and the date you need the suit.
Size Range: 36-46
Express Slim-Fit Burgundy Suit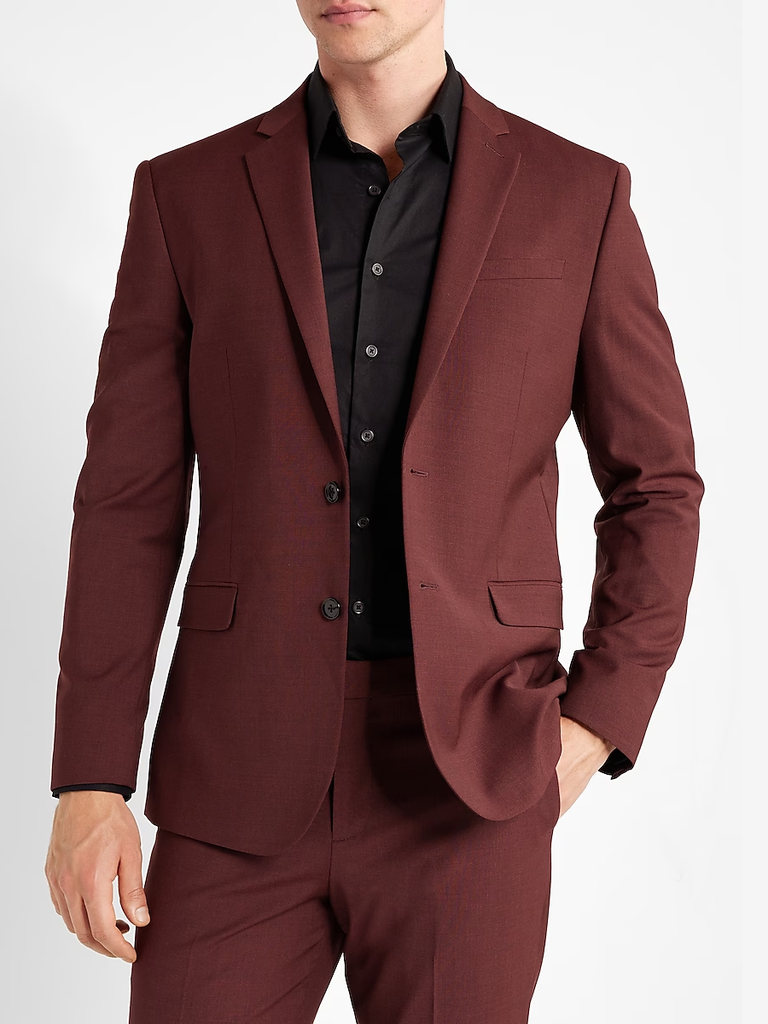 Express's crisp burgundy number is beautiful suiting simplicity. This rich shade is one of the best fall suiting colors and a classic cut that never goes out of style. You'll be wearing the look every October for years to come.
Size Range: 36-48
Indochino Farhill Herringbone Olive Suit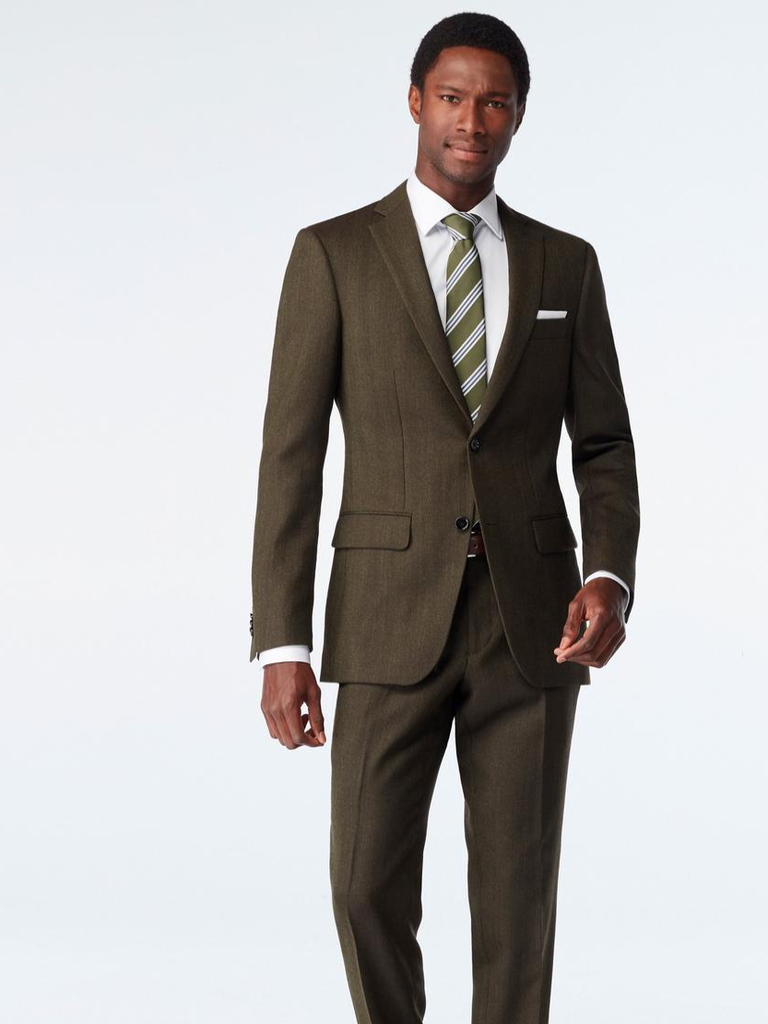 Olive is a fall vibe we can get behind. An olive herringbone is a ten. . Indochino can outfit you in a suit that capitalizes on these trends and comes with a personalized flair. Their made to measure program ensures not only that the suit will fit perfectly but you can customize every detail from the number of buttons to a monogram underneath the neck of the lapel.
Size Range: Made to Measure
Fall Suit Styling Tips
If your question isn't so much what to wear but how you should wear it, I've got you covered. Here are some of my favorite fall suiting styling tips.
Mix Textures
Because fall opens up your closet to so many different fabrics with unique looks and feels, you should absolutely take advantage of the variety. Rather than go with a uniform collection of materials, mix and match. Throw on a herringbone tie to complement your flannel suit. Try a tweed vest underneath a wool two-piece. Layer and experiment with texture–it makes your look dynamic and is also a great way to add personalization.
Check the Weather
Just because it's September or October doesn't necessarily mean the weather will be fit for fall suiting. Sure, a few orange leaves on the ground may make you want to bust out a three-piece tweed suit on the spot, but make sure summer heat hasn't overstayed its welcome by a few weeks. The last thing you want is to be sweating through your three-piece because it's made its debut a bit too early.
Silk Scarf it Up
In the spirit of finding new ways to make fall suiting feel fresh (and to encourage further textile-mixing), try capping your lookwith a patterned silk scarf. You can use it as a tie alternative and fasten it up like an ascot or cravat or throw it on behind the collar of your dress shirt and let it lay under your suit lapels. Silk scarves feel very much of the season and capitalize on the vintage vibes that have been trending in menswear for the last year or so. Plus, they're functional–on chilly fall evenings you may find yourself glad to have worn one.