10 Hot Wedding Video Ideas
Not all wedding videos are created equal. To prove it, we rounded up 11 of our favorite new wedding videography ideas. Check them out and then find a videographer to create one for you.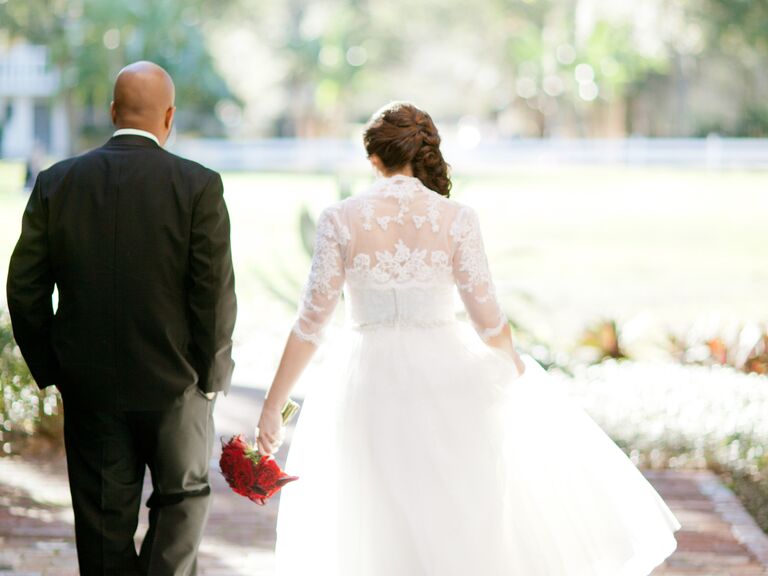 Andi Mans
A Mixed-Media Wedding Video
Sometimes one film style isn't enough. Ask your videographer about mixing formats to create a combination of grainy Super 8, documentary, and cinematic style videography. The best part is that most of the effects can be done post-wedding in edit.
Video: Shark Pig (SharkPig.com)
A Same-Day-Edit Video
It's exactly what it sounds like: Your videographer will shoot the entire wedding and then edit a short video that you can show to your guests at the reception. Think of it as an extra interactive reception element.
Video: Norris Films (NorrisFilms.com)
A Cinematic Wedding Video
A mix of color and black-and-white footage adds glamour to this timeless film style. Formal without feeling stuffy, a cinematic style wedding video captures every detail from virtually every angle.
Video: Milk & Honey Productions (MilkAndHoneyProductions.com)
A Movie-Inspired Save-the-Date Video
Base your save-the-date video off of your favorite movie style (in this case, Wes Anderson) for a totally personalized look. With a video camera and a little bit of editing know-how, you (or even better, your videographer) can create a short video to send to family and friends or to post on your wedding website.
A Stop-Motion Save-the-Date Video
The stop-motion (when a chronological arrangement of photos is used to give the appearance of movie footage) wedding video trend is the perfect mix of modern and vintage. Talk to your photographer to see if they offer this service or collaborate with a videographer.
Video: Courtney Brooke (IAmCourtneyBrooke.com)
A Proposal Video
Face it: You're not going to remember what either of you said when he proposed. That's why some couples hire a professional to capture the proposal on video. We love the way this video captured the couple's emotions without seeming too intrusive.
Video: Pr!mo (ShootEditSleep.com)
A Wedding Music Video
You have to be brave to request this type of video. But you also have to admit that it doesn't get any more individual than this! Plus, it's a great way to make sure all your guests get some camera time on your wedding video.
Video: LOCKDOWN projects (WeddingMusicVideos.co.uk)
A Love Story Interview Wedding Video
Finally, a way to preserve your love story -- in your own words. Share how you met, how he proposed, or simply the excitement you feel as your wedding day draws closer -- all on camera for your videographer to compile into a unique keepsake.
Video: Digs Studio (DigsStudio.com)
A Wedding Video Trailer
Ask your videographer about creating a shorter version of your wedding video (two to three minutes) to show friends and family and share on your wedding web page. (You can save the full-length movie for your anniversary.)
Video: Small Moments Studios (SmallMomentsStudios.com)
A Documentary-Style Wedding Video
This mix of sweeping artistic angles and sound bites from your wedding day (your bridesmaids laughing while you're getting ready, his dad's toast) is one of the best ways to convey what it was like to actually be at your wedding.
Video: Elysium Productions (ElysiumProductions.com)