The Ultimate Guide to Planning a Destination Wedding in France
Castles, vineyards and breathtaking views make France ideal for a destination wedding.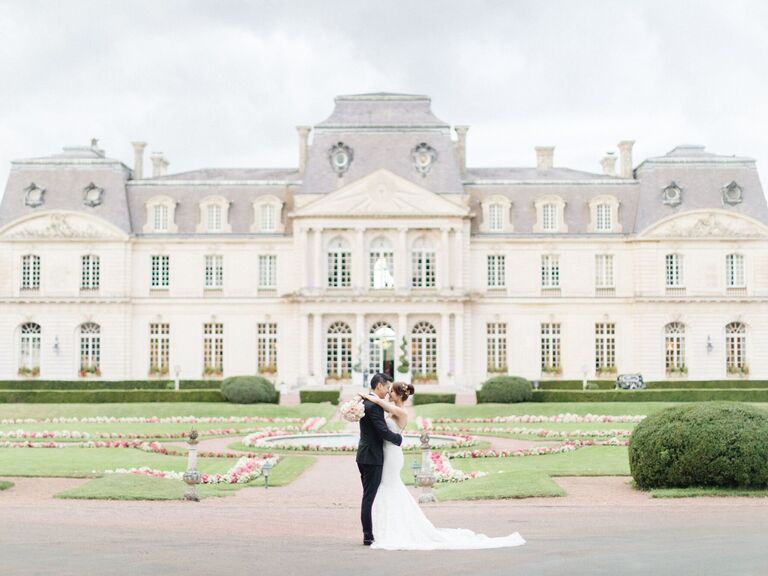 If you've ever visited France or spent hours scrolling through dreamy images of France's chateaus and vineyards on Pinterest (just us?), it's easy to see why many couples opt to have a romantic wedding in France. The wedding destination is, in a word, magical, making it a truly memorable backdrop (hello, Eiffel Tower) for your big day.
Planning your special day in a different country, however, comes with some challenges. You may not be familiar with the area. There may be a different language or currency to deal with. Plus, the logistics of getting legally married outside your home country can be tricky to navigate.
To help with all of that, we speed-dialed Rachael Ellen of Rachael Ellen Events, a destination event planning and floral design company, and Eva Clark, founder and creative director of Eva Clark Events, to give us the scoop on what it's like to plan a destination wedding (or elopement) in France, including the best places to get married, legal requirements, budgeting tips and more.
Why Couples and Guests Love France
So, why France for a destination wedding? According to Ellen, the country's main draw is that it's a world-class destination.
"[Couples] are looking for an experience beyond the regular for their guests, and want to create unforgettable memories rather than just a fun party," she says, adding that France has beautiful wedding venues, amazing food and an undeniable feeling of romance in the air.
The Best Places to Get Married in France
To say France has some of the best wedding venues in the world is an understatement. This can make it challenging to narrow down the perfect region for your dream wedding. Here, Ellen shares three great regions for a French wedding.
Loire Valley
One of the most popular areas in France to host a destination wedding is the Loire Valley. "It is home to many beautiful chateaus, has gorgeous mild weather and is just a drive or train from Paris," Ellen says.
Wine Regions
Ellen suggests wine-loving couples also consider famous wine regions in France, such as Champagne, Burgundy or Bordeaux, for a destination wedding. Burgundy in particular has some of the most beautiful castles in the world. Talk about the perfect venue for a fairytale wedding.
The South of France
For couples who aren't drawn to the French countryside vibe, Ellen points them to the South of France, namely the hilltop cities of Provence or the beachy resort towns near Cannes, Nice and Monaco. Each offers romantic and breathtaking French wedding venues and landscapes—think French chateaus and venues overlooking the Mediterranean Sea.
France Wedding Legal Requirements
Legal Weddings vs. Symbolic Weddings
When it comes to destination weddings in France, Ellen strongly advises couples to opt for a symbolic wedding versus a legal wedding due to France's incredibly complex foreign marriage laws. "We advise a civil ceremony in their home city before or after their French celebration, as getting legally married in France for non-French citizens is next to impossible," she says.
Required Legal Documents
If you do decide to go the legal marriage route in France, Clark notes that wedding ceremonies in France must be performed by a French civil authority, such as an officier de l'état civil.
"Recognition of marriages performed abroad are dependent upon the laws of the state where the marriage is to be recognized," says Clark. "Marriages performed in France are generally recognized by US states. Verifying with your own state, in advance, is highly recommended."
Legal Marriage Timeline
For couples having their legal wedding in the United States and their symbolic ceremony in France, Clark recommends checking with their county regarding requirements and paperwork needed—usually it's proof of identity (like a photo ID), proof of divorce if you've been previously married, and the fee for the marriage license. As for timeline, Clark says most civil ceremonies can be arranged in one to two weeks, though some may require appointments.
Legal Marriage Cost
By having a civil ceremony where you live, you only have to pay the fee for the marriage license and ceremony, which is typically affordable. Plus, you save on having to hire an officiant for your symbolic wedding day.
"Aside from dodging foreign legal processes, the benefit [of getting legally married in your home country] is that the person who officiates the ceremony in France can be anyone," Clark says. "They do not have to be ordained or recognized by the law of either country. This tends to make the ceremony feel far more personal, as it's a loved one officiating versus a stranger for hire."
France Wedding Planning Tips
Now that we've covered the best places to get hitched in France and the legalities of everything, let's dive into planning your French destination wedding.
How to Get There
For the most efficient and cost-effective travel experience, Ellen advises flying into Paris, and then driving or taking a train to the region where you're hosting your destination wedding. For folks traveling from Europe, she says taking a high-speed train is a great option.
Once you and your guests are in France, transportation should be relatively easy. "France has a great network of trains and public transit for short-length travel, as well as a great train system for lengthier travel," Ellen says.
France Weather
When choosing an ideal wedding date for your destination wedding in France, weather is an important factor to keep in mind. France is known for experiencing each of the four seasons—"cold in the winter with potential for snow; rainy in the spring; hot in the summer; and mild to cold in the fall," Ellen says.
To make the best decision, Ellen recommends getting clear on what is most important for you in terms of weather and venue, and go from there. Also, she says, be mindful that many locals go on holiday in August, so finding vendors who are available that month may be tricky.
Choosing Your Venue and Vendors
When planning a destination wedding, you want to work with experts and wedding planners who specialize in planning weddings in that country (bonus points if they've also planned weddings in the specific region or venue you want to host your destination wedding). The Knot Marketplace is a great resource for this.
As you're planning your destination wedding and choosing your venue and vendors, such as florists and wedding photographers, Ellen recommends focusing on creating an experience. "Find ways to turn the entire week or weekend into a thoughtful, experience-based event rather than just a standard party," she says. "With a destination, you typically have fewer guests so you can really put your budget toward the few guests that you do have."
Budgeting Tips
Ellen believes destination weddings in France can often be nicer for less of an investment than a wedding in the US might cost. "Because the guest count is typically lower, our clients are able to spend more money per guest, so the experience is really incredible," she says. "Plus, there are certain elements, like flowers, that are naturally less expensive in France because they are shipped out of Holland rather than shipped across the ocean to the US."
However, as with all weddings—whether you're throwing a huge bash or a more intimate wedding—there are always unexpected costs that pop up. If you're looking to save some money, Ellen's top budgeting tip is to limit the guest count. "Never skimp on an experience to have more people attend," she says. "Make it magical for a smaller number of your closest friends and family."
Also, since you're planning a destination wedding in another country and exchange rates are subject to change, Ellen suggests making your wedding budget breakdown in euros instead of dollars.