Monetary Gifts for Weddings: Traditions and Etiquette You Need to Know
Giving money is becoming a more popular alternative to sticking to the registry, so here are few things to keep in mind if you're going green.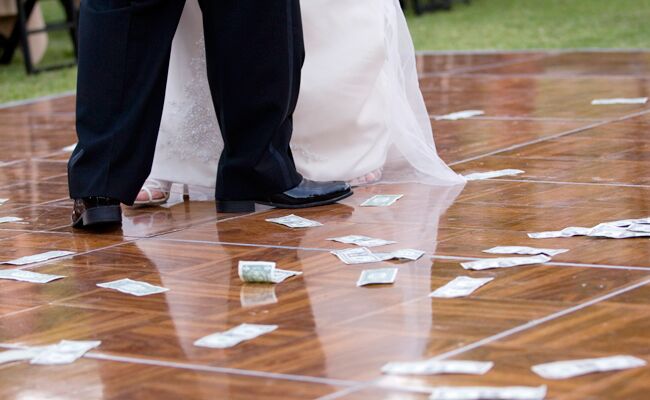 Thinkstock
Most to-be-weds would agree that it'd be nice to start off their married lives with a little extra in the bank. In the US, guests traditionally gave gifts you could wrap, but honeymoon and cash registries are now more mainstream (check out our new cash registry, The Newlywed Fund, where couples can add non-traditional items and experiences to their registry). Around the globe things are a little different. In many cultures, money has and is routinely given as a gift to brides and grooms—and sometimes in addition to the giving of other gifts. It is can even be an intrinsic part of the wedding reception itself.
Here, we've outlined how various cultures around the world give money to couples on their wedding day.
Chinese Weddings
In China, serving tea is a sign of respect. A traditional tea ceremony, called cha tao, helps to mark life's milestones and celebrations—including weddings. In Chinese weddings, the giving of money is linked to that special tea ceremony. Here's how it works: Near the end of the wedding day, a Chinese bride serves tea to her new in-laws. As the tea ceremony begins, the bride kneels in front of the people she will serve, who are seated. She serves the tea in a specific order, starting with the groom's parents and moving from the oldest to the youngest member of the groom's family.
Now, for the exchange of money. When the tea is finished, the bride takes the empty cups from each family member and in return she is presented with a red envelope, called a hung bao, which is full of money (and sometimes jewelry). In a more contemporary version of this ritual, both the bride and groom participate.
Today, brides and grooms of Chinese background often visit each table at their reception to toast their guests. After each toast, the guest may choose to offer money envelopes to the couple. Another option, particularly common in the US, is the wishing well or money box. This is a secure, decorated box into which guests can deposit envelopes and cards filled with money and good wishes.
Japanese Weddings
Money is a very common gift in Japanese weddings. The groom's parents traditionally give the bride's family money in ashugi-bukuro, or special envelope. The envelope is elaborately decorated with gold and silver strings twisted and tied into a decorative knot. Japanese folklore says that the knot is supposed to be impossible to open. The amount inside is usually quite generous—three months of the groom's salary or a set amount of 500,000 yen (about $5,000). Most grooms don't get to keep the whole amount, which is seen as a family-to-family gift. But the money-giving doesn't stop there. Guests also give cash gifts to the bride and groom. A friend may give about $300, and an especially close friend may up the sum to $500. Bosses, uncles and aunts may part with up to $1,000 for their favorite couple. The gift-giver's name and the grand total of the cash inside is written on the outside of the envelope.
Polish Weddings
If you're attending a Polish wedding, don't forget safety pins and some cash—that is, if you want a dance with the bride. At a Polish wedding, guests pin money on a bride's gown to get the chance to dance with her. Usually, the money is used to fund the newlyweds' honeymoon. In addition, guests may form a circle around the bride and toss money into her veil. Sometimes the maid of honor collects money in her apron.
Nigerian Weddings
What's that beautifully decorated bag a Nigerian bride carries around with her at her reception? It's the receptacle for money she'll be receiving from her guests. Guests at a Nigerian wedding fill the bag with envelopes containing checks. It's customary for the bride to receive numerous envelopes at the reception as she is literally showered with money. Some African American couples who wish to infuse their weddings with cultural traditions have adopted this ritual.
Italian Weddings
An Italian bride may also be carrying a special bag at her reception. It's called la borsa, and as part of a custom called buste (meaning "envelopes"), guests place envelopes with money in the satin bag. The money is used to help cover wedding expenses. Italian families often ask an older relative to hold onto la borsa during the reception.
Around the World
Here's a peek into other traditions involving money: In Spain, each guest who dances with the bride during the sequidillas manchegas, the traditional dance, presents her with a gift of money. In Armenia, a godmother collects money for the bride and groom and gives out dried fruit and nuts to guests in return. On wedding morning in Malaysia, children carrying trays of food and money tucked inside animal or flower-shaped envelopes march to the bride's house with their offerings. A Puerto Rican bride may be covered with cash after guests pin money to her gown while dancing with her. The pins used are called capias and are available to guests who remove them from a special doll.
What is a Monetary Gift?
Any form of money given as a present is considered a monetary gift. Cash and checks are the ultimate examples, but there are other options available these days. Gift cards, Venmo and credit towards your honeymoon are also considered monetary gifts.
How Do You Ask for Monetary Gifts?
Cash registry websites make it easy to ask for cash as a wedding present. In fact, most registry sites, like The Knot Registry now feature options for monetary gifts. This makes the process of asking feel polite. If you add such a request to your registry, be specific about how you plan to use the cash. Your guests will be more likely to make a monetary gift if they know it's being put to good use.
Is it Rude to Give Money as a Gift?
While some older generations might find monetary gifts crass, traditions are changing rapidly. Most modern couples don't perceive monetary gifts as being rude. Be sure to check their registry for clarification. The gifts they register for – and any cash registries they add on – will clarify the appropriate monetary wedding gift for the situation.
How Do You Say Thank You for a Monetary Gift?
Treat monetary gifts like any other present you receive on your wedding day. Keep track of each gift you receive and write thank you notes accordingly. When you receive a monetary gift, it's a good idea to describe how you plan to use the cash in your thank you note.