Here's Everything You Need to Know About Groom's Cakes
Get ready to learn more about this sweet and unique treat.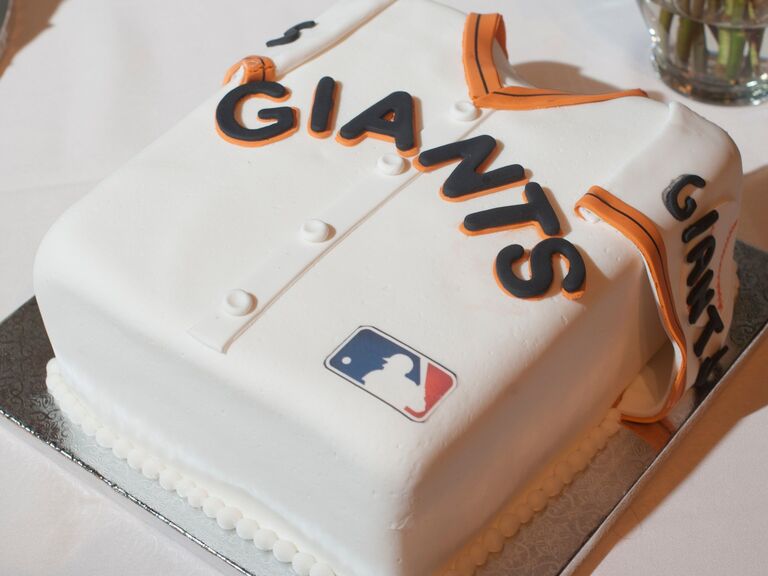 Want to be as creative as possible for your wedding dessert? Then consider serving a groom's cake during the reception. This wedding cake tradition allows a to-be-wed to showcase their partner's favorite flavors, hobbies and passions all in one dessert. But if you've never heard of a groom's cake and want to know more about it, we've got you covered. Read below to learn everything from what a groom's cake is to how the armadillo groom's cake tradition came to be.
In this article:
What Is a Groom's Cake?
At traditional weddings with a bride and a groom, the classic main cake used during the cake-cutting ceremony is commonly known as the bride's cake. "Somewhere along the way, couples started commissioning a second, less formal cake to serve at the wedding alongside a traditional wedding cake. This cake, often referred to as a groom's cake, is usually themed and can be inspired by anything from sports to movies and beyond," Hannah Nowack, senior weddings editor of The Knot Worldwide, explains. People tend to have more fun with the cake's flavors and design, like a cake with funfetti filling shaped like a Patriots jersey, to represent some of the groom's favorite things.
Even though it's called a "groom's cake," any to-be-wed can have one on their special day. It's a fun way to show your love for your partner and highlight their passions.
Who Pays for the Groom's Cake?
Since the groom's cake is usually a gift, and sometimes a surprise, for the groom, it's expected for the bride to pay for the cake. The bride's family traditionally pays for the wedding cake as well.
How Much Does a Groom's Cake Cost?
The average wedding cake cost in 2022 was $510. This price depends on the number of tiers, the ingredients, the decorations and much more. Most likely, groom's cakes have the same average cost and have the possibility of being pricier since they typically have more adornments than a classic wedding cake. If you plan on having two cakes, we recommend you make a budget for both.
When Is a Groom's Cake Served?
There aren't any rules attached to when the groom's cake is served. Sometimes couples hand out slices of the groom's cake to their guests as edible wedding favors or at the same time as the wedding cake.
Where Does the Groom's Cake Go?
If you're going out of your way to serve a groom's cake on your big day, don't let it be an afterthought. Display the groom's cake next to the wedding cake on a stand or put it on its own table if it's bigger and has a contrasting theme. Some people even roll out the groom's cake on a table as a surprise during the reception.
Who Cuts the Groom's Cake?
You and your partner can cut one slice of the wedding cake and the groom's cake together for cute photo ops, then ask your caterer to take over the rest of the cake-cutting process. Another option is to have your spouse in the spotlight and ask them if they want to pose with the groom's cake before cutting it on their own.
Groom's Cake Tradition
"The concept of a groom's cake arose from the desire couples had to break tradition and plan a wedding that resembled their unique partnership. As time goes on, we see more and more couples choosing to skip tradition and instead embrace unique ideas that feel authentic to them. For some couples, this looks like having a groom's cake," Nowack says. If you're curious about the story behind this quirky wedding cake tradition, read below to learn how the groom's cake came to be and why it's still popular today.
The Meaning and History of the Groom's Cake
Groom's cakes are known as a popular Southern wedding tradition, but the concept didn't originate from the American South. "It's said that during the Victorian Era in England, weddings involved three cakes: a wedding cake, a bride's cake and a groom's cake. The guests would eat the first one, and then the two sides of the wedding party would indulge in the latter two cakes. At that time, a groom's cake was typically a fruitcake," Nowack explains. Eventually, the groom's cake became what it is today, a tasty second wedding cake that honors the groom and their interests.
"Steel Magnolias" Groom's Cake
A popular wedding food trend couples are incorporating into their special days is the armadillo groom's cake. This eccentric cake is inspired by a scene in the 1989 comedy-drama "Steel Magnolias," which starred Sally Field, Dolly Parton, Shirley MacLaine, Olympia Dukakis, Julia Roberts and Daryl Hannah and is about a group of Southern women enduring the highs and lows of life together as a sisterhood. In the movie, Roberts' fiance wants an armadillo-shaped groom's cake with a red velvet filling, which makes for a hilarious visual. To-be-weds from around the US love nodding to this cult classic with their own version of the armadillo cake that's sure to make any guest laugh even if they don't know the movie reference.