5 Wedding Cake Traditions
The skinny on the most popular traditions--you can decide which to make your own.
by The Knot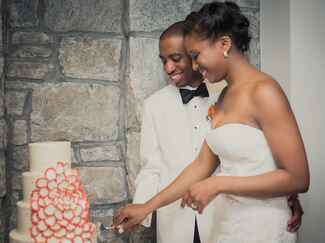 photo by
Janet Howard Studio
Cutting The Cake

Family, friends and photographers alike look forward to the moment the couple joins hands around the cake knife and cuts the first slice of cake. Not only will your guests finally get to taste the gorgeous creation they've been eyeing throughout your reception, it is a classic wedding moment, up there with the first kiss and first dance. Additionally, after the cutting of the wedding cake, your guests (namely the older crowd) will know it's okay to leave your reception.
Make sure your caterer gets 15 minutes lead time before you head over to cut the cake. Even the swiftest trays in the catering biz will need that much time to refill champagne glasses, and ready the cake table with all the necessary cake cutting accoutrements (like essential plates and forks).


Cake Face
This has become somewhat of a tradition, though like the garter belt, everyone has their own opinion about the etiquette of the first bite. If you don't want your perfectly made-up face smashed into a slice of wedding cake, we suggest a little heart-to-heart with your one and only before you cut. If you're both game to partake, have a few extra napkins on hand.


Saving The Top Tier
Lots of couples like to save their top tier of cake for their first wedding anniversary. While your cake can survive a year in the freezer (if well wrapped in plastic and sealed in an airtight container) we advise eating it early, say while reviewing your wedding photos three months into the marriage. If you do decide to save this layer, remember to remove all flowers, stems, leaves and other garnish, and wrap it carefully to avoid freezer burn.


Lucky Charms
Although the custom of adding gold or silver charms into a beautiful cake is usually reserved for bridal showers, it is such a sweet tradition, we had to include it. Each charm baked into the cake has a special meaning attached. A different kind of special luck will fall on the guest who receives a charm. Be sure to instruct your guests to pull on the attached ribbon to take the charm out before they bite.
The meanings behind cake charms are traditionally: heart for true love, ring for upcoming engagement, clover, shamrock or horseshoe for luck, flower for growing love, wishing well for wishes granted, anchor, airplane or ship's wheel for travel and adventure, highchair or baby carriage for children, rocking chair for long life, coin purse or money bag for good fortune, wedding bells for upcoming marriage, telephone for good news, and picture frame for happy life.


Cultural Cakes
While we love towering cakes embellished with white icing and sugar paste flora, we also adore international wedding cake styles, especially the French croquembouche tower of cream puffs. Golden, statuesque and often wrapped in an aura of spun sugar, the croquembouche is a delicious alternative (or complement) to its more American cousin. We urge you to sample a profiterole (the singular term for the cream puff) the next time you go cake-tasting.