17 Epic Groom's Cake Ideas
Go for something totally out of the box.
When it comes to the groom's cake, there are no rules. Traditionally speaking, the groom's cake is meant to be a very decadent, luxe flavor that supplements the wedding cake. Use it as an opportunity to splurge on a smaller version of your favorite flavor cake, or ask your baker to craft a design that's totally unique.
But before we dive in and reveal some of our favorite groom's cake ideas, we've answered some of your most frequently asked questions around the topic. Check out our answers and then feast your eyes on the most creative groom's cakes we've ever seen!
What is a groom's cake?
Traditionally, the groom's cake is a gift from the bride to the groom. In fact, it is a tradition that dates back to the Victorian era, when brides would surprise their husbands with a special cake alongside their main cake. The bride usually chooses a theme for the cake that reflects the groom's personality, hobbies or interests. For example, a cake may revolve around the groom's favorite sports team, or it could be designed to focus on their love of hiking or fishing.
Is a groom's cake necessary?
It's your wedding and you get to call the shots. Certainly no one expects a groom's cake, but it can be a nice, delicious touch to your day. Some couples like to offer a groom's cake in a flavor that is different from their main wedding cake to give their guests more options. Trust us, no one will complain about extra dessert.
When do you serve a groom's wedding cake?
Again, it is entirely up to you where and when you serve the cake. Some couples prefer to serve their cake at their rehearsal dinner, while others set it on the dessert table next to their main wedding cake.
Is the groom's wedding cake a surprise?
On the one hand, some couples like to keep the groom's cake a surprise as it adds a little extra magic to the day. As we mentioned before, there are no set rules around presenting the groom's wedding cake, so if you want to surprise the groom with his cake, go on and do so. But on the other hand, you may want to ask for the groom's advice or input to ensure cake suits all his preferences.
Now that you have a better idea around the groom's wedding cake concept, take a bite out of these impressive concoctions.
'Harry Potter' Groom's Cake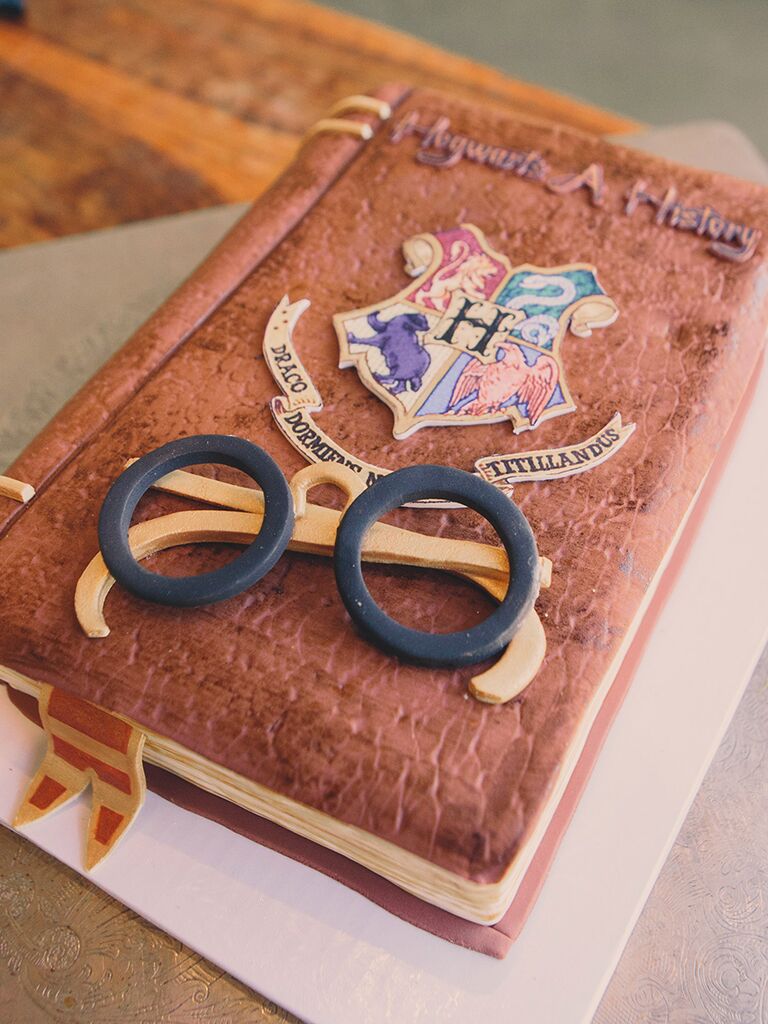 From: An Organic, Natural Wedding at Barr Mansion in Austin, Texas
Yeti Cooler Groom's Cake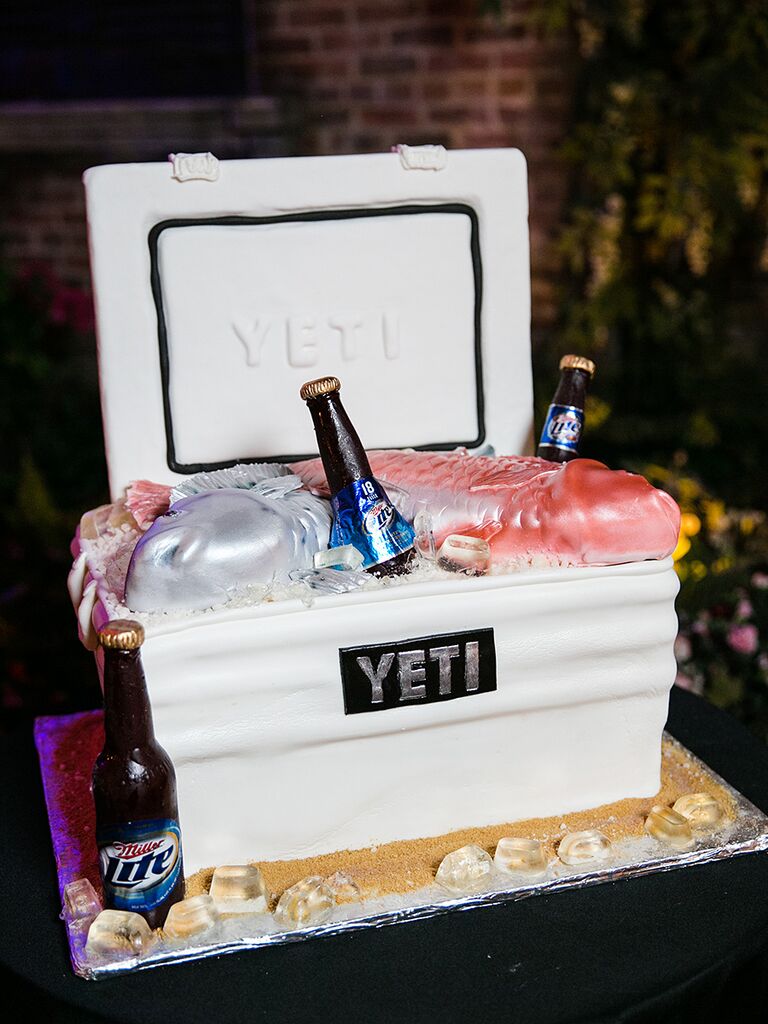 From: A Traditional Wedding at Mardi Gras World in New Orleans, Louisiana
'Saved by the Bell' Groom's Cake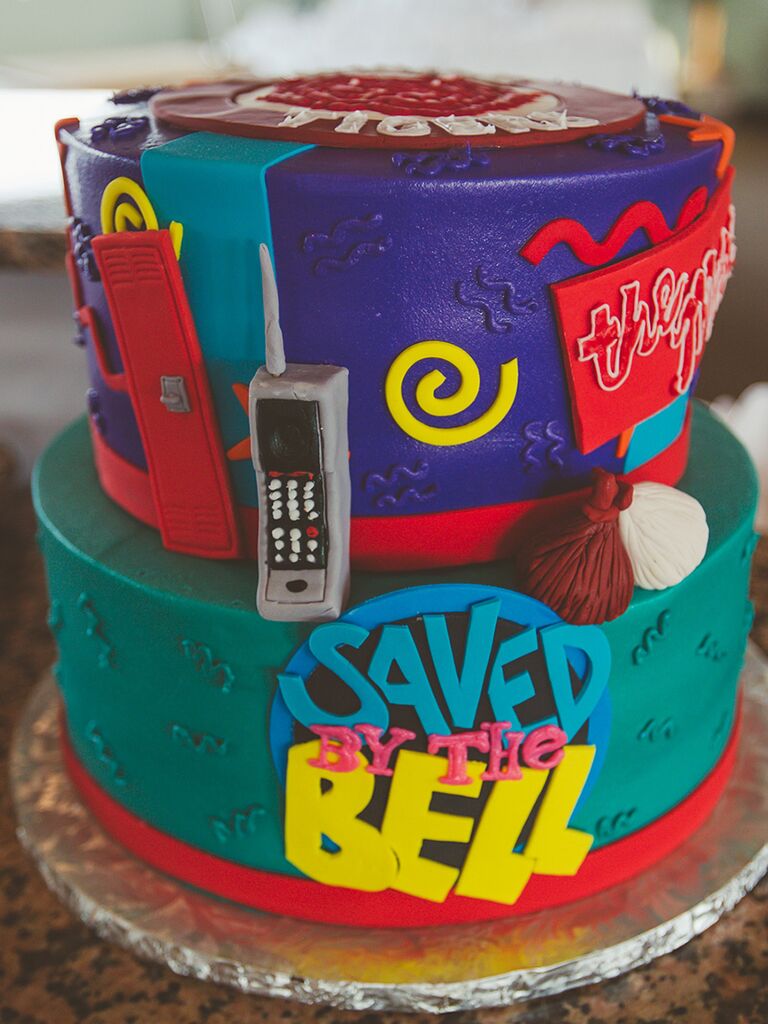 From: A Glamorous Spring Wedding at The Terrace Club in Dripping Springs, Texas
College Football Helmet Groom's Cake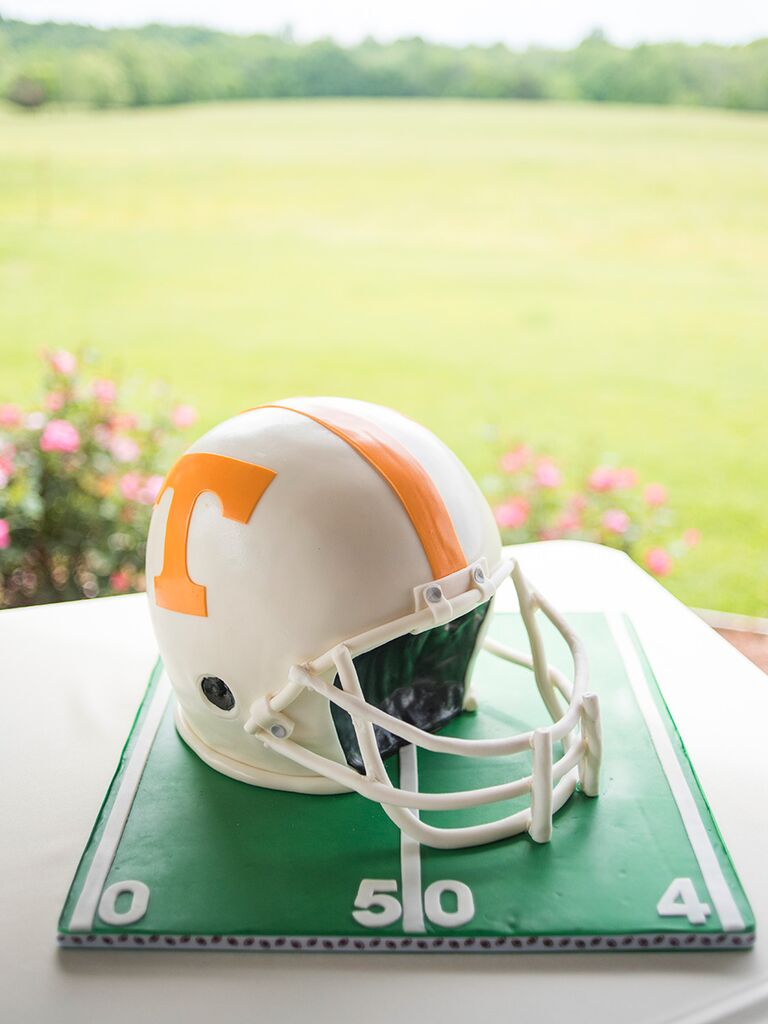 From: A Rustic Wedding at Buffalo River Farm and Studio Bed and Breakfast in Summertown, Tennessee
Chick-fil-A Groom's Cake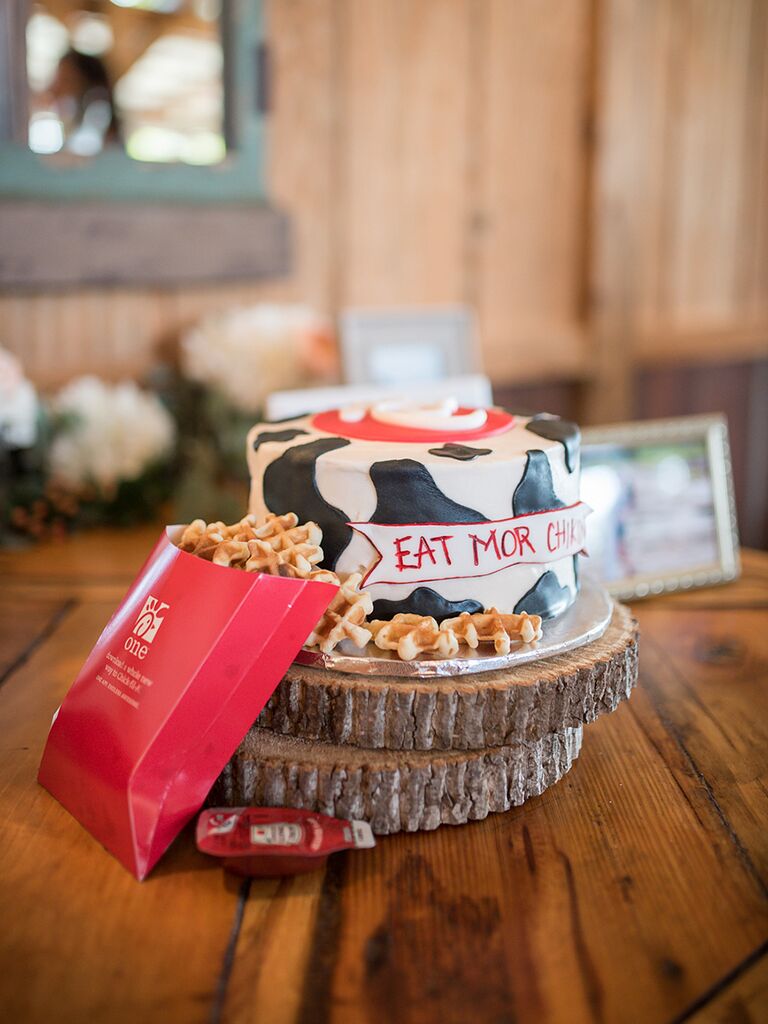 From: A Lakeside Military Wedding at Spring Lake in Rockmart, Georgia
Mathematic Groom's Cake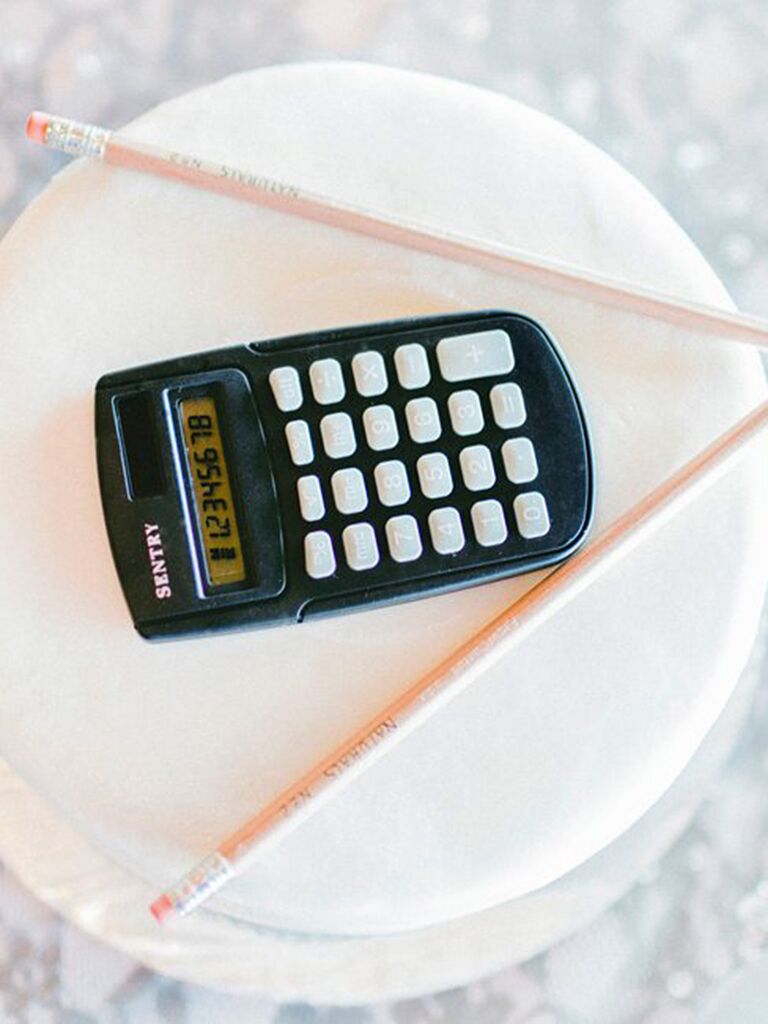 From: An Apple Creek Country Club Wedding in Bismark, North Dakota
Florida Gators Groom's Cake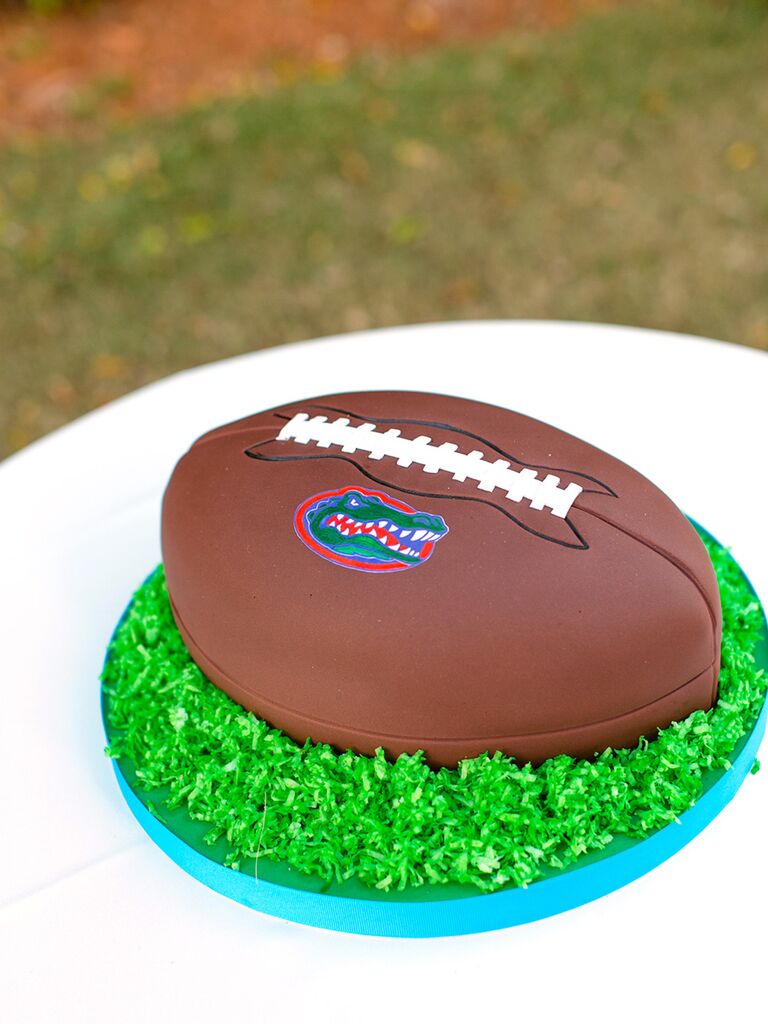 From: An Ivory, Blush and Navy Wedding at Hyatt Regency Coconut Point Resort and Spa in Bonita Springs, Florida
Rustic Groom's Cake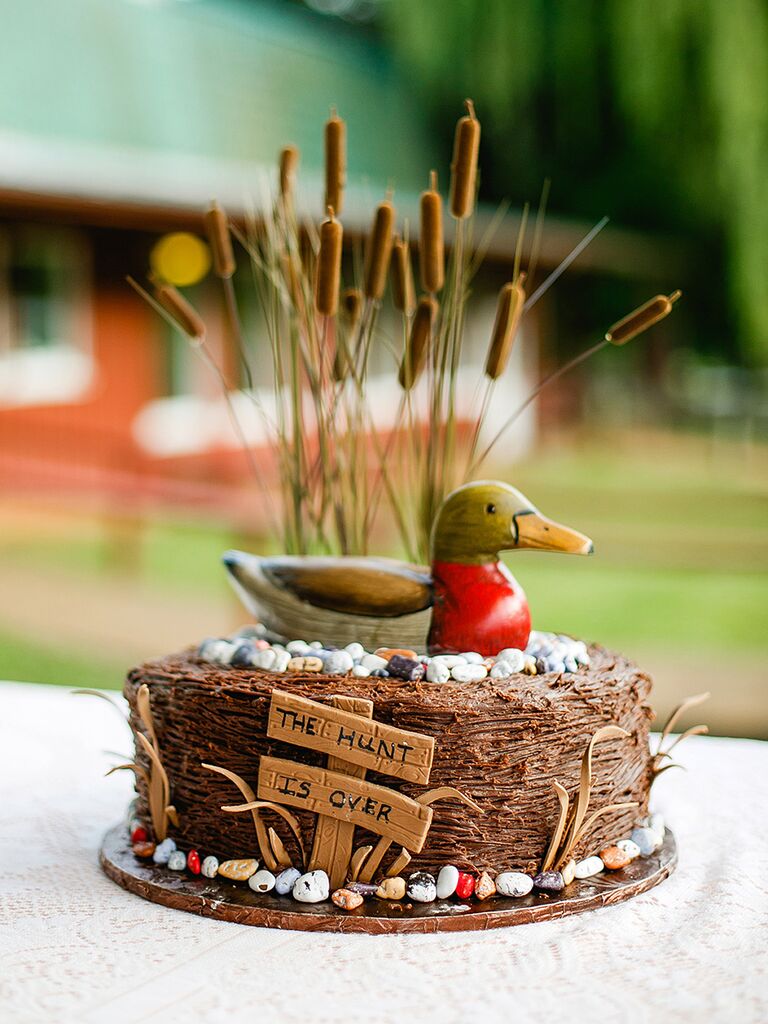 From: A Rustic, Vintage-Inspired Wedding at Museum of Appalachia in Norris, Tennessee
Record Player Groom's Cake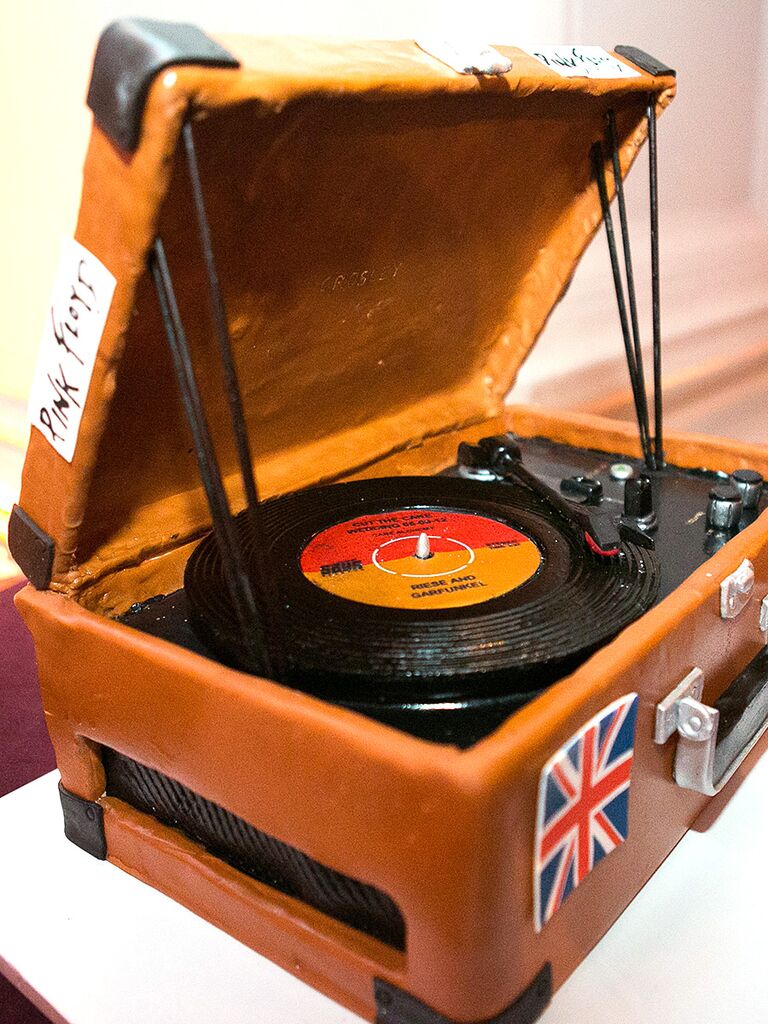 From: A Vibrant Modern Wedding in Brooklyn, NY
Reese's Groom's Cake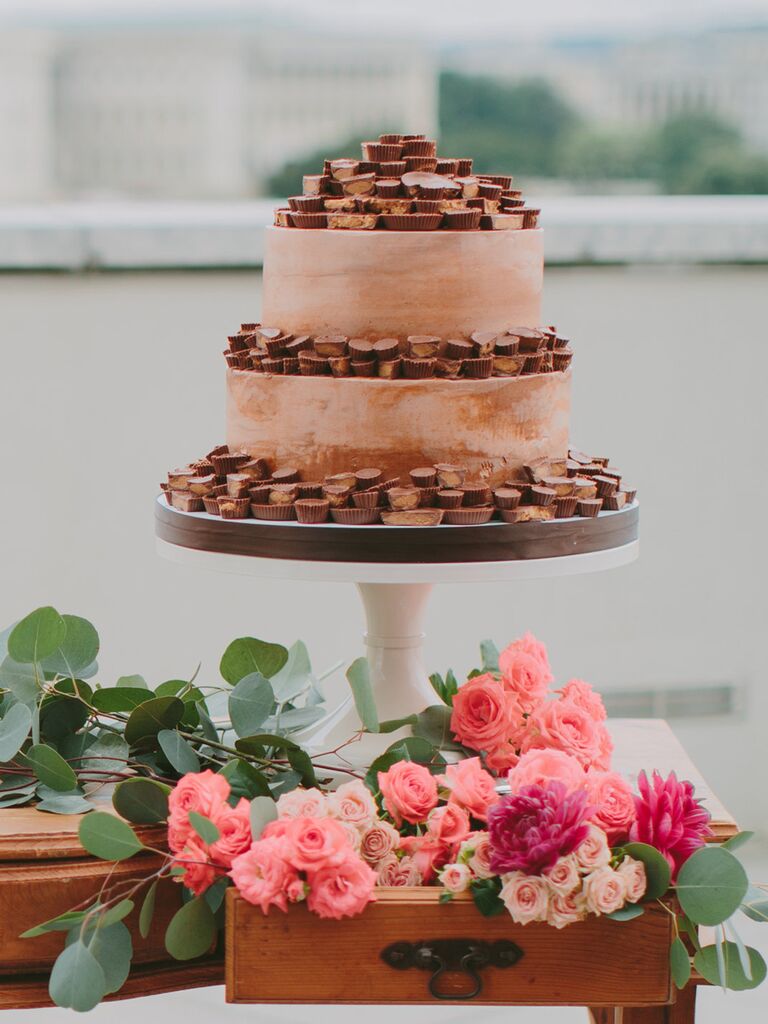 From: A Whimsical Bicycle-Themed Wedding at Charlie Palmer Steak in Washington, DC
Captain America Groom's Cake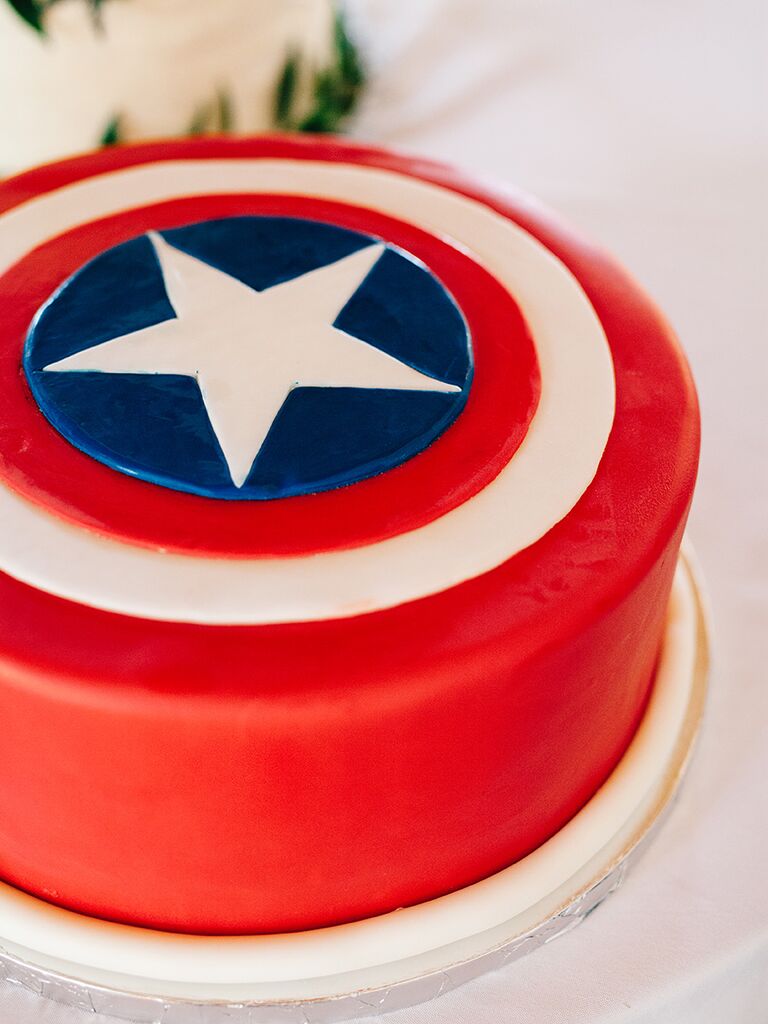 From: A Vibrant Wedding at the Citadel in Charleston, South Carolina
UFC Groom's Cake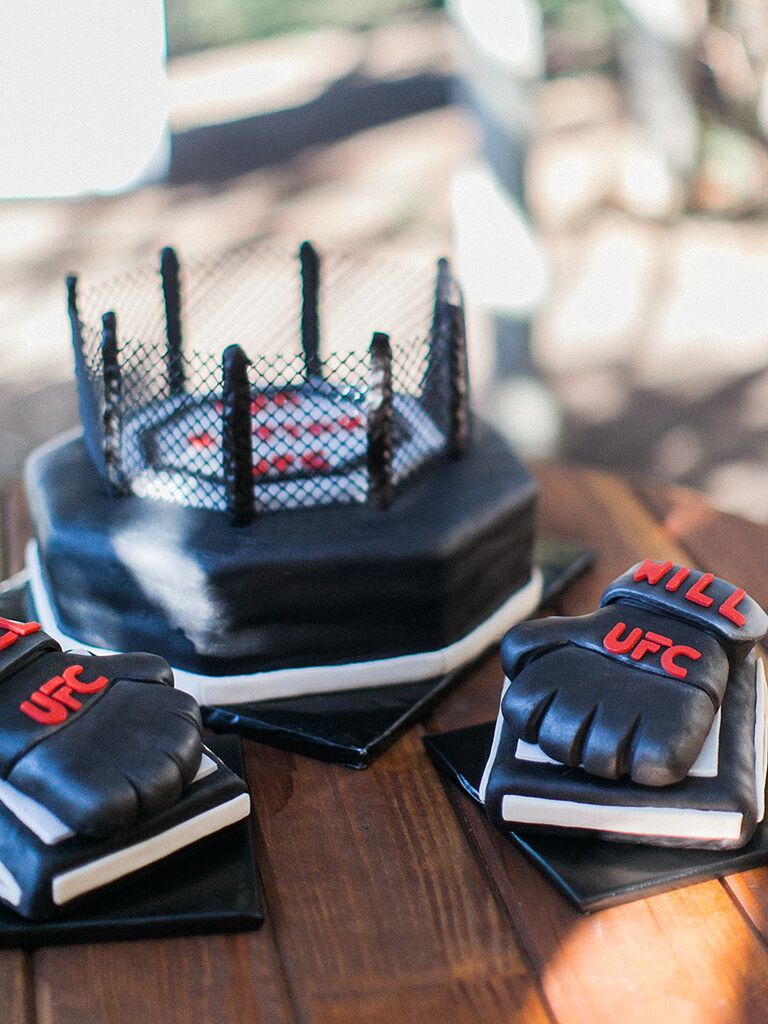 From: A Romantic Fall Wedding at Oak Valley Vineyard in San Antonio, Texas
Outdoor Sports Groom's Cake
From: A Modern, Outdoor Wedding at Shaw Center for the Arts in Baton Rouge, Louisiana
Button-Down Groom's Cake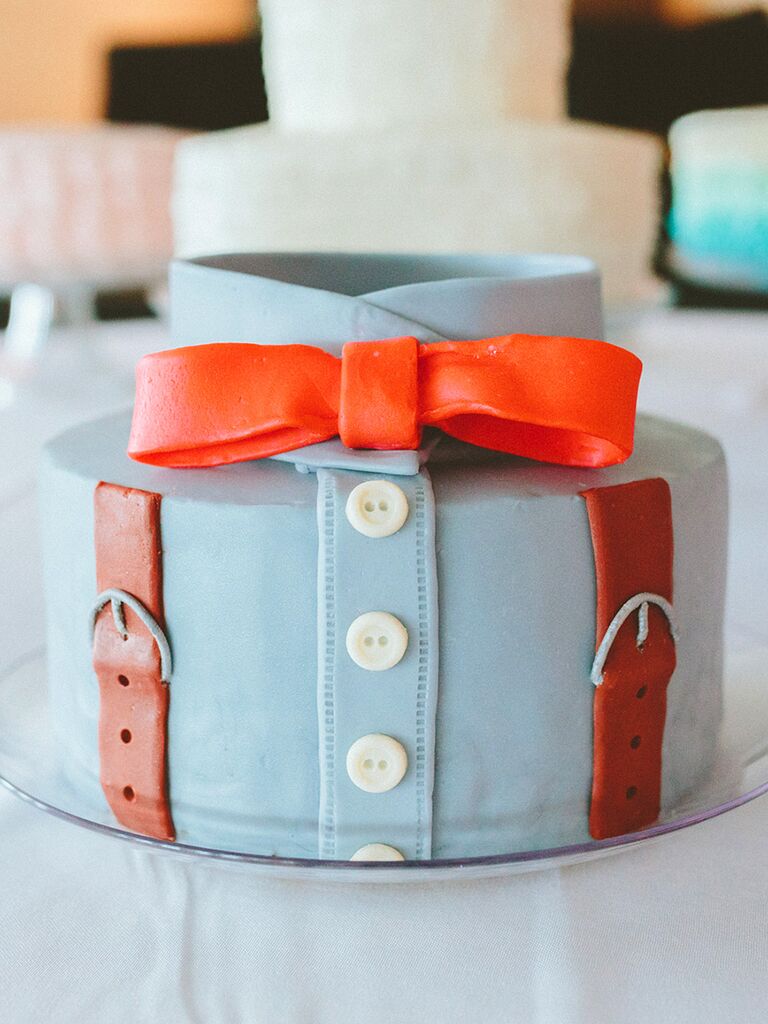 From: A Pastel Wedding at Sweetwater Event Center in Evansville, Indiana
Texas Longhorns Groom's Cake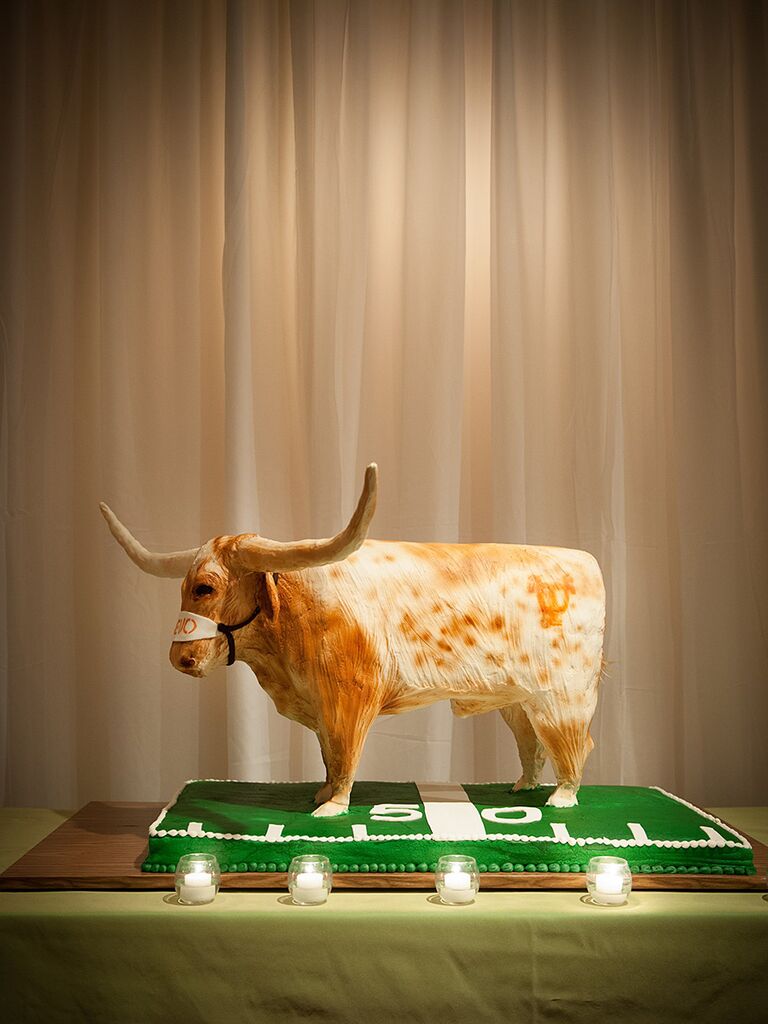 From: A Romantic Wedding in Austin, TX
Texas A&M Ring Groom's Cake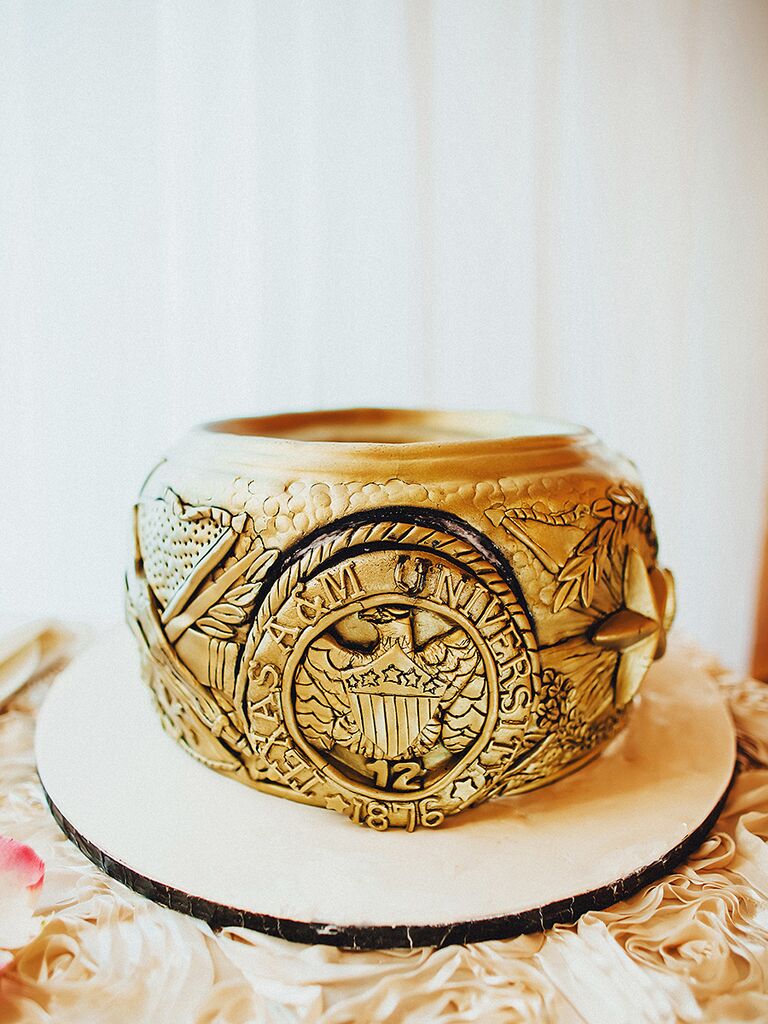 From: A Rustic Hill Country Wedding at Bella Springs Events in Boerne, Texas
World Traveler Groom's Cake