53 Creative & Hilarious Groom's Cake Ideas You'll Want to Steal
Go for something totally out of the box.
When it comes down to figuring out your groom's cake idea it can be a little overwhelming because there are so many directions you can go with your dessert. Traditionally, the groom's cake is a decadent, luxe flavor that supplements the wedding cake. To-be-weds use it as an opportunity to splurge on a smaller version of their favorite flavor cake or ask their baker to craft a combination of flavors for a totally unique confection. To help you get a better idea of what your secondary cake should be, we've gathered 53 of our favorite groom's cake ideas from real weddings. Learn the best way to design your cake, then feast your eyes on the most creative groom's cakes we've ever seen.
In this article:
How to Choose a Groom's Cake
There's no rule on who can decide on the groom's cake. The couple can work together to choose what the groom's cake should look like or, since the cake's purpose usually is to focus on the groom, the other to-be-wed can surprise their groom with the cake's design during the reception. Even if your wedding doesn't involve a groom, don't hesitate to order a festive secondary cake at your celebration that reflects the two of you as a couple or honors one of you. Just do whatever speaks to your heart and stomach.
What to Write on a Groom's Cake
Figuring out which groom's cake idea to do doesn't have to be a difficult task. Typically, the groom's cake is inspired by the to-be-wed's hobbies or interests so start there. For example, a cake may revolve around the person's favorite television show or their love of hiking. You should also consider what flavor you want the secondary cake to be. We think it's best the filling is different from the main wedding cake to give guests more options. Let your wedding cake baker know what flavors to avoid, and get creative in deciding what's the best flavor(s) for your groom's cake.
Sports Groom's Cake Ideas
Are you and your partner huge sports fans? Then shout out your favorite team on your wedding day with a cool groom's cake.
1. Carolina Panthers Stadium Cake
Did you have your first date at a sports event? Then honor that day with a secondary cake as this couple did. There wasn't a groom at this wedding, but the brides still chose to have a cake replica of the Carolina Panthers football field decorated with football player figurines.
2. Red Sox Groom's Cake
The bride surprised the groom with a baseball-themed groom's cake because of his love for the Boston Red Sox. The Boston Red Sox team even sent the happy couple a sweet congratulations video for their wedding.
3. Patriots Groom's Cake
The groom was a big New England Patriots football fan, so he asked for his groom's cake to be a Tom Brady jersey. The cake was paired with white chocolate-covered strawberries with the Boston Red Sox logo on them too.
4. Three-Tier Baseball Groom's Cake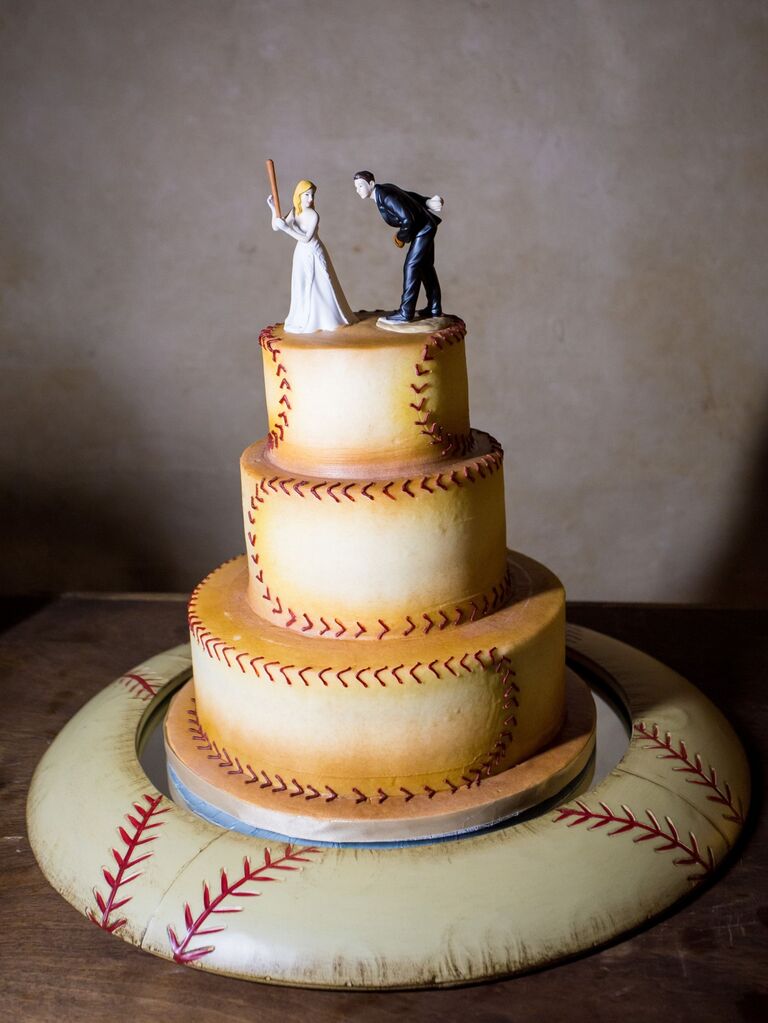 We love this vintage-looking baseball-inspired groom's cake. The best part are the two cake toppers of the bride holding a baseball bat and the groom getting ready to pitch the baseball.
5. Green Bay Packers Groom's Cake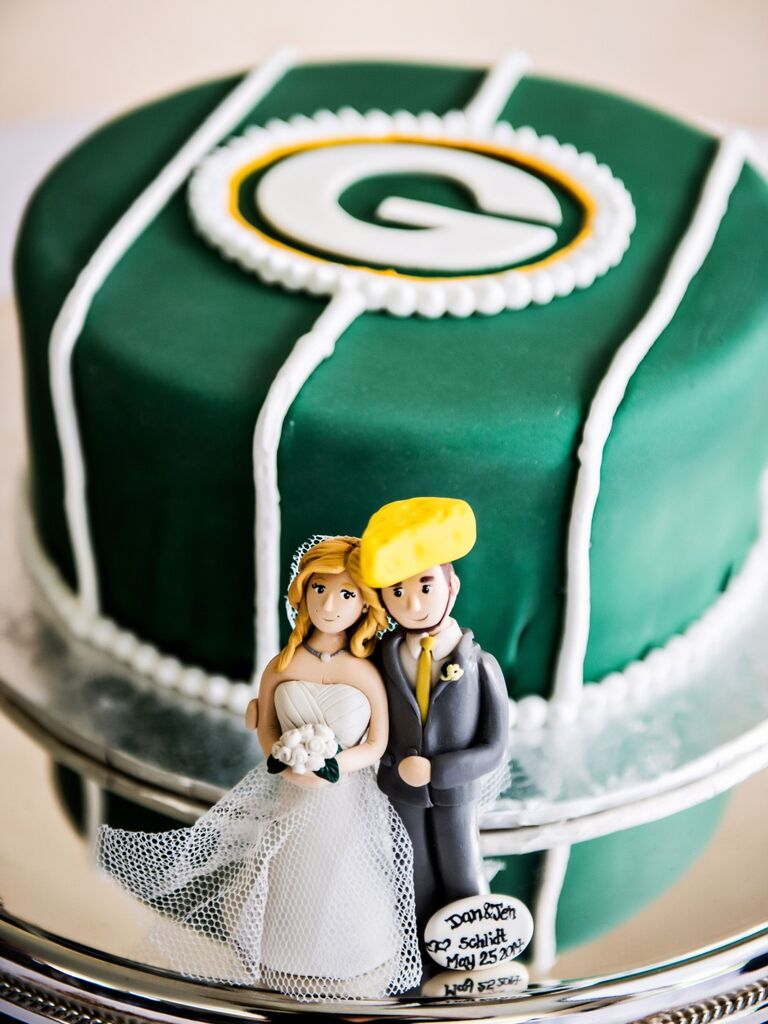 This Green Bay Packers groom's cake was decorated with miniatures of the newlyweds. The "groom" is wearing the classic Cheesehead fan gear to represent his favorite team.
6. Hyperrealistic Golf Groom's Cake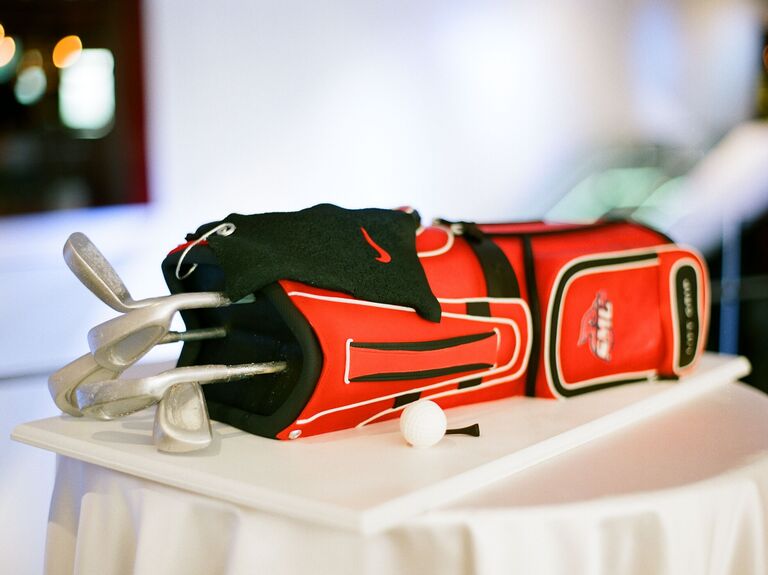 The groom's cake is the perfect way to personalize your special day. This bride honored the groom's love for golf with a banana-cream-flavored cake replica of his Saint Mary's University golf bag.
7. Half Soccer Groom's Cake
Instead of having a wedding cake and a groom's cake, the couple combined the two into one five-tier cake. The groom's side was inspired by his favorite soccer team, while the bride's side had a luxurious theme with a Christian Louboutin heel cake topper.
8. UFC Groom's Cake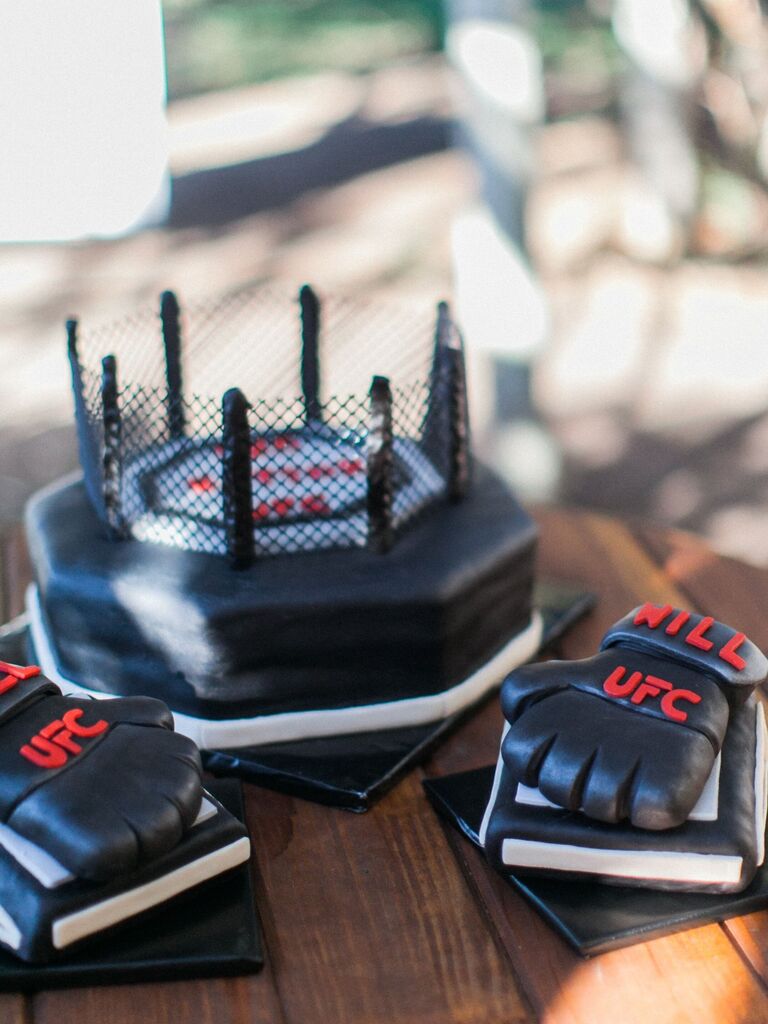 To show the groom's love for the UFC, the bride surprised him with a UFC Octagon cake. For an additional sweet treat, the baker made edible fighter gloves with the groom's name on them.
Simple Groom's Cake Ideas
For couples who want a secondary cake, but prefer it to be toned down compared to the typical over-the-top groom's cake, there are options for you. Check out these ideas to help you determine your simple groom's cake.
9. Chocolate Groom's Cake With Succulents
This textured chocolate groom's cake with succulent adornments was a hit at the reception. The groom's cake and the wedding cake each had their own display to match the couple's nature wedding theme.
10. Peanut Butter Groom's Cake
The groom loved peanut butter and chocolate, so this was the center focus of the cake. Chocolate-covered strawberries and peanut butter cups were scattered around each tier of the cake and shotgun shells were added to show the groom's love for hunting.
11. Simple Initial Groom's Cake
If your partner doesn't want an extravagant dessert, ask your baker to design something with minimal adornments. Put your partner's first or last initial on the cake, as this bride requested for her wedding.
Find all the vendors you need
Meet every kind of expert from bakers to bartenders and more.
12. New York Skyline Groom's Cake
This New York City skyline cake with classic landmarks was a nod to the couple's hometown. You can steal this groom's cake idea or have the cake represent your honeymoon destination.
Funny Groom's Cake Ideas
If you want to get a chuckle out of your groom's cake idea, then go the funny route for your secondary dessert. These six cakes will motivate you to think up your own hilarious wedding sweet.
13. Green Alien Groom's Cake
At this space-themed wedding, the couple decided to go out of this world with their groom's cake design. In addition to the alien cake were cute alien and galaxy cupcakes.
14. Pickup Truck Groom's Cake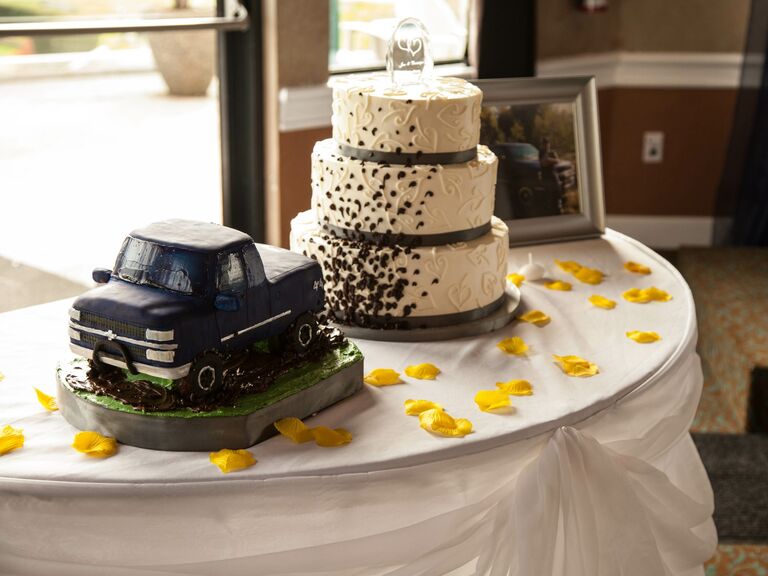 A funny cake trend many couples love is the "mud"-spattered wedding cake idea. Typically, the wedding cake is white or pale colored with three tiers, and the groom's cake is in the shape of a tire or truck next to it. Chocolate is spattered on the side of the wedding cake to look like mud is coming from the groom's cake.
15. Gushers Groom's Cake
Does your future spouse have a candy addiction? Then satisfy their sweet tooth with a candy-flavored or themed groom's cake.
16. Ms. Pac-Man Groom's Cake
Since the groom loved video games, the couple didn't hesitate to have a video game-themed wedding. From their stationery to their groom's cake, Ms. Pac-Man was a prominent character in the couple's celebration.
17. Motorcycle Groom's Cake
To play on the tradition of the wedding getaway vehicle, the baker made a replica of the bride and groom on a motorcycle. Even the couple's dog, Darryl, was added in a sidecar.
18. Lego Groom's Cake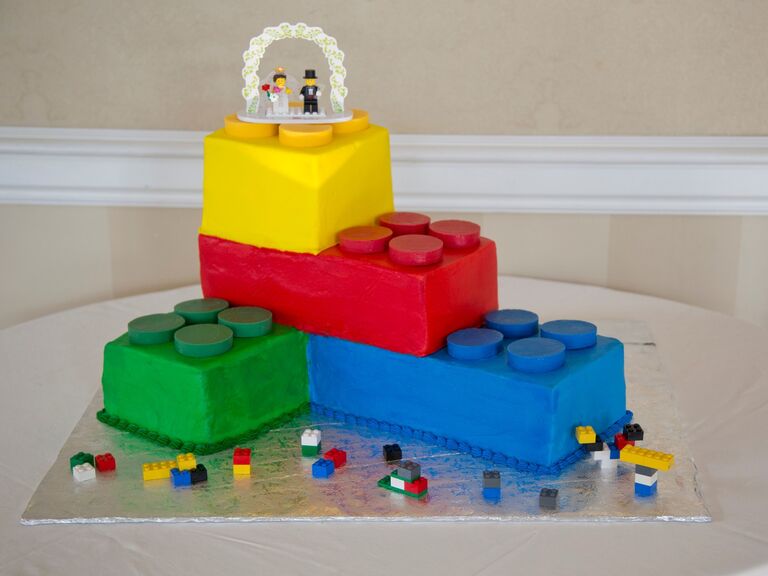 Besides giving her husband a gold engraved Lego with their wedding date on it and his groomsmen Lego cufflinks, the bride also surprised her husband with a groom's cake shaped like Lego blocks. Lego cake toppers that looked like the happy couple were the perfect finishing touch.
Unique Groom's Cake Ideas
Be creative and playful with your groom's cake idea for a truly extraordinary result. These 15 cakes will definitely wow you and make you want to think outside the box.
19. Breakfast Sandwich Groom's Cake
If you're serving brunch at your wedding reception, this breakfast groom's cake is perfect for you. This couple opted for a tasty breakfast biscuit, but you can ask your baker to make an omelet, chicken and waffles, or huevos rancheros cake.
20. Cacti Groom's Cake
For couples with a boho or Western wedding theme, cute cacti cakes will match the vibe of your celebration. We love how the cakes were served in planters to make them look more authentic.
21. Running Sneakers Groom's Cake
Let your groom's cake nod to your proposal story. This couple had their baker make sneakers because the groom proposed after he completed a half marathon.
22. Jimmy Buffet-Inspired Groom's Cake
Base your groom's cake on a favorite song or restaurant. This bride requested a funky Jimmy Buffet-themed cake where it's always five o'clock somewhere.
23. Caveman and Cavewoman Groom's Cake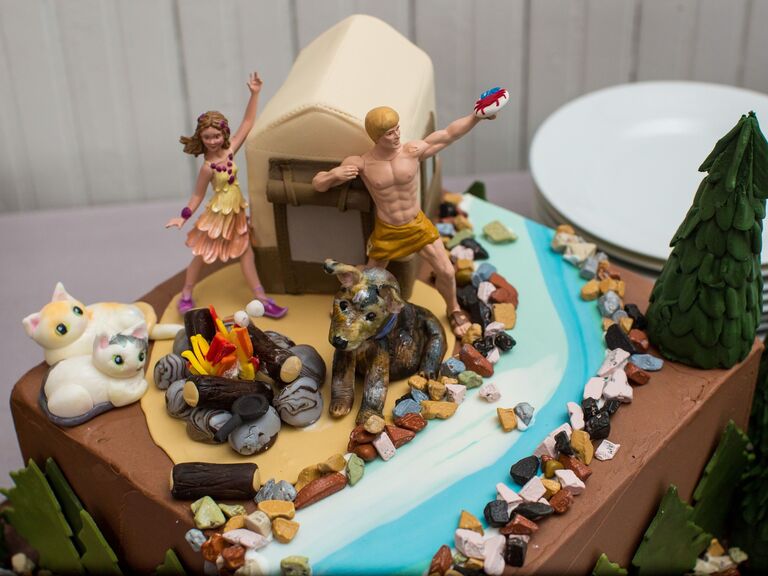 At this natural and whimsical wedding, the couple had a silly but sweet secondary cake. The groom proposed on top of a mountain at the Rocky Mountain National Park, so the cake was based on that moment.
24. Chipotle-Inspired Groom's Cake
To put a spotlight on one of the couple's guilty pleasures, they had a replica of a Chipotle burrito. It was a chocolate groom's cake with buttercream frosting and even had "guacamole and chips" on the side.
25. Maryland Crab and Newspaper Groom's Cake
Maryland is known for delicious crab boils, so the bride paid homage to her Maryland-born groom with a crab-boil cake. The bride designed the fake New York Times with stories and ads of the groom's favorite things, like sports and where he loves to travel.
26. Xbox Controller Groom's Cake
Another way to show your partner's love for video games is by asking your baker to make a game controller groom's cake. We've seen replicas of the classic Nintendo 64 console, Gameboy and PlayStation.
27. Bar Scene Groom's Cake
Is one of your groom's favorite pastimes hanging out with his friends? Then duplicate those moments in one delicious cake as this baker did with a miniature of the groom and his friends happily chilling at a bar with beers and chips.
28. Cereal Bowl Groom's Cake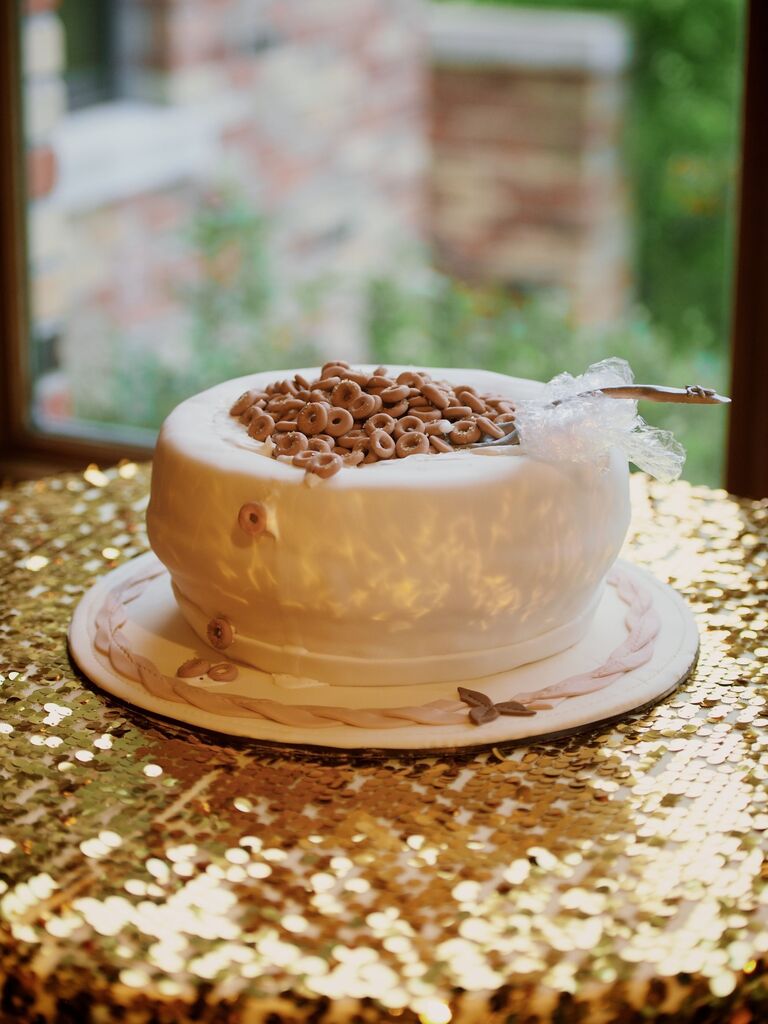 The couple had numerous tasty desserts at their elegant wedding. One of the many options was this chocolate peanut butter cereal groom's cake––a representation of the groom's love for cereal.
29. Kingdom of Hearts Groom's Cake
Instead of a secondary cake that solely focuses on one person, the couple combined their passion for video games. The cake was a homage to Kingdom of Hearts since it was the video game that brought them together.
30. Corona Beer Groom's Cake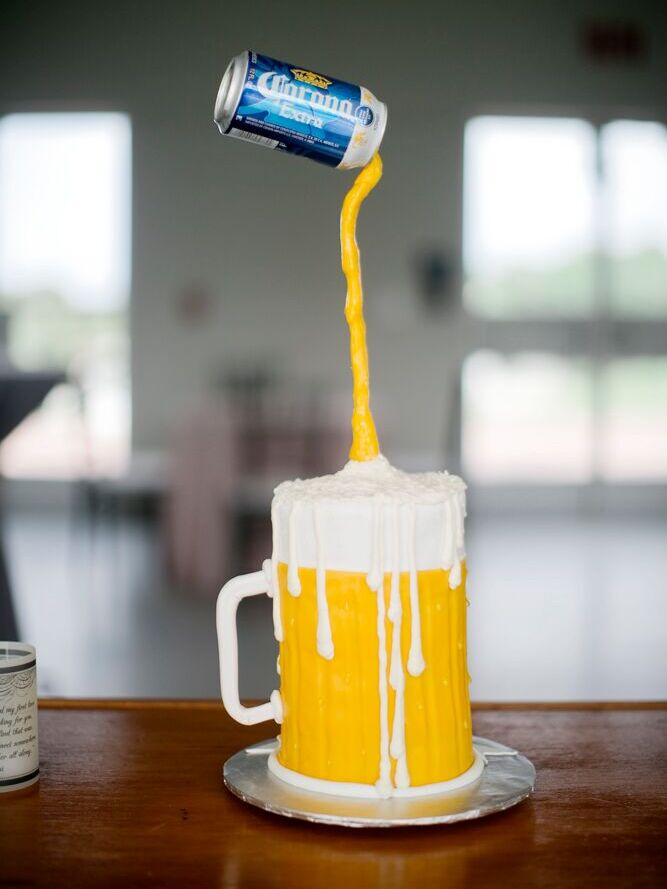 The design of the groom's cake isn't always decided by the couple. The groom's sister surprised the couple with a beer-themed cake that read, "Kyle, do you take Jules to 'beer' wife?"
31. Louis Vuitton Groom's Cake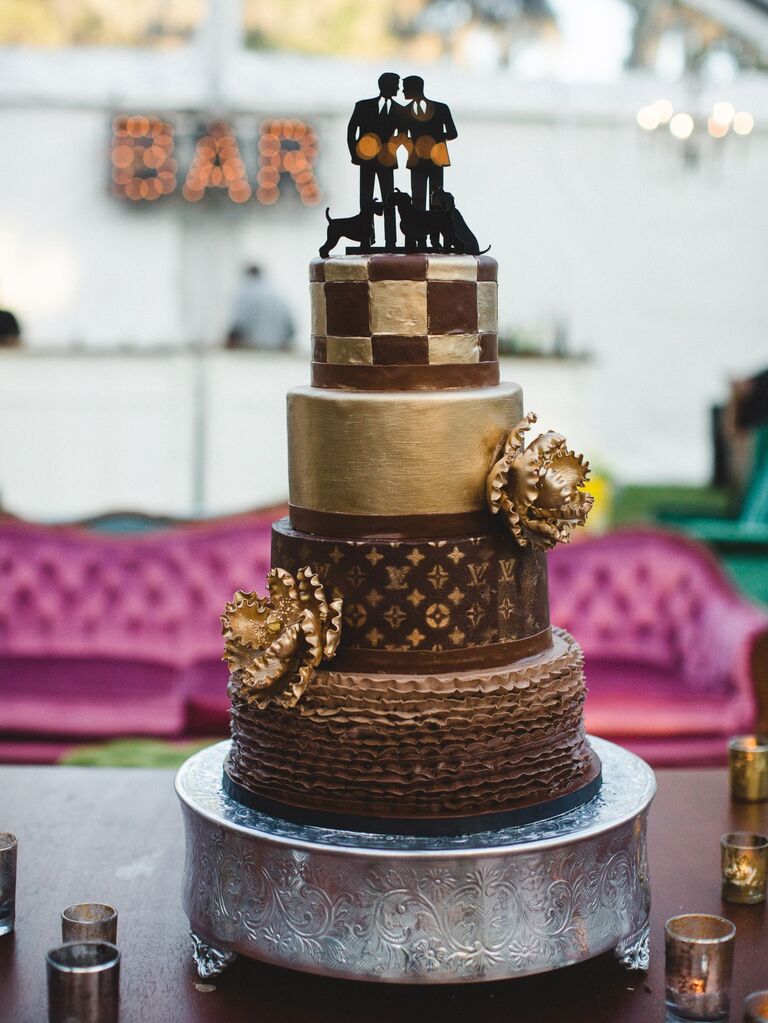 Why not show off your love for the finer things in life with a luxurious cake? We love this Louis Vuitton-inspired cake with the silhouettes of the grooms and their pets as cake toppers.
32. Yeti Cooler-Inspired Groom's Cake
The couple's favorite personalization piece at their wedding was the groom's cake. The groom picked logos important to him, like his alma mater's emblem, to be used as "stickers" on the red velvet Yeti cooler cake.
33. Chick-fil-A Groom's Cake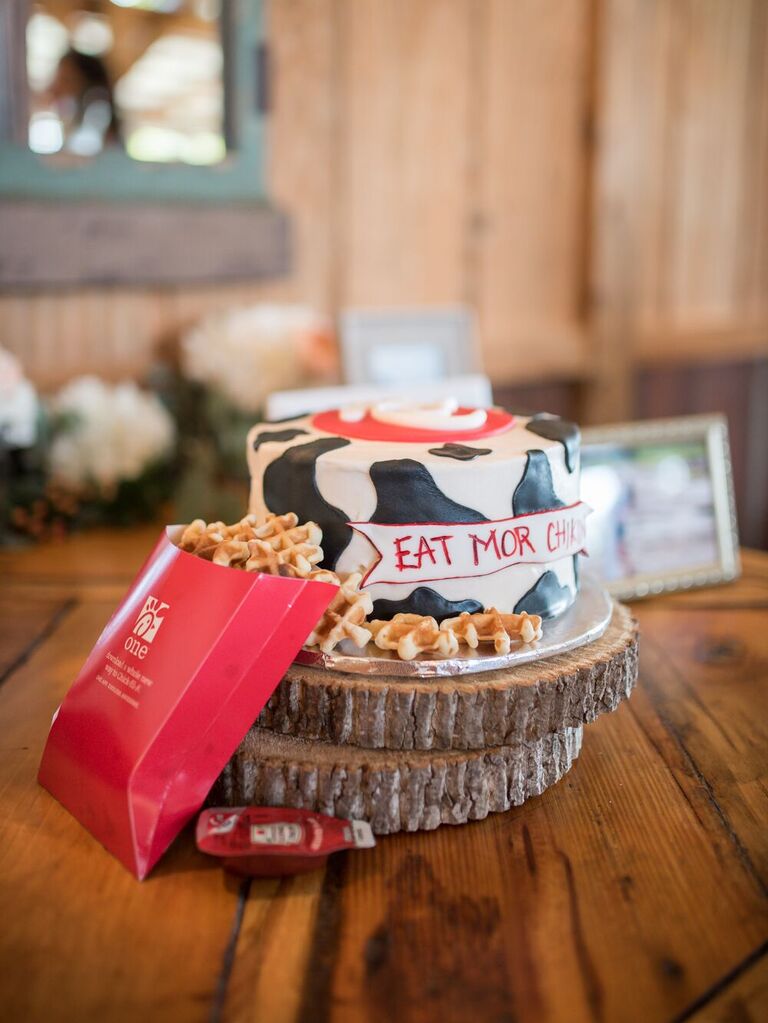 The bride shocked her groom with Chick-fil-A (cake), "his favorite thing in the world." Since Chick-fil-A is known for its waffle-cut fries, the baker did a play on those by adding actual waffles into a fry container alongside the cake.
Movie and TV Groom's Cake Ideas
If you're the kind of person who can't stop quoting your favorite television show or movie every chance you get, incorporate that love (or obsession) into your cake. Just ensure the show or movie you choose is appropriate for the big day.
34. Movie Reel and Popcorn Groom's Cake
If you don't have a favorite movie, that's totally okay. We like how the baker made movie reels of multiple movies the couple love, plus a bucket of popcorn and movie tickets that say, "Mr. and Mrs."
35. Han Solo Groom's Cake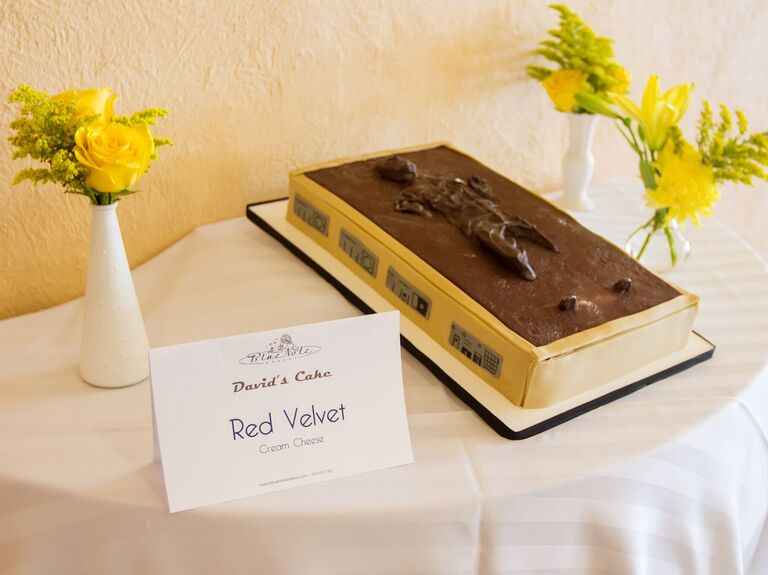 Are you a "Star Wars" fan? Then choose a scene from one of the many movies from the franchise for your cake baker to replicate. This couple chose the scene when Han Solo was frozen in carbonite from "The Empire Strikes Back."
36. "Harry Potter" Groom's Cake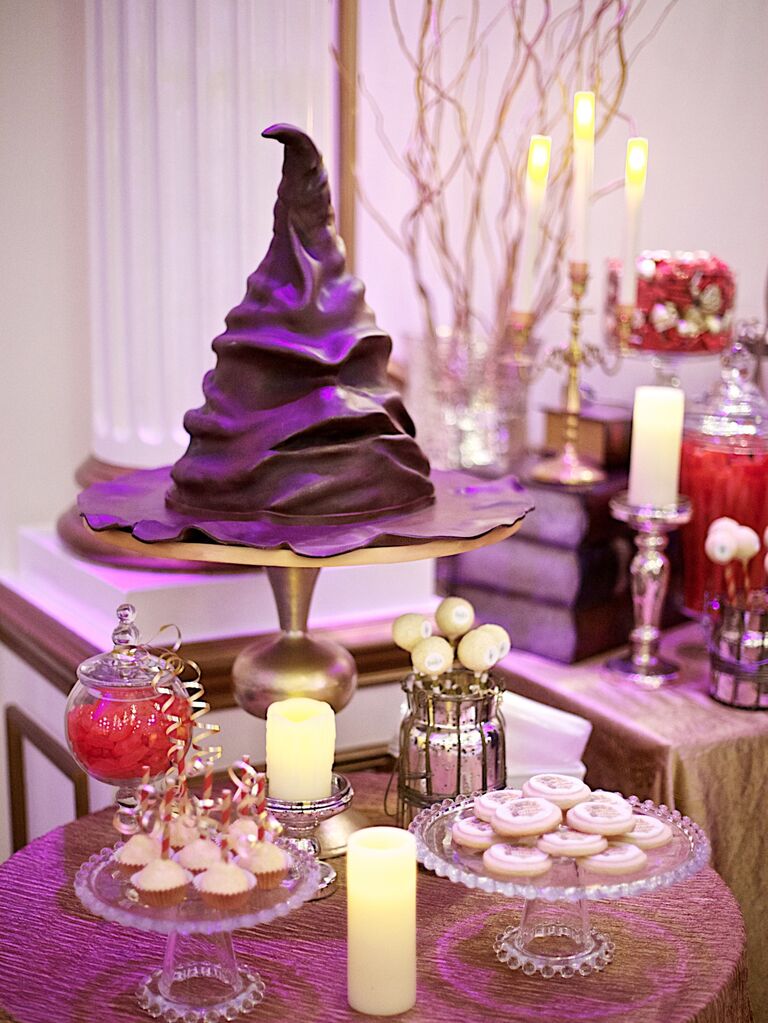 This groom's cake idea is perfect for couples who love "Harry Potter". The chocolate cake was in the shape of the famed sorting hat, and was displayed next to cake pops and cookies with the same theme.
37. "Game of Thrones" Groom's Cake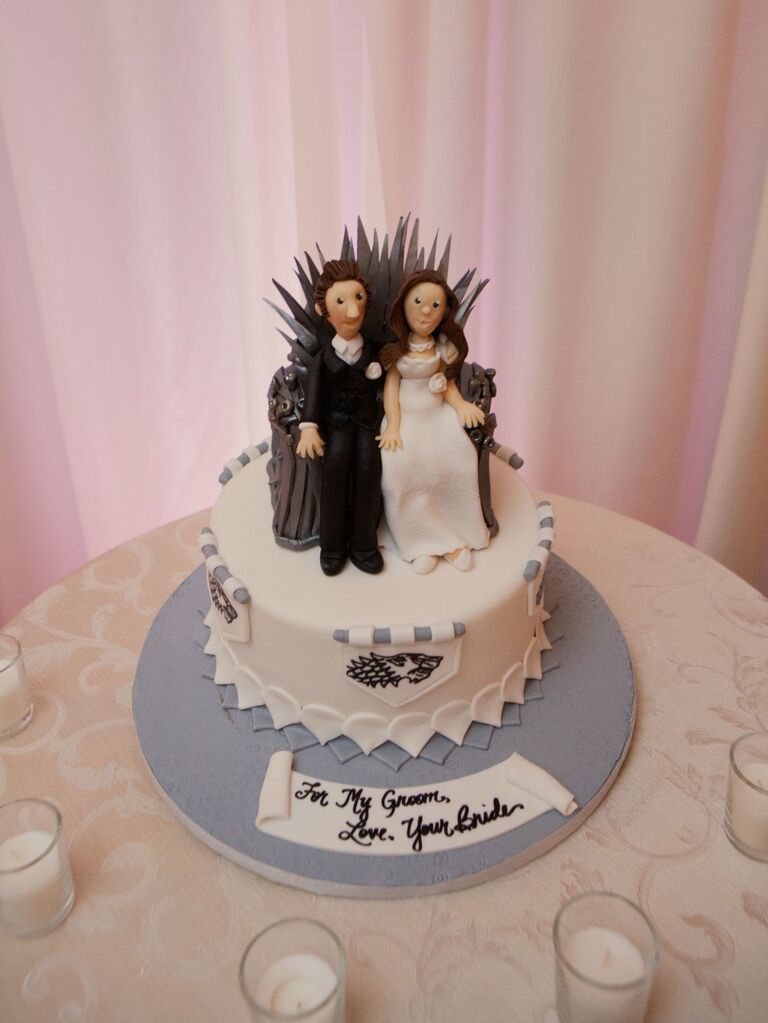 As a thank you to her husband during the wedding planning process, the bride surprised him with a groom's cake. Since both of them love "Game of Thrones," the bride requested miniatures of the couple sitting on the famous throne.
38. Black "Star Wars" Groom's Cake
We love these cute cake toppers of the couple holding lightsabers. The "Star Wars" quote, taken from a scene between Princess Leia and Han Solo, is also a sweet touch.
39. Armadillo Groom's Cake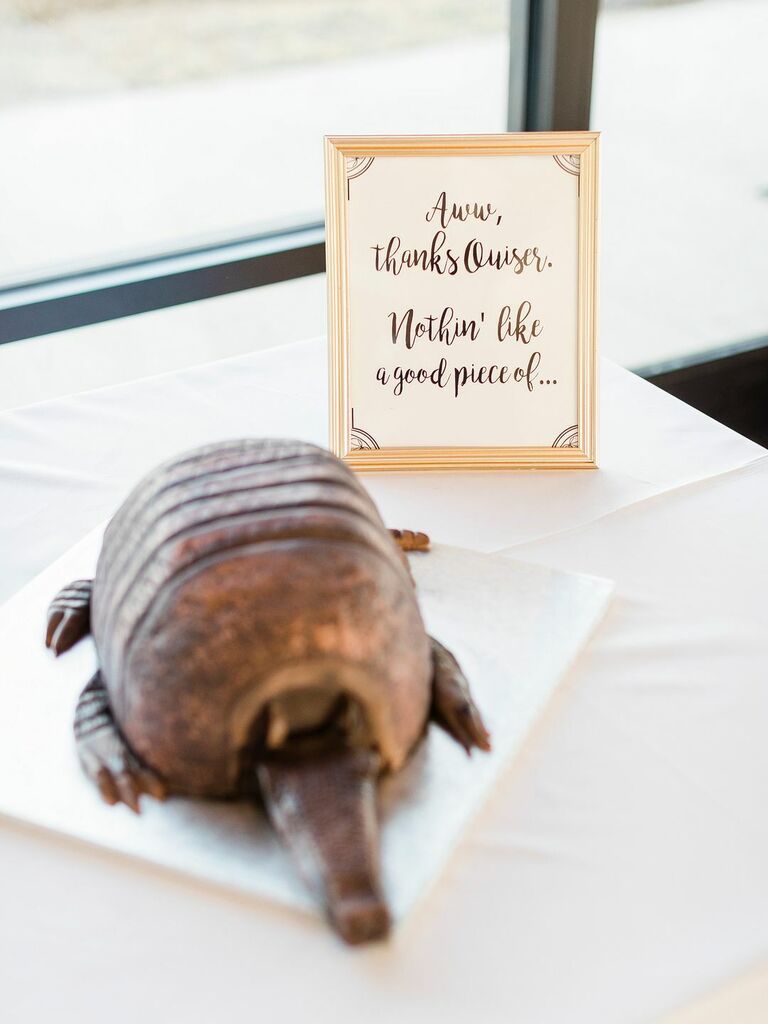 This dessert is based on the armadillo groom's cake in the classic comedy-drama film "Steel Magnolias." This silly cake idea has become a popular trend at many weddings.
40. Batman-Inspired Groom's Cake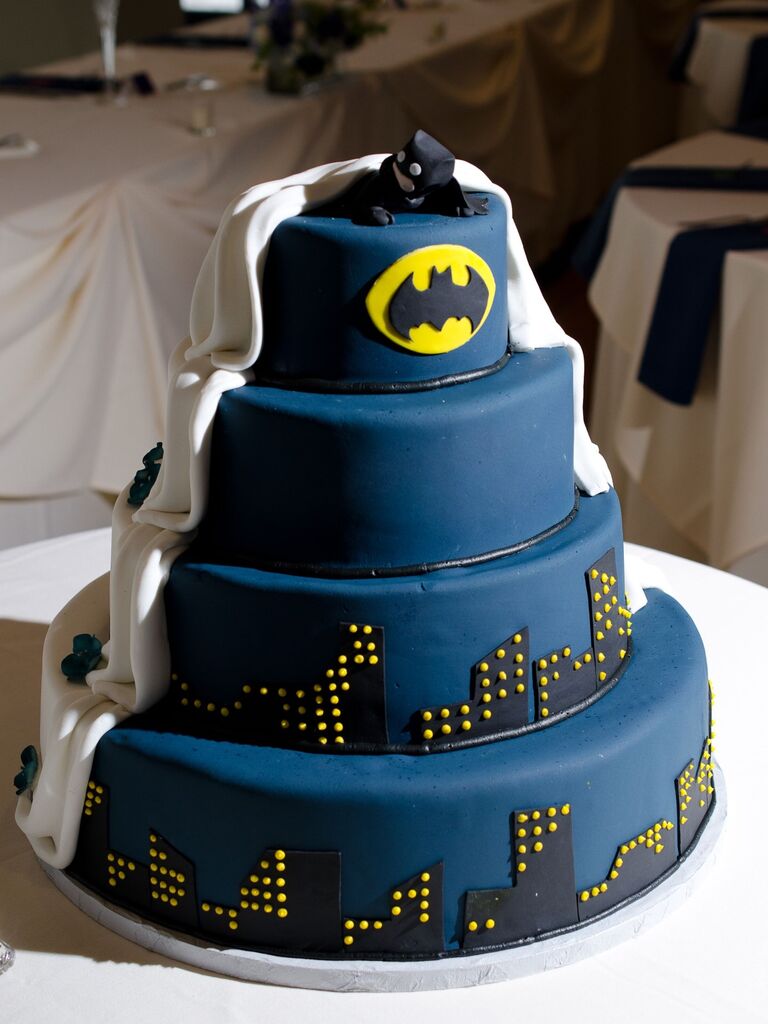 This unique groom's cake idea is a half-and-half cake with a classic white wedding cake on one side and a Batman theme on the other. The groom didn't know the bride changed the original cake design, so she received a priceless reaction once she showed him the cake.
41. "Saved by the Bell" Groom's Cake
The couple wanted to personalize their wedding as much as possible, and this cake was one of the ways they did so. The chocolate Butterfinger groom's cake was based on "Saved by the Bell," a hit television show from the '90s.
Rustic Groom's Cake Ideas
If you're concerned that you can't incorporate your rustic wedding theme into your desserts, don't worry. Use the four groom's cakes below to ignite your creativity.
42. Fishing-Themed Groom's Cake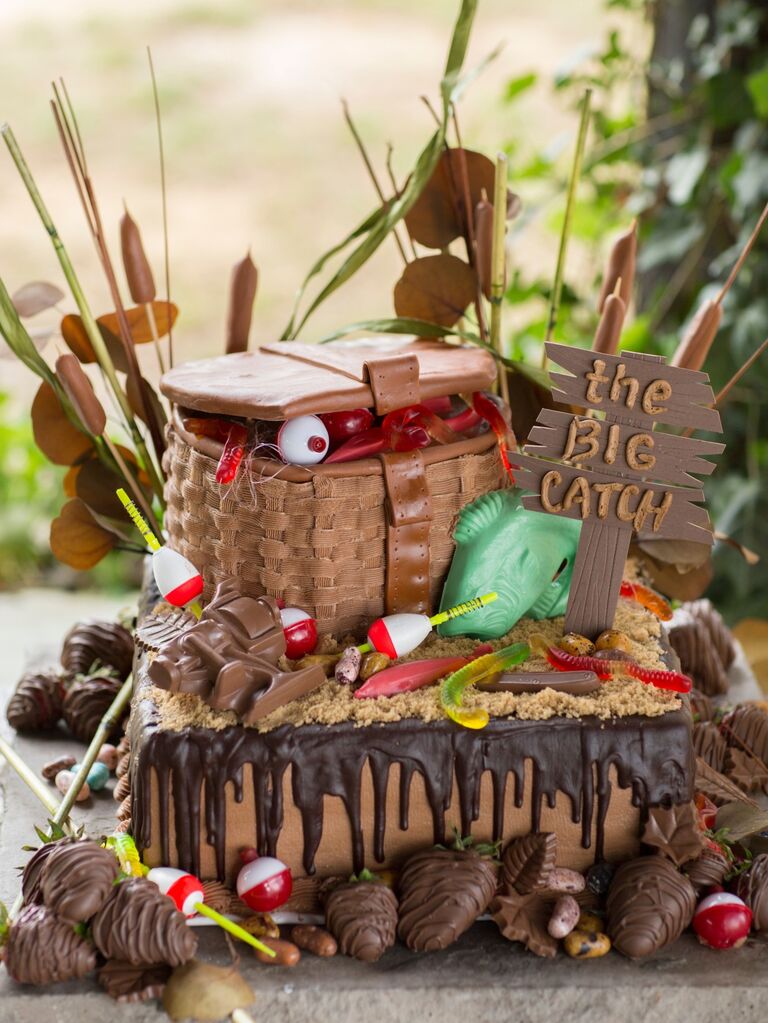 We love all of the adornments added to this top-notch groom's cake. The gummy worms, antique fishing basket and edible cattails make this cake stand out.
43. Cowboy-Themed Groom's Cake
The groom loves his strawberry banana-flavored groom's cake. The cowboy theme didn't stop with the picture on top. There was also a tiny cowboy hat, boots and rifle added to the cake.
44. Western Groom's Cake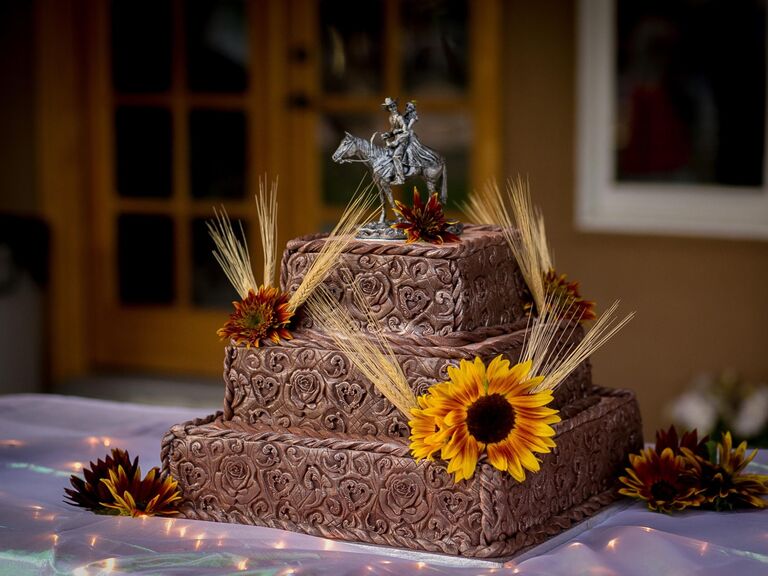 The bride's aunt made this gorgeous Western-themed groom's cake based on an ad she saw in a magazine. The tooled leather detailing on the outside of the cake is our favorite part.
45. Fish and Deer Hunting Groom's Cake
Since the groom loved hunting and the great outdoors, the groom's cake highlighted that passion. The cake was decorated with a deer, fish and archery target and made of white and chocolate cakes.
College and University Groom's Cake Ideas
Rep your alma mater loud and proud with a dedicated cake. From a cake with the school's logo to one shaped like the mascot, we have every way you can show your love for your college or university.
46. University of Virginia Groom's Cake
Ask for a showstopping groom's cake as this couple did. The confection is a replica of the University of Virginia Rotunda Building.
47. Baylor Bears Groom's Cake
Allow your groom's cake to act like an art piece with the proper display and lighting. This six-foot-tall groom's cake was so large it had its own room at the wedding venue. The Baylor Bear sat on top of a reproduction of the Baylor University football field, which even had a jumbotron with a digital picture of the newlyweds.
48. Auburn University Groom's Cake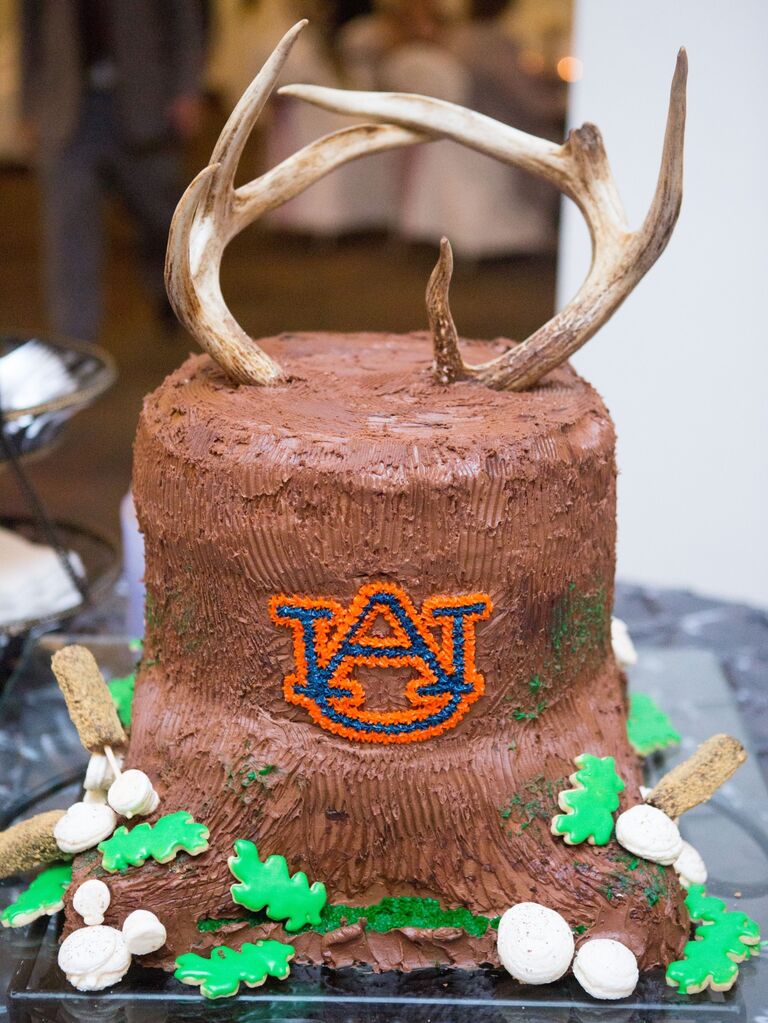 At this traditional Alabama wedding, the groom's cake was nature and Auburn Univeristy-themed. The school's logo was the central focus on the tree stump with antlers, leaf cookies and white macaroon "rocks" surrounding it.
49. Ole Miss Mascot Groom's Cake
The couple wanted to honor their alma mater in a special way, so they asked for a groom's cake in the shape of the University of Mississippi's mascot. The school is also where the bride and groom first met.
50. University of Florida Mascot Groom's Cake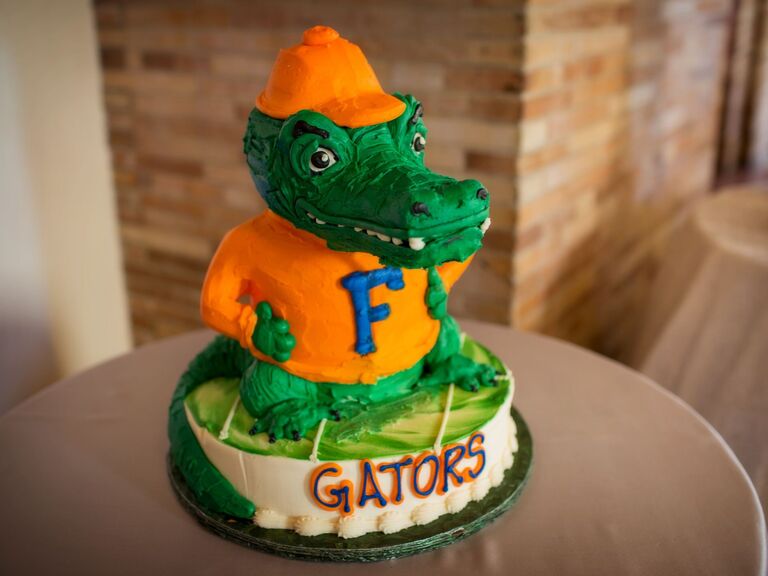 If your or your partner's university had a cool mascot, we highly encourage you to use that character for your groom's cake. For their secondary cake, the bride had a bakery make her University of Florida alum husband a gator-shaped one.
51. University of Texas Longhorn Groom's Cake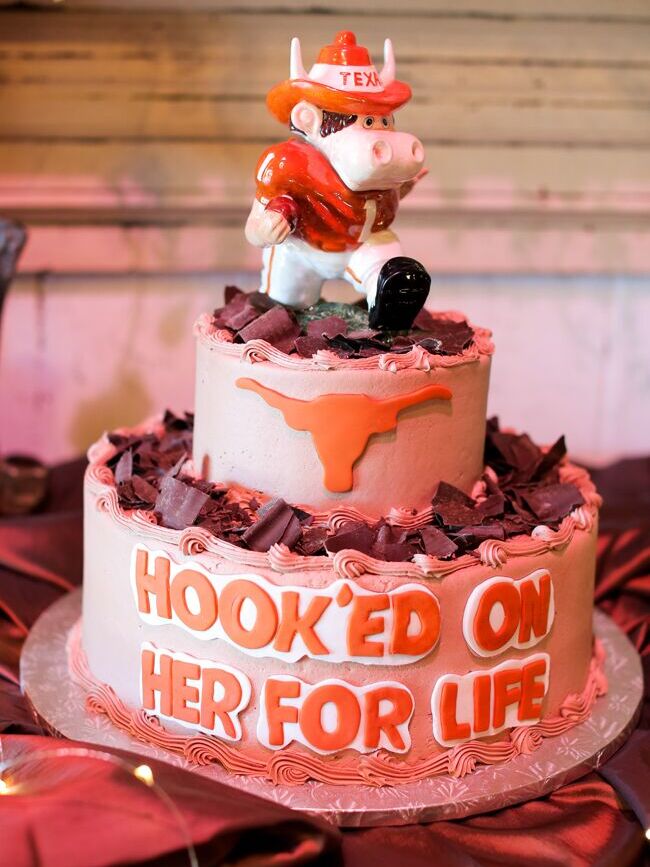 This two-tier tribute cake is everything a University of Texas alum would want. Instead of writing the school's slogan on the cake, "Hook 'em horns," it read, "Hook'ed on her for life."
52. University of Tennessee Groom's Cake
You don't need to graduate from the university to show your love for it. This couple loved the University of Tennessee's football team so much that they asked for that to be the inspiration for their secondary cake.
53. College Tailgate-Inspired Groom's Cake
A tailgate party is a popular social event that happens before and during football games on or around the tailgate of a vehicle. That's why we love how this couple displayed their college groom's cake in true tailgating style––in a truck bed surrounded by University of Southern Mississippi gear.