These 2024 Wedding Cake Trends Will Sweeten Your Dessert Table
And they'll taste as good as they look.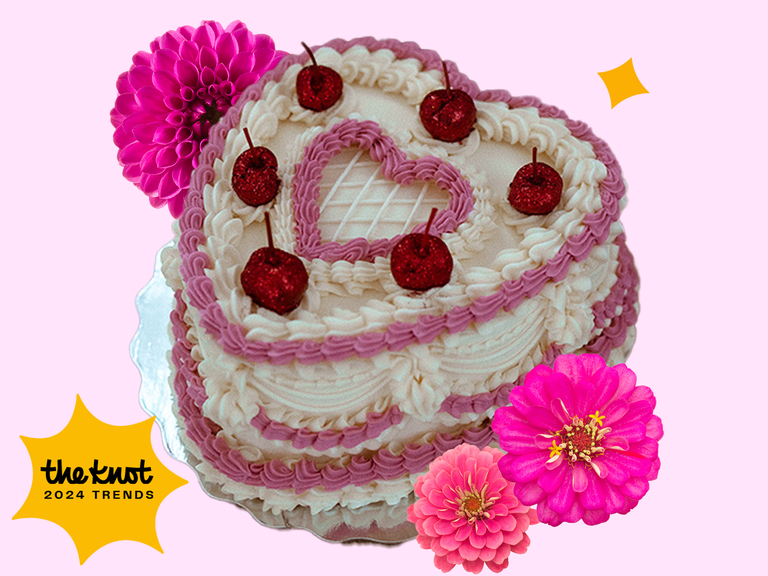 A wedding cake isn't just something to serve after dinner—it's a prime moment for a fun photo op and a direct extension of your wedding decor (not to mention the most special cake you'll probably ever eat). So why not do something that's never been done? In 2024, the wedding cake trends are all about turning your cake into a total conversation piece, and we couldn't be more excited.
"For 2024 wedding cakes, we have these key words for you: BIGGER = better!" says Kelsey Connely, owner, creative director and principal planner and designer at Downey Street Events in San Francisco, California. "Wedding cakes have been making a comeback after taking a backseat in the last few years to dessert displays and other unique types of dessert offerings. However, with many recent celebrity weddings showcasing gorgeous, multi-tiered wedding cakes (such as Sofia Richie and Elliott Grainge and Beanie Feldstein and Bonnie-Chance Roberts), statement cakes that are still classically beautiful are definitely going to be a trend in 2024."
Breaking the mold is a common theme for 2024 wedding cake trends—and wedding trends in general—as couples feel more empowered to ditch traditions and expectations that don't necessarily align with their personal style. The result: new cake designs, color palettes and flavors that feel like works of actual art, not just cake. "There has certainly been an attention grabbing renaissance in the cake world these last few years," says Pamela Thibodeaux, owner of Deaux Baker in Austin, Texas. "I see many other 'think outside of the box' ideas steering away from the structural norms of cake in the past. So long as the client can give their trust to the overall vision us cake makers dream up, I feel they are in for a real show-stopping treat."
Once you've gathered the visual inspo, putting your trust in a professional wedding cake baker and giving them creative freedom is the real key to designing an unforgettable cake. "Let's get weird and creative, y'all!" says Thibodeaux. "Who cares what your mother or MIL may think!" From charming vintage-inspired cakes to unexpected floral details and unique shapes, here's what experts have to say about the latest wedding cake trends for 2024.
2024 Wedding Cake Trends
The cake is an important part of your wedding reception, but you don't need to take it too seriously. These new wedding cake ideas are proof that being bold and having a little bit of fun comes with a big payoff.
1. Heart-Shaped Cakes
We can't get enough of this adorable wedding cake trend—and you might have even already spotted it popping up on your social media feeds. Heart-shaped wedding cakes are all about whimsical details and over-the-top embellishments, which you'll love if you're into maximalist style. The Lambeth-inspired cakes, usually decorated in pastel colors like pink, purple, yellow, green or blue, are often topped off with bright red cherries that complete their vintage look. Not sure you want to try this trend for your wedding day? Heart-shaped cakes are just as cute at engagement parties, bridal showers and rehearsal dinners.
Find all the vendors you need
Meet every kind of expert from bakers to bartenders and more.
2. Garden Patch Cakes
Florals for wedding cakes? Groundbreaking. But really—in 2024, fresh flowers will adorn cakes in new ways that evoke a more abstract, organic look than ever before. Instead of meticulously placed clusters of blooms or elaborate flowers cascading down fondant tiers, the concept of this wedding cake trend is to use florals in a way that feels like they sprouted directly out of the cake. It's giving simple cottagecore garden wedding—just add a sweet gingham or checkered tablecloth. Editor's note: Your wedding cake baker and wedding florist can help you choose food-safe flowers, which is important to keep in mind when adding any type of plant or natural element to your cake.
3. Ribbons and Bows
Dainty bows are already trending for hair accessories and wedding fashion, and they'll be making their way onto wedding cakes in 2024, too. This trend is a throwback to wedding cakes of the early aughts, and today's version falls perfectly in line with the popular coquette and balletcore aesthetics. Expect to see bows on cakes in all sizes and forms, from actual ribbons to sugar bows made of fondant, meringue or hand-piped icing. Try this pretty idea if you're into understated and timeless details, since you won't need to add many other embellishments (if any) to your cake.
4. Wavy Piping
This wedding cake trend is unlike anything we've ever seen before, and we're a little obsessed. Wavy piping, ruffled buttercream and squiggly meringue accents are all bringing unique dimension to wedding cakes in 2024. Deaux Baker is a master of these surrealism-inspired designs, which are all one-of-a-kind. "The basket weave piping technique with my signature wavy look around the circumference of my cakes stemmed from the inspiration of 1920s women's hair styles—the short bobs with their finger waves I was extremely mesmerized by!," says Thibodeaux, who references Josephine Baker and Bette Davis as inspiration. "I love the sensual and feminine look it adds, but how it also creates depth and structure. Each ribbon belt is different to emphasize the individuality of my cakes and to the corresponding client. No two cakes are ever alike."
5. Textural and Tonal Cakes
Understated luxury, anyone? Bridging the gap between super-simple wedding cakes and highly detailed creations, monochromatic textured cakes give you the best of both worlds. An all-white color palette tones down the overall look of the cake, but upon closer inspection, the details keep it far from boring.
6. Extra-Grand Wedding Cakes
Now that big weddings are back in full swing, the desserts have to be equally as impactful. After all, what's a party without cake? "The cake is now center stage again," says Aimee Monihan, founder of Destination Occasions, an event planning company specializing in destination weddings around the world. "It's a vital part of decor and getting dressed up more than ever." Extra-tall cakes (think six and seven tiers or more) will tower above dessert tables, creating a focal point at your reception venue and giving you the ultimate cake cutting photo opportunity. And the cake itself is just the beginning—lavish embellishments and add-ons will take the whole display to the next level. "Lots of flowers, not just on the cake, but surrounding the table so that it feels more like a focal art piece than a dessert!" says Monihan.
7. Sheet Cakes
If you're going the casual route for your wedding day, consider skipping the multi-tier cake for a one-tier sheet cake instead. But if you think this is your average grocery store sheet cake, think again. What makes this 2024 wedding cake trend so noteworthy is that the sheet cakes are decorated just as much as (if not more than) vertical cakes, complete with fresh flowers, intricate piping and other decorative techniques. The main difference? Because of their horizontal design, sheet cakes won't need as much structural support—and they're a great option to maximize the amount of cake you can serve at once.
8. Unique Cake Flavors
There's always going to be a time and place for classic vanilla sponge cake and buttercream frosting, but you don't have to play it safe on your wedding day. If trusty standbys like chocolate or red velvet just aren't doing it for you, draw inspiration from experimental avant-garde menus and seasonal flavors instead.
"I truly believe in keeping things seasonal and I hope that the wedding cake industry can tune in more to this," Thibodeaux says. "I believe we will see more focus on seasonality and the use of various grains with a different twist on traditional flavor pairings. Think certain fruit fillings infused with various spices or herbs, such as citrus and coriander, or my all-time favorite and go-to: peach and bay leaf jam."
Some other unexpected flavors that are gaining popularity for wedding cakes in 2024? Savory options, like matcha and pistachio, and citrus-based flavors, like yuzu and passion fruit.