15 Hot Wedding Cake Trends
From delicate sugar ruffles to decadent drizzles, these gorgeous cake style ideas will make a sweet statement and have everyone begging for another slice.
by Lauren Kay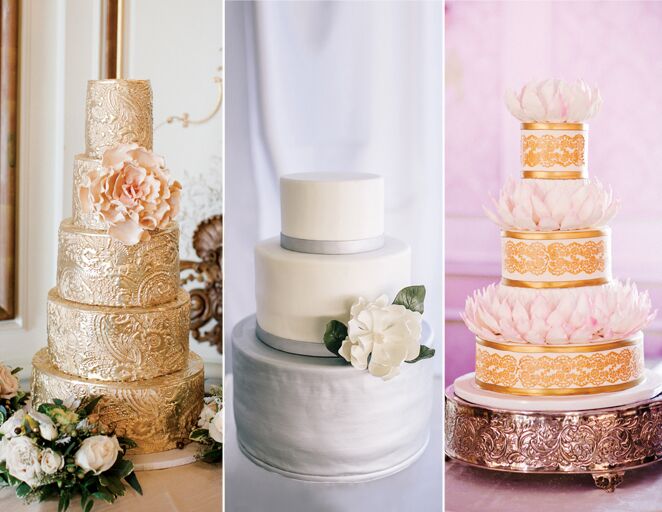 CLY Creation; VUE Photography; CLY Creation
Just about anything can inspire your wedding cake design—the ornate molding in your ballroom venue, your joint love of modern décor or even the pattern from the china you just registered for. Here are a few gorgeous cake trends to help you find your favorite wedding cake style, then let your baker take care of the rest.
CLY Creation; VUE Photography; CLY Creation

Kortnee Kate Photography; Philip Ficks; Elizabeth Ann Photography

Brindamour Photography; Roey Yohai Photography; Heather Roth Fine Art Photography

Looking for inspiration on...

Still Deciding?

Take your time! There are so many gorgeous themes

Rustic Weddings

Down-to-earth with organic elements and personal touches

Romantic Weddings

Flowy, feminine and just what love's made of with a luxe look

Glamorous Weddings

Awe-inspiring from grand displays down to gilded accents

Modern Weddings

Simple-yet-sophisticated with playful nods and unique accents

Still Deciding?

Take your time! There are so many gorgeous themes

Rustic Weddings

Down-to-earth with organic elements and personal touches

Romantic Weddings

Flowy, feminine and just what love's made of with a luxe look

Glamorous Weddings

Awe-inspiring from grand displays down to gilded accents

Modern Weddings

Simple-yet-sophisticated with playful nods and unique accents

Still Deciding?

Take your time! There are so many gorgeous themes

White-on-White Wedding Cakes

Meredith Perdue; Amanda Kopp Images; Devon Jarvis

Maggie Austin Cake; Lola Elise Photography; Maggie Austin Cake

Antonis Achilleos; K. Corea Photography; Kristi Wright Photography

Jeff Loves Jessica; Simply Bloom Photography; Katelin Wallace Photography

Philip Ficks; White-Klump Photography; Lisa Hubbard

Riverbend Studio; Laura Murray Photography; Hot Metal Studio

Sugar Flower Bouquet Cakes

John Arcara; Philip Ficks; Kate Mathis

Illustrated Wedding Cakes

Mark Lund; Philip Ficks; Devon Jarvis

Philip Ficks; Kristen Weaver Photography; Maggie Austin Cake

Buttercream Wedding Cakes

John Cain Photography; Elevate Photography; Simply Bloom Photography

Wedding Cake Trio and Quintet Tables

(Clockwise from top right) Sherry Hammonds Photography; Sweetwater Portraits; Pen / Carlson

Monogrammed Wedding Cakes

Kate Mathis; Antonis Achilleos; Studio 306 Photography