20 Harry Potter Wedding Favors That Will Transport You Straight to Hogwarts
Here's to a spell-binding night to remember.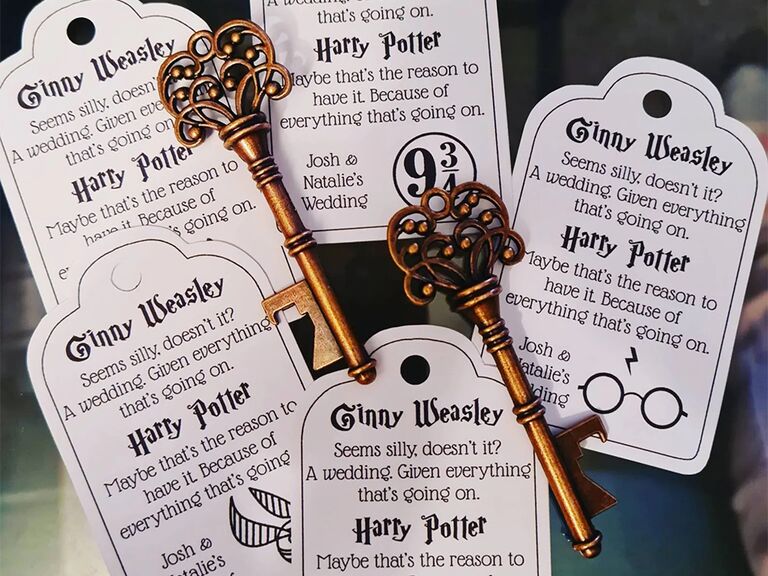 We have included third party products to help you navigate and enjoy life's biggest moments. Purchases made through links on this page may earn us a commission.
Throwing a Harry Potter-themed wedding isn't for the casual fan. But if you've read all the Harry Potter books cover-to-cover and not-so-secretly wish you could've gotten into Hogwarts, then a Harry Potter wedding might be right up your Diagon Alley. (See what we did there?)
Harry Potter wedding favors offer lots of fun opportunities to incorporate wizardly themes into your wedding day vibe in a way that'll have your guests wanting to read the books all over again, too. But the possibilities don't just end there.
You can also transport friends and family into the Wizarding World of Harry Potter from the moment they get their Golden Snitch save-the-dates and Hogwarts Castle wedding invitations in the mail. Want to extend the unique wedding theme to your wedding shower or bachelor/bachelorette party? There are plenty of Harry Potter-inspired party ideas to go around before you say "I do"—from chocolate frog desserts and an "Always" cake topper to wizard-themed bachelorette party games. (Oh, if only a flying game of Quidditch were actually possible...)
When it comes to the big day, even more fun awaits. How about treating muggles to a welcome drink of butterbeer? Or filling the photo booth with fun props like round-rimmed glasses and wizard wands? You can even seat guests according to their Hogwarts House by naming the tables things like Gryffindor and Slytherin and putting a literal sorting hat on the place card table. Or, have them sign a unique guest book that literally looks like Hogwarts castle itself. (Are you seeing all the potential here?!)
If you're suddenly feeling inspired to start planning your enchanting celebration now, scroll on for some Harry Potter-themed wedding favors that will help you host an epic (and magical) wedding day your guests will remember—always.
Favour the Date Harry Potter Deathly Hallows Bottle Opener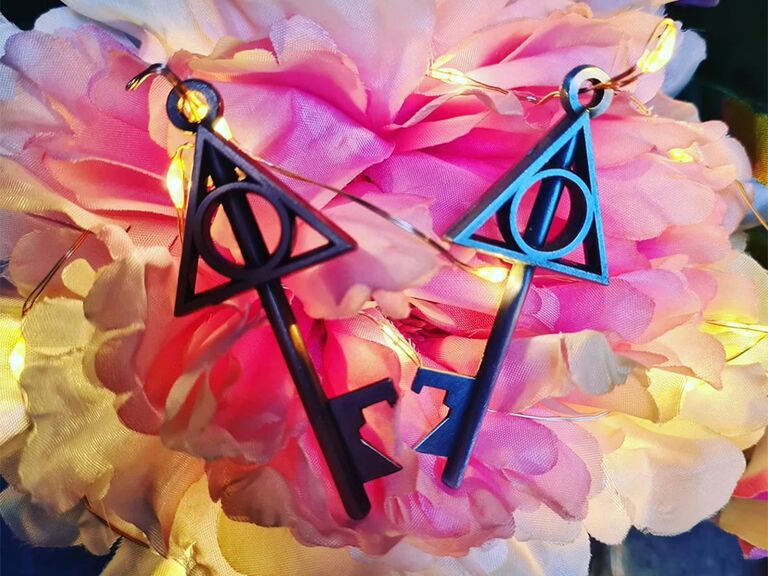 A bottle opener always comes in handy, but not everyone can say they own a pocket-sized one that's shaped like the Deathly Hallows symbol, now can they? This skeleton key-shaped favor can be incorporated into a gift bag at the end of the night, tied to each guest's place card or thoughtfully presented at each place setting before the reception starts.
Crazy Moose Gifts Harry Potter Butter Beer Lip Balm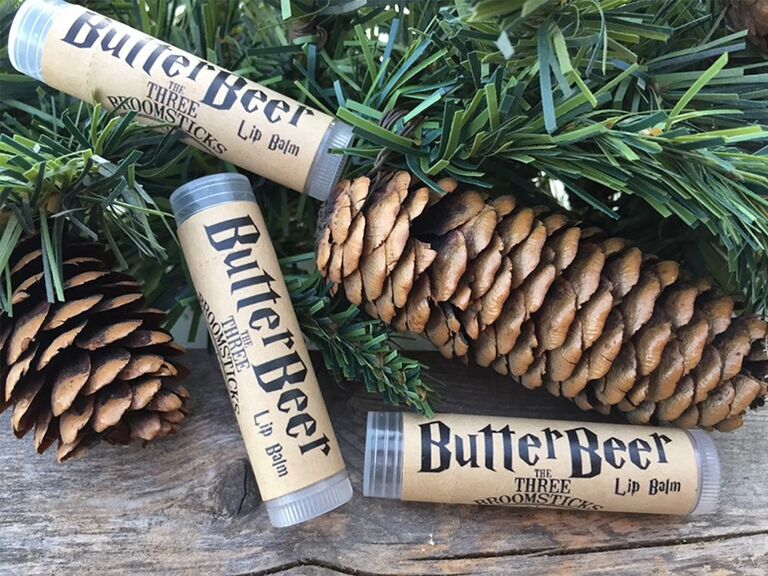 Few things compare to the yummy taste of butterbeer—except maybe this sweet-smelling lip balm. Made with all-natural ingredients like shea butter, Vitamin E and aloe, it will have you smelling like butterbeer and keep your lips nourished all day long. (Almost like magic.)
Favour the Date Harry Potter Lockdown-Themed Bottle Opener Key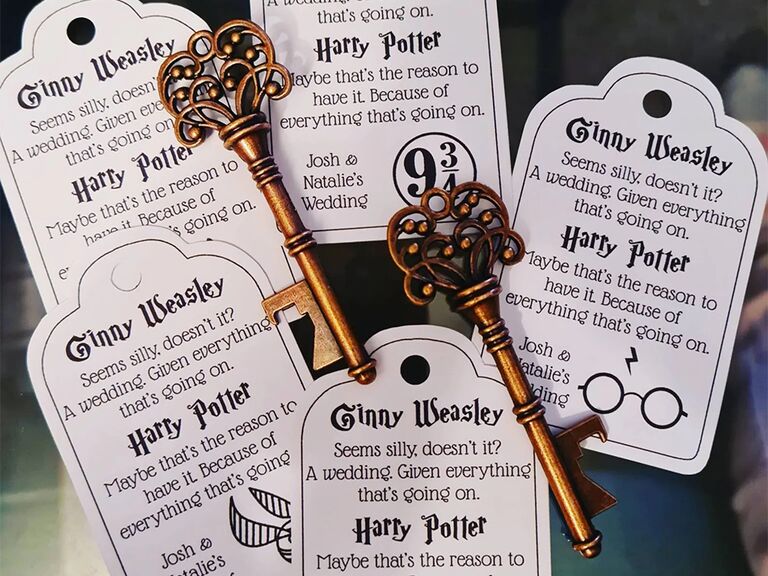 These imitation "flying keys" are handmade, multi-purpose and honestly one of the best Harry Potter wedding ideas we've seen. Each one looks like it's been around for centuries, and comes personalized with a hanging tag featuring one of Ginny Weasley's most infamous quotes, which couldn't be more timely right now.
Pink Pineapple Parties "Always" Mini Hand Sanitizer Labels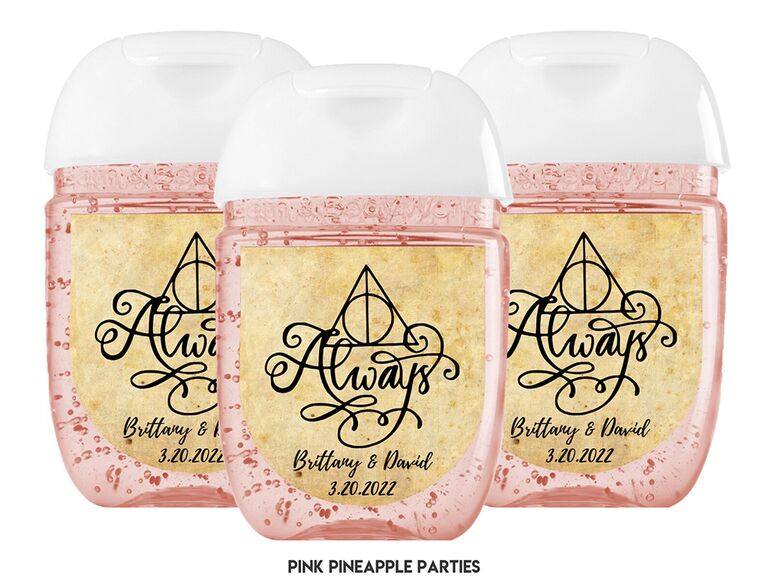 Who would have thought that travel-sized hand sanitizer would be such a hit at parties one day? Now, it's a smart and practical wedding idea that guests will actually use. You can customize this printable "Always" sticker with your names and wedding date before sticking it on the front of hand sanitizer bottles for friends and family to grab as they leave.
Magic Practicum Mini Magic Potion Labels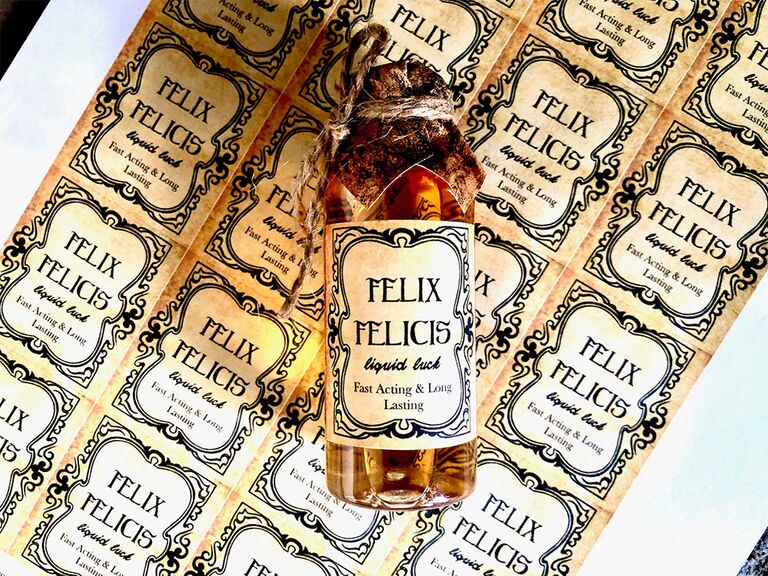 Send every wizard, witch and muggle home with a mini bottle full of "Felix Felicis" (or "Liquid Luck") post-celebration. Simply download this printable label, stick it on to mini glass bottles and fill each one with a shot or two of your favorite "potion."
Party City Harry Potter Platform 9 3/4 Ticket to Hogwarts Chocolate Bar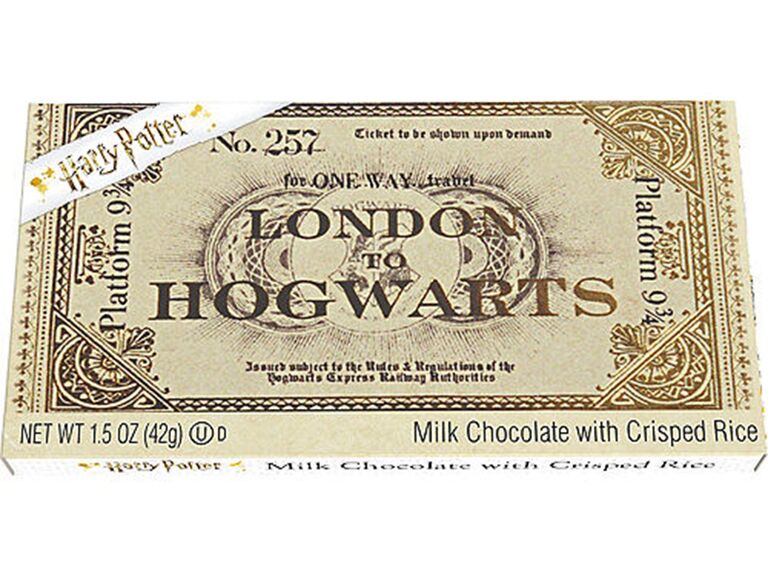 One of the most magical Harry Potter moments is when Harry heads to Hogwarts for the very first time by running into Platform 9 3/4 and magically disappearing at a London train station. This sweet chocolate treat will remind guests of that iconic scene all over again with each and every bite.
House Art Co. "Happiness Can Be Found Even in the Darkest of Times ... " Wall Art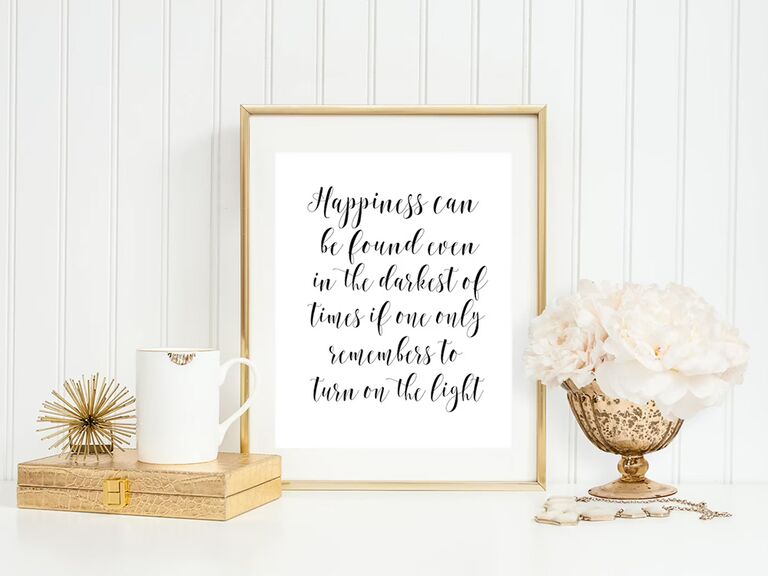 Of all the memorable lines from the Harry Potter franchise, this remains one of the best. The Etsy shop behind this customizable wall art provides a digital file that can be downloaded and printed in various sizes, so you can frame one for every guest to hang on their wall as a beautiful reminder from Dumbledore himself. (Bonus: This could also work as a unique DIY centerpiece idea that you let guests take home with them.)
Jack and Cole Soap Co. Harry Potter-Inspired Scented Soaps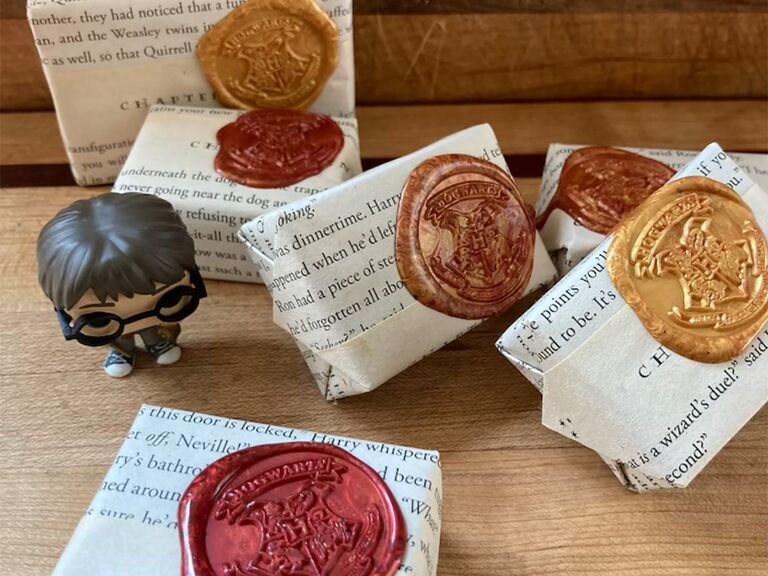 These sweet-smelling soaps are each handmade and beautifully wrapped in a page torn right from one of the Harry Potter books. Holding it all together is an authentic-looking Hogwarts wax seal that sets this one-of-a-kind wedding favor apart from the rest. Give them as a thank you to your guests for coming, or use them as bridesmaid gifts during the bachelorette party.
Thatch Cottage Crafts Personalized Harry Potter Bookmark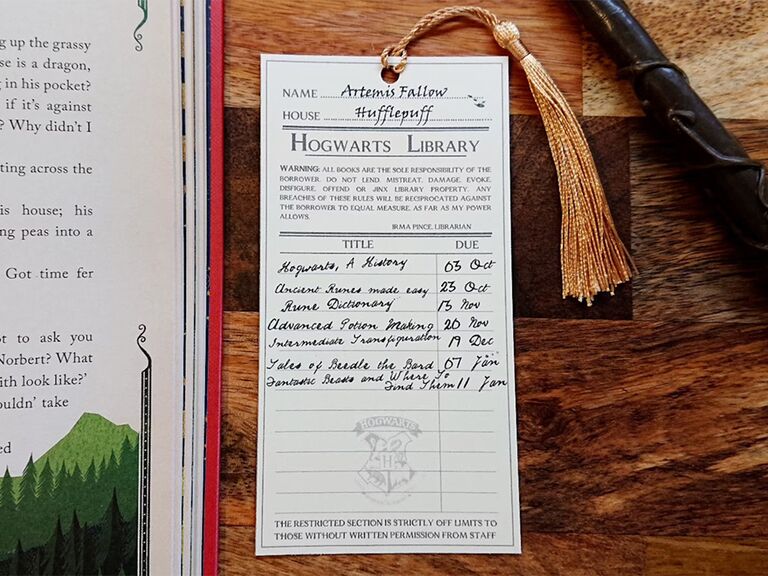 Talk about the perfect wedding idea for a literary-themed bash. This vintage-inspired bookmark is made to resemble a library card from none other than Hogwarts Library and can be personalized with each guest's name and house for an extra special touch.
Little Tattoos Little Lighting Bolt Temporary Tattoo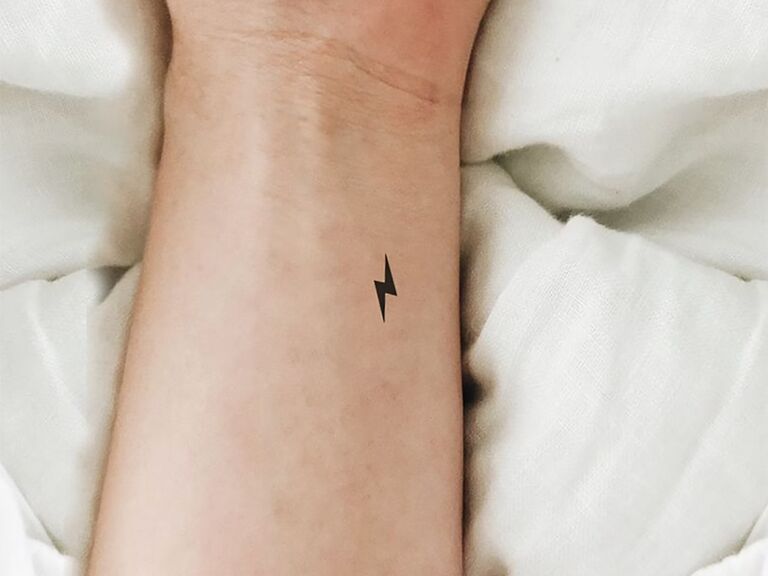 A wizarding celebration just isn't complete without a Harry Potter-inspired lightning bolt tattoo. Whether your guests stick them on their arms or the middle of their forehead is up to them (and maybe your bartenders!) but we know they'll bring the fun to your reception either way.
Dynamic Alley Handmade Wizard Wands
Did you really throw a Harry Potter wedding if your guests didn't go home with a magic wand in their hand? (We didn't think so.) If you're not afraid of a little DIY, wrap each in pretty brown paper with a faux wax seal on top so it looks just like the real thing.
Sugar Works By Mary Harry Potter Cookies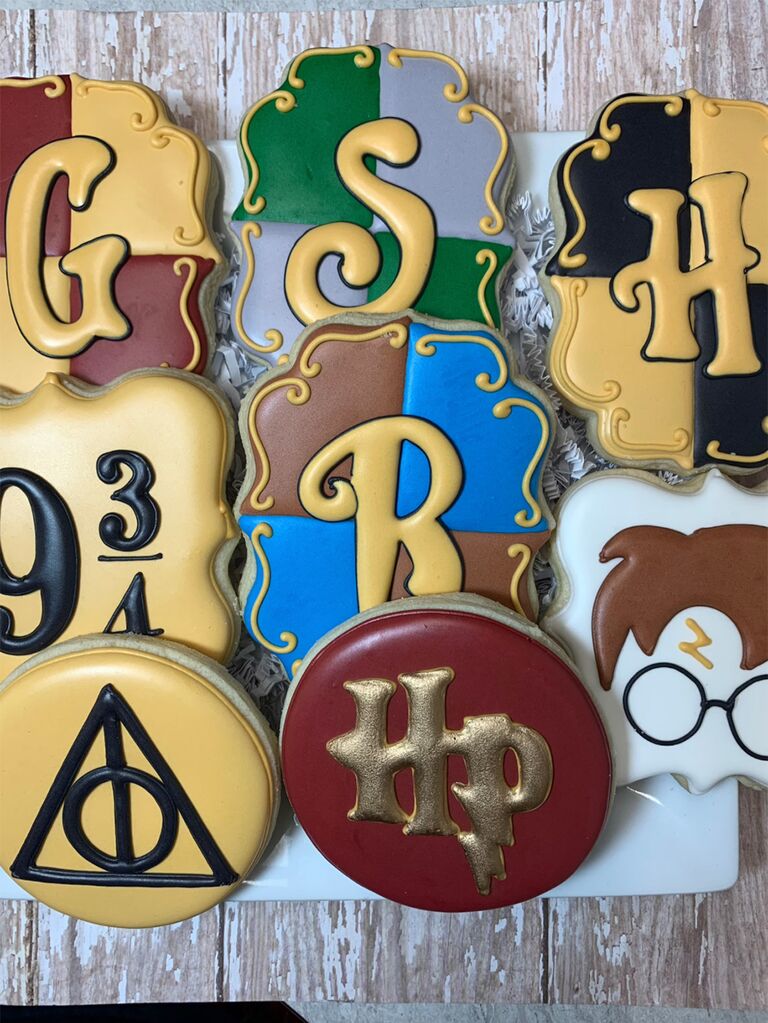 These vanilla-almond sugar cookies are almost too pretty to eat (note that we said almost). Every order is freshly baked, with each cookie individually packaged in heat-sealed cellophane to make for easy gifting. Hand them out to your wedding party while you're getting ready or give them to guests at the end of the night. Either way, they'll be gobbled up fast.
Magic Practicum Golden Wings Printable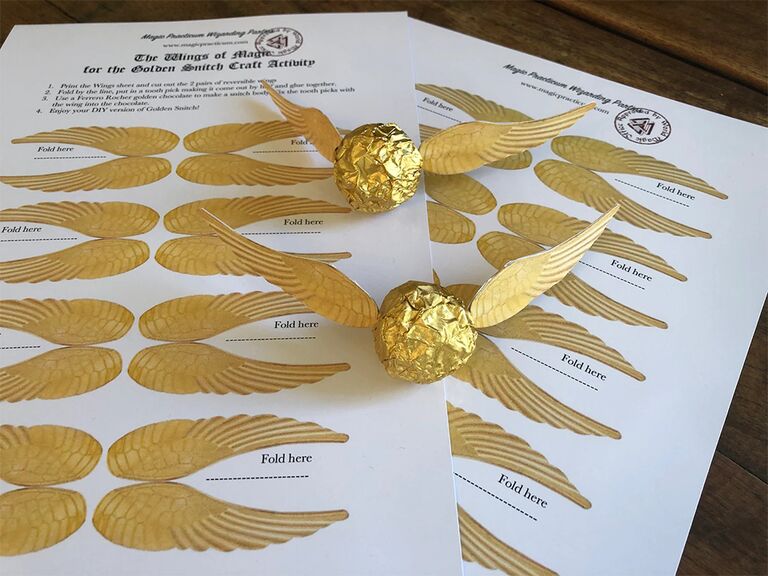 Talk about the most clever favor ever. If you're a to-be-wed duo who isn't afriad of a little DIY project, then these Golden Snitch favors are perfect for you. Simply print out the "wings" and glue them to any gold-wrapped candy (like Ferrero Rocher) for an instantly-recognizable treat.
Humble Graphics Harry Potter Stemless Wine Glasses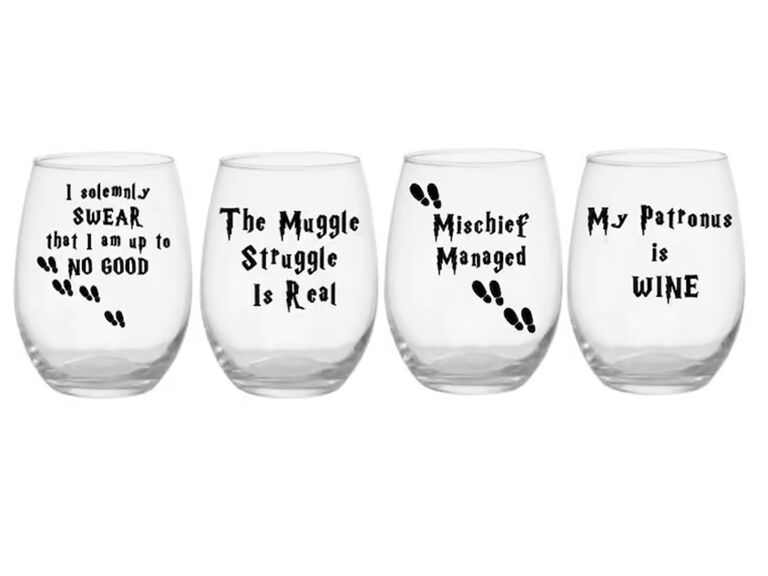 Bottom's up! These handmade wine glasses each come with a different phrase from the book series printed across the front. The only problem? Each one is so good, guests might be fighting over them by the end of the night.
Laila Pinsaulte Magic Book Wedding Favor Boxes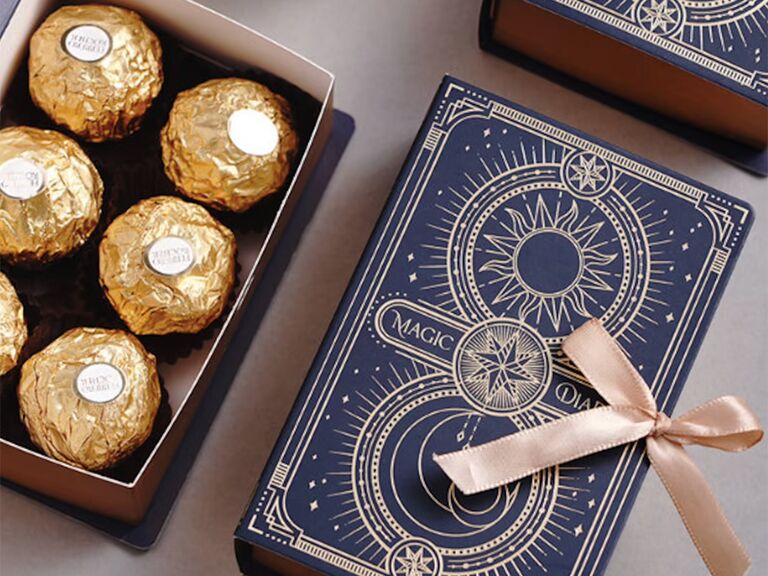 Send each guest on their way with a "magic book" of their very own. But, instead of filling it with spells and potions, add some magical treats inside—like Bertie Bott's or even a chocolate frog! As far as unique wedding ideas go, this one takes the cake.
Engraved Mementos Harry Potter Engraved Flasks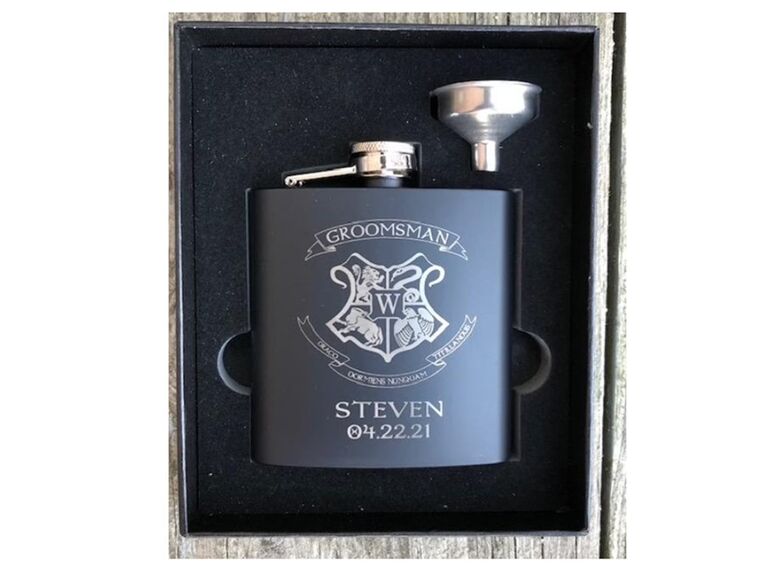 Looking for something special for your wedding party? This sleek and sophisticated flask is the perfect wedding gift for your loyal groomsmen—it can be engraved with their first name, last initial and your wedding date, along with a Hogwarts-inspired crest.
Britt Kate Designs Harry Potter Party Favor Bags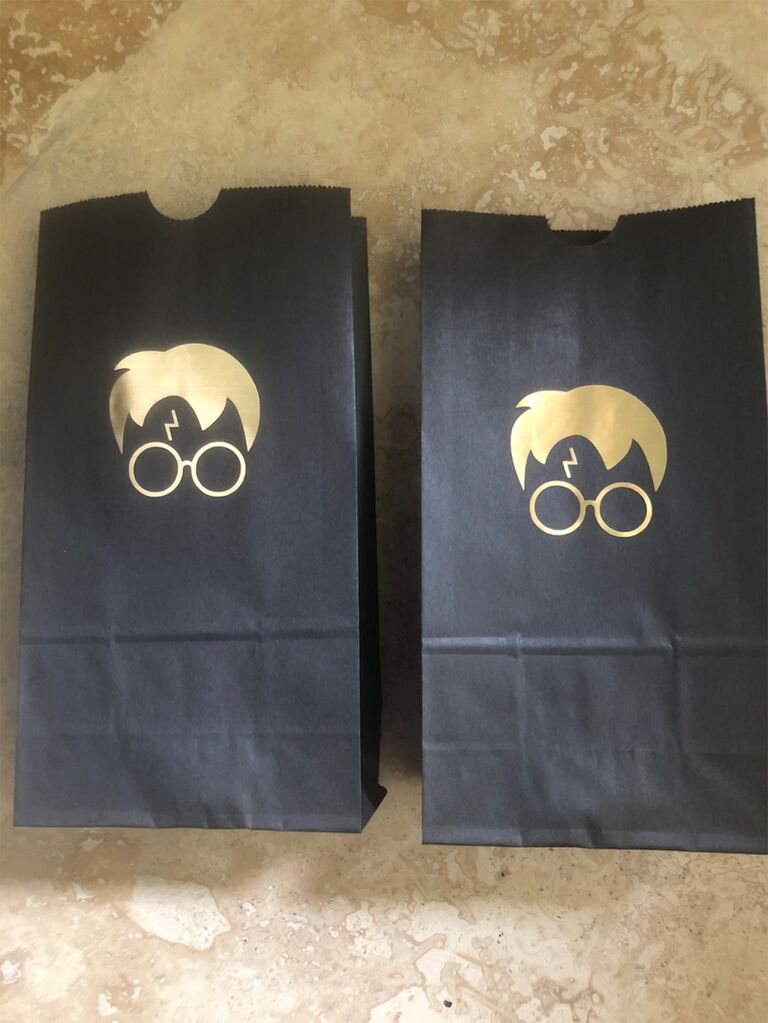 The good news: Thanks to these bags, you can magically turn anything into a Harry Potter-themed wedding favor. We love the idea of including these alongside a bonus guest experience, like a late-night popcorn buffet or a candy cart reminiscent of the one on the Hogwarts Express.
Keladrys Harry Potter Hogwarts House Coasters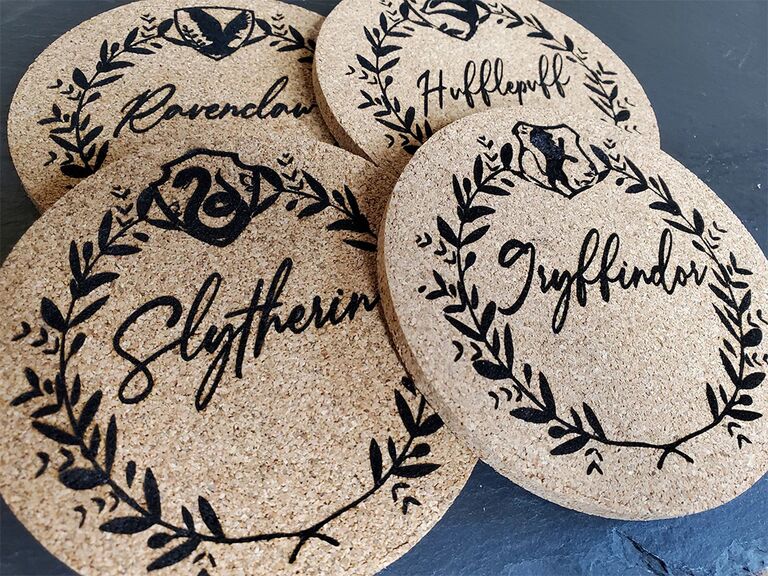 Gryffindor or Hufflepuff? Ravenclaw or Slytherin? Wedding guests will be showing off their house pride all night long after getting one of these elegant drink coasters, which are handmade from cork.
Happy Ceremonies Tin Candle Favor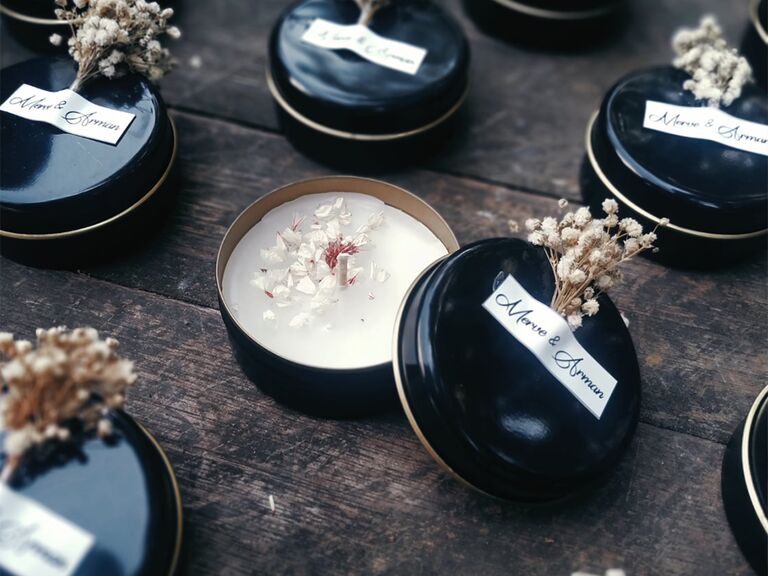 Want a wedding favor that's loosely inspired by the world of Harry Potter, but not so on-the-nose? These travel-sized candles create a dark and moody vibe that feels a bit less campy and a lot more sophisticated. If you don't want your Harry Potter wedding to feel too Halloween-y, this might strike the perfect note.
Cute Sayings Harry Potter Wedding Themed Can Coolers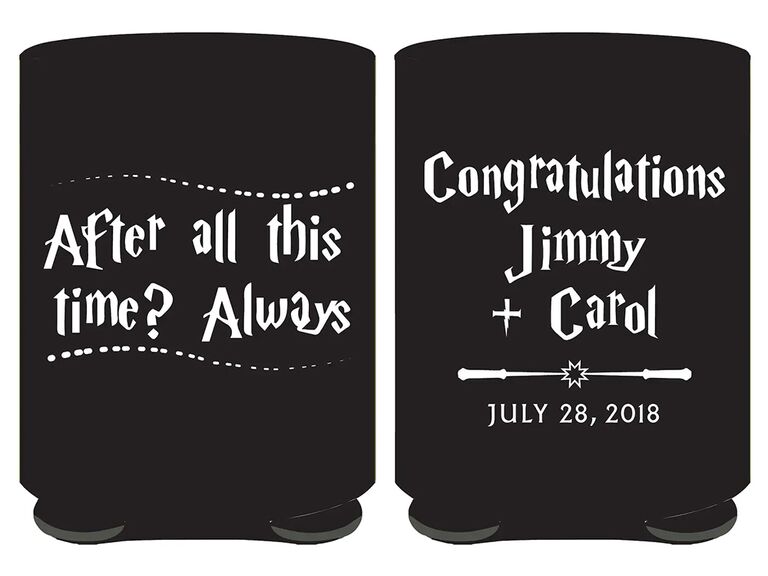 These personalized drink koozies are the perfect favor to hand out if you're having a casual backyard wedding with a Harry Potter theme. If they don't feel formal enough for the big day you have planned, you could always save them for dedicated groomsmen or bridesmaid gifts to hand out at the rehearsal dinner.