These Harry Potter Wedding Invitations Are So Enchanting
Send a little magic in the Muggle post.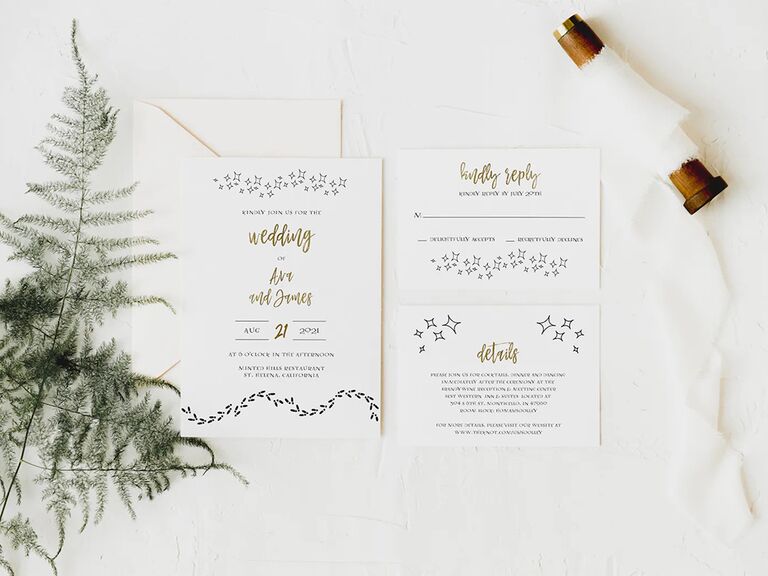 We have included third party products to help you navigate and enjoy life's biggest moments. Purchases made through links on this page may earn us a commission.
For the couple planning a Harry Potter-themed wedding, sending Harry Potter wedding invitations is as obvious as red hair on a Weasley. And while choosing a theme—especially one as specific as a Harry Potter-inspired wedding—is a helpful way to narrow your focus when it comes to wedding planning, there are still plenty of unique invite options for you to sort through. Much like a certain sorting hat, it's kind of our job to help simplify that task. So, we've compiled 23 enchanting wedding invite options inspired by the Wizarding World, all with charming details sure to delight fellow Harry Potter fans and muggle wedding guests alike.
The Jelly Republic Parvati Magical Floating Candles Invitation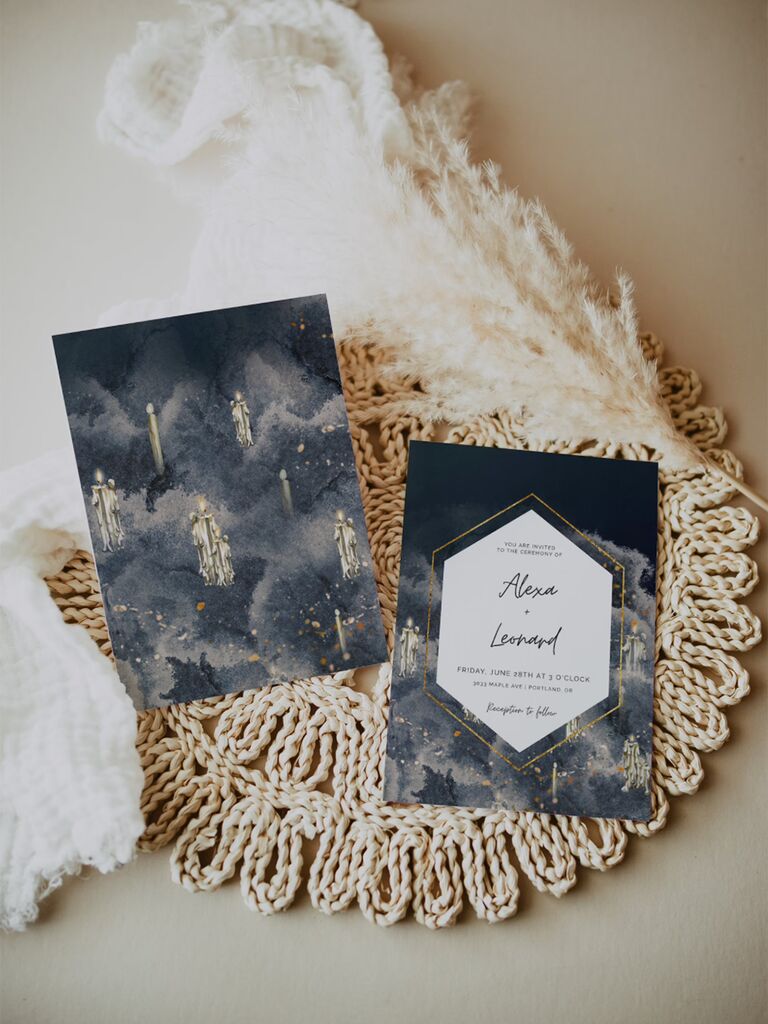 This floating candle invite features a beautiful hand-painted watercolor illustration inspired by the enchanted night sky ceiling in Hogwarts' Great Hall. A metallic gold frame overlay offsets your event details, which stand out on an easy-to-read solid white background.
Savvy Paper Templates Hogwarts Harry Potter Wedding Invitation Instant Download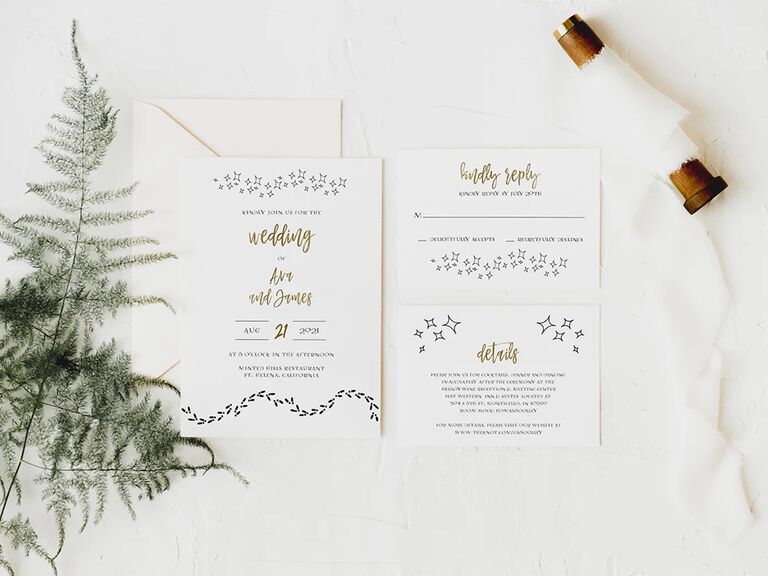 This printable invitation template features an all-caps font that looks just like the one used for chapter names in the Harry Potter books. Your names and wedding date stand out in a whimsical gold script, while black ink Marauder's Map footprints and simple star illustrations adorn the otherwise minimalistic suite.
Geek Designs By Ashley The Unbreakable Vow Minimalist Harry Potter Inspired Wedding Set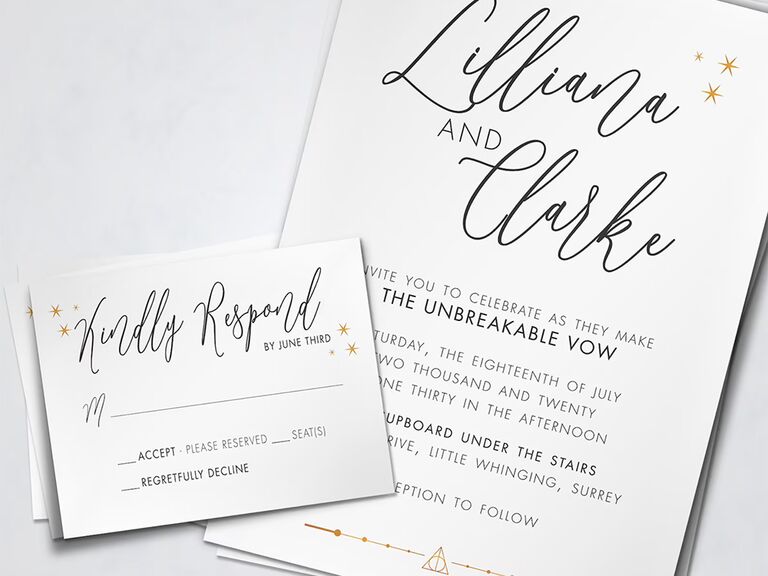 For the minimalist Harry Potter fan, these invitations invite your loved ones to celebrate as you "make the unbreakable vow." You'll find other quotes from the book throughout the rest of the suite, from the "all was well" thank-you card to a save-the-date that says "After all this time..." Gold stars—designed to look like the ones in the corners of the Harry Potter book pages—and a small Deathly Hallows symbol are the only illustrations, making them all the more impactful in their simplicity.
Jinaiji Tree and String Lights Rustic Country Wedding Invitation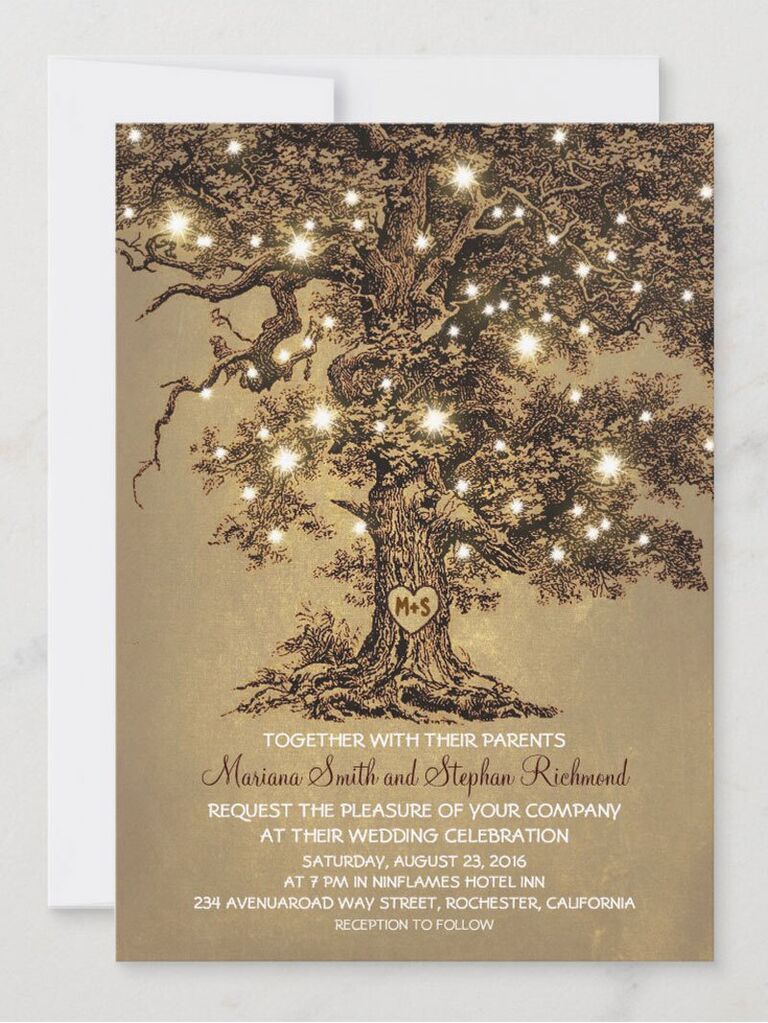 Imagine the Whomping Willow lit up by dozens of wands, and you'll have this rustic wedding invitation. Your first initials are "carved" into the tree for an added romantic touch. Take inspiration from your invite and use plenty of fairy lights and lush greenery as wedding decor. Then, line up your guests and give them lit sparklers to hold when you make your exit at the end of the evening for gorgeous Harry Potter-inspired wedding photos.
Print My HP Creations Harry Potter Wedding Invitation and RSVP Card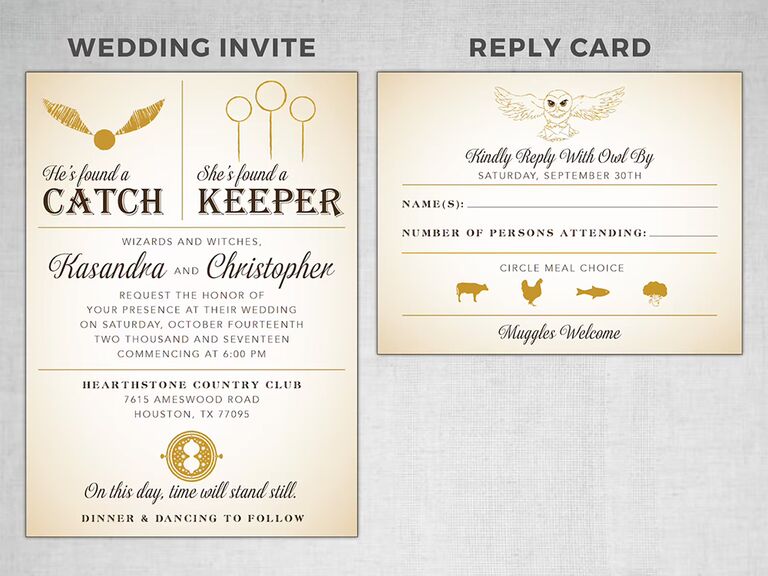 With Potter puns galore, this editable quidditch-themed invite declares "He's found a catch" under a simple drawing of a golden stitch and "She's found a keeper" under a matching quidditch goalpost sketch. A gold time-turner illustration at the bottom of the page is accompanied by the words, "On this day, time will stand still." And while the RSVP card does ask guests to kindly reply by owl, it also assures any non-magic folk are welcome.
Awkward Affections Wizarding Wedding Invitation Set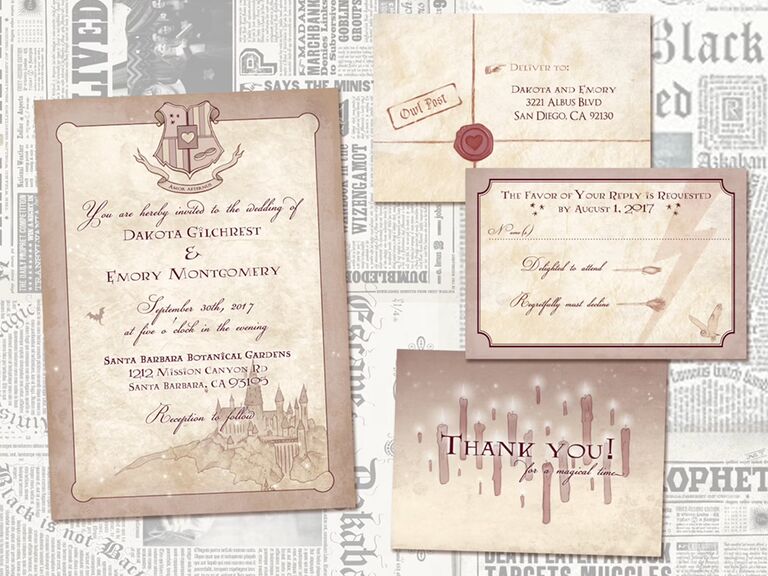 These party invitations have definite Hogwarts acceptance letter vibes. You'll notice the crest features illustrations in place of the Gryffindor, Ravenclaw, Hufflepuff and Slytherin house symbols. The H at the center has also fittingly been swapped out for a heart, with a matching wax seal drawn on the reverse of the RSVP card.
Jinaiji Deer Rustic Woodland Wedding Invitation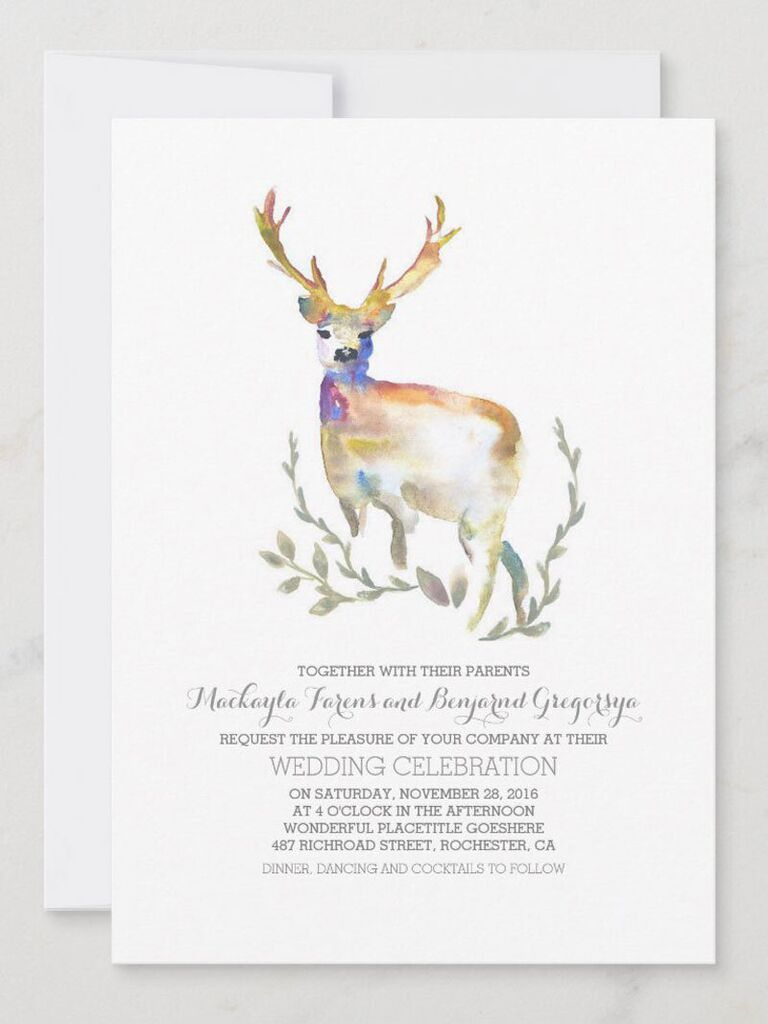 The rainbow watercolor painted stag here is reminiscent of both James and Harry Potter's Patronus, making this invitation a perfect choice for the couple who wants an elegant, understated nod to the beloved series.
Awkward Affections Chapter One Save The Date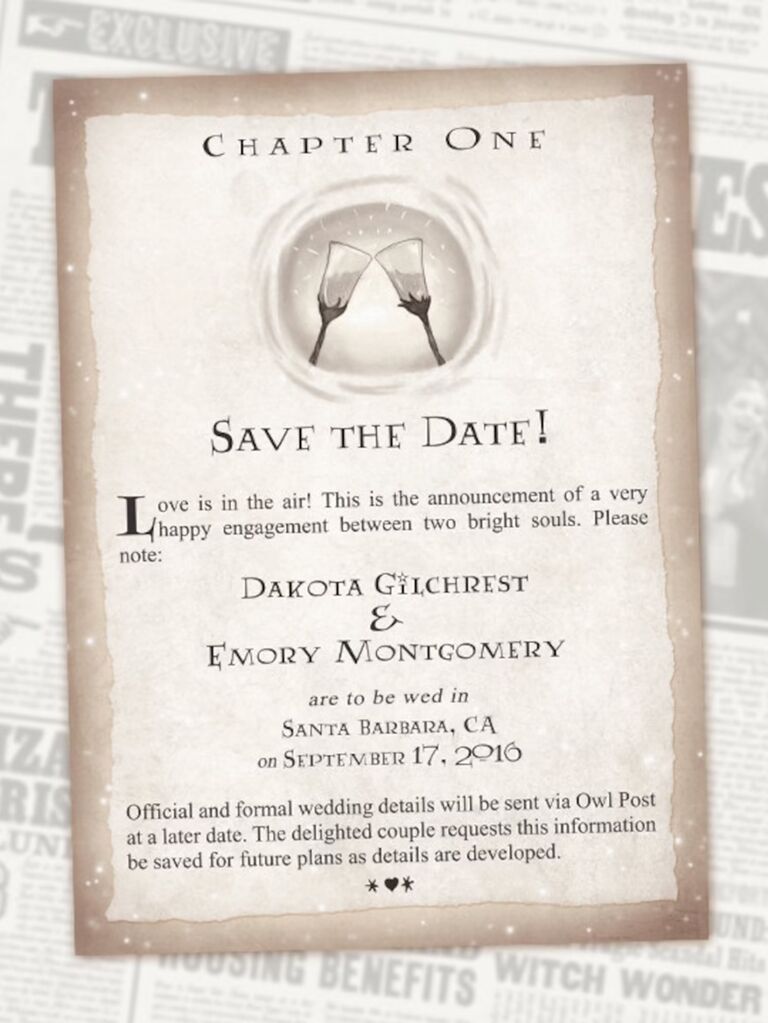 Take a page out of the Harry Potter books when you announce your next chapter together with this bookish save the date. You'll work with the designer on custom text, with the option to change the chapter number and revise any of the wording so it lines up with your unique vision.
Helene V Artwork Imaginarium Wedding Invitation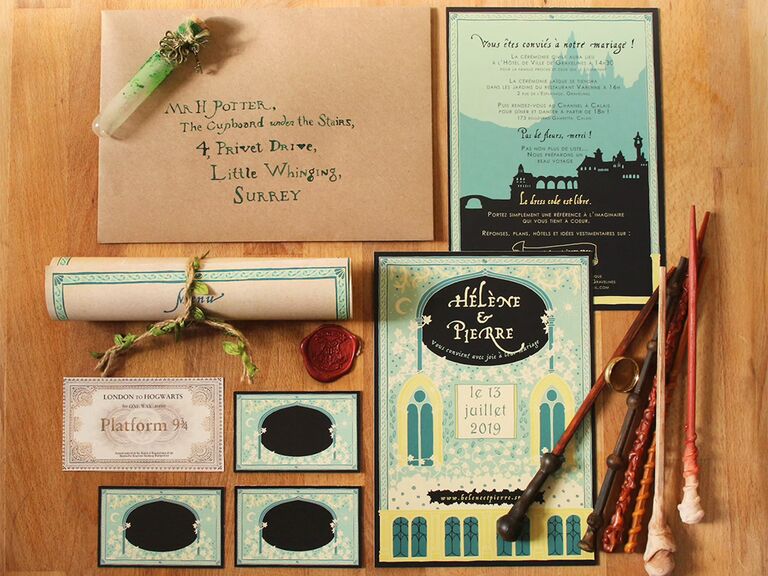 These beautiful storybook-style invitations draw inspiration from the imaginative architecture and detailed worlds of both Harry Potter and Lord of the Rings. Choose from five gorgeous color scheme options—once you've narrowed down your palette, you can use the same colors for everything from bridesmaid dresses and floral arrangements to reception table centerpieces.
The Jelly Republic Narcissa Crystal Ball Wedding Invitation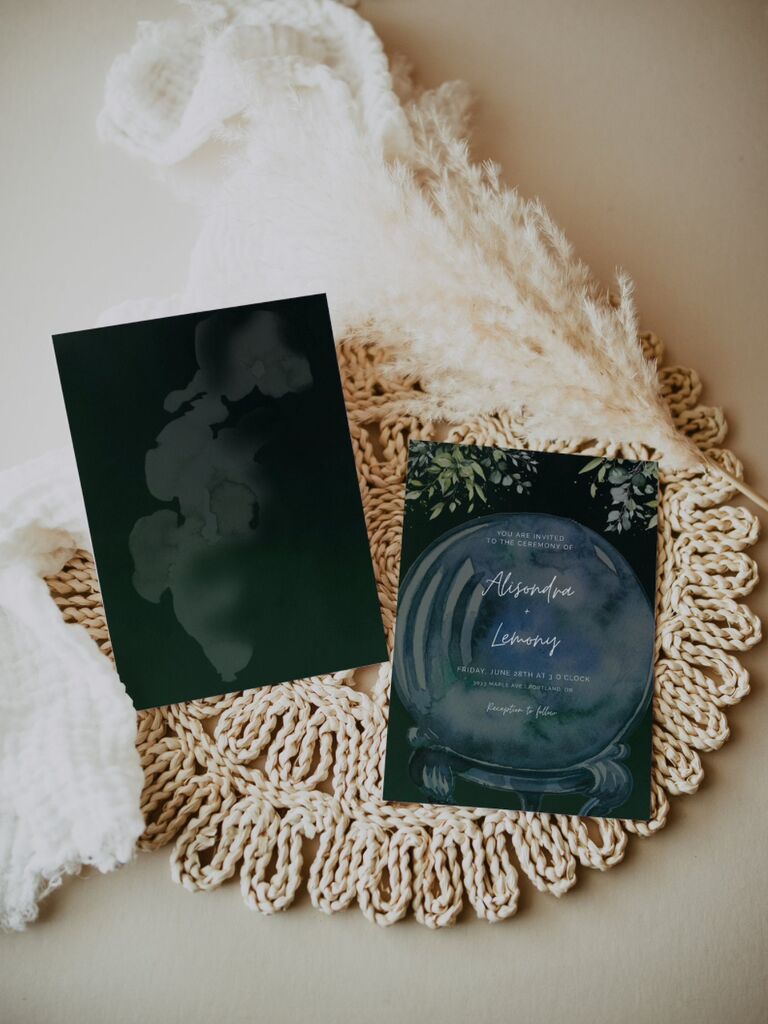 Look forward to the magic of married life with these crystal ball wedding invitations. Dark blue and greens hues, hazy watercolors and leafy greenery give off serious winter wedding vibes. We're seeing bridesmaids in emerald velvet gowns and festive foliage dusted with snow in your future.
My Paper Garden Co. Watercolor Wand Printed Wedding Invitation Suite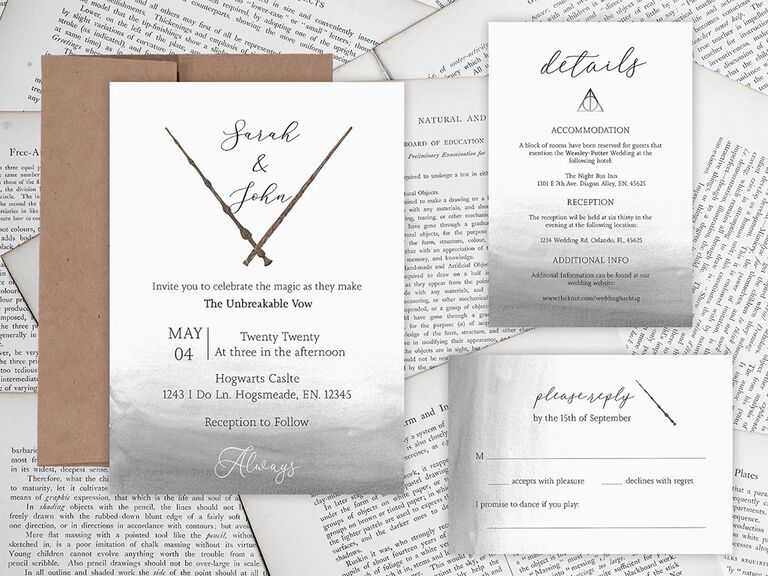 This invitation is made for the modern witch or wizard. Your names are typed in black script above an illustrated crossed wand design (featuring the Elder Wand, no less). Below, guests can find your wedding date, time and location. A white cursive "Always" floats at the bottom of the invitation over streaks of gray watercolor to complete the theme.
Creation Invitation Co. Marauder's Map Style Single-Sided Wedding Invitation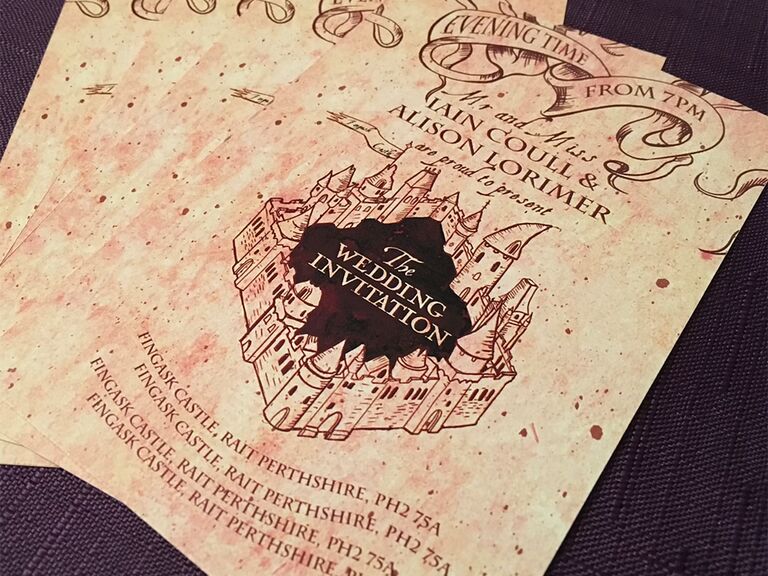 This single-page map wedding invitation channels the Marauder's Map in a straightforward way, keeping the important details of your wedding day clearly visible to guests.
Masonde Designs Harry Potter Inspired Wizarding Wedding Invitation Set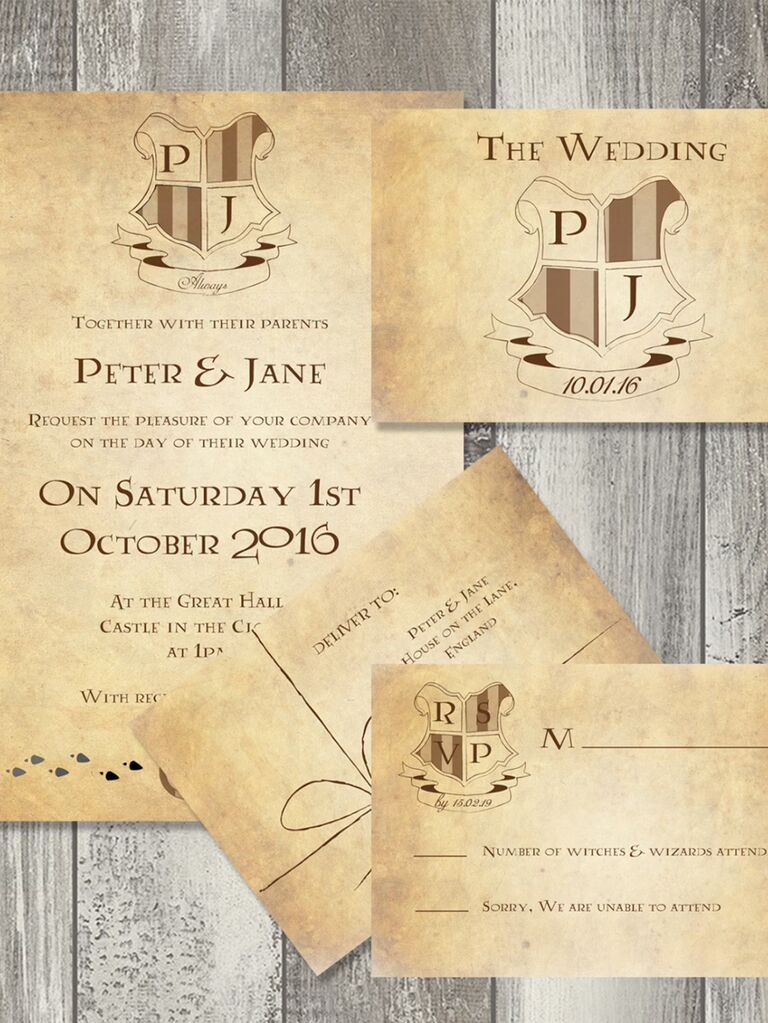 Let your wedding guests know they'll be embarking on a magical adventure when they attend your wedding with these Hogwarts letter-inspired invites. The crest is even personalized with your first initials and wedding date.
Nerdy Hearts Desire Matilda Painted Blue Puzzle Castle Invitation Suite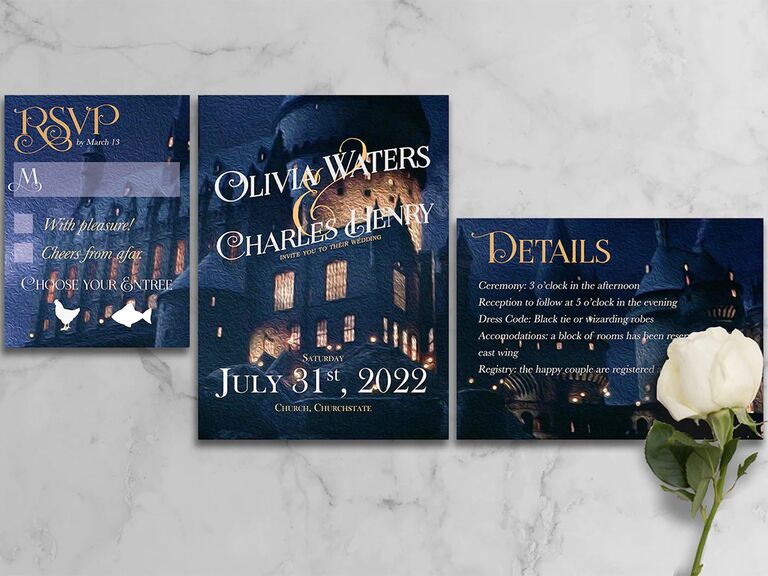 While captivating on their own, the coolest part of this invitation suite is that you can line up the three pieces to complete the "puzzle" and see a full image of a magical castle at night.
Chic Paperie Evermore Enchanted Fairy Forest Wedding Invitation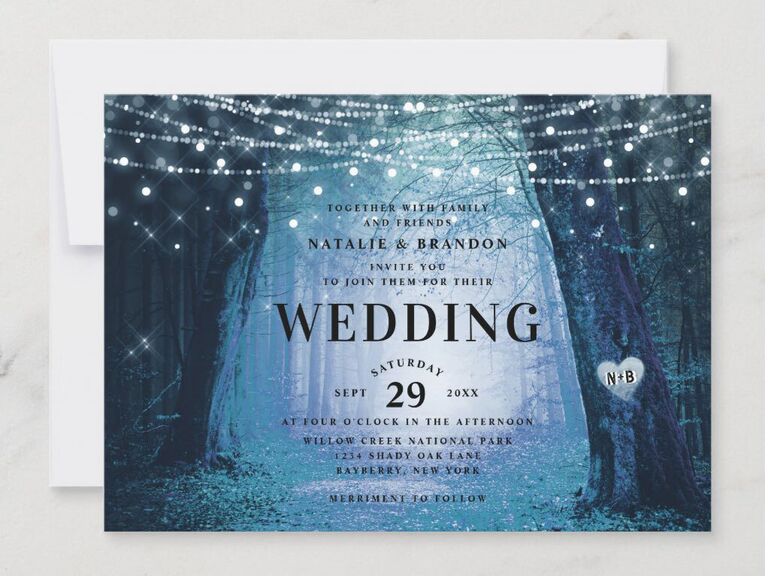 This dreamy invitation showcases a moonlit forest clearing sparkling with ethereal string lights (or fairy orbs, you decide!). It doesn't get much more enchanting than that.
Superdazzle Design Magical Woods Wedding Invitation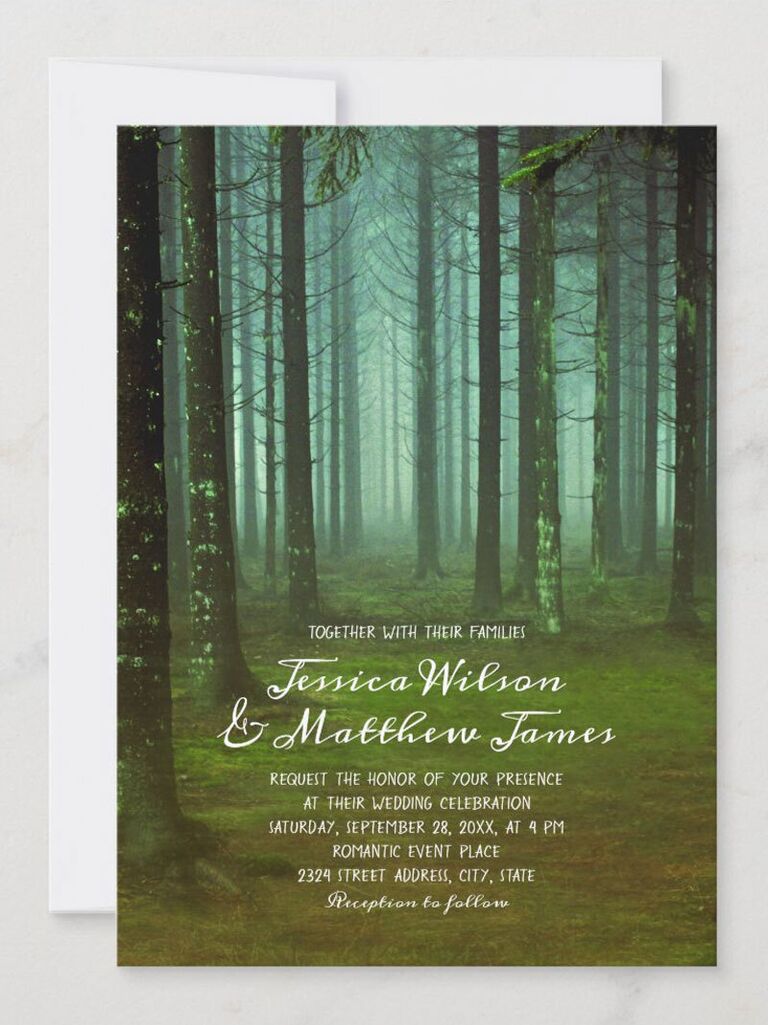 Picture a romantic meeting in the Hogwarts Forbidden Forest at dusk with your soon-to-be spouse. Now, bring that idea to life with this rustic wedding invitation featuring earthy shades of blue, green and brown behind white typography.
Evco Studio Mystical Astronomy Wedding Invitation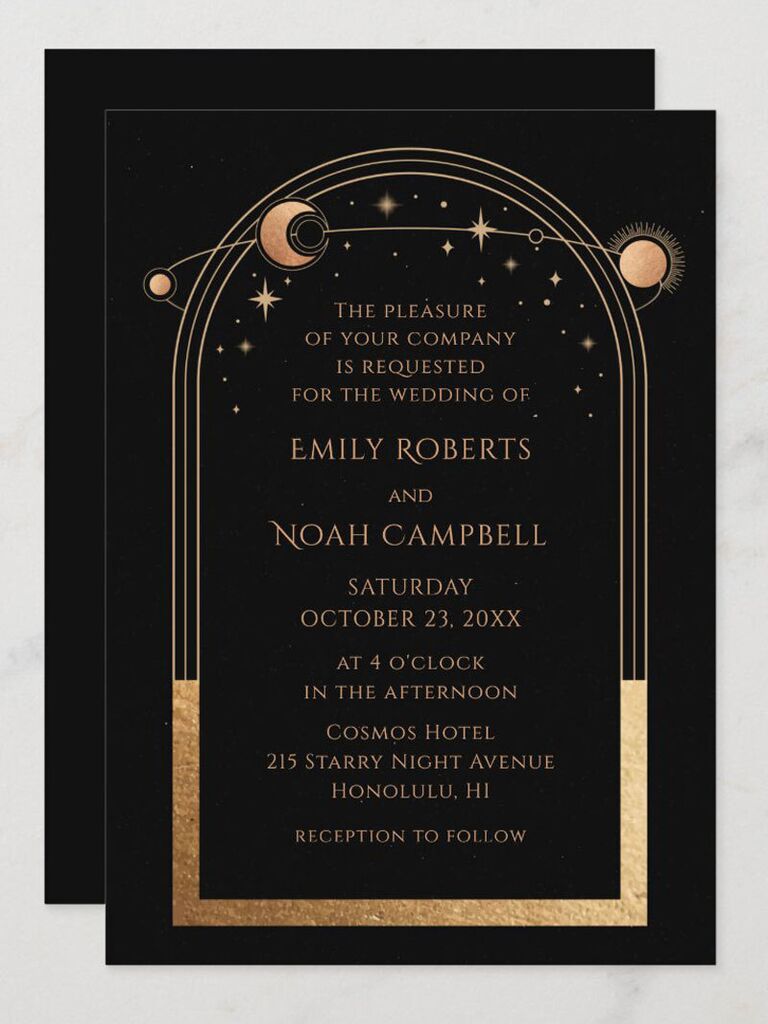 If your favorite part of Hogwarts castle is the Astronomy Tower, allow us to introduce this invitation into your orbit. A metallic gold moon, sun, planet and stars align at the top, while a frame that reminds us of an arched window to the night sky outlines your wedding details in shiny gold text.
McBooboo's Barn Owl Woodland Forest Wedding Invitation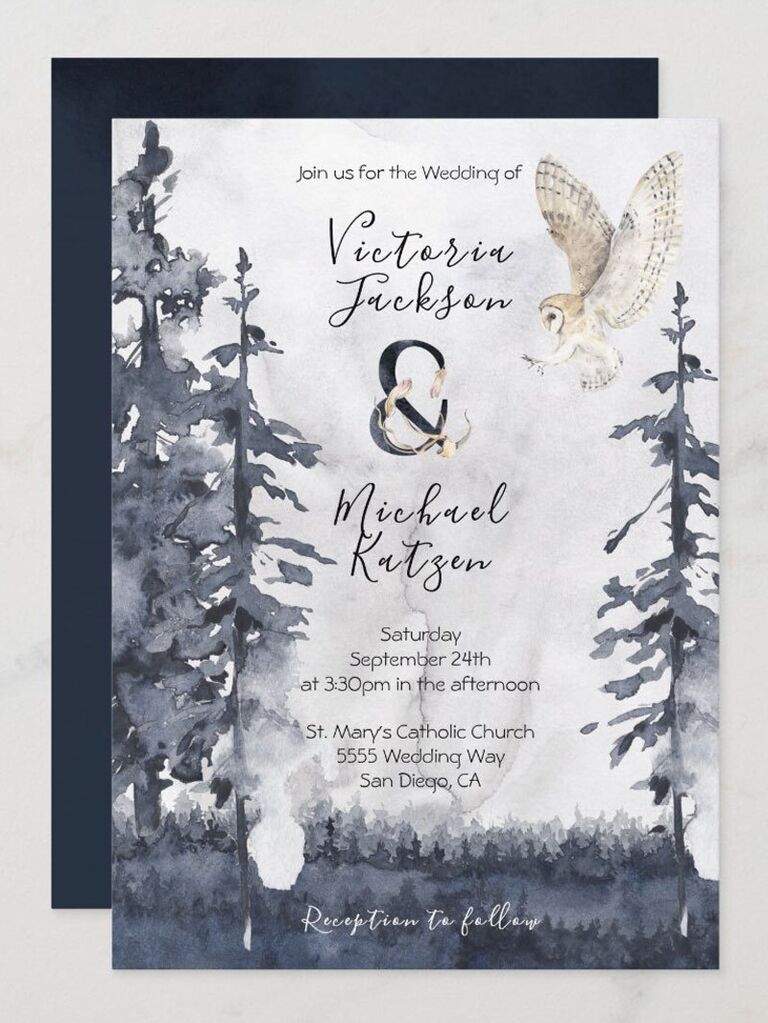 We love this invitation for a woodsy fall or winter wedding reception. The snowy owl and watercolor trees give off subtle Harry Potter vibes, but the overall effect is that of a cozy winter retreat in nature.
Volkmar Designs Wizardly Themed Wedding Invitation
This bewitching downloadable invitation set includes files for the main design as well as a double-sided RSVP card. With darkly romantic, opulent design details, you can consider using this invitation for a Halloween or Victorian gothic-style wedding.
The Lovebirds Design Wizard Magical School Wedding Invitation Suite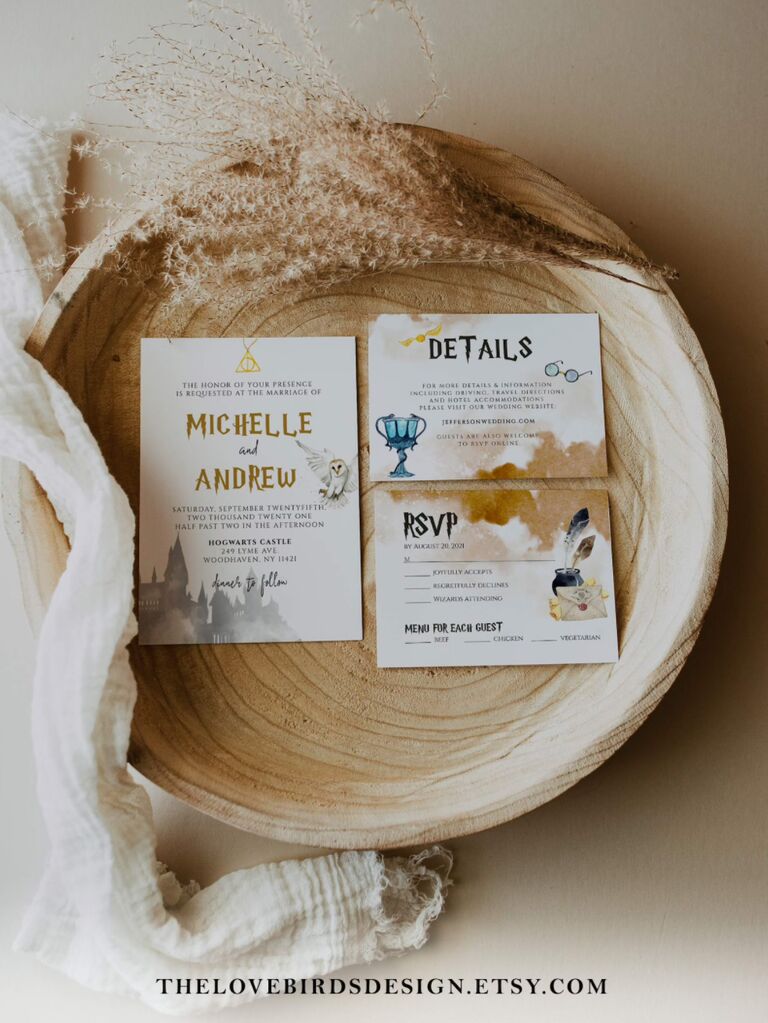 Colorful watercolor illustrations really pop on this parchment paper-inspired suite, which includes a main invitation and corresponding detail and RSVP cards. The back of the design might be our favorite part though—it boasts a playful pattern of watercolor motifs from the series, including the golden snitch, flying keys, Harry's glasses, butterbeer, pumpkins and more.
Blush Pink Paperie Navy Blue Flowers Wedding Invitation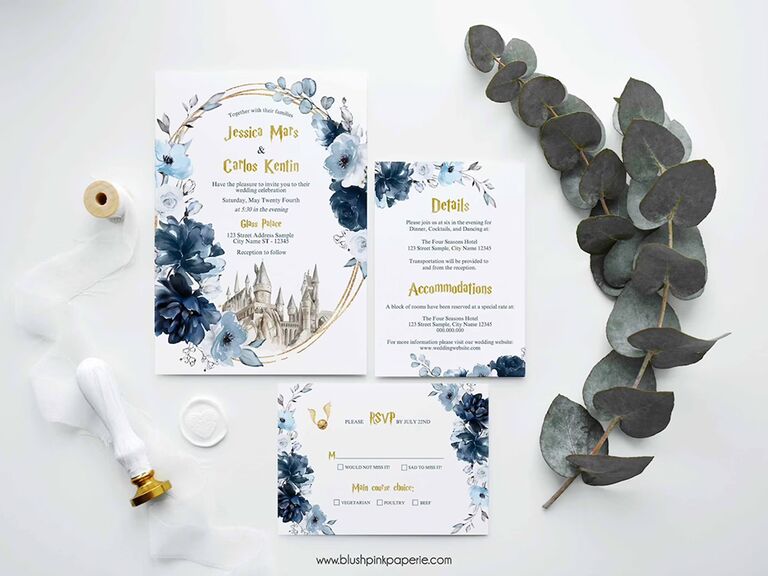 Love the look of watercolor florals on a wedding invitation, but planning a Harry Potter-inspired wedding? This pretty printable puts a flowery spin on Harry Potter wedding invitations to give you the best of both worlds. With gorgeous blue blooms, a delicate gold frame and a watercolor illustration of Hogwarts castle, this design proves you don't have to sacrifice romance to pull off a magical vibe. The designer also makes matching bridal shower invitations and signs, including this amazing mimosa bar sign we think Hermione would definitely approve of.
Unmeasured Event Ginny Wedding Invitation Suite
This is a DIY printable wedding invitation template that includes editable files for the invitation, details and RSVP card. With its recognizable lightning-bolt font and watercolor illustrations of Hogwarts castle, Hedwig, spellbooks and a broomstick, guests will know they're in for a magical time.
Paper Truly Romance Managed Harry Potter Inspired Invitation Sample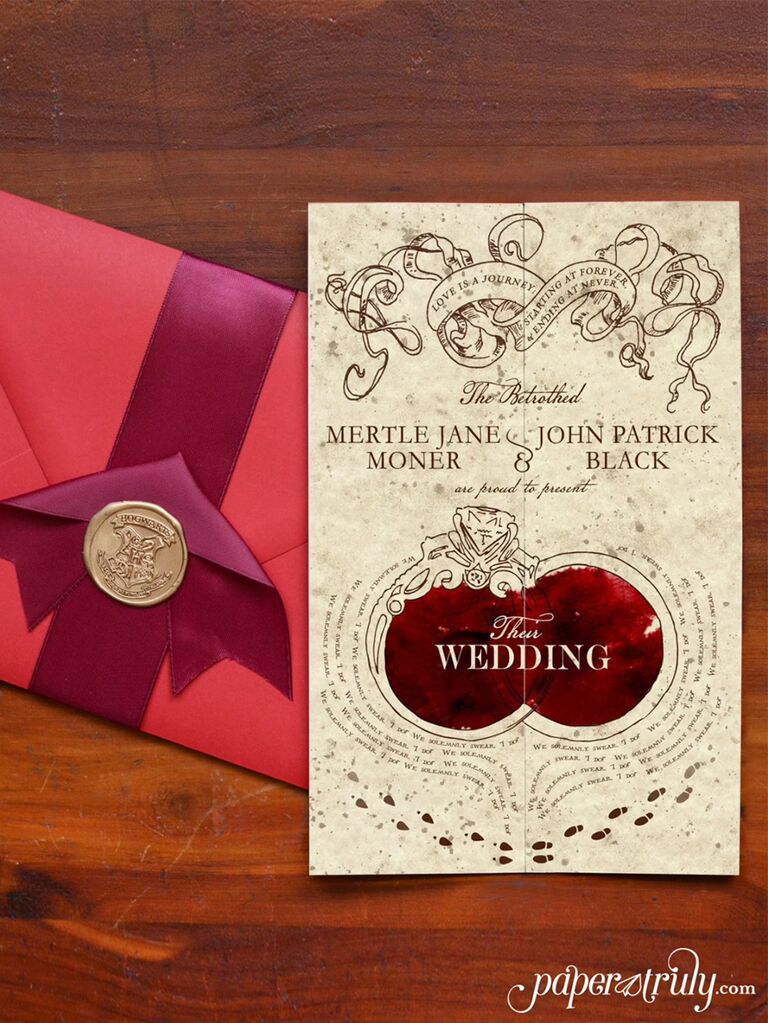 This extraordinarily detailed Harry Potter wedding invitation might actually be magic. Modeled after the Marauder's Map from the Harry Potter books, the outside of the parchment paper invitation reads, "We solemnly swear, 'I do!'" and is illustrated with footprints. Open up the map and follow the footprints to walk from room to room getting ready for the big day. Unfold once more to reveal your event details, complete with a walking footprints effect. (Footsteps appear as if by magic when the light hits—how cool is that?) The RSVP card is train ticket-themed and adorned with metallic gold ink for another special touch. Plus, the red envelope features a ribbon and a wax seal stamped with the Hogwarts' crest.