12 Couples Shower Ideas & Themes to Celebrate Before the Wedding Day
Try these party ideas for a joint bash that includes both sets of friends and family.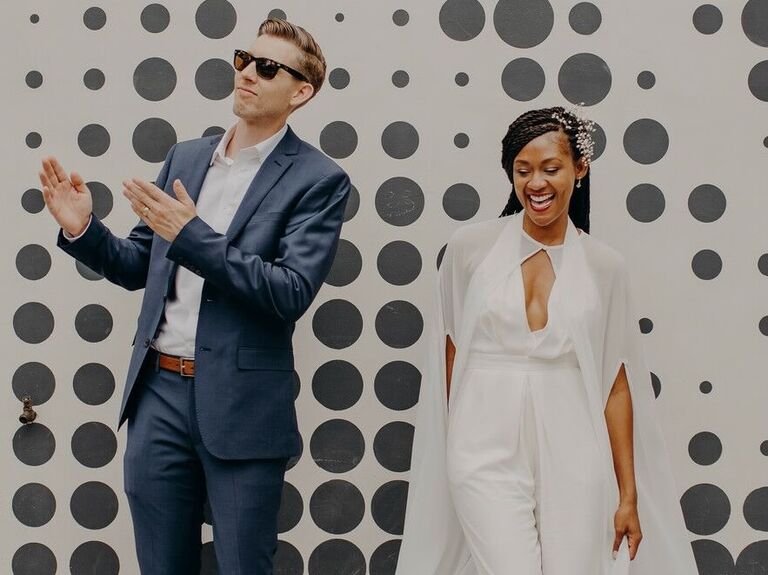 Photo: Isaiah + Taylor Photography
Hosting a couple's shower (instead of the traditional bridal shower) is just one more way to modernize your wedding celebration. Whether you're planning your own party or hosting on behalf of the to-be-weds, these couples shower ideas prove that there's a lot of room for creativity when it comes to this prewedding event. Think of these inclusive, coed parties as a way to bring loved ones from both sides together a few weeks before the wedding day. Read on for a roundup of our favorite crowd-pleasing couples wedding shower ideas and party themes.
In this article:
Outdoor Couples Shower Ideas
Is the party taking place during the warmer months? Host the party in your backyard or another open-air venue to complement these outdoor couples shower ideas.
Carnival Night
If you're celebrating with a laid-back crew, plan a fun carnival-themed party complete with rides, performers and games. Although commissioning a life-size butter sculpture of the marrying couple (à la the butter cow at the Iowa State Fair) might not be realistic, you can decorate picnic tables with red-and-white checked tablecloths and wildflowers. For a downright festive feel, hire a local country band, plus a food truck or two (ideally, one that serves fried foods on a stick). To entertain guests, have everyone participate in a talent show or play a couple of carnival games—with winners receiving blue ribbons. If your budget allows, add on stilt walkers and a photo booth, suggests Madeline Raithel, communications specialist at San Francisco-based event planning company Entire Productions.
Food Truck
Can't handle cooking all of the party food yourself? Skip the stress in the kitchen and hire a food truck to cater the event instead. It's a fun couples shower idea if the to-be-weds already have a favorite food truck—if you're planning on their behalf, ask friends and family for their food truck recommendations to surprise the couple.
Backyard Barbecue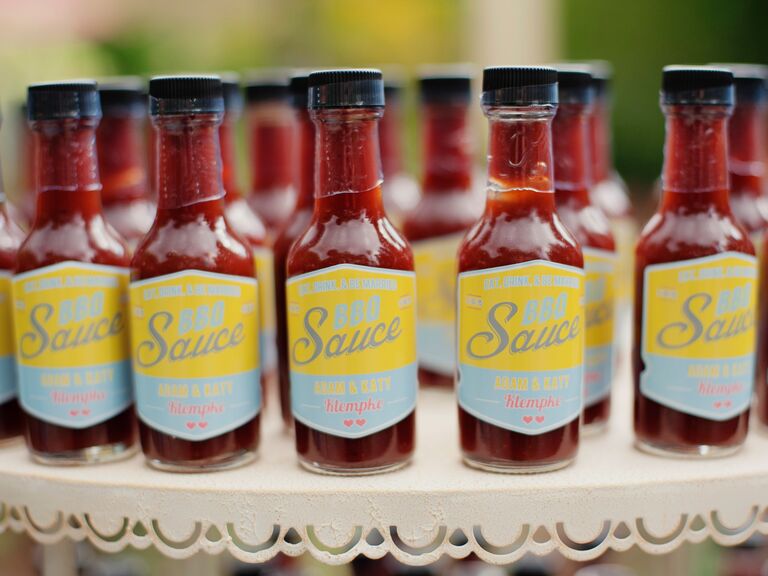 'Cue the celebration! Whether you host this type of shower at an actual barbecue pit, next to your backyard grill, or inside your kitchen in the event of inclement weather, BBQ food should be front and center (along with the marrying couple, of course). The menu is a cinch to plan: ribs, chicken, brisket or sausage, coleslaw and corn on the cob. Don't forget to hire a country or bluegrass band if it's in the budget.
Garden Party
Host a garden party shower for the couple that leans a little more classic when it comes to their style. Reserve a private area at a local park or host the party in your own backyard, complete with romantic details, like candles, lace tablecloths and floral centerpieces.
Fun Couples Shower Ideas
Skip the traditional party where everyone sits in a circle and watches the couple open gifts—these fun couples shower ideas are packed with activities to get guests mixing and mingling.
First Date Activity
If the happy couple has a particularly sweet "meet cute" or first date story, use it to inspire your couples shower ideas. Think like a journalist and write down the who, what, where, when, and why of their tale, then bring these details to life in the party details. So, if the couple met at the New York Public Library, ask guests to bring their favorite books and place decorative lions at the party entrance. Or if they feasted on tacos at a Mexican restaurant on their first date, opt for a fiesta theme, complete with margaritas. If they went mini golfing and then stopped for ice cream, recreate the date at the party.
Waffle Station
Brunch is always crowd-pleasing—especially when it features waffles and mimosas. Hire a chef to prepare a few batters (traditional, gluten- and dairy-free, and whole-grain), then serve them with a range of toppings, like preserves, chocolate chips, fresh fruit and whipped cream. Offer loads of coffee and hire a jazz trio to complete the bistro brunch vibes. Decorate with simple flower centerpieces, such as bouquets of sunflowers or daisies, for a cheerful look that will perk everyone up.
Summer Camp Games
For couples whose idea of fun is strolling the aisles of an outdoor gear and sporting goods store, throw a hiking-themed shower—or alternatively, turn the space into their very own grown-up summer camp. While a particularly scenic spot at a natural park would be the ideal spot, a local park would work well too. Serve up luxe hobo packs (like salmon, asparagus, and cherry tomato) and s'mores. Tell stories about the marrying couple around a roaring fire or set up a simple scavenger hunt (with clues about the guests of honor). Ask guests to bring outdoor-themed gifts, like camping and hiking gear.
Pet-Inspired Cocktails
If the to-be-weds love their roles as pet parents, we can't think of a cuter way to honor their furbabies. Create custom cocktail recipes inspired by and named after their pets—bonus points if you include photos or drawings of them on the bar display.
Creative Couples Shower Ideas
If you love choosing party decorations and planning even the tiniest of details, go all-out with these creative couples shower ideas that will let your imagination run wild.
Movie Night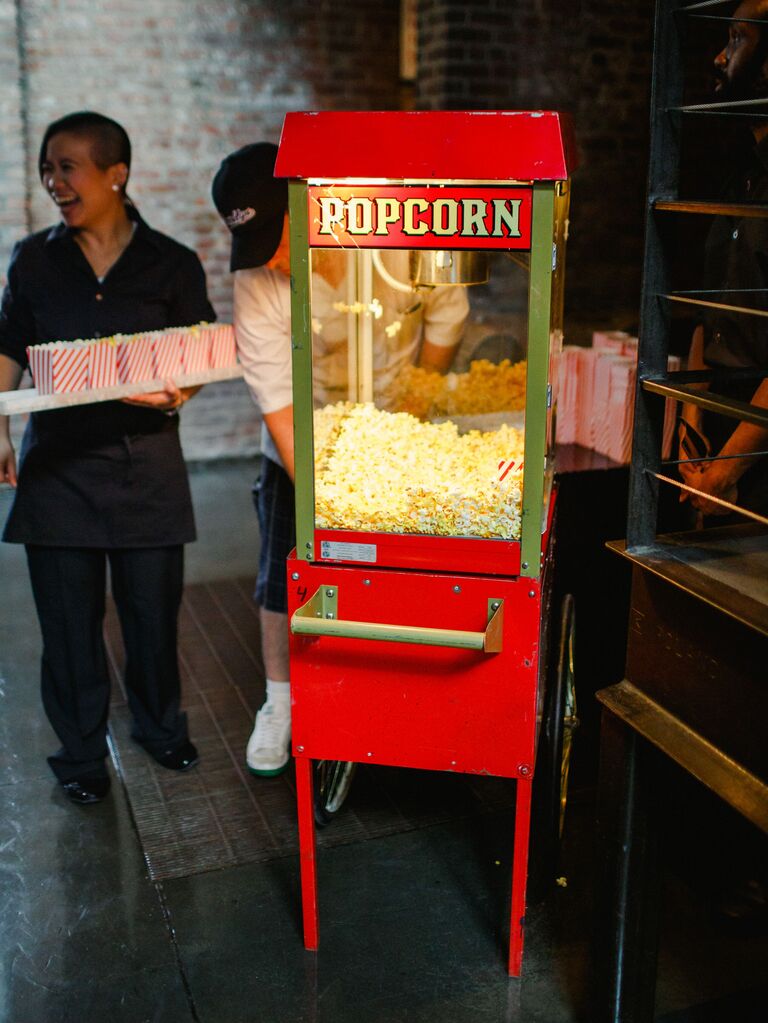 This creative couple shower idea gives guests the chance to go all-out with their Hollywood-inspired attire. Lay down a red runner leading up to the party entrance and ask a friend or family member to take paparazzi-style pictures of arriving loved ones. Screen one of the couple's favorite films on a blank wall or projection screen (you can keep the sound off if you want the footage to play in the background throughout the party), and play trivia about their favorite genres, such as vintage flicks or sci-fi thrillers. The winner (or everyone) takes home a chocolate Hollywood award statue. Serve flavored popcorns with cocktails, followed by a luxe dinner that's fit for the stars. If it's in the budget, think endive salad, filet mignon, and chocolate lava cake or a cupcake extravaganza—and don't forget the champagne.
'90s Decor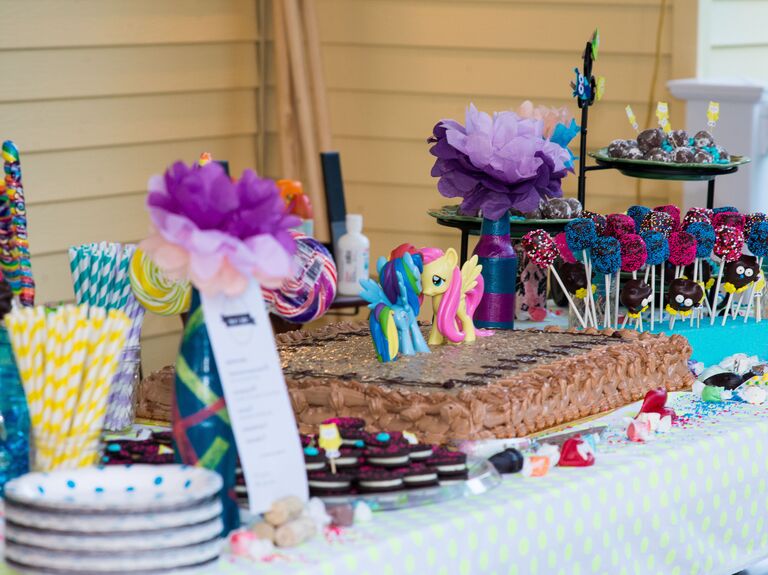 For couples who grew up in the '90s, this nostalgia-packed party will be one to remember. Deck out the party space with colorful '90s-themed decor, like CD-ROM garlands, Lisa Frank posters, smiley face balloons and more.
Stock-the-Bar Gifts
This creative couples shower idea is perfect for the to-be-weds who love to entertain and mix up their own cocktails. Hire a mixologist to make craft cocktails (including a specialty drink named after the couple) and to demo a few bar tricks. Or, have a sommelier conduct a short wine tasting. For the menu, think hors d'oeuvres and bar snacks that pair well with cocktails, like fried olives, cones of spiced nuts, and ham and cheese skewers. Instead of an assortment of classic wedding shower gifts, ask everyone on the guest list to bring alcohol, tools and glassware to stock the couple's at-home bar.
Honeymoon Destination
To gear the future newlyweds up for their honeymoon, why not throw a couples shower inspired by the destination's key features? If they're headed to Hawaii, throw a luau, complete with a whole roasted pig and leis for guests. For couples jetting off to Buenos Aires, serve steak and hire a tango expert to give the group a lesson in the seductive dance style. A trip to the Caribbean could mean a barbecue on the beach, with jerk chicken, tropical fruit salad, the limbo and calypso music.
Couples Shower Themes
While bridal showers tend to be a little more traditional, the couples shower is a chance to get more creative and plan a mini bash ahead of the wedding day. "A joint couples shower is a chance to have some fun and not rely on some of the stuffier themes that are common with the big day itself," says Keith Willard, owner of Keith Willard Events in Fort Lauderdale, Florida. Think outside the box with a theme that reflects the couple's interests, whether it's something inspired by their favorite sports team, a hobby they share together or both of their family backgrounds.
Unique Couples Shower Themes
Ensure that your party is one people will be talking about for weeks to come (in a good way) by hosting the event at an unexpected location or including some non-traditional activities. Try these unique couples shower themes:
A nautical-themed wedding shower hosted on a boat or at a yacht club
An ABBA-themed wedding shower with silent disco or karaoke
A paint-and-sip wedding shower where guests attempt their best portraits of the couple
A tacky tourist costume wedding shower at a beach venue
A wedding shower inspired by the couple's favorite colors (ask guests to dress in clothes to match the colors)
Fun Couples Shower Themes
Think about what the to-be-weds enjoy during their downtime—are they always traveling to a new destination or catching a show at their local concert venue? If you pull inspiration from an activity you know they already love, it's a guarantee that they (and all of the guests) will have a good time. Some of our favorite fun couples shower themes include:
A vintage-inspired wedding shower where guests dress up in fashion from each decade
An EPCOT-themed wedding shower featuring different stations for favorite countries the couple has visited
A Top Chef-themed wedding shower filled with new gadgets for the couple's kitchen
The Eras Tour (Couple's Version)
A game night wedding shower inspired by the couple's favorite board games or video games