A Step-by-Step Guide to Hosting an Unforgettable Bridal Shower Brunch
Mimosas? Check.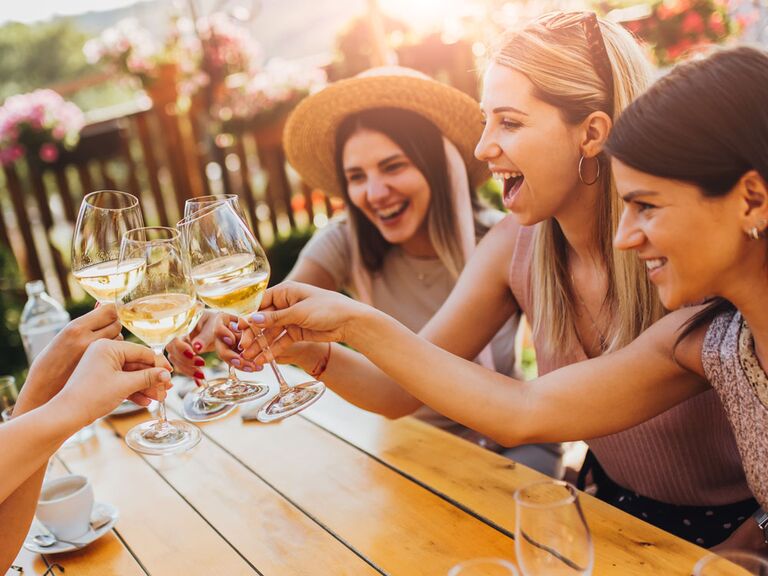 Stefanovic Mina/Shutterstock.com
We have included third party products to help you navigate and enjoy life's biggest moments. Purchases made through links on this page may earn us a commission.
Weekend brunch isn't just an activity—it's a lifestyle. And if you're celebrating a to-be-wed who frequents coffee shops and restaurants with bottomless specials, a bridal shower brunch is probably right up their alley. As the wedding shower host, it's your duty to throw an event that caters to the groom- or bride-to-be's interests and helps them celebrate their wedding before the big day. And, while choosing a bridal shower theme isn't always necessary, it can be helpful for creating a cohesive look for your party. Since bridal showers often occur in the late morning or early afternoon, a brunch-inspired event is an opportune way to toast the future spouses.
Before you're able to raise a glass of bubbly with the couple's nearest and dearest, throwing a bridal shower brunch requires careful planning behind the scenes. To pull off an event that'll leave your guests raving, use this step-by-step planning guide to host the ultimate bridal shower brunch. Below, we walk you through the most important steps to complete, from selecting bridal shower brunch invitations to creating your menu and hiring caterers to supply your favorite breakfast foods. With these bridal shower brunch ideas in mind, your event will be one to remember.
Set a Date and Location
You can't have a great party without a great setting. Bridal showers typically occur anywhere from three months to three weeks before the wedding, but the exact timing is up to you, as the host, and the to-be-weds. Since showers don't have to be a surprise, work with the couple to choose a date that fits their prewedding schedule.
When it comes to a location, you can host a bridal shower brunch just about anywhere. If the couple has a favorite local restaurant that has a killer brunch special, consider reaching out to them directly to inquire about onsite event options. Or, if you're looking for bridal shower brunch ideas on a budget, you can always host your soirée at someone's home or in their backyard. A great brunch is easy to DIY, especially if you enlist the help of fellow bridesmaids or the couple's family members.
One thing to be mindful of, though, is that the venue will have the biggest impact on the overall cost of the event. "The type of location or venue you select for a bridal shower brunch is contingent on your budget," explains celebrity event planner David Tutera. "Your home, or the home of a relative or close friend, can serve as a perfect venue for a bridal shower brunch. But if you're looking to splurge a little on an event venue, the beach, a park, or a favorite restaurant can serve as a lovely bridal shower venue. Look for a place that feels open, comfortable, and of course, unique." To begin hiring vendors for your event, use a tool like The Knot Marketplace to source food service pros and event spaces in your area.
Consider a Theme
Once a date and location are nailed down, you can begin to design the look of the event. While some may consider "bridal shower brunch" to be a theme itself, you can get as specific as you want with the overall style. "A theme isn't necessary for a bridal shower brunch, but I think it's important to have a specific style that's threaded through pre-wedding festivities and the wedding day itself," suggests Tutera.
If the couple will be hosting a whimsical, garden-themed wedding, you might consider hosting a Bridgerton brunch or an elegant tea party. For a glam wedding, on the other hand, a Breakfast at Tiffany's themed event might complement the couple's vision. You can also use a color palette as a guiding style instead. This idea is a particularly creative way to weave elements from the wedding day into prewedding events. Specific color patterns, prints or style motifs that will appear on the big day can also be woven into the shower design to create a cohesive look among all wedding events. Touch base with the couple to learn about their wedding day vision, and use their ideas as a starting point for your bridal shower brunch theme.
Choose a Dress Code
Choosing an outfit to wear to Sunday brunch is half the fun, which is why we recommend setting an appropriate dress code for your celebration. While you don't have to require guests to arrive in black tie or formal attire, we recommend choosing a dress code like semi-formal or dressy casual, depending on the formality of your venue. (A backyard brunch at home, for example, will be much more relaxed than a brunch at an upscale restaurant.)
Regardless of what you want guests to wear, add the requested dress code to the bridal shower invites so they have plenty of time to pick an outfit. And, if you're not sure what guest attire is right for your event, check out our comprehensive guide to dress codes here.
Buy Bridal Shower Brunch Invitations
Once you've solidified the logistical details, like the date, time, location and dress code, you'll be ready to send brunch party invites. Traditionally, the bridal shower guest list includes wedding party members, the couple's family, and close friends too. Showers are generally a bit more intimate than the engagement party and larger than the bachelorette party, but we recommend collaborating with the couple to ensure their VIPs are included on the guest list.
Here's the great news: You can buy bridal shower brunch invitations directly from The Knot. In addition to offering traditional wedding stationery, we also have hundreds of designs for showers too, and they can be easily customized to fit your theme and color palette. Use our style filters to narrow down designs that fit your event, from rustic to bohemian to romantic or modern. (We also have plenty of templates that are specifically designed for brunch events.) Once you've finalized the design, aim to send the invitations four to six weeks before the event so guests can plan accordingly.
Plan Your Brunch Menu
Food is, without a doubt, one of the most important elements of any party, but especially a bridal shower. While you don't need to serve guests a multi-course, sit-down meal, it's encouraged to have a plentiful spread of appetizers, snacks and beverages on your bridal shower brunch menu to keep them satisfied. And, for a brunch event, you don't have to do much work when it comes to ideating a menu. Begin with the basics: pancakes, waffles, French toast, finger foods (like tea sandwiches and scones), fresh fruit, quiche and charcuterie platters are all appropriate choices. When it comes to beverages, you can't go wrong with mimosas, bellinis, Bloody Marys and iced coffee. Complete your brunch table with treats like cakes, cupcakes, donuts and fruit tarts for a sweet finishing touch.
While you can use these bridal shower brunch food ideas as a starting point, the sky's the limit when it comes to your menu creativity. In fact, Tutera suggests pushing the envelope to give guests a modern brunch experience. "Most people get really excited about brunch, so it's all about offering an elevated twist to commemorate the occasion," he explains. "For example, I love bringing in a mixologist to make custom drinks for the event, but also to provide a short, interactive class on how to make fabulous cocktails. It's a fun activity that breaks the ice, it encourages people to connect, and it sets the tone for the rest of the event."
In fact, organizing interactive food experiences is a major industry trend that won't go away any time soon. You might consider having a donut wall in lieu of a traditional dessert table, a build-your-own mimosa bar, towering displays of tea sandwiches and scones, or a chef to prepare the dishes in front of you. The more creative you are with the bridal shower brunch menu ideas, the more guests will rave about your party planning skills.
Plan Games & Activities
While the goal of a bridal shower is to allow guests to mingle with each other and the to-be-weds, it's common for the host to arrange a few games too. Not only will this help break the ice for guests, they'll also appreciate having activities to do as they snack on hors d'oeuvres and sip on bubbly. And, since some couples feel uncomfortable opening presents in front of guests, games are a great way to keep everyone engaged and occupied throughout the duration of the party.
Some bridal shower games are easy to DIY, like The Newlywed Game, Jeopardy, or trivia. You can also download printable games like Bingo, crossword puzzles or Pictionary. You might even consider giving guests blank cards to give their best marriage advice to the soon-to-be spouses.
But, if games don't feel right for your bridal shower brunch, there are plenty of alternative ideas. In addition to organizing a mixology class as Tutera mentioned above, you can also hire additional local vendors to lead a class or a group experience. "Another option could include a brief flower arrangement class that allows guests to bring their floral creations home as a party favor," he adds.
Decorate Intentionally
While the food will likely take center stage at your event, decorations are also a subtle way to create a memorable and cohesive experience. While you don't have to spend a fortune on bridal shower decor, a few thoughtful touches will transform your venue and make it feel special for the couple and the guests. "Every bridal shower is unique, so there's no specific formula for decor," says Tutera. "But, it is a wonderful opportunity to creatively highlight the couple and what makes them unique."
Flowers are a great way to easily transform the look of your venue, and there are plenty of affordable blooms that won't break your budget. "I love to decorate with baby's breath because it's inexpensive, romantic and versatile," he explains. "You can present them in all white, or spray them with the wedding colors. They look great on tables, backs of chairs, food stations, and more."
Beyond flowers and greenery, you can use alternative decorative accents that lean into the couple's interests or the unique qualities of the venue. "I love purchasing vintage books by the foot and stacking them high on tables as centerpieces," Tutera adds. "They can also be arranged by specific color stories that are relevant to the wedding day."
Tutera also suggests that paper is an unlikely material that can serve as eye-catching decor. "I love using paper to bring an event to life because it's inexpensive and fun to work with," he shares. "Paper flowers, paper decor and tissue paper can be a great, creative alternative to real flowers for a bridal shower. It can also make for visually interesting centerpieces that your guests can take home as favors after the shower." Plus, don't underestimate the transformative powers of a colorful balloon arch, a personalized banner or custom signage. Sites like The Knot Shop and Etsy have plenty of affordable bridal shower decor ideas that you can buy in bulk for your fête.
Purchase Bridal Shower Favors
Party favors are the last piece of the bridal shower puzzle. While it's not necessary to give guests a take-home gift, it is a nice gesture. Plenty of bridal shower favors are easy to DIY too. For a brunch-themed party, consider giving guests a personalized flute and a champagne bottle, an edible treat or a gift that comes from an activity at the event (like a mixology kit or a bouquet). "Other unexpected party favor ideas can include well-made journals with a fountain pen or custom candles inspired by your wedding florals," Tutera adds.
Think of bridal shower favors as the cherry on top of a well-planned event. Any gift that can be easily used in everyday life (like food, drinks or candles) will be well-loved by guests, and it'll serve as the perfect way to end your bridal shower brunch.