What You Need to Know Before Booking a Honeymoon Cruise
The founder of Jet Fete by Bridal Bar shares insider tips for honeymooning on the high seas.
by Harmony Walton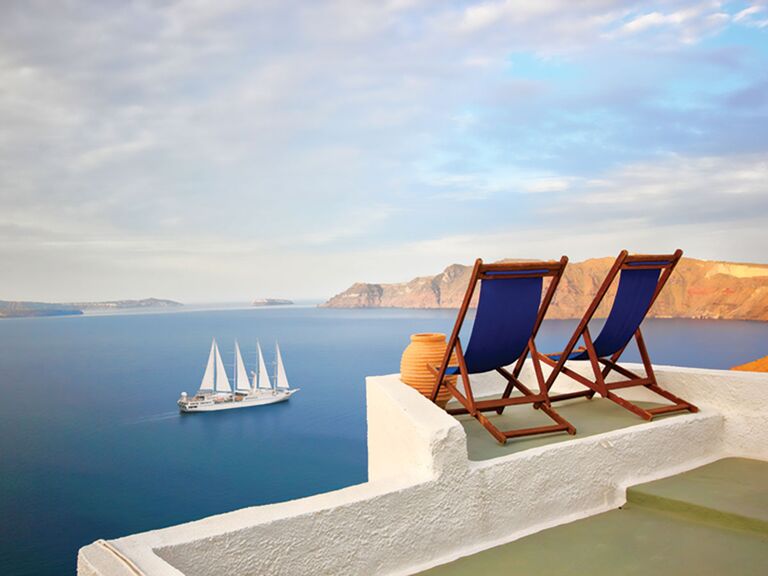 A new age in honeymoon cruising has emerged with exotic and hard-to-reach locations, intimate settings and sailboats, and casual schedules perfect for two. Cruise into married life through the ice caps of Alaska, the rivers of Vietnam or even the isles of Greece. What should you know before you go? Consider our guide to getting around the world on a ship before you book your trip.
1. Not all cruises are alike. 
Just like booking a resort property, each company, destination and experience offer something a little bit different. Gina McGinnis, director of national sales of Windstar Cruises, dispels the myth. "I think one of the biggest misconceptions is that all cruises are the same—they're not! With that in mind, it's important for honeymooners to know exactly what type of cruise they're booking. From small, intimate yachts that focus more on the destinations they sail to, to 'floating cities' complete with all sorts of entertainment that'll keep you occupied without ever leaving the ship, the options are broad and varied. Couples need to figure out which cruise is right for them and the way they want to celebrate their honeymoon."
2. You can dress up or down at night, depending on how you travel. 
If getting glam for dinner isn't your speed, seek out cruise lines that offer more casual dining options, where tables for two are available, and formal attire and communal meals aren't part of the plan.
3. River cruising can be just as cool. 
The Honeymoonist Susan Moynihan suggests river cruising with a little extra time for two. "River cruises are great for exploration, and the exotic itineraries can get you into areas that are not easily accessible any other way, such as small towns in Vietnam's Mekong Delta or along the Amazon River in Brazil or Peru. But river cruises by their nature are social affairs; dining is done at communal tables, and excursions are done in small groups. To build in some alone time on a honeymoon, add a pre- or post-stay in a nearby city or beach town."
4. A travel agent can save you money and enhance your overall experience. 
McGinnis thinks using a travel agent is a must. "I always recommend booking a cruise via an agent, but this rings especially true for honeymooners. Agents do this for a living and often have insider knowledge on extra perks or discounts. They'll be able to counsel you on a variety of cruise lines according to your specific needs, plus help with other details like pre- or post-cruise accommodations, flights and more—making it that much easier for you to relax and just enjoy."
5. Maximize your days by meeting with the ship's local experts. 
Many cruise lines will welcome a local expert onboard upon arrival in port or offer expert advice the night prior to arrival. This is a great way to learn about where you'll be spending the day and how to get the most of your time there. You can also get information about unique group excursions that for an additional fee (in most cases) can give you a guided look at the destination. Book at least one excursion during your trip, if not more, and try something new for two.
6. Don't leave home without travelers' insurance. 
This is true for any trip, but especially one as important as your honeymoon. Weather patterns can be unpredictable, destinations can face unforeseen challenges and you might even find yourself having too much fun in port that you miss your evening departure. Check the fine print of the policy and ensure it covers the potential problems your cruise could face and you'll have smooth sailing regardless of what happens. No matter how you chart your course, plan ahead with a pro for an idyllic honeymoon cruise and you'll be glad you did.
Harmony Walton is the founder of The Bridal Bar, host of Bridal Bar Radio airing on iHeartRadio and editor of the destination wedding blog, Jet Fete by Bridal Bar. With a vast celebrity clientele and over a dozen years of experience, her brands have been recognized around the world and featured in media outlets such as The Associated Press, The New Yorker, The Knot, The New York Times, Entertainment Tonight, People Magazine, The Los Angeles Times and many more.