The Best Honeymoon Destinations for Bibliophiles
Bond over your love of books by retracing the steps of Shakespeare, Hugo and the greats.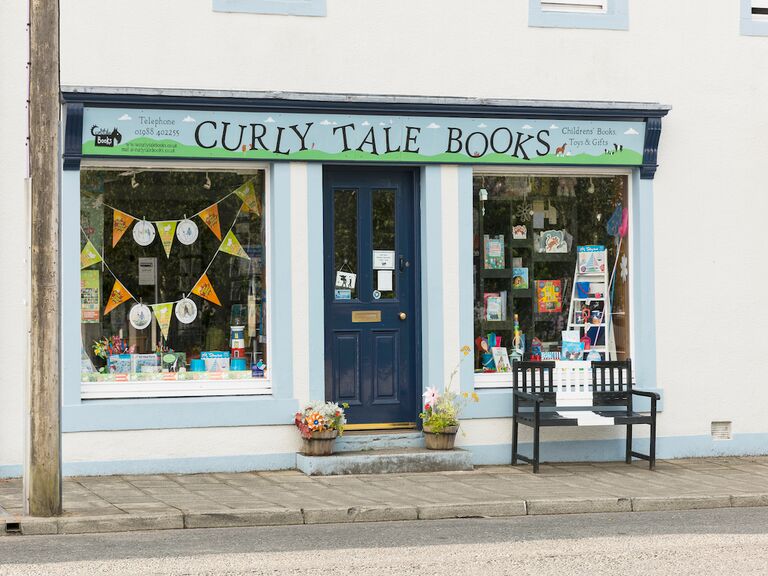 Courtesy of Visit Scotland

We have included third party products to help you navigate and enjoy life's biggest moments. Purchases made through links on this page may earn us a commission.
As you head down the aisle, the first few chapters of your love story are still pending. For bibliophiles, a literature-themed honeymoon is a bonding activity that will fill both your book-adoring hearts with joy. Across these global destinations—some well-known for romance and others a bit more surprising—you can retrace the steps of history's best-known authors from William Shakespeare to Victor Hugo. Visit their favorite haunts and be inspired by some of the same locations and scenery that inspired them. Talk about writing your own romance.
Paris, France
From the beautiful architecture and charming cafes to secret gardens and tree-lined walks along the Seine River, Paris is the ultimate romantic pilgrimage for honeymooners. Even with no set plans, it's easy to discover through wandering why the City of Light is perfect for newlyweds.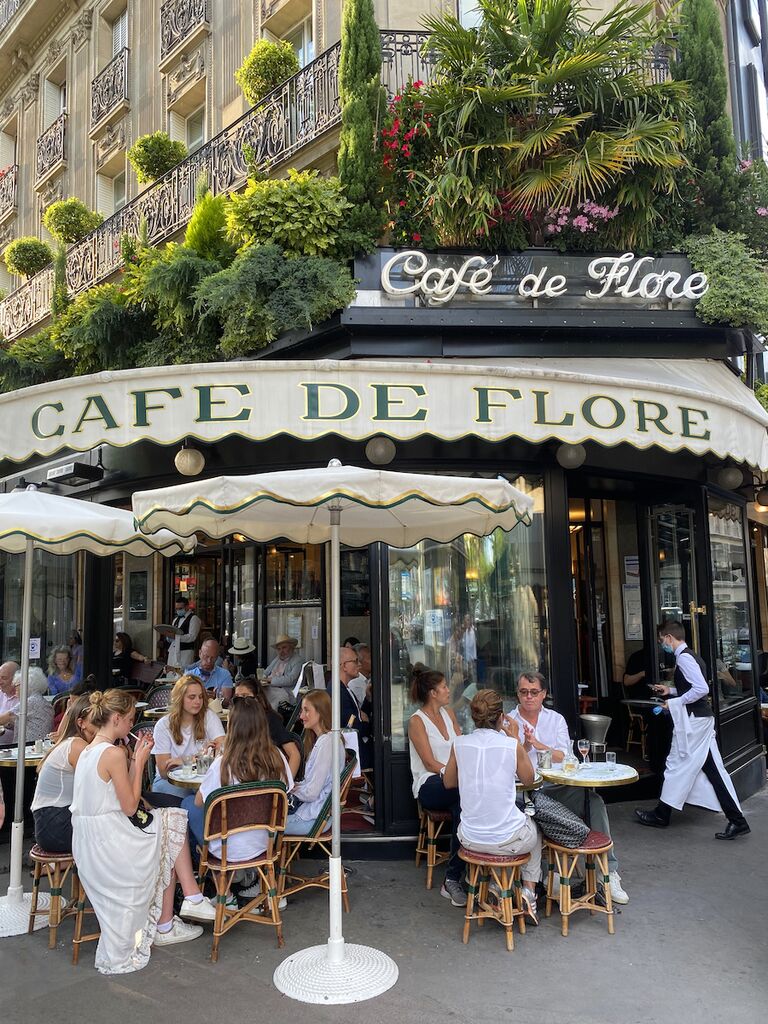 What to Do: Take a walking tour of Notre-Dame de Paris Cathedral, where legendary writer Victor Hugo gleaned inspiration for The Hunchback of Notre Dame. Pop into Maison de Victor Hugo to see where he lived and visit Luxembourg Gardens that served as the backdrop for Hugo's Les Miserables. Stroll along the Left Bank and tuck into cozy bistros and restaurants like Le Select (a favorite of Ernest Hemingway and F. Scott Fitzgerald in the 1920s) with tables for two, and catch an opera or ballet performance at Palais Garnier, practically dripping in amour. Tour companies like Paris Perfect and Context Travel offer immersive guided literary-themed tours, too.
Where to Stay: Hotel du Louvre, featured in Sir Arthur Conan Doyle's Sherlock Holmes novels; Ritz Paris, which inspired F. Scott Fitzgerald's novella The Diamond as Big as the Ritz and home to Bar Hemingway; Intercontinental Paris le Grand, home to Café de la Paix where the city's literary crowd gathered in the late 19th century.
London, United Kingdom
William Shakespeare, Jane Austen, Charles Dickens, Virginia Woolf, J.K. Rowling and more legendary authors have all called London home. Nearly every corner of the city is brimming with history, making this a honeymoon destination pleasing to book lovers and library card holders.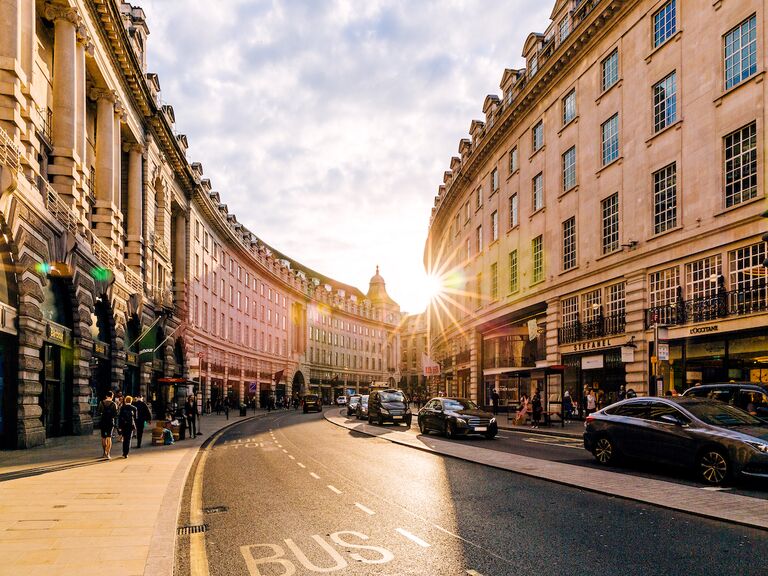 What to Do: Swing by Beaverbrook Town House to join the guided Dickens walking tour, which winds from the church where he married to spots that inspired A Christmas Carol. Make reservations at restaurants that could double as writers' favorite haunts, including the fashionable Dalloway Terrace, named for Virginia Woolf's lead character in Mrs. Dalloway; Rules, the city's oldest restaurant that was a favorite of H.G. Wells; and Scott's, a historic eatery where James Bond writer Ian Fleming first heard of the "shaken, not stirred" martini. Because there's nothing so romantic as a quaint bookstore, pop into Stanfords or Books for Cooks for a little canoodling among the stacks.
Where to Stay: One Aldwych, which once housed printing presses for newspapers and magazines; The Bloomsbury, in the heart of the neighborhood the Bloomsbury Group called home; Hazlitt's, a boutique hotel with many signed books from famous authors.
Wigtown, Scotland
Designated as the country's official National Book Town, this town of less than 1,000 residents in southwest Scotland inspired famous writers such as James Matthew Barrie and Robert Burns, and is now home to many local bookshops. Wigtown's annual book festival in the fall includes more than 200 events celebrating literature, making this picturesque locale a worthy literary-themed stop during a Scotland honeymoon.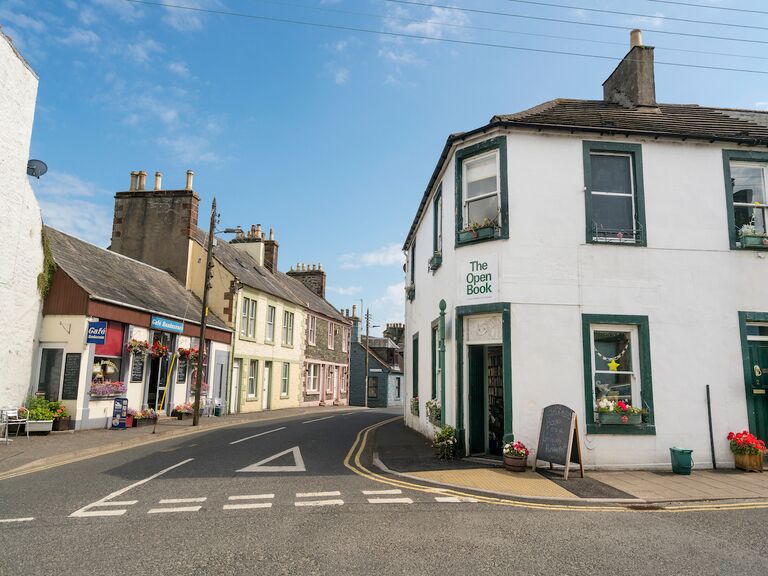 What to Do: Plan a morning to take a tour, explore the garden, walk the trails and enjoy high tea at Moat Brae, the birthplace of Barrie's Peter Pan. Visit Ellisland Museum & Farm, where you can experience nature through the eyes of Burns through paths, fields and rivers that inspired his most famous poems, and step inside the romantic house he built for his wife. Then, enjoy a candle-lit dinner at the cozy Globe Inn, one of Scotland's oldest pubs and a favorite of Burns in the late 18th century.
Where to Stay: The Open Book, a romantic apartment above the bookshop by the same name; Hillcrest House, set inside a 19th-century Victorian villa; Craigmount Bed & Breakfast, a charming country home with four literary-themed rooms.
Copenhagen, Denmark
Hans Christian Andersen, known as the father of fairy tales, spent most of his life in this magical city, which is a perfect choice for honeymooners wanting to immerse themselves in the world of literature. Equal parts hip and hygge (the Danish word for cozy), the city itself is a fitting background to write your own fairy tale beginning to life as a married couple.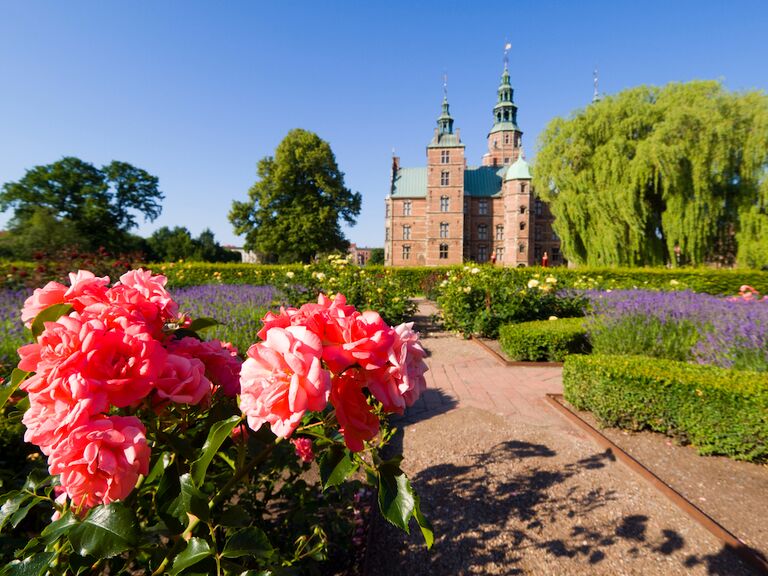 What to Do: Step inside the worlds of The Little Mermaid, Thumbelina and other tales brought to life through lights and sounds with a visit to the H.C. Andersen Fairytale House, where the author was born. Kick off your shoes at Rosenborg Garden, the oldest in Denmark, to enjoy a picnic on the expansive lawn, then put them back on to traverse the spiral walkway to the top of the Round Tower. You'll be rewarded with amazing views and can also peruse the library hall where Andersen used to work. End the night with a leisurely romantic walk, hand in hand, through Tivoli Gardens, lavish with lights.
Where to Stay: D'Angleterre, a luxury Victorian architecture hotel established in 1755 and frequented by Andersen; Manon Les Suites, an adults-only property near Tivoli Gardens, Hotel Sanders, with some large apartment-style rooms.
Dublin, Ireland
Steeped in literary history, thanks to writers such as Oscar Wilde, James Joyce and William Butler Yeats calling the city home at some point in their lives, Dublin is a spectacular location for a literary-themed honeymoon, with numerous libraries, museums and pubs that can all be traced back to these writerly greats.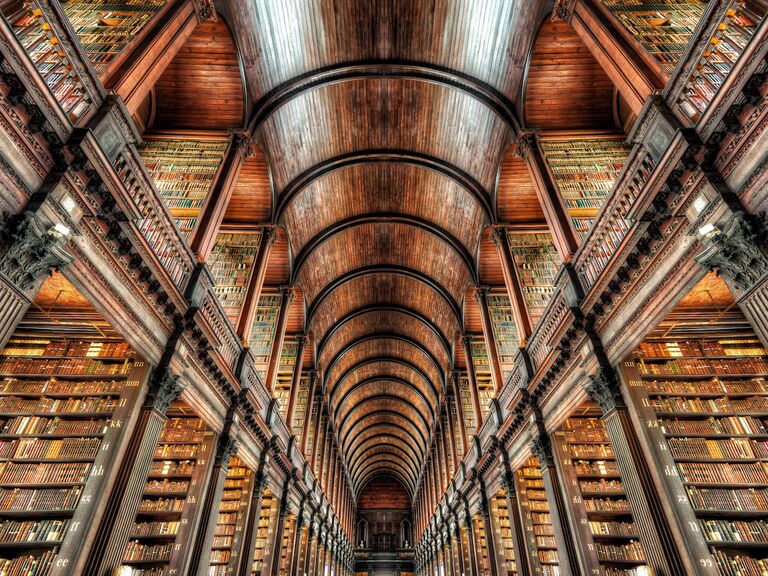 What to Do: Feel like part of a movie scene stepping into Long Room Library, home to 200,000 of Ireland's oldest books, each nestled among gleaming wood stacks, at Trinity College Dublin. Spend an afternoon wandering Merrion Square, surrounded by Georgian houses (some of which were homes to Yeats and others), a garden and museums, and with a statue of a reclining Wilde. Because no trip to Dublin is complete without suds, book the Dublin Literary Pub Crawl (public and private tours available), which is led by actors telling the stories of historic pubs popular among literary geniuses.
Where to Stay: The Merrion Hotel, a luxury property near Merrion Square Park; The Shelbourne, where the Irish Constitution was drafted and whose famous Horseshoe Bar was a popular watering hole for distinguished authors; The InterContinental Dublin, with suites named after Joyce, Yeats and Lady Gregory.
Charleston, South Carolina
As far as American cities go, Charleston is among the country's most romantic, immortalized as a destination for love as the filming location for The Notebook. While author Nicholas Sparks set the story in North Carolina, most of the movie was made in Charleston. It's no wonder a few days in these beautiful surroundings will have you falling even more in love.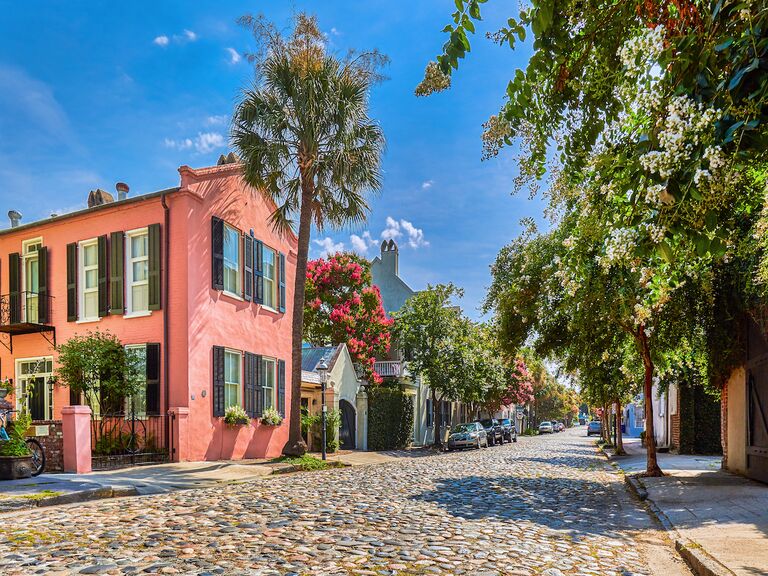 What to Do: Remake scenes from The Notebook, just the two of you, at landmarks like The American Theater on King Street, Williams Mansion and the College of Charleston campus. Enjoy a darker side of literature? Nearby Sullivan's Island was once home to Edgar Allen Poe and has several monuments dedicated to him, along with the Edgar Allen Poe Library and Poe's Tavern restaurant. Time your honeymoon around spring to tack on time at the art and literature-filled Spoleto Festival or late fall for the Charleston Literary Festival.
Where to Stay: Post House, a charming seven-room inn and restaurant in an 1896 building; Zero George Street Hotel, a boutique property in a restored 19th-century pied-à-terre; The Loutrel, a modern hotel with a convivial lobby lounge for swapping stories.
Taormina, Italy
Not only an enticing getaway for a quiet beach honeymoon, the hilltop town of Taormina, Sicily, is also an ideal destination for a literary-themed adventure. Its quaint medieval streets, ancient Greek theater and Mount Etna were once stomping grounds for writers like Truman Capote, Ernest Hemingway and Oscar Wilde—who once wrote in a letter to his partner of Taormina, "I've discovered a lover's paradise where we will come to live together one day."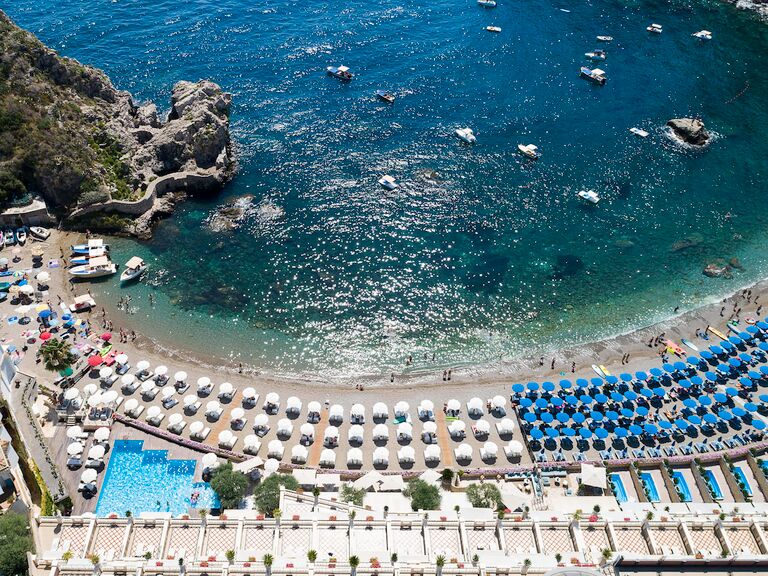 What to Do: Book a tour of the Greek Theater (also known as Teatro Greco), Taormina's most famous landmark that was built in the 3rd century BC. Even with no set plans, strolling the streets of Taormina is a romantic activity in itself—especially the cobblestones of the main street, Corso Umberto. Many coves and beaches along the shores of Taormina are perfect for swimming and easily reachable via walking paths. It also helps that the destination is inclined to great honeymoon weather for every activity under the sun.
Where to Stay: Mazzarò Sea Palace, which offers a Godfather-themed tour in a Fiat 500 based on the 1969 book by Mario Puzo; Grand Hotel Timeo, near the Greek Theatre; Hotel Villa Belvedere, a family-owned hotel since 1902.