The Complete Guide to a Seaside Honeymoon In Sicily
This Italian island will seduce history, food and beach lovers.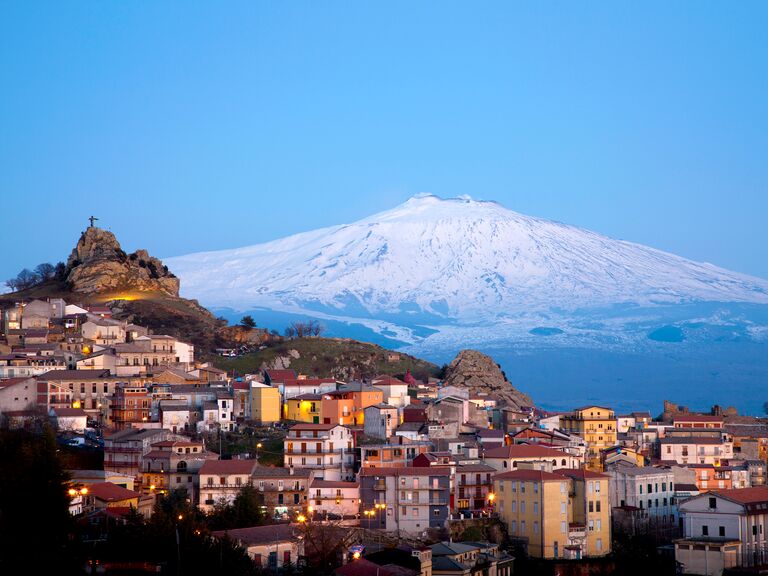 Blueplace/E+/Getty Images
Sicily has been a coveted island for centuries thanks to its rugged beauty and strategic location. Within proximity between Europe, Africa, the Middle East and Western Europe, rulers have waged wars for ownership over this Italian island, says Gary Portuesi of Authentic Italy. The largest island in the Mediterranean Sea, Sicily is full of rich history for newlyweds who want to explore its wealth of archaeological sites and well-preserved buildings.
Is Sicily Good for a Honeymoon?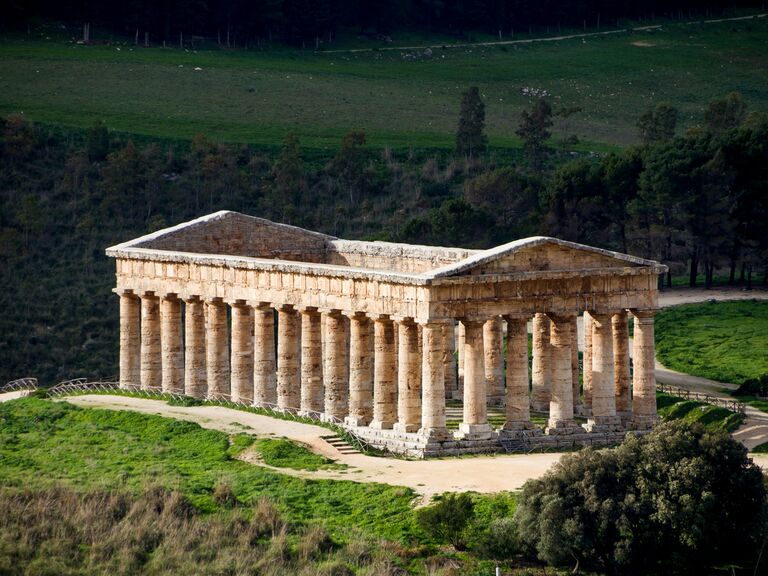 With mountains, active volcanoes, crystal-clear sea and charming villages, this island is an idyllic backdrop for honeymooners, says Rossella Beaugié of The Thinking Traveller. Friendly locals will welcome newlyweds as they relax at beautiful beaches, explore archaeological sites, sip espresso at cafes, and dine on stellar Italian food and wine.
Pros of a Sicily Honeymoon
Fans of history and culture will appreciate Sicily's storied past. In just one day, couples can see Greek temples, Roman mosaics, Arab mosques, Norman castles, and Spanish Baroque palaces, says Portuesi. Throw in the dramatic scenery with beaches, outer islands and two active volcanoes, all nature-loving newlyweds will fall in love with Sicily.
This Italian region feels remote as it's separated from the mainland by the narrow Strait of Messina. Couples can reach Sicily by flying into Milan, Rome or Naples. Then, they'll take a short flight to Palermo or Catania. Portuesi recommends beginning in Palermo and traversing the island counterclockwise. Afterward, newlyweds can consider visiting other parts of Italy, like Florence and Tuscany, Venice and the Amalfi Coast.
Cons of a Sicily Honeymoon
With nearly 10,000 square miles, Sicily is the largest island in the Mediterranean Sea. Therefore, it requires time to fully experience the entire island. Rent a car and consider allotting at least 10 days, says Beaugié. Or choose either the east or west side to visit.
The Best Times of Year to Go on a Sicily Honeymoon
The weather is pleasant year-round, so newlyweds can visit any season. That said, the northeastern portion often shuts down during the winter, according to Reco Trip Designer, Kathleen Whalen. Still, Reco Trip Designer, Ed Postal recommends skiing at Mt. Etna, the highest active volcano in Europe, during the cold season. Since summers can be hot and crowded, Portuesi suggests visiting from May to June and September to October. Along with fewer tourists, couples can experience average temperatures in the seventies.
Places to Visit in Sicily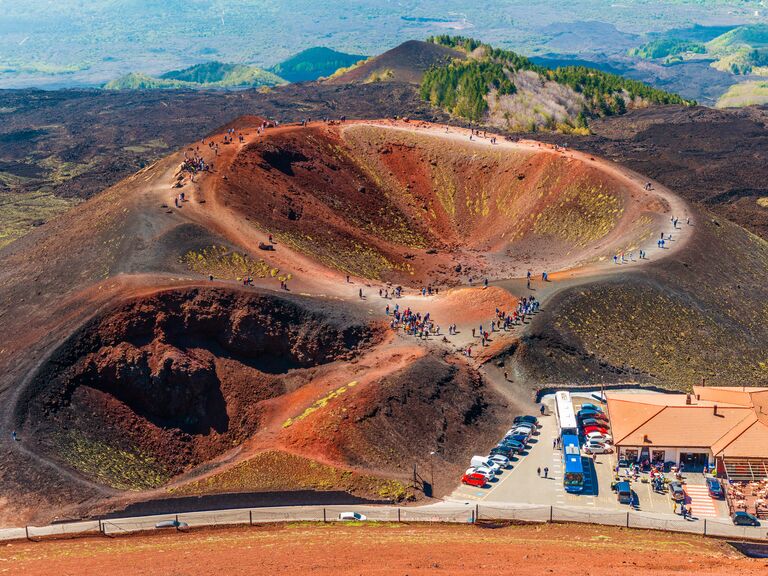 Palermo
In Sicily's capital and largest city, Palermo is what Portuesi describes as "gritty and glorious." Couples will want to visit the Byzantine mosaics at the former royal chapel, Cappella Palatina (The Palatine Chapel). They'll also want to sample the street food while wandering through palm tree-lined streets. An evening in Palermo is only complete with a night at the opera.
Find your kind of venue
From barns to ballrooms, discover reception venues that feel like you.
Trapani
In this province, visit the magical medieval hilltop town of Erice for panoramic views of the Mediterranean hub. To tour Sicily's most ancient Greek settlements, couples will want to spend time at archaeological sites Segesta and Selinunte. Each is about a 45-minute drive.
Agrigento
For well-preserved, ancient Greek temples, head to this province on the southwest coast of Sicily. Explore the vast archaeological sites, including the Valley of the Temples.
Siracusa (Syracuse)
Siracusa is both a province and a city in Sicily. Couples will want to explore the extensive ancient Greek and Roman ruins. Noto, a UNESCO World Heritage Site, is equally reputable for Baroque architecture. Marzamemi, a seaside village known for its fishing culture, boasts various seafood options. Beaugié suggests tasting smoked swordfish, marinated anchovies and dried tuna roe. For a dose of nature, enjoy a romantic stroll in the Vendicari Nature Reserve. Its beautiful beaches are heaven against the aroma of thyme, rosemary and juniper.
Taormina and Mount Etna
In this glitzy resort town, newlyweds can meander through winding streets full of restored medieval buildings and shops, bars and restaurants. Explore Mt. Etna via four-wheel drive to get close to more than 300 craters. (Follow safety rules wherever you travel.) To experience the region's award-winning vino, book wine tastings and tours. For evening entertainment, purchase tickets to a play, fashion show or concert at Teatro Greco, founded in the third-century, B.C.
Things to Do During a Sicily Honeymoon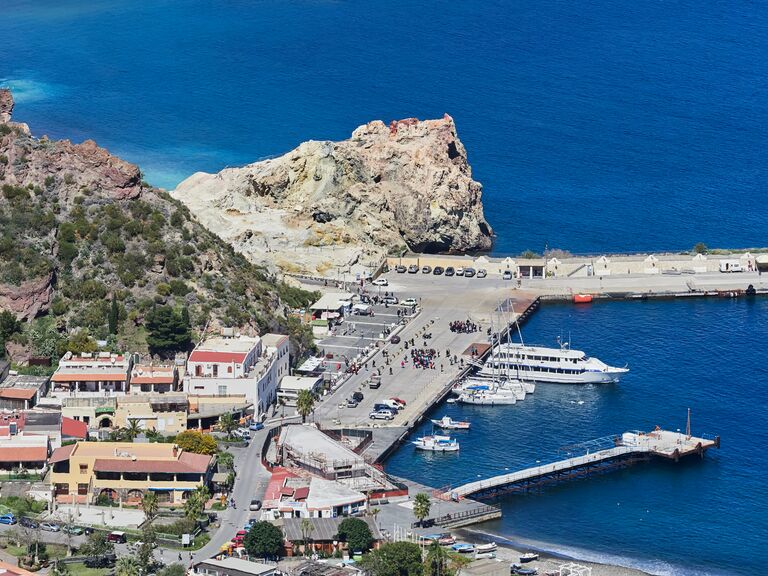 Go On a Boat Ride
Take a catamaran or yacht cruise along the Northwest coast of Sicily, skirting Scopello and the Zingaro Nature Reserve. Another day, spend time cruising around the Aeolian Islands and the Egadi Islands to discover deserted coves. Couples can snorkel and swim in clear water that offers all sorts of visibility.
Take a Cooking Class
By booking a lesson with a local chef, couples will learn the art of making classic Sicilian dishes. Options include arancini (fried rice croquettes), caponata (a sweet and sour eggplant and tomato dish), pasta alla norma (with fried eggplant), pasta con le sarde (with sardines), cannoli and granita (a frozen dessert similar to sorbet).
Dine Out
For memorable gastronomic experiences, newlyweds can reserve tables at some of the island's 86 Michelin star restaurants, such as Duomo in Ragusa and Coria in Caltagirone. Of course, they can also dive into Siciliy's popular dessert sandwich, brioche con gelato (ice cream on brioche buns), at the island's many cafes.
Taste Wine
The Mount Etna region is one of the most innovative and exciting wine production areas in Sicily, says Beaugié. She suggests wine tastings and tours. At the Benanti Winery, newlyweds can visit a carefully-preserved 18th-century vinification hall comprised of lava stone.
Best Hotels in Sicily for a Honeymoon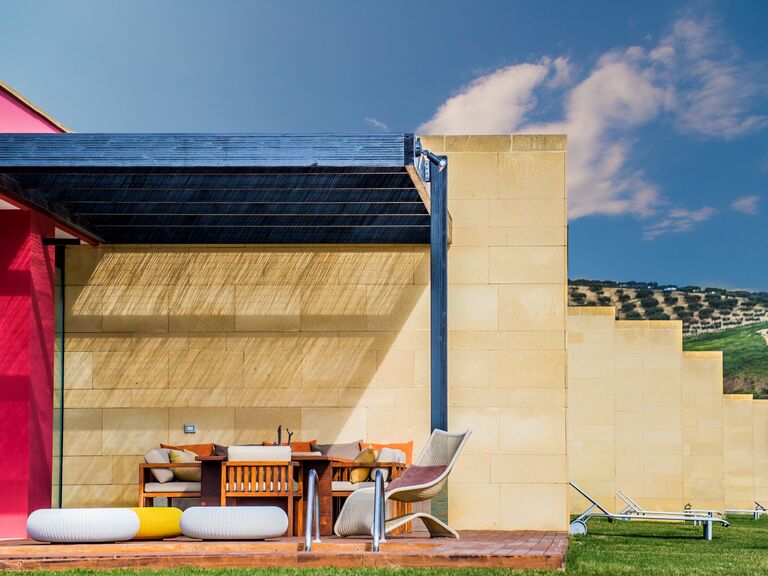 Formerly a private home, this hotel sits on six acres of tropical gardens. Adjacent to the Greek theater, it provides views of the Naxos Bay and Mount Etna.
Built in 1919, this five-star resort sits on the Bay of Mazzaro. Guests can reserve cabanas on its private beach and take part in exclusive experiences, such as a steam train ride to a vineyard for a private tour. Another worthy excursion is a traditional Sicilian lunch prepared in the homes of local women.
The most spacious, elegant beach-front luxury hotel in Western Sicily, says Portuesi, this hotel also offers a spa. "The service combines English professionalism with Sicilian heart and soul," he adds.
Enter the estate of a noble family and be their guests for a few nights. "Here, you'll step back in time into the 19th-century, at the dawn of Italy's unification," says Portuesi. The property produces most of its own ingredients, along with wine under the Tasca d'Almerita brand.
With its lighthouse and vineyard, this resort is one of the most romantic spots in all of Italy. Guests enjoy beautiful views of the nearby islands, plus stellar food and service.
Another Rocco Forte property, this palazzo with tiered villa gardens has hosted royalty, dignitaries and famed actors for years. Newly restored in 2021, the historic palazzo combines modern design, comfort and grandeur. Even if couples opt to stay elsewhere, come for a sunset aperitif, suggests Beaugié.
Rental Villas
For complete privacy, honeymooners can choose to stay at a rental villa. Among many options, Belich offers sea views, an infinity pool, wrap-around terraces and easy access to a long stretch of quiet sandy beach. The modern stone cottage, Nidod'Estia, provides panoramic views of farmland and the sea plus a pool. Tenuta della Cava boasts a jacuzzi, hammam and sauna.
What to Pack for a Sicily Honeymoon
Sicily is a laid-back destination, says Portuesi, who suggests bringing a few light layers of clothing and a bathing suit. Don't forget a sun hat and good walking shoes, adds Whalen. Couples who plan to hike Mount Etna should also tote some warmer clothes.