How to Turn Your Ireland Honeymoon into a Fairytale Escape
Beauty, adventure and Guinness await in Ireland.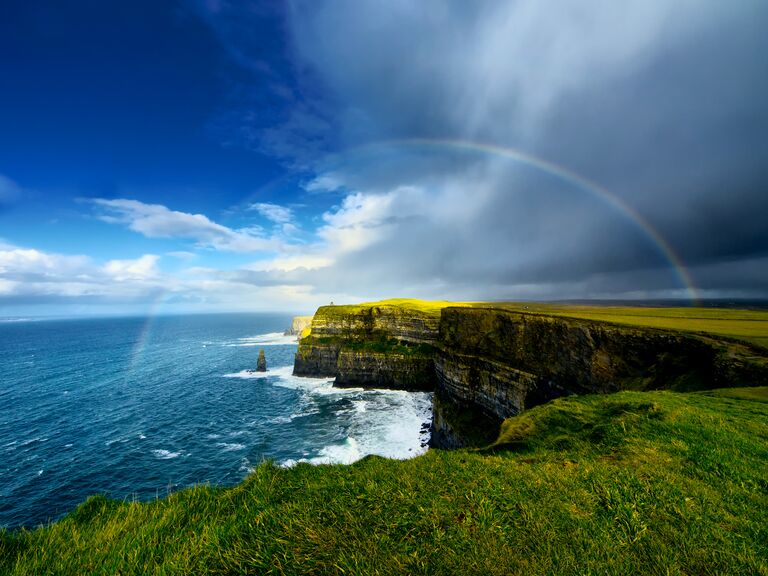 liseykina/Getty Images
We have included third party products to help you navigate and enjoy life's biggest moments. Purchases made through links on this page may earn us a commission.
When it comes to honeymoon destinations, the go-to is often a five-star, resort getaway on some remote island. And truly, there's nothing wrong with that preference. But a honeymoon in Ireland is a completely different type of getaway that works well for the seasoned traveler in search of something new.
"Many of our honeymooners are taking a bucket-list trip as their honeymoon," says travel agent Denise Ambrusko-Maida of Travel Brilliant. "They are looking to dive into a more experiential destination." Ireland fits the bill since it's a romantic escape full of experiences, both quaint and adventurous.
Imagine a breakfast pint of Guinness followed by afternoon tea one day, and a sail along the Wild Atlantic Way the next afternoon. It's a fairytale-like locale, full of sprawling green space, charming Irish castle hotels and manors that boast waterfront views and rolling hills. It's a short flight across the Atlantic from New York City (about six hours), while an LA departure will require about a 10-11 hour trip. Couples have three airport options (typically Dublin, but sometimes Cork or Shannon).
It's a worthwhile getaway, regardless of where you live, if you can withstand the flight. From Cork to Northern Ireland and Galway in between, here's your guide to an Ireland honeymoon.
Is Ireland Good for a Honeymoon?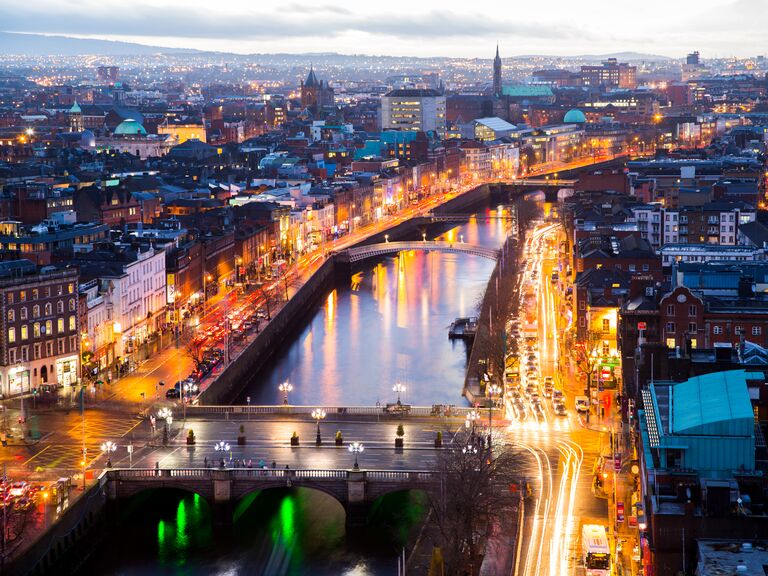 Pros of an Ireland Honeymoon
The Emerald Isle is a sight to be seen, making it one of the romantic places in the world. The gorgeous coastline features beaches, dramatic cliffs and greenery. Honeymooners can experience sheep herding and bustling city life, complete with Dublin's legendary pub scene, all in the span of a couple of days. And unlike some honeymoon destinations, such as Australia, it's possible to see much of the country in one week. "It's a small country," Ambrusko-Maida says. "You can get a lot done in an abbreviated time. You can see half of the country in one week."
Travel experts often design honeymoon packages and itineraries based on a couple's experience with Ireland. First-timers will explore Dublin, Waterford, Blarney, Kerry and Galway. Some, particularly those with Irish roots, have been there before and may want to discover something new. "A lot of folks come into Dublin and focus on Dublin because it's Dublin," Ambrusko-Maida says. "Then, they'll scoot up into Northern Ireland and do Belfast, the Northern Causeway and from there go into Scotland."
Cons of an Ireland Honeymoon
Ireland is known for its, at times, chilly and windy weather, even during the summer months. Couples looking for a trip where every day is 70 and sunny may want to save Ireland for another time—average temperatures are generally below 70 degrees year-round. It also rains a good deal. The trade-off: the precipitation allows the Emerald Isle to continue to live up to its name. There's also so much to do and see in Ireland, so couples who simply want to wake up in a luxury hotel, stick their toes in the sand at 11 a.m., and call it a day may not get the most out of an Irish getaway.
"It's not going to be for the people looking to have a five-star, all-inclusive, relaxing vacation," Ambrusko-Maida says. "Not that you couldn't do that, but it's missing the point…this is for people who want to be active all day."
The Best Times of Year to Go on an Ireland Honeymoon for Good Weather
Summer is the most temperate time to enjoy a romantic escape to this country in Europe, not to discount spring or fall. Of the two, experts recommend the fall. "There's something about the transition from summer into fall with those gorgeous sweaters or jumpers that can be purchased with gorgeous Irish wool," says Ambrusko-Maida. "It's a nice time to be cozy, wear a gorgeous Irish sweater and have some tea or a nice Guinness."
Things to Do During an Ireland Honeymoon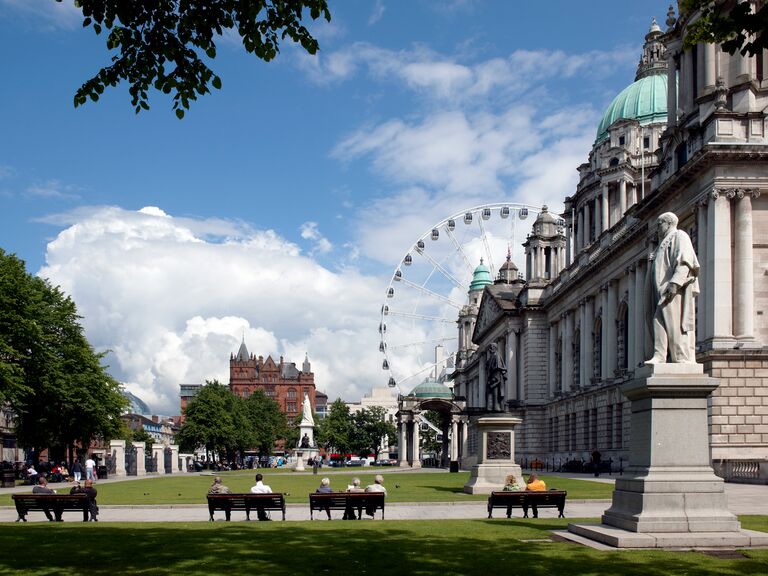 Do It Up in Dublin
The nation's capital is a must for any Ireland vacation, especially if it's your first time in the country. The ultimate Ireland tour leads to the top of the Guinness Factory, where St. Patrick's Day is every day. Ambrusko-Maida often tries to navigate newlyweds away from the touristy attractions, but this one tends to make the list if for no other reason than the 360-bar at the top of the factory gives unparalleled views of the city below.
"I always tell people to go early," she says. "Start your day there. It's Ireland. You can have a Guinness with your breakfast. It's okay." Of course, you can also enjoy a Guinness in any of the local pubs, where live music often provides a soundtrack with your meal. You'll also want to plan a visit to St. Patrick's Cathedral and Trinity College, where poet Oscar Wilde once studied.
Get to Galway (and Beyond)
Venture to Galway for your next stop. Ambrusko-Maida suggests using Galway as a home base when taking two notable day trips. The first is a self-drive through the Ring of Kerry. The scenic road trip takes people over rocky terrain along the coastline and, if time permits, can include a trip to Killarney National Park and a glimpse of Lough Leane. The second, Aran Islands, takes you to a trio of islands with seven prehistoric stone forts. The most notable is the Dún Aonghasa, which archaeologists say dates back to 1100 BC.
"It's a beautiful spot to enjoy for a few days to relax," she says. "I always recommend doing a sail on the bay. We call it the Wild Atlantic Way."
When you're not sailing the Atlantic or taking in waterfront views from the land, the boisterous pub scene will keep you busy. Though Guinness is often the brew of choice in Ireland, Galway Hooker Brewery, founded in 2006, is making a name for itself for its fresh, citrusy Irish Pale Ales. Outside of the city but within County Galway lies Connemara National Park. The picturesque landscape—punctuated by mountain views—makes it a scenic place to tour.
Take In Clare and the Cliffs of Moher
Clare is home to the Cliffs of Moher. The 700-foot, plunging sea cliffs make for one of the world's most romantic spots for a sunrise or sunset walk with your loved one. You can also cruise by the Cliffs of Moher with your trip to Aran Islands if you don't plan to spend much time in Clare.
Visitors won't want to leave without touring Dromoland Castle, where the old-world beauty is rivaled only by food so delicious it would impress even the stodgiest royal at the on-site restaurant Earl of Thomond. (There are many Irish castles couples can explore during their trip. Depending on where your travels take you, other chances for a royally gorgeous experience include Kilkenny Castle, Blarney Castle and Ashford Castle.)
Unearth Treasures in Waterford
Those who added fine china to their wedding registry minutes after posting engagement photos to social media will want to pay a visit to the House of Waterford Crystal. There, you can see the high-end glassware being made, enjoy afternoon tea and drop a pretty penny in the retail store. Newlyweds can also take in medieval artifacts at the Waterford Museum of Treasures.
Experience the Beauty of the Dingle Peninsula
The Dingle Peninsula tends to be less crowded than the Ring of Kerry, and it boasts breathtaking views in its own right. Star Wars fans will recognize some of them from Episode VIII: The Last Jedi. The locals are known to be friendly, ready to chat vacationers up at a pub or if they ask for directions on their self-drive. The trek includes seemingly abandoned fields and remnants of houses where monks once lived. A crucifix marks the end of the peninsula in Slea Head. If you'd rather enjoy the views, a guide can do the driving for you and introduce you to some of the local makers and shakers.
Make Time for Belfast
Those who have experienced Ireland before often cross Belfast off their bucket lists on their honeymoons. The Northern Ireland capital was where the Titanic began its doomed voyage, and there's now a museum paying tribute to the ship and those lost at sea. The lush Botanic Gardens are a gorgeous spot for a walk, and St. Anne's Cathedral has a photogenic medieval exterior, though it was built in the early 20th century.
Best Hotels and Resorts in Ireland for a Honeymoon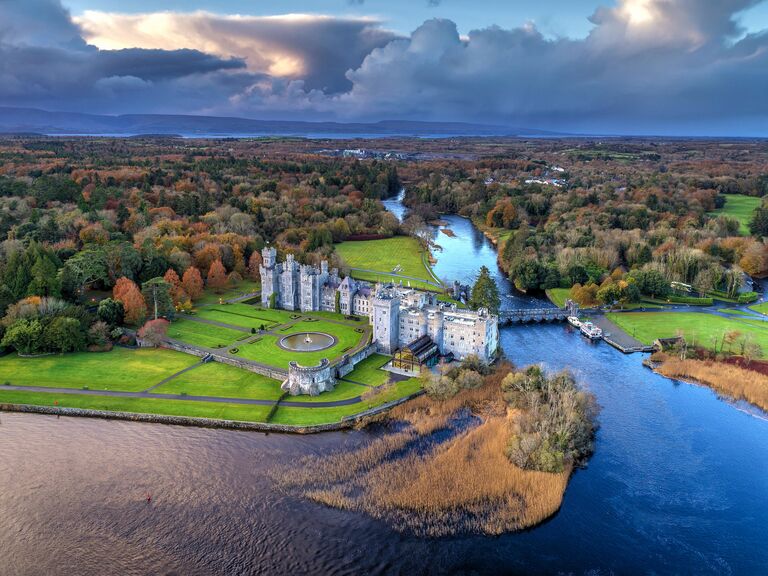 The Carton House
A Fairmont property situated on 1,100-acres of private parkland, this enchanted estate is only a 25-minute drive from Dublin if you want a relaxed, countryside getaway. Imagine a scenic, Downton Abbey-worthy resort featuring rolling greenery, delightful cottages and old-world, historic charm. The property is also a famed, award-winning golf destination in case you and your partner appreciate the sport. Plus, there are private tours of its grounds, library whiskey tastings, afternoon tea and falconry classes all on-site for endless activities.
The Shelbourne
This five-star luxury hotel in Dublin is a prime spot for a high-end afternoon tea. The Shelbourne's timeless rooms are tastefully decorated with art depicting scenes from around the country. It's located within close proximity to Trinity College and overlooks the lush St. Stephen's Green—a perfect spot for those hoping to log a morning run during their Ireland vacation.
Ashford Castle
Though Ambrusko-Maida usually places her clients in bed and breakfasts, as she thinks it gives them a better taste of the Irish lifestyle, she suggests splurging on this fairytale-worthy castle hotel experience when visiting Galway. Newlyweds can also book fun activities through the hotel, like golfing or horseback riding.
Beech Hill House
Located less than half an hour outside of Belfast, Beech Hill House is an 18th-century home that dates back to 1729. The sofas and beds inside the elegant rooms are comfortable, the service is amiable and the woodland and lake views provide a dose of serenity. There are times when this Northern Ireland spot is only available for weddings and other events, so check availability before you let your heart get set on staying there.
Drumcreehy Country House
Breakfast is a can't-miss event at Drumcreehy Country House quaint spot in County Clare. The dishes, like pancakes soaked in maple syrup and a smoked Irish salmon platter, are known for being a feast for both the eyes and tastebuds. The rooms are cheerfully decorated, and the beds are made for sinking into at day's end.
What to Pack for an Ireland Honeymoon
A honeymoon in Ireland requires a lightweight rain jacket with a hood, as any day can be a rainy day. "Don't even bother with an umbrella," Ambrusko-Maida says. "It's so windy."
Since the weather can oscillate from hot to cold in a New York minute, Ambrusko-Maida suggests packing layers, such as cardigans, and a hefty tote or backpack for stashing when the sun is out. You'll be exploring, sometimes in muddy conditions, so Ambrusko-Maida recommends bringing comfortable shoes you don't mind getting dirty. Other must-haves include sunscreen—because it's not always raining—and outlet adapters.
Though comfortable clothes will make up the most of your Irish honeymoon wardrobe, you'll want to pack some nicer clothes for more upscale dinners.