Ireland Honeymoon: Weather and Travel Guide
by lori seto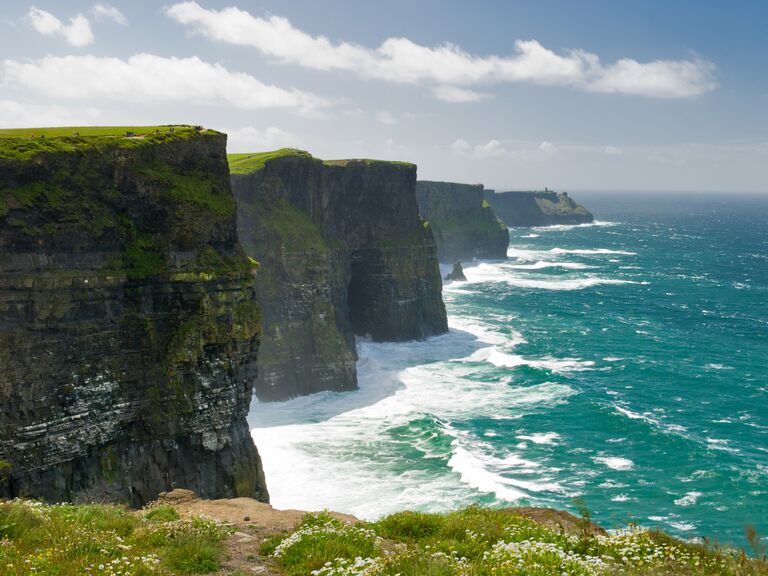 This richly romantic country offers rolling hills, misty oceanside cliffs and quaint seaside villages, plus grand castles and country manors, making it the perfect resting spot for vacationers. Rain showers are common in Ireland, and they keep the rolling hills and meadows swathed in endless Kelly green, rendered all the more vibrant next to piercing blue lakes, wildflowers, limestone castles, "baahhhing" sheep and the shifting light of moody skies. Much of the action is situated on the Atlantic coast, convenient to Shannon Airport and national parks, seaside villages, golf courses and castles. Explore via car along hilly roads that twist and curve through the countryside by day, and dine on fresh oysters and salmon and drink in traditional Irish music and pints o' Guinness at a local pub by night.

Before You Go: Need-to-know info
Entry requirements: Passport
Languages: English and Gaelic
Currency: Euro
Flight time: About 6 1/2 hours from New York City

When to Go: Ireland at its best
Best weather: May to September. Short showers are common throughout the year (don't forget an umbrella or a slicker).
Best prices: Mid-September to June

What to Do
Scan the rocky cliffs: For a dramatic setting, don't miss Ireland's biggest rock stars: the Rock of Cashel (St. Patrick allegedly picked a shamrock from here to explain the Trinity) and breathtaking Cliffs of Moher, a five-mile-long sea wall that soars up to 700 feet.
Visit heritage towns: Step into a fairytale-like land, complete with thatched-roof cottages, in designated Heritage Towns that include Cashel and Kinsale. For a complete list of postcard-pretty spots, visit HeritageTowns.com.
Explore the peninsulas: Drive around one of the numerous promontories that jut off the southwest coast of Ireland for breathtaking mountain and coastal views. The Ring of Kerry, a daylong drive that runs along the perimeter of the Iveragh Peninsula, is one of the most popular scenic routes. Visit the Dingle Peninsula for its unspoiled serenity.
Feast at a medieval banquet: Dine before a color-soaked pageant of medieval Irish history in music, dance, mime and rhyme in the hallowed splendor of a 15th-century castle. Best bets include Bunratty Castle, Dunguaire Castle and Knappogue Castle.