The Best Dinnerware Sets To Add To Your Wedding Registry
The best dinnerware sets to add to your wedding registry, chosen by the pros at The Knot for our 2019 Registry Awards.
Whether you're hosting your first holiday season or just want to be the go-to dinner party house on the block, you're going to want to stock your registry with the best dinnerware sets suited to your lifestyle. So round up your mismatched set from college and get ready to replace it with one of our gorgeous picks.
In this article:
Best Everyday Dishes
When shopping for the best everyday dishes for your home together, you're going to want to register for service for at least eight—that includes dinner plates, salad plates and salad bowls at the very least. As for color and style, well, that's up to you! We can help you along the way though—here are our picks for the best everyday dishes.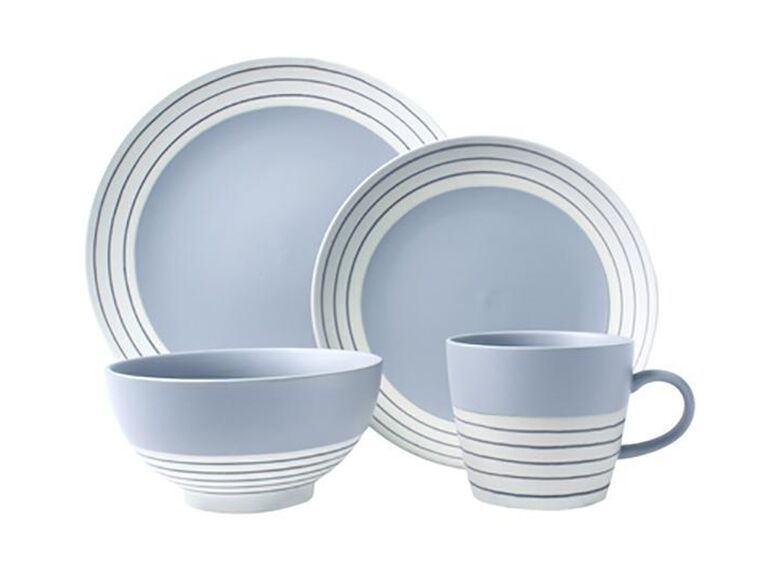 Editor's Pick: Canvas Home Clef 4-piece place setting, $59, CanvasHome.com
Canvas home has cornered the market on gorgeous everyday dishware. Each piece is expertly crafted and often handmade or glazed, and each color or pattern is somehow timeless yet totally now. Our editor fell in love with this simple grey collection, which pairs a dove hue with fine lines for a chic collection that looks great from breakfast to dinner. Add this dishware to your wishlist with our Universal Registry tool.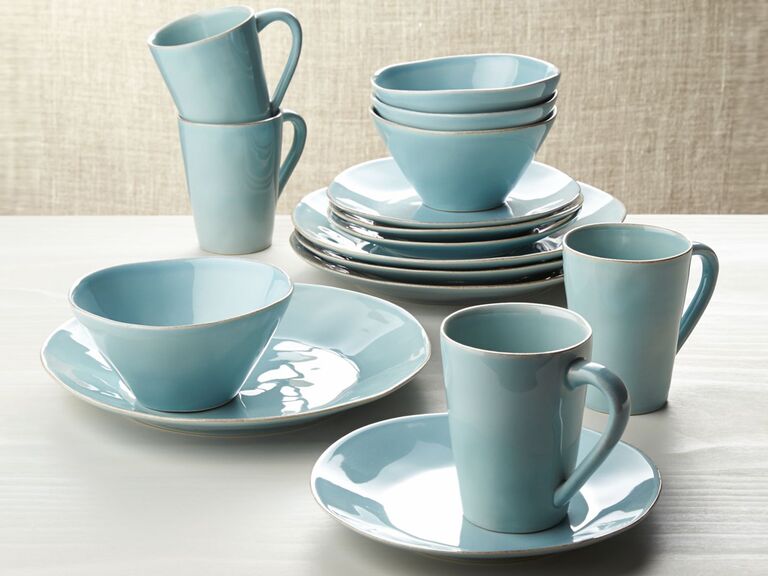 Couple's Pick: Crate and Barrel Marin White 16-Piece Dinnerware Set, $117, CrateAndBarrel.com
Our couples are all about the elevated basics. Their pick for best dinnerware set is the everyday appropriate Marin set from Crate and Barrel. Sure, it's one hue—however, it's anything but boring. The organic shape and hand-antiquing around the rim lend a bespoke feel and at under $120 for a 16-piece set, it won't break the bank.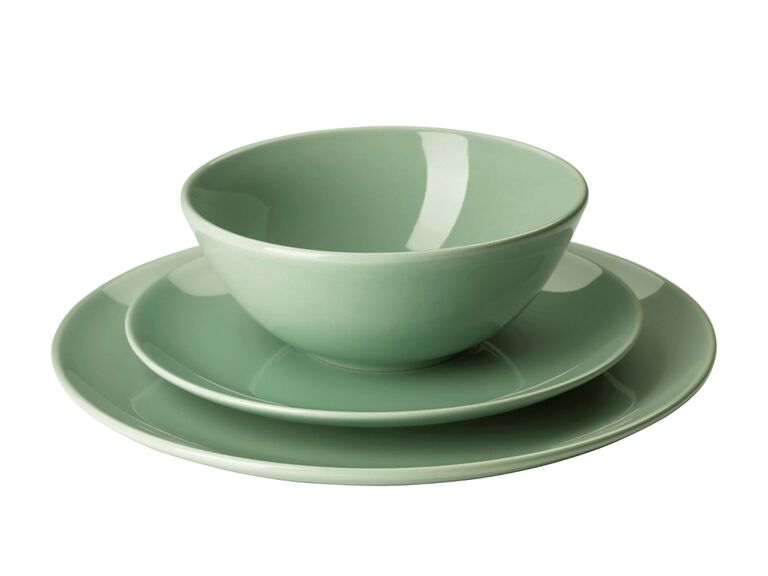 Best Budget Everyday Dinnerware Set: IKEA FARGRIK 18-Piece Dinnerware Set, $25, IKEA.com
Ikea is always our go-to for crazy-affordable home decor that looks and feels way more expensive than it is. This sweet light green dinnerware set is a great example of that—it's simple and functional enough to be considered a casual dinnerware set, but still feels special enough for a Friday night date night at home. Add this dishware to your wishlist with our Universal Registry tool.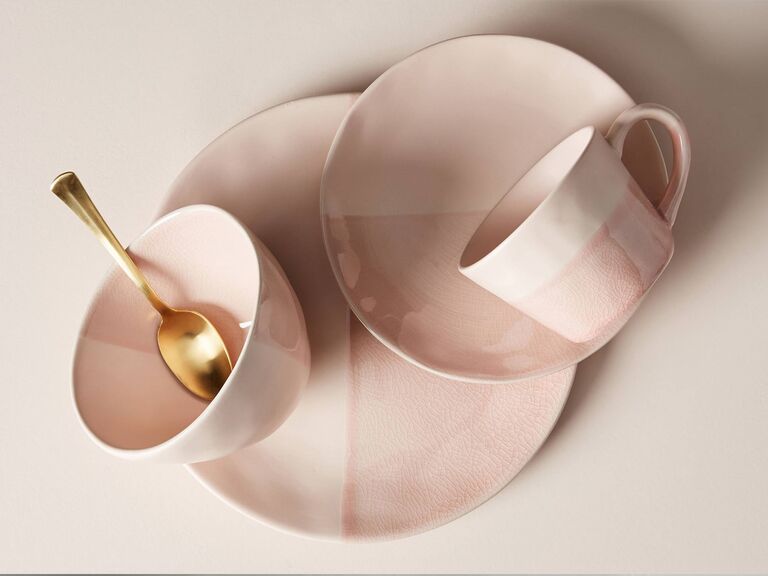 Best Handmade-Inspired Everyday Dinnerware Set: Anthropologie Keegan Dinner Plate Set, $40, Anthropologie.com
We love the unique bi-colored blush crackle glaze on these Anthropologie dishes. They almost feel like you could have bought them off of a ceramic artist, which is ideal if you want a unique and original look. Buy the whole set or mix-and-match with a fun pattern for a fun mashup.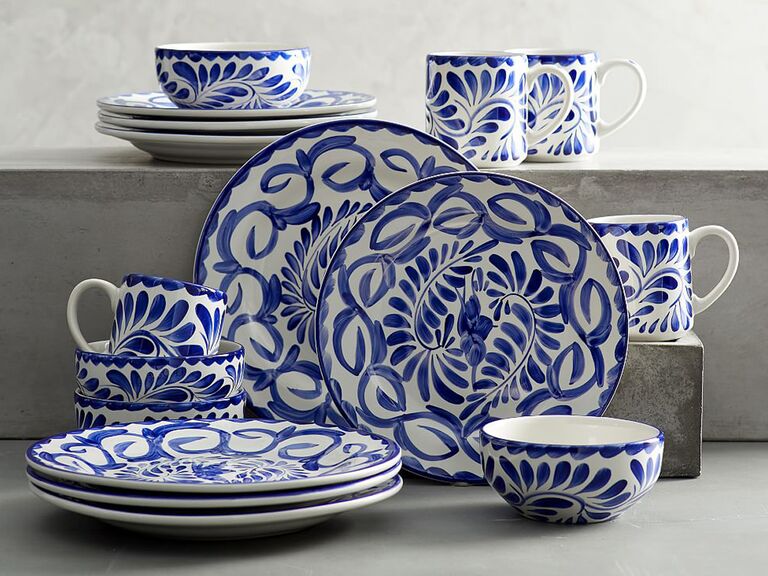 Best Patterned Everyday Dinnerware Set: Pottery Barn Puebla 16-piece Dinnerware Set, $200, PotteryBarn.com
Looking to have a bit more fun with your tablescape? Then you'll probably love our next pick for a casual dinnerware set. The bright and playful blue pattern on this Pottery Barn set is so fun and pretty—but still traditional enough that you won't get sick of it in a year.
Best Fine China
Couples usually have a preconceived notion that all fine china is stuffy and formal—but that doesn't have to be the case! There are tons of fine china brands creating gorgeous styles that pair a modern aesthetic with a few of the hallmark traits of fine china (like metallic detailing). Have we got your attention? Then onto our picks for the best fine china.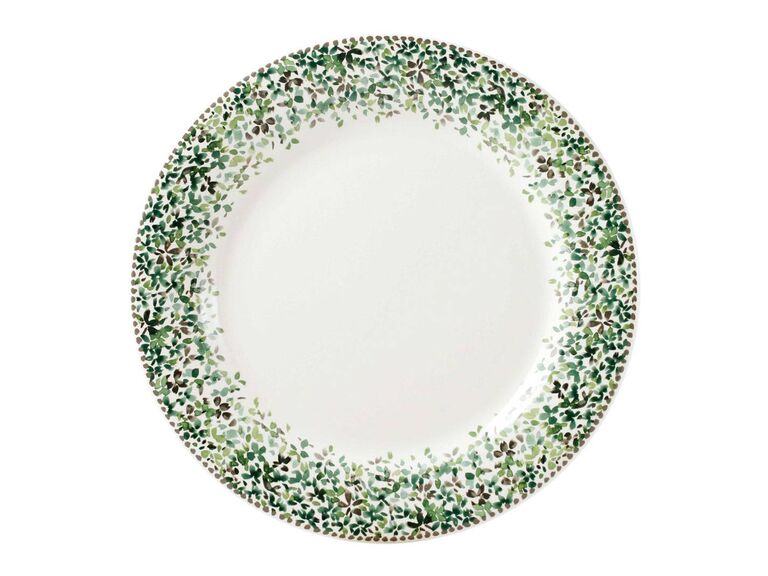 Editor's Pick: Gien Songe Dinner Plates Set of 6, $336, ScullyAndScully.com
The subtle leaf pattern on this china set is what first caught our editor's eye. It's one part classic and one part whimsical, making for a unique look that can be dressed up or dressed down. It would look gorgeous paired with silver flatware and table accents.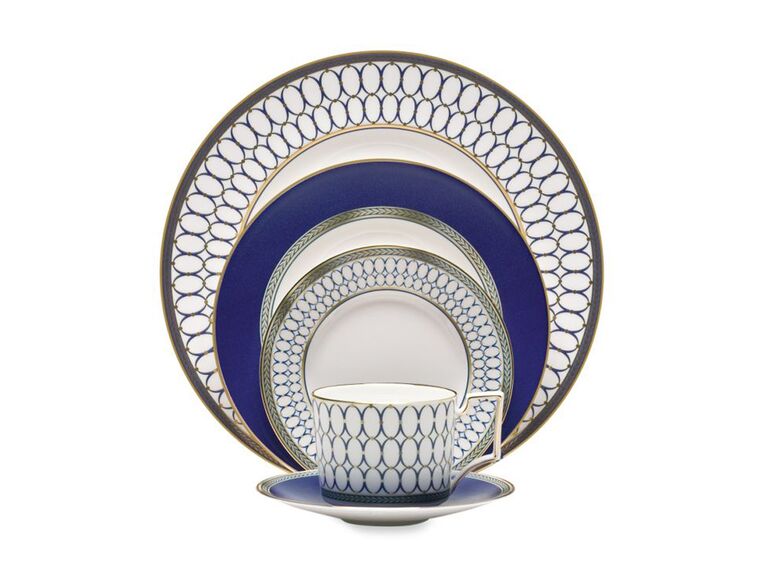 Couple's Pick: Wedgwood Renaissance Gold 5-Piece Place Setting, $150, BedBathAndBeyond.com
Blue is overwhelmingly the most popular color in fine china. So it's no surprise that it's the main hue in our couple's pick for best fine china collection. Wedgwood's Renaissance style is prime and posh and everything you'd expect from a traditional fine china pattern. With mixed metallics and a rich, royal blue, it would look amazing year-round on special occasions.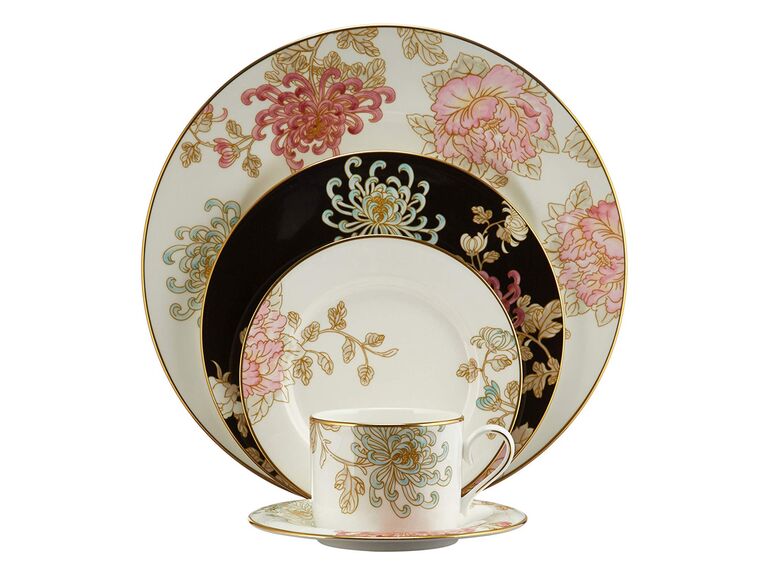 Best Floral Fine China: Lenox Marchesa Painted Camellia 5-Piece Place Setting, $155, Amazon.com
Think of this next award winner as an update on the typical flowers found on fine china. Made with fine white bone china and accented with 24 karat gold, the peony pattern stands out on both white and black plate backgrounds. Make the blooms pop even more by accenting it with bright pink table linens.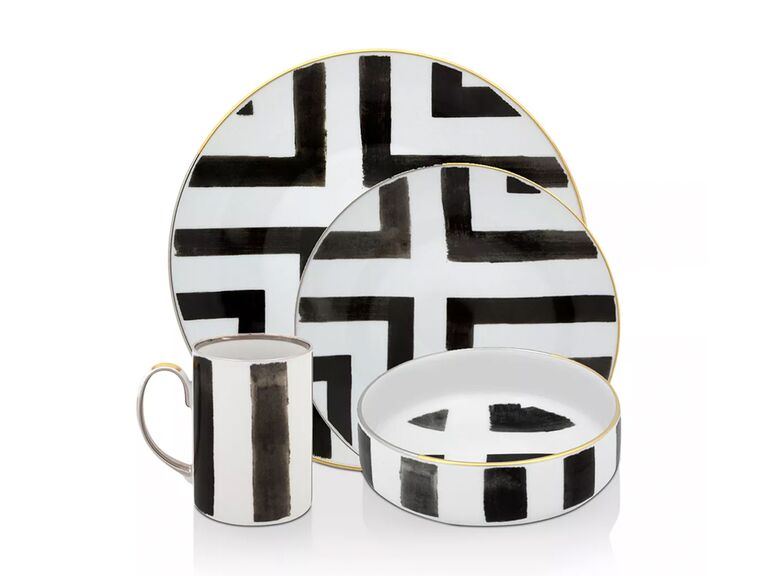 Best Modern Fine China: Vista Alegre Sol y Sombra by Christian Lacroix Dinnerware Collection, from $55, Bloomingdales.com
This black and white stripe combo on this fine china screams "modern couple" and would be perfect for a duo with a more industrial sense of style. Pair it with gold flatware and sleek stemless glassware to instantly fancy it up for a big night.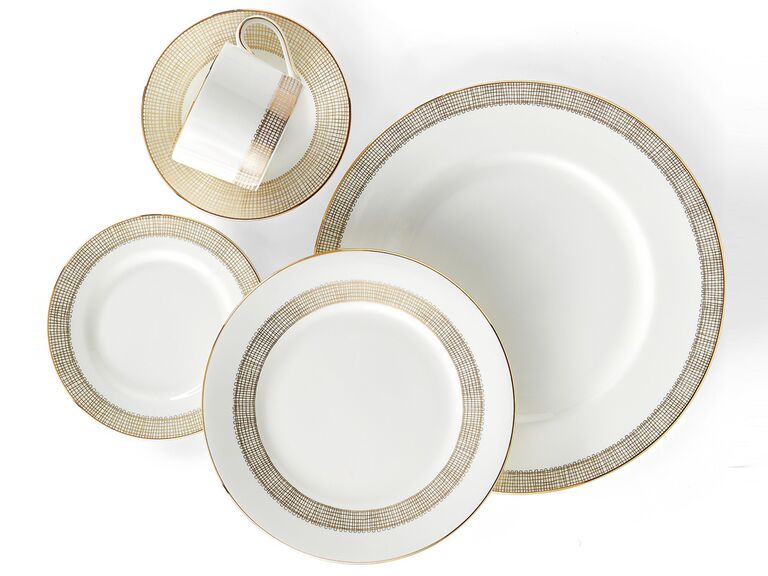 Best Metallic Fine China: Vera Wang Wedgwood Gilded Weave Gold 5-Piece Place Setting, $139, Macys.com
Metallic china is forever a classic and this Vera Wang pattern is just subtle enough that your daughter or granddaughter will want to inherit it years from now. The style pairs white bone china with a gold mesh band detail around the edges for a rustic-meets-formal look. Bonus: it's dishwasher safe, which definitely isn't always the case with metallics!
Best Flatware
Call us crazy, but we're assuming you're not looking to eat all your meals with your hands, right? Sounds like you'll need some flatware to complete your tabletop look. Whether you favor modern metallics or vintage-inspired silver, we've found the best flatware collections for you.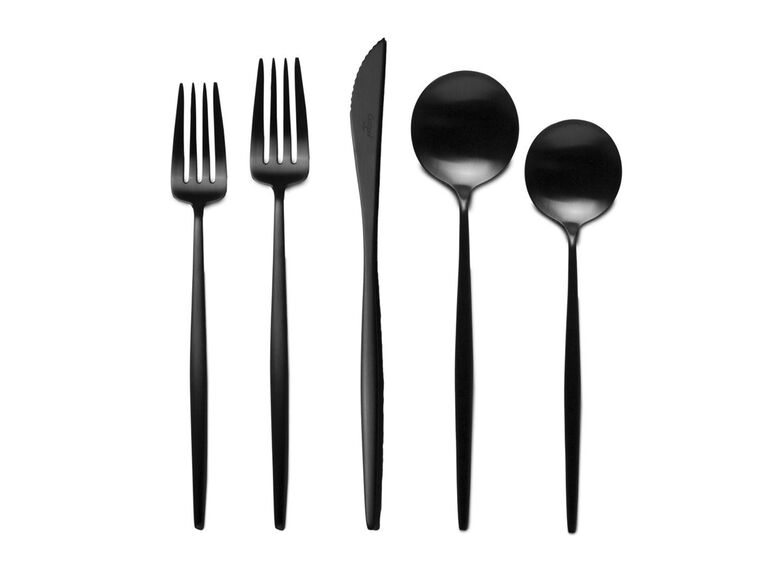 Editor's Pick: Cutipol Moon Cutlery 5-piece Set, $89, ShopHorne.com
If you've been browsing The Knot recently for wedding inspo, you've probably noticed a bunch of reception tables styled with black flatware. It's freshest trend in cutlery right now—and the reason our editor chose this gorgeous matte black set from Cutipol as a best flatware winner. Register for a set of your own for the hippest table out of all your friends. Add this flatware to your wishlist with our Universal Registry tool.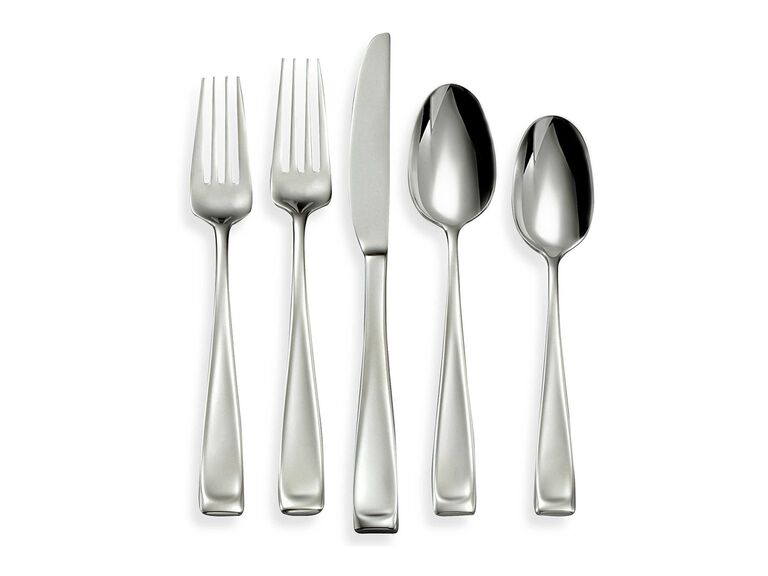 Couple's Pick: Oneida Moda 75-Piece Flatware Set, $200, BedBathAndBeyond.com
Our couples have big love for classic style, which is probably why they chose this classic Oneida set for their best flatware pick. Made from 18/10 stainless steel, the 75-piece set (that's 12 settings!) is dishwasher safe and protected under a limited lifetime manufacturer's warranty. Talk about a future heirloom!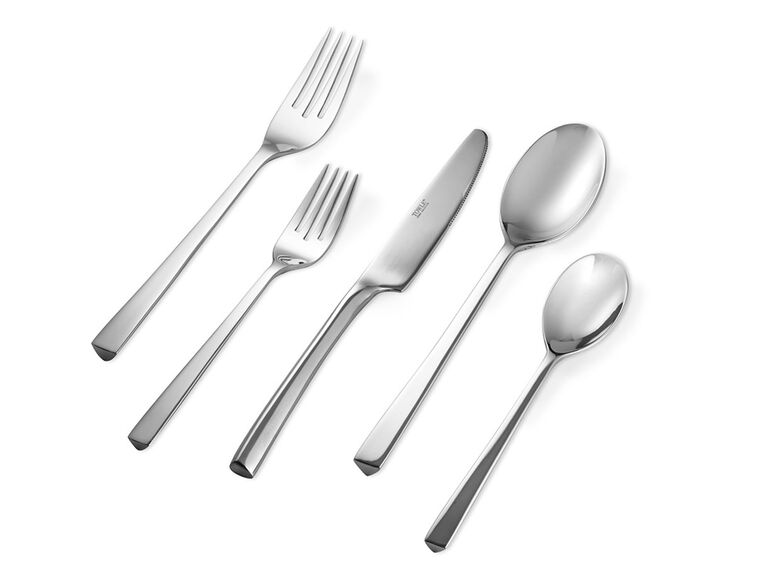 Best Everyday Flatware Set: Williams-Sonoma Linea 20-Piece Flatware Set, $70, Williams-Sonoma.com
This sleek stainless steel style is timeless and modern all at once. The geometric base lends a graphic touch that would look equally as cool during Thanksgiving or while dressing up takeout takeout dinner with friends. Just put everything out on platters—no one will even know.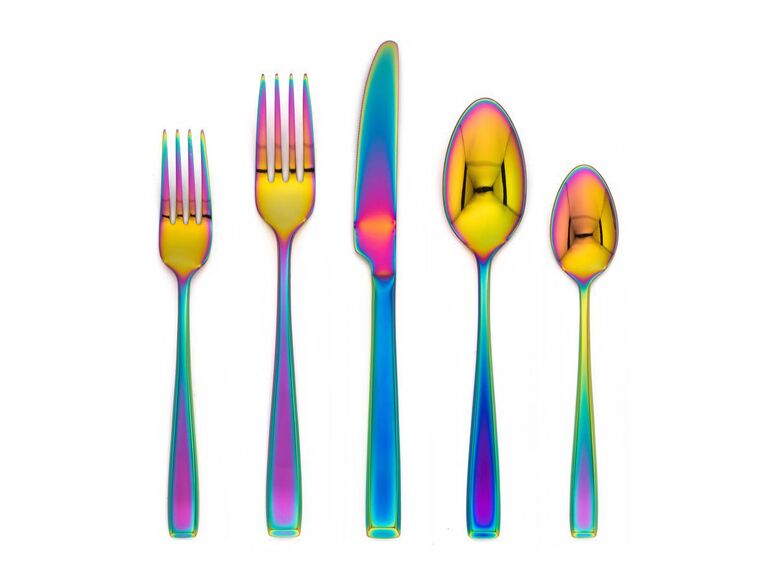 Best Statement Flatware Set: Cambridge Logan Rainbow Mirror 20-Piece Flatware Set, $60, HomeDepot.com
At The Knot, we encourage are couples to register for anything—and everything—they want, regardless of style or quirkiness. So if your heart is pulling you towards holographic flatware, you go ahead and do it. This playful set has an electric rainbow finish that brings out shades of purple, orange, yellow, teal and pink. They'll definitely make a bold and fun statement—and really, shouldn't life be fun? Add this flatware set to your wishlist with our Universal Registry tool.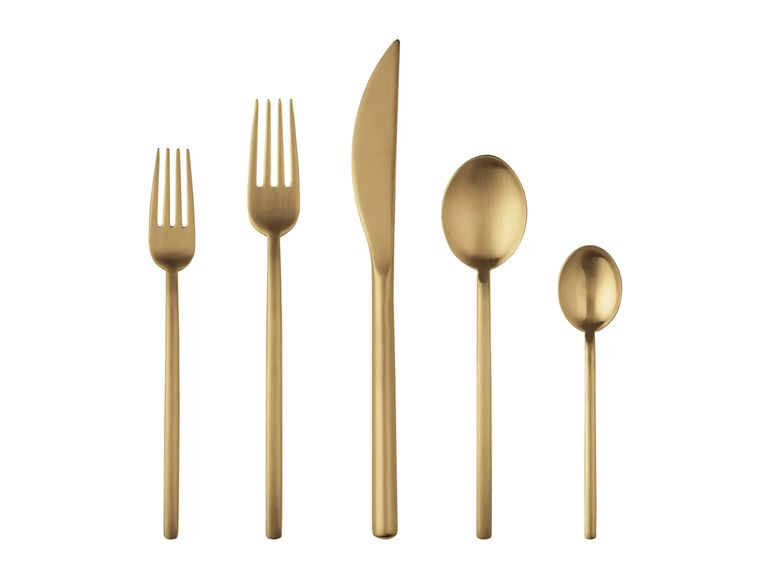 Best Gold Flatware Set: MEPRA Due 20 Piece Flatware Set for 4, $328, Wayfair.com
If silver isn't your jam but you still want to splurge on a gorgeous flatware set for your wedding registry, then this luxe collection from MEPRA is probably for you. Made from 18/10 stainless steel and coated in a gold metallic finish, the set has a thin, modern profile that feels very "special occasion." But they're also dishwasher safe—so, you know, use 'em any time you want.
Dining Cash Fund Ideas
One of the best things about getting married in 2019 is the ability to register for anything (and we mean anything!) you want. Here at The Knot, we want to make that as easy for you as possible, which is why we offer Cash Funds. They're a simple way to add the things you really want to your registry and allow your guests to contribute any amount they desire towards your goals. Into dining and tabletop decor? Here are some of our favorite cash fund ideas to get you going:
Editor's Pick: A pottery class cash fund
If tabletop decor and dishware has your heart, why not try your hand at your own collection with a pottery class? Ask guests to contribute to a cash fund dedicated to your artistic education—it'll make a really fun date night alternative! Get started with your own pottery class cash fund right this way.
Couple's Pick: A cash fund for a multi-course tasting dinner
Eat like royalty on your next special occasion by creating a cash fund for a multi-course tasting dinner. You can put it on your registry to use in honor of your first wedding anniversary or even on your honeymoon. It's something you probably wouldn't splurge on normally but will make an epic memory. Start your tasting dinner cash fund here.
The Knot Gifts Back: The Leukemia & Lymphoma Society
Give back on your big day! The Knot Gifts Back is a seamless way to support a charitable organization every time you receive a wedding gift—at no cost to you or your guests. Once you select your choice of 100+ participating organizations, The Knot will donate a percentage of the purchase price of every gift bought off your participating registry to that organization.
Did you know The Knot Gifts Back supports The Leukemia & Lymphoma Society? Their mission is to cure leukemia, lymphoma, Hodgkin's disease and myeloma, and improve the quality of life of patients and their families. All donations made to their organization help to provide support for researchers, patients, and policy advocates