Here's How Often You Should Be Cleaning Your Engagement Ring
Once a week? Once a month? Once a year?
by Maggie Seaver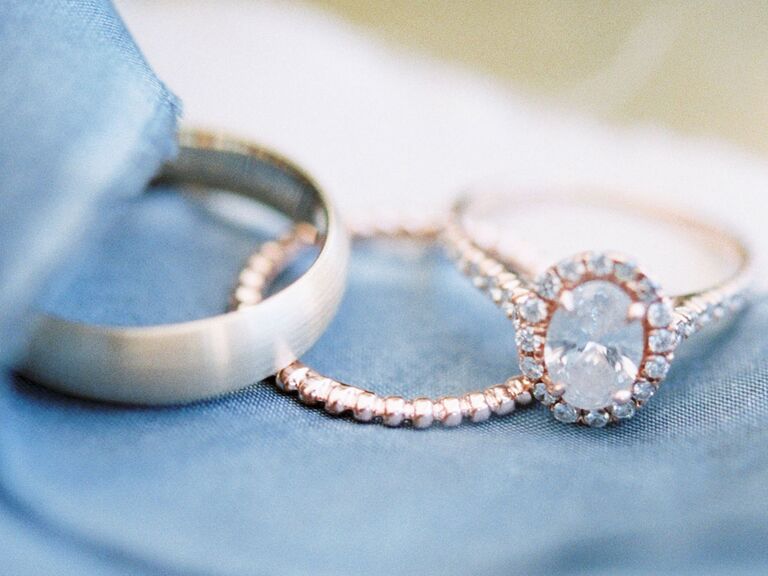 Michelle Lea Photographie
Obsessed with your engagement ring? Don't forget to show it some love by keeping it clean! The short answer for how often you should clean your engagement ring is regularly, and you can do it at home. Going to the gym, applying lotion, washing dishes, holding your phone and other everyday activities can cause dirt and grime to build up and invite any number of germs and bacteria on board (sounds awful, but that's life!). Not only will a regular, but very gentle, soaking and scrubbing keep your sparkler radiant, it'll help minimize the cleaning process over time. You'll want to clean your engagement ring at home once or twice a month. But before you go crazy with the sponge, it's important to learn the specific needs of your ring's particular setting and stone. For the best at-home cleaning method for every type of rock and metal, read here.
In terms of having your ring professionally cleaned, most jewelers recommend taking your ring in about twice a year. While dish soap and warm water are great for routine maintenance, your engagement ring still needs some TLC from the pros. They'll not only clean your bauble 'til it shines like new, they'll go the extra mile to ensure no stones have come loose and no prongs are bent out of shape. It's like going to the dentist—you brush and floss on the regular, but still need to visit the dentist for biyearly checkups. For more essential ring care dos and don'ts, read here.
Finally, you can prevent wear and tear by removing your ring during various activities and chores—as hard as it may be to part with it. Heading to a boxing class, hitting the beach or planning to bleach the bathtub? Take that sparkler off and put it in a super-safe place to avoid scratching, discoloring, loosening or losing it.
Ready to bring your ring in for a professional cleaning? Search for jewelers near you, right here.