Do People Still Follow the 3 Months' Salary Rule for Engagement Rings?
Budgeting for an engagement ring? Here's how the three months' salary concept holds up these days.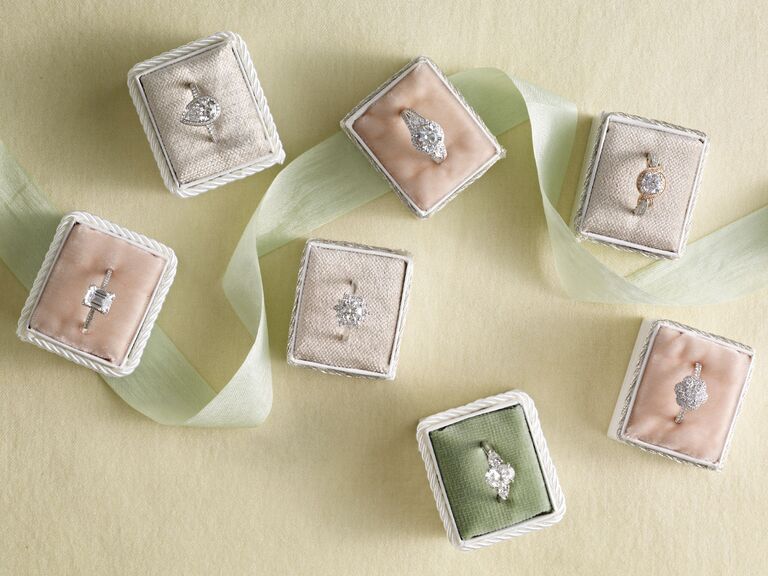 antonis achilleos
First, a little history. Back in the 1930s, when times were tough and money was tight, the struggling De Beers diamond cartel created a pretty brilliant marketing campaign (pun, intended). It convinced the world that diamonds were a must-have symbol of true love and commitment, and it also told men how much to spend on a diamond for their future Mrs.: about one month's salary. That amount grew to two months' worth in the 1980s and has only increased since then—with the supposed "rule" now stating your engagement ring cost should be about three months' salary. So, do Americans still rely on this seemingly age-old adage to calculate how much the rock should cost?
Welcome to 2017. Ebates, a leader in cash-back shopping and subsidiary of global internet services company Rakuten, announced key findings from its 2017 Wedding Survey, which included Americans' average expected spend on an engagement ring. According to the survey, almost half of men and women in the US (45 percent of men and 44 percent of women) expect to spend anywhere from $1,000 to $5,000 on an engagement ring.
This supports our own findings pretty well too. According to The Knot 2016 Real Weddings Study, the national average cost of an engagement ring is $6,163. For some, these numbers might happen to follow the "rule," but for others it makes little financial sense. Let's say you make a gross salary of $100,000 per year, following the rule, you'd be expected to spend up to $25,000 on a ring! If you want to and you can, go for it. But do you have to spend one to three months' worth of your salary on a ring? Absolutely not! There's no use starting your marriage in debt because some early 20th-century diamond manufacturer's ad campaign told you how much to spend.
Read more on how much you should spend on an engagement ring based on what's right for you and your partner.