How to Correctly Write a Wedding Check to Newlyweds
Don't let your gift bounce!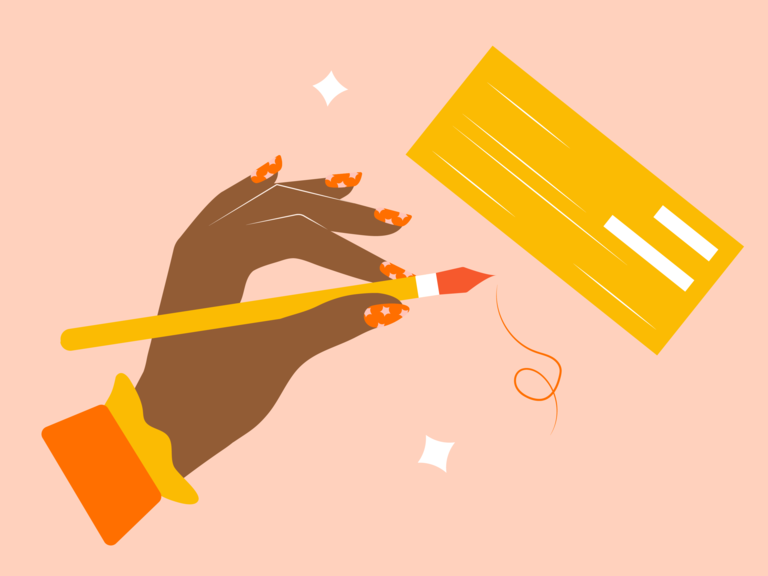 Illustration: Natalie Romine for The Knot
Who doesn't love to receive money as a gift? Not me, and certainly not the newlyweds you're shopping—er, withdrawing from your bank account, for. Exactly how to give money as a wedding gift is up to you. A wedding check or cash is always an option, though, nowadays, many couples have a cash registry, like The Knot Cash Funds, to accept money digitally, too. If you choose a wedding check gift, make sure you know how to write a check for a wedding correctly. Note: Addressing a check to two people has its quirks. Keep reading to ensure the couple can cash your generous gift.
In this article:
Common Questions About Wedding Checks
Now, before we get into how to write a wedding check, you'll need to decide if giving a check is the best option for you and, if so, how to give the check to the newlyweds.
How to Write a Wedding Check
When it comes to writing a wedding check, there are certain wedding gift etiquette and bank protocols you must adhere to. If you don't want to waste a check, read our expert tips below.
Use both of the couple's premarried or maiden names.
Post advises that guests should not only write the names of both members of the couple on the check, but use their premarried names. There are many reasons for using their premarried names on the wedding check: Though one or both of them might be planning to change their last name(s) after the wedding, they may want to cash your check before saying "I do" to help pay for things like honeymoon travel. Additionally, even if they cash it postwedding, the name-changing process takes time, so the couple could hit a snag with the bank if your check is addressed to their not-yet-official new name(s). And lastly, if only one of them is making the trip to the bank, including both of their premarried names allows either part of the pair to cash the check.
Stick to using "or."
This teeny-tiny conjunction packs a punch on a wedding check. Using the word "or" instead of "and" between their two names (for example: "Kim Jones or Jackie Garcia") will ensure the couple can cash their check into either of their accounts. If you write "Kim Jones and Jackie Garcia," the bank might require them both to be present at the time of deposit or for the account used to be in both of their names (aka how it's written on the check).
Don't make assumptions about name changes.
Always(!) double-check the names on the wedding check. Don't assume a heterosexual couple has gone the traditional route with the bride taking her husband's last name or that a couple who hyphenated their last names did so in alphabetical order. Ask their parents or another person close to the couple to clarify their official new names if it's confirmed you'll be handing over your check after a name change (otherwise, stick with the aforementioned premarried names).
Make sure you have the funds in your account.
One of the most crucial things you have to do before writing a wedding check is to make sure the appropriate funds are in your bank account. You don't want the check to bounce when the couple deposits it, which can be a few weeks after the wedding, so make sure your funds are in order before (and a bit after) sending the wedding check.