5 Wedding Gift Etiquette Rules Guests Should Always Follow
Number 4 is an absolute must.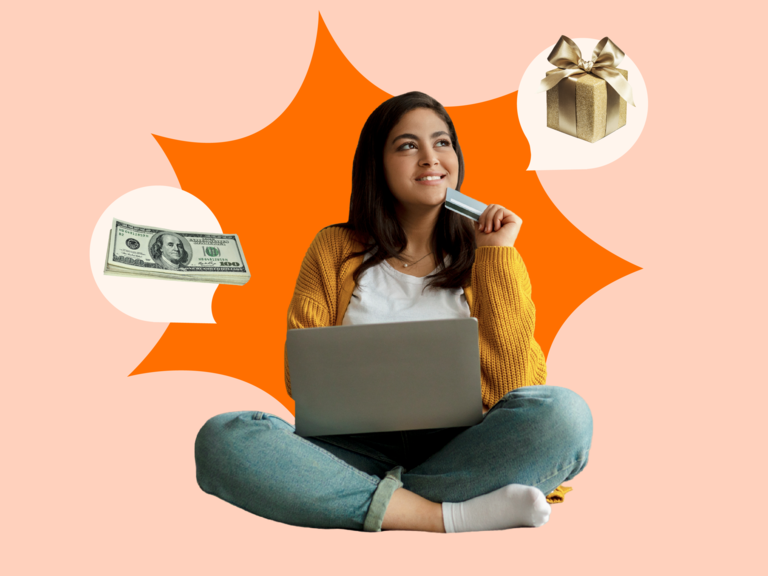 Photo: Prostock-Studio, tony4urban and Lauren Burke
Technically, technically, if you've been invited to a wedding, it's not mandatory that you give a gift. Of course, if you're reading this, you're probably not considering showing up empty-handed. You want to know what wedding gift etiquette says about what to give as a present, how much money you should spend on a wedding gift and when to deliver it. Weddings are huge milestones that deserve to be celebrated and you want to shower the couple with love to honor their big day. So, to help you be the best wedding guest ever, we're breaking down everything to know about proper etiquette for wedding gifts. Below, find five wedding gift tips all guests should follow. By sticking to these tried-and-true rules, you'll find the perfect present for the newlyweds without running into any accidental faux pas.
In this article:
Our Best Wedding Gift Etiquette Advice
While wedding gifts are not required, they're still appreciated and expected, especially if you're close to the couple. That begs the question: What is a proper gift for a wedding? Well, the answer actually depends on the occasion, but we're sharing some wedding gift etiquette to help you decide.
1. Use the Couple's Wedding Registry
This rule is wedding gift etiquette 101. When it comes to gifting, most guests will take all the help they can get—and that's exactly why you should take advantage of the couple's wedding registry. Browsing the internet for wedding gifts can feel overwhelming at first, especially if you're not sure exactly what the couple wants. And, while we've curated this roundup of great wedding gift ideas, every couple has different needs and preferences, which is why we recommend first and foremost checking their registry. The curated wish list will include plenty of wedding gift ideas at a variety of price ranges, giving you tons of flexibility when it comes to picking something you know they'll love without a doubt.
If you try shopping off-registry, you run the risk of getting the happy couple something they already have or something they don't need (or possibly don't have space for). Save yourself from potential shopping stress (and save the couple a return) by using all of the resources available to you. And good news! The registry isn't just for wedding gifts. You're encouraged to use it to find an engagement gift and wedding shower gift too.
2. Cash Is Completely Acceptable
Rest assured that giving money as a wedding gift is no longer taboo. In fact, it's becoming increasingly common for couples to actually register for cash funds and gift cards in addition to traditional wedding presents. Newlywed life is expensive—they'll appreciate your generosity as they save for a house, adopt a puppy or fly off to their dream honeymoon.
3. Check Their Wedding Website for Clues
The couple's registry isn't the sole digital resource for wedding gift inspiration, you can also find clues on their wedding website. Not only is their custom site a hub for all relevant wedding details, like the dress code and transportation logistics, but it may also include extra information about their registry picks. Plus, some couples use their website to share their love story, which can help spark great gift ideas for you. If they wrote that their first date was over Italian food, you might consider getting them a pasta maker or a gift card to their favorite local restaurant. You never know exactly what you'll find on a couple's wedding website, which is why we encourage guests to take a peek before deciding on a gift. (Psst: Here's how to find a couple's wedding website on The Knot.)
4. Spend What You Can Comfortably Give
What does wedding gift etiquette say in terms of cost? Well, there's actually no magic number. According to our data, in 2021 and 2022, guests spent about $160 on a wedding gift*. This is $40 more than in 2019. Over half of the guests surveyed said the current economy did impact their total spending on a gift as well as their travel expenses. In the past, the "cover your plate" rule, which entailed that guests chose a wedding gift that cost about the same as their attendance at the reception, was considered proper. This isn't realistic for every guest, though, and assumes the couple is comfortable sharing that price. So, what does this all mean? Ultimately, you should spend what you're able to comfortably afford on a wedding gift.
Use your relationship as a guide—while you might want to spend more on a gift for your best friend, it's completely okay to spend a little less on someone you're not as close with, like a coworker or a distant relative. It's also perfectly fine to lower your budget if you're a member of the wedding party and, thus, will be spending more on things like the bach party and attire for the ceremony. Consider looking into gifts that fall between $50 and $200 and use your personal budget to find one that fits what you can reasonably afford.
5. Consider Chipping Into a Group Gift
When it comes to wedding gift etiquette, group gifts are acceptable—in fact, even encouraged. Couples will likely add a few big-ticket items to their wedding registry, which are perfect candidates for group gifts. If the to-be-weds registered for something that's out of range for just one person to afford, ask some other guests to go in on it with you. The couple will be touched by your generosity and you might even be able to save some money, depending on how big your group is. Just be sure that everyone who chips into the gift signs their name on the wedding card. This wedding gift etiquette rule is essential because it's the only way the couple will know exactly who to thank for it.
Wedding Gift Etiquette FAQ
We're not through with our advice yet! Find answers to your burning wedding gift etiquette questions below.
*Based on The Knot's 2022 Guest Study
Emily Rumsey contributed to this article.