6 Wedding Gift Etiquette Rules Guests Should Always Follow
Number 4 is an absolute must.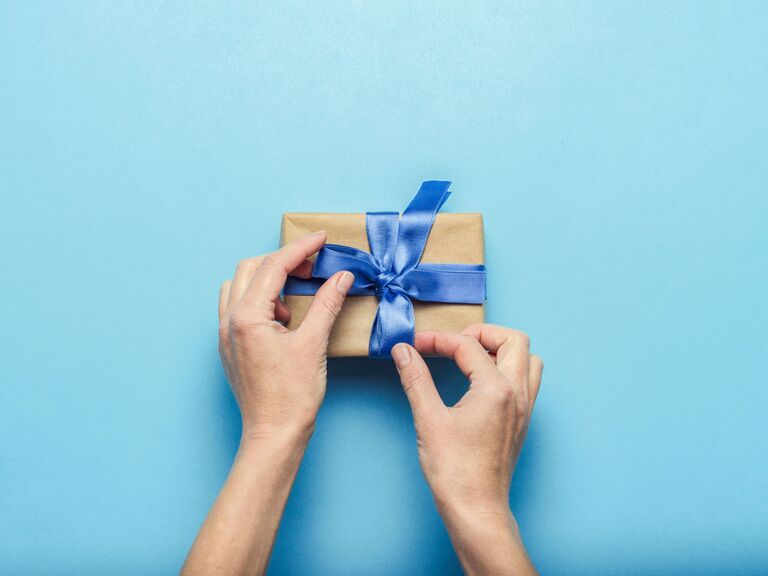 Alex SG/Shutterstock.com
Every time you accept a wedding invitation, you're inevitably faced with the question of what to give as a gift. While traditional wedding etiquette indicates that giving a gift isn't technically mandatory, it is highly encouraged. Plus, weddings are huge milestones that deserve to be celebrated, and you probably want to shower the couple with love to honor their big day. But what should you get them? And how much money should you spend? Luckily, we know a thing or two about wedding gift etiquette. To help you be the best wedding guest ever, we're breaking down everything to know about proper etiquette for wedding gifts. Below, find six wedding gift etiquette tips all guests should follow. By sticking to these tried-and-true rules, you'll find the perfect present for the newlyweds without running into any accidental faux pas.
1. Use the Couple's Registry
This rule is wedding gift etiquette 101. When it comes to gifting, most guests will take all the help they can get—and that's exactly why you should take advantage of the couple's wedding registry. Browsing the internet for wedding gifts can feel overwhelming at first, especially if you're not sure exactly what the couple wants. And, while we've curated this roundup of great wedding gifts, every couple has different needs and preferences, which is why we recommend checking their registry first. Their curated wish list will include plenty of wedding gift ideas at a variety of price ranges, giving you tons of flexibility when it comes to picking something they'll love.
If you try shopping off-registry, you run the risk of getting the happy couple something they already have, or something they don't need (or have space for). Save yourself from potential shopping stress by using all of the resources available to you. And, if you plan on buying multiple presents in addition to the actual wedding gift, guests are encouraged to use the couple's wedding registry to find an engagement gift, a bridal shower gift, and a bach party gift.
2. Contribute to a Cash Fund
In addition to registering for traditional wedding presents, some couples also set up cash funds or honeymoon funds, allowing you to contribute to something special beyond a traditional registry item. Monetary gifts are no longer taboo when it comes to weddings. In fact, most to-be-weds will appreciate having some extra cash on hand after the wedding day. So, if you'd rather put your wedding gift budget to something a little more personal than common registry gifts like pots and pans or a new duvet set, consider donating to the cash funds on their wish list. We promise your generosity will be greatly appreciated.
3. Check Their Wedding Website for Gift Clues
While the couple's registry is the best place to look for wedding gift inspiration, you can also find clues on their wedding website. Not only is their custom site a hub for all relevant wedding details, like the date, time, location, dress code and transportation logistics, it may also include extra information about their registry picks. Plus, some couples use their website to share their love story, which can help spark great gift ideas for you. If they wrote that their first date was over Italian food, you might consider getting them something sentimental, like a pasta maker or a gift card to their favorite local restaurant. You never know exactly what you'll find on a couple's wedding website, which is why we encourage guests to take a peek before deciding on a gift. (Psst: We explain how to find a couple's wedding website here.)
4. Spend What You Can Comfortably Give
What's the etiquette for a wedding gift in terms of how much to spend? The answer to this common question has evolved over the years. And, believe it or not, there's no magic number that dictates how much you should spend on a wedding gift. According to our data, guests generally spend about $120 on a wedding gift, though some say they spend more for close friends and family members. Ultimately, though, you should spend what you're able to comfortably afford on a wedding gift.
Use your relationship as a guide—while you might want to spend more on a gift for your best friend, it's completely okay to spend a little less on someone you're not as close with, like a coworker or a distant relative. Plus, if you have a busy wedding season full of events or you're also a member of the wedding party, it's perfectly fine to lower your budget. Consider looking into gifts that fall in a range of $50-$200+, and use your personal budget to find gifts that fit what you can reasonably afford.
5. Chip Into a Group Gift
When it comes to wedding gift etiquette, group gifts are always acceptable—in fact, we encourage them. Couples will likely add a few big-ticket items to their wedding registry, which are perfect candidates for group gifts. If the to-be-weds registered for something that's out of range for just one person to afford, ask some other guests to go in on it with you. The couple will be touched by your generosity, and you might even be able to save some money depending on how big your group is. Just be sure that everyone who chips into the gift signs their name on the card. This wedding gift etiquette rule is essential, because it's the only way the couple will know exactly who to thank for it in their thank-you cards.
6. Send It Within Two Months of the Wedding Date
Punctuality plays a large role in proper wedding gift etiquette. Ideally, gifts should be sent to the couple before the wedding. According to various etiquette experts, though, guests should do their best to send a gift within two months after the wedding date at the very latest. While this is a recommendation, it is a nice gesture to send your gift promptly. And, while you can bring something on the big day, online registries streamline the shopping process by allowing you to shop online and ship the gift to the couple's address. Not only is this the most convenient option for couples, it helps guests by eliminating extra shipping hassles. When it comes to knowing the proper etiquette for wedding gifts, giving what you can is a kind gesture—but doing so in a timely manner will make your present that much sweeter.