5 Rules of Wedding Gift Giving
Stumped on what to give the happy couple? Stick to these 5 rules and you're sure to give a wedding gift that will please.
by The Knot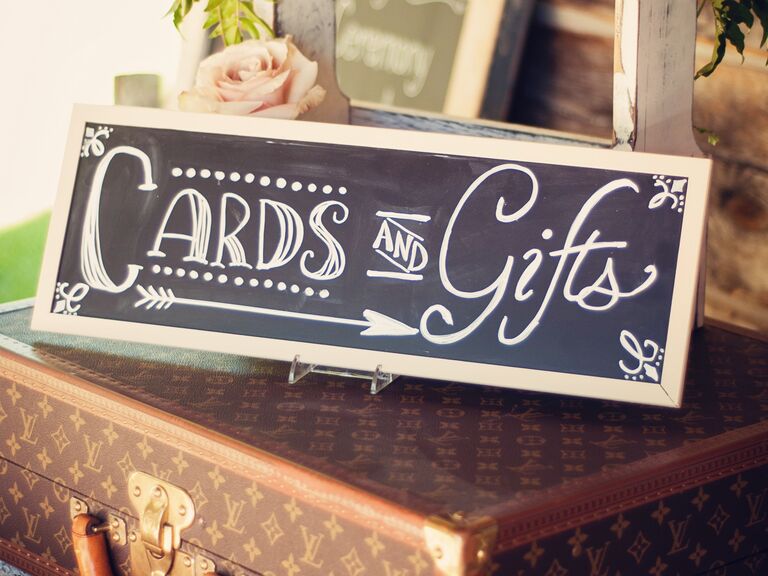 photo by
Marianne Wiest Photography
At every wedding you attend as a wedding guest, you're inevitably faced with the age-old question: What should you give?
To find the answer, we partnered with a leading gift registry (Kohl's Bridal Aisle) and polled a whopping 15,000 brides and newly married gals to find out what they really wanted wrapped in that pretty white paper. The result? Our top five rules for giving wedding gifts they're guaranteed to love.
1. Buy From Their Registry
Don't get too creative: Nearly 85% of brides want you to select a wedding gift from their wedding registry list, and 98% have at least one registry list, either in a store or on the web.
Look online to see where the couple is registered: 4 in 10 couples have a wedding website that links to their online registry. Many retailers make shopping more convenient by allowing guests to access registries online, or you can just head to the store to purchase in person. The couple set up the registry for a reason, and if you stick to it, you can't possibly buy a gift they won't like!
2. Kitchen, Entertaining, Bed, and Bath Gifts a Must
Unlike years past, today's couples want modern twists on the traditional wedding gifts, even though some of the most coveted gifts still hail from the kitchen, dinning, bedding, and bath departments.
For deluxe bedding and bath, give them gifts that'll create a spa-like, hotel environment every morning when they wake up. Think about buying them a trio of gifts to create a theme: What about a set of super-soft pillows, a thick down blanket, and a pair of high thread-count hotel towels?
In terms of entertaining, everyday affairs are big for brides, so consider giving a set dishes and stainless flatware that can multitask -- and either be dressed up for dinner with the boss or dressed down for a backyard barbecue.
It seems everyone wants to be a gourmand these days, and many couples use their wedding as an excuse to upgrade their kitchen with top-notch appliances. Give state-of-the-art kitchen gear, gadgets, and cookware that look as good on the counter as they do when in use.
3. Don't Spend Less Than $50
It's a bad idea to use the price-per-plate as a measure for how much you should spend on the wedding gift -- you wouldn't give your best friend a less expensive gift just because she was having a more casual affair. Spend what you think is appropriate to your relationship to the couple, and also consider what's reasonable in your city. While a co-worker or friend may expect a gift in the $50-75 range, someone in an urban market may have double the expectations. Here's the ballpark you should be aiming for:
Coworker and/or a distant family friend or relative: $50-$75
Relative or friend: $75-$100
Close relative or close friend: $100-$150
Urbanite: $150-200+
4. Give a Big Group Gift
Married couples who took our survey said that their favorite gifts were big-ticket items purchased by a group of their friends, and that makes sense: They would most likely never be able to afford those luxuries on their own. If the couple has registered for an item that's out of range for just one person to afford, ask some other guests to chip in with you. It's also a great idea for the bridal party to band together and buy the couple the item of their dreams.
5. Buy it Within Two Months
Two out of three newlywed couples polled told us they still haven't received all of their wedding gifts, which left us wondering -- what ever happened to the longstanding one-year rule? With the convenience of online buying and shipping, there's little excuse for such a delay -- try to send your gift within two months of the wedding. And though you're excited for them to see it, don't bring it to the wedding -- they won't want to lug it around, and it could get damaged during the night. Having it shipped straight to them will make things easier for everyone!
Not sure where to begin with your wedding planning? Take our Style Quiz and we'll pull together a custom wedding vision and vendors to match, just for you.