5 Tactful Ways to Give Money as a Wedding Gift
There's more than stuffing cash in an envelope.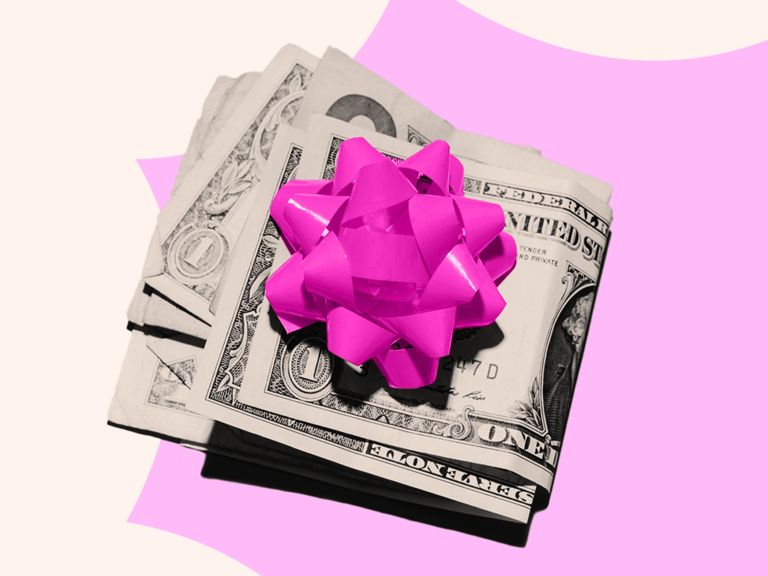 Photo: Westend61 | Getty,Design: Tiana Crispino
If you're wondering how to give money as a wedding gift, you're in the right place. Nope, we're not going to tell you that you shouldn't give cash to newlyweds. (Though, there are better wedding money gift ideas than loose bills.) The practice of giving money as a wedding gift is no longer taboo. In fact, according to our 2023 Wedding Registry Study, nearly three-quarters of couples surveyed are actually asking their guests for cash. "Now, more couples have established households before the wedding, so traditional gifts are not as necessary," explains Heather Wiese Alexander, etiquette expert and founder of Bell'INVITO. "Pair that with the growing trend of younger couples valuing experiences over things and you have two very good reasons that money makes a great wedding gift." So, not only is cash an easy wedding gift idea for you, it's also one of the most highly coveted options by couples. But what's the best way to give money as a wedding gift? Put it in a card and mail it? Hand it directly to the couple at the reception? Send a wire transfer to their bank account? As experts in the wedding gift space, we're breaking down the best ways to give cash as a wedding gift.
First, let's talk numbers: "Deciding the amount [of money] you give is based on primarily two factors," Alexander explains. "The first revolves around how well you know the couple and the second is how much you can afford to spend." You can certainly give a larger cash gift if you're celebrating a close friend or family member—or, if you're already spending a lot on travel and prewedding event gifts, it's okay to give a smaller amount that aligns with your budget. (If you're not sure how much to give for a wedding gift, we explain how to find the magic number.) Now that you know how much, here's how to give money as a wedding present.
Contribute to a Cash Fund on Their Registry
Consider cash funds the easiest way to give money as a wedding gift. If the happy couple wants cash in lieu of or alongside physical gifts, they'll likely create a cash fund on their registry. Whether they want to use the monetary gifts for a down payment on a new home or they plan on putting it toward their honeymoon, donating to a cash fund gives the couple plenty of flexibility for newlywed-life expenses.
Donating to a cash fund is flexible for you too. Unlike a traditional wedding gift with a fixed price, you can contribute what you can comfortably afford to a cash fund. To find a couple's cash fund, search for their registry information on The Knot or check their wedding website (here's how to find a couple's wedding website on The Knot). If you're unable to find where they're registered, you can always ask their wedding party or family members to share additional gifting details.
Buy the Couple a Gift Card
The golden wedding gift etiquette rule is to use the couple's registry for guidance. And, believe it or not, registering for gift cards is definitely a thing. In fact, sending the to-be-weds a gift card is one of the most creative ways to give money as a wedding gift. While cash fund donations can be used for just about anything, gift cards are a thoughtful way to personalize your present. If the couple is registered with The Knot, you can probably expect to find plenty of buzzy gift card retailers like Airbnb, Delta Airlines, HomeGoods and more on their wish list. So whether the couple always plans cross-country vacations or they love redecorating their home, you can help fund their favorite activities by buying them a gift card as a wedding present.
Put the Cash or Check in a Thoughtful Card
When it comes to weddings and money gift ideas, your first thought is likely to withdraw cash or write a check. We recommend a wedding check over loose bills for more security. Either way, make sure you put the money in a card with a handwritten note. "If you're giving money as a wedding gift, it's a two-part play: Give both money and thoughtfulness," Alexander explains. "A note with some genuinely thoughtful words should accompany the gift. Forget formality and write whatever is genuinely you. Be funny, sentimental or witty—just write something they can keep and look back at fondly." And, to be sure you're following proper wedding gift etiquette, don't forget to sign the card with your name so the couple knows exactly who to thank after the big day. (Check out our guide on what to write in a wedding card for more help.)
Now that you know you can give cash as a wedding gift, let's cover exactly how to give cash as a wedding gift. There are two options when it comes to handing over the money: First, you can bring the card (and check) to the wedding reception. Look for a designated gift table or, if they don't have one, give it to a wedding party member (think: MOH, best man or a parent of the couple) or their wedding planner. Secondly, you can mail it to the couple. If you send money for your wedding gift, make sure to track it.
Donate to the Couple's Favorite Charity
It's not a trick! If a couple's wedding website says, "No gifts please, but donations welcome," they really mean it. Charity registries, like GoFundMe, are a great alternative for couples who want to give back to their community instead of receiving physical gifts. Simply follow the directions they provide and donate any wedding gift amount you feel comfortable with to the organization in the name of the couple.
Send Money Through a Virtual Platform
Some to-be-weds may prefer to receive cash wedding gifts through a third-party app, like Venmo or Zelle. While this is often a last-resort option, you can use these programs to give the wedding gift of money—though we only recommend using these sites if explicitly requested by the couple, especially since this is the most casual way to give a wedding gift. Start by checking the couple's registry and wedding website to learn how they prefer to receive monetary gifts and follow their directions to ensure your gifts are sent in an appropriate (and timely) manner.