28 Personalized Gifts for Weddings That Are Truly Something Special
Shop extra-personal presents for the happy couple.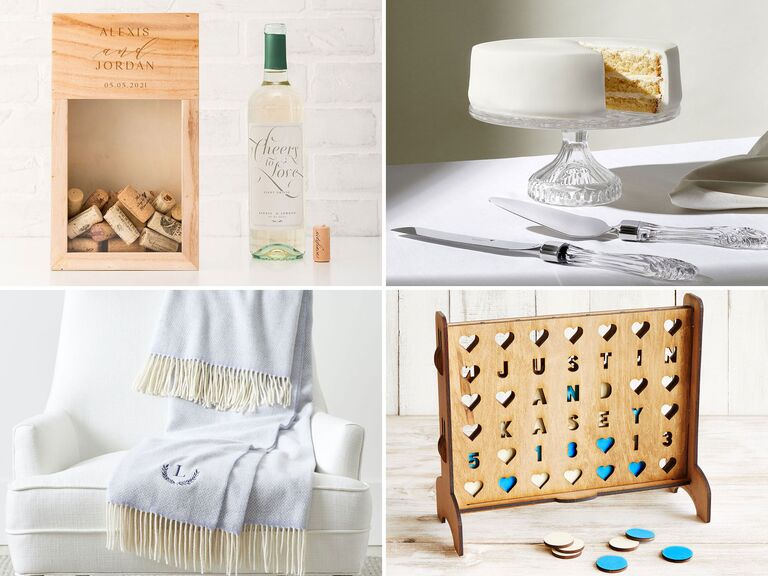 We have included third party products to help you navigate and enjoy life's biggest moments. Purchases made through links on this page may earn us a commission.
The best way to choose a gift that the couple really loves is to shop from their wedding registry. They put a lot of thought into adding the things they really want, and it's good wedding gift etiquette to honor that. However, you probably won't find personalized wedding gift ideas on the couple's wish list—so if you want to get them something that commemorates their wedding date, new monogram or another special detail from the big day, it might be time to think outside the (registry) box.
Shopping off registry isn't completely off limits. If you're a close friend or relative, you probably have a pretty solid idea of what the lovebirds like. As a result, you don't have to rely on their wish list to pick out a present they'll love. It's also acceptable to leave the registry behind if a lot of the couple's requested gifts have already been snapped up—though you can still use it for inspiration (and to avoid accidentally buying a duplicate present). Finally, some soonlyweds don't set up a wedding registry in the first place. In that case, it's completely up to you to find a fitting gift.
To help narrow your search for the perfect present, we've put together a list of the best personalized gifts for weddings. Custom wedding gifts are a great way to show the happy couple how well you know them. Plus, they often double as a sweet reminder of the day the duo finally said "I do." Shop unique and meaningful gift ideas for the (soon-to-be) newlyweds, from engraved cookware to sentimental art prints.
1. Custom Four Across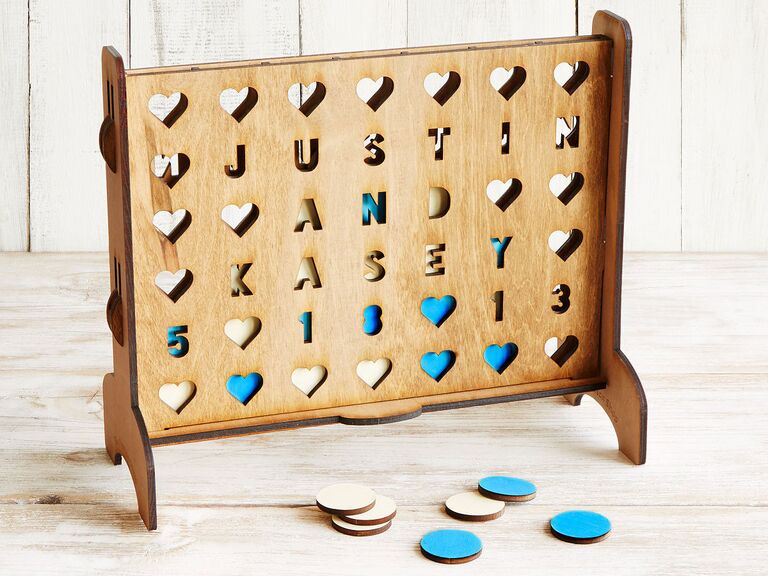 If the couple never misses out on family game night, they'll appreciate this romantic recreation of the classic four across game. Instead of the usual circular slots, it's got their family name (or first names if they're not changing last names), their wedding date and lots of adorable love hearts. It's a fun and functional talking piece that'll earn pride of place in the couple's home. Bonus points if you match the playing chips to their wedding colors. You might just be onto the ultimate wedding date gift.
2. Elegant Dutch Oven
If you're looking for personalized wedding gift ideas the newlyweds can put to good use in the kitchen, this is one of our favorites. Great Jones' Dutch ovens are beautiful to look at (and pretty darn amazing to cook with too). The Dutchess comes in seven striking colorways of enameled cast iron. It's sturdy, sophisticated and—better yet—safe for stovetops. But what makes it a customized wedding gift? We hear you. Have up to 25 characters engraved on the lid. You can choose their first names, initials, monogram, family name or even a sweet message like: "To a lifetime of love."
3. Family Name Sign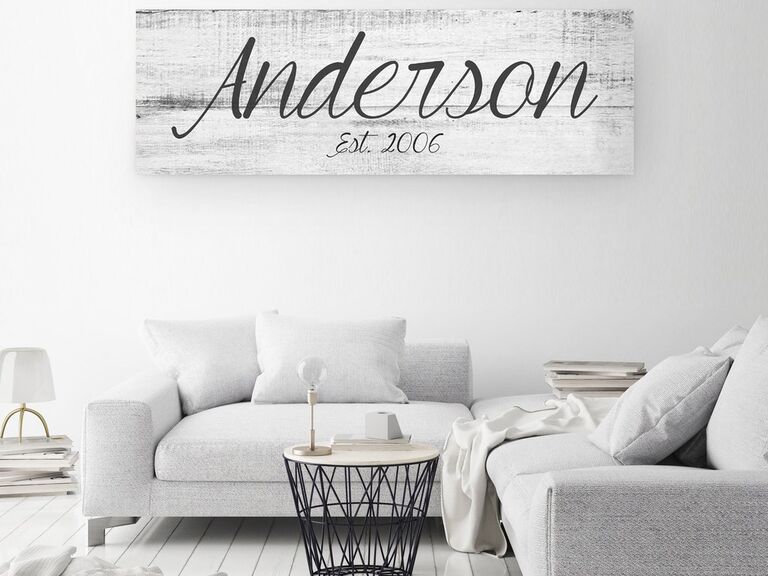 Canvas Vows offers a selection of wedding and anniversary gifts in the form of beautiful canvas prints. Their sentimental wall art can be customized to include the couple's wedding vows or even the sheet music for their first dance song. Of course, if these details are strictly under wraps until the big day, don't sweat it. You can also gift the lovebirds a stylish canvas print of their new shared last name and the year of their nuptials. It's the ultimate last name wedding gift for couples excited to share a surname.
4. Engraved Iron Skillet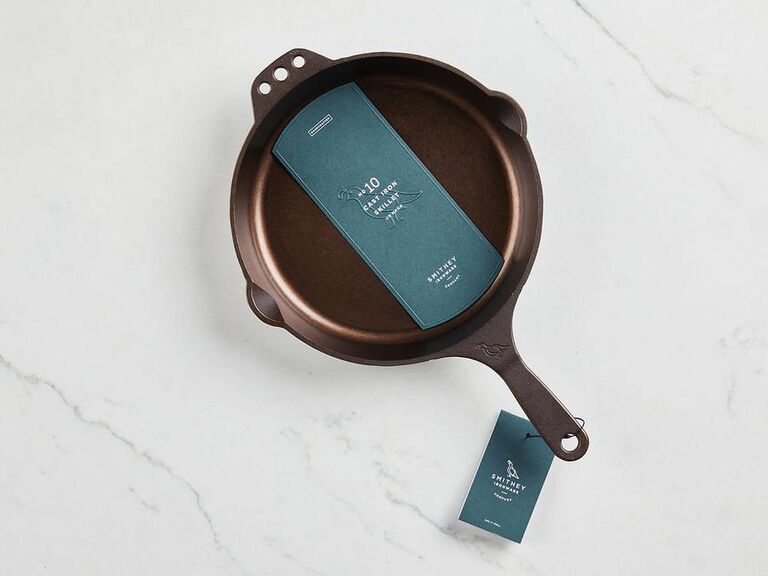 Personalized wedding gifts can be practical too! We're big fans of this sleek and functional cookware that can be engraved with the couple's first names, wedding date or a heartfelt message of up to 30 characters. The nonstick cast iron skillet is the perfect size for pan-frying chicken and searing steaks, plus it can be used in the oven for roasting veggies and baking. The best part? This stylish skillet is made to last, so it's totally heirloom-worthy.
5. Rustic Lazy Susan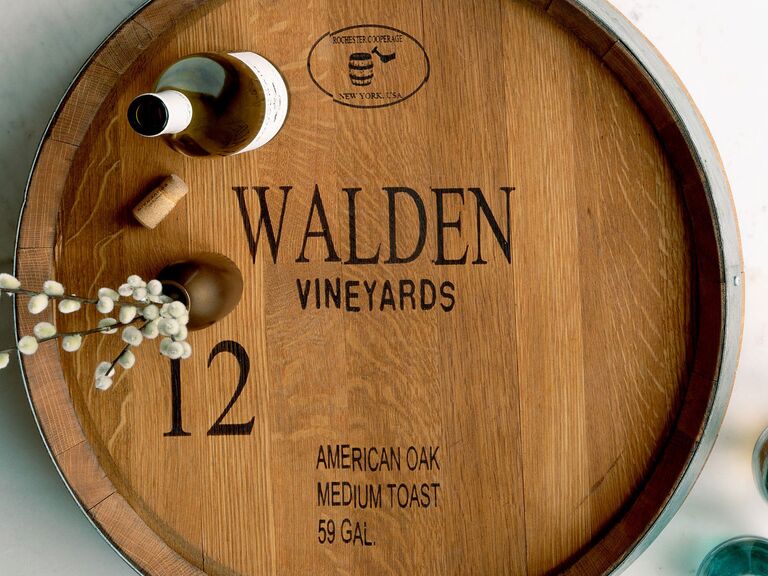 Everyone loves a lazy Susan. They can use this swiveling serving tray as a cheese board, for serving drinks or for holding sides or condiments at dinner. This stunning serveware is made from reclaimed wine-barrel wood and can be personalized with the couple's very own vineyard name (AKA their family name) and barrel number (their wedding date). Last name gifts are a super-cute gesture for couples who have decided to share a surname.
6. Cozy Cashmere Blanket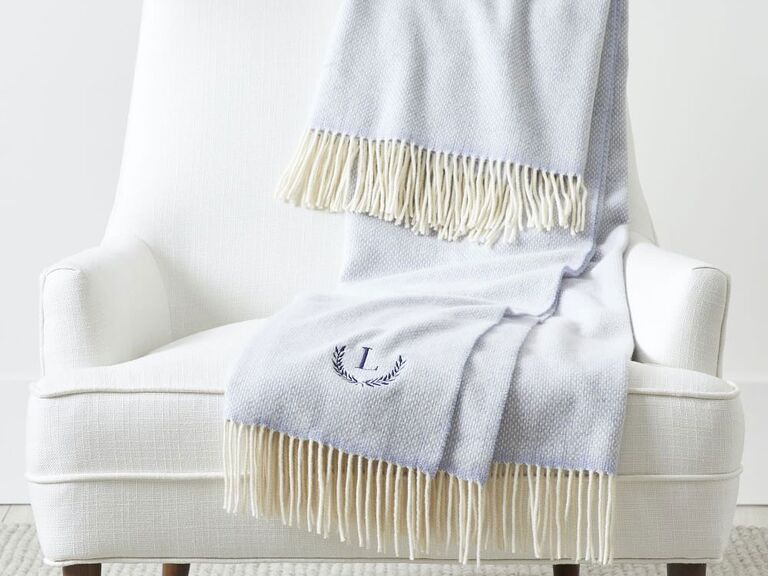 This personalized blanket is a lovely wedding present for date nights at home. It measures 51-by-67 inches, meaning there's more than enough room for two people to snuggle up under the super-soft cashmere. Choose between four versatile colorways. Then, add their monogram, first initials or shared last initial—whichever suits the couple best. They probably didn't think to add a personalized throw to their wedding registry, but who wouldn't want a little slice of cashmere luxury?
7. Romantic Bottle of Wine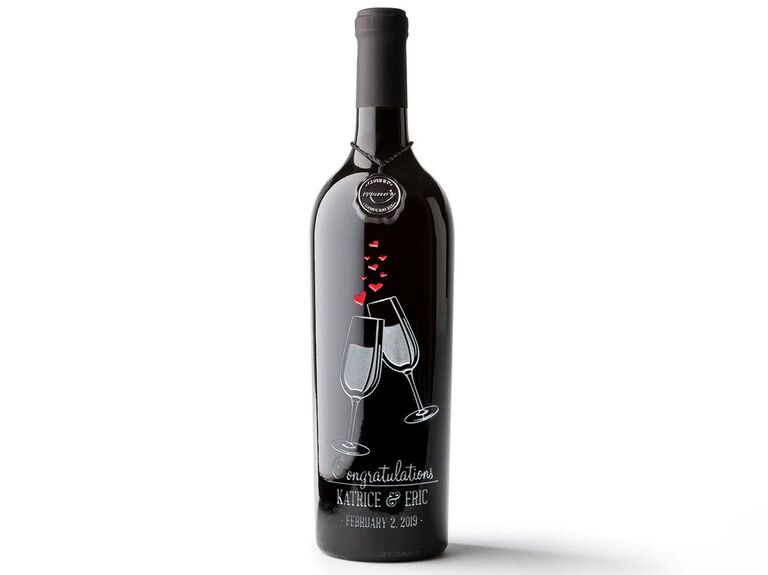 There's nothing like popping open a bottle of wine or champagne to celebrate a special occasion. The newlyweds can toast to their big day in style with an engraved bottle from Mano's Wine. This personalized wedding gift for the couple is a full-bodied California cabernet sauvignon (that'll pair beautifully with a fancy steak dinner, BTW). But it's not just any old bottle—this vino is etched with an image of clinking champagne flutes, their names and their wedding date. Even after they've enjoyed the contents, the bottle will serve as a unique memento.
8. Framed Song Lyrics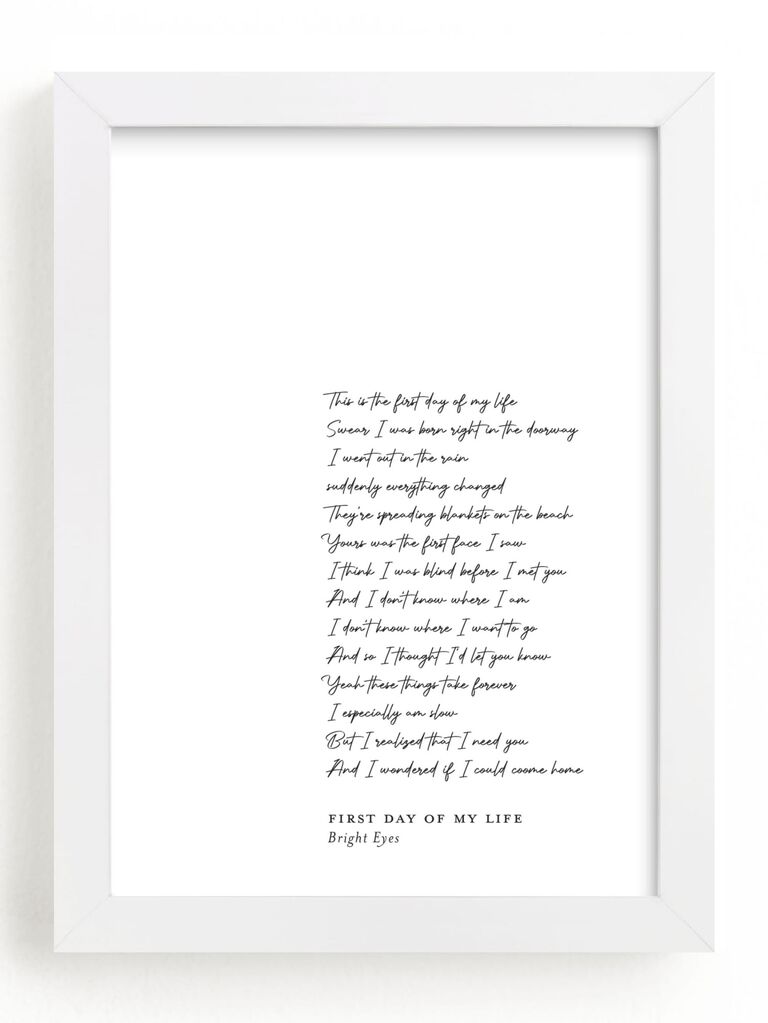 If you happen to know what the soonlyweds' first dance song is, congrats on being one of their favorite people. Only the closest friends and family members (if anyone) get to have this privileged information ahead of time. On that note, you'll need a present for your favorite couple that reflects just how much you cherish your relationship with them. Thankfully, we've found one of the most meaningful and creative personalized wedding gifts out there. This simple but elegant art print includes the lyrics to their chosen song. Finish off your gift with a nice frame so it's ready to display right away.
9. Useful Travel Mugs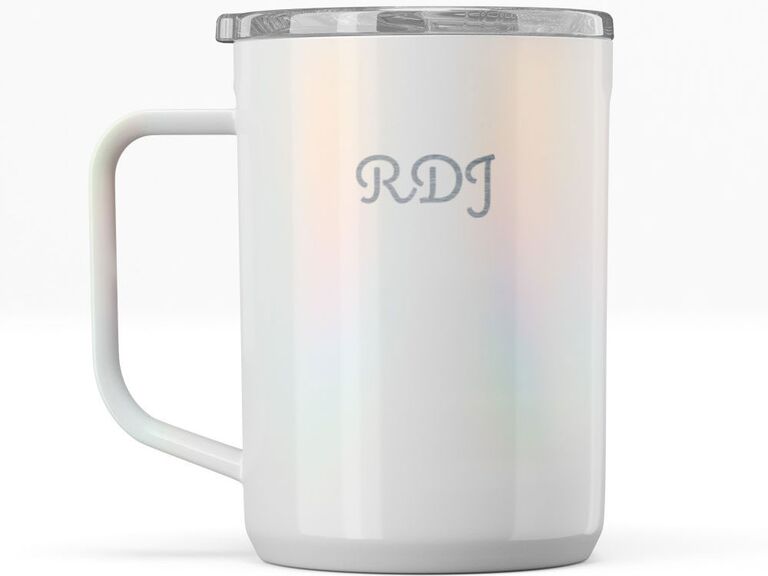 Got an outdoorsy couple on your hands? These stainless steel travel mugs are a cute, personalized wedding gift idea they'll 100% appreciate. Corkcicle's "prismatic" coffee mugs come in a wedding-white hue with the subtle hint of a rainbow. You can customize the back of the mug with their names, monogram, initials or an on-theme icon like clinking champagne flutes or a romantic heart. (Psst, don't forget to add two mugs to your cart so both halves of the couple can enjoy a hot cup of joe on the go.)
10. First Dance Poster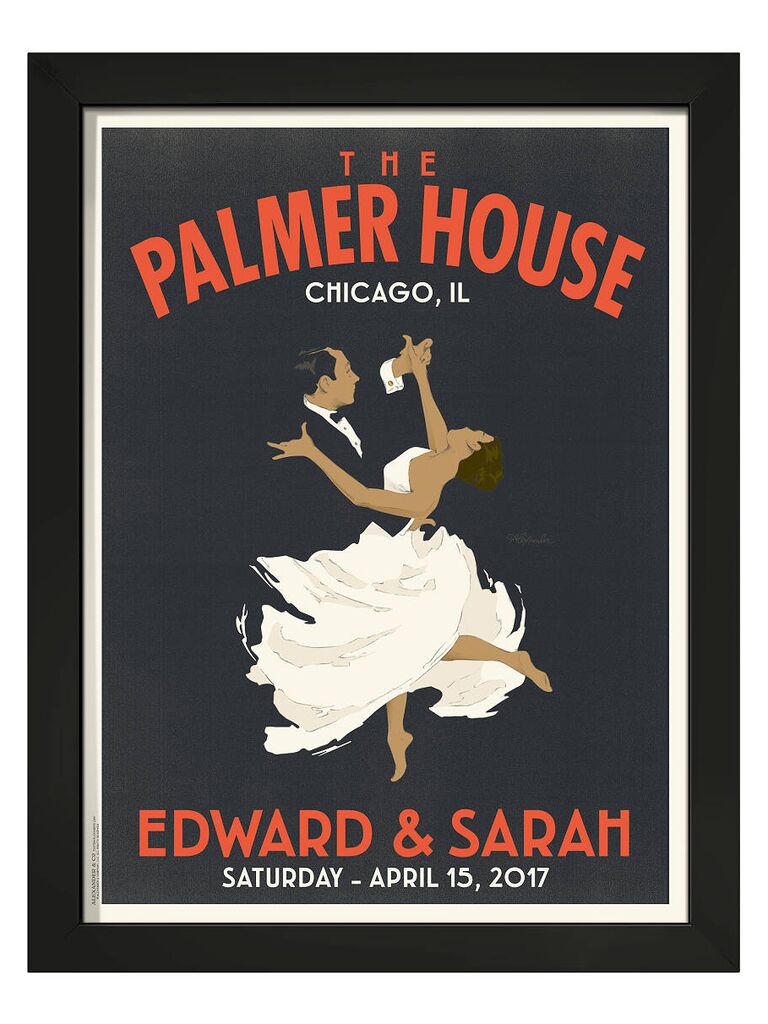 Here's another statement piece of home decor any vintage-loving couple will appreciate. This personalized wall art wedding gift by Alexander Doll recreates the newlyweds' first dance in the style of a timeless movie poster. The artist uses high-quality materials to design each couple's masterpiece, including archival pigment ink and double-weight matte paper. This customizable wedding gift captures their venue, location, names and the date. Talk about a cool keepsake!
11. Honeymoon Luggage Set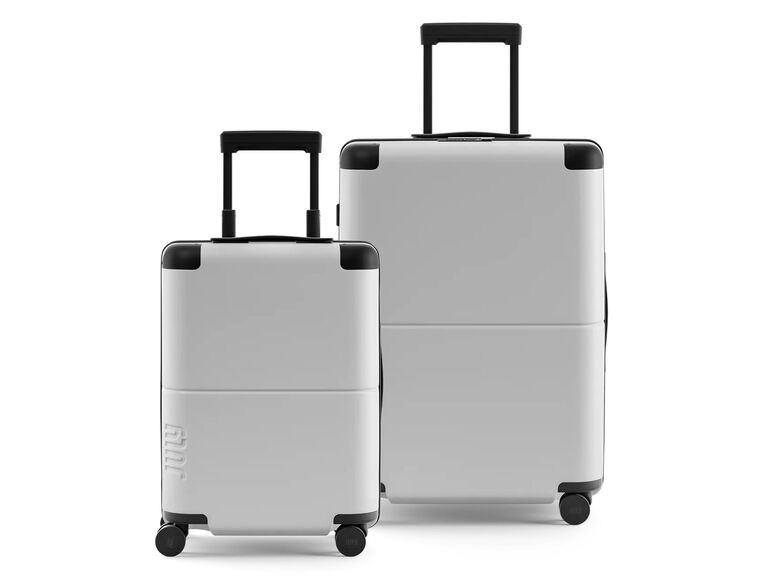 Personalized gifts for weddings come in all forms (i.e. not just mementos and decor). There are lots of practical options out there as well that'll get married life off to a good start for the happy couple. If they're jetting off on a romantic postwedding getaway, a new set of honeymoon-worthy luggage is an excellent gift idea. Take it a step further by picking up this carry-on and checked luggage set personalized with their initials, new monogram or last name. Hardshell polycarbonate will keep their belongings safe, while the customization will help them travel in style (and identify their things that much quicker at baggage claim).
12. Recipe Cutting Board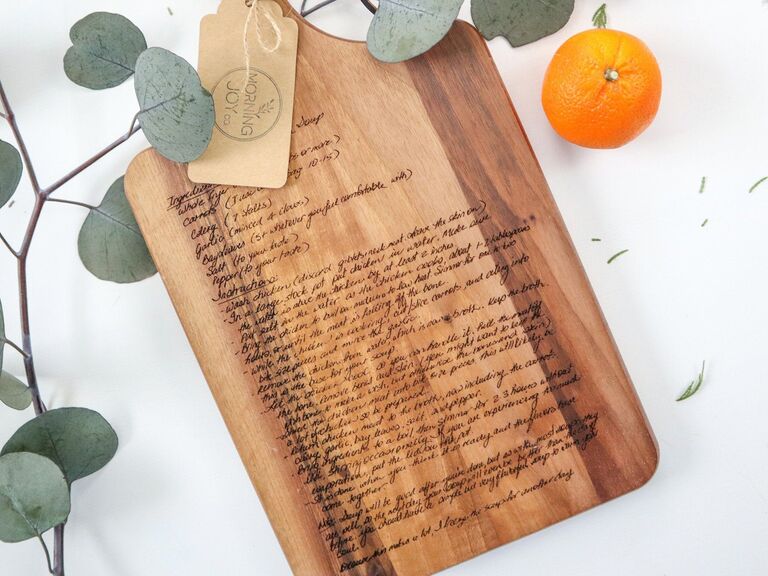 Shopping for personal (and personalized) wedding gifts for the couple who loves to cook together? An etched cutting and serving board will add tons of character to their kitchen. This one can be customized with a favorite recipe in your very own handwriting, making it an especially sweet engraved wedding gift from Mom or Dad.
13. Fancy Serving Set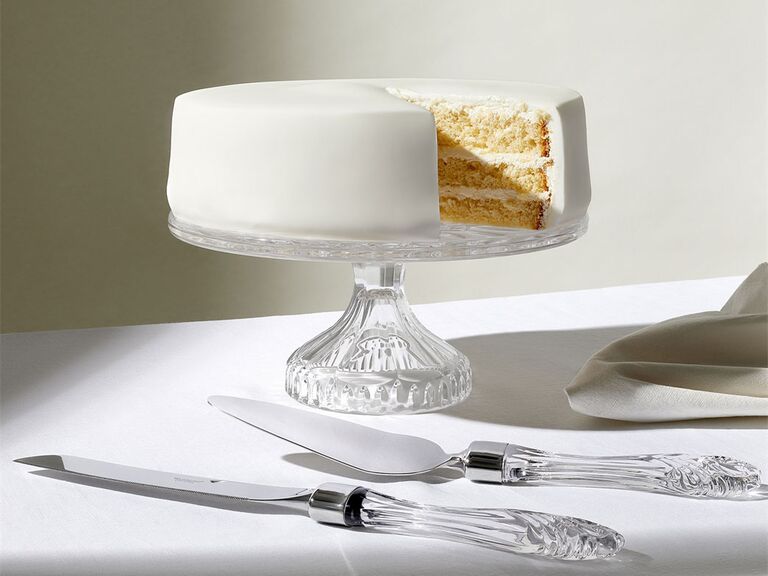 Looking for a monogrammed gift for the wedding that still feels traditional? Both crystal glassware and cake serving sets are classics, and this gorgeous set offers the best of both worlds. The Waterford crystal cake plate will come in clutch for many celebrations to come. Plus, you can engrave the matching knife and server with the newlyweds' monogram or a personal message of up to 20 characters. It's a little on the pricey side, but that's what group gifts are for.
14. Illustrated Wedding Portrait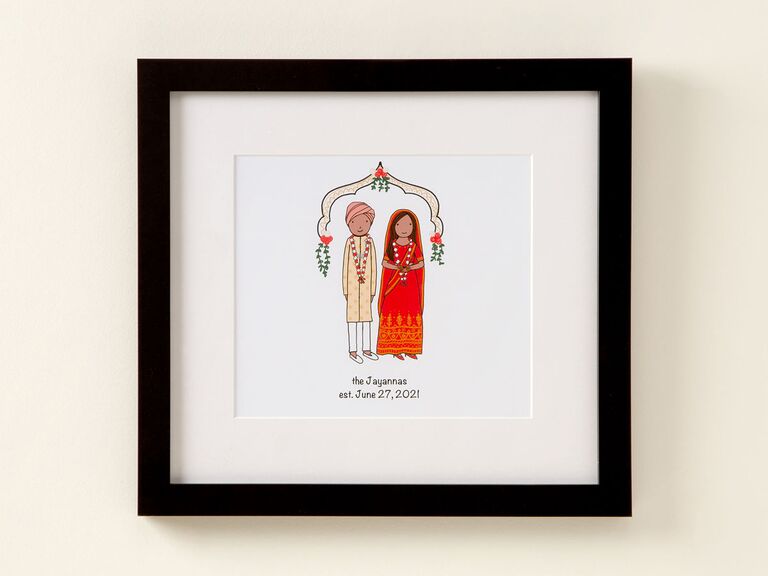 Still looking for the perfect present? We've got plenty more thoughtful and unique personalized gift ideas for weddings. Shelly Klein can create a custom illustration of the happy couple complete with their first names or family name and the date they said "I do." Have it framed for an extra-special gift they'll immediately want to show off at home.
15. Personalized Address Stamp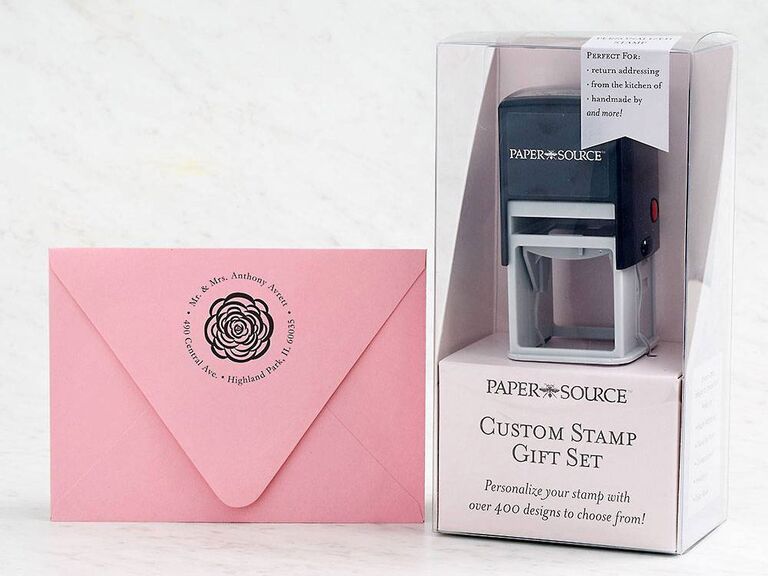 The couple will have a lot of thank-you notes to send out after the wedding, which is what makes this custom stamp kit an extra-useful present. But it's not just the stamp that's personalized—the newlyweds can customize their gift by choosing which custom stamp design they prefer. The set includes a gift certificate for redeeming their desired design, as well as a self-inking stamper and one black ink cartridge. Adding a return address has never been easier, and they'll think of you every time they use it.
16. Sentimental Picture Frame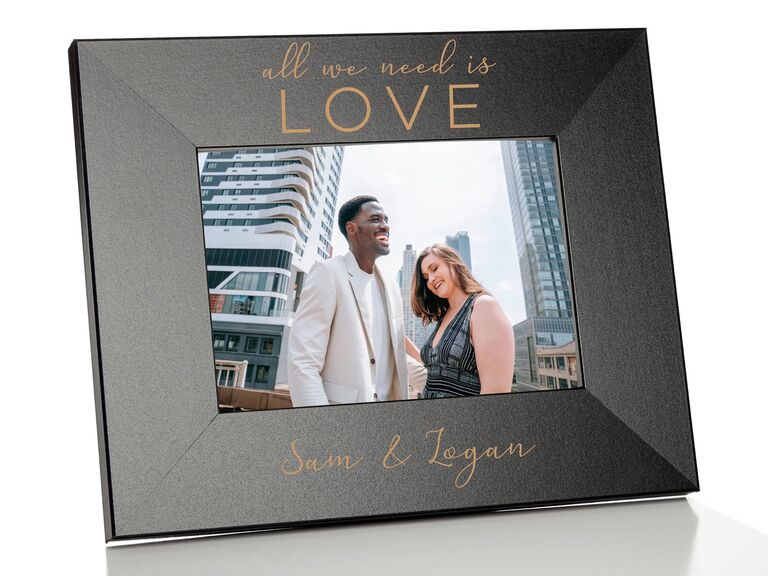 This picture frame is a lovely personalized gift for the newlyweds (and it's affordable to boot). The 5-by-7-inch frame is available with vertical or horizontal orientation, so if there's a specific photo you have in mind to hand it over with, choose the coordinating option. Along the top, the frame reads: "All you need is love." Along the bottom, it's personalized with the lovebirds' names. Deliver this engraved gift after the wedding if you want to fill it with a snapshot from the couple's big day.
17. Beautiful Wedding Bowl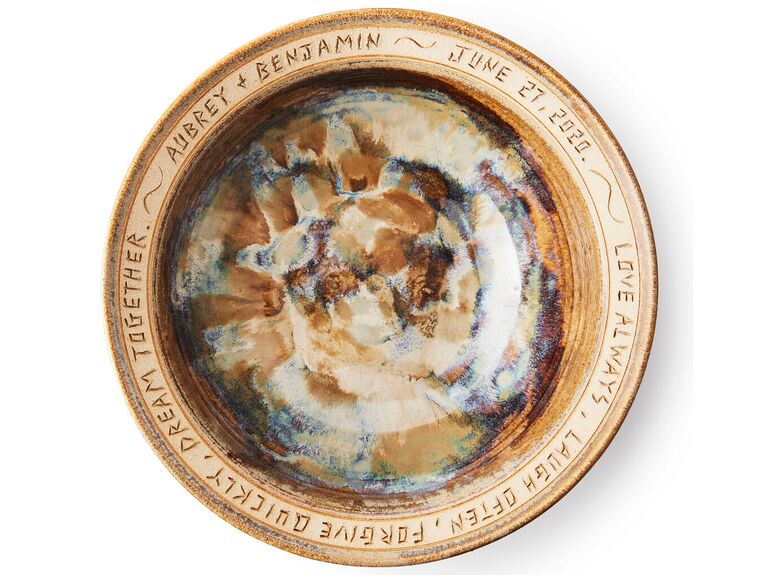 Have you ever seen such beautiful serveware? This commemorative bowl by Bryan Becker is a truly special piece that'll bring all the romance to the dinner table. The stunning stoneware reads: "Love always, laugh often, forgive quickly, dream together." Add the couple's first names and wedding date for a thoughtful finishing touch.
18. Embroidered Invitation Keepsake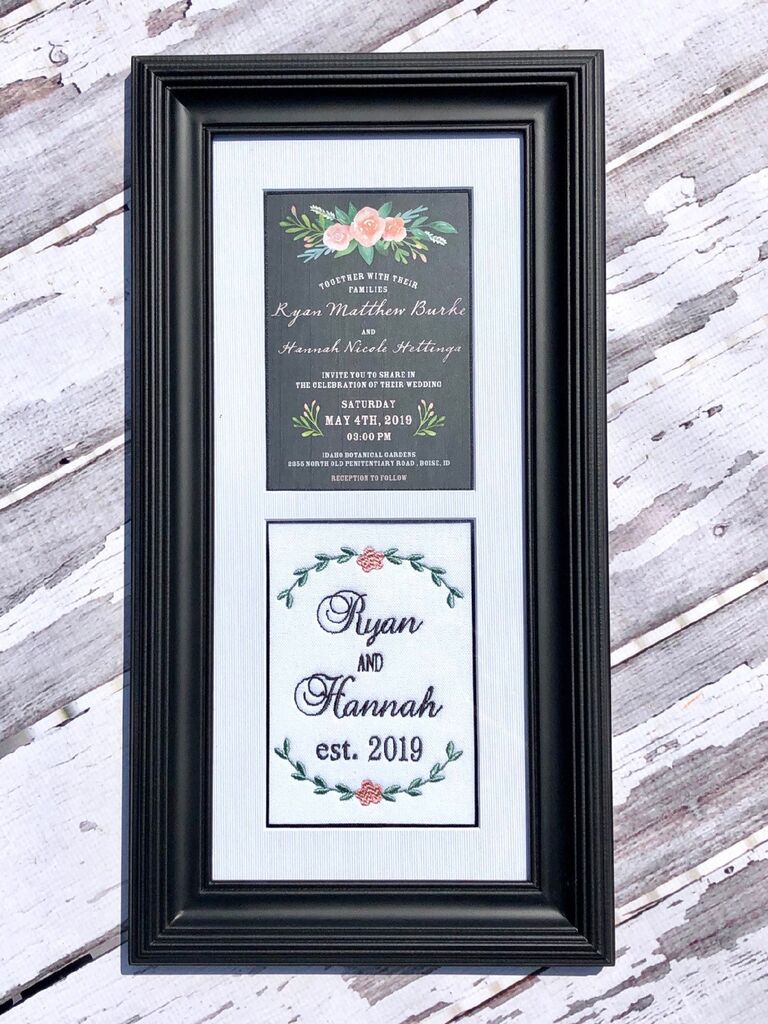 This custom wedding gift for the newly married couple is actually a keepsake of their wedding invitation. The Etsy seller is able to recreate their prize stationery through the art of embroidery complete with a classic black frame. You'll need to send the seller a copy of the couple's invite before they can embroider a replica, so make sure to leave plenty of time for this unique custom-made wedding present.
19. Commemorative Cork Holder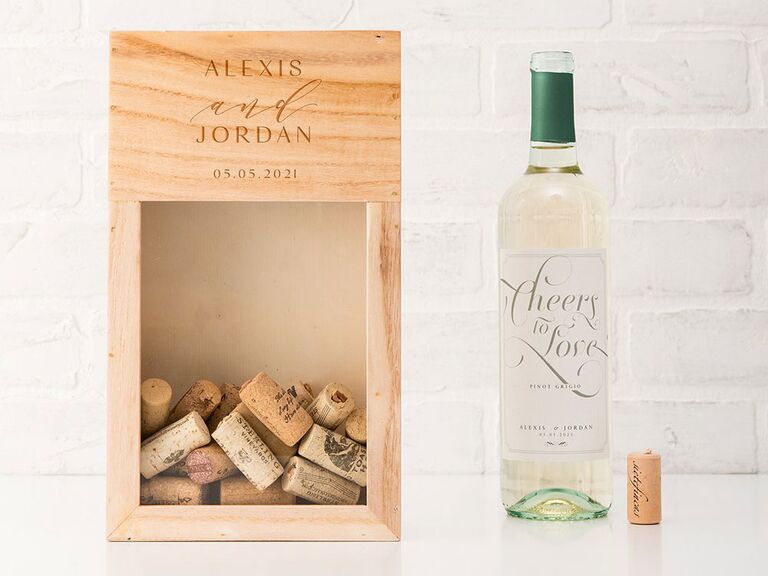 Want to help them commemorate all the milestones to come? This genius shadow box is a unique way to keep track of special occasions like birthdays, anniversaries, promotions and more. Every time the couple celebrates something together, they can store the cork from their wine or champagne in this engraved wooden box. The gift is personalized with their wedding date as well as their first names.
20. Retro Serving Board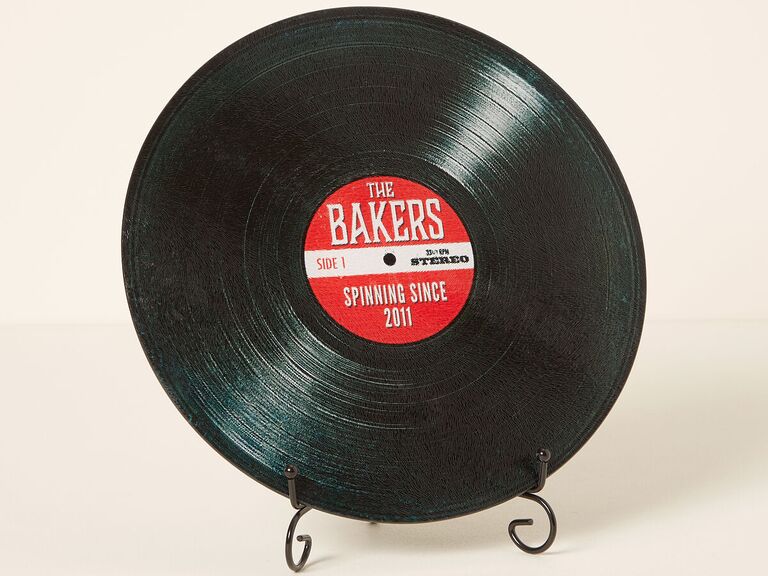 Like we said before, if you're close with the couple (think: wedding party status), feel free to pick out something a little different that you know they'll love. Here's a personalized cutting board that'll make for a showstopping wedding gift. It's made from tempered glass designed to look like a vinyl record and can be personalized with their family name and a custom phrase. (Need some wedding gift engraving ideas? This one reads: "Spinning since 2011.") The best part: It doubles as a stylish piece of home decor, especially if you include the stand.
21. Leather Luggage Tags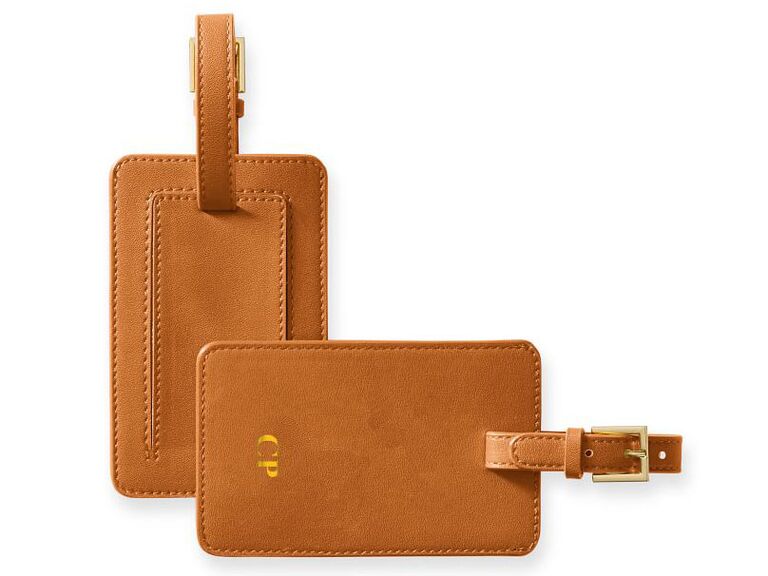 Make their first time vacationing as a married couple extra special by gifting both the newlyweds a stylish faux-leather luggage tag personalized with their initials. Whether they're flying halfway across the world or honeymooning in the US, these handy tags will make keeping track of their belongings easy peasy.
22. Pretty Keepsake Box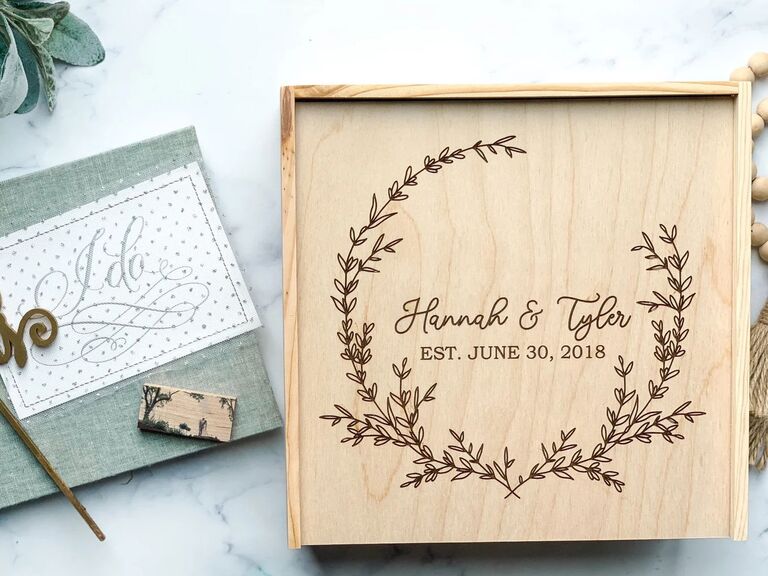 What better place to keep beloved wedding memorabilia than a chic wooden box personalized with their names and wedding date? This beautiful box is made with pine and birch that's laser-engraved with your customization inside a romantic floral wreath design. The lid slides off to reveal the inside, which is thoughtfully made to fit photos, stationery and other meaningful trinkets. This engraved wedding gift is an especially nice idea for sentimental couples.
23. Cool Map Glasses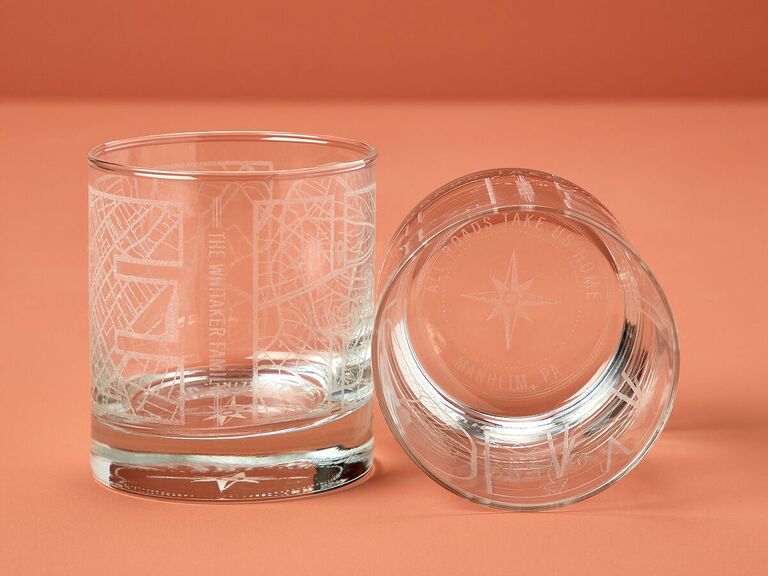 Glassware customized with a map of the soonlyweds' hometown is a sweet gift they'll cherish forever—especially if they're relocating after the nuptials. Rocks glasses are an extra-personal wedding gift idea if the couple hails from a state known for whiskey, like Kentucky or Tennessee. (Though it's a pretty special present for any duo who appreciates a beautifully distilled scotch or bourbon.) In addition to the cool map engraving, you can also add custom text like the couple's first names or family name.
24. Decorative Travel Map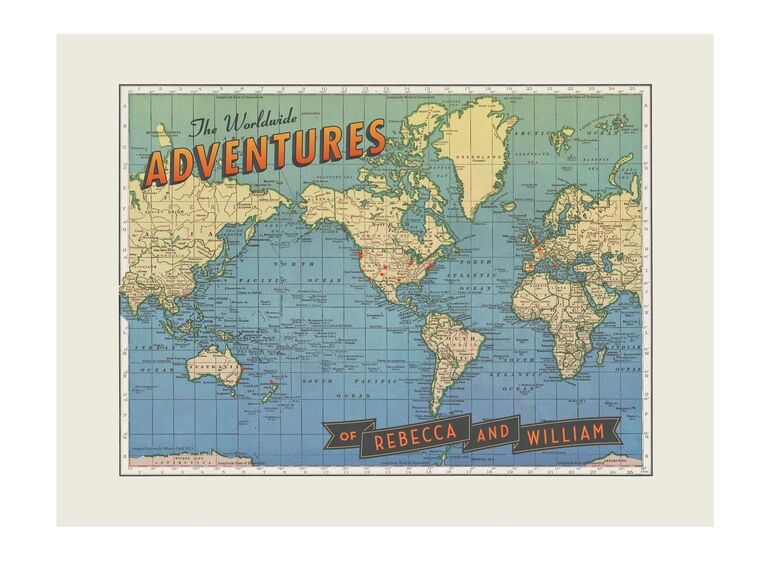 This vintage-style map of the world is a custom gift for the newlyweds that won't just help them keep track of their travels. It's also a unique piece of decor that'll spark conversation anytime they have visitors. If you know they have grand plans of trotting the globe together, this cool gift is an essential addition to their home. The map is printed with their names to complete the phrase: "The worldwide adventures of…" Plus, it comes with 100 push pins and an optional ready-to-hang frame.
25. Keepsake Ring Box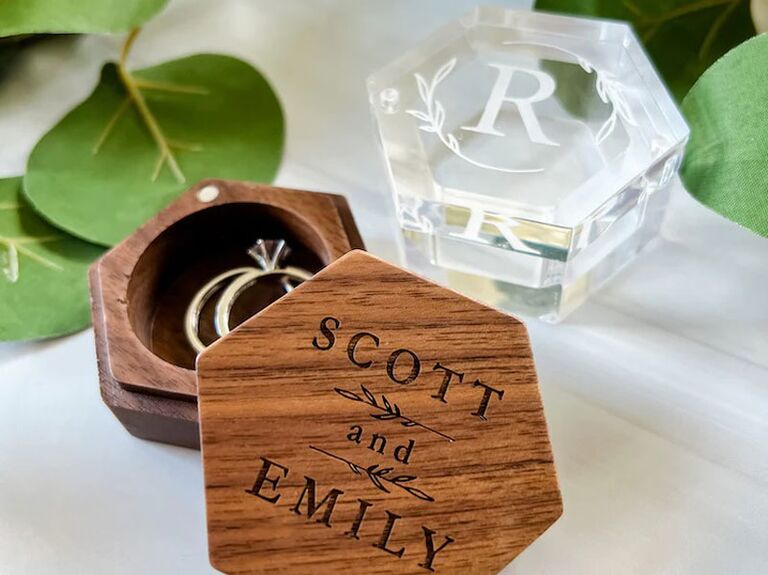 A beautiful ring box is a welcome present at pretty much any stage of the couple's wedding journey, whether you're looking for engagement gifts, bridal shower gifts or a memorable wedding present. This personalized ring box comes in two different materials: a wooden box or an acrylic box. Whichever one you choose will be laser-engraved with the design of your choice. Choose from six different variations of the couple's first names, full names or last initial. Some of the designs also include the wedding date.
26. Handcrafted Wine Chiller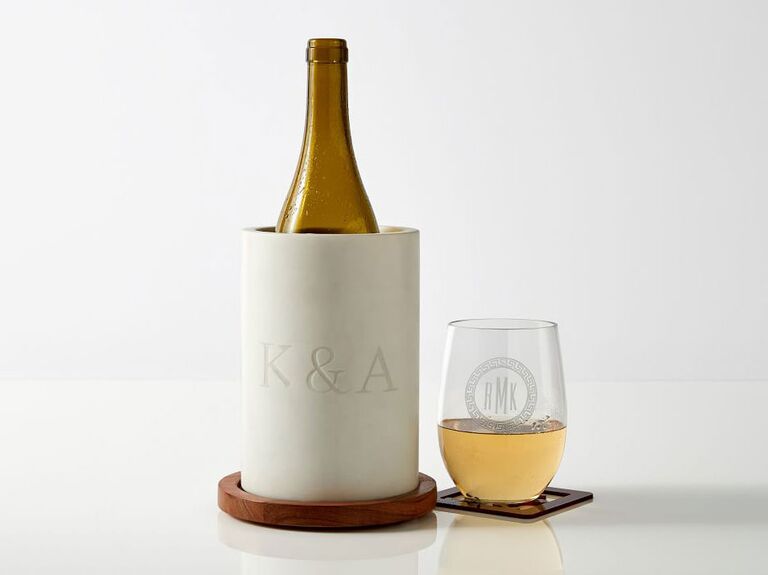 Have you ever seen such an elegant wine chiller? This fancy (and functional!) piece is handcrafted from marble and set on an acacia-wood base. And if you're looking for monogrammed wedding gifts for the couple, you're in luck. Choose from 15 pretty engraving options with the newlyweds' monogram, first initials or last initials. It's a great present for self-professed oenophiles and lovebirds who like to host.
27. Throwback Throw Pillow
Some of the best personalized wedding gifts don't contain the couple's names or wedding details at all. Instead, why not choose something that's personalized with the place they first met? College sweethearts will adore one of these embroidered pillows that playfully embraces where they studied (and more importantly, fell in love). There are pillows available representing 34 different colleges, from Arizona State University to Yale.
28. Heart-Shaped Photo Puzzle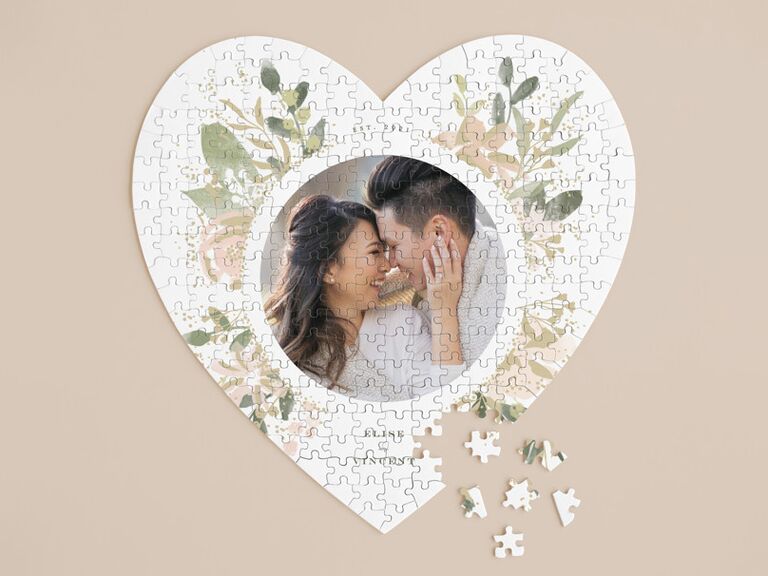 Minted has lots of cool, customizable artwork for couples to display in their homes. This pretty puzzle by Jennifer Wick is personalized with the lovebirds' first names and a sweet photo of them together. It's a great opportunity to showcase a snapshot from their engagement shoot. Or, wait until you have a photo from their wedding day to create a customized gift that commemorates the couple's marriage.